In this article, I will show you the best working solutions for when your FireStick won't connect to WiFi. These instructions can be used to fix connection issues on any Amazon Fire TV device, including Fire TV Cube, FireStick 4K, and FireStick Lite.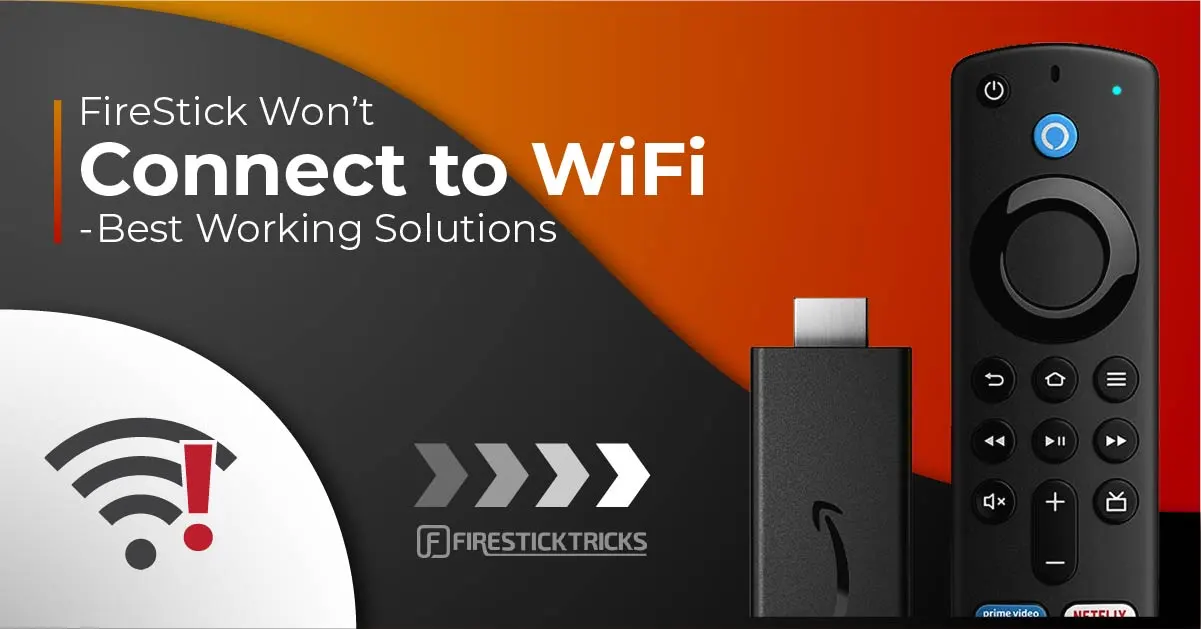 The Amazon FireStick is a very popular streaming device that essentially transforms your regular TV into a smart TV. With a FireStick, you can gain access to scores of apps and addons that allow you to enjoy unlimited media content, like movies, TV shows, documentaries, sports, news, music, kid and adult cartoons, and anime. But as you know, without an active internet connection, your device is basically a useless block.
While the FireStick is a durable and flexible gadget, you're likely to experience internet connectivity problems at some point in time. When your FireStick won't connect to your Wi-Fi, it can be frustrating and disruptive to your entertainment routine. The good news is that there are easy working solutions that will fix your issue in most cases.
Attention, FireStick Users!
Governments and ISPs constantly monitor your online activity, and accessing copyrighted content on your Fire TV Stick could lead to serious trouble. Currently, your IP is visible to everyone. I strongly recommend getting the best FireStick VPN to mask your IP address and securely stream your favorites.
I personally use ExpressVPN, the fastest and most secure VPN available. Not only is it easy to install on any device, it comes with a risk-free 30-day money-back guarantee. Plus, if you're not 100% satisfied, you can always get a refund. ExpressVPN is currently also offering a whopping 3 extra months free on their annual plan!
Read: How to Install and Use Best VPN for FireStick
Why Your FireStick Won't Connect to Wi-Fi?
There are many potential causes of Wi-Fi connectivity issues on FireStick. Sometimes your FireStick won't connect to Wi-Fi due to a technical issue, like an incorrect password, router limitations, or an incompatible technical setting.
However, a weak signal may be the most prominent cause of Wi-Fi issues. One way your signal can be weakened is by wireless interference from other gadgets. For instance, if you have a device such as a smartphone, a microwave, or even a baby monitor turned on and positioned near your FireStick, it may affect the strength of the signal your FireStick is receiving. Bluetooth technology can also interfere with Wi-Fi signals.
Physical obstructions can hurt signal strength as well. Walls, doors, glass, cabinets, and other objects made from materials like concrete and metal can reflect, refract, or absorb the Wi-Fi signal from your router, preventing it from reaching your FireStick at full strength.
Another common reason for poor signal strength is your FireStick being too far away from your Wi-Fi router. Internet routers have different signal ranges. If your FireStick is outside the router's range, you will experience issues with your Wi-Fi connection.
As you can see, losing a Wi-Fi connection can happen for many reasons. However, most FireStick connectivity issues are easy to fix. You can troubleshoot and restore your connection by following one or more of the techniques I discuss below.
How to Fix When FireStick Won't Connect to Wi-Fi
Below are the best solutions to get your FireStick properly connected to your Wi-Fi. The simplest fixes are first, so it's best to try them in the order provided. If a method doesn't work, just proceed to the next method until one works for you.
Method 1: Check That You Established a Connection
The first step to correct this error is to confirm that there is an established connection between your FireStick and your router. While this sounds obvious, it's easy to assume that there is already an active connection when in fact there is a network error.
To check for an active Wi-Fi connection:
1. Go to Settings on your FireStick home screen.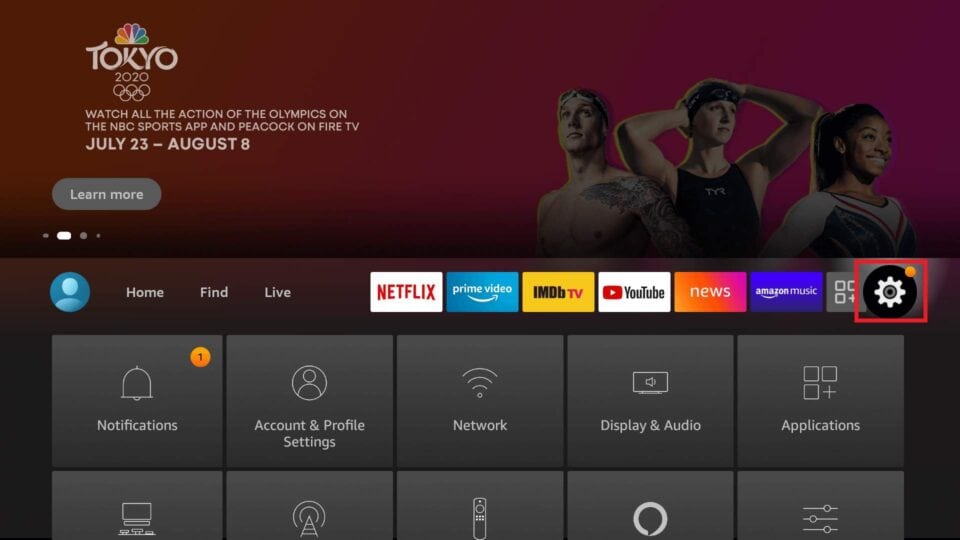 2. Select Network.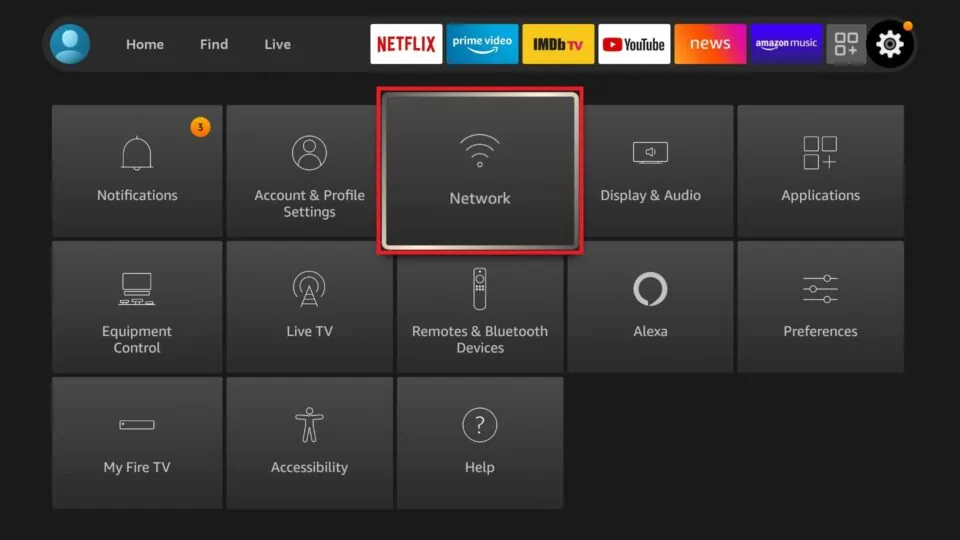 3. Scroll to your Wi-Fi network, then press the play/pause button on your remote to check your network status.
4. Your network details will display, letting you confirm whether your connection is active.
Of course, you want your Wi-Fi connection to be active. But if it's not active, you could be looking at a very easy fix. You may just have to restart your router. Continue to the next method to do so.
Method 2: Reboot Your Router
A simple reboot of your modem or router fixes most network connectivity issues, so it may make all the difference here. When you restart the router, it gets time to cool off and refresh its memory. Here's how you can reboot your router.
1. If your router has a power button, press the button to turn the router off. Then unplug your router. If your modem is a separate unit from your router, power off your modem as well and unplug it.
2. Wait for at least 30 seconds.
3. Plug your device(s) back in. If you have a separate modem, power it on now.
4. Power your router on and wait for it to start up and establish a connection.
Now try reconnecting to your FireStick. If you were experiencing a simple technical issue, your Wi-Fi connection issue should be resolved.
Method 3: Restart Your FireStick
If rebooting your router doesn't do the trick, the next device to reboot is your FireStick. There are three ways you can restart your FireStick.
The first method uses an option within FireStick settings.
1. On the home screen of your FireStick, select Settings.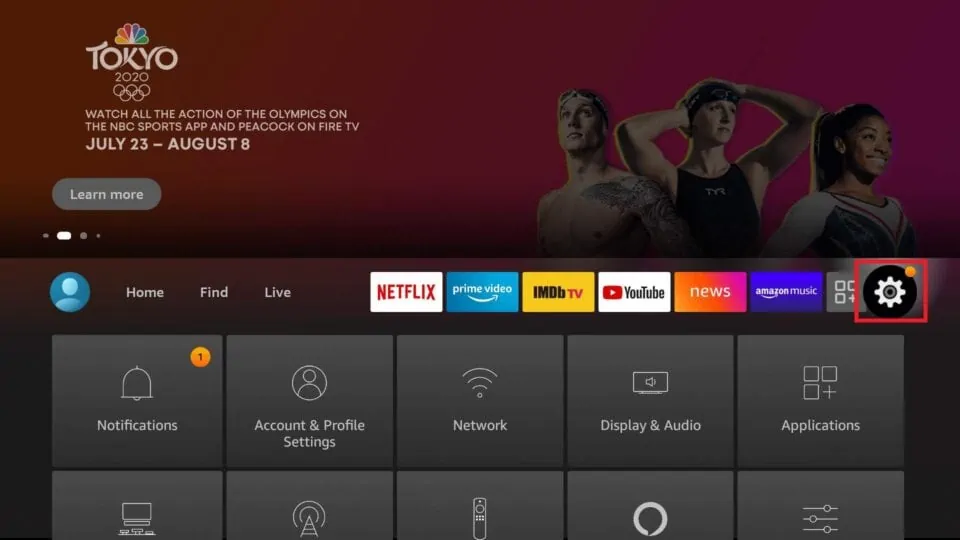 2. Select My Fire TV.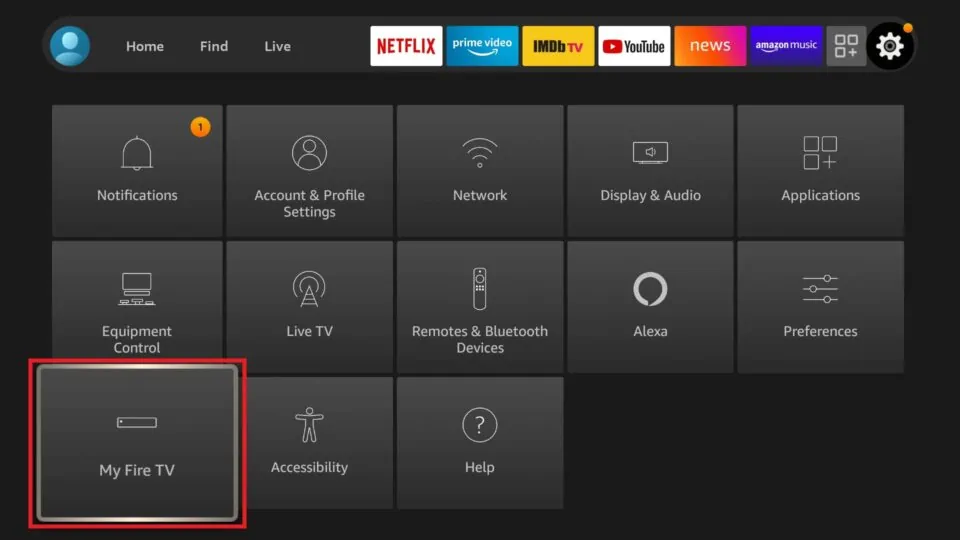 3. Select Restart.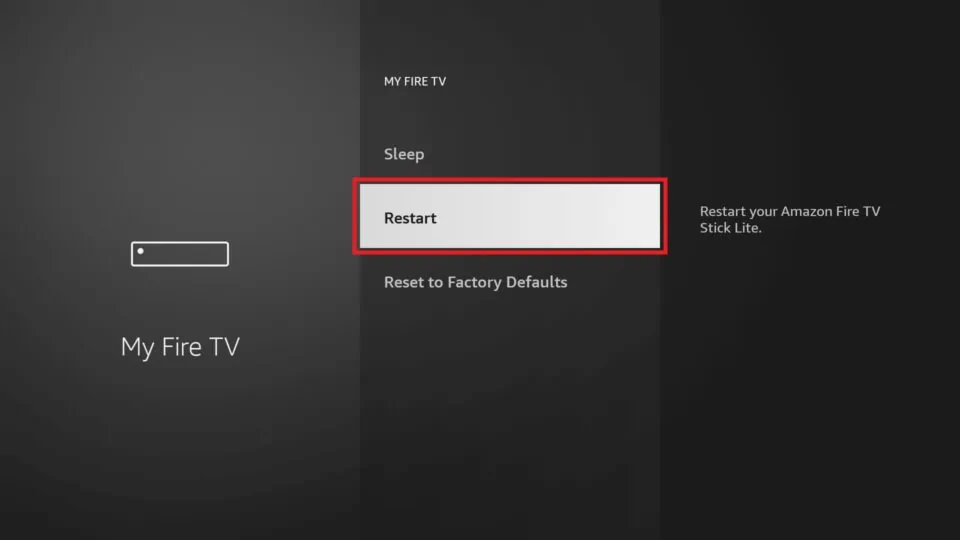 4. A confirmation prompt will display on the screen. Select Restart and wait for the device to restart.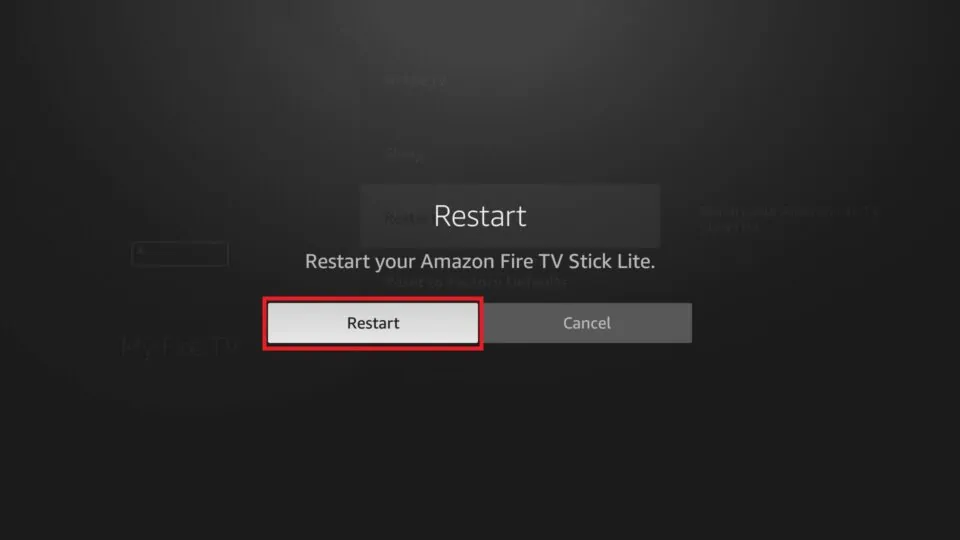 Alternatively, you can reboot your FireStick using the remote control. This method is even simpler. Press and hold down the play/pause button and the select button simultaneously for about 5 seconds. Your FireStick will then restart.
The last method involves physically unplugging the FireStick device from your TV or power outlet. This method comes in handy if your remote control is malfunctioning. Unplug your FireStick and wait for about 30 seconds. Then plug it back into your TV or power outlet.
After using one of these methods, wait for your FireStick to reboot and then check whether it's connected to your Wi-Fi.
Method 4: Disconnect and Reconnect Your Wi-Fi Network
If your Wi-Fi connectivity issue has not been resolved, you can try disconnecting and reconnecting to your Wi-Fi. To "forget" the network and then reconnect to it, follow these steps.
1. Go to Settings on your FireStick home screen.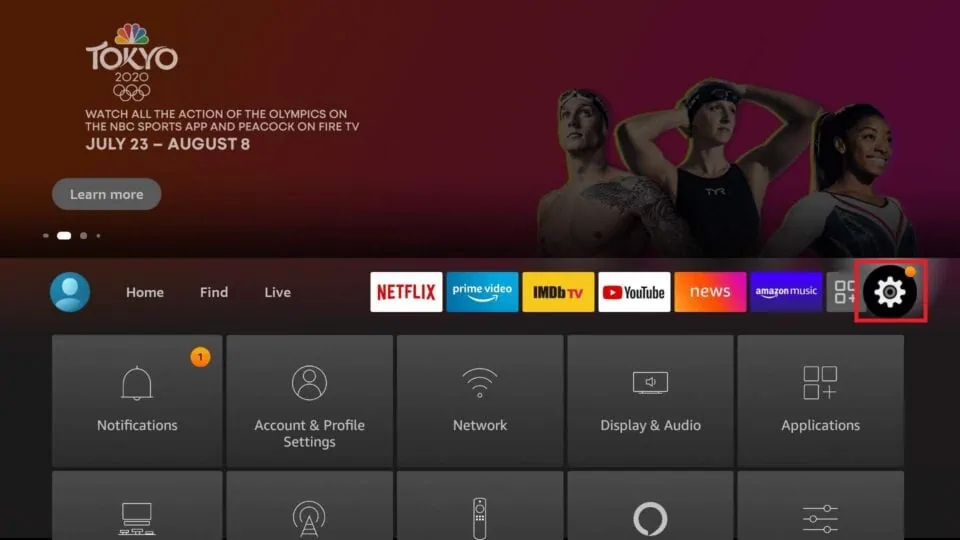 2. Select Network.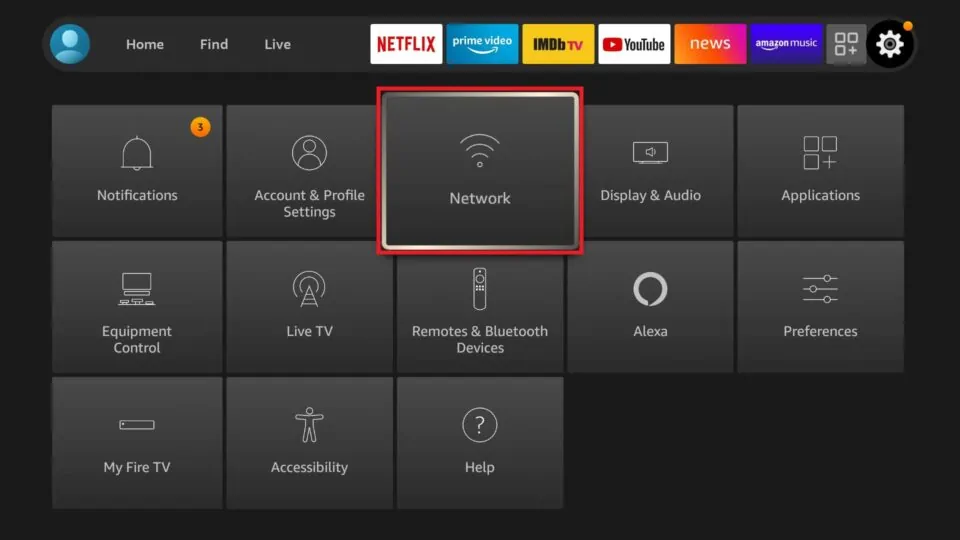 3. Scroll to the network you're struggling to connect to, then press the menu button on your remote.
Note: If you don't see your network here, the next method may fix your issue.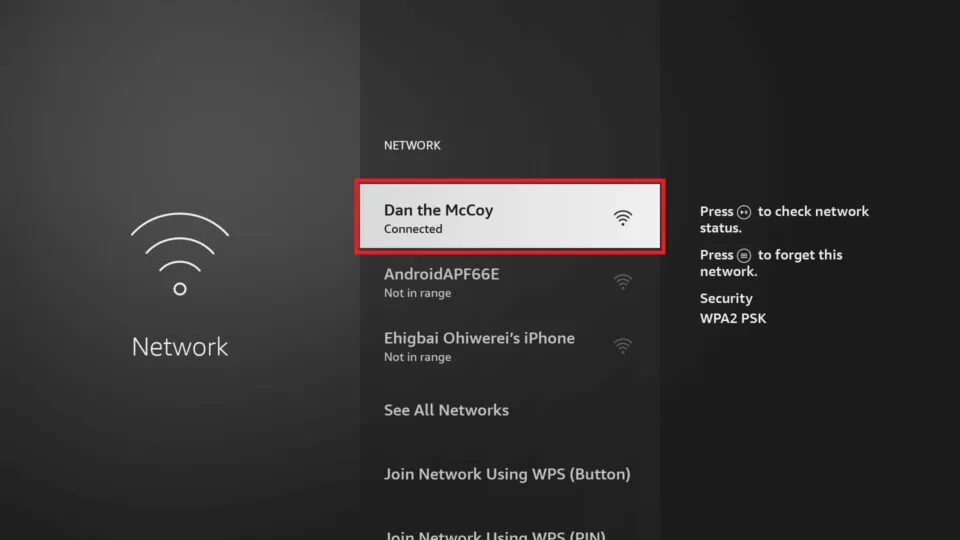 4. Press the select button on your remote to confirm that you want to forget the network.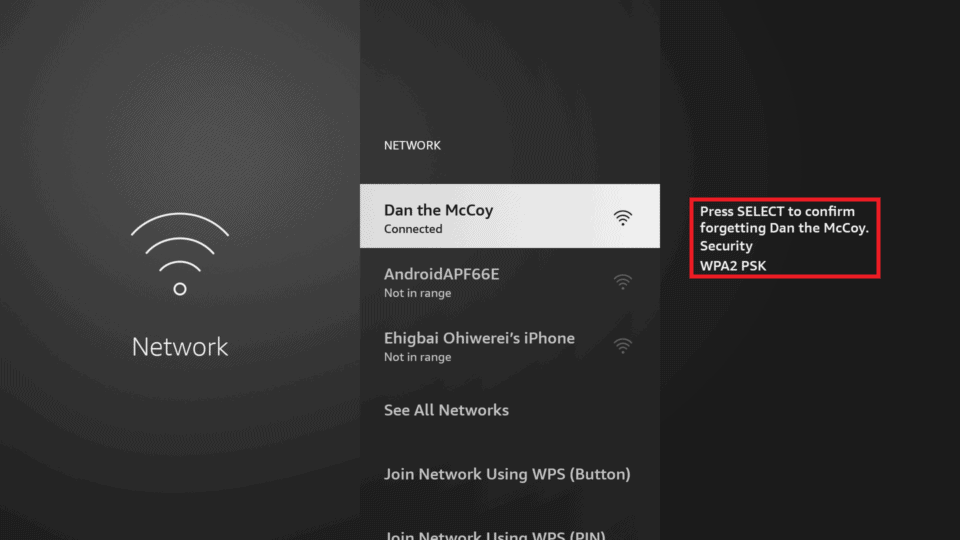 After disconnecting from your network, select it again to reconnect. Then see if your issue has been resolved. If it hasn't, let's keep trying.
Method 5: Connect to Hidden Wi-Fi Network
If your Wi-Fi network is set as hidden, you will not find it among the list of available networks. You have two options in this situation: You can "unhide" the hidden network or you can connect to the hidden Wi-Fi network.
I'll show you how to connect to a hidden Wi-Fi network.
1. Go to Settings on your FireStick home screen.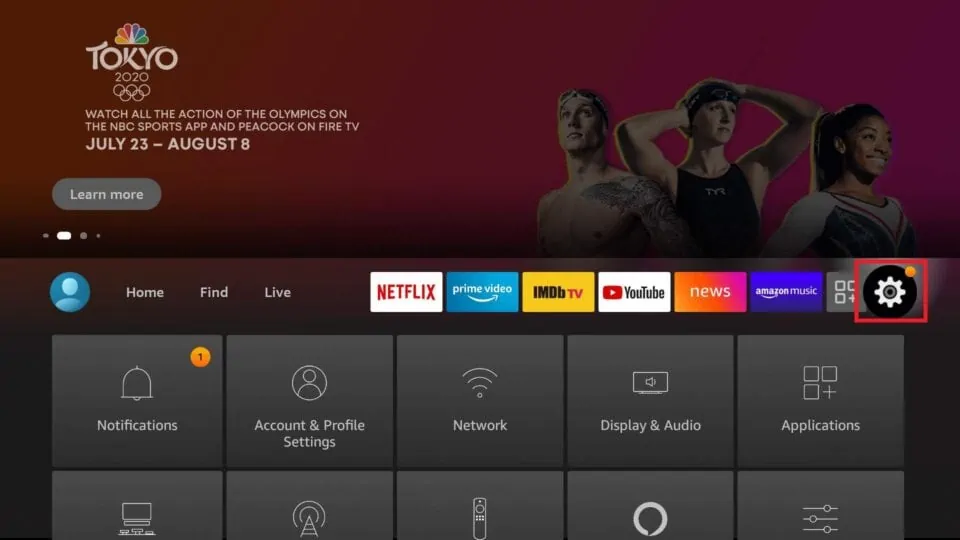 2. Select Network.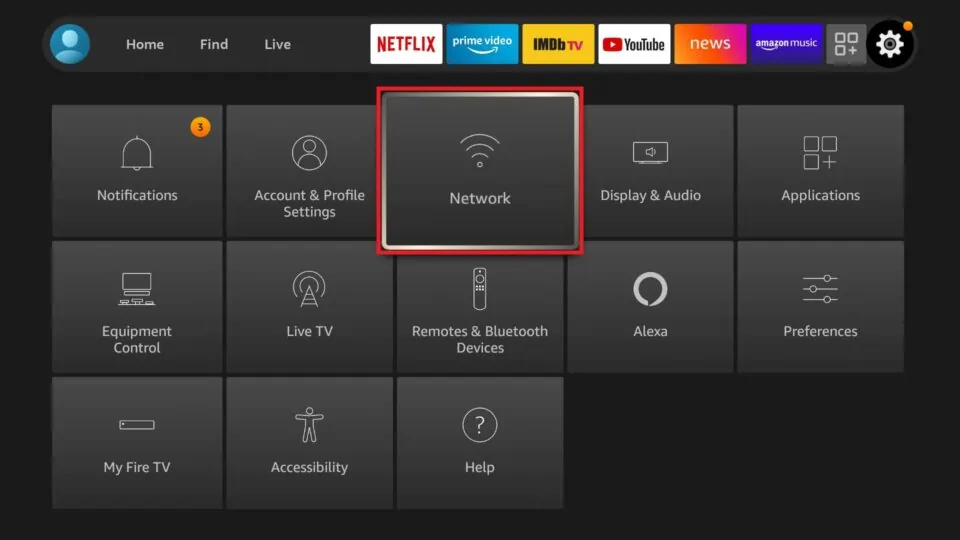 3. Scroll to Join Other Network and select it.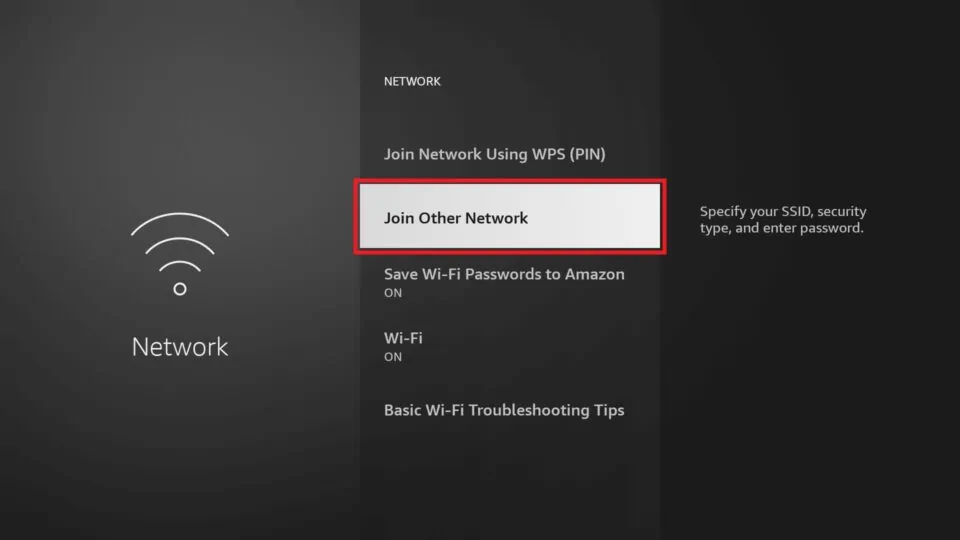 4. Enter the name of your Wi-Fi network, which is also known as the SSID. Then click Next.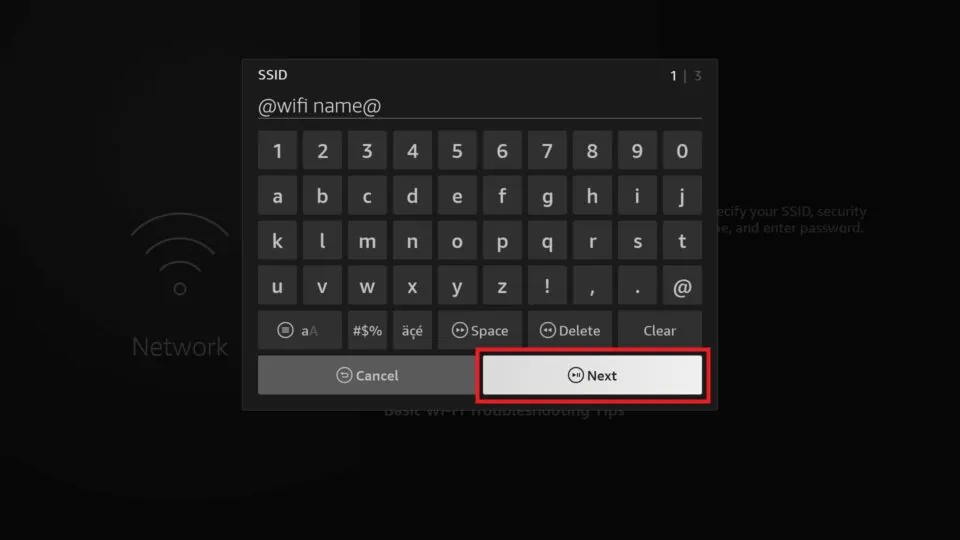 5. Select the network's security type and select Next. Most modern home networks use WPA/WPA2 PSK.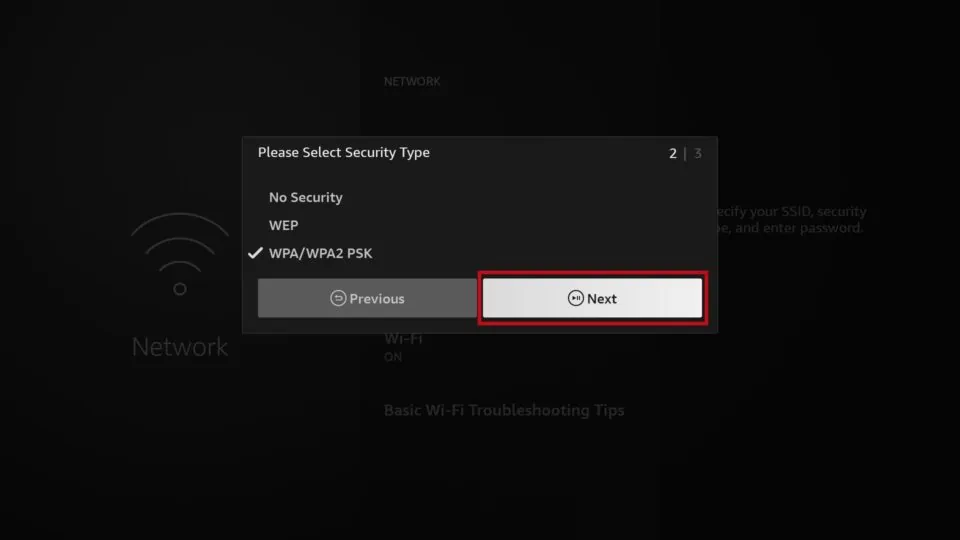 6. Enter your Wi-Fi password and select Next.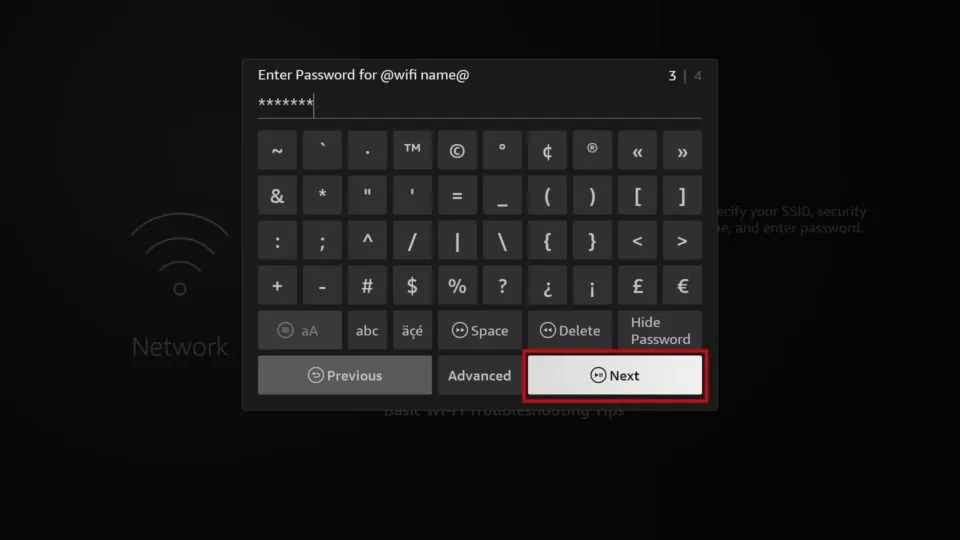 7. Make sure you typed your information correctly and click CONNECT.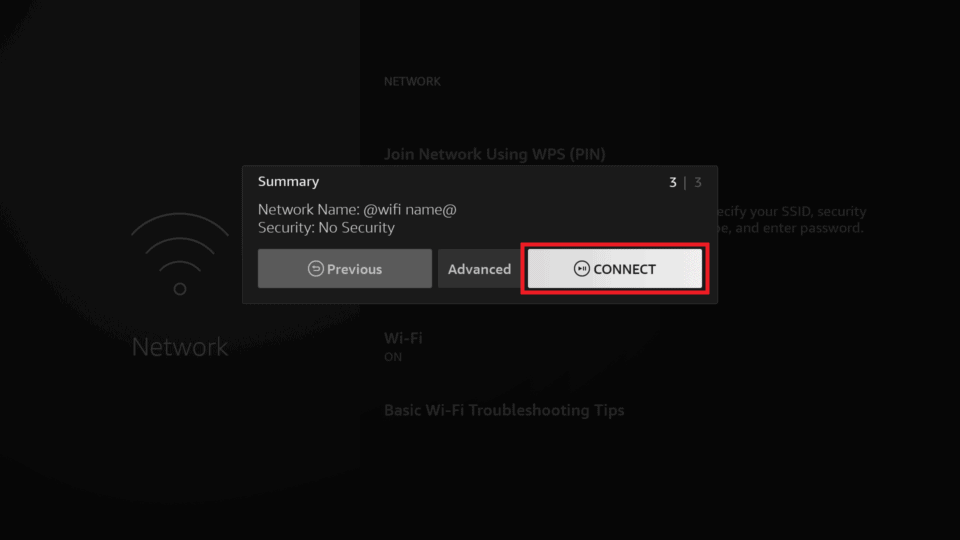 Your FireStick will connect to the hidden Wi-Fi network.
Method 6: Clear Obstructions and Interference
I mentioned that physical obstacles can affect the strength of your Wi-Fi connection. The degree of signal disruption depends on the materials that are between your router and your FireStick. Concrete, metal, and glass cause some of the highest interference levels.
If you have any obvious obstructions to your Wi-Fi signal, try moving your router to a different location so that the path from your router to your FireStick is shorter and clear of obstacles. Moving your router even a little can make a world of difference and fix your issue. If your router has adjustable antennas, you may be able to leave it where it is and experiment with pointing the antennas in different directions.
Even if there are no physical objects weakening your signal, your Wi-Fi network can be affected by frequency interference from devices, such as microwaves, cordless phones, poorly wired satellite dishes, and certain wireless devices. Competing Wi-Fi networks can also be a source of interference.
If none of the previous methods have fixed your issue, it's worth testing for wireless interference. To do this, temporarily turn off and unplug each device near/between your router and FireStick (one device at a time) to see if any of them are negatively affecting your Wi-Fi connection. If you discover that a device is interfering with your connection on your FireStick, try moving that device away from your router and FireStick to see if you can strengthen your signal. Switching Wi-Fi channels may also help you resolve the issue.
Method 7: Reset FireStick to Factory Settings
If you have tried all the possible fixes listed above and your FireStick still won't connect to your Wi-Fi, you can use the irreversible last-resort method resetting your FireStick to default factory settings.
However, before you try this method, it's important to understand that you may be experiencing a connection problem that is beyond your control. In that case, not even a factory reset will resolve it. For example, if your ISP (internet service provider) experiences a service outage, there's nothing you can do but wait for your ISP to resolve the issue.
To see if you're being affected by a larger issue, you should make sure your Wi-Fi is functioning on another device, like your computer or smartphone. If your only connection issue is on your FireStick, a factory reset may be your best bet at this point. However, if you can't connect to your Wi-Fi on any of your devices, you should check for user-reported internet outages with this tool to see if there's a widespread issue that you simply need to wait out.
If you perform a factory reset on your FireStick, all the apps, data, and settings you have on it will be erased. A factory reset restores your device to the condition that it was in when you first took it out of its box. If nothing else has worked and there doesn't seem to be a service outage in your area, this solution is likely to solve your Wi-Fi connectivity issue.
You can check out our detailed guide on how to reset FireStick to factory settings.
Wrapping Up
The FireStick is a nifty little device that can deliver all the entertainment you want, thanks to the overwhelming number of apps and services available through the device. Since it requires a Wi-Fi network to function, sometimes you'll experience connectivity issues. In this article, I shared the main causes of connection problems, as well as the best working solutions for when your FireStick won't connect to your Wi-Fi. What fixed the problem for you? If it wasn't one of the methods I provided, please share your method so other readers can give it a try.
Related:
Legal Disclaimer - FireStickTricks.com does not verify the legality or security of any add-ons, apps or services mentioned on this site. Also, we do not promote, host or link to copyright-protected streams. We highly discourage piracy and strictly advise our readers to avoid it at all costs. Any mention of free streaming on our site is purely meant for copyright-free content that is available in the Public domain. Read our full disclaimer.
Disclosure - FireStickTricks.com is reader-supported blog. When you buy a product through links on our site, we may earn commission. Learn More