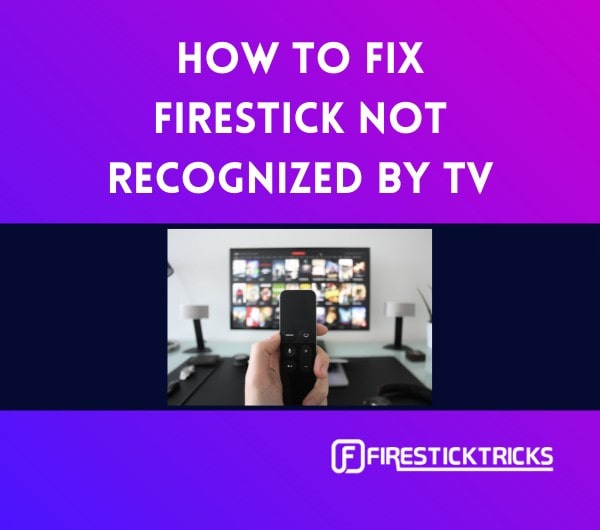 In this guide, I will share with you some reasons your TV or display isn't recognizing your FireStick or Fire TV and how you can fix the issue. Make sure to apply the fixes in their listed order to save yourself time.
Is your Amazon FireStick not being recognized by your TV or display? You are not alone. Many users online have reported that suddenly their TVs were unable to recognize their FireStick, leaving them unable to stream their favorite content on FireStick. 
Recently, it happened to me. And after going through numerous forums, articles, and guides online, I fixed the issue. So then, I thought of creating a super-to-the-point guide with working fixes. 
Without further ado, let's get started.  
Attention, FireStick Users!
Governments and ISPs constantly monitor your online activity, and accessing copyrighted content on your Fire TV Stick could lead to serious trouble. Currently, your IP is visible to everyone. I strongly recommend getting the best FireStick VPN to mask your IP address and securely stream your favorites.
I personally use ExpressVPN, the fastest and most secure VPN available. Not only is it easy to install on any device, it comes with a risk-free 30-day money-back guarantee. Plus, if you're not 100% satisfied, you can always get a refund. ExpressVPN is currently also offering a whopping 3 extra months free on their annual plan!
Read: How to Install and Use Best VPN for FireStick
Why Isn't My TV Recognizing My Amazon FireStick?
Before looking at the fixes, it's best to understand why your TV isn't recognizing your FireStick. The following are possible reasons behind the problem you are currently facing with your entertainment hub.
1. Unmatched FireStick & TV Input Source: You obviously don't look for something in one place when you've placed it in another. Here's what I mean: If you have connected your FireStick to HDMI 1 on your TV, you won't see FireStick video signals on any other input sources, like HDMI 2, HDMI 3, VGA, or Analog. Many users (who aren't geeks) make this mistake and panic.
2. Your TV Isn't HDCP Compliant: If you recently bought a FireStick and it's not being recognized by your TV, HDCP could be the culprit. HDCP is an anti-piracy tool used by modern devices to limit the illegal distribution of digital content. The FireStick is only compatible with HDCP-compliant devices like smart TVs and modern monitors. Unfortunately, most old TVs and displays aren't HDCP compliant, so they may not recognize FireSticks. If you are still rocking an old TV and trying to make it a smart TV using a FireStick, you may have to take a step back and try another approach.
Pro tip: You can try using an HDMI splitter, as it uses fallback mode to get past HDCP restrictions. But you'll have to settle for low-resolution video quality. The solutions I list below provide better results. 
3. Too Many Connected HDMI Devices: Your FireStick might not be sending video signals to your TV or display due to other connected devices. Modern TVs have multiple video ports like HDMI and VGA. Users may want to use them all for connecting their computers, tablets, and other devices. But that can lead to the display not properly recognizing some devices.
4. Not Using Official Power Cable & Adapter: If you're not using the official power cable and adapter that came with your FireStick, your TV or display may not recognize your FireStick. Basically, third-party power cables and adapters aren't designed to work with Fire TV devices. They may deliver insufficient power to your FireStick, leading to the device not correctly communicating with the display.
5. Faulty Accessories: A FireStick device gets its power from a micro-USB cable connected to either a standalone USB port or a power outlet (using a wall charger). Insufficient power provided by a broken USB cable or wall adapter can cause your FireStick to send blank signals to your TV. Not to mention that faulty accessories can also provide no power at all to your FireStick. This can similarly lead to the "no signal" problem when powering up your FireStick.
6. Power Source / Outlet Issue: A damaged power outlet or power strip can also play its part in your FireStick not being recognized by your TV. If the power source fails to provide adequate power, your FireStick won't provide video signals to your TV.  
7. Hardware Issue With TV or Fire TV Device: Last and certainly not least, your TV or your FireStick can also encounter hardware issues, leading to the problem at hand. If your FireStick or the HDMI port of your display has become faulty, you could definitely encounter recognition errors.
How to Fix FireStick Not Recognized by TV
Now that we have identified the main reasons behind your FireStick not being recognized by your TV, it's time to learn about the fixes. I have covered eight solutions. I put the easiest and most successful fixes first. So let's jump in and try each solution one by one until we solve the problem.
1. Check Input Source on TV
Before trying anything fancy, first, check the input source on your display. Start by seeing which HDMI port your FireStick is connected to. Then, click on your TV's input button and select the input source for your FireStick. 
For instance, if you have connected your FireStick to the HDMI 1 port of your TV, switch to the HDMI 1 source using your TV's remote. If that didn't help, try the next solution.
2. Check Power & Video Connections
Next up, it's time to check power and video connections. First, double-check that the power and HDMI cables are firmly connected to both the TV and your FireStick. Then, make sure your power cable is not connected to a USB port on any other device. Instead, plug the USB into a power adapter and then into a wall outlet. Similarly, if you are using an HDMI extension cable or adapter, try removing it and connecting the HDMI cable directly into your FireStick and your TV.
Since using loose-fitting or external power and video accessories can trigger the issue, securing connections has fixed FireStick recognition issues for many users. If you are not one of them, try the next fix.
3. Reconnect Your Fire Stick
Just like any other hardware, your FireStick can also sometimes hit a roadblock. And that can be fixed by the tried and true method of disconnecting and reconnecting your device.
So, unplug your FireStick from your TV's HDMI port. Then, remove the micro-USB cable powering the device. Wait for a few seconds. Then, plug your FireStick back into your display's HDMI port. After that, connect the micro-USB plug to your device. Then, press the home button on your FireStick remote to make sure your TV picks up the device.
Finally, use your TV's remote to switch to the HDMI source your FireStick is plugged into. Hopefully, your device's video signal will be back online and you'll be able to use it normally. 
4. Check HDMI Port & Extension Wire
HDMI is responsible for transferring the signals between your FireStick and your display. Many people have reported online that cleaning the HDMI plugs and ports on their TV and FireStick solved the signal issue.
Start by unplugging your FireStick from your display. Then, take a dry micro-fiber cloth and use it to gently clean both HDMI ports and plugs. Plug everything back in and see if it works.
If you're using an HDMI extension wire, ensure it's not damaged anywhere, and test it with another device to make sure it's working fine. But even better, as I mentioned before, remove the extension wire and plug your FireStick directly into your display's HDMI port. 
5. Try a Different HDMI Port
Connect your FireStick to a different HDMI port on your display. If you are still facing the same issue, you can try using the high-definition media input port on another TV.
If your FireStick is working on any other display, chances are that the HDMI ports on your primary display are broken. You can call customer service for your TV or display for further guidance.
Pro tip: If HDMI ports on your display are not working and there's a VGA port available, you can buy a VGA male to HDMI female converter. Then, simply connect the converter's VGA male end to your display and connect your Fire TV to its HDMI female port. 
6. Change Power Source / Outlet
Remember that insufficient power can cause your FireStick to act strange? You could be connected to a bad outlet or power strip. Try switching the power source you're using to run your FireStick. Plug the power directly into a wall outlet if possible, and if you were already using a wall outlet, try a different one.
Are you still facing the issue? Hopefully, the last two fixes will resolve it.
7. Replace Power Accessories
Sometimes, it's not the power source but the accessories that are responsible for problems with your FireStick. 
First of all, make sure you're using the original cable and adapter provided by Amazon. If you're not using them but you still have them, retrieve them and use them instead of the ones that are currently connected to your device. Alternatively, order a new set of official power accessories from Amazon.
Next up, if you are already using official accessories, you may still need to order a new set from Amazon. Sometimes, the original power cable and adapter can become faulty all of a sudden. So, try powering on your FireStick with new official power accessories to see if that fixes your problem.   
8. Remove Other HDMI Devices
Removing other HDMI devices is an inconvenience to your setup and streaming experience. Thus, it's the last solution to fix FireStick not being recognized by your TV. As I mentioned above, using too many HDMI inputs on a TV can cause problems in the distribution of video signals. 
So, if your TV is connected to other HDMI devices, and especially if you have recently connected an HDMI device to your TV, remove every device except the FireStick one at a time. Then, unplug the FireStick power source, plug the power source back in, and press the home button on your FireStick remote so your TV picks up your FireStick. Finally, switch to the correct HDMI input for your FireStick and see if it's recognized now.    
Final Words
The solutions I mentioned in the guide have helped many FireStick users resolve the problem of their FireStick not being recognized by their TV. However, if your TV still does not recognize your FireStick, you should consider buying a new device. On the other hand, if your FireStick is successfully recognized by other displays, then your original display simply requires service.
So, have you gotten back to streaming unlimited content on FireStick? In the end, which solution worked for you? Feel free to comment down below and help other people who are tackling the same problem. You can also suggest other working solutions that I may have missed. Happy cord-cutting! 
Related:
Legal Disclaimer - FireStickTricks.com does not verify the legality or security of any add-ons, apps or services mentioned on this site. Also, we do not promote, host or link to copyright-protected streams. We highly discourage piracy and strictly advise our readers to avoid it at all costs. Any mention of free streaming on our site is purely meant for copyright-free content that is available in the Public domain. Read our full disclaimer.
Disclosure - FireStickTricks.com is reader-supported blog. When you buy a product through links on our site, we may earn commission. Learn More