If you're looking for anime sites to watch your favorite videos completely free of charge, don't worry – I have you covered. In this article, I'll run down 22 of the best free anime streaming sites to watch anime online.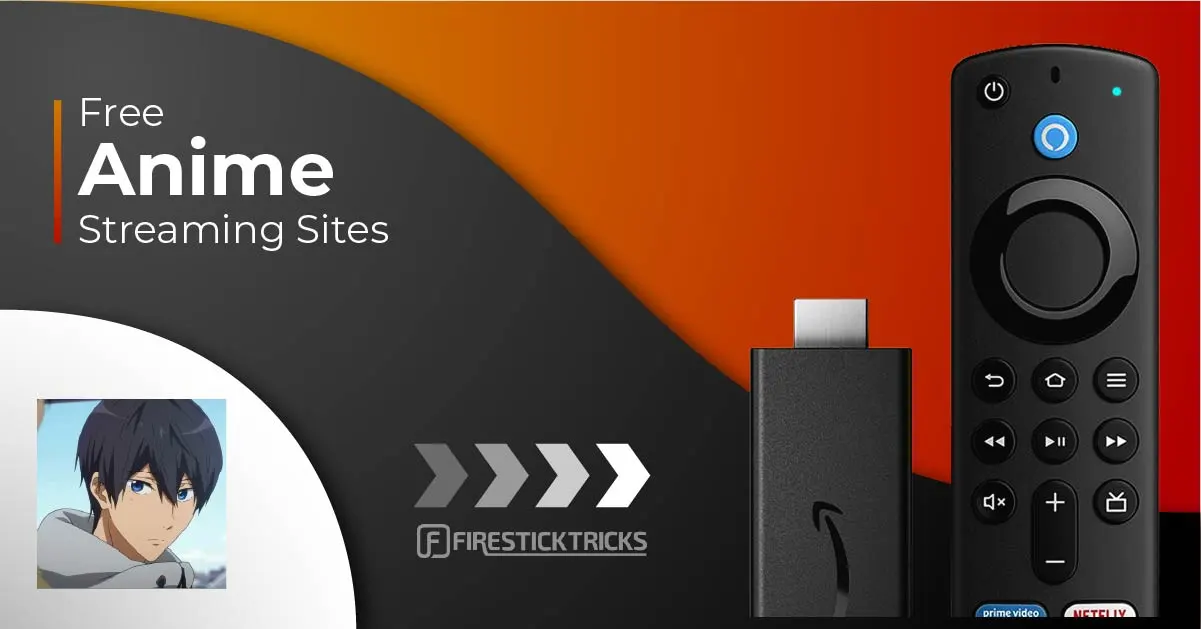 Anime is derived from the English word "animation", but don't let any anime fan hear you call a regular animated film by that term. This Japanese-styled animation has been around for over a century now. It incorporates content that cuts across a wide variety of genres.
While the earlier anime movies and series were primarily meant for the Japanese market, the niche has since found commercial success abroad. Now it is enjoyed by children and adults alike in countries all around the world.
Loyal fans of anime outside Japan often find it difficult to watch and follow the latest releases. As you can imagine, that can be very frustrating. Anime content aired in Japan is not as readily available in other regions. Unless you know where to look, that is.
In this article, I'll show you. The anime streaming sites I will cover contain large collections of anime movies and series, from the latest and mainstream to the classics and lesser-known. Now you can watch anime online for free and at your convenience.
Free anime websites go down all the time. Largely because they constantly fall foul of copyright licensing regulations. Currently, many of the popular anime streaming sites have been taken down.
Attention Users: Read before you continue
Governments and ISPs across the world monitor their users' online activities. If found streaming copyrighted content online, you could get into serious trouble. Currently, your IP is visible to everyone. I strongly recommend you get a good VPN and hide your identity so that your streaming experience doesn't take a bad turn.
I use ExpressVPN which is the fastest and most secure VPN in the industry. It is very easy to install on any device including Amazon Fire TV Stick. Also, it comes with a 30-day money-back guarantee. If you don't like their service, you can always ask for a refund. ExpressVPN also has a special deal where you can get 3 months free and save 49% on annual plan.
Read: How to Install and Use a VPN on All Your Devices
The Best Free Anime Streaming Sites to Watch Anime Online
The free anime websites on this list were curated based on a number of metrics. To begin with, they are all free. Well, mostly. In addition, these anime streaming sites will offer large collections of anime in different genres that you can stream in high quality. I'll evaluate the user interface for ease of use as well as ad annoyance.
Let's get to it.
Legal Disclaimer: This tutorial is purely educational. FireStickTricks.com doesn't own, host, operate, resell, or distribute any streaming apps, addons, websites, IPTV or services. The page contains some unverified services, and we are not certain whether they hold legal licenses to distribute the content. FireStickTricks.com does not verify the legality of each app/service in all regions. Do your due diligence if you use any of the unverified apps/services, and stream only content that is available in the public domain. The end-user shall be solely responsible for the media accessed.
1. Crunchyroll
Countries/regions: Available worldwide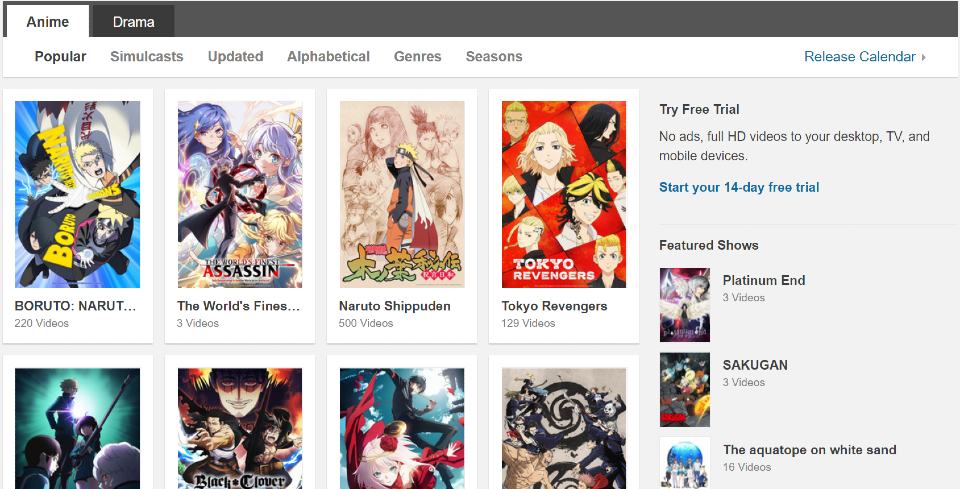 First off on this list is Crunchyroll, a website that for many people, has almost become synonymous with anime content. Currently, it has a subscriber base of well over 4 million users. Crunchyroll is a popular name among anime fans for a variety of reasons.
For one, it has an overwhelming library of content, including anime series, movies, and manga. The anime streaming website has a catalog with over 1200 titles – more than most of its rivals. Subscribers get to watch anime releases almost as soon as they are aired in Japan, a huge draw for the service.
The videos are uploaded in HD quality for a fuller experience. There is no 4K viewing though – they max out at full HD.
Crunchyroll is a premium anime service. However, it is on this list because there is a free plan, albeit a limited one. Free users do not get access to all anime titles, and they have to endure ads. To enjoy all the features on offer, you can take advantage of a generous 14-day free trial to check out Crunchyroll Premium.
2. 9anime
Countries/regions: Available worldwide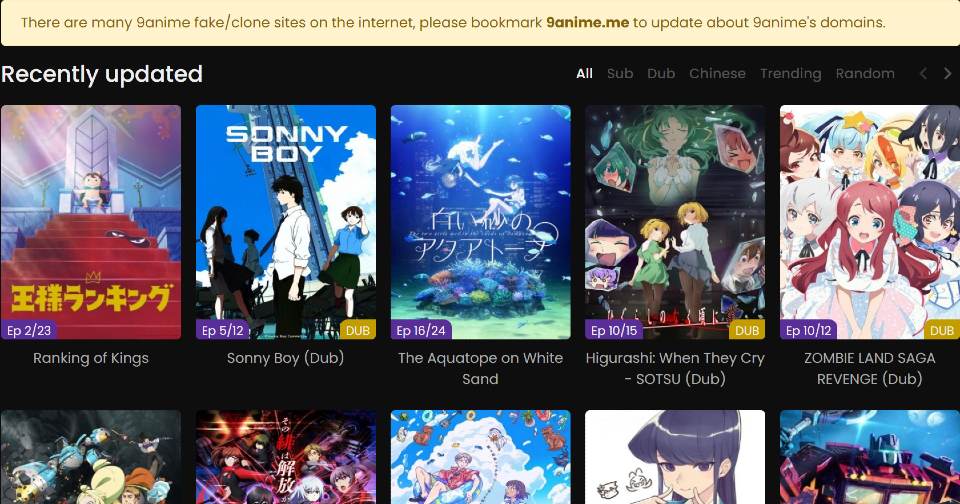 Up next on the best free anime websites is 9anime. This is one of the most popular sites to enjoy anime online, and when you visit the home page, it is immediately clear why. 9anime spots a clean, modern, and sleekly designed user interface with dark or light themes. There is no clutter, navigation is a piece of cake, and there are no annoying pop-up ads.
This anime website offers an extensive collection of anime series, movies, OVAs, ONAs, and Specials. There are subbed and dubbed anime content, making it convenient for English speakers who don't like subtitles.
You can find the content you're looking for by using the prominent search box on the home page of the website. Alternatively, several categories sort anime into genres, types, and time of release. To make searching for anime even easier, browse through alphabetical categories.
You can watch anime at up to 1080p quality on 9anime.
3. Funimation
Countries/Regions: United States, Canada, United Kingdom, Ireland, Mexico, Australia, New Zealand, and Brazil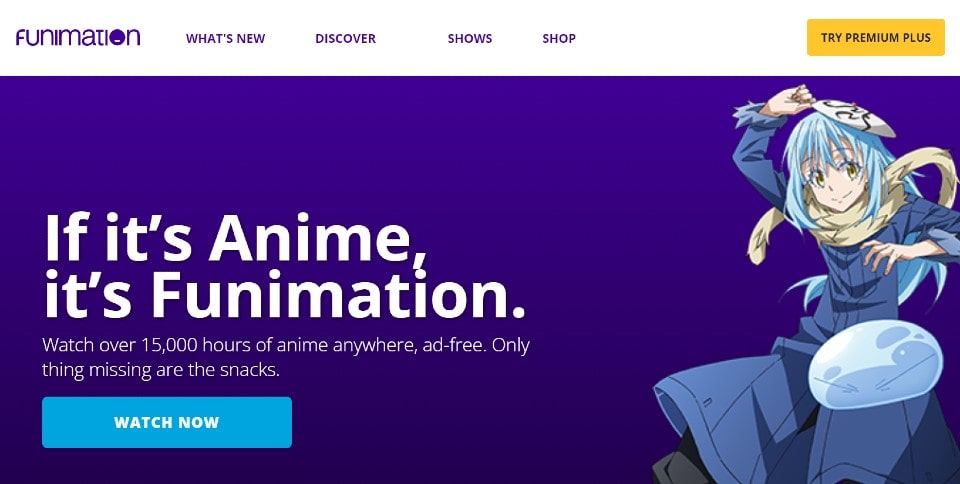 Funimation has a huge collection of over 10,000 anime episodes and movies and a library that constantly gets updated with new content.
The anime streaming website is one of the largest distributors of anime content in North America. Currently, it has licenses to tons of TV series, including popular titles like Hunter x Hunter, Black Clover, My Hero Academia, One Piece, Dragon Ball, Assassination Classroom, Attack on Titan, and many more.
The animes on Funimation are restricted to the United States and a few other countries. To enjoy it from other regions, you need the services of a VPN like ExpressVPN.
Funimation is more than just anime streaming. On this website, fans can get all the news and information they need on anime games, manga, new and trending anime series, movies, merch, collectibles, and so much more.
There are premium plans for a more immersive experience but you can watch anime free on this website. There is a ton of free content, as long as you are ready to put up with ads. You can stream all videos on the website in a range of quality, rising up to 1080p.
4. Gogoanime
Countries/regions: Available worldwide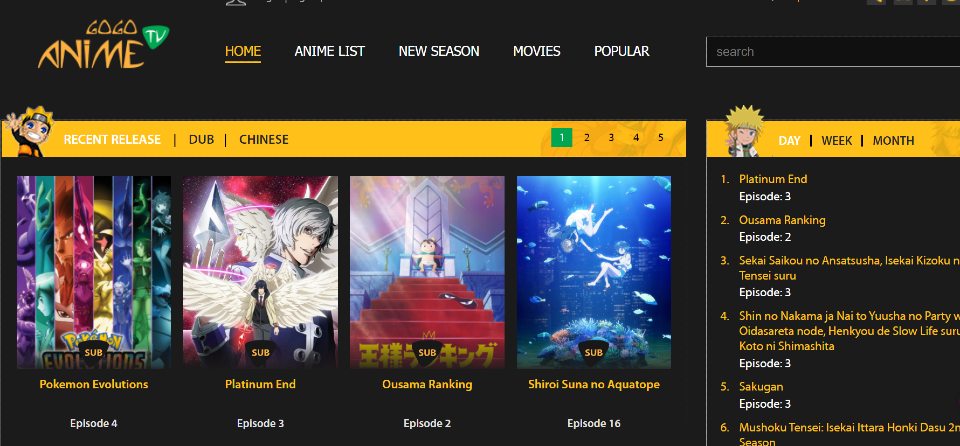 Anime sites don't get much better than Gogoanime. This website has been around since 2014 and is an excellent source for anime streaming for tons of fans. There is a large library of Japanese TV shows and movies, as well as a sizeable collection of Chinese titles for viewers who enjoy them. Users enjoy regular updates of anime episodes soon after they get aired in Japan.
This anime website lets you watch for as long as you want without burdening you with annoying ads. You don't even need to sign up to use the site. There is an upside to signing up though – you can download the anime content for offline viewing.
Navigating the website to get anime TV series or movies is pretty easy. The latest anime episodes are uploaded on the home screen as soon as they arrive. An advanced search box comes with several filters to help you narrow down your search. An anime list on the home page gives you an alphabetical run-down of the titles on offer.
5. Animeheaven
Countries/regions: Available worldwide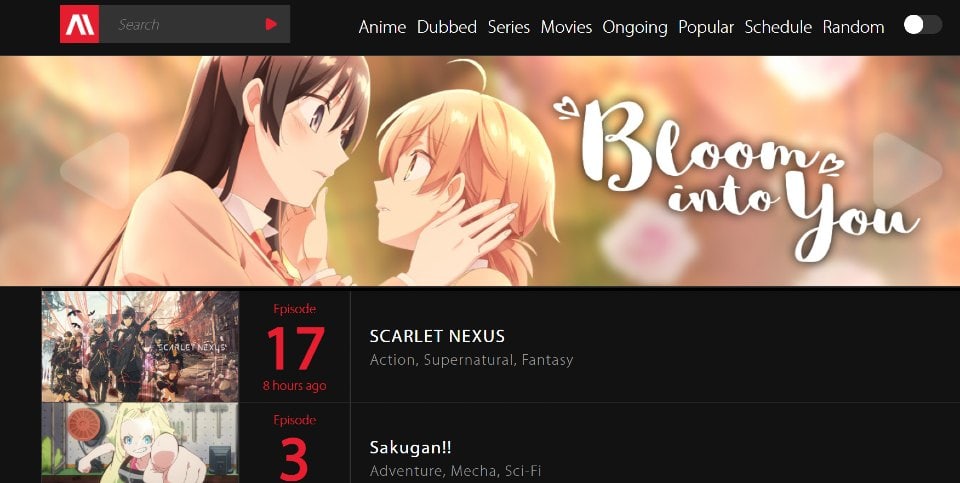 Up next on the list of the best anime streaming sites to watch anime online is Animeheaven, a website with thousands of free anime episodes. Watching anime on this website is smooth and hitch-free. There are no pop-up ads or surveys to diminish the streaming experience.
Animeheaven offers all genres of anime, including action, adventure, comedy, drama, horror, historical, sci-fi, mystery, and many more. It does not store any of the anime shows or movies on its servers but pulls them from various content providers.
The user interface is clean and easy to use. It sports a dark theme with red headlights. Unlike many other free anime websites on this list, Animeheaven discards the thumbnails for a design that is simple and much less clunky. Categories let you choose between subbed and dubbed anime. You can browse among new releases, popular, and ongoing series. An advanced filter option lets you narrow down your choices.
6. Anime Kisa
Countries/regions: Available worldwide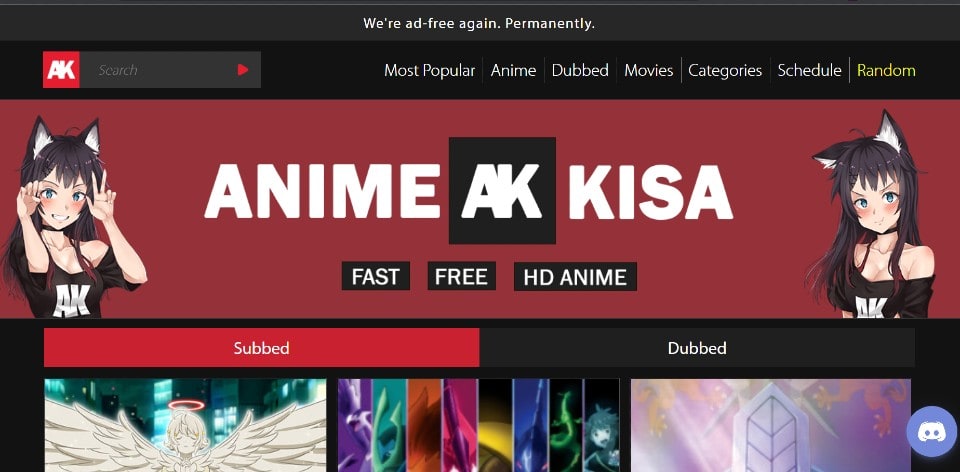 Next, we have Anime Kisa. It is one of the best anime sites to watch videos completely free of charge. Best of all, the website does not even have ads – a welcoming banner on the home page promises that is a permanent fixture. Anime Kisa's collection of anime shows and movies is pretty impressive, with a few thousand titles. And it's growing even larger as more episodes are added every day.
Anime Kisa has an edge over many other free anime sites because of its user interface. Well-designed, it is highly intuitive. Two tabs on the home page help you switch between Dubbed and Subbed anime videos. There are several genre categories, as well as a powerful search field.
You can choose the video source for your anime. If you prefer to keep your anime offline, you can also download them from the website in different video qualities.
7. 1anime
Countries/regions: Available worldwide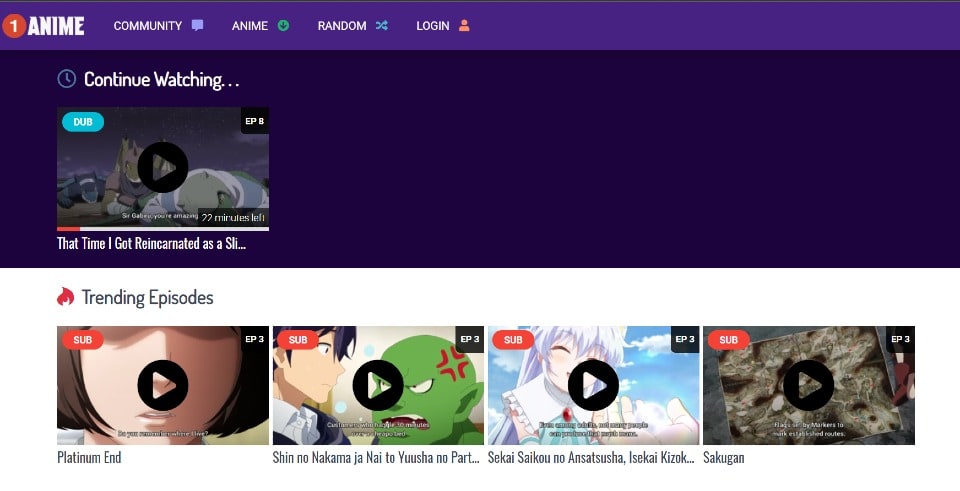 1anime is an anime website that provides you with a huge database of animation series and films. It is a great source of dubbed and subbed anime videos. Users of this website will not exactly be wowed by the design, but that does not mean it is tough to use.
An advanced filter feature lets you sieve through the videos on the anime website. It is convenient because there are only a few categories that sort the animes into new releases, trending episodes, and top anime. If you're not looking for anything in particular, a Random feature makes a decision for you.
All anime videos on 1anime get Sub or Dub tags. The video quality is in HD for a quality viewing experience.
8. KissAnime
Countries/regions: Available worldwide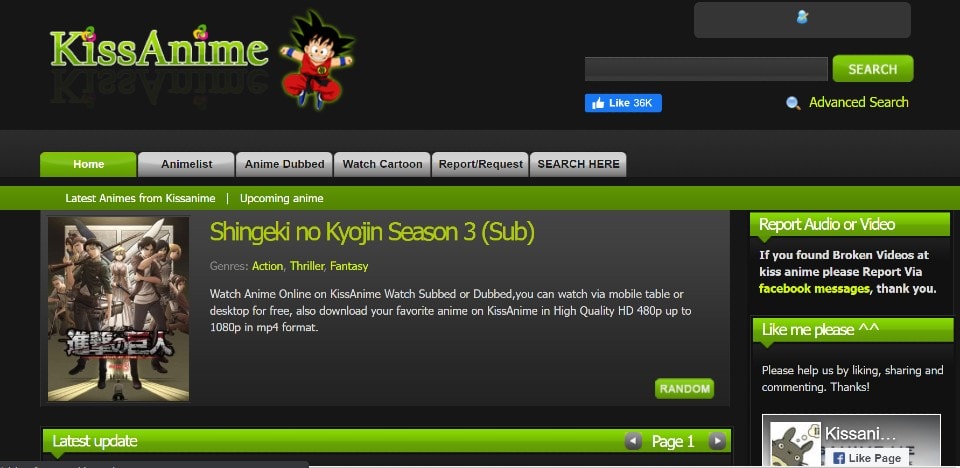 If you're familiar with this free anime streaming site, you probably know its sister site, KissManga. KissAnime was launched in 2012 and grew to become one of the biggest streaming sites in the world, attracting millions of hardcore fans. While the official KissAnime site is now defunct, it has been reincarnated in a number of clones, some more prominent than others.
KissAnime lets you watch anime across a broad spectrum of genres, including action, mystery, drama, comedy, superpowers, horror, and more. The video quality ranges from standard to high definition. Because watching anime on this website is free, there are ads. Depending on the clone, they can be intrusive or low-key.
Coming bundled with the site are two other websites – KissCartoons and KissAsian. The former offers a large collection of cartoons in several genres, from children to adult videos. KissAsian, on the other hand, lets you watch Asian drama TV shows free of charge. All three websites share similar designs.
9. Anime Planet
Countries/regions: Available worldwide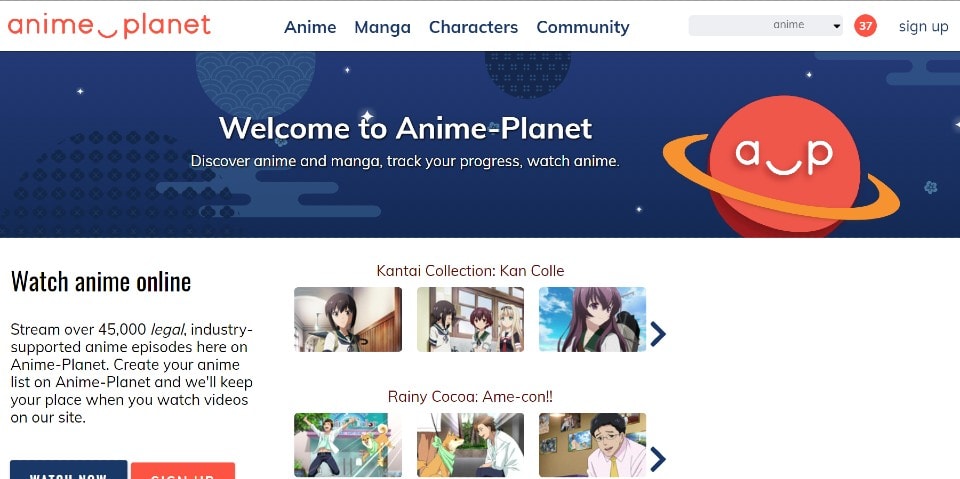 A legal website for watching anime online free, Anime-Planet has been around for two decades. It has since grown to hold a collection of over 45,000 industry-supported episodes. Proudly operated by fans, Anime-Planet does not charge a subscription fee from its visitors. However, you can choose to donate by Patreon to keep the website running.
With such a huge catalog, you can find all sorts of anime on Anime-Planet across several genres. They are culled through its partnerships with streaming platforms like Crunchyroll and Hulu. Fan favorites like One Piece, Black Clover, and Tokyo Revengers have episodes uploaded regularly. There are ads, but not a lot.
With a clean, intuitive user interface, it is easy to navigate the anime website to watch your favorite anime. When you register, you can create your own anime list with your favorite anime TV series and movies.
Apart from anime, you can read manga online, explore manga recommendations, and read light novels. Because Anime-Planet is big on community, the website has a discussion forum. Here, fans review anime and manga and hold general discussions.
10. Anime Owl
Countries/regions: Available worldwide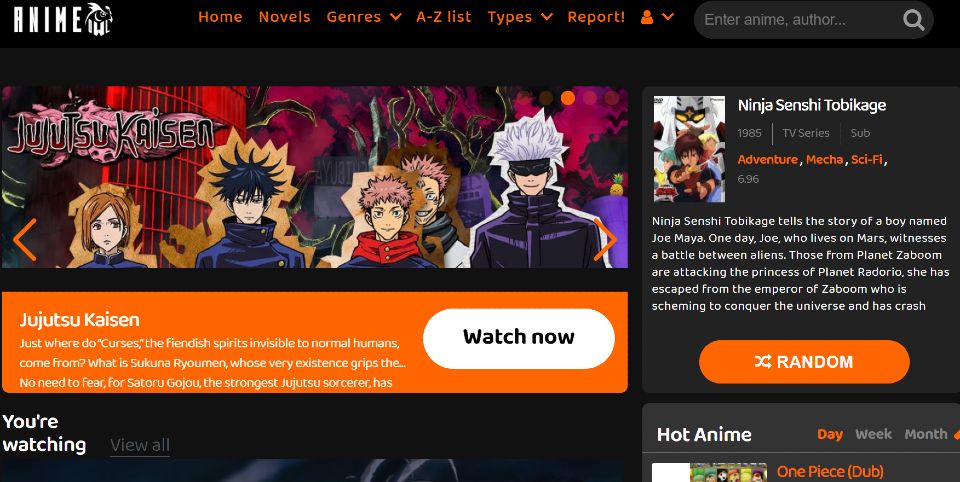 Anime Owl is one of the most elegantly designed anime websites on this list, which makes watching videos on the site fun. But it is much more than a sleek design. This anime site has an extensive collection of videos that get updated regularly which you can watch in high definition quality.
There are various types of animes on the site, including TV series, OVA, ONA, movies, and Specials. An A-Z anime list presents a run-down of content, sorted in alphabetical order. There are also several genres to choose from. Anime Owl links also to an extensive library of light novels that you can read online.
Anime Owl is compatible with a range of devices and has apps for iOS and Android.
11. AnimeFreak
Countries/regions: Available worldwide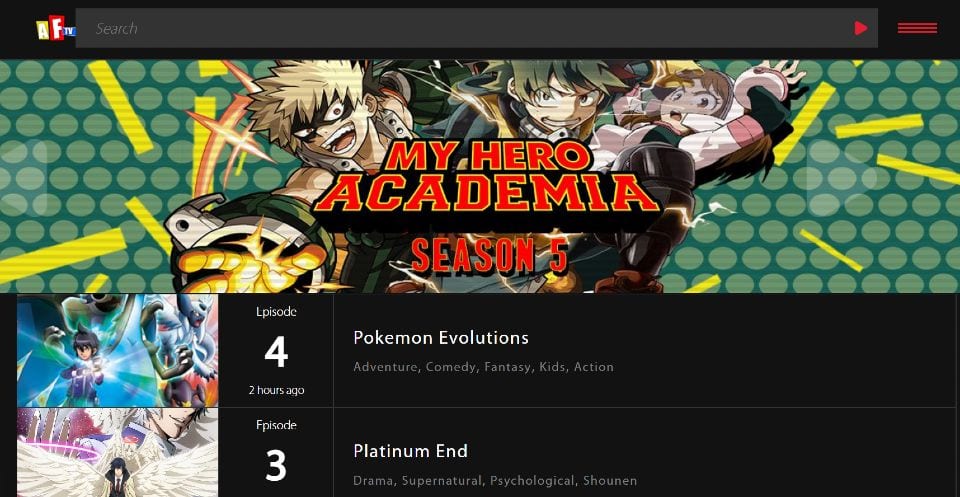 You can watch subbed and dubbed anime for free on AnimeFreak. This website brings you everything from free anime series episodes to movies and cartoons. Signing up is not compulsory to use the anime website, so visitors can explore its excellent collection of anime series and movies as soon as they hop on.
AnimeFreak's library is neatly organized into various categories to ease the use of the site. You have categories like Dubbed, Ongoing, Popular, and Hentai. An anime scheduling feature creates a timetable for release so you can keep up with your favorite anime videos as soon as they drop. The website has a dark-themed sleek look, but you can switch to the old design if you want.
Watching anime online on AnimeFreak is in HD quality for a crisp clear viewing experience. All videos can be set to 720p or 1080p.
12. TubiTV
Countries/regions: United States, Canada, Mexico, Australia, and New Zealand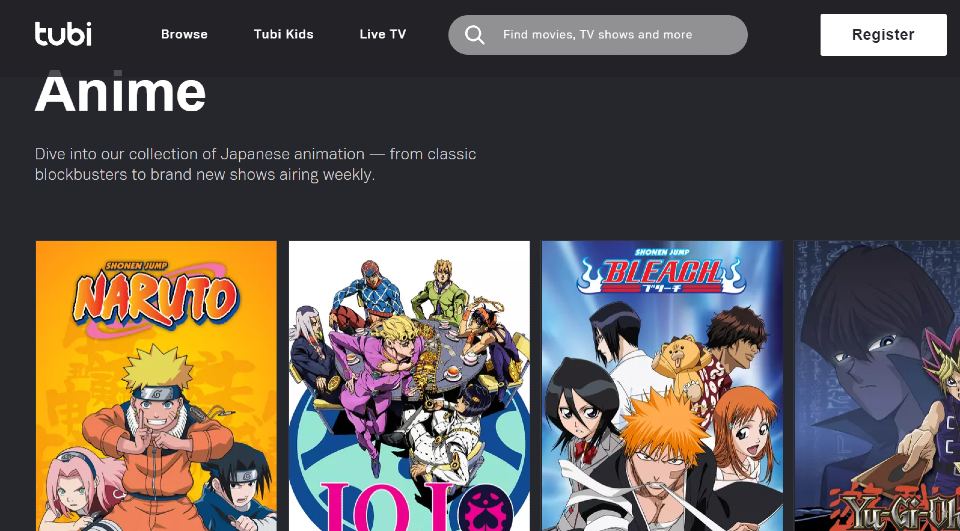 Tubi TV is the first of the free anime websites on this list that is not a standalone anime service. Rather, it is an over-the-top (OTT) streaming platform that provides tons of video content, ranging from movies to TV shows and documentaries. You can even watch Live TV on Tubi TV – there are several channels, covering the news, sports, and entertainment.
Anime fans are not left out. While it does not have the most robust library of anime videos on this list, there are dozens of titles you can watch legally. These include popular anime series like One Punch Man, One Piece, Toriko, and Fairy Tail. Most anime videos on Tubi TV are dubbed for the convenience of English speakers.
Tubi TV does not exactly shine in terms of viewing quality. Users get a choice of video quality for watching anime on the website, but it tops off at 72op. It's not the worst thing in the world, but videos in full HD or higher would make for a more enhanced watching experience.
13. Hulu
Countries/regions: United States, Japan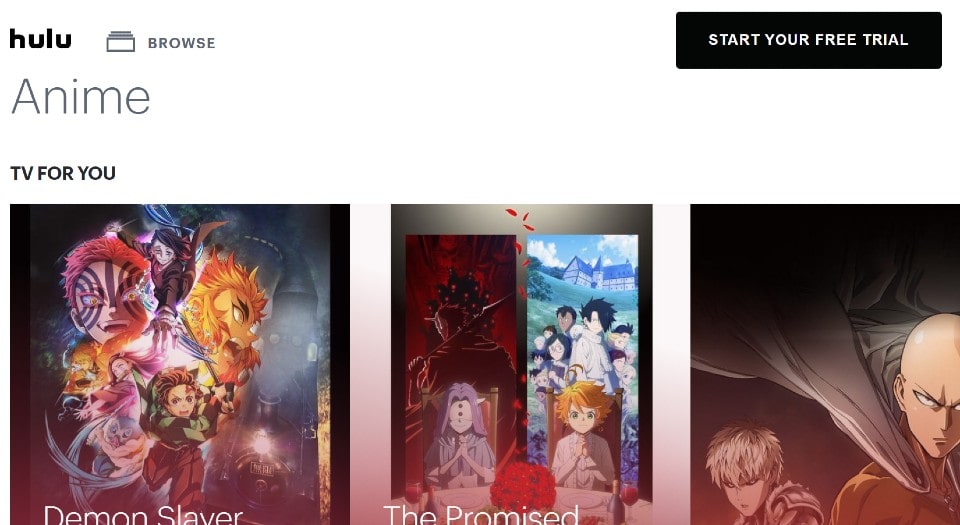 Easily one of the most popular streaming services in the world, Hulu is also one of the best websites to watch anime series and movies. It is best known for its TV shows, movies, and Originals, but Hulu also has a sizeable anime content library.
On this platform, you can watch anime series like One Piece, Dragon Ball Super, Assassination Classroom, My Hero Academia, and Attack on Titan. Most of the anime series are dubbed in English. On the other hand, the anime movies here are more likely to be subtitled. They include titles such as Akira, K Missing Kings, Afro Samurai Resurrection, and Fairy Tail the Movie.
As you can expect, the viewing experience on Hulu trounces those of the other anime sites on this list. You can watch your favorite anime on Hulu in a variety of video qualities, like 720p, full HD, 4K Ultra HD, and 60fps HD.
Hulu is not a free website, but new subscribers get to enjoy everything on offer for up to 30 days if they take advantage of its free trial. It is also available as an app on the Google PlayStore and App Store.
14. AnimeUltima
Countries/regions: Available worldwide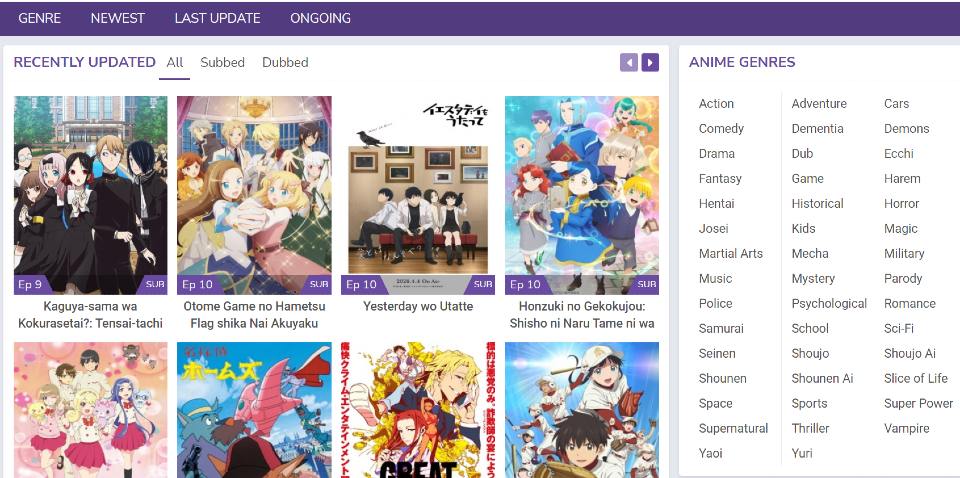 Next on the list of the best free anime websites is AnimeUltima. Most of the anime series and movies on this website have English subtitles, but there is also a number of dubbed videos. AnimeUltima has many of the popular anime videos covered in its extensive library, and newly released episodes are uploaded frequently.
Even though you can watch anime for free here, it is not cluttered with ads. This makes for a decent user experience, especially when combined with how cleanly designed the anime website is. With videos grouped into a ton of genres and an effective search function, exploring anime series and films is quite easy.
Like most other free anime sites I've discussed, you can watch anime series on AnimeUltime in HD quality. It does not have a download function.
15. AnimeDao
Countries/regions: Available worldwide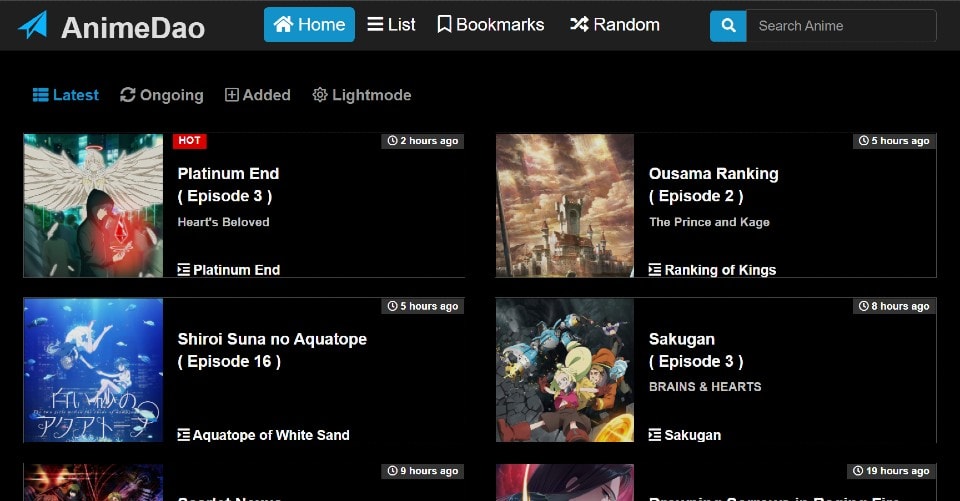 You will find some anime movies here, but AnimeDao is primarily focused on providing anime fans with all the TV series they're after. It is one of the best anime sites for popular titles, including new releases and old classics. Watching anime does not cost a subscription fee on this website, and the ads are minimal.
AnimeDao has a clean user interface that is easy to navigate. You can switch between dark and like modes, depending on your preference. Clicking on the Latest or Ongoing tabs directs you to the newest releases and continuing series respectively. If you are not sure what to watch, Random will help make up your mind for you.
After you decide, you can choose between different servers to begin watching. The pro here is that if one does not work, one of the others will. You can decide on the quality of the videos by selecting up to 1080p resolution. A feature I especially liked is that you can pick up from wherever you left off any time you come back to an episode.
AnimeDao is big on community. Anime fans that visit the website regularly have a Discord group for discussions.
16. Masterani
Countries/regions: Available worldwide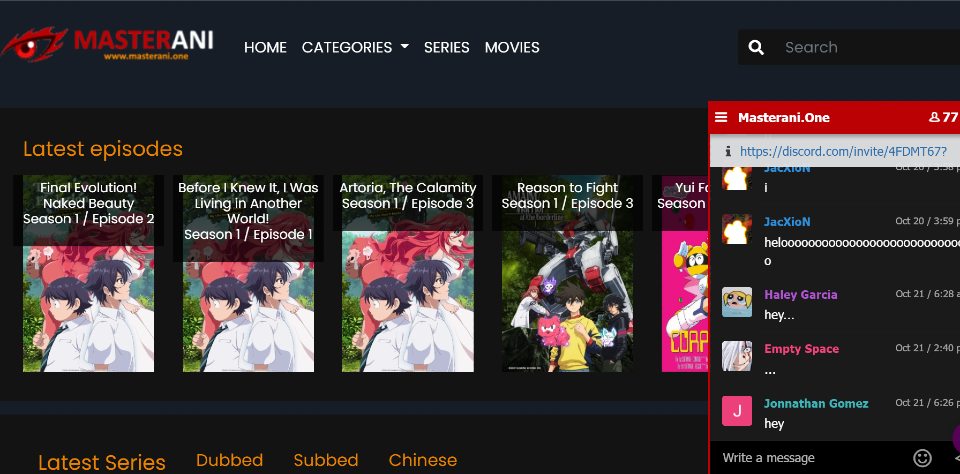 Masterani deserves a place on the best anime streaming sites due to its large library of anime videos, user-friendly interface, and HD quality video streaming. There are a couple of thousand anime titles here, including series and movies.
The anime website gets updated daily so visitors and loyal users are not left waiting for new episodes of their favorite anime shows. Movies don't quite get the same treatment – you're going to see a lot of pretty old movies here. On the plus side, this means it is one of the best anime websites to watch classic films.
Masterani is modern-looking and wears a dark skin. The videos fall into categories based on genres. A powerful search feature returns results with similar terms to your search query. There's also a pop-up chat box so visitors to the site can discuss their favorites.
17. Chia-Anime
Countries/regions: Available worldwide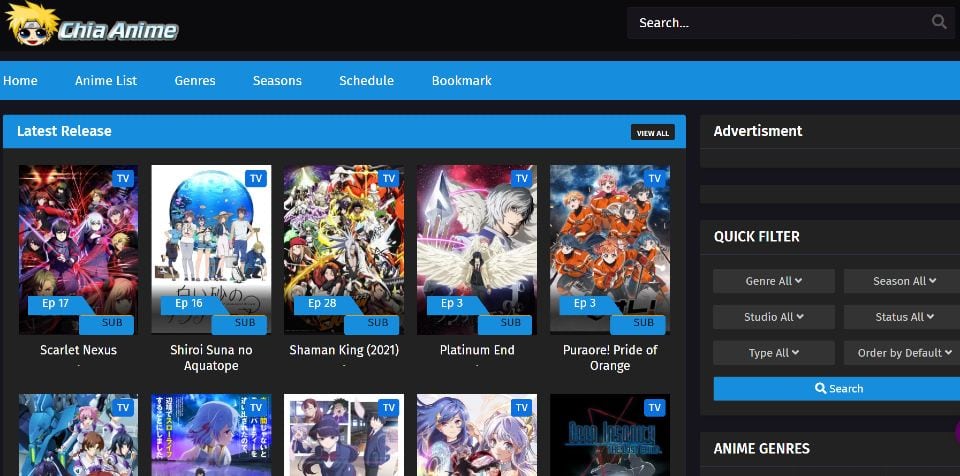 Another of the best anime streaming sites is Chia-Anime, a site that gets tons of traffic for all kinds of anime content. With a large collection of anime movies, shows, and cartoons that get updated pretty frequently, you can watch anime ranging from the popular to the obscure.
Chia-anime is not the most elegantly designed website there is, but it gets the job done. Navigation is not difficult, and pop-up ad annoyance is down to a minimum. Anime titles are sorted into various categories, including genres and seasons. There are over 30 different genres of anime videos, with lesser-known genres included.
Chia-anime is also one of the best anime sites for visitors to read manga titles and listen to anime soundtracks.
18. Animeland
Countries/regions: Available worldwide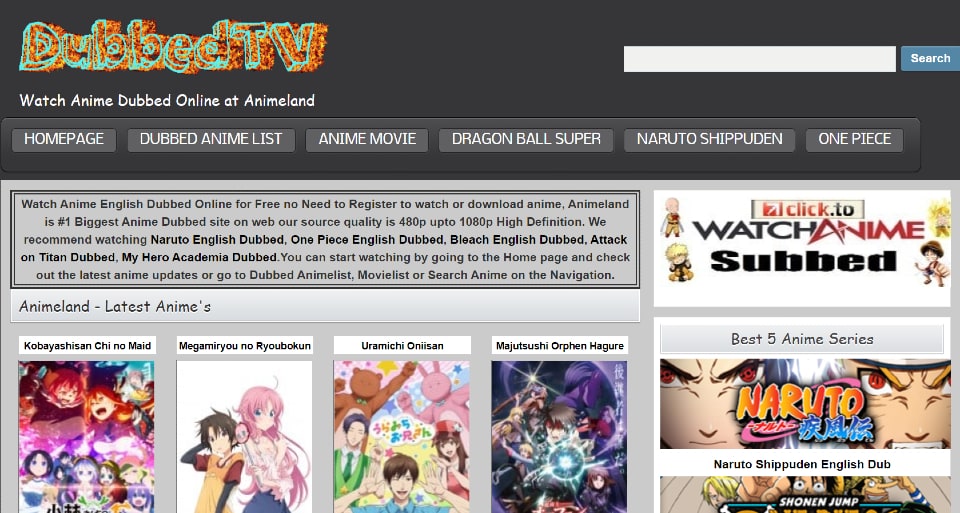 Animeland is one of the best anime websites to watch dubbed anime shows and films. Most of the videos on this website are dubbed versions of the original Japanese. Even at that, they come with subtitles.
Animeland's website is a bit dated, with a design that looks like it was created decades ago. Still, the user interface is not cluttered and you will find it easy to navigate and use. The categories, including Dubbed Anime List, Dragon Ball Super, Naruto Shippudden, and One Piece, don't offer much help to find animes not listed among them. The search function does, but you would need to know the anime's name, to begin with.
On the plus side, anime streaming is impeccable, with a choice of video quality ranging from 360p to 1080p. There is a download feature so you can save videos for offline viewing.
19. AnimeShow
Countries/regions: Available worldwide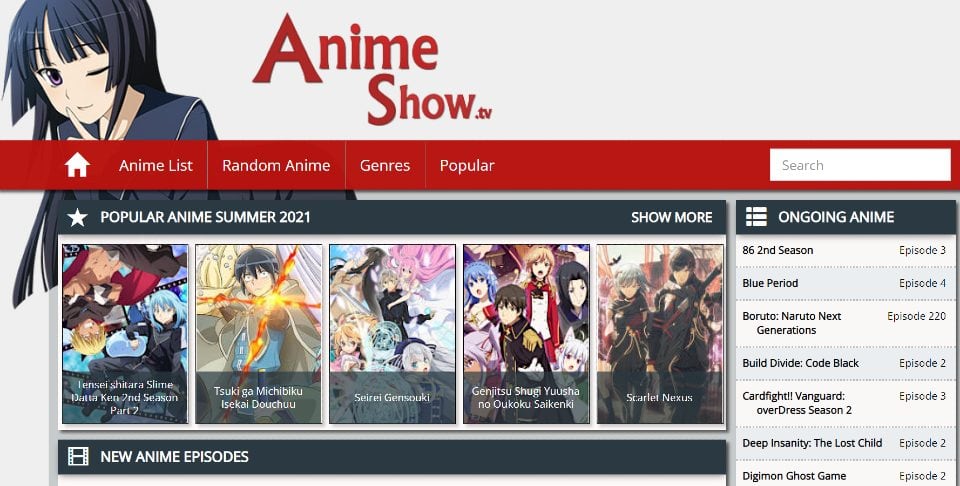 The anime list on AnimeShow explains why it is one of the best free anime websites to watch videos on the internet. AnimeShow library is a comprehensive one that consists of the popular contemporary titles to the lesser-knowns.
The website's design is a clean one. There's no learning curve on its usage, and as icing on the cake, very little in terms of ads. The anime is well-organized into various genres. As with many other free anime sites, you can see the newly released episodes on the home page.
AnimeShow does not require any registration to use the site. You can stream all uploaded content in high definition.
20. AsianCrush
Countries/regions: Available worldwide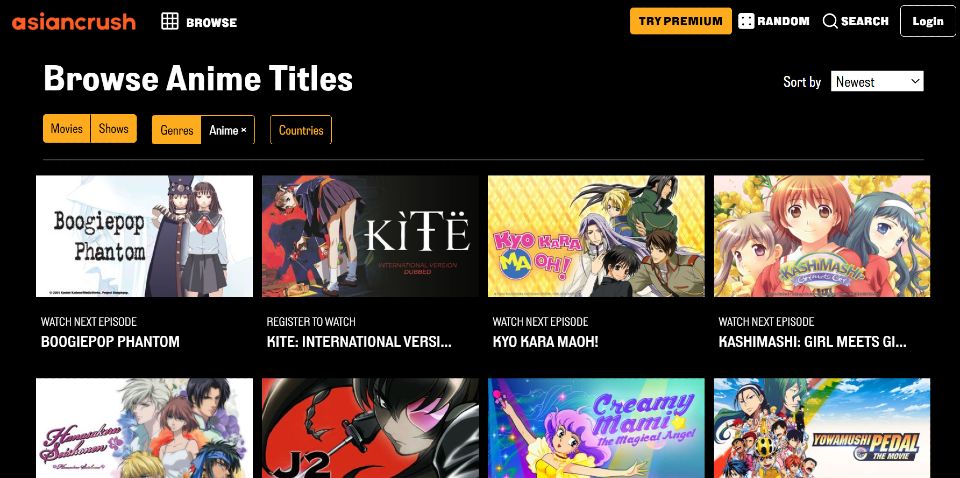 AsianCrush is not a standalone anime website. The streaming service offers a host of Asian movies and series spread across a wide cross-section of genres. One of those genres is anime, and you'll find dozens of titles under it.
Signing up is not mandatory to use the website. However, some of the content needs you to be registered and logged in to watch. AsianCrush has a premium subscription that unlocks the full experience of the service.
The website has a sleek user interface but is not the easiest to use, regardless. There are no categories for anime so you're limited to the search button to narrow down on titles.
21. NaurtoGet
Countries/regions: Available worldwide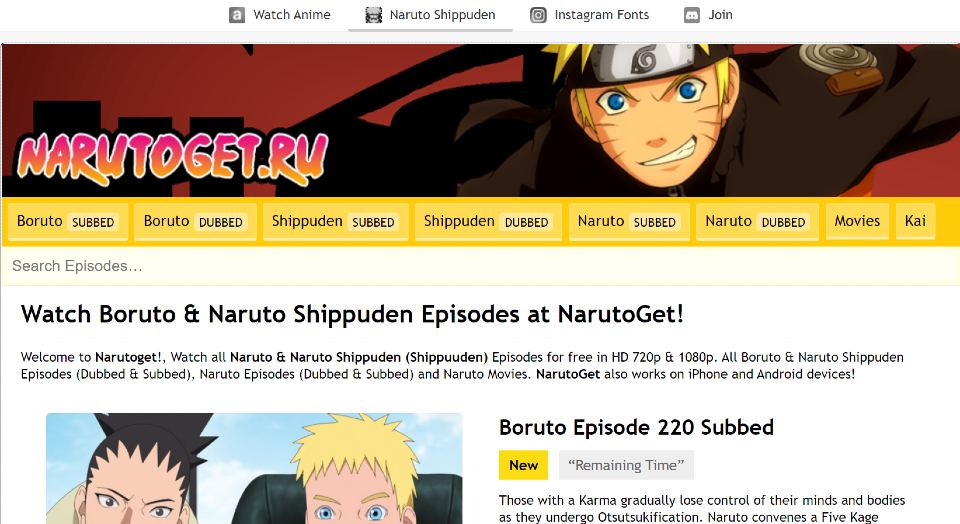 As you probably guessed from the name, NarutoGet is an anime website that caters to Naruto fans. It is one of the premium destinations for lovers of everything Naruto. The website features Naruto, Naruto Shippuden, and Boruto series, Naruto movies, and manga. There are even Naruto-themed fonts to download.
Your preference counts here – you'll find all videos of Naruto Shippuden and Boruto both subbed and dubbed. Playback is smooth, and you can choose between multiple video sources. There are download links within each video player, so you can save them for offline viewing. As for video quality, NarutoGet lets you choose between standard definition, HD, and Full HD.
NarutoGet has a Discord community for fans.
22. CONtv
Countries/regions: Available worldwide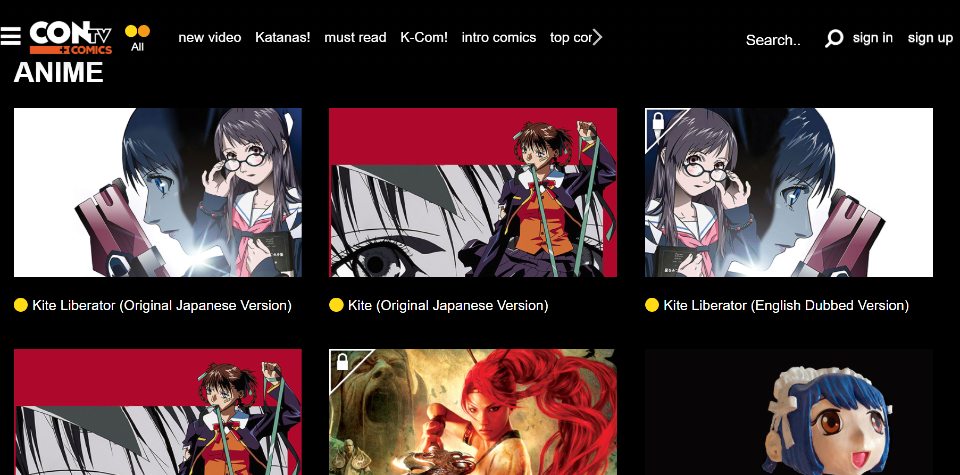 If you love comics, there's no doubt that you'll love CONtv. This streaming service is dedicated to members of the Comic-con community, providing them with exclusive content and access to the conventions from different locations in the United States.
CONtv's catalog covers a wide variety of videos. There are movies and series in several genres, including horror, supernatural, action, and horror. More relevantly, the website has a bunch of anime that you can watch for free.
Beyond these, CONtv lets users get a look at behind-the-scenes footage, interviews, discussions, reviews, and more from the Comic-con. It has both free and premium versions.
FAQs
Are free anime sites legal?
Some of them are. In this article, the legal free anime sites include Hulu, Crunchyroll, Funimation, CONtv, and Tubi TV. If you stream anime exclusively on sites like this, you don't stand a chance of crossing any copyright licensing regulations.
However, the other anime sites are not quite legal. These sites straddle a legal gray area and are usually in conflict with the authorities for violating regulations.
Are free anime sites safe?
Legal anime sites are perfectly safe. This is because the anime on these websites are vetted before they are uploaded. That is not always the case with third-party anime websites.
Do I need a VPN to stream anime online?
VPNs are recommended for streaming anime videos for a few reasons. For one, VPNs protect user traffic from interception from ISPs, scammers, and the Government. Furthermore, they help to bypass the geo-restrictions set by anime websites to lock content to regions. I personally use and recommend ExpressVPN.
Can I stream anime on FireStick?
Yes, you can. Check out the best apps for streaming anime on your FireStick.
Wrapping Up
Originally birthed in Japan, anime has taken over the world. These days, people from virtually every country watch anime and read the manga. But it is not always easy to get the anime content that you want for free online.
In this article, I showed you 22 of the best free anime streaming sites to watch anime online. I hope you find them helpful. If you have any comments in this direction, please use the comment box below.
Related:
Legal Disclaimer - FireStickTricks.com does not verify the legality or security of any add-ons, apps or services mentioned on this site. Also, we do not promote, host or link to copyright-protected streams. We highly discourage piracy and strictly advise our readers to avoid it at all costs. Any mention of free streaming on our site is purely meant for copyright-free content that is available in the Public domain. Read our full disclaimer.
Disclosure - FireStickTricks.com is reader-supported blog. When you buy a product through links on our site, we may earn commission. Learn More