You use the internet for many hours every day. Almost everything can be done over the internet in today's world. However, the internet is as dangerous a place as it is useful. Whether it is your data, your browsing activity, or your identity, everything is under constant threat when you are browsing the internet. This is where a VPN proves to be a lifesaver. In this post, we will talk about the reasons you should not ignore and start using a VPN without any delay.
Why Should You Use a VPN?
VPNs can help you protect yourself against privacy abusers and identity thieves, but many people think these are not things worth investing money in. Well, these aren't the only reasons you should use a VPN. There are plenty of ways a VPN can improve and safeguard your online surfing.
#1. Hide from Government Surveillance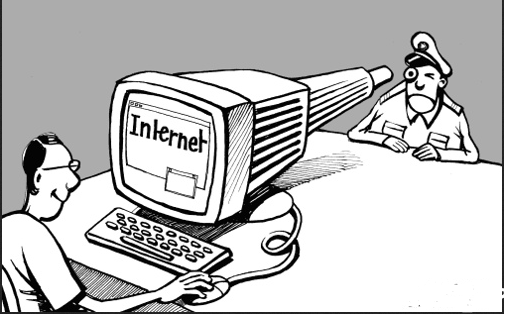 Many people knew even before Edward Snowden went public about the NSA's surveillance program that governments across the world monitored their citizens' online activity. However, after his revelation, it is a widely known fact. All your web searches, the websites you visit, your emails, etc. are monitored by government agencies. This is done in an effort to preserve the national security. However, nobody wants their lives to be pried open, and their every move tracked. Alliances like the Five Eyes and the TPP require the members to share this collected information with each other, so your web activity is the property of all the member countries. With a VPN, your online activity is private since you are hidden from the rest of the world.
For instance, when I can easily see your IP address is , it is far easier for Governments, ISPs, and hackers to track your every online activity.
#2. Bypass censorship
While government surveillance is bad, censorship of the internet is a lot worse. People in countries like China, Iran, Saudi Arabia, UAE, etc. have a lot of restrictions imposed on them when it comes to web browsing. Websites like Facebook, Twitter, YouTube, Google, Wikipedia, news websites, etc. are all blocked in these countries. To have any semblance of online freedom, you have to use a VPN. VPNs allow you to change your IP address and thereby spoof your geographic location and also encrypt the traffic to hide your activity. This way you can bypass government censorship and access any website you want.
#3. Use Kodi / Similar Apps Freely 
Kodi is arguably the most popular media streaming app in today's world. It not only gives you access to streaming services but also provides free streaming links to watch movies and TV shows from anywhere. But these free links aren't always legal to use since they give you access to copyrighted content. Although it is legal to use Kodi, using it to access copyrighted content is not. If you are found to be doing this by your ISP or legal authorities, then you can be in serious trouble. A good Kodi VPN can help you stay undetected and use it without any trouble.
Disclaimer: FireStickTricks.com does not condone copyright infringement. We strongly advise our users not to stream/download illegal content. VPNs should be used to safeguard your privacy, not to access copyright content.
#4. Unblock Websites at School/Work
It's quite common for schools, universities, and workplaces to block access to entertainment services and websites. With the help of a VPN, you can bypass these filters and surf the web freely.
#5. Protect Your Data and Identity
You probably use the internet for making all kinds of payments and for accessing your bank account. This is all the information that you want to hide from everyone for obvious reasons. But sometimes malicious users can use techniques like man-in-the-middle attack to intercept this data while it is getting transferred. To prevent this from happening, you should use a VPN, since they encrypt all data going through their servers. All the sensitive information you share is safe when you use a VPN.
#6. Hide Your Online Activity
There's a full digital profile by your name with many leading ads, investment, and healthcare industries. These companies use this information to give you targeted offers and ads. But it doesn't hide the fact that a lot of your digital history is with them. While you can't completely erase that information now, you can at least prevent them from having anything more on you. Using a VPN, you can put a stop to all this spying and data collection. When you are connected to a VPN, all anyone can see is that you are using a VPN. This hides your online activity from your ISP, from Government surveillance, and from these trackers as well.
#7. Unblock Netflix USA and Other Geo-Restricted Services
A lot of services on the internet are only available in select parts of the world. BBC iPlayer, Spotify, Pandora, Hulu, Popcorn Time, etc. are all examples of services that everyone wants to use but only few can base on their location. Netflix is available everywhere, but the libraries vary, and people don't usually like that. Netflix USA is the desired version, but as the name suggests, it is for US citizens only. With a Netflix VPN, you can fake your geographic location and access all these geo-restricted services.
#8. Browse Safely on Public Networks
If your job requires you to travel a lot, then you frequently connect to public wireless networks. The security of these networks is a joke. It's non-existent, which makes it simple for anyone to see what you are doing when you are connected to these networks. Now, you might be accessing your bank account or corporate data when connected to public networks. Obviously, you don't want this information going into the hands of an unknown person. If you use a VPN, your information and your activity are safe and secure. Public networks are honeypots for malicious users, so using a VPN when connecting to public wireless networks is an absolute must.
#9. Improve your online gaming experience
VPN for gaming? Yes, VPNs help with online gaming a lot. Online multiplayer enthusiasts will know that many of the servers and groups are inaccessible to them because of geo-restrictions. With VPNs, you can access all servers and compete with people from all parts of the world. It is also common for some DLC and bonus content to be available in select parts of the world. With VPNs, you can overcome this issue and access all the content available.
Another advantage of VPNs for gaming is that they help you in gaming tournaments. It's a common trick for opponents to deploy DDoS attacks to disconnect others from their servers. But when you use a VPN, this dirty gimmick becomes useless, and the playfield is level.
#10. Download P2P without Worrying About Legal Backlash
Internet and life are meaningless without torrents. We understand that. While using torrents and P2P services is perfectly legal, you go in the red zone when you download copyrighted content. Many countries don't focus much on this, but a lot of them do. If you are found to be downloading copyrighted content, you can face legal penalties, even jail time in some cases. When you use P2P services without a VPN, then anyone in the peer pool, your ISP, and anyone connected on the same public network can see your download activity. But when you use a VPN, this issue is solved. If your ISP and anyone else doesn't know that you are downloading torrents, they have no way of knowing if that content is copyrighted.
Disclaimer:
All of the information in this article is meant for educational purpose only. We do not condone copyright infringement. Users should access only content for which they have legal rights.
If found accessing copyright material, you could face serious legal problems.
Read our
full disclaimer
. 
Bonus #Tip: Prevent People from Tracking Your Web Research
It might be the case that your job requires you to research on sensitive issues like war atrocities, child abuse, government conspiracies, etc. When people notice that you are digging up such content, then they start taking more interest in you. This can only spell danger, and you would be wise to keep such people at bay. The only way to hide your work and continue researching freely is to use a VPN.
Be Careful While Downloading and Streaming
Downloading and streaming are important aspects of the modern internet user. While doing neither is illegal, you can get in a lot of trouble if you are not careful. When downloading torrents, be careful to hide your activity otherwise you face the risk of facing legal action. When using Kodi to access free streaming links, be sure to hide behind a VPN connection so that your movie viewing experience doesn't take a bad turn.
Also, using a VPN can help you when streaming content through any service, since your ISP won't be able to know about it. This is especially important for downloading and streaming since ISPs often throttle network bandwidth when they find users doing either. So to prevent this from happening, use a VPN that can allow for P2P, offers support for Kodi, and has servers placed all over the world to give you ample of connectivity options to unblock geo-restricted services.
There is not one but many instances where users had to pay hefty fines. Below are some such instances shared by users in a Reddit discussion thread.
#1. One had to pay $960 ($80 per song for 12 songs) for downloading songs illegally.
#2. Another user had to pay $3500 due to downloading music illegally.
#3. One more user ended up with a fine of $2000.
Getting a VPN is a better and affordable choice than to face unwanted legal troubles with hefty fines and fees. Is it not?
Which VPN Should You Use?
There are a few things that you should ensure while buying a VPN. I recommend the below five VPNs that are best in the industry in terms of their speed, server locations, privacy policies, and pricing. I personally use ExpressVPN (check out the ExpressVPN review) which is the most popular and fastest VPN on the date.
Provider
Pros
Cons

Special Deal:
Get 3 months free
and save 49%



3000+ VPN Servers in 94 Countries


Fastest VPN in Industry


Strong No-logging Policy


No Streaming / Downloading Restrictions


Unlimited Bandwidth


Compatibility/ Apps for All Devices


Network Lock (Killswitch)


5 simultaneous connections


Excellent 24/7 Customer Support


Bitcoin Accepted


30-day Money-back Guarantee





1000+ VPN Servers in 60 Countries


Compatibility/ Apps for All Devices


No traffic logs


Fast Speed


Unlimited Bandwidth


5 simultaneous connections


7-day Money-back Guarantee





Unresponsive customer service


Unfriendly design and layout


No Free Trial





3300 Servers in 60 Countries


No traffic logs


Fast Speed


Automatic Kill Switch


6 simultaneous connections


Bitcoin Accepted


30-day Money-back Guarantee





Reportedly Privacy issues


No dedicated Fire TV Stick App


No Free Trial





1000+ Servers in 30 Countries


Anti-malware and no-tracking


Fast Servers


Bitcoin Accepted


7-day Free Trial


30-day Money-back Guarantee





No browser extensions


Torrenting issues


No dedicated Fire TV Stick App


No 24/7 Support





700+ Servers


NAT Firewall


Own DNS Servers


Automatic KillSwitch


Unlimited Bandwidth


3-day Free Trial





Some logging of your data


No ad blocking


Inconstant speeds


No dedicated Fire Stick App


Want to read more? Check out the below links.
Conclusion
Using a VPN is not a choice anymore. If you are still not using a VPN, then you are just waiting for a tragedy to happen. Not to sound paranoid, but your online data and activity are under constant threat. If you want to keep things private and secure and be anonymous on the internet, then you have to use a VPN.
Liked the Guide? Don't Forget to Share with your Family & Friends
Legal Disclaimer - FireStickTricks.com does not verify the legality or security of any add-ons, apps or services mentioned on this site. Also, we do not promote, host or link to copyright-protected streams. We highly discourage piracy and strictly advise our readers to avoid it at all costs. Any mention of free streaming on our site is purely meant for copyright-free content that is available in the Public domain. Read our full disclaimer.
Disclosure - FireStickTricks.com is reader-supported blog. When you buy a product through links on our site, we may earn commission. Learn More