Roku users love streaming content. However, depending on how much they stream, they may be subjected to throttling by their internet service provider (ISP) or stuck with limited content based on their place of residence.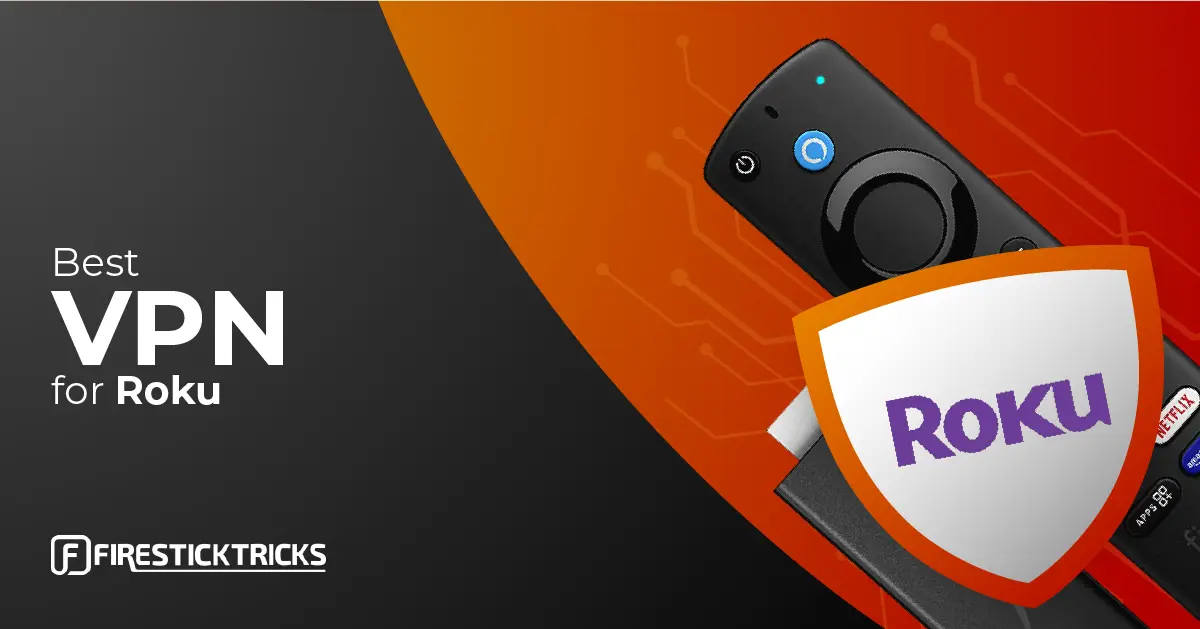 On top of that, and perhaps even more importantly, many users stream free content that may or may not be properly licensed to be streamed in their regions, which can lead them into legal trouble in the future.
Getting around these barriers is a must for any Roku user, and fortunately, there's a way to do it thanks to VPNs. In this guide, I'm going to discuss the best VPNs for Roku, as well as how to install one and get the best Roku experience possible.
What is a VPN?
VPN stands for "virtual private network. Why do people use a VPN? To protect their browsing data and internet traffic from prying eyes. A VPN essentially encrypts your information and prevents anyone from tracking your IP address. Instead of using your default connection, which can be traced back to you, you connect to a remote server based somewhere else in the world. By doing so, you can artificially change your location to the server address and essentially make yourself invisible while online.
Also, you can use a VPN to watch content that is region-locked in other countries. For example, you can connect to a VPN server in Australia and watch Netflix or Disney Plus content that's only available there.
Additionally, since your browsing is protected, your internet service provider (ISP) can't throttle you based on your activity since they have no idea what you're doing in the first place.
For heavy internet users bent on maintaining their privacy, a VPN is the perfect solution. The right ones have servers all around the world, meaning you can watch content wherever you'd like. Plus, most VPNs come with a 30-day money-back guarantee, so you can find the one that's perfect for you without risking your money.
How to Use a VPN with Roku
Now, it's important to note that to use a VPN with Roku, you can't just install the VPN on the Roku device itself. Rather, you need to install a VPN on your home's Wi-Fi router that your Roku connects to.
Fortunately, this isn't very difficult, depending on the VPN you choose. For instance, the first VPN on our list of the best VPNs for Roku is ExpressVPN. This service has a specific feature to help you install a VPN right on your Wi-Fi router without issues. It's one of the easiest ways to install a VPN on your router, though it's not the only way.
If you don't use the workaround described below to configure your current router to work with a VPN, the alternative is to buy a VPN router. Since that's costlier and more complicated, I'll stick with the workaround in this article. Use the setup instructions below to install ExpressVPN on your router. If you go with a different VPN on this list, you should be able to install it in a similar way.
1. Go to the ExpressVPN website and click Get ExpressVPN.

2. Select one of the VPN plans.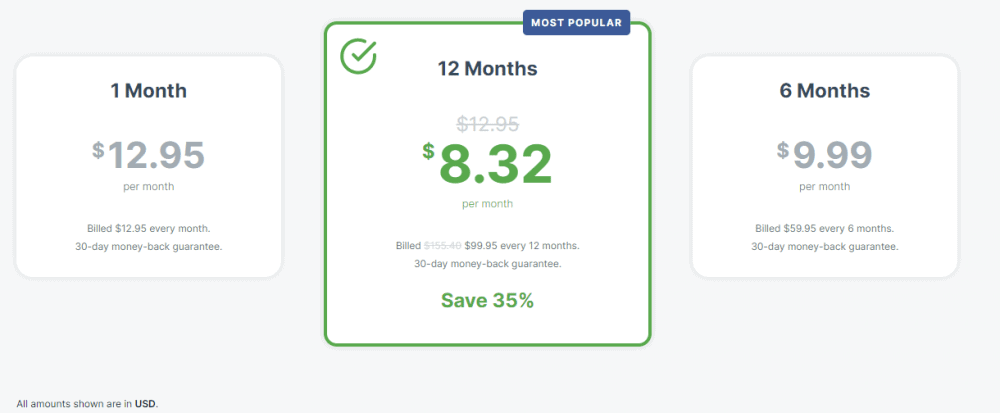 3. Head to the ExpressVPN router model page. Select your router model from the drop-down list.

4. Click Download Firmware. Once the file begins to download, click Continue.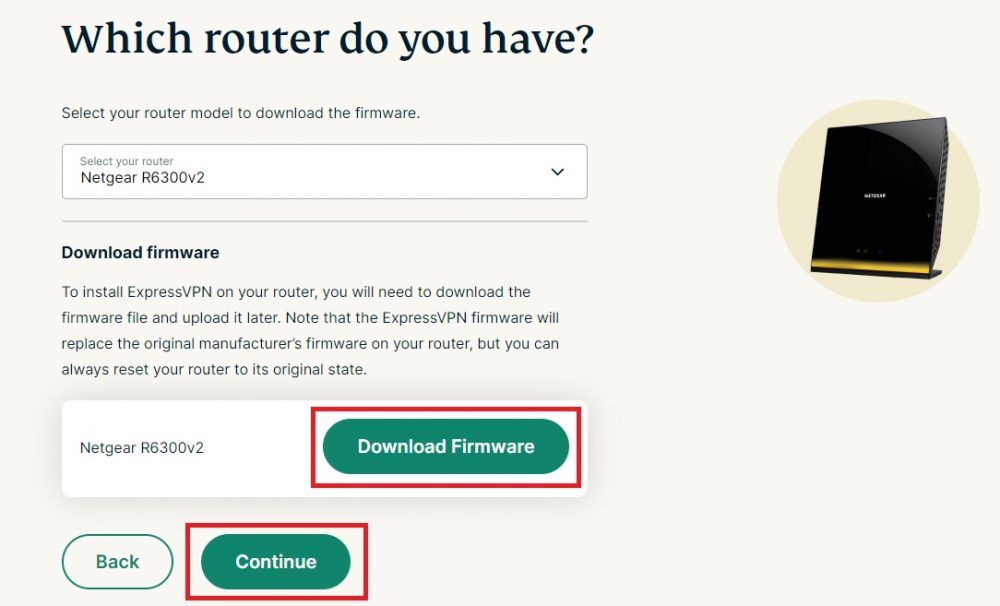 5. Follow the instructions on the next page to install ExpressVPN on your router. If you need any help, click Talk to a Human just under the Continue button.
Once these steps are done, you're set! ExpressVPN will be installed on your router and will cover your entire Wi-Fi network. Now, if you connect to the router with your Roku, all your streaming on your Roku will be protected by a VPN, letting you avail yourself of all the benefits I mentioned previously.
Best Roku VPN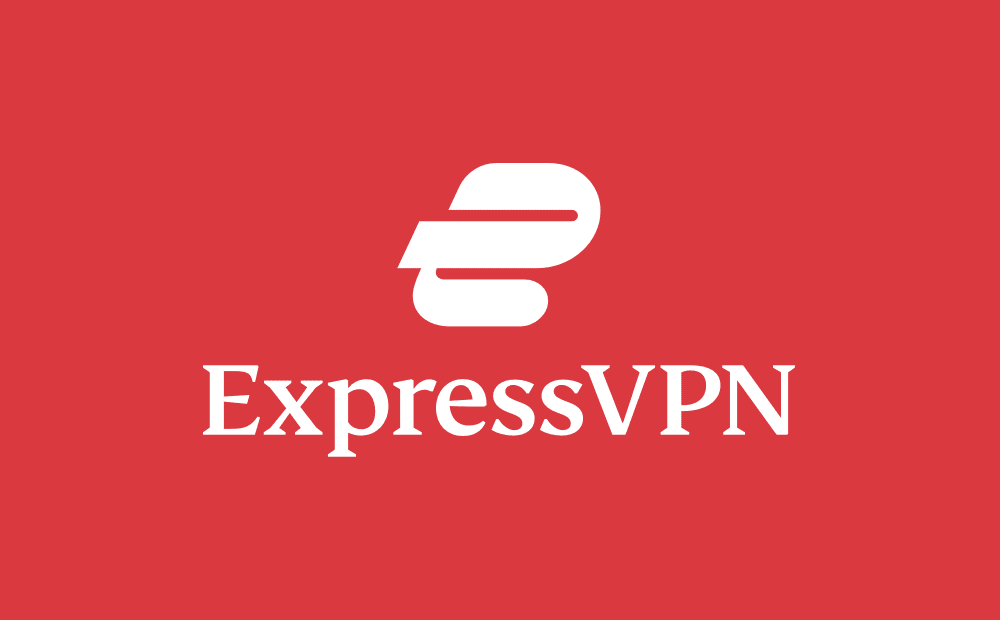 ExpressVPN is one of the longest-standing VPN networks on the market. Operating out of the British Virgin Islands, it has been around since 2009 and considers itself the fastest VPN on the planet. Since we're looking for the best VPN for Roku streaming, that's a pretty fantastic claim.
It turns out this service is indeed one of the best VPNs for Roku. It offers over 3,000 servers in 94 countries all around the world. That means your router will always have a nearby server to connect to. This is a great feature in a VPN provider because a VPN connection is already a bit slower than a traditional one before factoring in distance. Connecting to a nearby server will enhance your experience with the streaming services you use on Roku.
ExpressVPN even has a built-in speed test. This means you can test out different server speeds all over the world before connecting to one. That way, you can enjoy your streaming services uninterrupted from the get-go. This is especially useful if, for example, you're trying to watch the Netflix libraries in other countries, as the servers will be almost equidistant from you but may offer very different speeds.
Should your router VPN connection ever drop while browsing or using a streaming service like Amazon Prime Video, ExpressVPN features a kill switch to protect your data. That way, there's no possibility of your ISP or a bad actor gaining access to your activities and information. In that same vein, all of your data is secured by 256-bit AES encryption, a military-grade security standard.
In addition to installing ExpressVPN on your router to benefit your Roku device, you can install ExpressVPN apps on all other streaming devices in case you ever use a different internet network. ExpressVPN has apps for Windows, Mac, Linux, mobile devices, gaming consoles, and smart TVs.
To offer even more anonymity, ExpressVPN can layer your VPN connection with Tor. Using this, you can purchase goods and services with Bitcoin and even conduct your browsing via Tor.
ExpressVPN has a strict no-logging policy on all devices. Some VPNs store and sell your anonymous information, but this one does not. If you'd like to try it out yourself, you can get the VPN with a 30-day money-back guarantee. If it's not your cup of tea, simply contact their 24/7 support team for a full refund, no questions asked.
Once you're all set up, this service supports up to 8 simultaneous connections or devices at once. Combined with all its other features, it's easy to see why ExpressVPN is the top-rated VPN for Roku.
Pricing
The most popular ExpressVPN plan is only $8.32 per month, billed at $99.84 every 12 months. This 12-month plan saves you 35% compared to the 1-month plan, so it's great for people who want to stick with ExpressVPN at a discount.
Next up, we have the 6-month ExpressVPN plan. This plan costs you $9.99 per month and is billed at $119.88 every 6 months. Although the plan is a bit more expensive than the yearly one, it's ideal for users who don't want to commit to ExpressVPN for longer than 6 months.
Lastly, we have the 1-month plan that comes at $12.95 per month. Being the most expensive plan, it's suitable only for people who are just trying out ExpressVPN.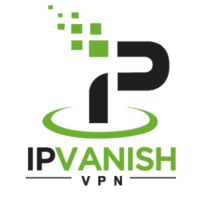 IPVanish is also one of the best VPNs for Roku. IPVanish has over 1,600 servers in more than 75 locations around the world. These servers provide your Roku device with advanced encryption methods, proxy servers, unlimited browsing, various connection protocols, and so much more.
What's notable here is that you can torrent on every single IPVanish server. This is an important distinction to make, as some servers from other VPN providers don't allow torrenting. Interestingly, there's also no limit to the number of devices you can connect at once.
If you're a college student or educator, you can qualify for a student discount! And there's a 30-day money-back guarantee, so you can try the VPN before committing. That said, the refund policy only applies to yearly plans, and there's no free trial either.
If you're interested and willing to pay a little more, you can add up to 500 GB of cloud backup to your VPN account. This lets you protect, share, sync, and delete files across all your devices with IPVanish installed.
For extra security purposes, the VPN service supports a shared IP address protocol. If you elect to share an IP address with other IPVanish users, no one can track the activity in one place. This is an optional feature, but it's certainly useful to many.
Similar to its competitors, this VPN provides a kill switch. Should the VPN's connection drop, this setting will kill your entire connection to prevent your data from being exposed. If you use a VPN that doesn't have a kill switch, consider switching to one on this list that does.
You'll also be happy to hear that IPVanish has a no-logging policy, meaning it won't keep any data on your browsing or VPN use.
Remember that IPVanish will keep records of your payment information, email, and other account-related information. It's impossible to know exactly how much information the company stores because the website doesn't seem to clarify. But your activities while connected to IPVanish will remain private.
Otherwise, this VPN has a 24/7 support team with live chat, email, and even a phone number. If you're struggling with setting up IPVanish or using a certain feature, just contact their team to get help sorting it out.
Once it's set up, you'll have no trouble watching Netflix and other streaming services on a single device or on as many simultaneous connections as you need. Remember that, like with all VPNs, you can switch IP addresses to watch content from other countries!
All of that said, note that IPVanish has not had an official audit, meaning you're taking the company at its word when it comes to its no-logging policies. While no IPVanish users seem to have had trouble so far, just keep that in mind. If you're paranoid, you might want to stick to services that have been publicly audited.
Pricing
IPVanish offers three subscription plans. First, we have a plan that provides the best value for your money. The two-year plan costs $3.33 per month and is billed at $79.99 for the first two years.
Next, the yearly plan from IPVanish costs only $4.49 per month, billed at $53.88 for the first year. After that, the price increases to $89.99 per year or $7.50 per month. Also, this plan comes with a 30-day risk-free money-back guarantee. So, if you aren't satisfied with the services, you can ask for a refund within 30 days of purchase.
Finally, we have the monthly plan, which will cost you $11.99 per month. At best, this plan is for testing IPVanish, but even then, you can just choose the two-year plan instead for its risk-free money-back guarantee.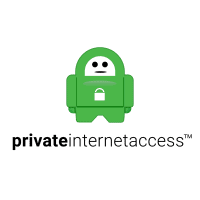 Trusted by companies like Forbes, CBS News, Wired, and LifeHacker, Private Internet Access, or PIA, is one of the best VPNs for Roku. This company has been in the VPN industry for more than 10 years.
PIA lets you take your online control back by providing safety, privacy, and security to your data and internet traffic. Whether you are streaming on YouTube or downloading an app from the Google Play Store, PIA promises to keep your personal data safe and secure.
Currently, there are over 10 million PIA customers worldwide. This service is available on Windows, macOS, Linux, Android, iOS, Chrome, Opera, Firefox, Gaming Consoles, routers, and Smart TVs.
Unlike most other VPN services, PIA provides 100% open-source transparency by making its client source code publicly available. This means anyone can analyze the code and discover that PIA isn't hiding anything. This open-source transparency makes it one of the most trustworthy VPN services in the industry.
Next, they have a strict no-logging policy. This policy makes sure that your VPN data is never collected or stored. Therefore, information like your IP address, bandwidth consumption, browsing history, and connection times is 100% safe from both PIA and your ISP. As a matter of fact, PIA even has a proven court record to support this claim.
PIA has over 29,600 servers in 84 countries worldwide. All the servers are optimized for 10 Gbps connection speeds using the fastest protocols, which eliminate most or all lag, stuttering, and buffering. Also, regardless of how much content you stream, download, or upload, the servers will never limit your data or speeds.
To keep your data super-safe from ISPs, network administrators, government censors, and all other prying eyes, PIA VPN encrypts your internet traffic with your choice of 128-bit or 256-bit AES encryption.
Next up, PIA uses open-source VPN protocols like WireGuard and OpenVPN, or IPSec on iOS devices. WireGuard is a recent addition to PIA protocols. This protocol runs on just 4,000 lines of code to provide a more efficient, fast, reliable, and stable VPN experience.
Sometimes certain apps don't work with VPNs, like banking apps. But what if you don't want to turn off your VPN service? That's where PIA's split tunneling feature comes into play. This feature allows you to choose applications, IP addresses, or services that will bypass the VPN connection and remain on your standard, unencrypted connection. This lets you use both VPN-friendly apps and non-VPN-friendly apps simultaneously.
Like ExpressVPN, PIA lets you protect your entire network by installing the VPN on your router. You just need to set up a PIA-supported router to enjoy digital privacy and online freedom across all the devices connected to the router.
Pricing
When it comes to pricing, PIA has some of the most affordable plans in the game. The best-value PIA deal of 2 years + 2 months comes at only $2.19 per month, billed at $56.94 for the first 2 years, saving you a whopping 82% compared to the standard 1-month package. After the first two years, the price increases to $56.94 per year, or $4.75 per month.
Next up, we have the 6-month PIA plan, which costs $7.50 per month. This plan charges $45 every six months. For those who don't want to commit to a lengthy PIA plan, this deal is a nice middle ground.
Lastly, we have the regular 1-month plan that you can purchase for $11.99. Although it's relatively pricier, it's perfect for those who just want to test the limits of Private Internet Access.

While PIA has the most servers among the best VPNs for Roku, CyberGhost has the second-largest network with over 7,000 servers around the world. Keep in mind that most others have just a couple thousand, so that's a significant leap in server count.
Of course, the VPN contains a lot of traditional features like a kill switch, apps for a ton of platforms, and support for protocols like OpenVPN, among others. However, there are a few elements unique to CyberGhost.
One such element is CyberGhost's implementation of dedicated streaming servers, making it an ideal platform for those focusing on using streaming services on their Roku. Using any VPN, even the best VPNs for Roku, can slow down your internet speeds. Nobody wants that, especially when you're watching content. These dedicated servers ensure you're getting the best possible speeds while on a streaming service, meaning you should have no trouble watching 4K-quality content as long as your base internet speed can support it.
If you play online games or like torrents, CyberGhost VPN also provides downloading and gaming servers for those specific use cases. Fortunately, it's easy to choose whichever type of server you want, and you can switch between any of them with a single click in the CyberGhost app. While this doesn't apply to your Roku, it's a nice bonus for any gamers or heavy downloaders in the household.
Then there are CyberGhost's NoSpy servers. These are highly secure servers based in Romania, where CyberGhost is based. If you're doing extra private work, this is certainly a feature to consider. NoSpy servers offer more bandwidth, higher speeds, and access to independently operated servers. That said, you can't access NoSpy servers on a monthly subscription unless you pay extra. These servers are included in longer plans.
CyberGhost offers a 45-day money-back guarantee. You'll be hard-pressed to find a VPN with a longer money-back guarantee, as most VPN companies stick to a 30-day money-back guarantee. You can also use CyberGhost's 1-day free trial for quick testing if you'd like, as it doesn't even require payment information.
CyberGhost doesn't log your information and only stores account-specific data like your payment method and email address. If you don't want your payment information stored, you can always pay in cryptocurrencies like Bitcoin. However, this may prevent you from accessing some additional features.
In terms of encryption, CyberGhost offers multiple security protocols, such as WireGuard, a newer industry protocol that's faster and more secure than many existing ones. But if you're more comfortable with legacy protocols, CyberGhost also works with IKEv2 and OpenVPN, two of the most popular protocols across all VPNs for Roku.
Also, it's worth noting that the servers CyberGhost owns and operates are all run on RAM, meaning they don't maintain any information after being turned off. Your information is guaranteed to remain safe even if a bad actor somehow hacks into the servers. A hacker would simply find nothing of use.
Once you've learned how to set up and use CyberGhost, you can establish what the app calls smart rules. These allow you to set specific, automated rules that the VPN should follow when you launch it.
For example, you can choose a server to automatically connect to when you hit the power button. If you take your Roku somewhere else and connect it to a different Wi-Fi network, you can even set up unique rules per network based on their security.
CyberGhost is similar to other VPNs when it comes to features like its ad-blocker and dedicated IP addresses. The latter costs extra on top of your plan, but it's worthwhile if a dedicated IP is what you need. Also, every plan allows you to connect up to seven devices at once!
Pricing
Unlike other VPN services, CyberGhost offers four plans instead of three. The gold standard of CyberGhost subscriptions is the 2-year plus 2-month plan. This deal saves you 83% compared to the standard 1-month plan. You can get this plan for just $56.94 (billed every two years), bringing the cost to just $2.19 per month. You'll love the plan if you are looking to save some serious money without compromising on your VPN service. It also offers a 45-day money-back guarantee.
Next, we have the 6-month plan that'll cost you $6.99 per month, billed at $41.94 every 6 months. Then, we have the 1-month plan that'll cost you $12.99 per month. These two plans land in the sweet spot for users who want to stick with CyberGhost for an extended period while still saving some money.
Last, we have the standard 1-month plan. This plan will cost you $12.99 per month. It's most suitable for those who just want to try CyberGhost for a month.

Surfshark offers all sorts of great features. To start, Surfshark has split tunneling, meaning you can choose which websites, services, or apps have a protected connection and which do not. That way, you can enjoy your standard connection on, say, an online game while protecting your information on financial websites at the same time. This extends to any Roku apps installed on your devices.
Furthering your security is a feature called multi-hopping. This takes your browsing and puts it through a second VPN server on top of the first one. You can't do this with any server, however, only the ones that Surfshark actually operates.
Surfshark's CleanWeb feature ensures ad-free browsing on your TV as well as protection from phishing attempts and other scams. Otherwise, there are multiple add-ons you can pay for, such as Surfshark Alert and Search. Surfshark Alert informs you of any information breaches involving, for example, your email and password, while Surfshark Search protects your information from search engines and allows you to browse without personalized advertisements. Note once again that these are paid additions to your normal VPN subscription.
Aside from covering your Roku device, Surfshark can be installed and used on unlimited devices simultaneously, a feature not offered by most competitors.
In terms of server availability, Surfshark has coverage in 65 countries, featuring 3,200 servers in total. Basically, this means you can connect to almost anywhere in the world. You can take extra advantage of this with MultiHop, which is essentially a double VPN connection that enhances your security. Note that due to the impact on your connection speed, Surfshark doesn't recommend using MultiHop while streaming.
Surfshark features a very strict no-logging policy when it comes to your IP address and your browsing history and traffic on any device, including Roku. That said, the company does keep track of your account information and payment methods. The company is based in the British Virgin Islands, meaning there are no legal reasons for it to give up your other information to any other party.
When it comes to speeds, Surfshark VPN has been known to affect streaming experiences in some ways. If you're trying to use streaming services like Netflix or Disney Plus on Roku, keep that in mind before getting Surfshark.
Otherwise, Surfshark VPN is a well-designed app, with its features easily accessible for new and experienced users alike. Surfshark offers a 30-day money-back guarantee. If this is your first time using Roku with a VPN, Surfshark makes it easy. But if you need additional help using this VPN with Roku, you can contact Surfshark's 24/7 support team via live chat, email, or even phone.
Pricing
Like other VPNs on the list, Surfshark offers three plans to its users. First is SurfShark Starter, our most popular Surfshark plan, which saves you 81% off the 1-month price. This 2-year plan costs you only $2.49 per month, billed at $59.76 at the time of subscription and then every 2 years. Surfshark currently offers a special discount for people who enter the coupon code sharkstart at checkout.
Next, we have the Surfshark One, which will cost you $3.49 per month. This plan saves you 81% off the 1-month price, billed at $83.76 for 12 months at the time of subscription, then $79 annually.
At last, we have Surfshark One+, which costs $6.49 per month. This plan is billed at $155.76 for 2 years and then $99 annually.
Final Words
That's a wrap! According to our testing, ExpressVPN is the best VPN you can purchase to stream on your Roku. From unlimited streaming to incredible download speeds and zero buffering, ExpressVPN provides the best experience for watching Roku. Remember that regardless of which VPN you choose, you can contact their support team if you need any help installing it on your router.
Related:
Legal Disclaimer - FireStickTricks.com does not verify the legality or security of any add-ons, apps or services mentioned on this site. Also, we do not promote, host or link to copyright-protected streams. We highly discourage piracy and strictly advise our readers to avoid it at all costs. Any mention of free streaming on our site is purely meant for copyright-free content that is available in the Public domain. Read our full disclaimer.
Disclosure - FireStickTricks.com is reader-supported blog. When you buy a product through links on our site, we may earn commission. Learn More