Kodi has gained a lot of popularity in the recent past, thanks to its ability to instantly transform your device into a media center. I have been using Kodi for several years and wouldn't mince my words saying that it is probably the best media player I have had the chance to use by far. Kodi not only plays media from the local storage, but its real power lies in facilitating online streaming through various addons. Kodi gives you access to the bottomless pool of content on the web. And, there are hundreds of free addons that let you take a dive in that pool.
That's outstanding! Isn't it? It sure is. However, Kodi has also been the subject of legal debates because it lets you stream even the copyrighted content for free. You may have asked yourself – is Kodi legal and safe or can I get caught in legal hassles using this media player? We have heard a great deal about Kodi and I understand where your apprehensions are coming from. Therefore, I am writing this article to help answer some of your questions and give you some clarity on the legal standing of Kodi media players.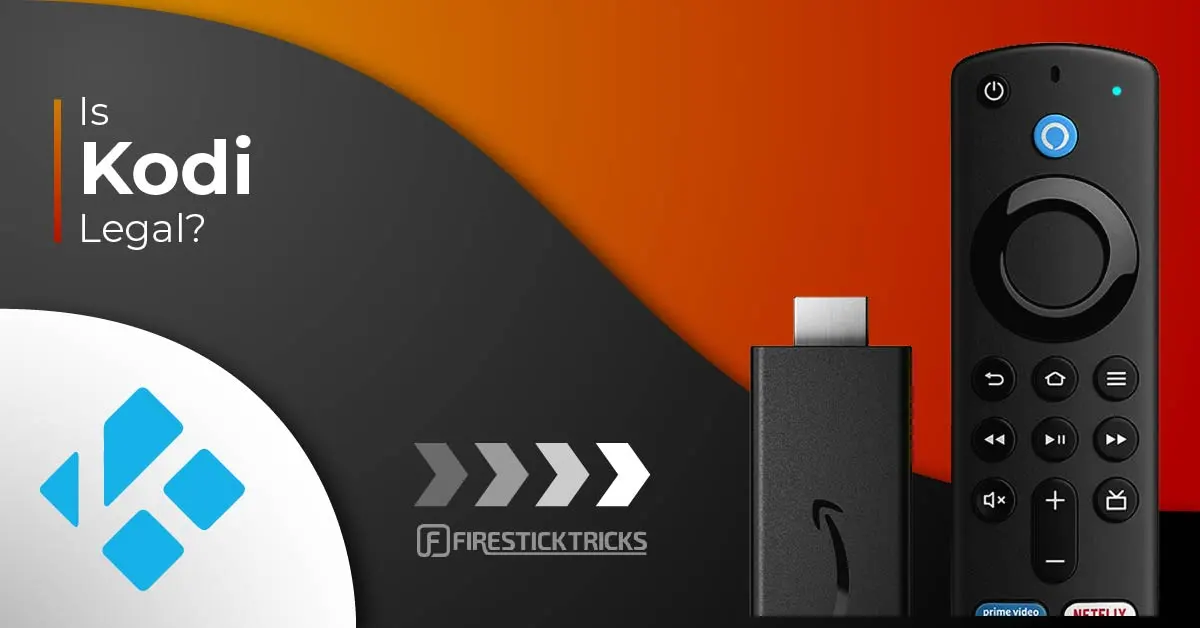 What I am going to share with you is not conclusive, but it must help you with some of your doubts.
Attention, Kodi Users!
Kodi Addons and builds offer unlimited streaming content, but could also get you into legal trouble if caught streaming free movies, TV shows, or sports. Currently, your IP is visible to everyone. Kodi users are strongly advised to always connect to a VPN while streaming online. A good Kodi VPN hides your identity, bypasses government surveillance, geo-blocked content, and ISP throttling (which also helps in buffer-free streaming).
I personally use ExpressVPN, which is the fastest and most secure VPN. It is very easy to install on any device including Amazon FireStick. You get 3 months free and save 49% on its annual plans. Also, it comes with a 30-day money-back guarantee. If you are not satisfied, you can always ask for a refund.
Read: How to Install and Use the Best Kodi VPN
Is Kodi Legal?
Legalities around Kodi remain largely ambiguous as no clear laws have yet been made against the streaming of copyrighted content, almost nowhere in the world. However, there is absolutely no doubt about the fact that Kodi itself is a legal media player. Downloading and installing Kodi does not cause any infractions. In fact, Kodi is already available through the official app stores such as Android's Google Play and Microsoft Store. These stores will never host an illegal app.
Kodi as a standalone application is legal. It is some Kodi plugins that allow access to copyrighted content for free tend to drag the users within the range of the legal radar. Of course, as I already said, there are no black-and-white laws against streaming copyrighted content. But, it doesn't mean playing free, licensed content is legal; in fact, it could be very much illegal and land you in trouble. A lot of people have received legal notices for streaming copyrighted content unlawfully. What I am trying to say is that the laws are more unambiguous for those who store and distribute pirated/copyrighted content.
Kodi plugins are more popularly called Kodi add-ons and there are hundreds of them. Most of these addons are free and let you stream licensed content, such as movies and shows, also for free. The Kodi addons are downloaded through the repositories that host multiple add-ons. There is one official repository, called Kodi Add-on Repository. The official store has all the legal add-ons that either give access to the free content in the public domain or have subscription-based content.
If you are downloading and using an add-on from the official repository, you don't have anything to worry about concerning the legalities. However, it is the third-party repositories with the third-party addons that promise free streaming of copyrighted content that make things a little tricky.
Streaming the licensed content for free is in clear violation of the copyright laws. However, the question that begs the answer is – how punishable are these free online streaming activities?
Is Kodi Legal in the USA?
Let me try and answer your question – Is Kodi legal in the USA? The copyright laws against online streaming of free content in the USA are not exactly what I would call 'clear.' But, I have seen many people getting entangled in the legal mess because of watching free, copyrighted content.  For instance, I have heard about several users being sent notices, warning them of illegal streaming activities.
One thing that's absolutely certain is that selling and distributing copyrighted content is an infringement of the copyright laws and the perpetrators can face heavy fines and jail terms as well. So, if there is a third-party add-on offering free streaming of the copyrighted content, it is an illegal add-on and the developers can be incriminated.
It is probably best to leave the guesswork out and stay safe. Use ExpressVPN and make sure all your online activities remain untraceable.
Is Kodi Legal in the EU and Rest of the World?
In the European Union and other parts of the world, the copyright laws are just as unclear as in the USA. It is legal to use Kodi in most countries as this software itself does not breach any laws. However, using Kodi addons to watch copyrighted content could easily get you in legal trouble no matter which part of the world you live in.
The laws are stricter when they concern the storage and distribution of licensed content. Promoting and advertising the tools for free online streaming attracts heavy penalties (hundreds of thousands of dollars) and many years in jail.
For instance, selling the streaming set-top boxes or devices (such as FireStick) with Kodi and its addons preloaded is an offense in many countries. A European Court recently ruled against a Dutchman who had been selling pre-loaded Kodi boxes. Now, what's noteworthy is that selling the box itself wasn't illegal. What made it unlawful was the fact that it had Kodi preinstalled and promoted piracy.
How to Stream on Kodi Safely
Your Government, your ISP, and even some third parties might be keeping an eye on what you are doing on the web. But, you can always keep your online activities hidden from prying eyes. The simplest solution to this is using a VPN for Kodi.
VPN masks your internet connection and prevents your online activities from being tracked or traced. With VPN, you can use Kodi safely and without any worries. I personally recommend using ExpressVPN to protect your internet connection. I have been using it for a long time and have noticed that it is the fastest VPN service. Express VPN is also Kodi friendly.
Besides masking your internet activities, ExpressVPN also lets you stream geo-restricted content and helps you avoid internet throttling. You can also check out these serious reasons to use a VPN all the time.
Note: I do not condone the practice of illegal streaming of copyrighted content. I recommend using a VPN service to maintain your privacy.
Is Kodi App Safe to Use?
If you mean whether Kodi is legally safe or not, that question remains partially unanswered because of the vague copyright laws. By and large, if you are a user who uses Kodi only for entertainment purposes and does not distribute or promote the sales of pirated content, Kodi is pretty much safe for you. But, do not take my word for it and keep an eye out for any new rulings in your country or region.
In case you meant whether Kodi is a safe application without any malware or viruses then it is much easier to answer the question. YES! Kodi is a safe application. It contains no malicious programs. It will not cause harm to your device.
As I already told you, Kodi is hosted on many official app stores such as Google Play and Microsoft Store. These stores are known to put any app through severe scrutiny and multiple tests before hosting them. What I mean to say is that Kodi itself is a completely safe application that poses no threat to the device on which it is installed.
However, be mindful of the addons you install on Kodi. There are hundreds of addons out there. While a lot of them are safe, it isn't the case with all. Always install the add-on from a trustworthy source. The official Kodi Add-on Repository has all the safe addons. But, when you are downloading any third-party addons, it is best to go for those that are popular and have already stood the test of time. You can take a look at the top Kodi addons which I found safe to install as of this writing.
Conclusion
It is clearly established that Kodi itself is a legal media player. Installing and using Kodi to watch copyrighted content through authorized sources is legal. It is the free online streaming of licensed content that often leads to difficult situations. As a user, you are unlikely to attract penalties or punishments for streaming the licensed content. However, those who distribute, sell, or promote pirated content or the tools to offer access to such content are in clear violation of the laws and are subject to heavy penalties and jail terms. I do not condone copyright violation and encourage you to watch free content available only in the public domain. However, I do recommend using a VPN service to mask your online activities from your Government or ISP.
Related:
Are VPNs Legal?
Is it Illegal to Jailbreak a FireStick?
Is Terrarium TV Legal and Safe to Use?
Legal Disclaimer - FireStickTricks.com does not verify the legality or security of any add-ons, apps or services mentioned on this site. Also, we do not promote, host or link to copyright-protected streams. We highly discourage piracy and strictly advise our readers to avoid it at all costs. Any mention of free streaming on our site is purely meant for copyright-free content that is available in the Public domain. Read our full disclaimer.
Disclosure - FireStickTricks.com is reader-supported blog. When you buy a product through links on our site, we may earn commission. Learn More