Want to stream episodes of your favorite TV series entirely free of charge? No problem. In this article, I will show you the best sites to watch TV shows online for free. 
Legal Disclaimer: This tutorial is purely educational. FireStickTricks.com doesn't own, host, operate, resell, or distribute any streaming apps, addons, IPTV or services. The page contains some unverified services, and we are not certain whether they hold legal licenses to distribute the content. FireStickTricks.com does not verify the legality of each app/service in all regions. Do your due diligence if you use any of the unverified apps/services, and stream only content that is available in the public domain. The end-user shall be solely responsible for the media accessed.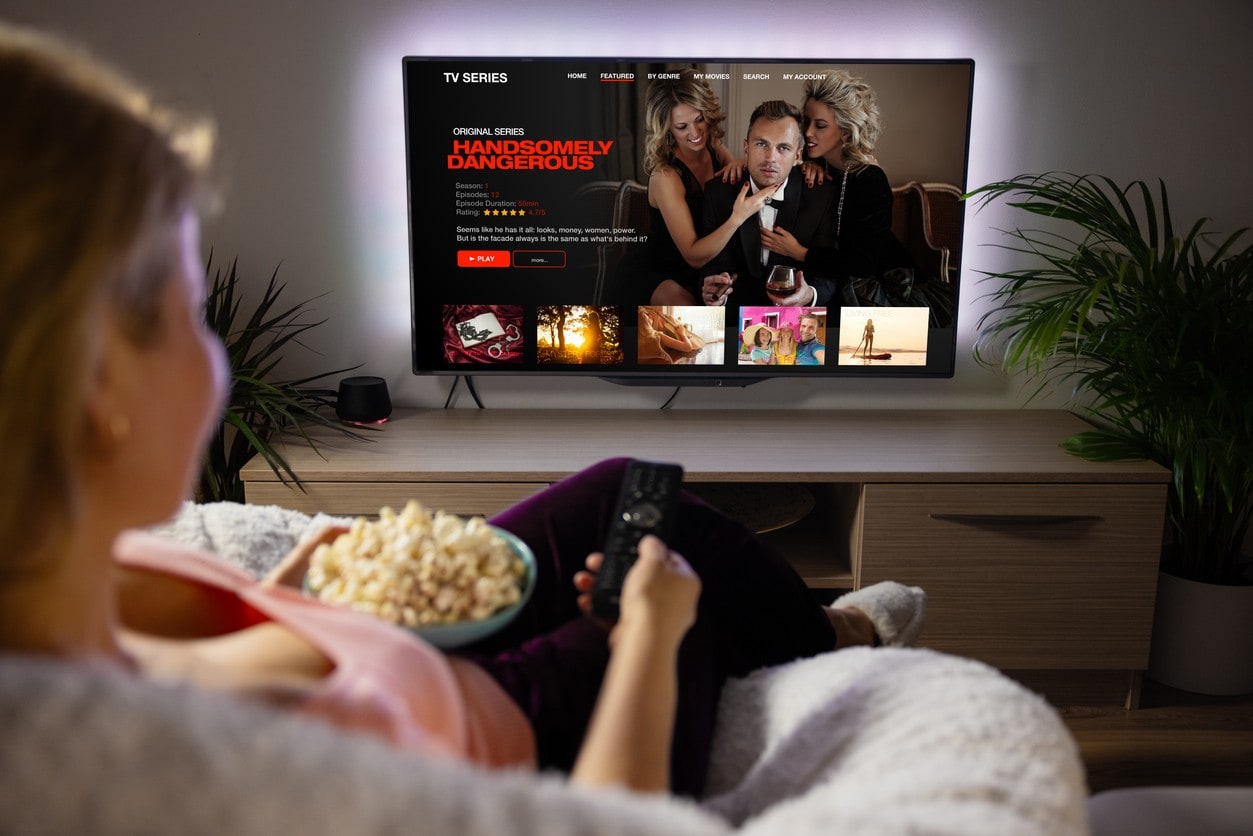 There are few things as relaxing as settling down for a marathon run of your best TV show or the trending show blowing up on social media. Once upon a time, you needed the help of cable networks before you could stream TV shows. That time is long gone.
These days, cord cutters get to enjoy all the content they love, including reality TV, movies, and TV shows right from the comfort of their own homes. Or on the commute back home from work. It's all up to you, really. As long as you own a TV or mobile device and a working connection to the internet, you're good to go. No TV networks are required.
There are lots of streaming services available in the industry today. These platforms compete with each other to bring all the content you want to your screen. This means that you can gain access to TV shows and movies at very budget-friendly pricing.
It also means that not all streaming services are subscription services – you can watch free TV shows online without having to spend a cent. Some of these streaming platforms are app-based while many others are in form of websites.
Attention, Read before you continue!
Governments and ISPs across the world monitor your online activities. If you found streaming copyrighted content on your device, you could get into serious trouble. Currently, your IP is visible to everyone. I strongly recommend you get a trustworthy VPN and hide your identity so that your movie-viewing experience doesn't take a bad turn.
I use ExpressVPN, the fastest and most secure VPN in the industry. It is easy to install on any device, including Amazon Fire TV Stick, Smartphones, PC, macOS, iOS, and more. Also, it comes with a 30-day money-back guarantee. If you don't like their service, you can always ask for a refund. ExpressVPN also has a special deal where you can get 3 months free and save 49% on an annual plan.
Read: How to Install and Use a VPN on All Your Devices
Best Streaming Sites to Watch TV Shows Online for Free
The sites on this list are curated based on a variety of criteria. This includes the size of their TV show database, the video quality on offer, and the user interface. If you prefer the short form of movies to shows, you can check out our list of the best free movie streaming sites.
Let's get down to it.
1. Project Free TV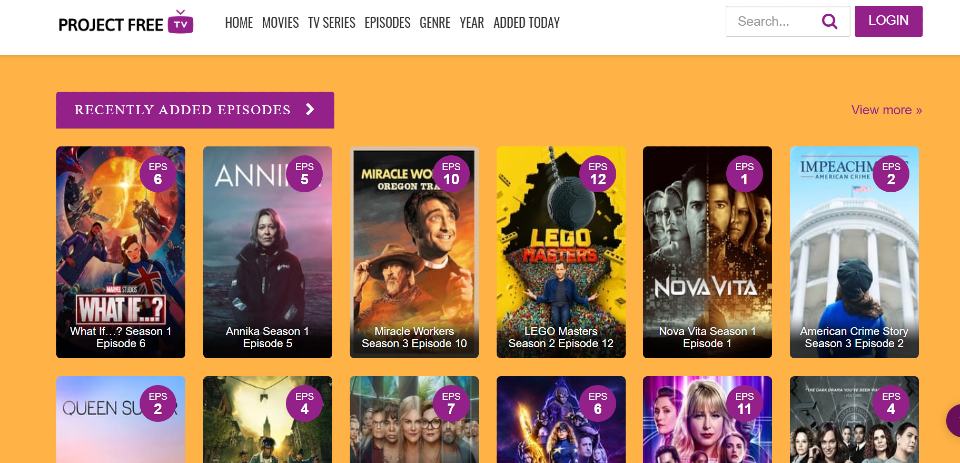 Kicking off this list is ProjectFreeTV, a streaming site that has been around for quite a while now. Cord cutting fans of TV series will recognize this site because of its huge selection of free TV shows available for viewing.
Project Free TV was built with TV shows in mind. This means that although it also comes with a sizeable collection of movies, you'll find a lot more free TV shows to watch here.
This is immediately made clear to see as soon as you hop on the website. The entire home page is dedicated to TV series.
First, you're hit with a list of recently added episodes. Project Free TV is excellent for finding the latest episodes of TV shows, with regular updates and only a short delay in uploads. Scrolling down will bring you to a category list of the latest TV series. This one has to do with newly launched seasons of TV shows.
Tabs let you switch between TV shows and movies. You can explore various genres of content and flip through episodes by a year. An intuitive search feature makes the job easier, allowing you to quickly filter the TV shows or movies you're looking for.
Overall, Project Free TV offers a huge database of movies and TV shows available in high definition quality. There are not loads of annoying ads, so you're sure to have an enjoyable streaming experience.
2. Noxx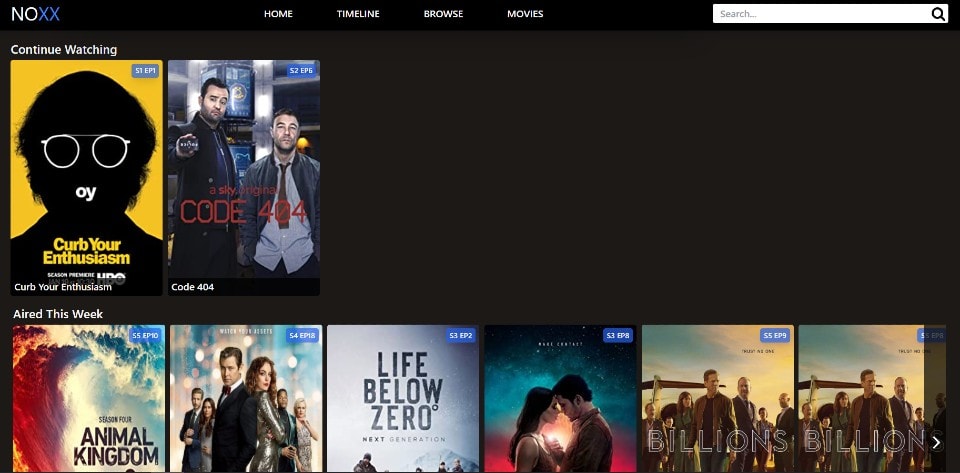 Up next is Noxx, an offshoot of the popular AtoZ Movies streaming website. Noxx lets you watch free TV shows in crisp, HD quality, but that's not all. For movies, you'll find that it comes bundled with its parent high-quality movie site. Simply clicking the Movies menu option will switch you over.
The first thing you'll notice about Noxx is its elegantly designed user interface set in dark mode. The website is clean, simple, and user-friendly, with no unnecessary text, buttons, or clutter.
It's easy to assume you're using a paid streaming service like Netflix or an Android app when you visit Noxx. The pop-up ads will remind you, but even those are not as intrusive as on several other similar streaming sites.
Noxx is not just pleasing to the eyes. The streaming site is relatively new, so it does not have the largest library of content you will find. However, its library of TV shows is regularly updated, meaning that you will find the latest episodes of TV shows here shortly after they are aired.
The only con I could find is that there is not a lot of categories to help you explore. On the home page, you only get to choose between Aired This Week, Top Rated, and Recently Added.
While those categories have their uses, you cannot browse across different genres on the home page.
Still, there are other features to like, such as Continue Watching. This lets you pick right off from where you left off whenever you hop on the website. Each series has a user rating, and you play a trailer to see if you would be interested in streaming.
3. Tubi TV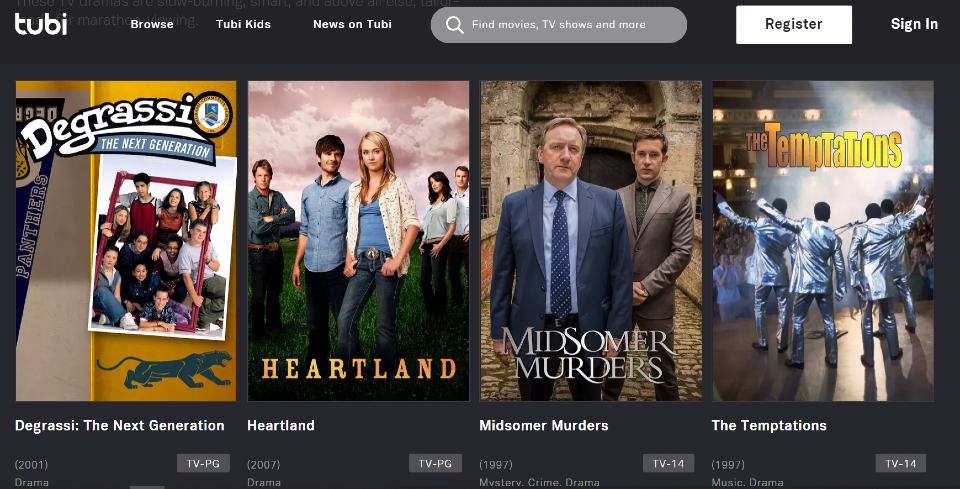 Tubi is another streaming service that lets you stream TV shows and movies for free. The tagline on its website goes, "Thousands of movies and TV shows. Always Free. 100% Legal," and that is exactly the case. The website is legit, which means there is no chance you run afoul of any copyright licensing laws.
Unlike most other legal sites, Tubi TV does not demand that you sign up for the streaming service before you can watch TV shows online. Simply getting on the site grants you all the access to stream the free media content.
However, there are benefits attached to signing up on Tubi. After registering, you can use features like curating watch lists of your favorite content. You also get to resume playback across devices. Considering Tubi is available both on the web and as an app on Android, iOS, FireStick, Roku, this is a feature I particularly like.
When it comes to UI, the website has a simple interface that does not present much of a learning curve. The design is neat, with most of the options and categories tucked into a Browse tab at the top of the screen. Hovering on that tab brings up a wide variety of TV series and movie genres to choose from. You can also explore various collections curated by the service.
4. TV Muse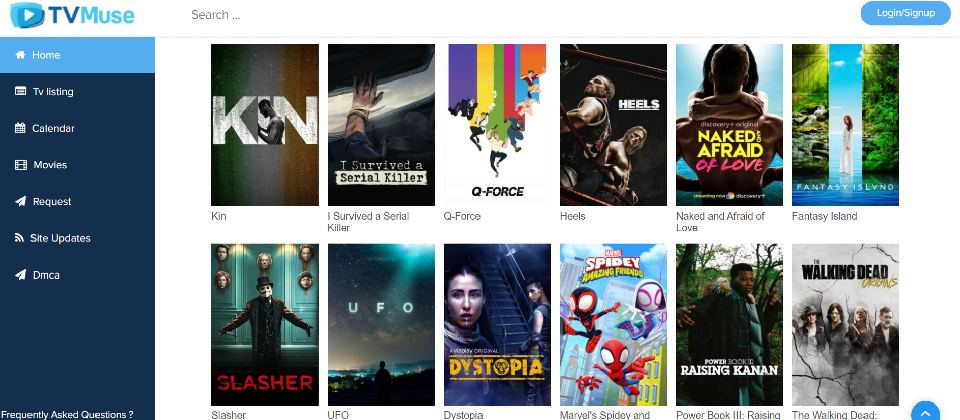 If you want the option of downloading TV series episodes rather than just streaming them, then TV Muse is an excellent option. This streaming site provides the download feature, allowing you to save videos for offline viewing.
TV Muse is a widely popular streaming service for free TV shows and movies that receives loads of visitors every month. Its popularity has worked against it in the past, as it has been the victim of takedowns for copyright violations.
However, the site is currently up and providing streaming links for most of the popular and not-so-popular movies and TV shows.
A simple, user-friendly interface greets you when you get on the website. The liberal use of white space is especially visually pleasing.
There are no annoying pop-up ads once you click a link or blank space as with many other streaming websites. This ensures that using the site to watch free TV shows is not a frustrating experience.
TV Muse is primarily centered around TV shows but has a decent collection of movies. It comes with a few interesting features, such as a TV Schedule or Calendar.
This feature helps you prepare for movies and TV series that would be uploaded on the dates indicated. You're also allowed to make requests for any TV show or movie you want the streaming site to make available.
5. Soap2day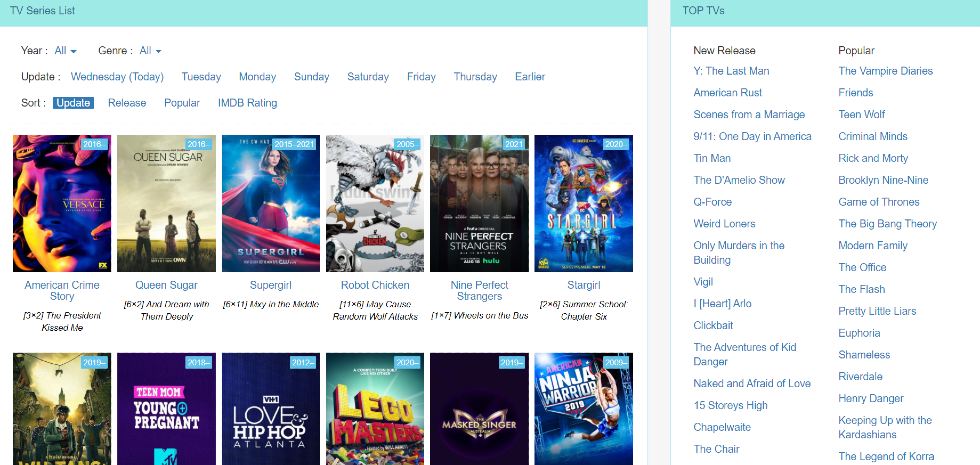 Soap2day is one of the largest free sources of TV shows on the internet. The list of TV shows on the website is spread across more than a hundred pages – that's how huge its stash is.
From the best-rated and popular TV series to the cult classics and unknown, you would be hard-pressed to name a series not uploaded on this streaming site.
Soap2day's impressive list of shows is just one reason it is one of the most popular streaming services around. The TV series on the site have their episodes regularly updated. You don't have to wait for several days to catch up to your favorite shows.
Shows aside, there are also movies and sports content on this streaming site. Those also get regular updates. This means you can catch the latest blockbuster releases on Soap2day and then switch to stream a European international soccer tournament.
I found Soap2day's website to be very user-friendly. Like other streaming sites for free TV shows, it is powered by ads. Still, they are few and far between. The site even instructs users to report any ads containing violence, porn, or uncomfortable visuals.
Soap2day has a bunch of different official domains. They are all listed on each website. You can choose whichever you find is the fastest.
But they also play another role – you have a variety of perfect alternatives for when one or more gets taken down. That way, you always have your movies and TV shows just a click away.
6. WatchSeries HD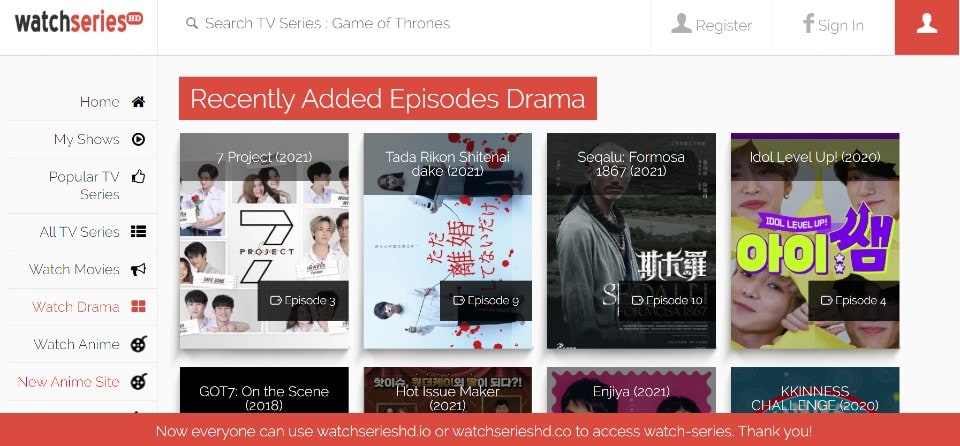 As the name suggests, WatchSeries HD is a streaming site that lets users watch TV shows online in high definition quality. It is one of the most popular free streaming services, with many visitors hopping on the site daily to watch TV shows online, as well as movies and anime.
The website has a huge collection of content available for streaming. Apart from letting you watch TV shows online, you can also stream HD movies, anime, and Korean drama series.
Each episode of a TV show on the website comes with a variety of links or sources to stream with. This means that there's not much chance you have to skip an episode due to the content not being available.
You are not required to sign up to use the service, but doing so comes with perks. For example, you can use the My Shows feature which lets you curate all your favorite TV shows in one place.
WatchSeries HD may be free, but advertisement is kept to a minimum. There's invariably a link when you try to stream a video, but no intrusive ads are scattered all over the site.
7. Yidio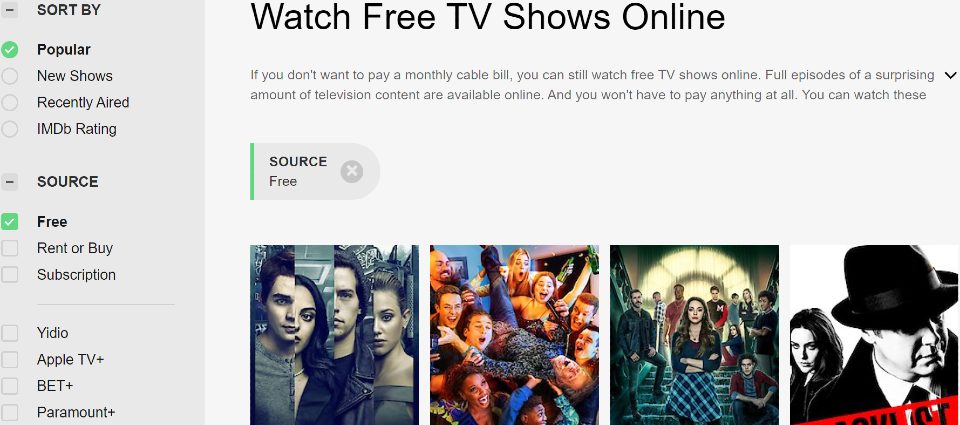 Yidio stands out from the other streaming services on this list. Many of the other free websites aggregate streaming links of movies and TV series. Yidio, on the other hand, is a dream for cord cutting users.
It effectively puts all your streaming sites in one place, allowing you to gain access to content from lots of different websites at the same time. This means that with Yidio, you can cut shut the time you would have spent exploring what various streaming websites have available.
You don't need to register an account to use Yidio. Simply open the website or app to find the content you want to watch online free. The exception to this is TV series and movies only intended for mature audiences.
Not all the content on Yidio is free. Even though it aggregates a bunch of free streaming sites, some other services are premium. This includes platforms like Netflix and Hulu. Each of these TV services requires a subscription for unfettered access to their content.
Still, there is a lot of free content, with an entire category aptly labeled Free. There's even a category that indexes the free content that you can watch for free on Netflix. You also can filter TV shows by TV channels, such as ABC, NBC, HBO GO, Disney Channel, and more.
8. Primewire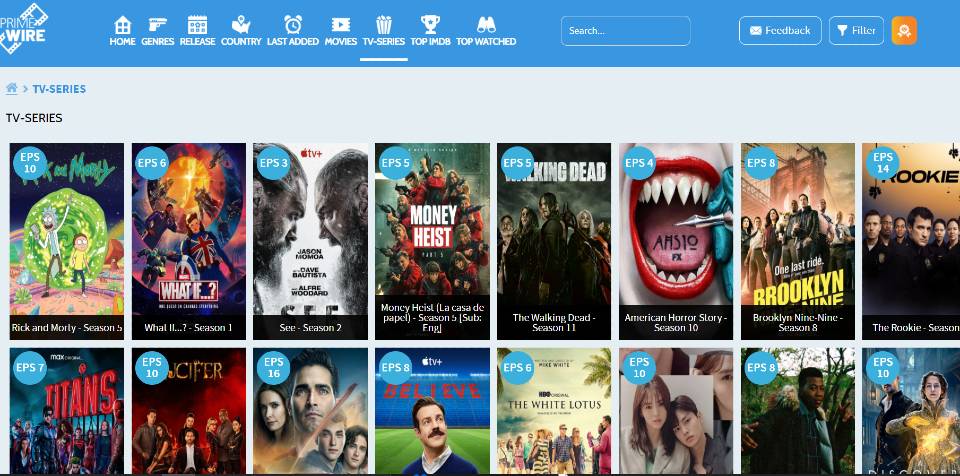 Primewire's user interface looks rudimentary, but don't let that fool you. This free streaming site is home to thousands of high-quality movies and TV shows over a wide variety of genres.
You can choose to stream in standard or HD quality, depending on your connection speed. The site also lets you download TV series and movies for offline viewing.
If you are an anime fan, this is a website for the bookmarks. There are several popular anime series to choose from, as well as some obscure ones. Each anime episode has subtitles, so Primewire is probably not the destination for lovers of dubbed anime.
Primewire has had brushes with copyright laws leading to its being offline intermittently. However, it is still considered one of the best websites to watch free TV shows online.
Even though its website looks dated, it is intuitive. There are several categories to browse through, including genres, the latest uploads, and rankings.
In addition, it comes with a search feature with advanced filter capability. You can filter your search query based on metrics, such as quality, release year, subtitle, genres, and country of release.
9. Crackle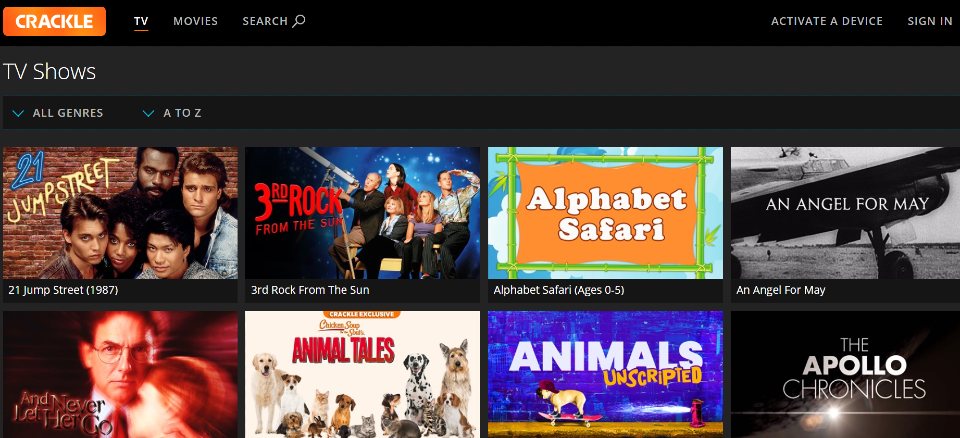 If you are a regular on free streaming sites, there is a chance you have heard of Crackle. This streaming site became hugely popular when it was owned by the media giant, Sony Pictures. Sony has since sold the company to Chicken Soup for the Soul Entertainment.
Crackle is home to popular video on demand movies and TV series. It also provides original content. A couple of years ago, Crackle would not have made this list as its library of TV shows paled in comparison to that of movies. However, more TV series are now regularly added to the site.
Crackle is available for users in the US and 20 other countries, including Canada, Australia, and countries in Latin America. Its US library is easily its biggest and comes with a wider range of content. This means that if you live outside the country, you need a VPN service to enjoy Crackle's content.
The streaming service delivers its content in three languages – English, Spanish, and Portuguese. It is also multi-platform, with apps for Android and iOS apps on Google Playstore and the Apple App Store.
10. Pluto TV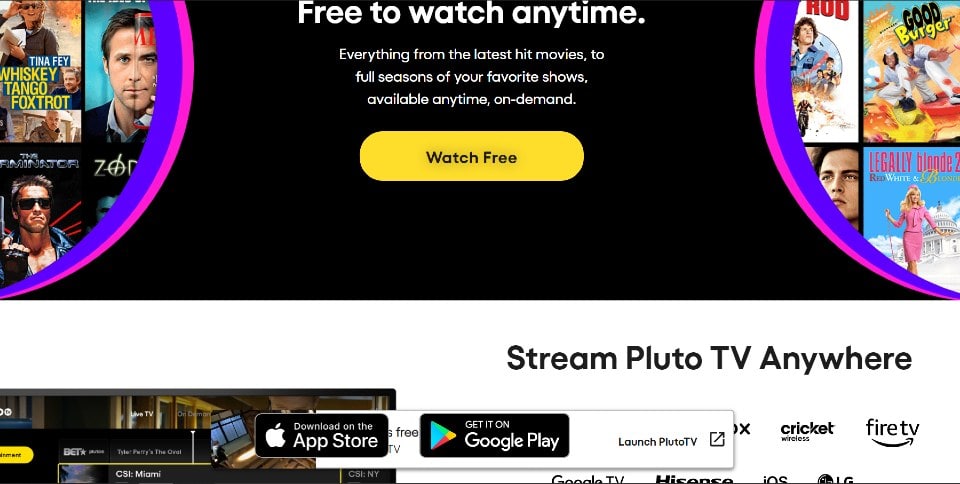 Notably different from the other options on this list, Pluto TV is closer in nature to traditional cable TV. It is an over-the-top (or OTT) service, which means that it receives TV signals over the internet rather than over-the-air (OTA).
Much like regular television, you can browse through various TV channels. More than 200 of those are available, including loads dedicated to TV shows.
Unlike the other options on this list, Pluto TV has a mix of live and on-demand content. Consequently, you can only tune in to what is currently showing, rather than select a TV show to watch.
Still, with the Pluto TV Guide, you can schedule the shows you follow to tune in when they get streamed live.
Website aside, Pluto TV is available on desktop and mobile devices, including Android and Apple/iOS devices, FireStick, Roku, Chromecast, and gaming consoles.
11. Couchtuner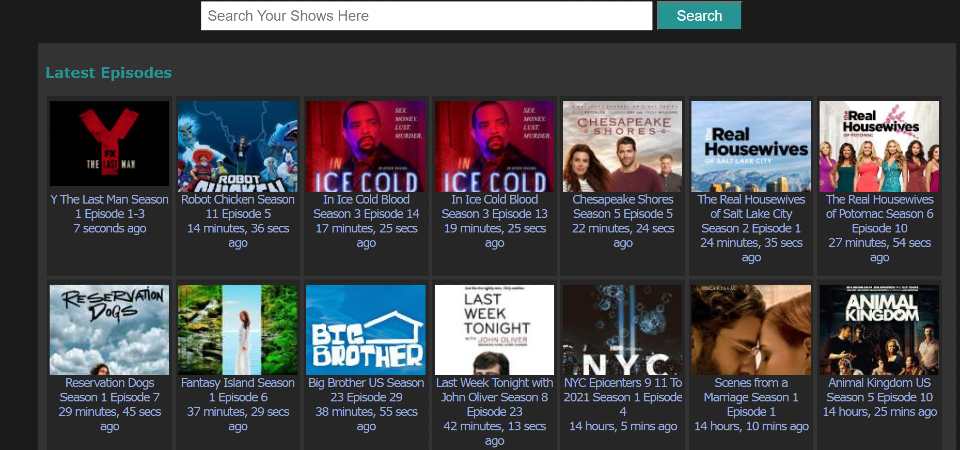 Couchtuner is all about TV series – you won't find any movie titles on this website. It is a perfect destination to watch TV shows online for a teeming number of binge visitors as it offers a wide range of genres to choose from, as well as other features for an enjoyable streaming experience.
Fans of anime may find this site interesting. While it does not have the largest selection of anime you'll find, there's a decent library including some popular titles.
Couchtuner's interface looks dated and seriously begging for a modern upgrade. Still, that does not make the website difficult to use. There is a prominent search bar that helps you to find TV shows quickly. There are also headers and categories for a more leisurely browse of the titles available.
This streaming service may be free, but it is not a money grabber. There is no registration process required to use to service. But best of all, the website has zero ads. This means that you can binge-watch as many episodes as you want without encountering any pop-ups or redirecting ads.
The streaming site is big on community. A link directs you to join a Telegram group where its massive base of users discuss and request TV shows and episodes.
12. Popcornflix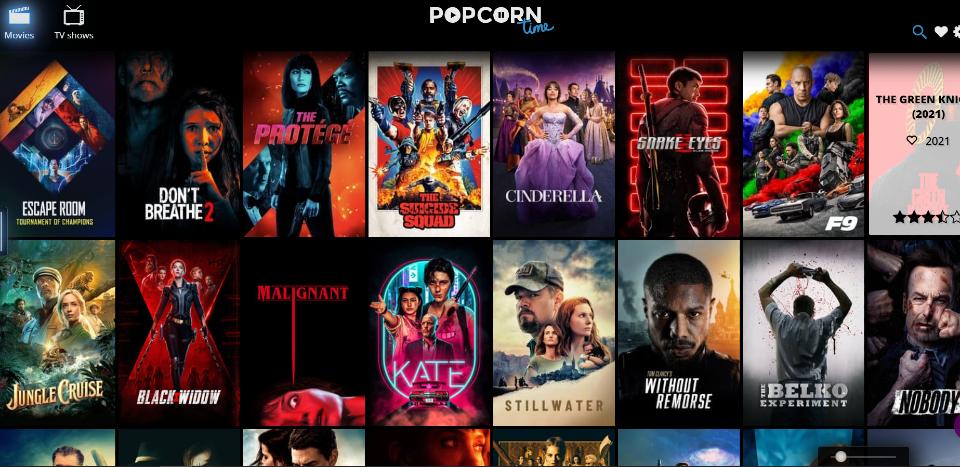 Popcornflix does not come with a vast selection of TV shows. However, it finds a place on this list because it is a legal streaming service with many interesting features.
If you're a lover of classic TV shows, then this website will fit you to a T. There are several 90s movies and TV shows here, all available for free. You'll also find lots of originals here, as well as web series.
The website has a beginner-friendly user interface. No sign-up is required to watch TV shows online with Popcornflix. Streaming is a one-click process. Just select any of the categories available, such as drama, reality, and family and kids, and choose a title you find interesting.
There are several genres you can explore as well, and a search bar to help you find any TV show or movie you're looking for.
Like Crackle, Popcornflix is owned by Chicken Soup for the Soul Entertainment. The streaming site has been around since 2011. Since then, it has attracted a respectable, loyal base of visitors who are fans of independent movies and series.
It is only accessible in the US and Canada unless you use a VPN service. Apart from its website, Popcornflix is available as an app on several platforms, including Android, FireStick, iOS, PlayStation, and Xbox.
13. Popcorn Time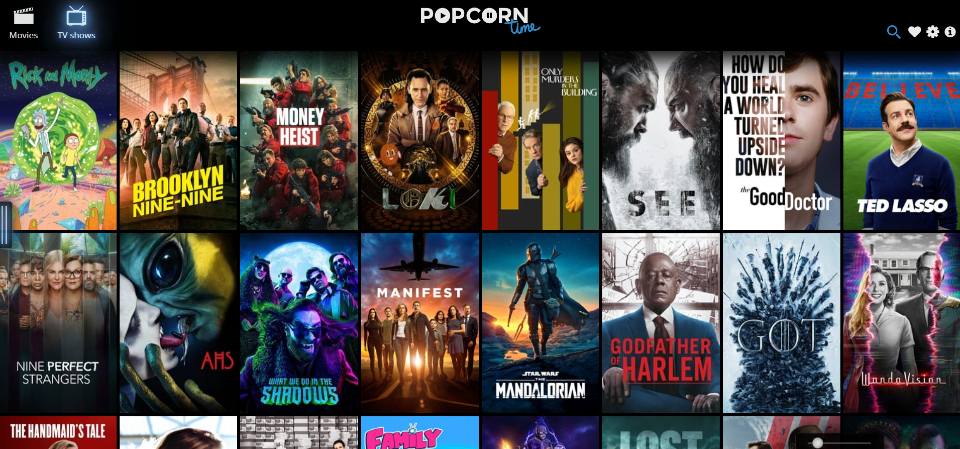 Popcorn Time is an open-source BitTorrent project that comes with an integrated media player. It came about as a result of a group of developers combining to create a free buffet of TV shows and movies for its users. Popcorn Time markets as a free alternative to streaming sites like Netflix.
It has been positively compared to Netflix, with a teeming number of visitors to the site. The service offers TV shows, movies, anime, and cartoons. There's a massive collection of this content, as Popcorn Time streams videos listed on several torrent sites. It searches for and offers high-quality links in full HD.
Popcorn Time is not higher on this list because it is not a very easy streaming platform to use. It has a clean, modern design that does not take long to get used to. The issue arises when you're ready to stream. To use the app, some knowledge of how torrents work is required.
14. LookMovie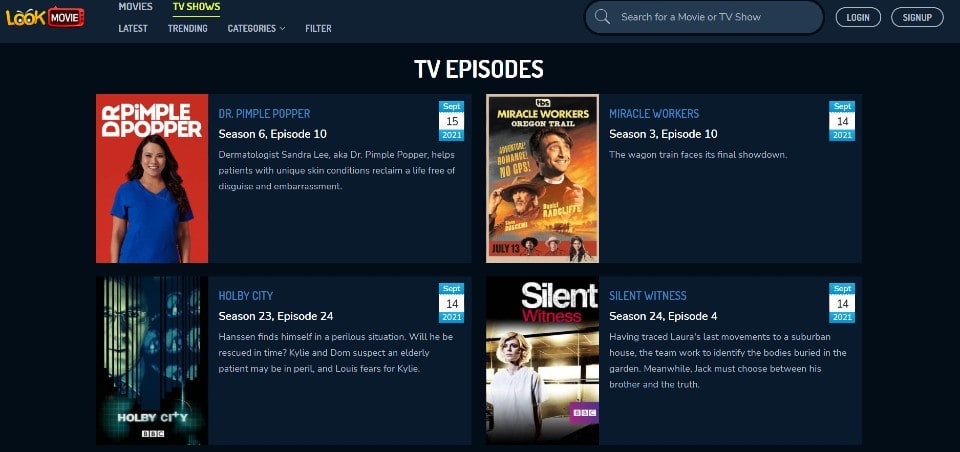 It may be called Look Movie, but don't worry – this streaming site has a large supply of TV shows available to watch online for free.
The content on this site is updated daily, with the latest TV show episodes accessible very soon after they get aired. When combined, this makes it one of the best streaming websites to watch TV shows online.
The categories for series on LookMovie include action, adventure, crime, comedy, horror, mystery, drama, and many more.
I found the filter feature to be an effective tool for sorting through the options available. With this tool, you can sort through genres, years, ratings, and choose between having the oldest or newest listed first.
Streaming is easy and largely reliable on LookMovie. There are no annoying ads constantly bugging you and redirecting you to other sites. Not all the TV shows are in HD, though. Still, they are not low quality and are reasonably clear to watch.
LookMovie is free to use, but you can support the website's efforts by making donations in Bitcoin.
15. WatchTVepisodes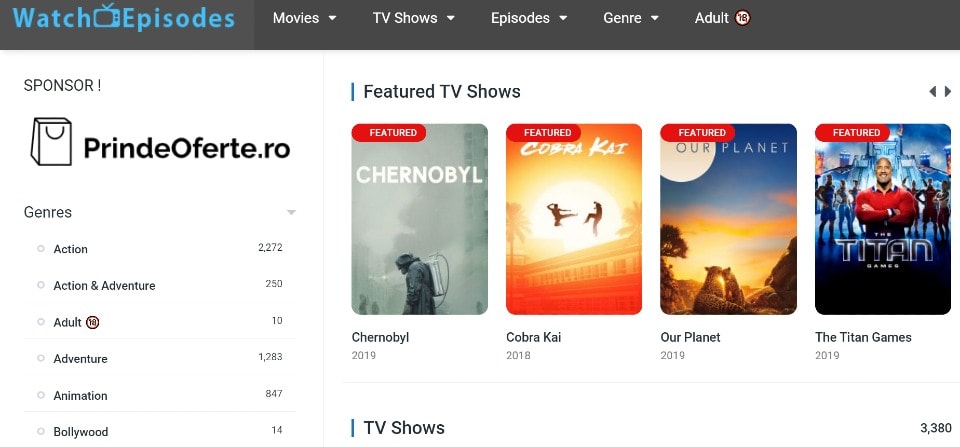 This streaming site does not have as many visitors as many other options on this list. But that has to do with it being under the radar. It is deserving of a place among the best TV streaming websites because of the size and range of TV shows it has on offer, as well as its ease of use.
There are various categories to help you filter the TV shows or movies you are interested in watching. You can sort across genres, release years, ratings, and popularity.
Streaming on this service is a piece of cake. There are very few ads and those present do not fall under the frustrating category. This means that you can navigate the website easily without being constantly redirected to other unrelated websites. You can watch TV shows online with just a couple of clicks.
16. WatchMovieStream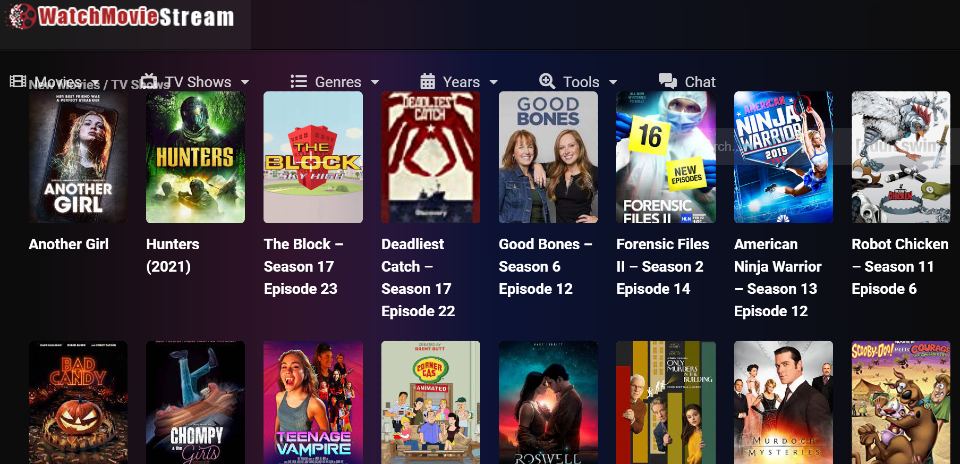 Watchmoviestream claims to have a library containing streaming links for more than 40,000 TV shows and movies. There is no way to verify that claim. One thing is for certain – this website is home to a massive hold of media content. There are tons of TV shows and movies that you can stream in high definition.
Like many other free streaming sites, WatchMovieStream does not host the content on its servers. Instead, it pulls links from non-affiliated third-party websites like Openload, Primewire, and Putlocker.
WatchMovieStream's user interface is not terrible, but it is far from the best I have seen on a streaming site. There is quite a bit of clutter and it is not easy to make out some of the links and buttons.
On the flip side, the website is not a hotbed for advertising links. Once you get used to it, you will not find it difficult to navigate the website.
17. Prime Video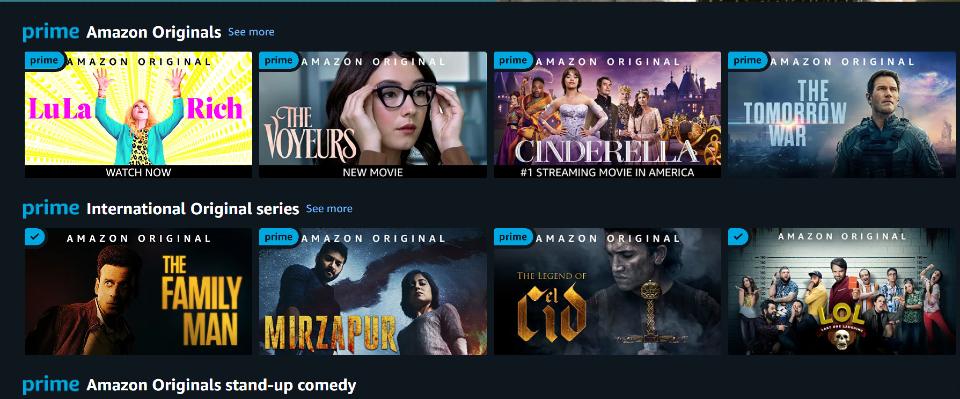 I know what you're thinking – this option is easily recognizable as one of the most popular premium streaming services in the market. It is one of the major rivals to the streaming giant, Netflix, and has an active base of more than 100 million users.
While Prime Video is a subscription-based platform, you can enjoy all the content it has to offer for 30 days free of charge. This includes an extensive library of TV shows, movies, and anime.
The streaming service is famous for its original shows like The Lord of the Rings prequel, Tom Clancy's Jack Ryan, and The Marvelous Mrs. Maisel. In addition, you get to be entertained by countless songs, albums, and Kindle books.
Amazon is offering a free trial for a month to let you take advantage of the full spectrum of content on Prime Video. If you decide to hop on a subscription plan after the trial ends, you can pile on extra add-ons like the long list of TV channels available.
You can stream Prime Video on your web browser and other compatible devices like Android, iOS, FireStick, and more.
18. Tinyzone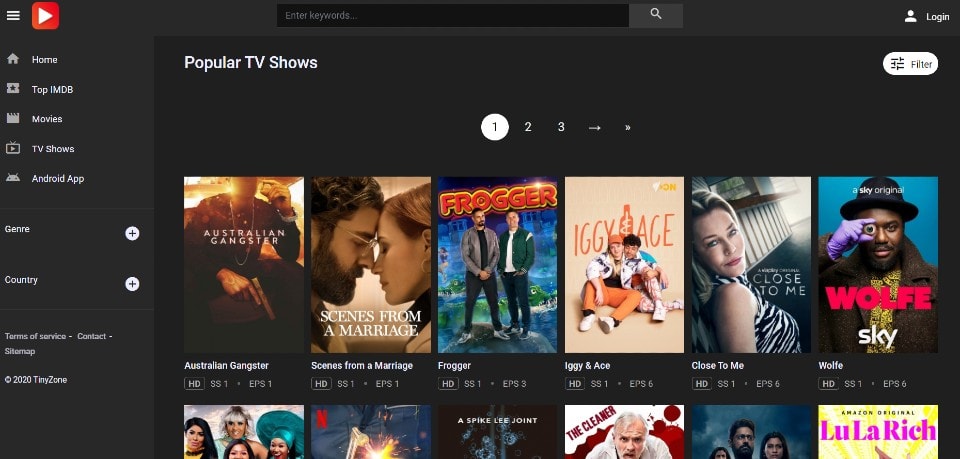 Up next is Tinyzone. Don't be fooled by the name; the selection of streaming content on this website is by no means small. On the contrary, there's a huge database of TV shows and movies available here for streaming. More than 25,000 of them, if we are going to go by the information on the site.
TV show and movie genres you can explore cut across action, thrillers, drama, sci-fi, mystery, comedy, and more. New titles are uploaded daily on the platform so you don't miss out on the latest releases of your favorite shows and movies.
In terms of streaming quality, the titles available on Tinyzone can be watched in HD and full HD quality. The performance of the streams is generally reliable too. As long as you're on a stable connection, you will not encounter much buffering, if any.
Tinyzone has a clean, modern user interface. There is no clutter and the site is easy to navigate. A filter button makes short work of sieving through the movies and TV shows.
As for ads, Tinyzone is a free streaming site, so you're going to encounter some. The good news is that they are only here and there. There are no porn or violent ads or constant redirections. As soon as you start to stream a video, you will not have to deal with any more of them.
Web aside, you can download the Tinyzone app for your Android mobile phone or tablet.
19. EuroPixHD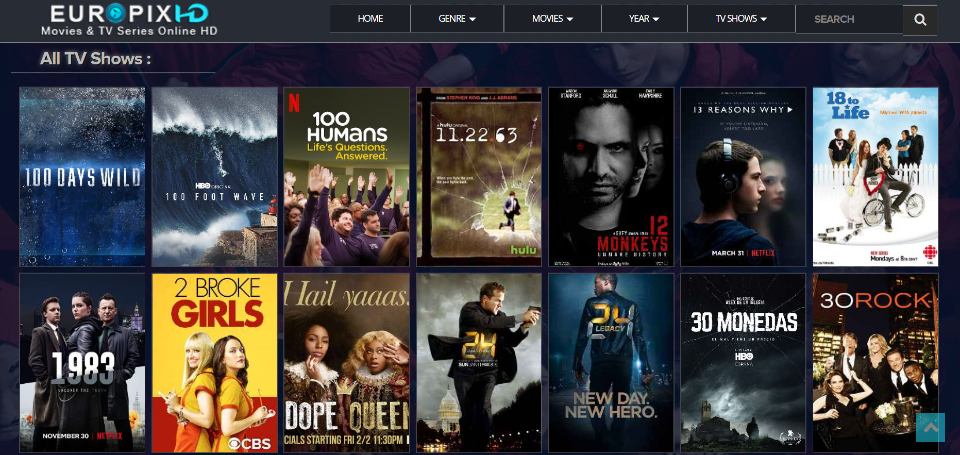 EuroPixHD has gained modest popularity since it was launched some years ago, especially in the US and the UK. The website has a sizeable collection of TV shows and movies in its library. All of the titles are available for free streaming. They are available in HD too as hinted in its name.
To locate the content that's your taste, a filter tool will help you sort the content on the website. The filter feature streamlines results using release date, IMDB rating, and/or genre. You can find TV shows and movies across a wide variety of genres, such as comedy, action, drama, sci-fi, and romance.
Watch out for the ads on this site. They can be distracting and frustrating. Ads aside, EuroPixHD is a decent destination to watch TV shows online.
20. Cineb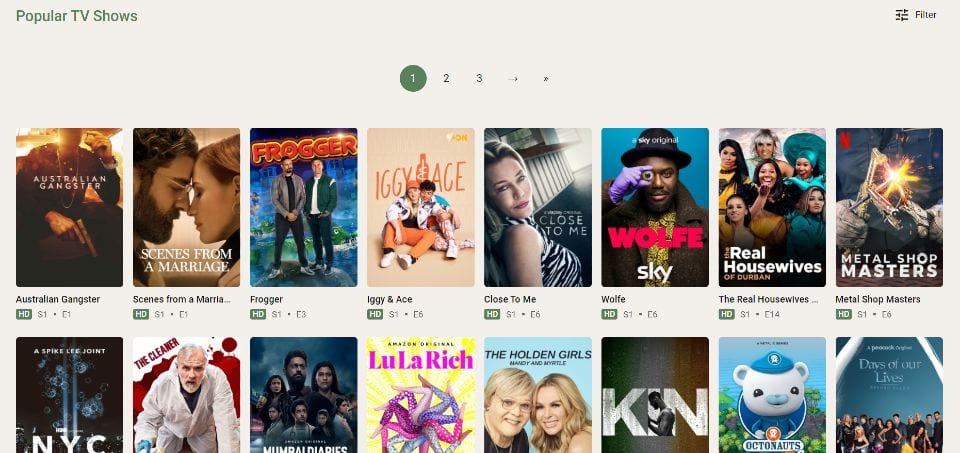 Cineb has not been around for a long time and that accounts for the modest amount of daily visitors the website currently receives.
However, that is bound to change soon. It lands on this list of the best sites to watch TV shows online because of its growing database, the quality of its links, and its user-friendly interface.
If you are not looking to watch anything in particular, you can browse through the Top IMDB menu option for the highest-ranked TV shows.
Alternatively, use the filter option, which I found quite advanced and efficient. If you have a title in mind, a search query in the box provided will bring up your show or movie, as well as similar titles.
The links provided by this site are high quality. The videos are crisp and clear and there is no buffering. There are server options to choose from so if you find that one is broken, you can simply switch to another.
Cineb's interface is simple and clean. There is no clutter or pop-ups. In fact, the website has next to no ads, presenting a departure from the usual. You don't have to register to use the site. Simply click on a TV show episode or movie and you can start streaming.
21. YouTube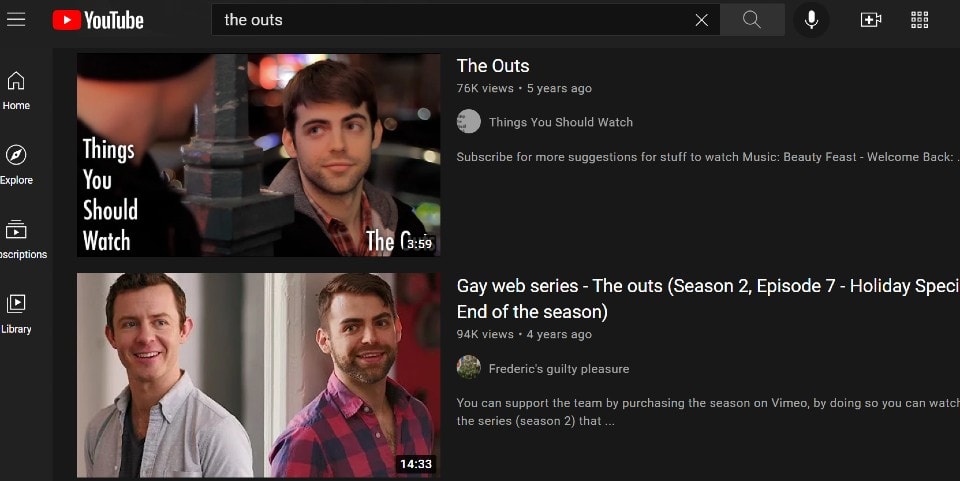 YouTube is far and away the largest video repository in the world. More than a hundred million visitors go on the site to watch more than 1 billion hours of content daily. In spite of that, the streaming service is not much known for being a place you can watch TV shows online.
If you are a fan of web series, for example, YouTube hosts some of the best you can find. Many of these are available for you to stream for free. You can also find full episodes of several shows, like Lemmings, The Actress, The Outs, and many more. Classic shows like Mr. Bean are well-stocked on the service. Most of these shows have subtitles.
The shows on YouTube are not organized as those on the other TV show sites on this list. This means that you must bear in mind the TV show you are searching for. On the flip side, there are few streaming websites as reliable as YouTube. You can download its app on your Android or iOS device, as well as a bunch of other compatible devices.
22. CONtv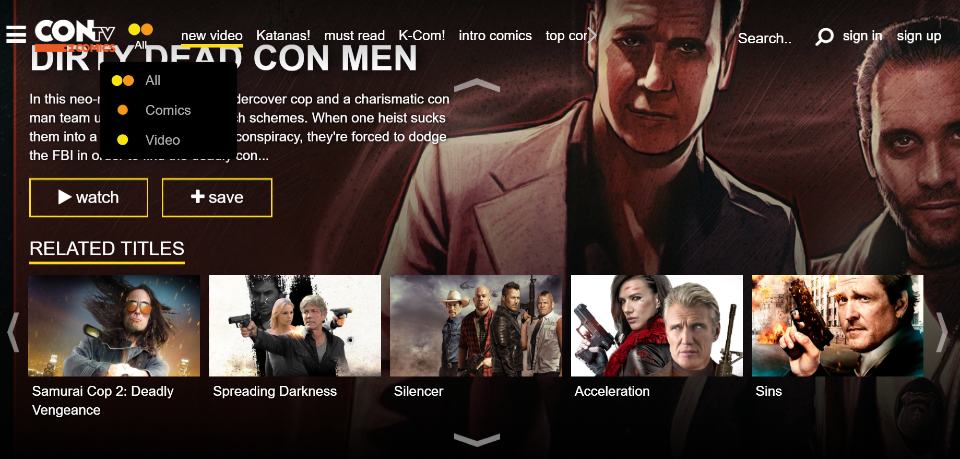 Sliding in last on this list of the best streaming sites to watch TV shows online is CONtv. This streaming platform services a niche – comics. On CONtv, lovers of genre movies, TV shows, and live panels from the popular Comic-Con can participate without having to be at the events physically.
There are lots of anime, videos, comics, and manga cutting across all genres on CONtv. The anime shows on the site get updated monthly, so you have new titles to look forward to. Additionally, there's the chance of gaining premiere access to content like sneak peeks on new events and releases, cosplay, products, and discounts.
CONtv has a user-friendly design and interface. You can navigate, browse, and search the website with ease. The platform has both free and premium versions. If you become a CONtv VIP, you get to stream content without having to encounter any ads.
CONtv is accessible on a variety of platforms and devices, including Android and iOS devices, FireStick, Roku, and others.
FAQs
Are free TV streaming websites legal?
Some of them are. In this article, I have listed some sites that are completely legal to stream with. Watching TV series and movies on these sites does not circumvent any copyright laws. Examples include Pluto TV, Crackle, and CONtv.
On the other hand, some other sites sit in a legal area. While they are not expressly illegal in most countries, you can get in trouble for streaming protected content on them.
Can I access these sites on FireStick?
Yes, for many of them. Several TV show streaming websites, especially the legal ones, are available on a range of platforms. Usually, these platforms cover Android and iOS devices, as well as streaming devices like FireStick and Roku. You can also stream some of them on a media player like Kodi.
Are free TV streaming websites safe?
The legal ones are. You can stream on these websites without having to worry about bad actions stealing your data. To ensure the safety of your device and data, you should use a VPN service when you stream on third-party websites.
But VPNs are also important when using legal sites. That is because some of those sites have geo-blocks in place to restrict their content to certain locations.
Wrapping Up
So there you go – the top TV streaming sites that offer you a spectrum of TV shows for free. Most of these sites also let you enjoy other content like movies, anime, and more. Some of the less-than-legal options on this list are intermittently online and offline as a result of the efforts of law enforcement authorities.
With that being the case, we regularly update this list to reflect the sites that are online. Bookmark this page so you will not miss out on our updates.
Related:
Legal Disclaimer - FireStickTricks.com does not verify the legality or security of any add-ons, apps or services mentioned on this site. Also, we do not promote, host or link to copyright-protected streams. We highly discourage piracy and strictly advise our readers to avoid it at all costs. Any mention of free streaming on our site is purely meant for copyright-free content that is available in the Public domain. Read our full disclaimer.
Disclosure - FireStickTricks.com is reader-supported blog. When you buy a product through links on our site, we may earn commission. Learn More