Fire TV Cube is simply a Fire TV 2017 with slightly upgraded hardware and built-in Echo Dot, Amazon's very own, Alexa powered speaker-cum-virtual assistant.
What's Good:
Increased storage (from 8 GB on Fire TV 2017 to now 16 GB)
Out of the box Ethernet Adapter
Echo Dot integration
What's Not Good:
Same hardware specs as Fire TV 2017 except more storage
Does not include HDMI cable. Must be bought separately
More expensive than Fire TV 2017 & Echo Dot combo
It is evident that Amazon is trying to make Alexa a household name. Alexa's integration with many of its top audio and video devices isn't a secret. The Fire TV & FireStick line of devices already have the Alexa capabilities. Now, things are supposed to get more exciting as Amazon marries Fire TV, Alexa and Echo Dot in one package branded as Fire TV Cube and delivers it to you for a price you wouldn't call cheap. Available for $119 while I write this review, Cube seems to be slowly falling in line with Apple TV. But, while there is only a $60 worth of catching up to do at price (because Apple TV is priced at $179), there is a whole lot to cover in features and hardware specs
It would be unfair to compare Cube with Apple TV, for they are two different class of devices. In this review of Fire TV Cube, I will lay it out with more familial gadgets, Fire TV (2017) and Echo Dot.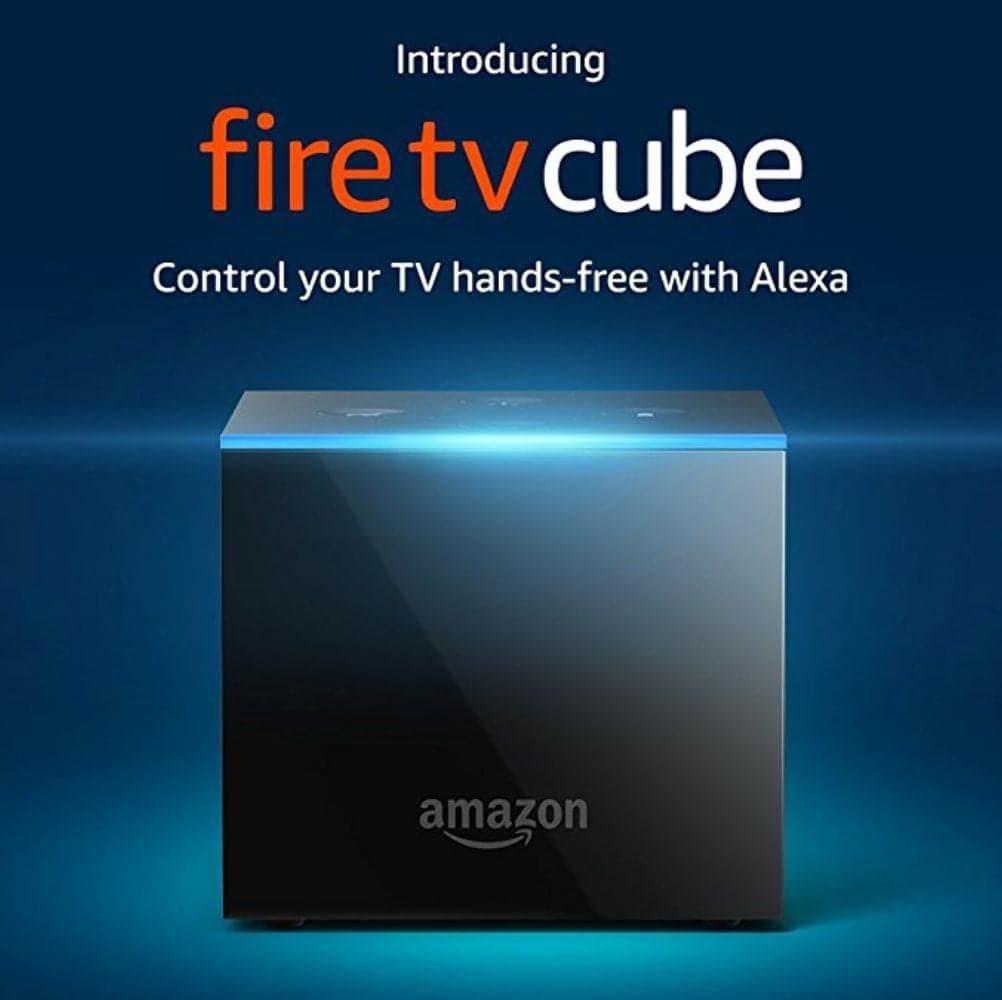 Hardware First! 
Hardware first because this is what the whole user experience is built upon. I will take Amazon Fire TV 2017 as the benchmark for comparison as it was the last iteration in the Fire TV line of devices before Cube.
Fire TV Cube packs Echo Dot, the already popular smart speaker, which the 2017 Fire TV does not. But, for now, we slide Echo Dot aside and look at the core hardware capabilities of Fire TV Cube as a media device.
Fire TV Cube is exactly your 2017 version Fire TV, but with more storage. This device offers a 16 GB internal storage as compared to Fire TV, which only has 8 GB. Even though Cube doubles the storage capacity, 16 GB isn't a whole lot for those who like to download and save videos. But, like the other Fire TV devices, you can expand the storage with the OTG adapter.
Besides increased storage, all other hardware specs remain the same. Cube has the same 1.5 GHz processor as Fire TV, 2 GB RAM, and MIMO Wi-Fi. This device also supports HDR10 and is not compatible with HDR10+ just like Fire TV, plays 4K videos and offers Dolby Atmos surround sound audio quality.
Cube connects to your TV via HDMI. But, it is difficult to believe it does not ship the HDMI cable out of the box. When you are paying $120 for a device like this, that's the least you would expect. I was truly disappointed to discover this fact when I unpacked Cube. If you don't already have an HDMI cable, you can't get started watching videos right away. Even FireStick, the cheapest in the Fire TV line of media devices, comes with an HDMI extension. So, add the HDMI cable to the shopping cart when you buy Fire TV Cube.
I almost forgot to mention. Cube ships an Ethernet adapter in the box for wired connectivity. This is another upgrade from Fire TV, which requires an additional $14.99 Ethernet adapter for wired internet connection.
Both, Cube and Fire TV 2017 have the exact same remote controller. I was hoping Amazon would add the volume control button at last, though it did not.
Now Echo Dot
Fire TV and Echo Dot (two separate devices) together can do just about everything the Fire TV Cube can. In fact, you could buy the combo for $94.99 on Amazon.  Cube costs you about $22 more and gives you an additional 8 GB and a built-in Ethernet port.
If you already own one of the Echo Dot devices, Fire TV Cube doesn't make a whole lot of sense. Echo Dot as a separate gadget can do just about everything the Echo Dot in the Cube can. You can control a host of smart devices and home appliances with Alexa integration including your TV, gaming consoles, lightings, and a lot more.
There is another challenge, in keeping two Echo Dots in the proximity. If you are using the same wake word, both might respond to the same commands simultaneously causing plenty of confusion, especially when both are kept in proximity. It is best to keep both these Alexa devices in separate rooms or change the wake word on one of them if you intend to keep using them in the same room.
That said, Fire TV Cube Echo Dot is good at listening to and executing your commands. But, the true power of such a device lies in its ability to hear in not so ideal audible conditions. That's where Echo Dot truly shines. It can hear and recognize your commands from across the room and even over loud music. I personally tested Echo Dot with my home-theater and the results were delightful.  From over 5 feet and fairly loud music playing, it could hear me and carry out my commands.
"Alexa, turn up the volume"
"Alexa, turn down the volume"
"Alexa, play the previous track"
"Alexa, play the next track"
Try not to keep the Cube too close to the blaring speaker or you might have to shout your lungs out for Echo Dot to hear you.
I was curious to know how Echo Dot would work with the Fire TV Cube interface as the Alexa on Fire TV 2017 offered limited functionality. Echo Dot quickly opened all the apps I asked it to, took me to the Settings, searched apps for me, helped me download apps, and a bunch of other things. But, I was a little disappointed in how it handled my requests to navigate across the list of the apps on the home screen as well as in the Your Apps & Channels segment. I was way better off with the remote than getting flustered giving commands Alexa couldn't carry out.
But, I wasn't discouraged. I knew Echo Dots capabilities extend far beyond the Cube's interface and it can do a lot more for me.
I ran into another challenge with Alexa. When I asked her to open Netflix, Hulu, Downloader, or ES File Explorer, it launched these apps promptly. When I commanded her to run Kodi, Mobdro, and Tea Tv, she got puzzled and could not open these apps. What's the difference? The apps Alexa could swiftly open are all downloaded from the Amazon App Store. The apps it couldn't have been sideloaded on FireStick. Point being, Alexa is smart enough to open the App Store apps but not smart enough to run the third-party, side-loaded apps.
Fire TV Cube has the same 0.6" Echo Dot speaker as the $50 Echo Dot. It is a basic speaker without woofers and no Dolby support. Sound quality is acceptable when you want to enjoy music at low volume and don't want to turn on your bigger speakers as they will consume more power.
Wrapping Up – Fire TV Cube Review
If you have Fire TV 2017, buying Fire TV Cube doesn't make a lot of sense. I would rather buy a $50 Echo Dot and $15 Ethernet adapter and still save more than $50. If you want more storage, you can always buy an OTG adapter separately. A good quality OTG adapter would cost you anywhere between $5 and $10. And, don't forget the Cube doesn't ship HDMI cable in the box. You need to buy it separately. A 6-feet cable costs around $8.
I believe that Amazon could have packed a beefier device than what it ships for $120. In fact, I wouldn't mind paying an extra $10 for a more powerful processor.  All Fire TV devices are a little slow.
If you don't own a Fire TV already, I think Fire TV Cube could be a good start. Since it mashes two devices into one, your set up would be less cluttered. Echo Dot is just as good with Cube as it is separately.  You can control your smart appliances, TV, home-theater systems and a broad array of smart devices.
Related:
How to Jailbreak FireStick
Best Fire Stick Apps
Best VPN for Fire Stick
How to install Google Play on Fire TV Stick
How to install Terrarium TV on Fire Stick
Legal Disclaimer - FireStickTricks.com does not verify the legality or security of any add-ons, apps or services mentioned on this site. Also, we do not promote, host or link to copyright-protected streams. We highly discourage piracy and strictly advise our readers to avoid it at all costs. Any mention of free streaming on our site is purely meant for copyright-free content that is available in the Public domain. Read our full disclaimer.
Disclosure - FireStickTricks.com is reader-supported blog. When you buy a product through links on our site, we may earn commission. Learn More