In this tutorial, you are going to learn how to install Surfshark VPN on FireStick. These instructions work equally well on any Amazon Fire TV line of devices, including Fire TV Stick Lite, FireStick 4K, and Fire TV Cube.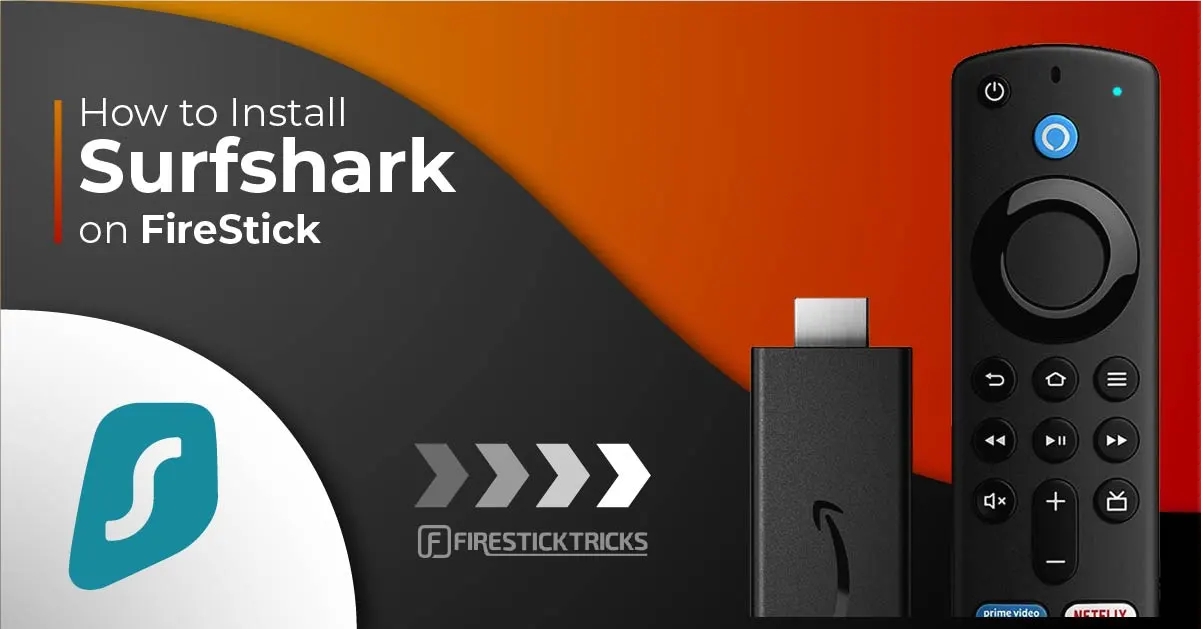 While using a Firestick online is great for convenience's sake, it's not exactly a private way to browse. If you're used to surfing the web via a VPN on your phone or computer, you might be hesitant to take full advantage of the Fire TV Stick in the same way. Fortunately, we've got a solution for you – Surfshark on Firestick.
Surfshark is a VPN that enables you to view content anywhere in the world. If you're based in the United States, for example, you can trick Netflix into providing you content from its EU service. Or, if you're traveling around the world, and your favorite US content isn't where you're staying, a VPN can help!
This guide will specifically focus on how to install Surfshark on Firestick, but it's important to note that ExpressVPN is a better option for Fire TV devices. In fact, I use ExpressVPN myself as it is the most secure, and the fastest VPN available for the Amazon Firestick. We've got a guide covering how to install ExpressVPN on your Fire TV Stick. However, if you're more interested in Surfshark, this guide can help you out.
Why Install Surfshark on Firestick?
Surfshark is a fantastic way to increase your online privacy and security. It keeps your browsing history private from your ISP and bad actors. It blocks ads, trackers, and even malware. Basically, everything you do online is now encrypted if you're browsing on Surfshark VPN.
It Doesn't Log Your Info
It doesn't log any of your browsing like some other providers do, preventing targeted advertising and other forms of info theft. Surfshark is under the jurisdiction of the British Virgin Islands, which is exactly how they can ensure this policy.
They Provide Trusted Security
On top of all of this, the VPN protects you from any sort of identity theft. All of your log-in and personal information is completely safe while using one. They've also held a third-party security audit, which found no issues at all with the project.
Keep in mind that using some third-party applications on your Fire TV Stick, like Kodi, involves you streaming illegally acquired content. A VPN prevents you from getting caught.
Easy to Use
All of these features sound difficult to take advantage of, right? Fortunately, using Surfshark on Firestick is incredibly easy. You simply need to log in with the VPN, choose a region, and all of the work is done for you. We'll go more into depth on that later, of course.
There aren't any other confusing steps to take. You simply turn it on, and you're done (after the initial setup process, of course.)
Endless Content Available
As mentioned, utilizing a VPN allows you to view Netflix and other service content from anywhere in the world. Some content on Netflix and other streaming platforms based on country. With a VPN, there's no limit on what you can watch.
How Does a VPN Work?
So, how can you be sure a VPN is protecting your information. Well, once you log into one such as Surfshark, it links you up with a server based on the country of your choice. From there, it creates an encrypted pathway from your computer to that server, protecting all information that travels along with it. Once it arrives, that data is unencrypted, and to the world, whoever is browsing is doing so via a server in that country. No one has any idea you could be across the world.
How to Install Surfshark on FireStick
Fortunately, there is already a native Surfshark application for the Amazon Fire TV Stick, so the installation process is no problem.
But before you install the software, make sure to sign up for a subscription service on Surfshark's website. We reached out to Surfshark inquiring about possible deals for our readers and successfully secured an 81% discount on its regular price. Click here to get Surfshark VPN with this new discounted price.
Follow these steps to set it up.
Step 1: Head to the search option on your Fire TV Stick device.
Step 2: Search for Surfshark VPN, and it should be the first app on the list.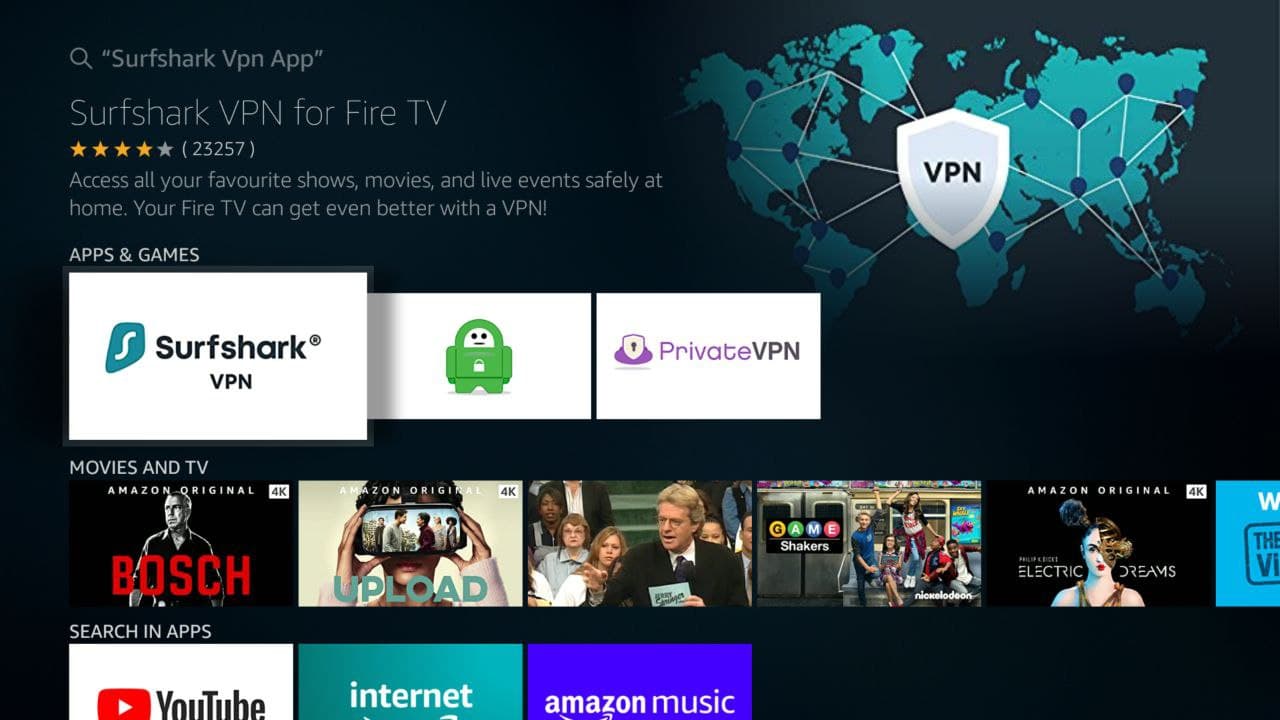 Step 3: Click the "Get" option to start downloading Surfshark VPN.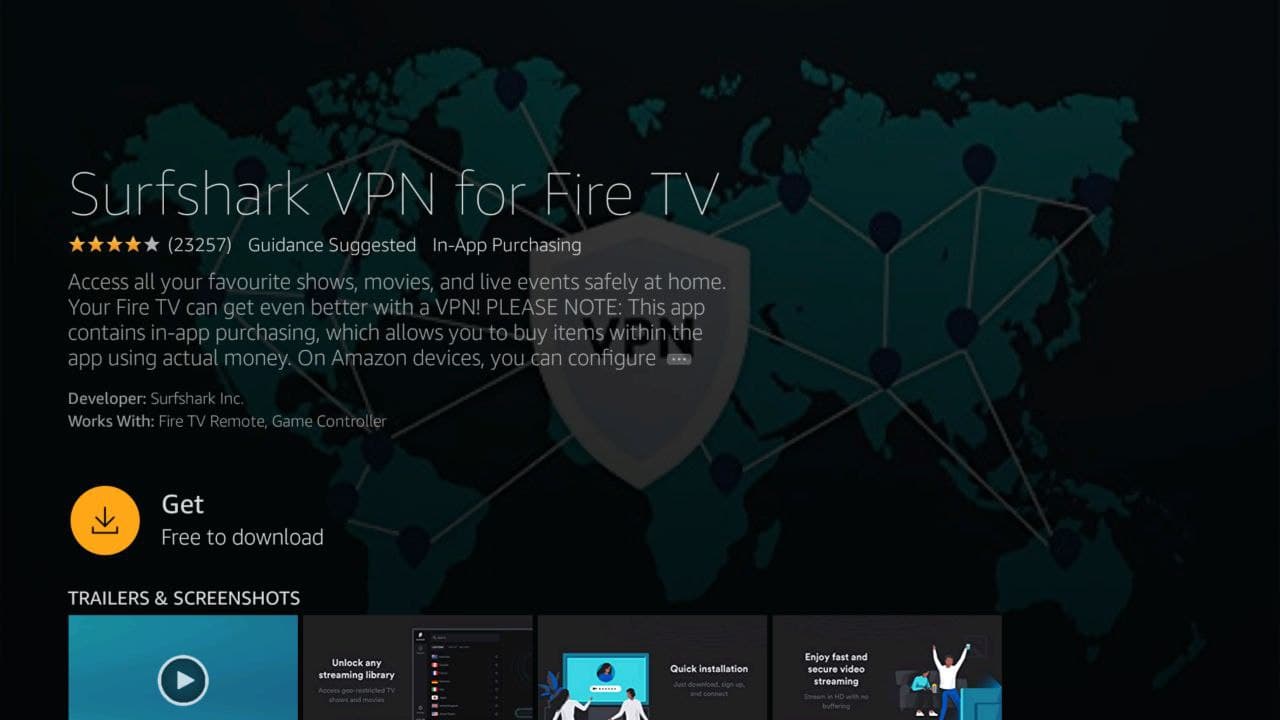 Step 4: Once the app is installed, you can click "Open" to start the VPN.
If you can't access Surfshark on the main store for whatever reason, you can always sideload the application.
How to Sideload Surfshark VPN on Fire TV Stick
Note: If you have already installed Surfshark on FireStick using the first method, you can skip this method. The sideloading method is only for those who can't find Surfshark in the Amazon Store.
Sideloading the Surfshark VPN on FireStick involves downloading the .apk file. To do so, you'll have to head into your Firestick's Settings page.
Step 1: Go to the Settings page on your Fire TV Stick.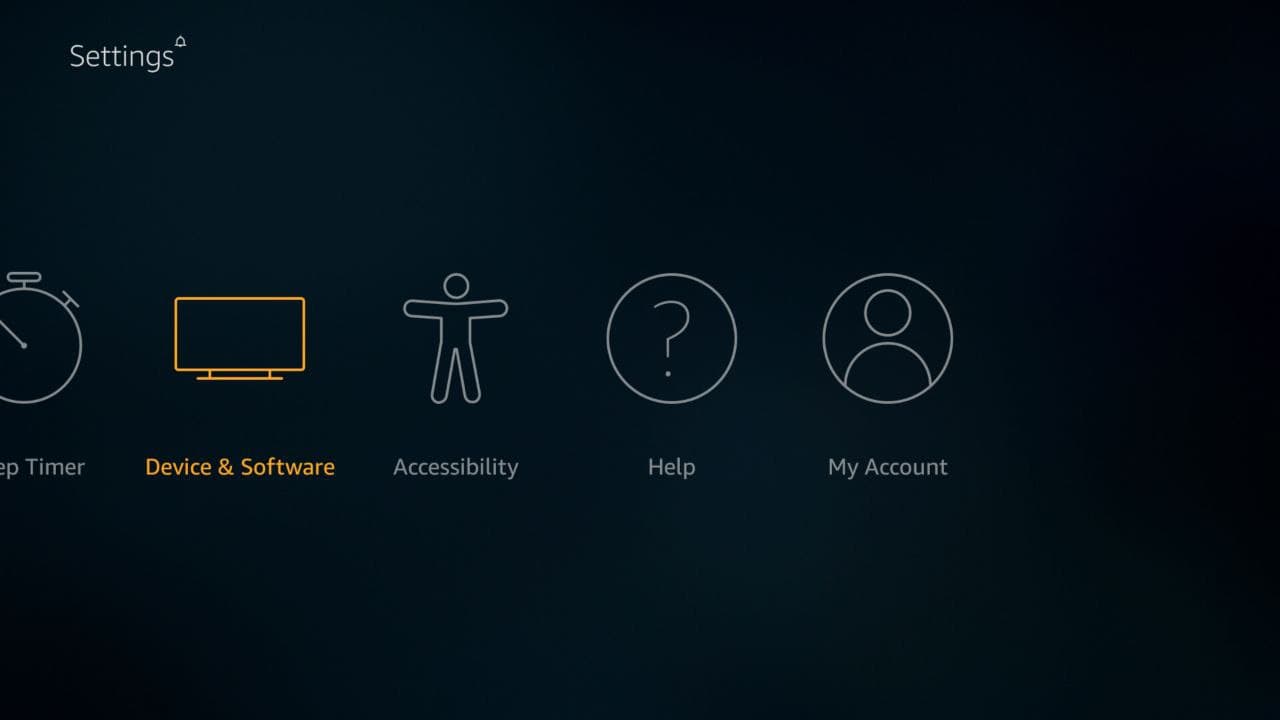 Step 2: Select the My Fire TV/Device option. This will vary based on your device.
Step 3: Once clicked, go to Developer Options.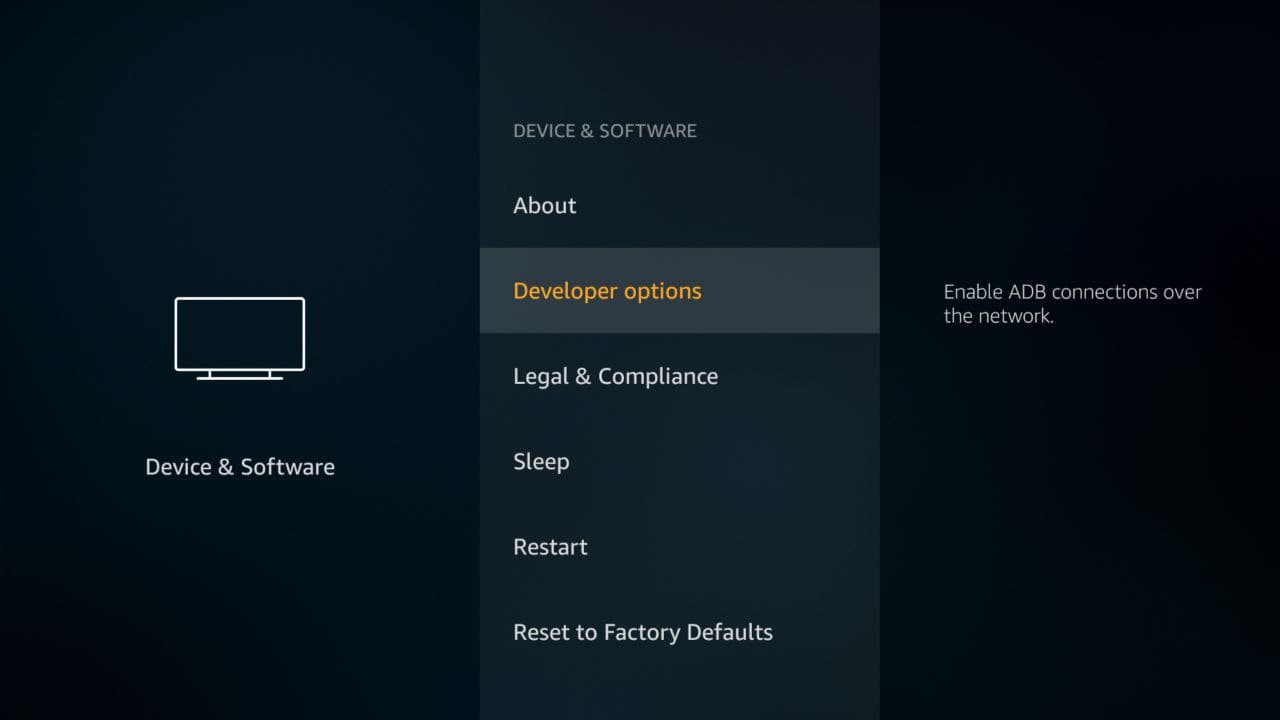 Step 4: Head to "Apps from Unknown Sources" and select ON.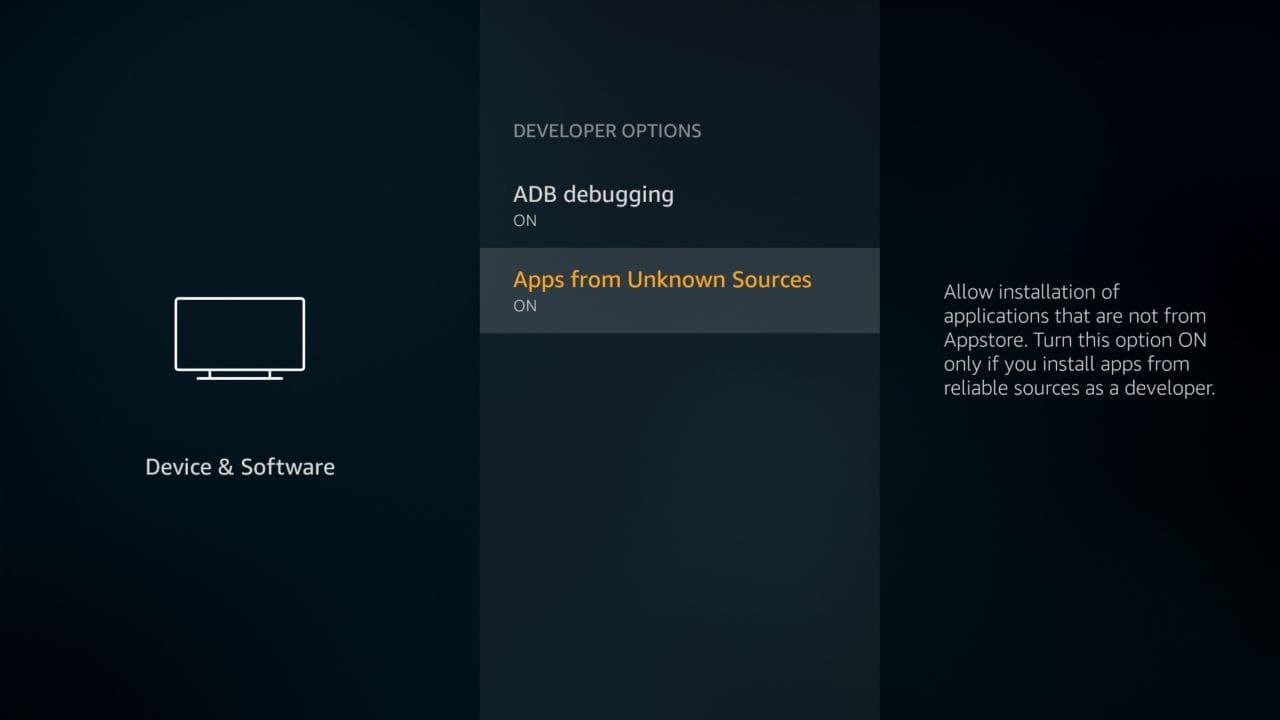 Now that you can download apps from unknown sources, it's time to download the Surfshark VPN .apk file. Here are the steps to do so:
Step 1: To start, head back to your search bar and search "Downloader."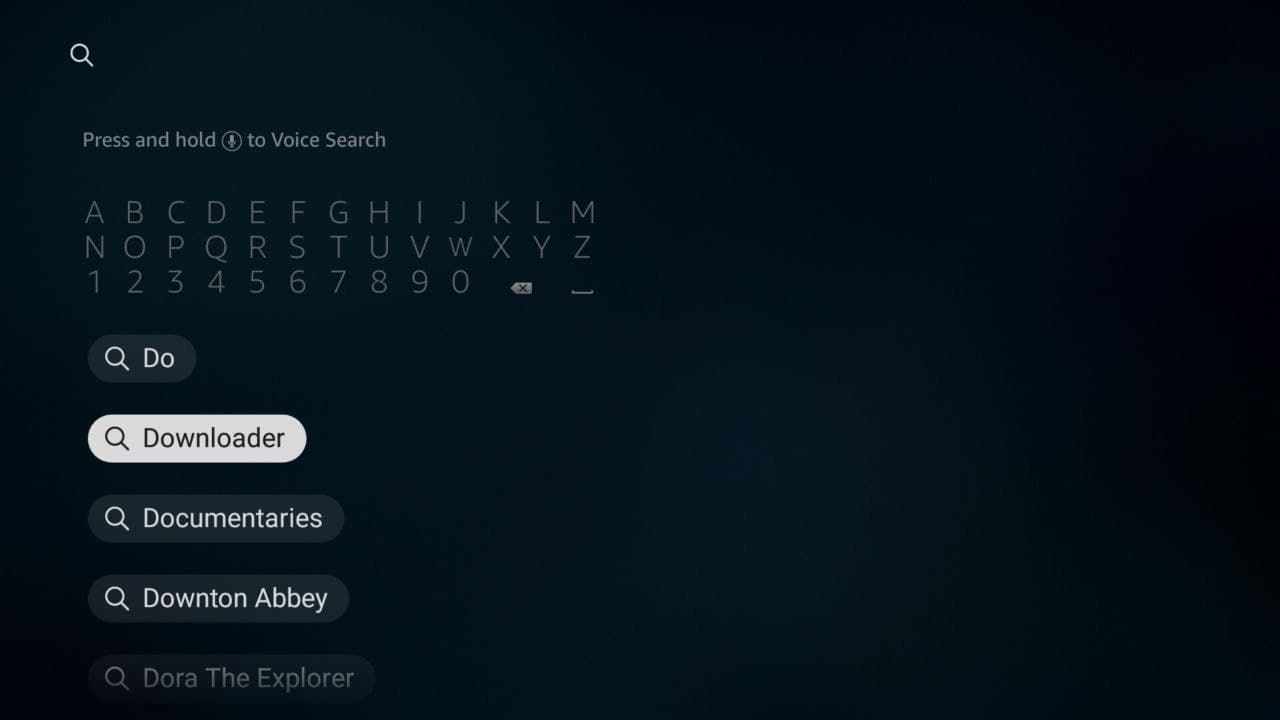 Step 2: Select the application, and hit "Get" so it can download.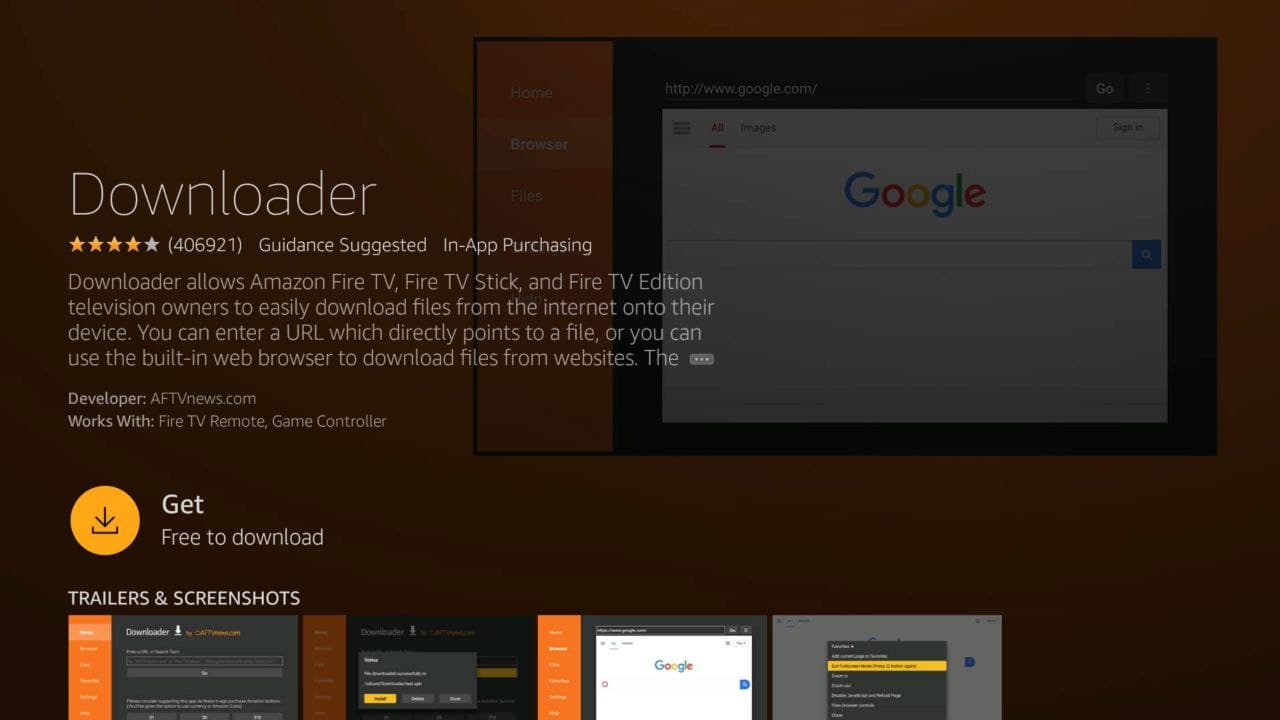 Step 3: Once installed, open the application.
Step 4: Select the URL searcher and go to surfshark.com/download. Alternatively, head to Google.com and search "Surfshark" and the website should appear.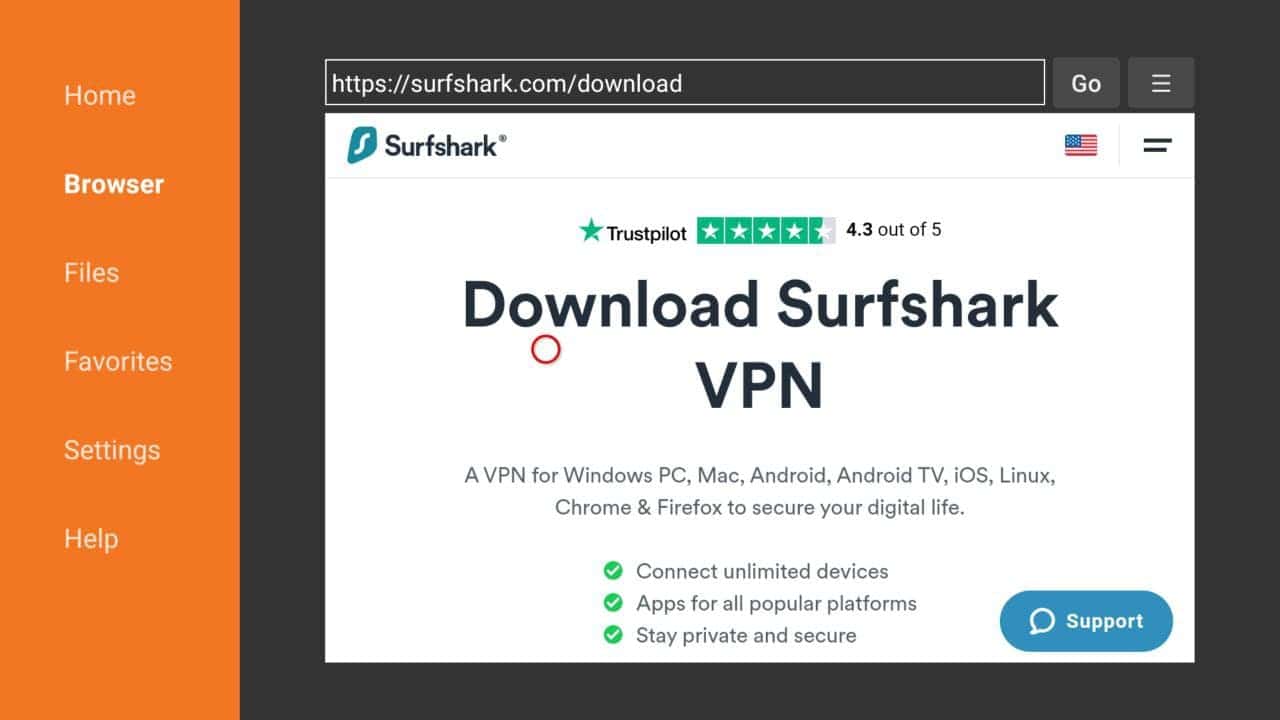 Step 5: Go down and click Amazon Fire TV app.
Step 6: There's a link to the Amazon Store. Click on it.
Step 7: Sign in and download the file.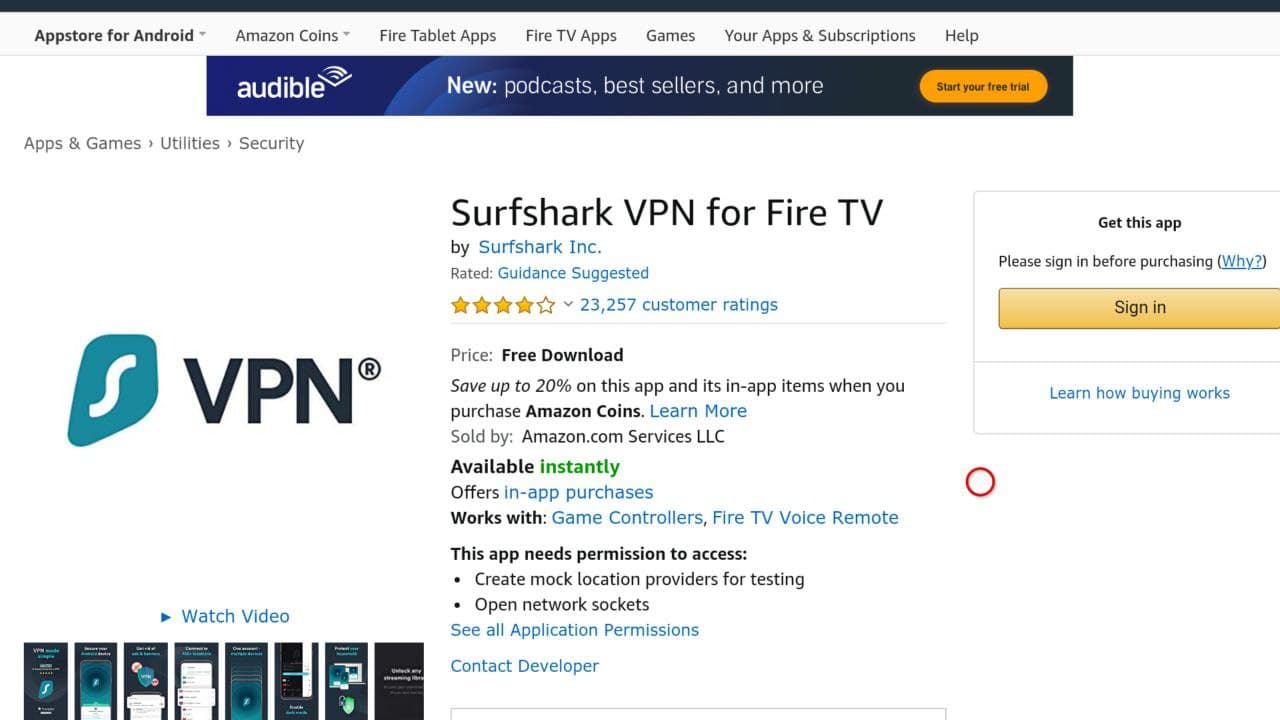 Step 8: Once it is downloaded, click "Install," and accept any of the warning screens.
Step 9: When the install is done, allow the Fire Stick to delete the .apk file.
How to Use Surfshark on Firestick
Now that everything is installed, it's time to utilize the Surfshark VPN service on your Fire Stick. Before getting started, log into the website on a computer and create an account. It will make the Fire Stick process much easier.
We'll quickly walk you through the sign-up process.
Step 1: Head to the Surfshark website and click "Get Surfshark VPN."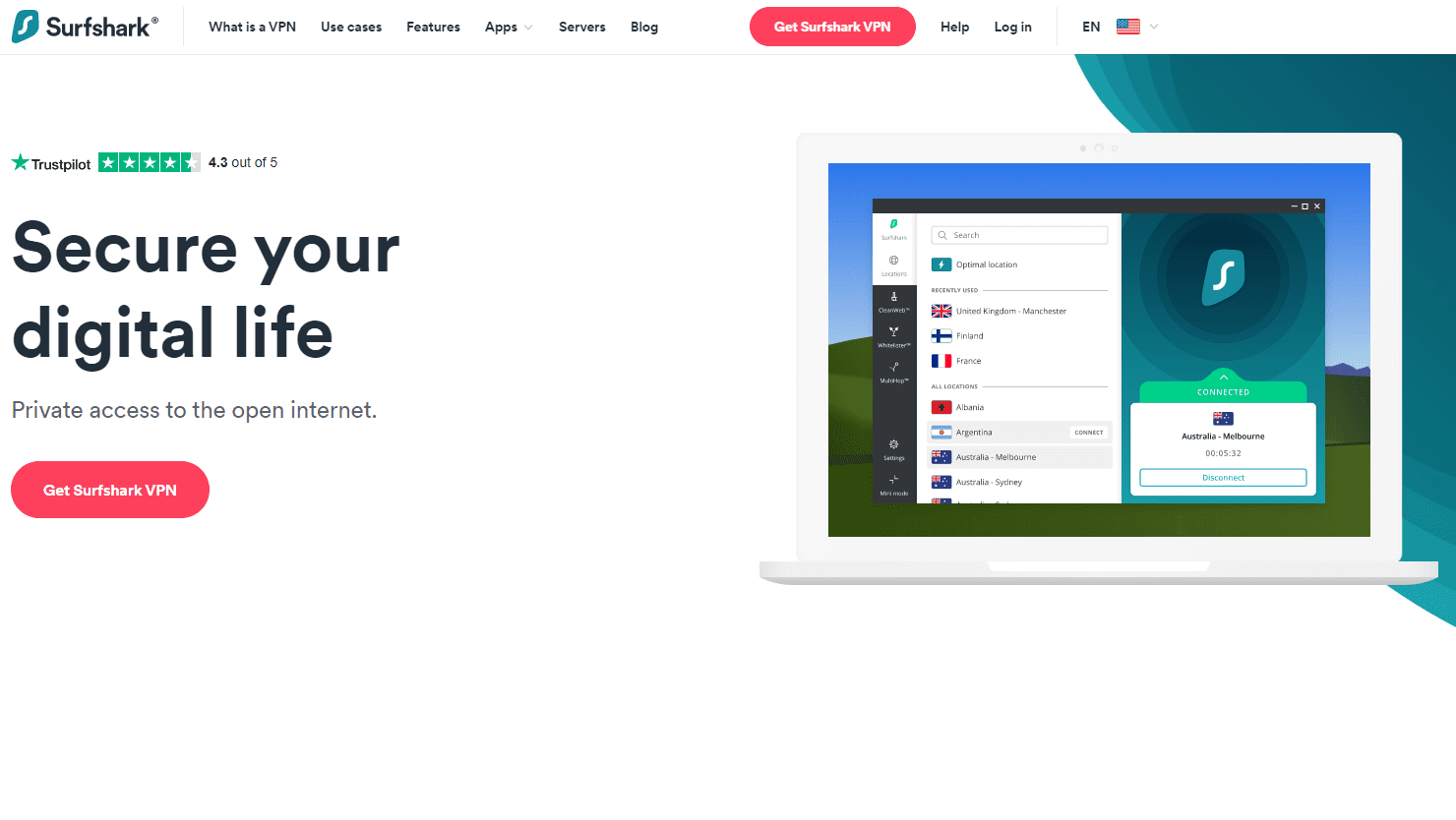 Step 2: Choose a plan and how you'd like to pay. The platform supports Credit/Debit cards, PayPal, Google or Amazon Pay, and even cryptocurrency.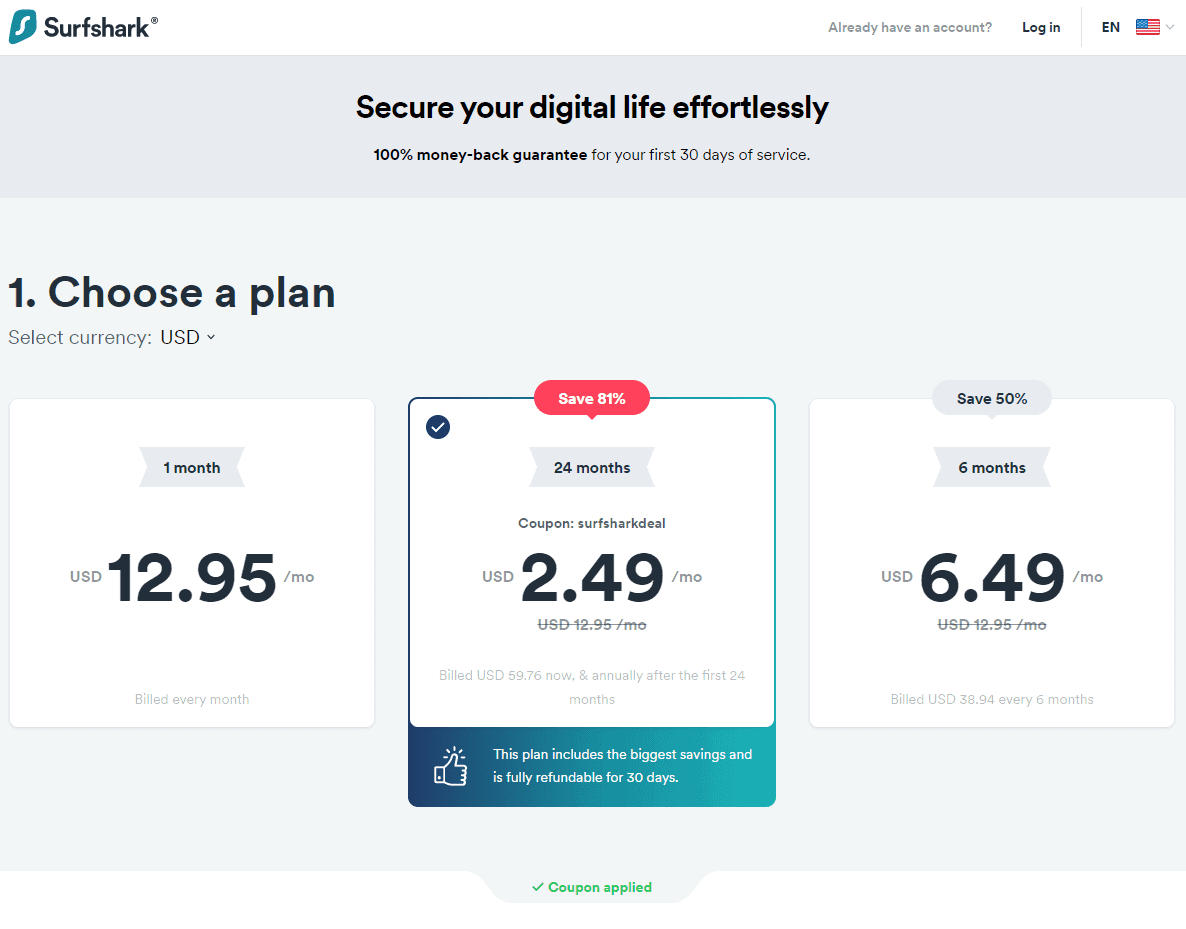 Step 3: From there, create an account with your email address, and a secure password as well.
Step 4: Though optional, the platform recommends signing up for Surfshark Alert & Search. This alerts you if your email ever shows up on a phishing list. It also enables you to search without trackers or any party logging your data. This costs extra, however.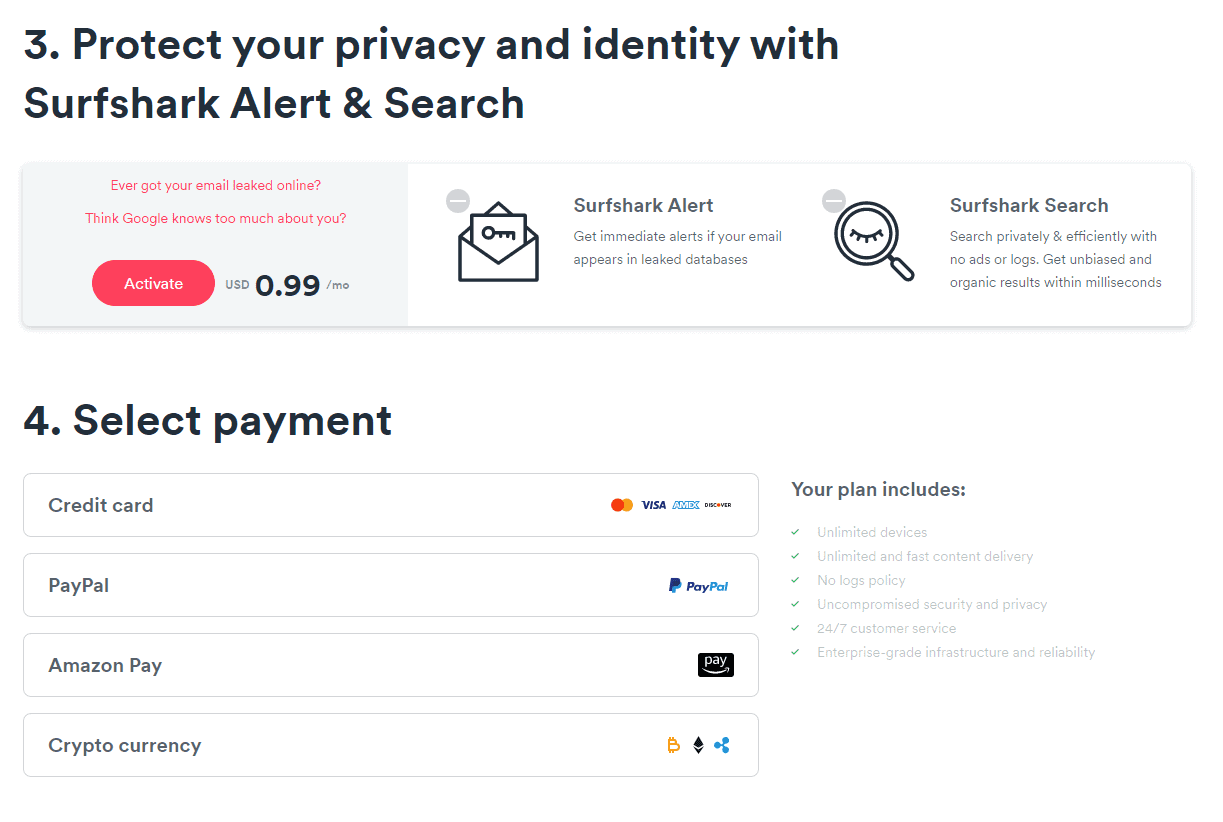 Step 5: Once you're signed up, log into your account on the Fire TV application.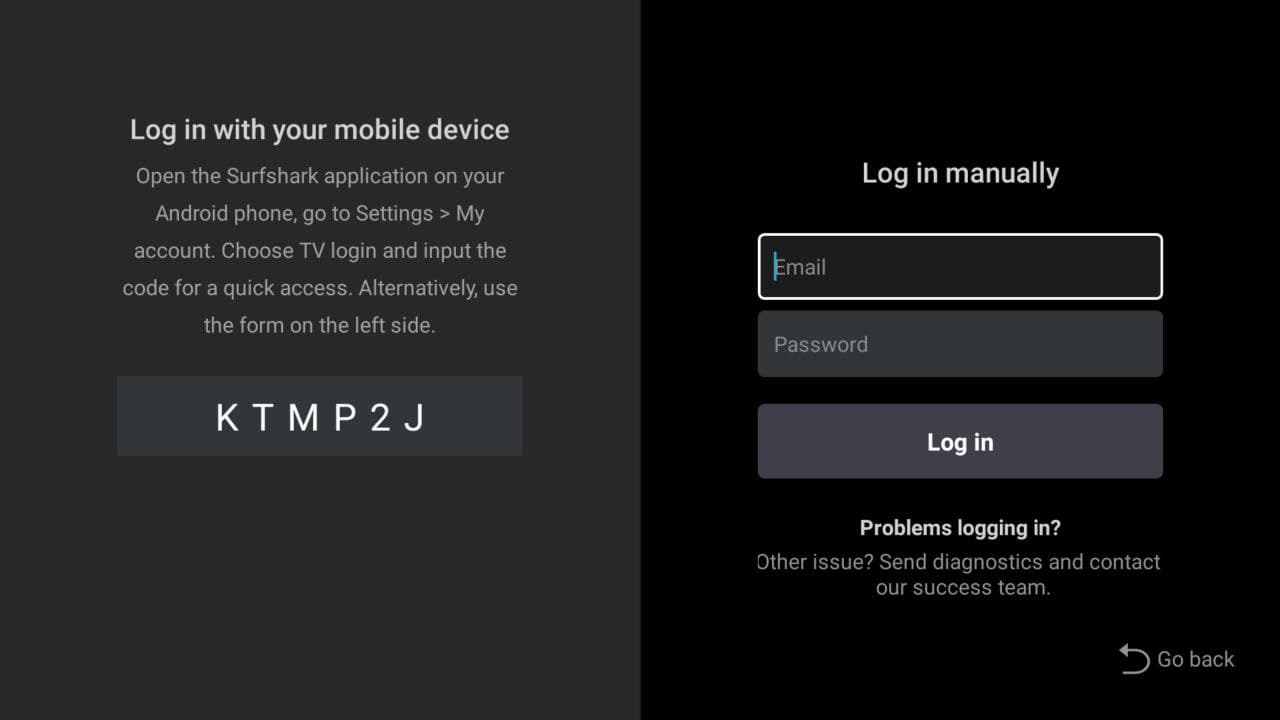 Step 6: Keep in mind that if you don't have access to a computer, you can create an account within the Fire TV application.
Once you're logged in on the Fire Stick, you can click "Connect" and the application will connect to the faster server it can find.
Otherwise, you can choose the "Nearest Country" option if you'd prefer. The application should tell you if you're connected via a green pop-up that reads "Connected."
Connecting to a Specific Country on Amazon Fire TV Stick
Sometimes you don't want a random country to connect to. Maybe you want to see specific Netflix content only available in Germany or the like. It's quite easy to do this. Let's get into how.
Step 1: On the left side of the application, you can choose from a list of countries. Conversely, you can search the country in the app's search bar.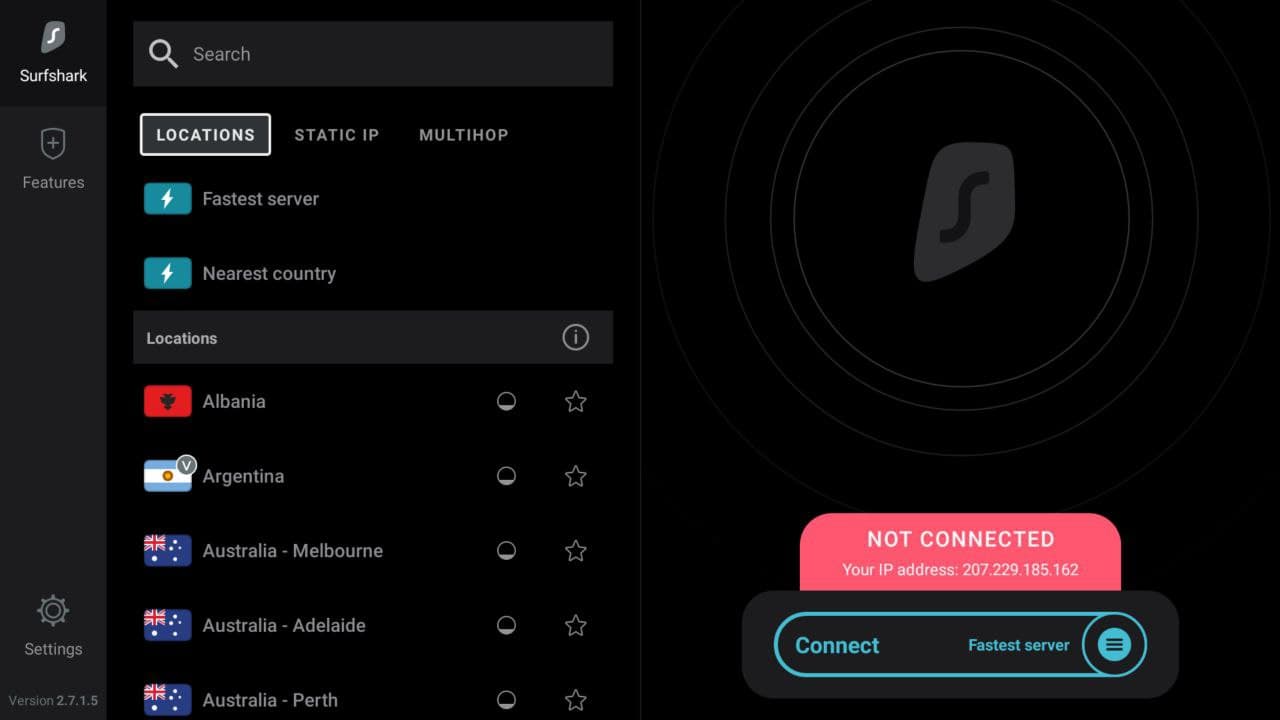 Step 2: Click on the country and you will instantly connect to the closest available server.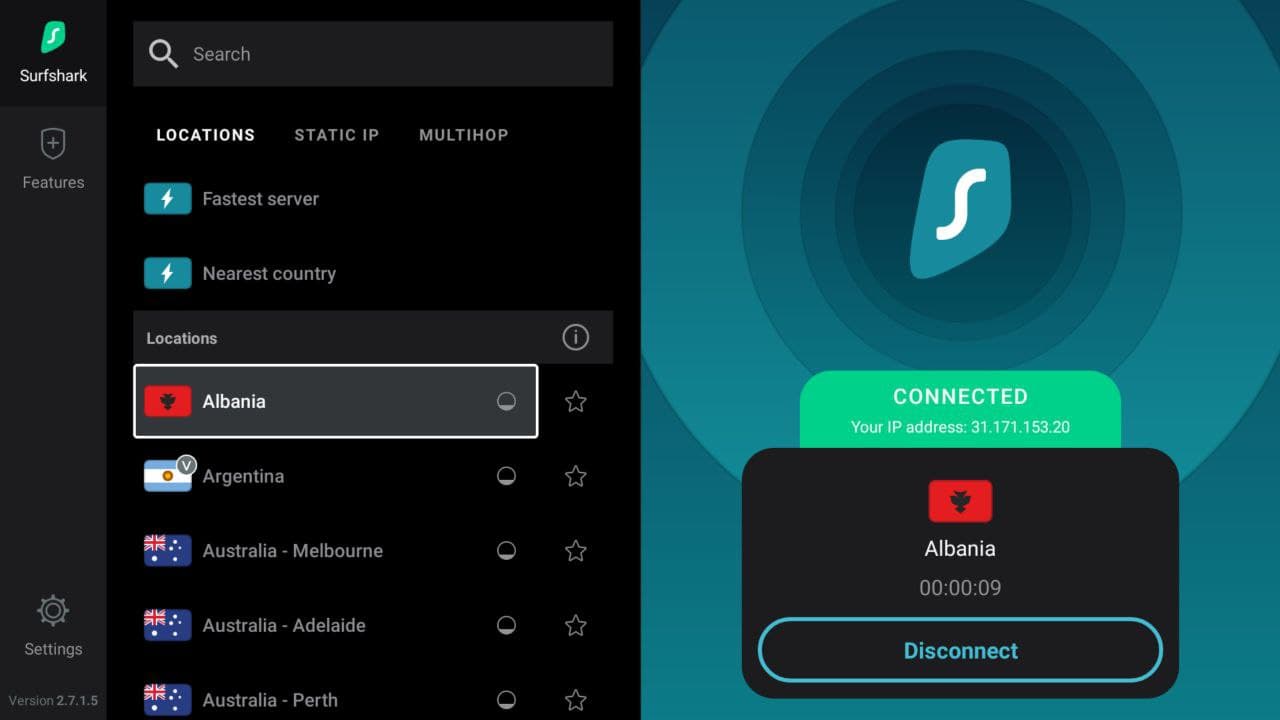 Step 3: Select static or MultiHop IP address. Static means you'll have the same IP address every time you connect. MultiHop means you'll connect to two VPN servers in different countries at once. Why? It's good for extra security purposes.
Also, you can choose to favorite servers to easily return to them if you'd like. This is a good idea if you have favorite content in different countries around the world. The platform has over 3200 servers in more than 65 countries to choose from, so it shouldn't be too hard to find the ones you prefer.
Surfshark Features
Now that you're aware of how to set up and use Surfshark on Firestick, there are a few settings you can tweak. For example, you can choose to Whitelist certain websites, enabling you to bypass the VPN for faster browsing.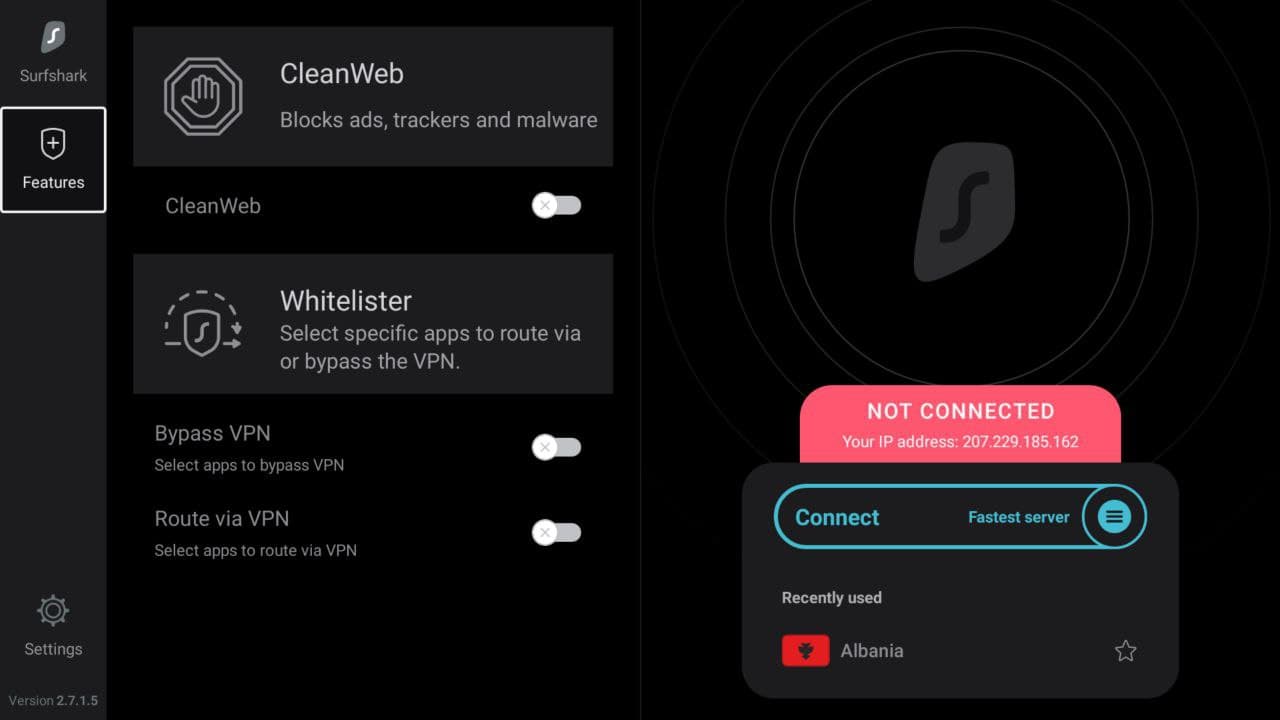 Also, there's a CleanWeb feature that essentially serves as an AdBlocker, and protects you from malware as well.
Surfshark Settings & Customization
Surfshark on Firestick offers various ways to customize your VPN experience. Heading to its settings page, you'll see you can change accounts or extend your plan right away. This menu also allows you to change the application's language, as well as view the app version to make sure you're up to date.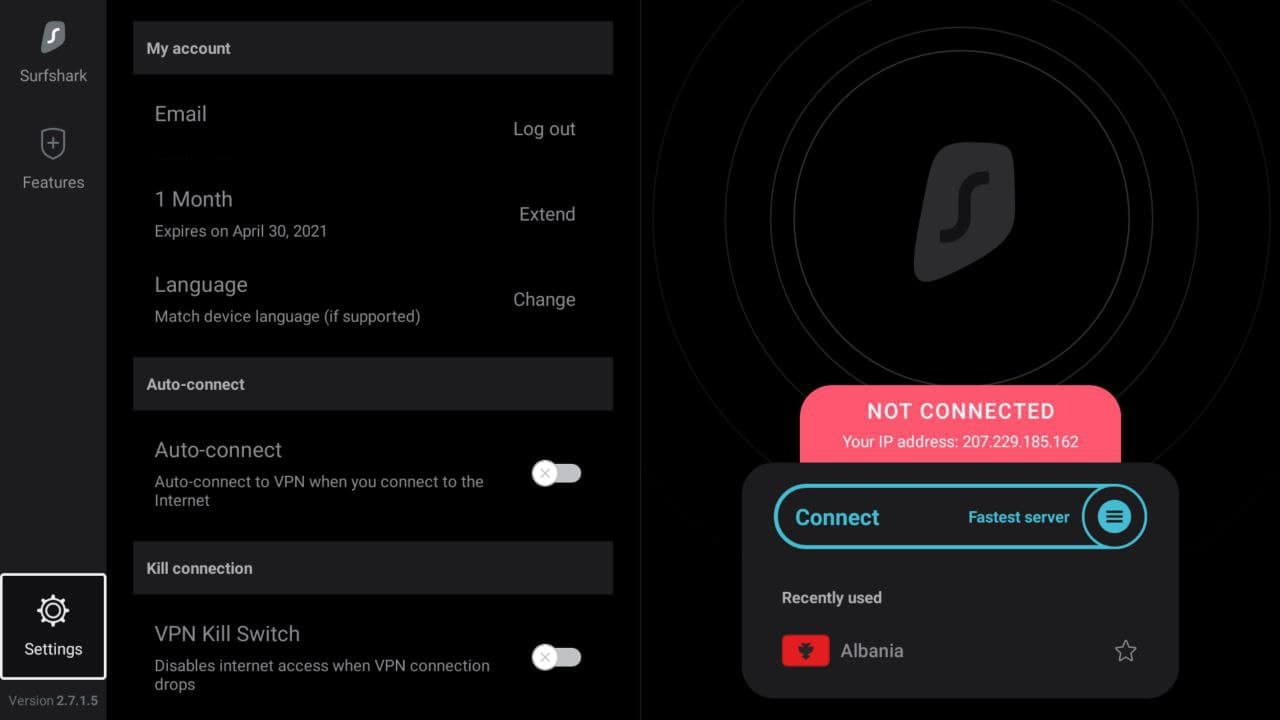 Next, you have the option to automatically connect to a VPN every time you start the app. This saves you an extra step if you use the service often. There's also a Kill Switch setting, which will automatically shut off internet access if the VPN connection gets wonky. This ensures your data stays safe, as the pathway will shutdown instantly if there's even a hint of a security issue.
You can also tell the application to utilize smaller packets, potentially increasing your VPN browsing speeds. This works for some users, but others might prefer to have it off. It's best to experiment and figure out what works best for you.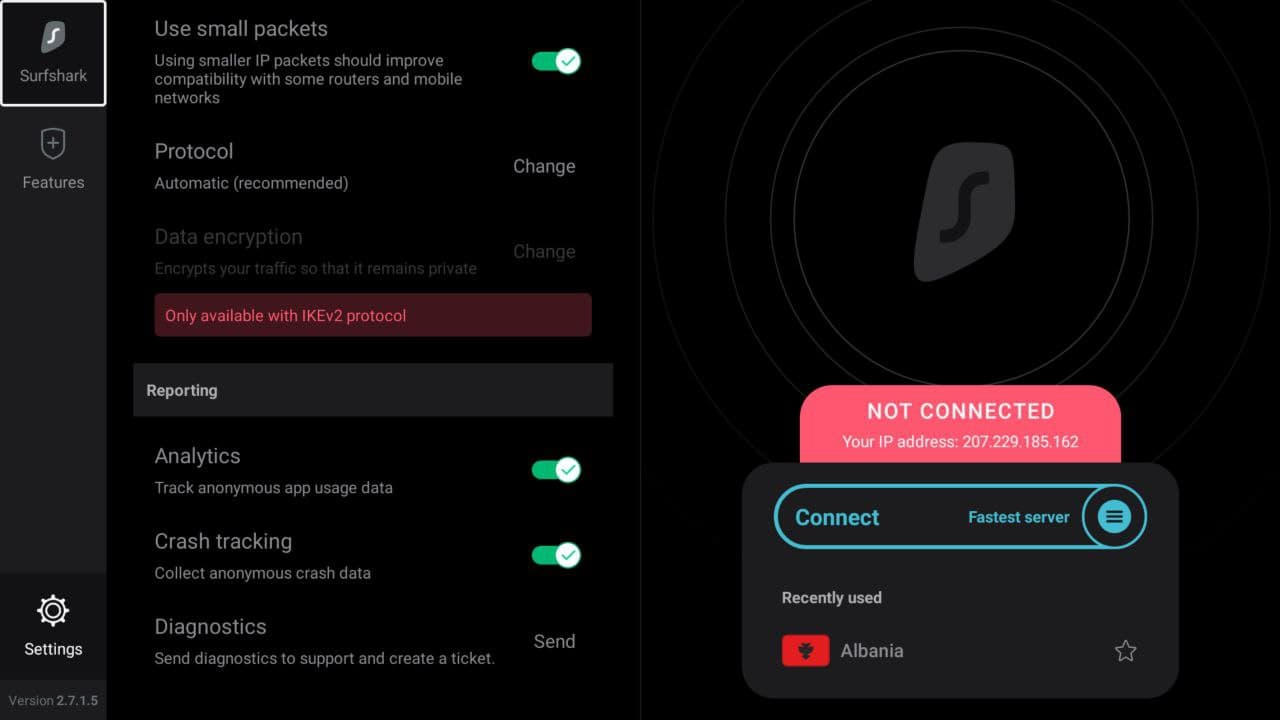 There's also a protocol switching option. Surfshark VPN supports IKEv2, OpenVPN, WireGuard, Shadowsocks, and L2TP. This guide will not go into the various protocols, but it's important to research each one and understand what it does before switching to one.
Finally, there's the reporting section. Here, you can choose to provide the developers with Analytics regarding your usage. Otherwise, you can choose to send a diagnostics report for support if you run into any problems with the Surfshark VPN. Remember, the platform claims to never keep your data without your permission, but it's recommended you use this setting with caution.
How Does Surfshark Compare to ExpressVPN?
When it comes to Surfshark and ExpressVPN, there are a few differences between two. Let's break these differences down.
Network Customization
ExpressVPN allows you to customize certain settings via your router, streamlining your setup experience within the Fire Stick.
Surfshark, however, has to be tweaked and maintained when it comes to certain countries. This is especially a pain if you're not incredibly technologically inclined.
Access to Shows and Movies
However, it's worth noting that both VPNs have access to various networks like ABC, CBS, Netflix, Hulu, BBC iPlayer, and more from all around the world. That said, ExpressVPN is available in a few more countries than Surfshark, meaning you'll have that many more shows and movies to watch compared to Surfshark.
Server Locations
Coming in at only around 3,000 servers, ExpressVPN has a few hundred less than Surfshark. That said, ExpressVPN is available in 105 countries, while its competitor is only available in around 63. This significantly increases the bandwidth available to users around the world.
Both ExpressVPN and Surfshark are based in the British Virgin Islands, as well.
Encryption & Security
Otherwise, both VPNs encrypt your data via AES-256 encryption and come with a kill switch to protect your data – a necessary feature when utilizing a VPN. Also, neither VPN stores your personal information in the slightest, as their place of residence does not require it by law. Once your session is complete, all of your information is instantly deleted.
Wrapping Up
The Surfshark app is a fairly reliable VPN service for your Amazon Fire TV Stick. It can help you watch shows anywhere around the world, as well as browse securely during your normal sessions.
If you've been looking for a way to install Surfshark on Firestick, hopefully, this guide has helped you.
Related:
Legal Disclaimer - FireStickTricks.com does not verify the legality or security of any add-ons, apps or services mentioned on this site. Also, we do not promote, host or link to copyright-protected streams. We highly discourage piracy and strictly advise our readers to avoid it at all costs. Any mention of free streaming on our site is purely meant for copyright-free content that is available in the Public domain. Read our full disclaimer.
Disclosure - FireStickTricks.com is reader-supported blog. When you buy a product through links on our site, we may earn commission. Learn More