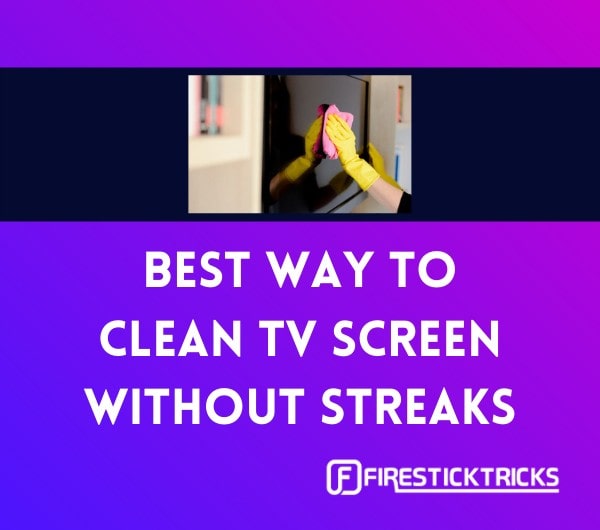 TV screens are dust magnets and require regular cleaning. Chances are you've had to deal with streaks that appear after you wipe your screen. In this guide, I will show you how to clean your TV screen without leaving any streaks.
It's so much easier to clean windows or glass screens than it is to clean a TV screen. You can't just splash water or liquid cleaning materials on your screen and then wipe it with a cleaning cloth. Besides, even a few drops of water on your screen can cause pixel damage and other issues, especially if it's a modern flat-screen TV.
People have several different approaches to cleaning their TV screens. Regardless of the technique, you have to make sure you don't create scratches, you don't ruin the optical coating, and you don't let water or chemicals reach the internal components of your television. If you use the wrong technique, you could cause irreversible harm to your television screen.
For the best results and to ensure the process is safe and efficient, you should check your owner's manual for directions. TV manufacturers may offer specific cleaning instructions for their models.
However, if your TV's user manual is unavailable, don't worry. I have you covered. I will explain what to do for different types of screens, such as LED, OLED, LCD, and plasma. And if you still happen to own a tube TV, I haven't left you out.
I will also discuss safe and unsafe cleaning products and give you handy tips to help you clean your screen. Let's start there.
Materials You Can Use to Clean Your TV Screen
You want your screen free of dust, streaks, smudges, and stains. At the same time, you need to keep it safe from the damage that certain cleaning products could cause.
Below are the products you can and should use to clean your TV screen.
Microfiber Cloth
A microfiber cloth is a soft cloth that is commonly used to clean surfaces. Microfiber is a very absorbent fiber. A microfiber cloth can hold several times its weight in liquid. This feature makes a microfiber cleaning cloth the perfect tool to clean TV screens, windows, camera lenses, or any glass surface that tends to streak.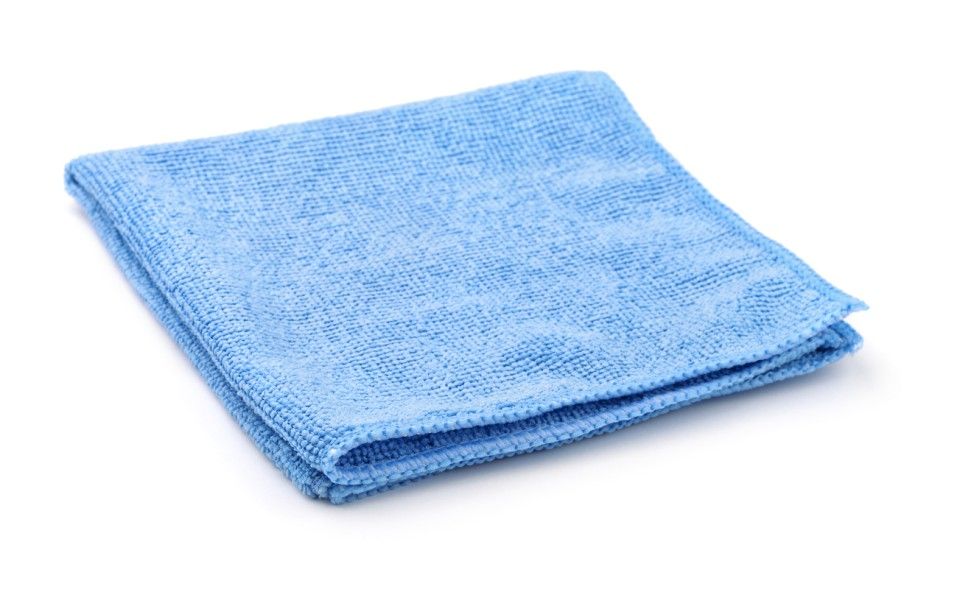 The absorbent quality makes it better than paper towels. Besides, paper towels contain wood-based fibers that can affect the anti-glare coating on your flat-screen TV. Not to mention that paper towels leave those little fibers behind.
You'll ideally need two microfiber cloths to clean your TV perfectly. One cloth will help with damp cleaning, while a dry microfiber cloth will make your screen shine.
Make sure you wash your microfiber cloths regularly, as any debris trapped from previous cleaning can be problematic. Washing your microfiber cloth is easy—simply throw it in the washing machine or hand-wash it for a couple of minutes.
Cleaning Solution
Many directions insist that a dry soft cloth is all you need to clean a TV screen. However, this is not always the case. If you want your TV to be completely free of stains, you'll likely need at least a little dampness on the cloth you use.
However, you must be certain of the product you use and the effects it could have on your TV. Some cleaning solutions are suited for more durable surfaces like glass windows and doors. If you use such a solution on your TV screen, you could cause damage instantly.
To avoid potential damage to your screen, your cleaning solution should be free of alcohol, ammonia, acetone, highly acidic or alkaline cleaners, and any other harsh chemicals.
A special cleaning solution designed for screens will do an excellent job, as it will clear away all the dust, gunk, and other debris without damaging your screen.
That said, you don't actually need to buy a cleaning solution. You can DIY and make your own right at home.
Here's a simple DIY screen cleaner recipe:
1 part distilled water (yes, it needs to be distilled)
1 part vinegar
Just put that mixture in a little spray bottle and spray your microfiber cloth before wiping your screen. But never spray anything directly onto an electronic device! Airborne particles can sneak in and destroy the internal electronics.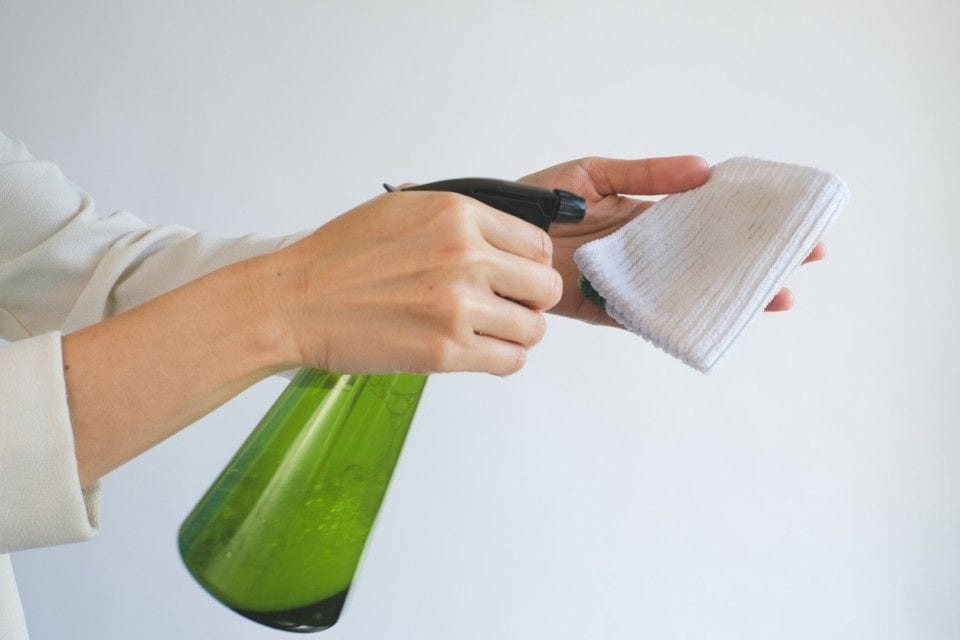 For mild or routine cleaning, you don't even need to add vinegar—distilled water alone does a great job. Definitely feel free to skip the vinegar if you're sensitive to the smell, though the smell does go away once it dries.
You can also try mixing a drop or two of dish soap with about a cup of distilled water. This may increase the cleaning power of the solution, but then you have to deal with suds. I recommend trying just distilled water or a mixture of distilled water and vinegar.
Feather Duster
This one is pretty straightforward. As long as your TV is out in the open, it will gather some dust. Using a feather duster regularly prevents dust particles from building up on the screen.
Gently flicking the feather duster over your flat screen TV or tube TV can also brush away other debris stuck on the screen. If you do this just once a week, you won't need to perform deeper cleans as frequently.
Special Products
Apart from the materials I mentioned above, there are other products that you can use to clean your TV screen without leaving streaks. These products include special wipes and cleaning sprays.
If your owner's manual requires you to use a specific product for your screen, then you should adhere to its directions to avoid damage to your TV. This may be essential for increasing your TV's life span.
How to Clean Your TV Screen Without Streaks
Now that we've looked at the items we need, we can move on to the actual steps you should take to clean your screen.
An important point to remember is to turn off your TV and unplug it before you wipe the screen. That will eliminate the chances of receiving an electric shock as you clean.
Let's now look at techniques for different types of screens.
How to Clean Flat Screen TVs

The instructions below can be used to clean plasma, LED, OLED, or LCD screens. These are more delicate than older tube TVs and are more easily damaged.
You can follow these directions for most flat screen TVs. However, you should remember that the instructions in your owner's manual trump these if they are different.
Get these handy:
The screen you want to clean
A spray bottle with a gentle cleaning solution
Two microfiber cloths
Here's what to do:
1. Fill a small spray bottle with your choice of cleaning solution. I suggest trying just distilled water first. Remember, don't use tap water. If your TV manufacturer recommends a special cleaning agent, go with that instead. If you have special products like HDTV screen cleaners, you may use them instead.
2. Turn off your TV and unplug if from the power source. Wait about a minute for it to cool down.
3. Gently wipe the screen with one side of a dry microfiber cloth. If the screen does not have a lot of dust or dirt on it, this may be all you need to do.
4. If there is still dust or stains on the screen, you'll want to try a damp microfiber cloth next. Spray your cleaning solution onto your second microfiber cloth.
5. In a gentle circular motion, wipe your flat screen TV with the damp microfiber cloth, focusing on areas with tougher smudges or stains. Continue wiping, adding more of the solution to the cloth as needed until you are satisfied with the result.
6. Use the clean side of the dry microfiber cloth to dry off the screen and remove any streaks.
How to Clean Tube TVs
These older types of TVs have screens made of glass, making them tougher than newer models. To clean your tube TV screen, follow these instructions:
Get these handy:
The screen you want to clean
A spray bottle with a cleaning solution
One microfiber cloth and any other cloth
Here's what to do:
1. Turn the TV off and unplug it from the power source. Allow it to cool down for a minute.
2. Wipe the screen with a dry cloth to remove dust.
3. Dampen a microfiber cloth with a little water, a glass cleaner, or a window cleaning spray. A window cleaner like Windex does the job just fine. Use the damp cloth to gently wipe the screen in a circular motion.
4. Use the clean side of the dry cloth to wipe away any streaks left behind.
How to Remove Scratches
The steps in this guide will remove dirt, stains, and streaks from your television screen. However, they will have no effect on any scratch on your flat screen TV. Before you deal with scratches, check your warranty. A large scratch may be covered by the warranty. In that case, you should turn in your TV set in for repairs or a replacement.
If your warranty does not cover scratches or if they are little ones, here are your options.
Get a scratch repair kit online or from a hardware store: These kits are generally cheap and come with instructions to help you get the job done safely.
(DIY) Use petroleum jelly and a cotton ball: Gently dab the scratch on the screen with the cotton ball. You can use your finger instead. Then wipe the surface of the screen with a microfiber cloth.
How to Clean TV Speakers
Dirt stuck in your speakers will not affect the visual quality of the display. However, it can muffle the sound. So you may wish to clean the speakers after you are done with the screen.
Speaker covers are either fixed in place or removable. If yours can be removed, gently remove the front grill and wipe it with a dry cloth. Next, clean the grill with wet wipes or a lint roller. A can of compressed air also works wonders for dislodging any tightly wedged debris.
How to Clean the TV Remote Control

Finally, you can wrap this up by wiping down your remote control too. Some of the dirt and smudges that appear on your TV screen are transferred from your remote control after you touch both.
Besides, the remote control is home to tons of bacteria that you should get rid of regularly.
To clean your remote control:
1. Open the cover at the back of the remote and pop out the batteries.
2. Turn the remote over and tap it very lightly on a hard surface to dislodge dust or debris. Repeat until you have gotten rid of as much dirt as you can.
3. Apply any of the cleaning solutions I mentioned above (distilled water, distilled water with vinegar, a commercial screen cleaner) to a soft cloth. Alternatively, you can apply rubbing alcohol. Wipe down the surface of the remote with the cloth.
4. Here's a tip: Narrow spaces on the remote are tough to reach with a cloth. Dip a cotton swab into your cleaning solution and dab around these spaces to pick off clingy dirt.
5. If you didn't use alcohol to clean your remote, you should now wipe down your remote with a cloth dipped in a mild disinfectant.
6. Let the remote dry completely before you put the batteries back in.
Some Tips to Take Note of
Some items must never be used on your television screen. A window cleaner like Windex should only be used on old tube TVs with glass screens, as such chemicals can damage newer screen types. Liquid solutions, whether purchased or made at home, should not contain alcohol, harsh detergents, ammonia, or other solutions that could cause damage.
After you have turned off the TV and unplugged it, wait for about 30 seconds before you start to clean. You don't want to wipe the screen while still warm as it can lead to more streaks appearing on the screen.
Don't spray the cleaning solution directly onto the screen. For one, it can cause the screen to get too wet and streaky. Even worse, spraying a liquid directly onto a screen can cause the liquid to leak through seals and into the TV. As you can imagine, this can have disastrous consequences.
The manufacturer's directions are ultimately the instructions you should follow. If you still own the manual for your TV, follow the approach it recommends.
Clear your screen regularly to prevent the accumulation of grime. You can maintain a weekly schedule to help you do this. Remember to give your speakers and remote some attention too.
Wrapping Up
In this article, I showed you the best way to clean your TV screen without leaving any streaks on it. Depending on how dirty it is, a simple wipe with a microfiber cloth may be all you need. If it needs more, follow the suggestions in this guide to remove tougher streaks and dirt.
Do you have any secret screen-cleaning methods of your own? I'd love to give them a try. Please share them with me and other readers!
Related:
Legal Disclaimer - FireStickTricks.com does not verify the legality or security of any add-ons, apps or services mentioned on this site. Also, we do not promote, host or link to copyright-protected streams. We highly discourage piracy and strictly advise our readers to avoid it at all costs. Any mention of free streaming on our site is purely meant for copyright-free content that is available in the Public domain. Read our full disclaimer.
Disclosure - FireStickTricks.com is reader-supported blog. When you buy a product through links on our site, we may earn commission. Learn More