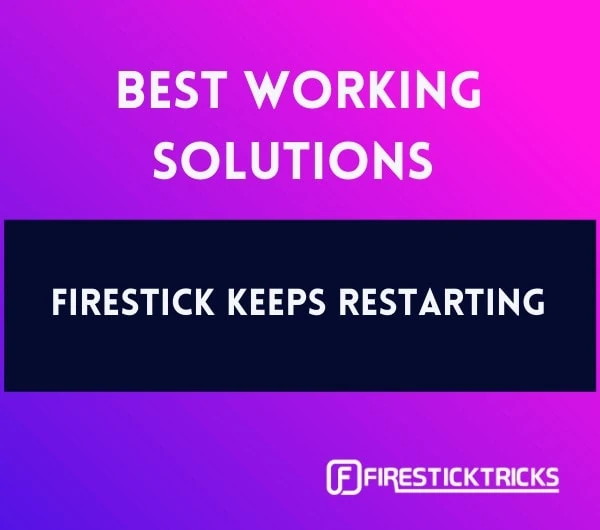 In this article, we'll cover all the best working solutions to fix the FireStick restarting issue. We'll start with nine basic troubleshooting solutions and then move on to seven advanced ways to fix the issue.
Amazon FireStick is one of the best portable and plug-in-play entertainment systems available today. You can plug it in any HDMI-supported TV and make it your enjoyment hub.
But what if your FireStick starts acting up and keeps restarting again and again? That's precisely why we are here for today. In this piece, we are going to show how you can fix the issue by applying the best working solutions. Starting with…
Attention, FireStick Users!
Governments and ISPs constantly monitor your online activity, and accessing copyrighted content on your Fire TV Stick could lead to serious trouble. Currently, your IP is visible to everyone. I strongly recommend getting the best FireStick VPN to mask your IP address and securely stream your favorites.
I personally use ExpressVPN, the fastest and most secure VPN available. Not only is it easy to install on any device, it comes with a risk-free 30-day money-back guarantee. Plus, if you're not 100% satisfied, you can always get a refund. ExpressVPN is currently also offering a whopping 3 extra months free on their annual plan!
Read: How to Install and Use Best VPN for FireStick
Why Does My FireStick Keep Restarting?
So you decided to binge-watch your favorite movie or TV show. But unluckily, you got hit by the FireStick restarting issue. Now what?
Before we learn how to fix the issue, it's important to know why this problem occurs in the first place.
Just like any other smart device, Amazon Fire TV Stick is a machine. And machines can malfunction due to hardware or software issues. However, in FireStick's restarting case, the first and most apparent culprit can be the wires providing power to the device. Without sufficient power, the device can face the issue.
Next up, damaged operating system files can also play their part. For example, if your Amazon Fire TV Stick lost power during an update or for other technical reasons it didn't get updated successfully, you can expect it to restart every once in a while. Similarly, too many installed apps can also cause your mini entertainment device to get stuck in a restarting loop.
Furthermore, your device can face a restarting malfunction due to interference from other HDMI devices connected with your display. Not to mention, if your Fire TV is in a cramped space, heating can also be a sensible explanation for the issue.
Both at the software and hardware level, there are many possibilities behind the restarting issue. And only a certified Amazon FireStick expert can figure out what's triggering the problem.
We admit that we aren't certified Amazon Fire TV technicians. But that doesn't mean we can't try possible ways to fix the issue, right? So, we have divided the solutions into two parts, basic and advanced. We would recommend applying the basic fixes first and then moving on to the advanced ones.
So, let's begin, shall we?    
9 Basic Fixes If Your FireStick Keeps Restarting
As mentioned above, we are first going to cover nine basic ways to troubleshoot the FireStick restarting loop problem. These fixes are external, meaning you won't have to turn on your FireStick to apply them. So without further ado, let's check out the solutions one by one. 
Use Official Adapter & Cable
Are you using the official adapter and cable provided with your Amazon Fire TV Stick? If not, then you might have found the solution to the restarting problem. Unfortunately, third-party aftermarket USB cables aren't made for Fire TV devices, and that's why using one can cause power-related issues like the one we are covering today.
Use the official adapter (if you are providing power to FiresStick with power outlet) and cable that came with your Fire TV device. Don't use the USB cable or power brick of your smartphone or any other device with your FireStick.
For people who have misplaced or broken their official Amazon Fire TV power adapter and cable, you can order them online from the official Amazon website.
Remove, Plug-In & Power On – In That Order
Using the official adapter and cable of your Amazon Fire TV didn't work out? Well, don't worry. Sometimes, your device needs a quick power cycle to fix common issues like restarting.
To power cycle your Amazon FireStick, remove it from your TV and cut the power by unplugging the USB end. Wait for ten seconds and then plug in the USB cable and insert your device in your TV's HDMI port. Lastly, switch to the HDMI signal and power on your device by pressing any button on your Fire TV remote.
After a few seconds, your Amazon FireStick would power up. Then, try using your device and see if the restarting loop has been fixed or not. If you are still facing the problem, move on to the next fix. 
Replace Cable & Adapter
Another fix that might work is replacing your Amazon FireStick's cable and power adapter. If you have been using the device for too long or the cable has gone through enough wear & tear, it's time for a change. You can get official accessories (cable and adapter) of your Amazon Fire TV device on Amazon's website.
We won't recommend using third-party cables or power bricks as they can damage your device. Only replace your current accessories with power equipment that's compatible with your Amazon Fire TV. Just search for Amazon Fire TV cable and power adapter on Amazon, and you'll find official sellers of the products in no time.  
Try Plugging FireStick In A Different USB Port
Although Amazon Fire TV devices don't receive full power from USB ports, they work just fine without any issue. So, if you are sourcing power from your display's USB port and facing the restarting issue, try changing it. Many people online have reported that trying a different USB port on their TV/Monitor did the trick.
USB ports found on displays (other than the ones made especially for providing power) often get faulty with time as they aren't used frequently. So, it can be possible that the USB port you are currently using to provide power to your Amazon Fire TV can be damaged. Hence, use a different USB port and see if the issue is resolved.
Note that many displays nowadays have a USB port especially made for providing power. These ports usually have a specific logo or graphic underneath them, or they have colored interiors like blue, green, etc.   
Plug Device's USB Cable Directly To A Power Outlet
Not many people use the provided power brick to run their Amazon Fire TV directly via a power outlet. Instead, they just plug in the power end to their display's USB port and call it a day. For some, it works, but for others, this choice of the power delivery can result in issues like restarting, unknown shutdowns, etc.
If you are currently using your display's USB port to provide power to your Amazon Fire TV Stick, it's time to make some changes. First, find the genuine power adapter that came with your FireStick device. Then, plug it in a power outlet and remove the USB cable from your display and connect it to the adapter.
And now you are set to power on your Amazon FireStick. Click any button on your FireStick remote and wait for it to boot. Then, open some apps and play videos on YouTube to see if your issue is resolved. 
Disconnect Extension Cables
Still can't find a way through? Quickly see if you are using any extension cables between your display, Fire TV, and power. If your answer is yes, then we need to remove those extensions and directly connect the device to TV and power.
Extensions cables provide great convenience. But most are made of cheap quality materials that can result in your device malfunctioning. So if you are using any, remove them and directly connect your Fire TV Stick to your display's HDMI port, and for power, use the original cable and adapter.
However, for those of you who really need to add in extension cables, look for the ones provided by Amazon Basics. They are affordable and reliable, meaning you won't be facing any inconveniences.
Remove Other HDMI Devices From Your TV
Sometimes, other HDMI devices plugged into your TV can interfere with your Amazon FireStick and cause restarting issues. Many people have reported that removing other HDMI devices from their monitors or TVs has fixed the restarting issue with their Amazon FireStick.
Start with one by one removing the other HDMI devices that are currently connected to your display. And then check if the restarting issue of your FireStick has been fixed. Once you have identified the device that's causing the issue, you can plug in other devices. 
Try A Different HDMI Port
Next up, Amazon FireStick connected to a faulty HDMI port can also get caught in the restarting loop. HDMI ports can get damaged with time as they go through multiple plug-ins and outs. And as they have multiple pins inside, even a single damaged pin can disrupt the whole system.
On both modern and old displays, you'll find more than one HDMI port, especially on TVs. Try plugging in your Amazon FireStick to another HDMI port found on your display. And if your screen doesn't have any other high-definition media input port, check on a different display.
Change Remote Batteries
Lastly, you can try changing your remote batteries. We know that you might be thinking about how changing remote batteries would affect the restarting issue. But as your remote power gets weaker, it can send false signals to your Fire TV, thus causing the issue. Although this fix has only worked out for the minority, we thought to include it as you might find it working for you.   
7 Advanced Fixes for FireStick Restarting Loop
Tried out all the basic fixes but still got no luck burying the Fire TV Stick restarting issue for good? Well, don't worry. There are seven more advanced fixes you can try to solve the problem. And here's how they line up:
Soft Reset Your FireStick
Cache, temporary data, damaged files, and you name it; your Amazon FireStick has to deal with tons of operations every second. And just like us humans, it requires a fresh start every once in a while. Not doing so can result in power issues like restarting, unexpected shutdowns, apps crashes, etc.
Doing a soft reset on your Fire TV Stick can fix the restarting loop you are facing. Why? Because it clears temporary files, damaged OS data, app cache, etc., that plays a big part in triggering the problem.
To soft reset your Amazon Fire TV, simultaneously long-press Play/Pause & Select button your FireStick remote. Wait until you see a powering-off message on your screen, and then let go of the buttons. Your device will restart and boot back to the home screen within a few seconds.
Are you still facing the issue? Try the next fix.      
Turn Off HDMI CEC Device Control
Do you know that there's a feature on both your TV and Amazon FireStick known as HDMI CEC that's on by default? This feature lets the user control HDMI-connected devices using only one remote controller. Although the feature is great for conveniently controlling all HDMI devices, it can sometimes cause issues like the one we are dealing with today.
HDMI CEC feature is enabled by default on your Fire TV Stick, and that lets it communicate back and forth with your display. This is beneficial for many users, but it can also trigger the restarting loop on your FireStick. Here's how you can turn it off:
1. Launch your Fire TV or go to the home screen by clicking on the Home button on your FireStick remote.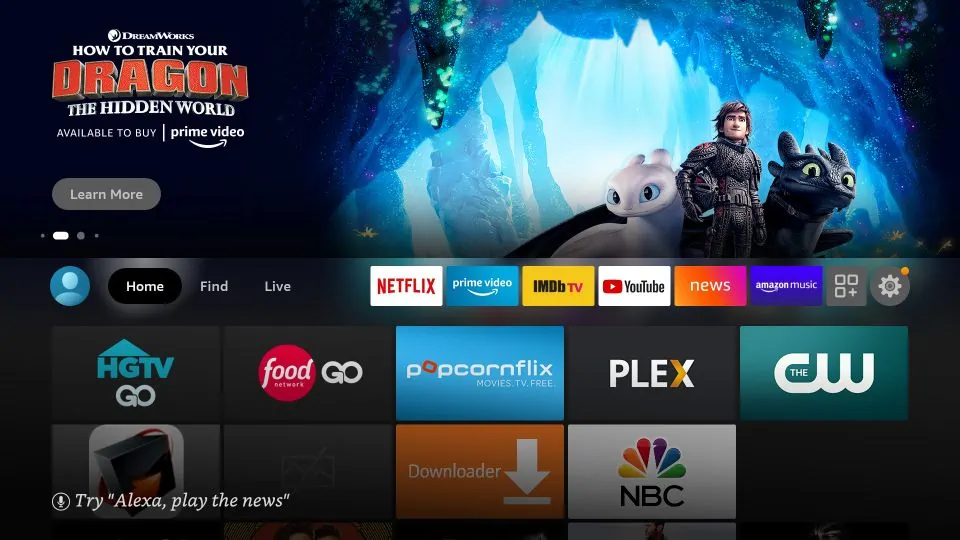 2. Select the Settings Cog icon located on the middle extreme right side of your screen.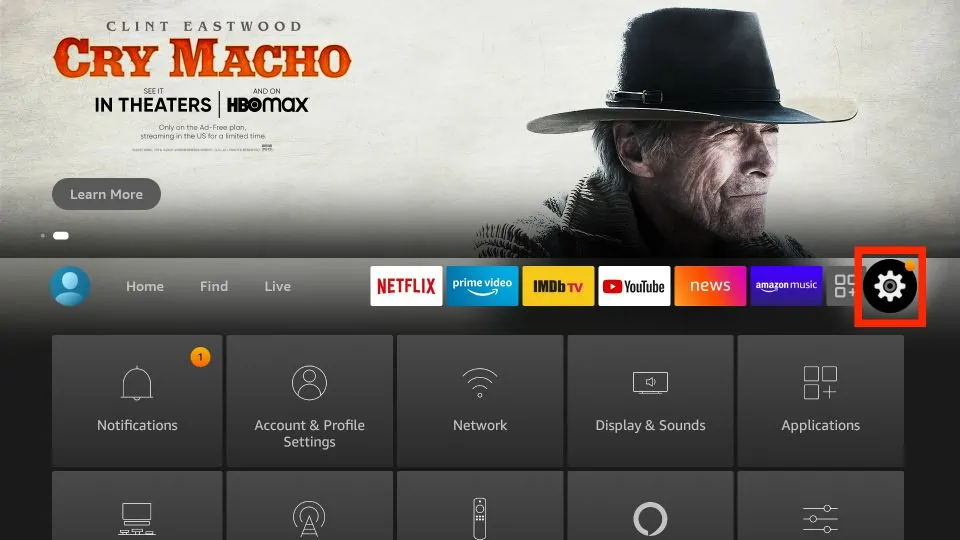 3. Scroll down and select Display & Sounds.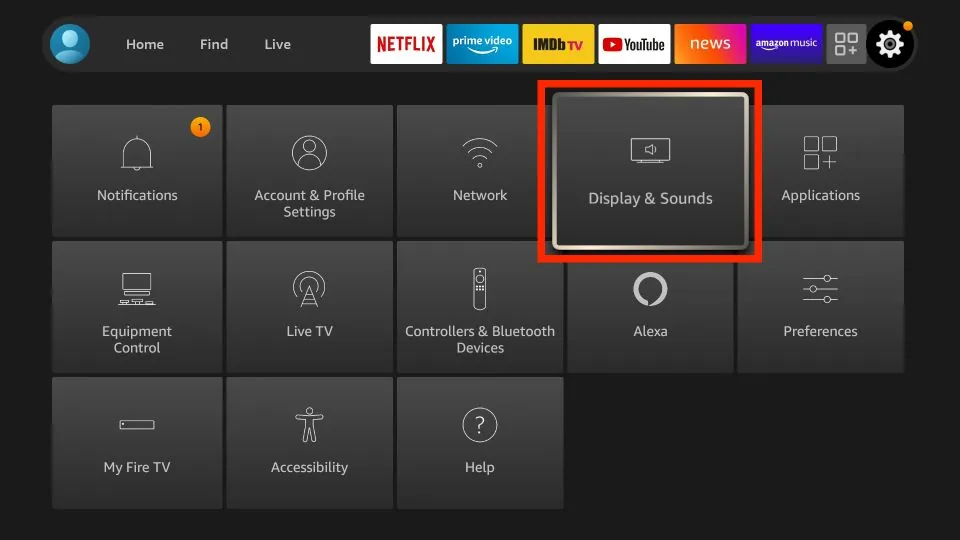 4. You'll land on the Display & Sounds page.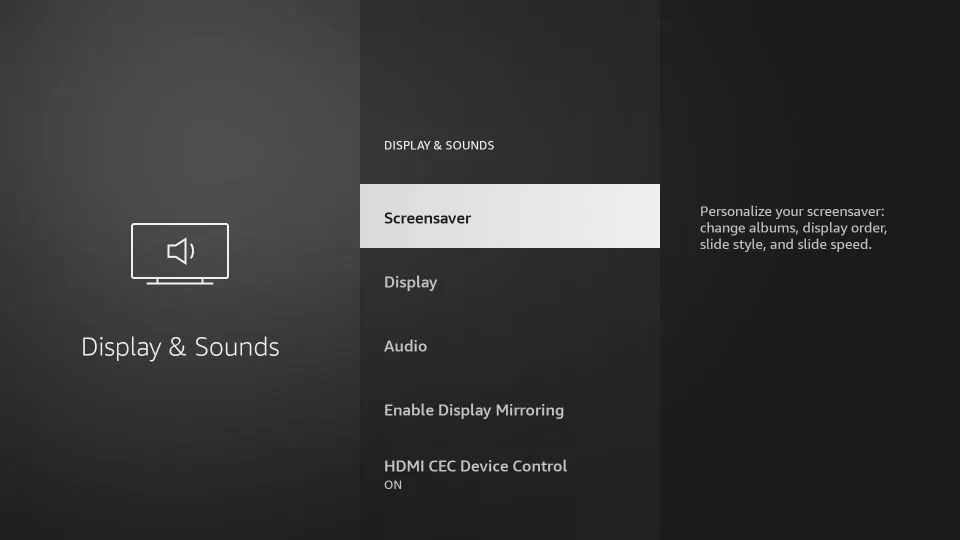 5. Now, scroll all the way down and click on the HDMI CEC Device Control option to turn it off.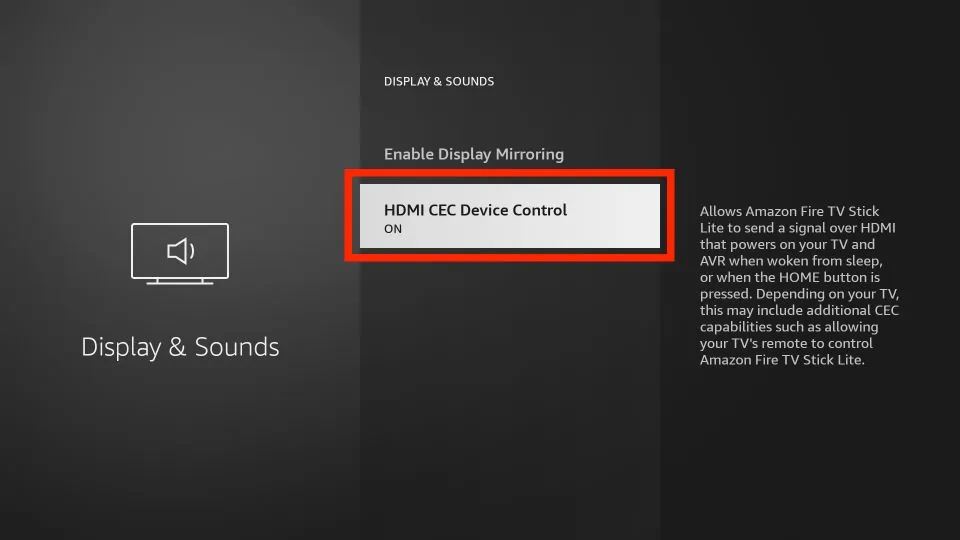 6. Lastly, double-check the current status of the HDMI CEC Device Control option and make sure it's set to OFF.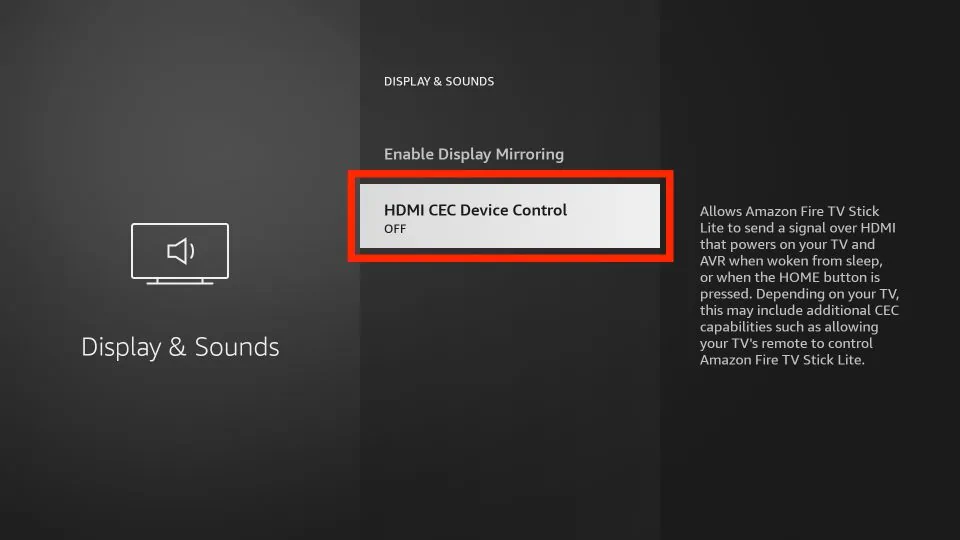 Once you have turned off the HDMI CEC Device Control option, restart your Fire TV and reboot your TV. Chances are, the restarting issue would be fixed. But if you are still encountering the issue, keep marching forward and applying the upcoming fixes one by one.
Update Your Device's Firmware
Amazon frequently rolls out updates for its Amazon Fire TV devices to fix various issues being faced by the customers. As updates are received over the air, you just have to be connected to the internet for checking, downloading, and installing the new firmware.
People on the internet have reported that updating their FireStick to the latest firmware has resolved the restarting issue. So, if you are one the same boat, it's time to update your device to the latest software.
Uninstall Unused & Incompatible Applications
Unused applications on your Amazon Fire TV don't just overload the storage but can tinker with your operating system, causing the restarting issue. Even if you aren't using them, they can run in the background, eat your device's memory, slow down the performance, and you know what's next. 
Furthermore, having too many applications on your Amazon FireStick can fill up its storage space. This leads to the OS files not correctly executing their operations as they have to work under very limited storage. Next up, if you have installed incompatible apps on your FireStick, they can also set off the restarting issue.
So, long story short, delete unused and incompatible apps. 
Clear Cache & Data Of Apps
Apps installed on your Amazon Fire TV store two types of files, cache and data. Cache helps the app and device to communicate with each other for quickly executing past and new operations. And data are files stored like account information, user settings, etc. Although these two types of files are quite helpful, they can get damaged and cause your FireStick to throw unexpected actions like restarting.
That's why you must clear the cache and data of your most-used apps once in a while. And especially if you are facing the restarting issue with your Fire Stick. So, here's how you can do it.
Reset Your Device To Factory Defaults
Now it's time for the second-last resort you can depend on to fix the restarting issue on your FireStick. If all the above solutions didn't work out for you, it's time to reset your device to factory defaults. All your apps, data, Amazon account sign-in details, profile settings, etc. would be deleted and your Fire TV would be refreshed back to its factory settings. Many people on the internet have reported that resetting their devices fixed the problem.
Here's how you can factory reset your Amazon Fire TV Stick.
Reset Your Television
Last and certainly not least, you can also try resetting your television/monitor to factory defaults in the quest of fixing the restarting issue with your Fire TV. As after all, your display is directly controlling your Amazon FireStick, resetting it can solve the issue. And it has certainly done for some lucky users.
So, to do that, turn on your TV/monitor and open its Settings. Go to the About or System tab and there you'll find an option to reset your display. Click on it and follow the on-screen instructions to complete the action. And for a more detailed television/monitor resting guide, you can refer to the manual that came with your display.  
Final Words
And there you have it! We presented 16 ways you can try to fix the restarting issue with your FireStick. If something worked for you and wasn't listed in this piece, feel free to note it down in the comments section to enlighten us and help others.
Related:
Legal Disclaimer - FireStickTricks.com does not verify the legality or security of any add-ons, apps or services mentioned on this site. Also, we do not promote, host or link to copyright-protected streams. We highly discourage piracy and strictly advise our readers to avoid it at all costs. Any mention of free streaming on our site is purely meant for copyright-free content that is available in the Public domain. Read our full disclaimer.
Disclosure - FireStickTricks.com is reader-supported blog. When you buy a product through links on our site, we may earn commission. Learn More