In this post, you will find the Best VPN for torrenting. After extensive testing and evaluation, I have compiled a list of a total of 5 top VPNs that work flawlessly with torrents / P2P.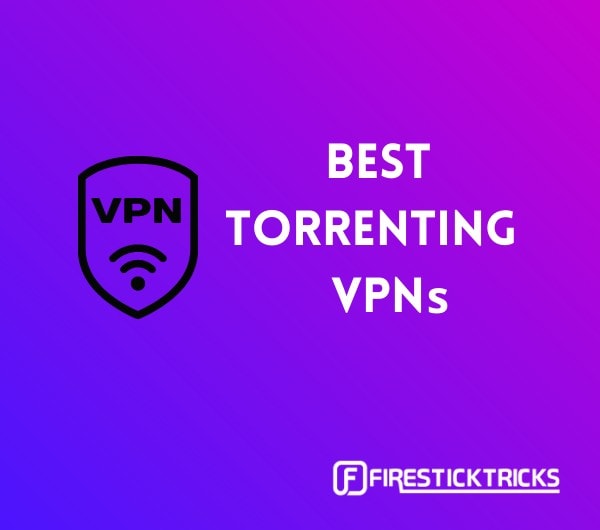 Whether you want to bypass the torrenting restrictions in certain regions or simply want to keep your torrenting activities anonymous, using a VPN during your P2P activities is highly recommended.
There are literally hundreds of VPN services in the market these days. A whole lot of them claim to be best for torrenting. However, there is only a handful of VPNs that are torrent-friendly.
Most VPNs are too slow for torrenting. You need speed for fast downloads. Many of them had some serious security issues. You want to keep your torrenting sessions private and secure. Several VPNs did not go well with the torrent clients like BitTorrent and uTorrent.
We tested just about every VPN there is before compiling this list of best torrenting VPNs. The VPNs on our list are the leaders in the industry. Speed, security, privacy, you get the complete package.
Though, the one VPN that clearly stands out even on this list is ExpressVPN. It is undoubtedly faster than other VPNs and provides wide torrenting coverage across all its servers. It is also one of the safest VPNs you will find. Here's a quick look at ExpressVPN features:
Jurisdiction
British Virgin Islands
Money-back guarantee
30 Days
Works with
Torrenting, Kodi, Netflix, Amazon Prime Video, Hulu, BBC iPlayer, Sky, HBO
Pros
VPN Servers in 94 Countries
Best for P2P and torrent use
Super fast speed – great for streaming
Strong no logging policy
Very secure 256-bit encryption
No Streaming restrictions
Unlimited Bandwidth
Network Lock (Killswitch)
Unblocks Netflix and BBC iPlayer
Dedicated apps & easy set-up on all devices
5 simultaneous connections
Excellent 24/7 Live chat/email support
Bitcoin accepted
30-day money-back guarantee
What is Torrenting?
In simple words, torrenting is the file exchange over the internet between people. Therefore, it is also commonly called Peer to Peer (P2P) exchange.
When you download a file – say a movie – using the P2P network, you aren't downloading it from any dedicated server. You are downloading the file saved on the computers of people like you and me who are connected to the P2P network.
While torrenting, the entire file is not downloaded from a single location. In fact, you download separate chunks of the same file from different users.
The users from whom you can download the files (or rather the users who are uploading the file) are called 'Seeders'. The users who are downloading the file are called 'leechers'.
Depending upon the number of Seeders, you could be downloading separate segments of the same file from hundreds of peers. The higher the number of Seeders, the faster will be the download.
To download or upload the file (or in other words to connect to the P2P network) you need a torrent client. BitTorrent and uTorrent are the two most popular torrenting clients.
Even though you can choose only to download files and never be a Seeder, the concept of 'paying it forward' is prevalent among the torrenters.
Why do you need a Torrent VPN?
A VPN is highly recommended for torrenting. Here are some reasons why:
To keep your torrenting sessions safe: Torrenting is usually frowned at, no matter which country you live in. You don't want your ISP or Government keeping a track of your torrenting activities. With a VPN, you can keep your torrent sessions safe and private.
Prevent ISP throttling: Your ISP is likely to slow down your internet connection if it detects high torrenting activities. If you are using a VPN, your torrent activities will go undetected.
All-round protection: A VPN will not only provide protection cover for the torrent client, but it will also protect your IP footprints when you visit torrenting websites.
With a VPN you get complete torrenting protection. During torrent activities, your IP address is exposed and visible to anyone who could be looking. Take a look at the image below: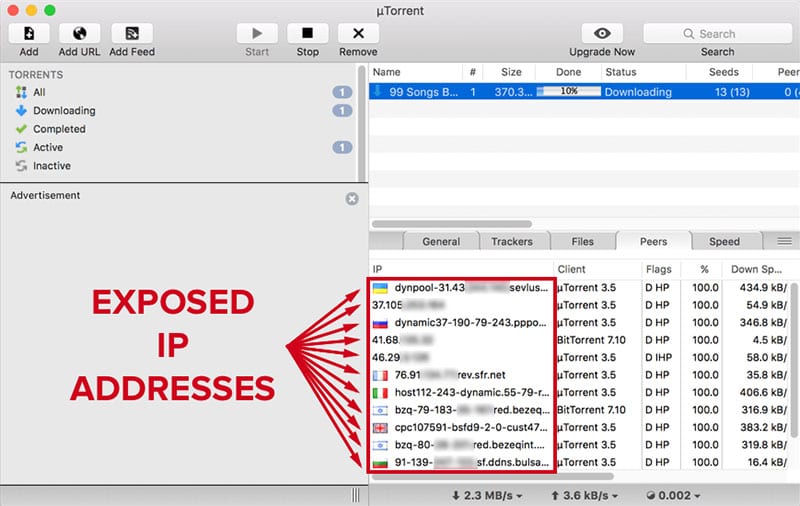 However, when you are connected to a VPN, you are using a shared IP address. This IP address is being used by hundreds of other torrenters like you. This means it is impossible for anyone to track the torrent activities back to you.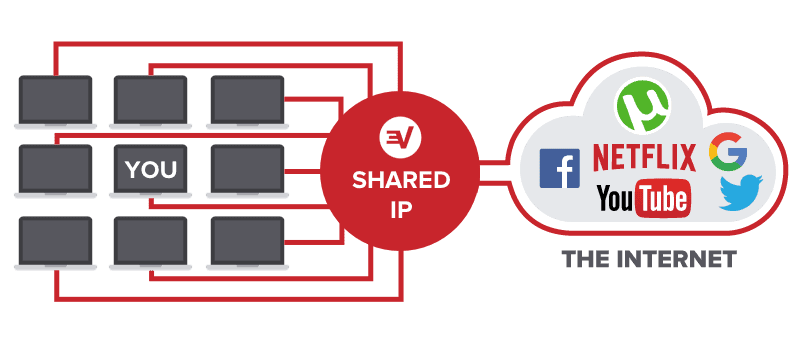 How did we choose the best torrenting VPN?
As I said before, we have carefully tested and evaluated dozens of VPNs before finalizing this list of the 5 best VPNs for torrenting.
Here are some of the parameters important for torrenting that we considered.
Speed
When you are streaming, any connection that offers more than 10 Mbps speed is usually good enough. However, torrenting is a completely different case. The higher the speed the better. Therefore, while testing the VPNs for torrenting, we had to keep in mind the 'speed drop' factor.
Every VPN experiences a speed drop as it has to reroute your internet traffic through secure servers. However, the VPN that retains the original speed the most and experiences the least drop is the one for torrenting.
ExpressVPN is the fastest among all. Though, the other VPNs on this list also fared well.
Security & Privacy
Speed is important. However, the very reason you want a torrenting VPN in the first place is that you are looking for a safe and secure torrenting experience. You do not want your footprints on the web while you engage in P2P exchanges.
All the VPNs on this list offer the highest level of security through impenetrable encryption protocols. In addition, you also get added security features like Kill-Switch that blocks your internet connection if the VPN connection drops suddenly.
Also, all the VPNs on this list maintain a strict zero-log policy. This ensures your privacy is maintained throughout your torrenting sessions.
Compatibility with Torrent Clients
It is important for the VPN client to run error-free alongside the torrenting client. I was surprised to see some VPNs acting erratically and even crashing the torrent clients.
The VPNs on our list of best VPNs for torrenting are all compatible with popular torrent clients like BitTorrent and uTorrent. They run almost without any glitches through the entire period of torrenting.
Prevent ISP Throttling
ISPs have a way to detect your streaming and torrenting activities. After you have used up a certain amount of data, many ISPs slow down your internet during torrenting.
Speed is of the utmost importance for P2P activities. The VPNs on our list make sure that all the detectable torrenting signatures are masked and there is no ISP throttling.
Torrent-friendly Servers
Torrent-optimized servers are one of the biggest criteria while choosing the best VPN for torrenting. There are only a very few VPNs that support torrenting across their entire line-up of servers (ExpressVPN is one such example). Most VPNs have dedicated servers for torrenting.
It was easy to find torrent-friendly servers with the VPNs on our list. A couple of them even have a special category to choose P2P servers.
Most VPNs that we left out from this list do not offer desirable server performance while torrenting.
Best VPN for Torrenting
Here is our list of Best torrenting VPN in 2023. I am putting ExpressVPN at the top of the list for obvious reasons – it has more servers offering high-speed torrenting than other VPNs. However, I have reviewed other VPNs as well that I found performed well. Here is the list of Best VPNs for Torrenting in 2023:
ExpressVPN: Fastest VPN with tons of torrent-friendly servers. Provides secure and private P2P connections.
IPVanish: Decently fast VPN for torrenting. Several torrent-optimized servers. Top-grade security.
PIA: A torrent-friendly VPN with many torrent-optimized servers. Robust security.
CyberGhost VPN: Dedicated servers for P2P connections. Secure and reliable.
Surfshark VPN: A range of dedicated, torrent-optimized servers for high-speed downloads and uploads. Airtight security.
Now I will cover important features of all 5 VPNs. I am sure it will help you find your perfect VPN that fits your requirements as well as your budget.
Starting with ExpressVPN, here's the list of best VPNs for torrenting: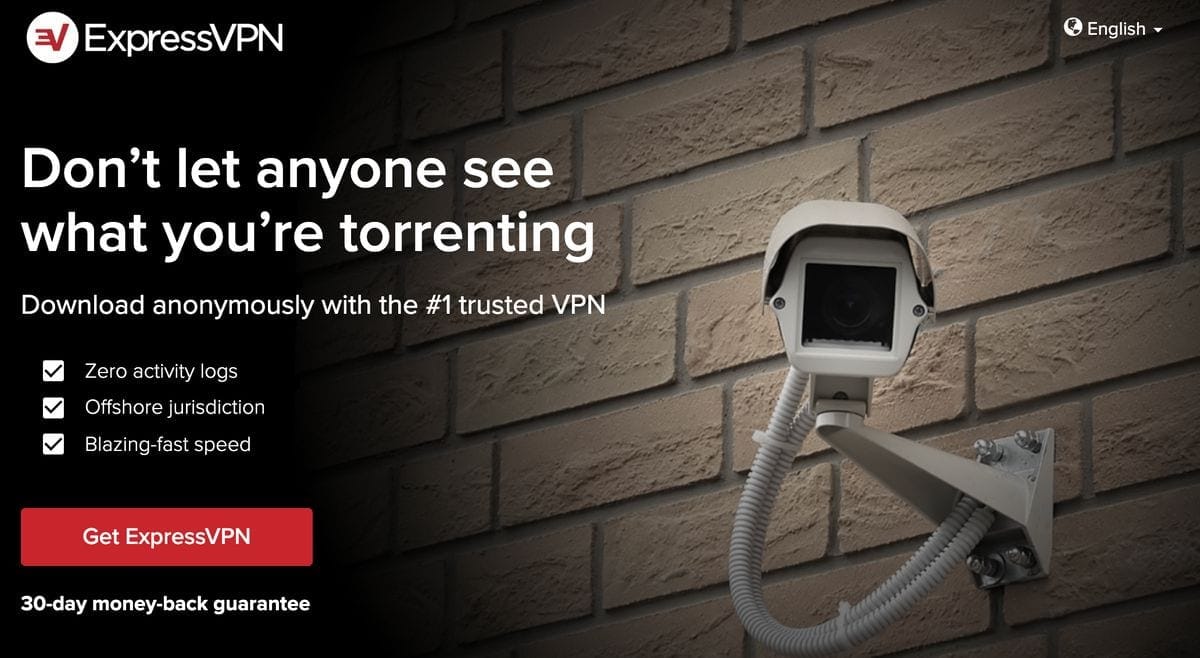 ExpressVPN is the best torrenting VPN and also the best overall VPN. It helps you unblock torrent, download at high speeds, and keeps your torrent traffic secure.
Torrenting Speed
Torrenting requires a high-speed internet connection and that's one of the reasons why ExpressVPN is the best VPN for torrenting. Widely regarded as the fastest VPN in the world, ExpressVPN offers consistent speeds across most of its servers.
Every VPN loses speed as it has to reroute your internet traffic through secure channels. However, where most VPNs lost more than 50% of the original ISP speed, many ExpressVPN servers retained over 90%. No other VPN comes even close to ExpressVPN on the speed front. It is the fastest VPN for torrenting.
ExpressVPN also makes sure your torrent exchanges are not limited by a bandwidth cap. You can download or upload any amount of data as long as the broadband plan from your ISP allows.
P2P Server coverage
Unlike many other VPNs we tested, ExpressVPN provides extensive torrenting/P2P coverage across all its servers worldwide. ExpressVPN currently has more than 3000 servers in more than 160 locations. With ExpressVPN, you can torrent securely even in the countries where torrenting is banned.
Security, Privacy, & Jurisdiction
Thankfully, high speeds DO NOT come at the cost of security. ExpressVPN uses the industry standards in encryption technology providing airtight security and cover to your torrenting activities. It also has a kill-switch that instantly blocks your internet connection if the connection to the VPN server drops or while you switch VPN servers.
OpenVPN protocol, server authentication, HMAC authentication, control-channel encryption, data-channel encryption, and perfect forward secrecy are some of the added technologies that reinforce the security of your torrenting connections.
ExpressVPN is based in the British Virgin Islands. It is outside the jurisdiction of all the major surveillance organizations. It also has a strict no-log policy. In simple words, ExpressVPN offers complete privacy.
Additional Features
ExpressVPN also comes with Split Tunnelling. This feature allows you to choose which apps you want to connect to the VPN and which ones use the normal ISP connection. This means you can secure your torrenting activities by connecting only the torrent client, such as BitTorrent/uTorrent, to the VPN while you continue to browse the web, play online games, etc. without a VPN.
While ExpressVPN is the best VPN for torrents, you can do more with it. You can unblock geo-restricted content, secure Kodi streaming, secure your FireStick and other devices.
Software Support
Each ExpressVPN account lets you connect up to 5 devices simultaneously. It has compatible apps for Android mobiles & tablets, iPhone and other iOS devices, TV devices such as FireStick and Android TV Boxes, Windows, Linux, & Mac computers, browser extensions, routers and more.
Customer Support
ExpressVPN has a highly-responsive chat-support system. If you need help, they are available 24/7 to answer your questions. You can also get in touch with ExpressVPN via email. The customer service representatives are knowledgeable and customer-friendly.
Deals and buying options
You can get 3-months free and save a whopping 49% on ExpressVPN's annual plan. ExpressVPN also offers a no-questions-asked 30-day money-back guarantee. If you don't like the service (which I see no reason why), you can always ask for a full refund within 30 days.
You can pay by your Credit/Debit card, PayPal, and even Bitcoin.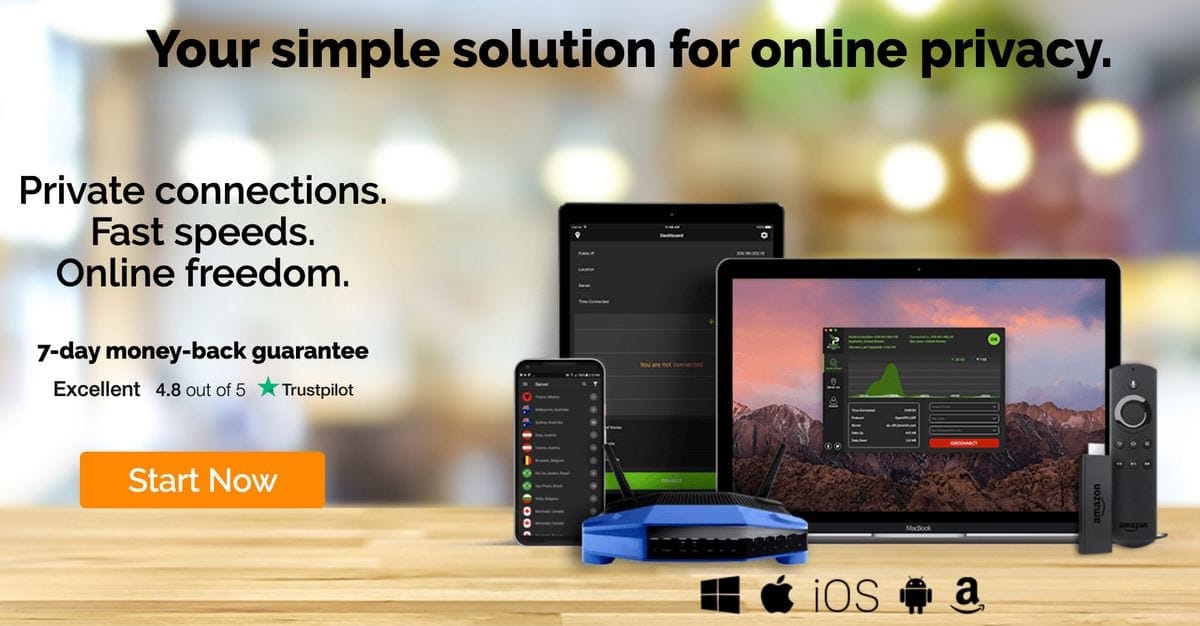 IPVanish is another solid VPN for torrenting. Though not as fast as ExpressVPN, IPVanish delivers satisfactory speeds across a lot of its servers.
Torrenting Speed
Several of our tests revealed that IPVanish could retain 75-80% of the original ISP speed. If you have a decent connection from your ISP, you will have a smooth torrenting experience.
P2P Server Coverage
There are more than 1400 servers in over 75 locations across the globe. Almost all the IPVanish servers are P2P friendly. And, there is no limit to how much data you have uploaded or downloaded. IPVanish will not put a bandwidth limit.
Security, Privacy, & Jurisdiction
IPVanish also follows the industry standards in providing the top-grade security to your connection while you torrent. The military-grade 256-bit AES encryption makes sure your torrenting activities are completely safe.
The parent company of IPVanish is based in the United States where many major surveillance bodies have jurisdiction. This is a bit worrisome. However, the company maintains a strict zero-logs policy. Therefore, I would like to believe my information is safe with them. Yet, I would trust ExpressVPN over IPVanish any day.
App Support
IPVanish is available on a whole range of devices including Amazon Fire TV & FireStick, iOS, Android mobiles, Mac OS, Windows, Linux, as well as browser extensions.
The apps are compatible with all the popular torrent clients, including BitTorrent.
With one IPVanish subscription, you can connect unlimited devices simultaneously. You can share this VPN with your family and friends too.
Additional Features
Besides being the VPN that allows torrenting, IPVanish is also handy when it comes to unblocking censored content, apps, and websites.
In addition, it lets you switch the servers unlimited times. Meaning, you can try as many servers as you like until you find the one that suits your needs the best.
Customer Support
Should you have any questions, there is a 24/7 customer support available via live chat as well as email. Phone support is also available during business hours.
Deals & Buying Options
You can now save 46% on the IPVanish yearly plan, which now costs $77.99 annually as opposed to $143.88. You can also opt for the 3-month plan for $26.99 and save 25%. If you want to keep it month-to-month, the monthly plan is now available for a discounted price of $10 (and not $11.99)
IPVanish offers a 30-day unconditional money-back guarantee.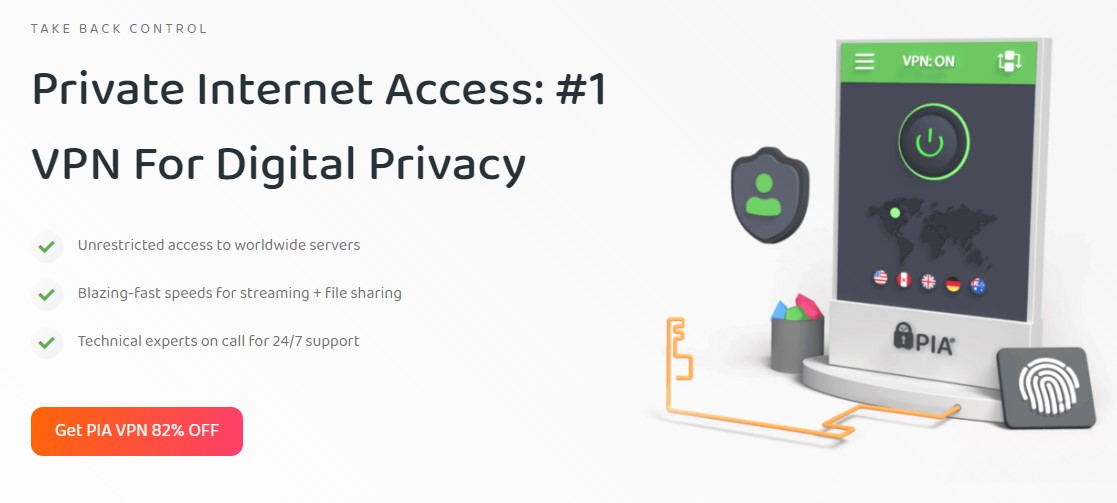 Next in line, we have the crowd-famous Private Internet Access or PIA. Made by geeks who are serious about your privacy & security, PIA can be used to download torrents anywhere in the world. Users regard PIA as one of the most torrenting-friendly VPN services out there. And when we tested it, we couldn't have agreed more.
Torrenting Speed
PIA was one of the best VPN services (just a bit shy of ExpressVPN) to show tremendous speeds when it comes to torrenting. From download to upload speeds, everything was buttery-smooth and supremely fast!
No matter which type of connection you own, PIA will retain about 50 to 60% of the speeds when torrenting. That's about 50 to 60 Mbps speeds on a 100 Mbps internet connection.
Have you ever noticed the speed and bandwidth throttling on your connection? Like your speed or data get limited with passing time? That's where PIA will help you. You'll experience throttle-free downloading and uploading on torrent.
So, no matter where you are in the world, you can use PIA to get the best torrenting experience.  
P2P Server Coverage
Torrenting works on the basis of peer-to-peer or P2P. But many VPN servers don't support it due to some legal reasons. However, PIA lets you access all the P2P content in full flow, including torrenting.
As of writing the piece, there are a total of 29,650+ PIA servers in 84+ countries across the world – and all support P2P. This means no matter where you reside in the world, you can download and upload content from/to torrent.
All the PIA servers are based on cutting-edge technologies. This means you'll receive ultra-fast connection speeds with unlimited bandwidth no matter which server you choose to connect from PIA's servers list.
P2P support on PIA servers works miraculously! You won't experience outbreaks, loss in packets, low download speeds, or unavailability of torrents—just a smooth-sailing torrenting experience.   
Security & Privacy
Super torrenting speeds don't mean PIA hasn't got you covered on the security and privacy side of things. PIA lets you choose between the two world-class encryption algorithms – 128-bit or 256-bit AES. Both ciphers are famous in the world of security, and they are used by governments, agencies, defense, and more.
Next, Private Internet Access provides open-source transparency. This means the client source code of all the PIA apps is publicly available. Anyone can scrutinize or verify the code – no hiding = 100% reliability.
To make your torrenting experience faster, more reliable, and fully secure, PIA uses world-class protocols like WireGuard, OpenVPN, and IPSec (for iOS). As they are 100% trusted and open-source, you don't have to worry about the leakage of your data, identity, or any other personal information when torrenting.
No matter which server you are using to download torrents or what files you are downloading – PIA doesn't share it with anyone. Heck, they don't even know about your activity data as they have a strict no-log policy. So, no matter what you do, PIA will never record, save, or share your internet traffic.
So, with PIA, you can freely access torrent from anywhere, knowing that your security & privacy is in safe hands. 
Jurisdiction
Private Internet Access is located in the United States – a 5 Eyes country. Basically, 5 Eyes is an intelligence alliance between the UK, the US, Australia, Canada, and New Zealand. This means that a country may not be able to collect data on its own citizens but ask the participating parties to do so on their behalf.
So, that's quite alarming. But according to PIA, they aren't concerned about it. Why? Simply because they keep no logs or data of the user in the first place. Regardless of who's asking, when they don't have the data, how can they share it?
PIA had already proved their statement once when Russia asked them to log user data. They immediately shut down their operation in Russia and discontinued their gateways.
Here, you can learn more about how PIA being located in a Five Eyes country doesn't matter.  
Additional Features
There's no shortage of additional features with PIA. As a matter of fact, all of these features assist in creating a fast & secure torrenting experience. So, let's go through some of them.
Firstly, we have the kill switch. This built-in feature on PIA automatically cuts down the incoming and outgoing traffic when a VPN connection drops. Although there can be many reasons behind the drop, the kill switch makes sure your data and log remain within your system.
Next up, PIA offers a free ad-blocker called MACE. With this feature turned on, you won't see ads on your Torrent app. Also, it'll eliminate trackers and malware from profiling or hurting your data.
To shield your identity, PIA offers the service of paying via cryptocurrencies and third-party gift cards. This way, you can subscribe to PIA for torrenting without revealing who you are, your payment information, and more.
You need a VPN for torrenting, but it doesn't mean you should use it with your banking application. That's where PIA's advanced split tunneling feature comes to the rescue. With it, you can set custom rules for individual apps/services to use or bypass the VPN tunnel automatically.    
App Support
PIA has designed simple and easy-to-use apps for all the major platforms of the modern era. All software tools are pretty easy to download, install, and set up. Similarly, they have a user-friendly interface with both basic and advanced tools at the user's disposal.
You can find PIA apps for Windows, macOS, Linux, Android, and Apple iOS. Also, the service has extensions for Google Chrome, Firefox, and Opera. Similarly, PIA has official apps for gaming consoles and smart TVs. Lastly, the service offers firmware for routers too.
PIA allows simultaneous access on 10 devices, so you can download and upload torrents on your devices parallelly.     
Customer Support
Speaking of customer support, PIA offers 24/7 assistance to its paid users. Apart from it, you can contact PIA using their contact page by filling out a form.  
Deals & Buying Options
PIA is dead-serious about privacy & security. That's why they provide affordable plans for everyone.
FireStickTricks readers can always get a special deal with PIA. Currently, there's an 82% off deal that lets you purchase a 2 years + 2 months subscription of PIA for just $2.13 per month – billed $56.94 per 2 years. That's a deal for people who are looking to trust a VPN service in the long term without spending too much money.
Next up, we have the 6-month plan that costs $7.50 per month – billed $45 per 6 months. This plan is ideal for people who would like to purchase a reliable VPN service for torrenting but don't have a solid intent to stick with it for a long period.
Lastly, we have the standard 1-month plan that comes at $11.99 per month. So if you are looking forward to just testing PIA for torrenting, this plan is the right pick.   
All their plans come with a 30-day money-back guarantee. 
Visit PrivateInternetAccess.com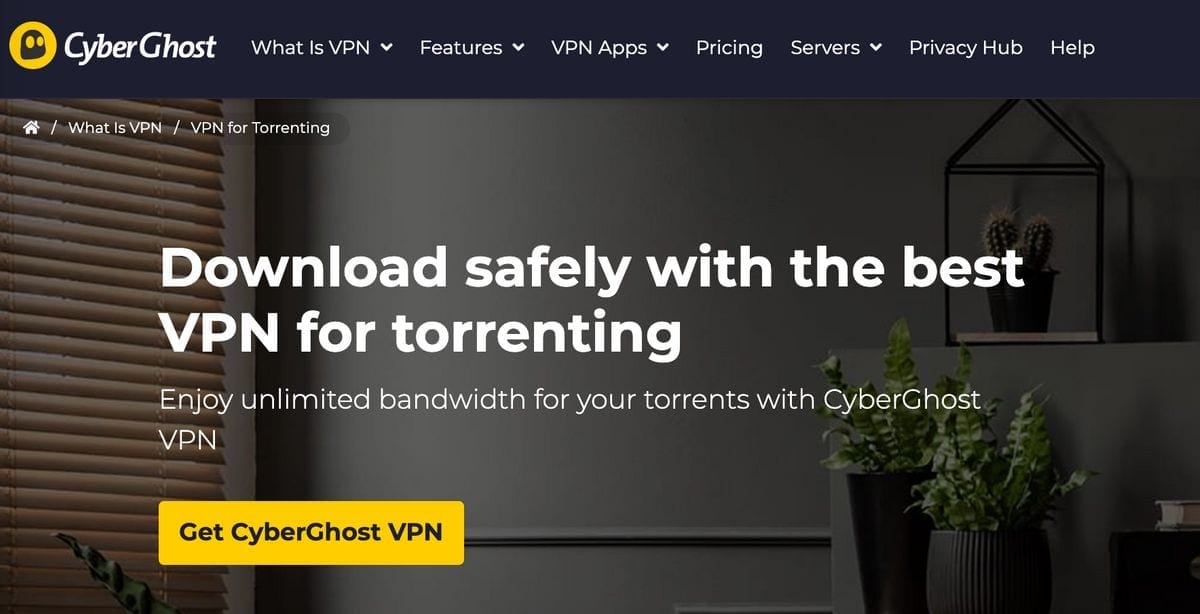 CyberGhost has made a name for itself in the VPN world over the past couple of years. This VPN has become the preferred choice for the streamers as well as many torrenters.
Torrenting speed and P2P server coverage
The interesting thing about CyberGhost is that many of its servers do not support torrenting. However, it has set aside some torrenting-optimized servers that offer high-speed P2P connections and are just perfect for your torrenting needs.
While not all of its servers offer desirable speeds, the ones dedicated to torrenting are fast enough. You can choose one of the torrenting-optimized servers from the app interface.
Security, privacy, & jurisdiction
CyberGhost also makes sure that all your downloads and uploads are protected with the airtight, military-grade security protocols. You can torrent as much as you like and neither your ISP nor anyone else will get a whiff of it. It also has an Automatic Kill-Switch, which instantly blocks your internet connection if the VPN connection drops.
CyberGhost is based in Romania and it is outside the jurisdiction of the surveillance organizations. The company has a strict zero-log policy making sure your privacy is always maintained.
App Support
CyberGhost has desktop apps for Windows, macOS, and Linux. Mobile apps for iOS and Android, browser extensions for Chrome and Firefox, TV apps for Amazon FireStick, and Android TV devices, and router support for select routers.
It also allows up to 7 simultaneous connections. Meaning, you can secure not just your torrenting but online activities on other supported devices as well. You can also share it with your family or friends.
Additional Features
There is Split Tunnelling too in case you want only your P2P client to stay connected to the VPN servers and other online activities go through your ISP.
Deals & buying options
You can save 83% on the 3-year plan and also get an additional 3 months for $87.75 (billed every 3 years). CyberGhost also has a 2-year plan that costs $83.76, a 1-year plan for $47.88, and a $12.99 monthly plan.
CyberGhost offers a 45-day money-back guarantee, the longest known among VPNs. You can also use the 24-hour free trial to test the service without submitting payment information.
Bitcoin payment is supported in addition to credit/debit cards and PayPal.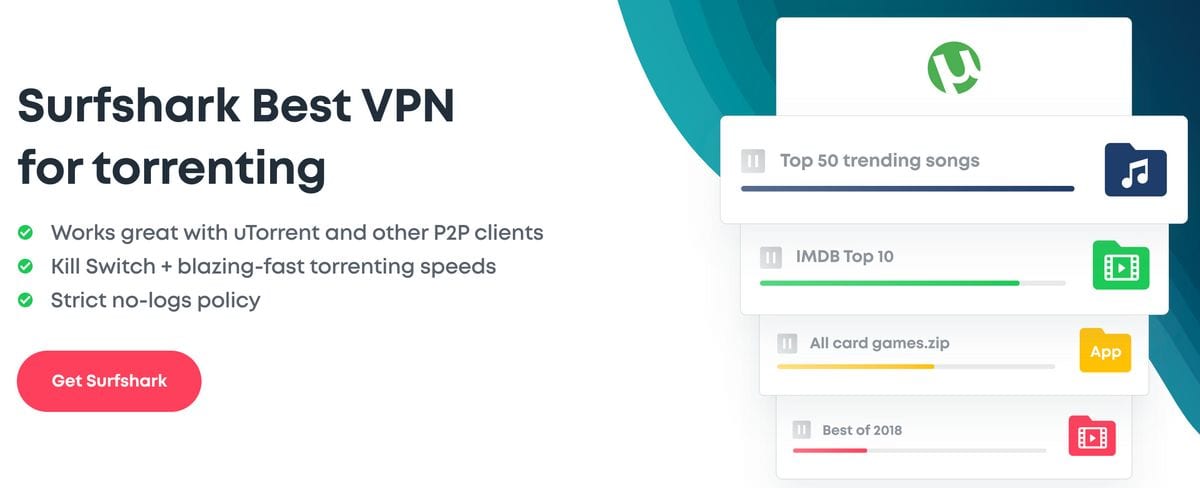 Surfshark offers several high-speed servers for torrenting. This is why it is part of this list of best VPN for torrents.
Speed & P2P server coverage
It has more than 1000 servers in over 60 countries. However, not all of them may be completely torrent-friendly. You may have to go through a bit of a hit-and-trial process. Sadly, Surfshark does not have the option to choose P2P friendly servers separately.
Security, privacy, & jurisdiction
This VPN provider follows the industry standards for security and safeguards your torrenting activities with AES 256-bit encryption; the best you can get. It has a Kill Switch to block internet access in the event VPN connection drops.
Surfshark is based in the British Virgin Islands. Meaning, it is outside the jurisdiction of the major surveillance bodies.
App Support
Surfshark offers apps for macOS, Windows, and Linux computers. It has mobile apps for Android and iOS devices. Browser extensions for Chrome and Firefox. Smart TV apps for FireStick, Apple TV, and Android TV.
It is also available on gaming consoles including Xbox and PlayStation.
Surfshark offers unlimited simultaneous connections. Meaning, you can protect as many devices as you like with one account.
Additional Features
Surfshark works well with P2P clients like BitTorrent and uTorrent. It also helps you avoid internet throttling in case your ISP is slowing down your connection during torrenting.
Customer Support
You can contact Surfshark customer care via Live Chat. You may also send an email to them from their contact page.
Deals & buying options
The 2-year plan has a maximum savings of 83%. It is available for $47.76 (billed every 2 years). In addition, you can buy the yearly plan for $71.88 and save 50%. The monthly plan costs you $11.95 with no savings.
There is a 30-Day money-back guarantee with every subscription.
Best Free VPN for Torrenting
Yes, there are many free VPN providers available in the market. They remind me of a popular saying, "if it is free, it is likely YOU are the product."
We have also tested several free VPNs and there isn't a single name we can take with confidence that would do more harm than any benefit.
Maintaining a VPN network requires lots of money. Free VPN providers are not here for charity. They must be making money some way or the other.
A lot of free torrent VPN providers are known to have sold users' data to the highest bidders. With them, your privacy is always at the risk of being compromised.
Some dubious VPN services have even sneaked in malware into the user's devices.
I highly recommend that if you are looking for torrent VPN, go for one of the paid ones. Even though you will be paying some money, you will remain safe and secure.
Read: How Free VPNs Make Money
VPN vs Proxy for Torrenting
Whether to use a VPN or Proxy for torrenting? It is a very common question among torrenters.
The answer is quite simple though – VPN is the best.
A proxy will only hide the IP address for one app at any point. VPN provides all-round protection.
For instance, you can set up a proxy server within BitTorrent or uTorrent client to mask your IP address. However, your IP address will still remain exposed when you visit the torrent sites.
Furthermore, a paid VPN service uses the military-grade encryption protocol to protect your torrenting activities. They are almost impossible to crack. On the other hand, a proxy can be compromised much easily.
If you are serious about safeguarding your privacy, a VPN is the only answer.
Wrapping Up
This is our list of the VPNs we believe are the best for torrenting. If you would ask me to pick one from the list, ExpressVPN will be my undisputed choice. Not only does ExpressVPN have more torrent-friendly servers, but it also offers the fastest P2P connections.
The other VPNs on this list also did well though, especially when compared to all other VPNs that did not make it to our list. What are your thoughts? Let us know via the comments section below.
Related: 
FAQs
Legal Disclaimer - FireStickTricks.com does not verify the legality or security of any add-ons, apps or services mentioned on this site. Also, we do not promote, host or link to copyright-protected streams. We highly discourage piracy and strictly advise our readers to avoid it at all costs. Any mention of free streaming on our site is purely meant for copyright-free content that is available in the Public domain. Read our full disclaimer.
Disclosure - FireStickTricks.com is reader-supported blog. When you buy a product through links on our site, we may earn commission. Learn More