This guide will show you how to install Odds N' Ends Kodi addon, which is compatible with Kodi 18 and Kodi 19. This guide uses an Amazon Fire TV Stick, but the steps work the same on all devices, including other Amazon Fire TV products (FireStick Lite, FireStick 4K, Fire TV Cube), Chromecast, NVIDIA SHIELD, Android TV boxes, Mac, Windows PC, smartphones, and tablets.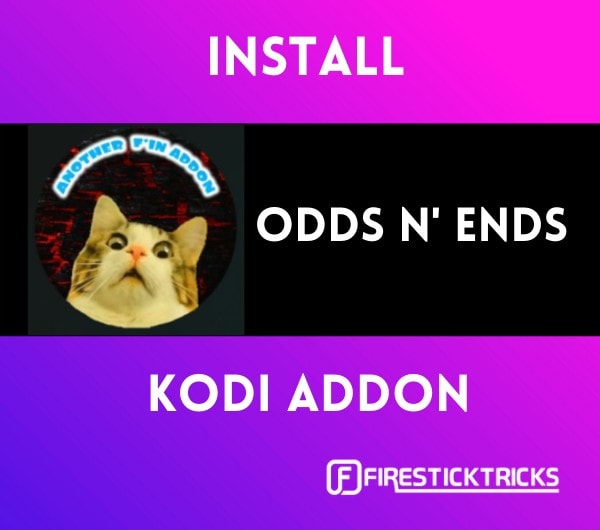 Odds N' Ends is a free third-party Kodi addon that you can install from the Grindhouse Repository. This addon is best for streaming geeks who love free all-in-one addons that don't require any kind of signup or subscription. Odds N' Ends offers 1-click content, including movies, documentaries, TV shows, plays, music, and stand-up comedy.
Odds N' Ends has great content variety with lots of odd and unique content. I found that many links took too long to load, and some didn't load at all. However, you can get most links to work by testing a few VPN servers in different regions. The quality of the streams themselves is average. While there is some attempt at organizing the content, the layout is unfortunately not as effective as other addons.
Still, it's worth giving this add-on a try because of the wide range of available content.
Is Odds N' Ends Safe and Legal?
Third-party add-ons can be risky since they aren't present in the official Kodi repository. This means their legality is not verified by Kodi.
As a third-party addon, Odds N' Ends pulls streaming links from elsewhere on the internet. Those links may or may not be legal depending on the sources of the links, as well as copyrights and licenses surrounding the content. FireStickTricks.com doesn't verify whether every piece of content on Odds N' Ends is legal for you to access from your region. If you access illegal content, even accidentally, you could be at legal risk because your ISP (internet service provider) and government may be monitoring your activities online.
FireStickTricks.com never endorses illegal streaming. We always caution our readers not to break the law in any way. But it can be hard to know if your actions on a third-party addon are actually illegal. What if you break the law unintentionally? You'll want to be protected just in case. A reliable VPN like ExpressVPN ensures your safety and privacy online by keeping your data and browsing history secure from other eyes. 
How to Install Odds N' Ends Kodi Addon
I assume you've already installed Kodi on your FireStick. If you haven't, please read our guide to installing Kodi 18.9 (Leia) or Kodi 19 (Matrix) on your device. When you have Kodi, come back to this guide to install Odds N' Ends.
The process to install a third-party addon is a bit longer because we need to sideload the addon onto Kodi. But it's not hard—you'll have no trouble installing Odds N' Ends using the instructions below. To make the instructions even easier to follow, I divided them into four parts:
Enabling Kodi to download files from unknown sources
Downloading the zip file for the Grindhouse Repository
Installing the Grindhouse Repository from the .zip file
Installing the Odds N' Ends Addon from the Grindhouse Repository
Let's get started with the first part.
Attention, Kodi Users!
Kodi Addons and builds offer unlimited streaming content, but could also get you into legal trouble if caught streaming free movies, TV shows, or sports. Currently, your IP is visible to everyone. Kodi users are strongly advised to always connect a VPN while streaming online. A good Kodi VPN hides your identity, bypasses government surveillance, geo-blocked content, and ISP throttling (which also helps in buffer-free streaming).
I personally use ExpressVPN, which is the fastest and most secure VPN. It is very easy to install on any device including Amazon FireStick. You get 3-months free and save 49% on its annual plans. Also, it comes with a 30-day money-back guarantee. If you are not satisfied, you can always ask for a refund.

Read: How to install and use a Kodi VPN
Part 1: Enable Downloading Files from Unknown Sources
For any third-party addon like Odds N' Ends, you must configure your Kodi settings to let Kodi download and install files from unknown sources. Here are the steps.
1. Launch Kodi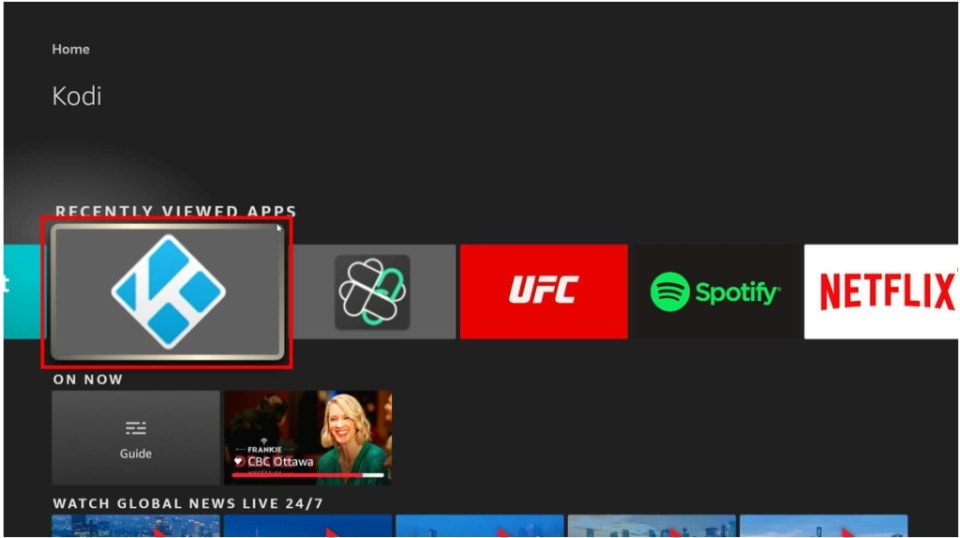 2. Click Settings (the gear icon).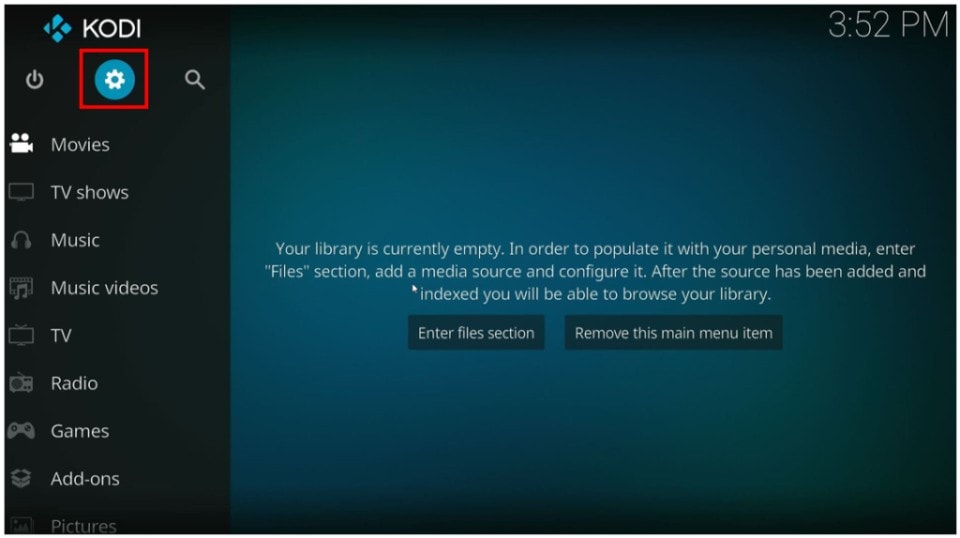 3. Select System.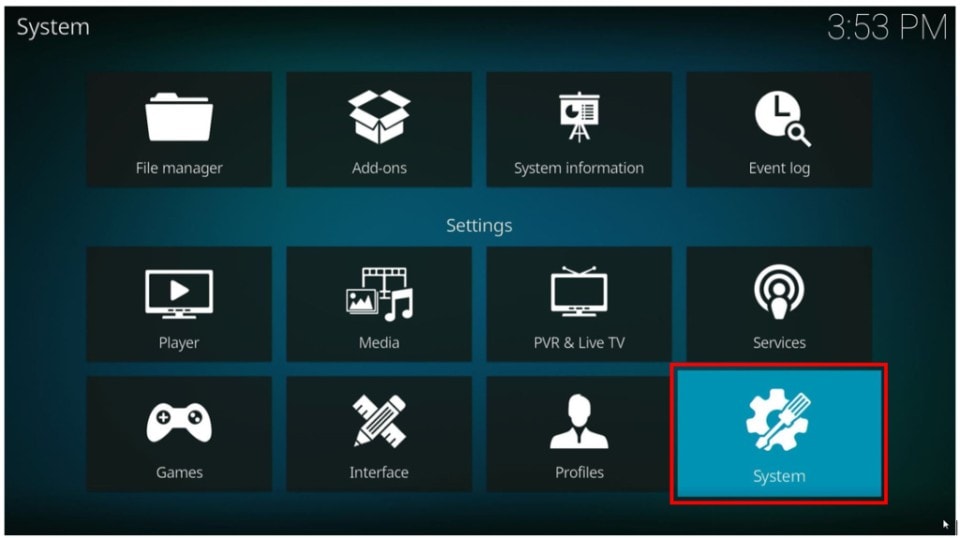 4. Scroll down to Add-ons and then toggle Unknown sources on. If you're shown a warning message, accept it by clicking Yes.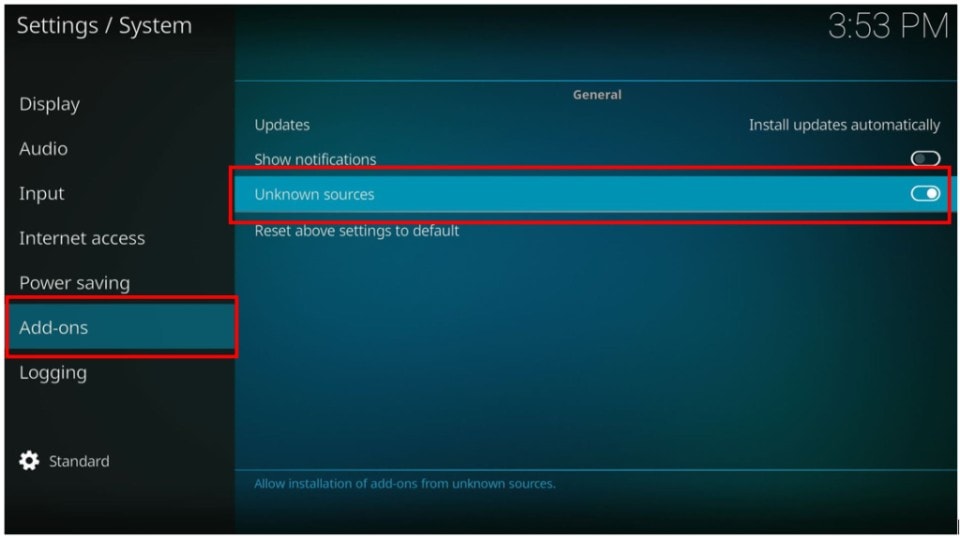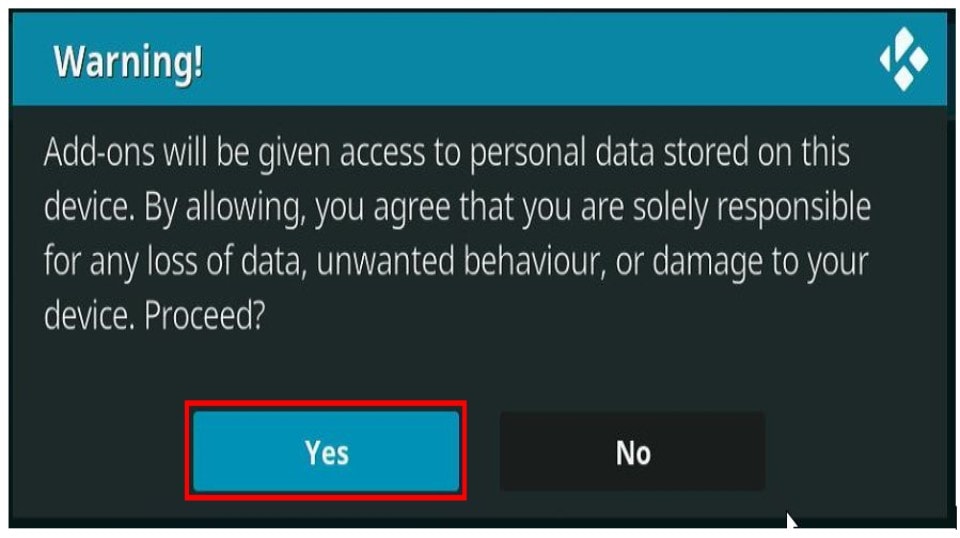 You can always revert these changes later, but they are necessary for the steps that follow.
Part 2: Download Zip File for Grindhouse Repository
Now we can download the third-party Grindhouse Repository, which contains Odds N' Ends.
1. Return to the Kodi home screen and select settings again.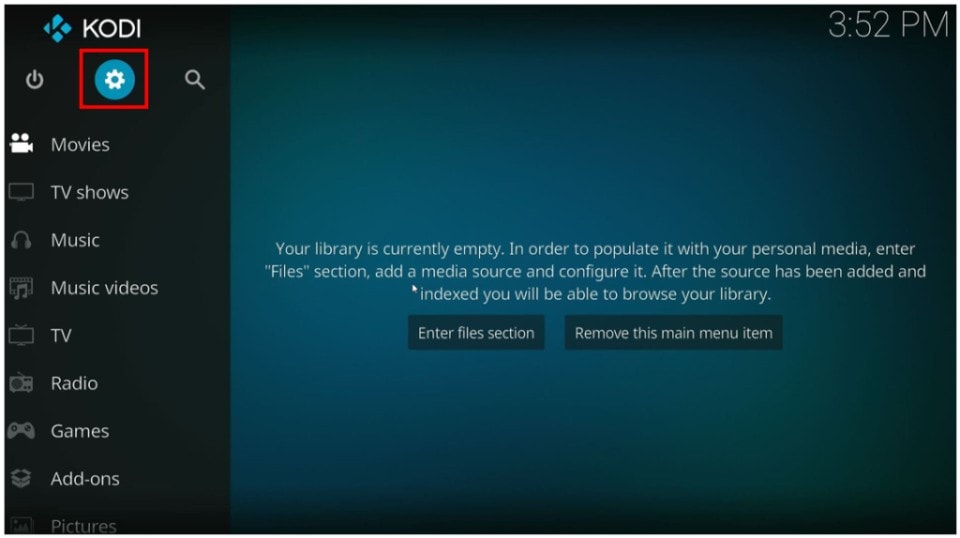 2. Select File manager.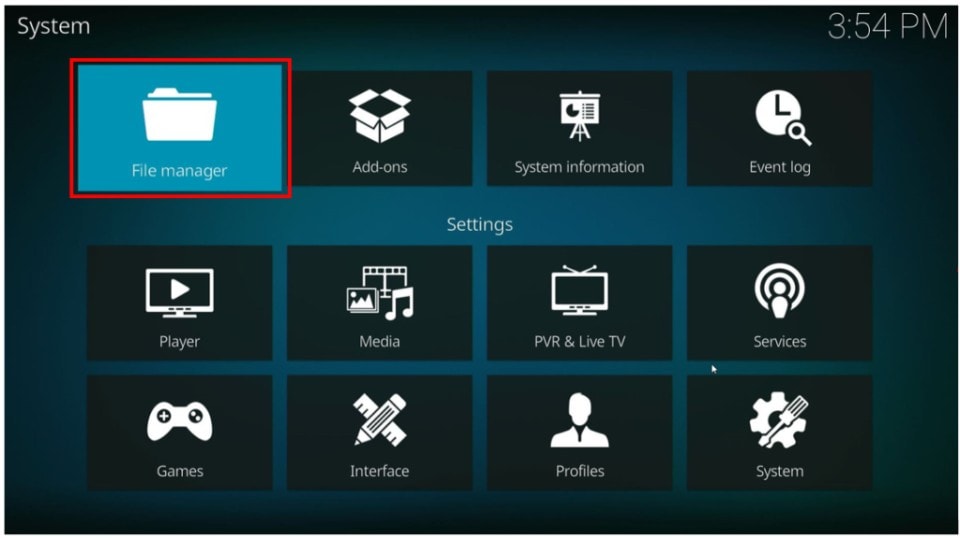 3. Click Add source. It doesn't matter which side of the screen you do this on.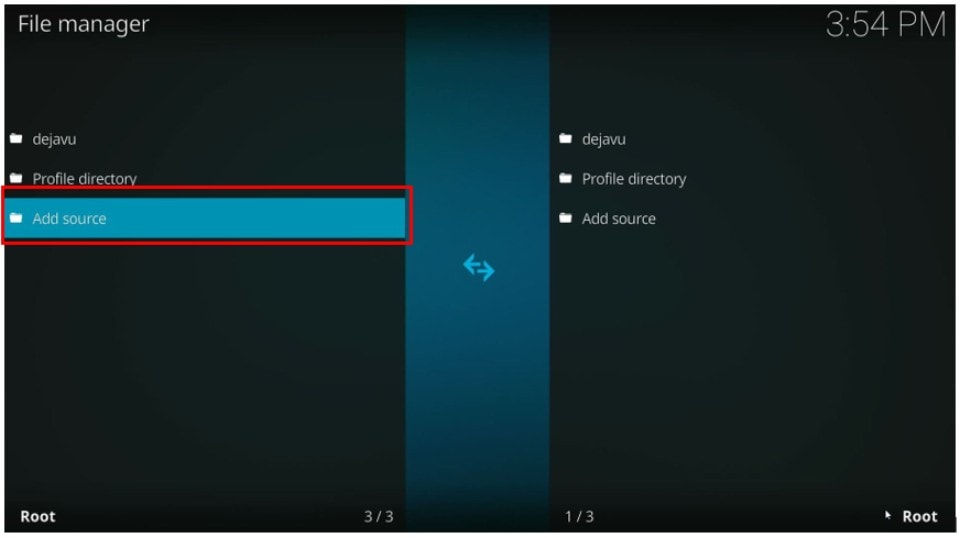 4. Select <None>. (Double-click it if you're on a computer.)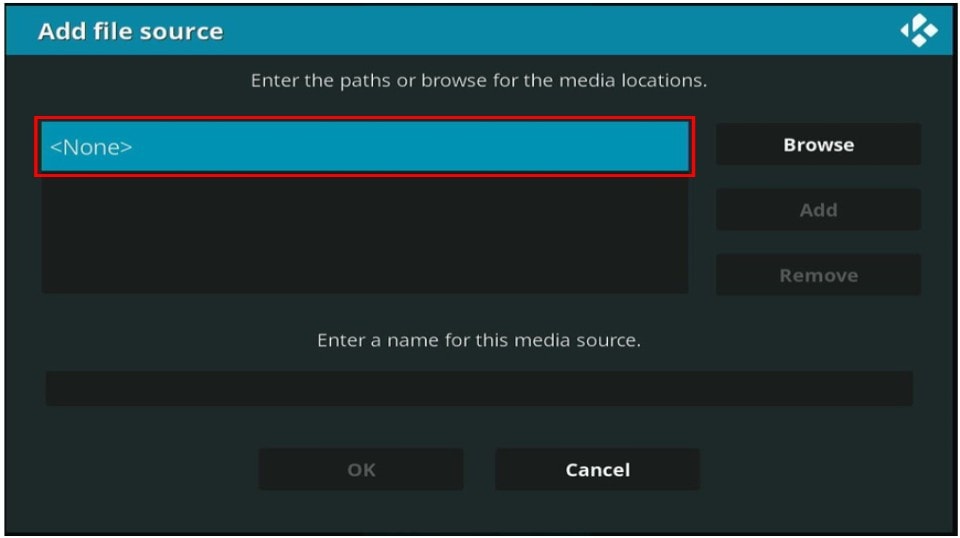 5. Type in http://grindhousekodi.tk/repo and click OK.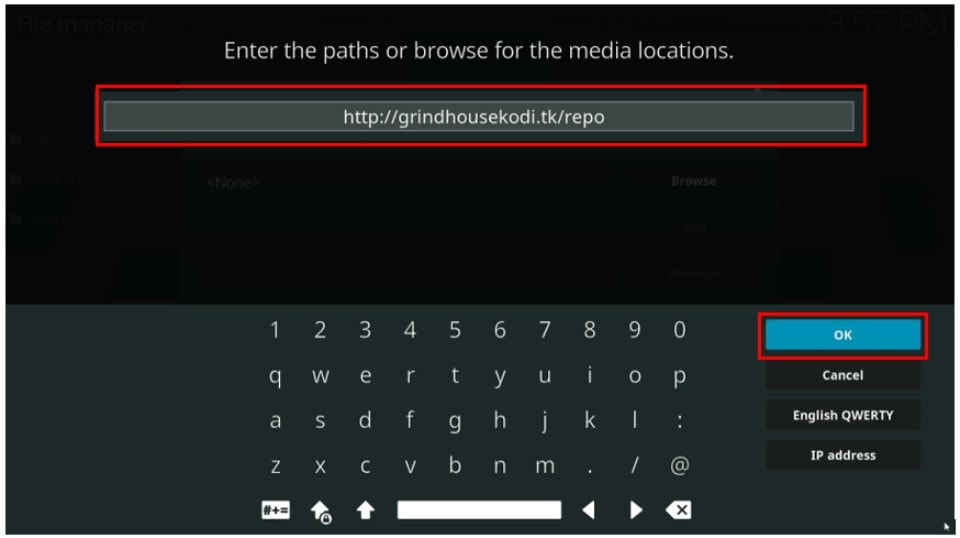 6. Select the box labeled Enter a name for this media source and enter the name grind. Then click OK.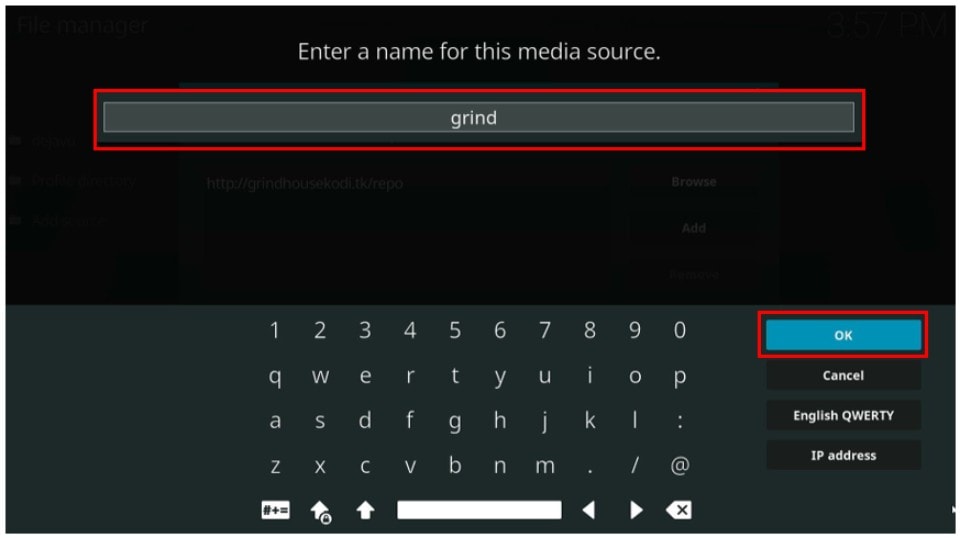 7. Click OK again to finish adding the source.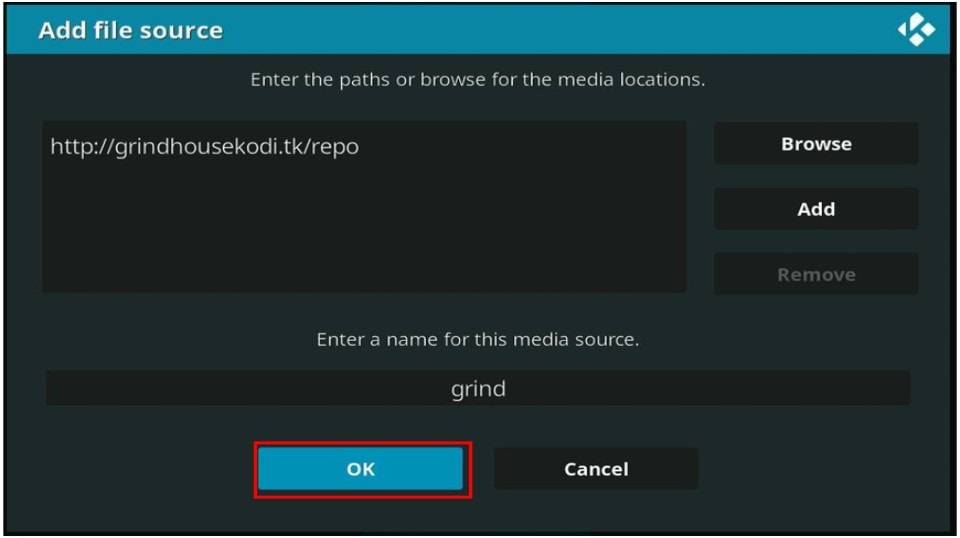 We successfully downloaded the Grindhouse Repository. Now we need to install it.
Part 3: Install Repository from the .zip File
Installing a repository is easy and takes just a few steps.
1. Start on the Kodi home screen and select settings again.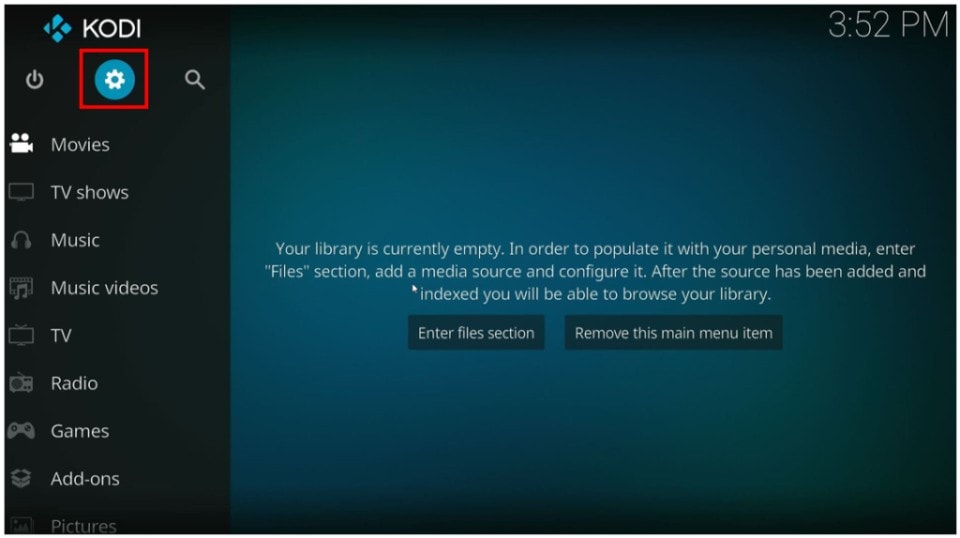 2. Select Add-ons.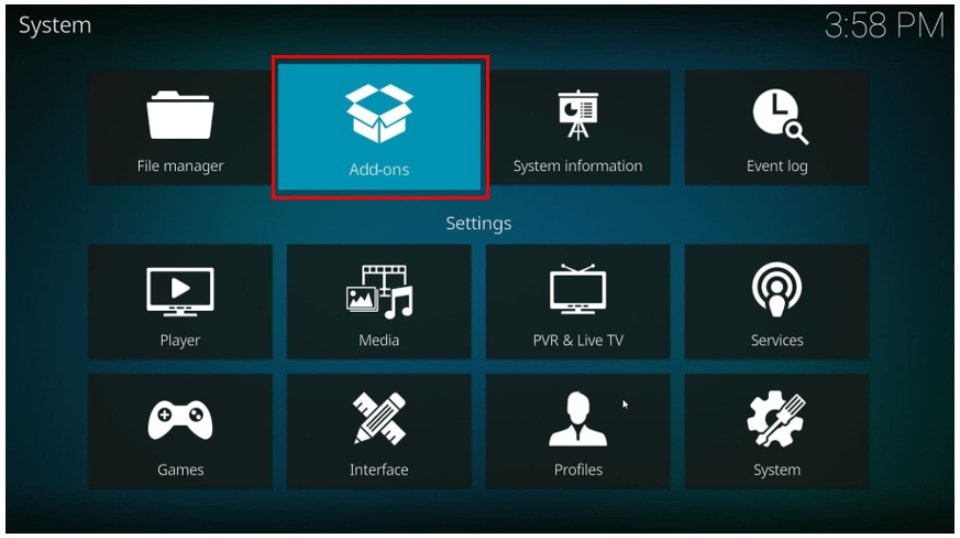 3. Click Install from zip file.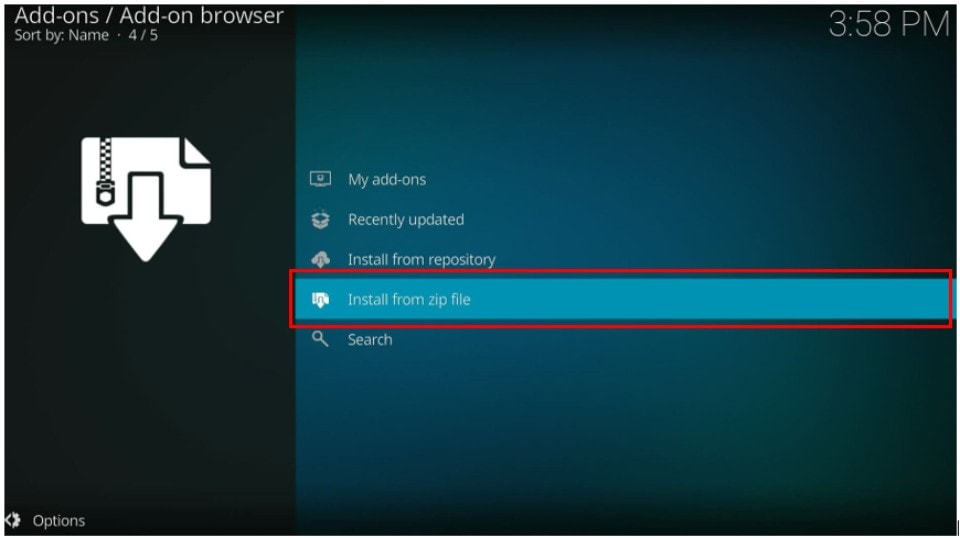 4. Locate and select grind.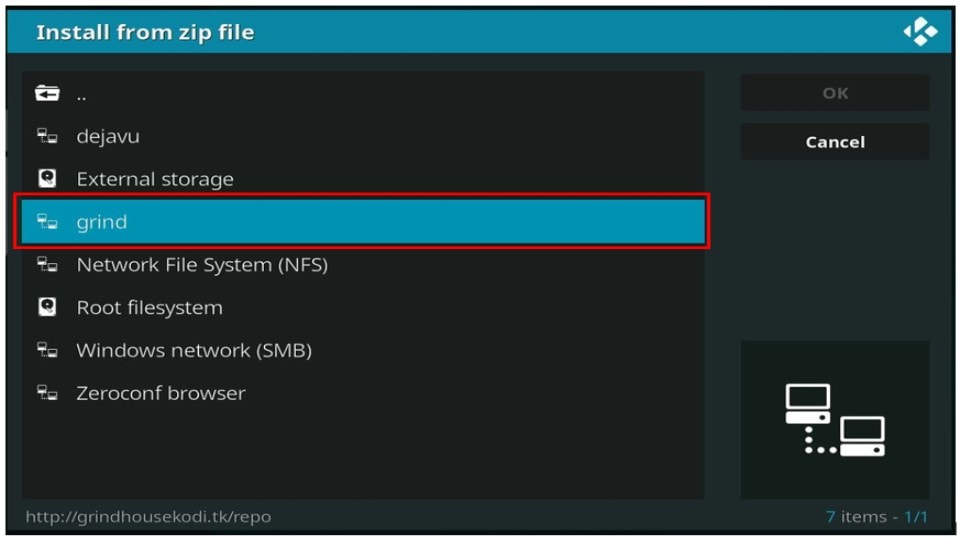 5. Select the .zip file by pressing OK when the file is highlighted.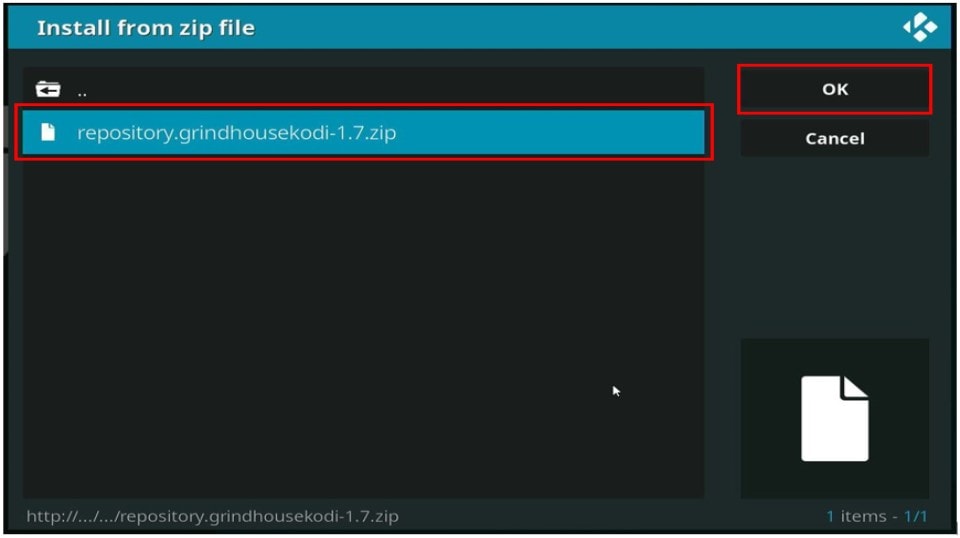 6. Wait until you see the notification that the repository was installed.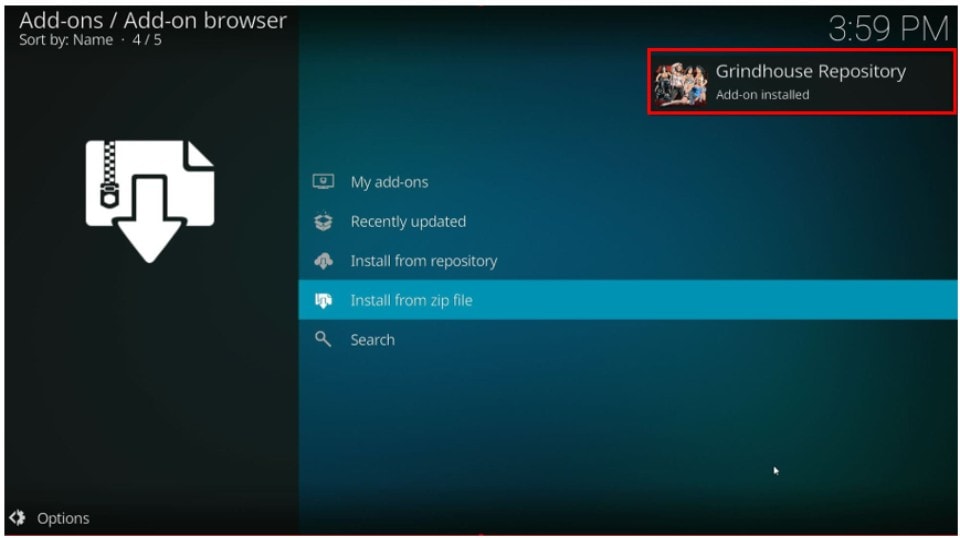 Now that the Grindhouse Repository is installed, we can proceed to the final part.
Part 4: Install Odds N' Ends Kodi Addon
Let's use the Grindhouse Repository to finally install the Odds N' Ends addon.
1. Click Install from repository.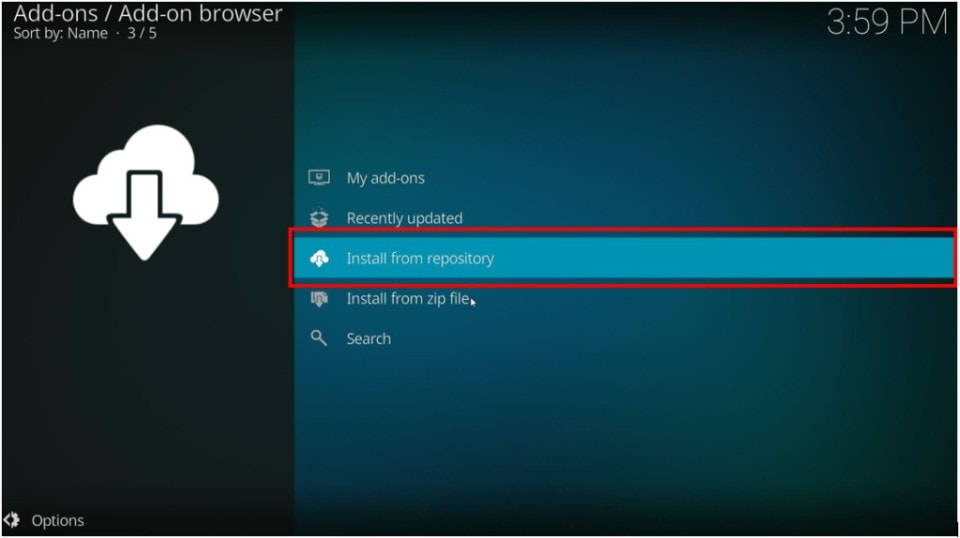 2. Locate and select Grindhouse Repository.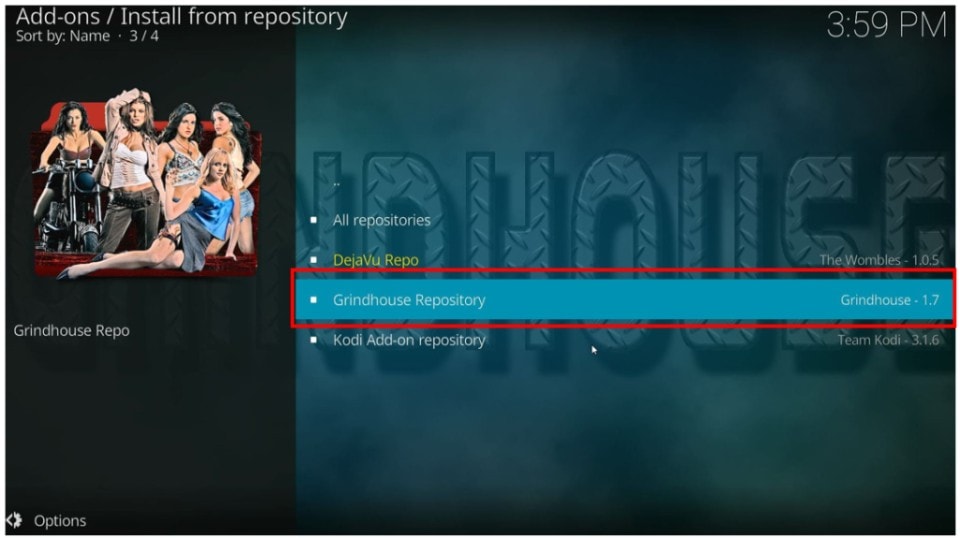 3. Click Video add-ons.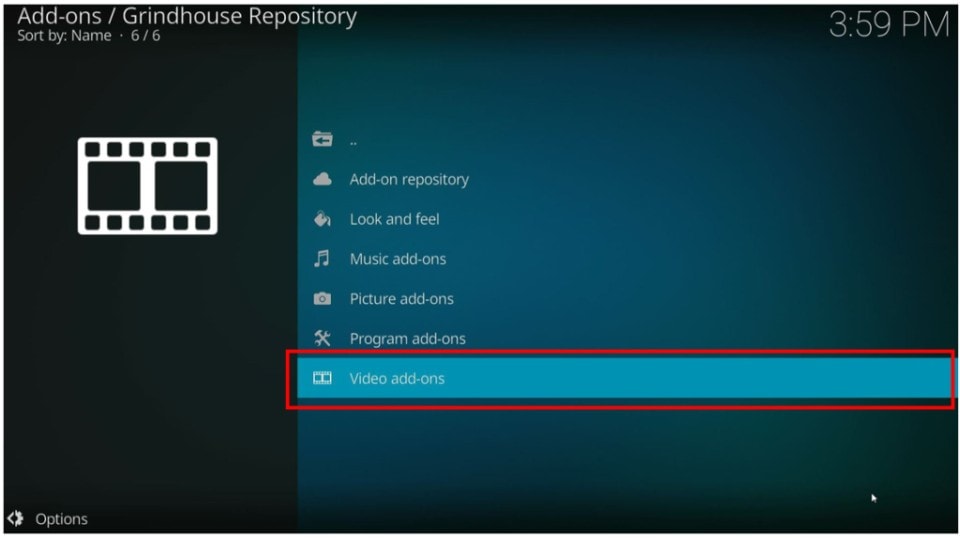 4. Scroll down and select Odds N' Ends.
Note: The two Odds N' Ends addons currently listed in this repository are exactly the same.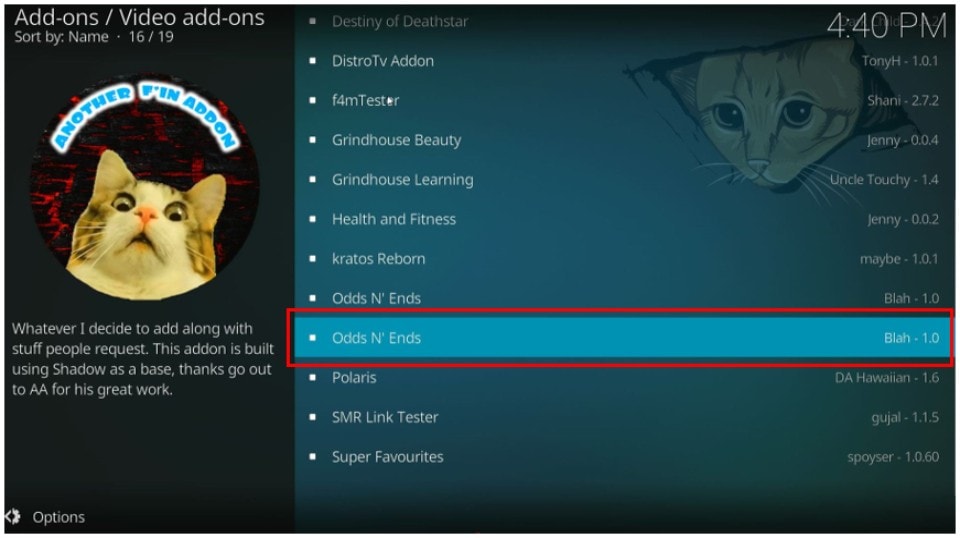 5. Select Install.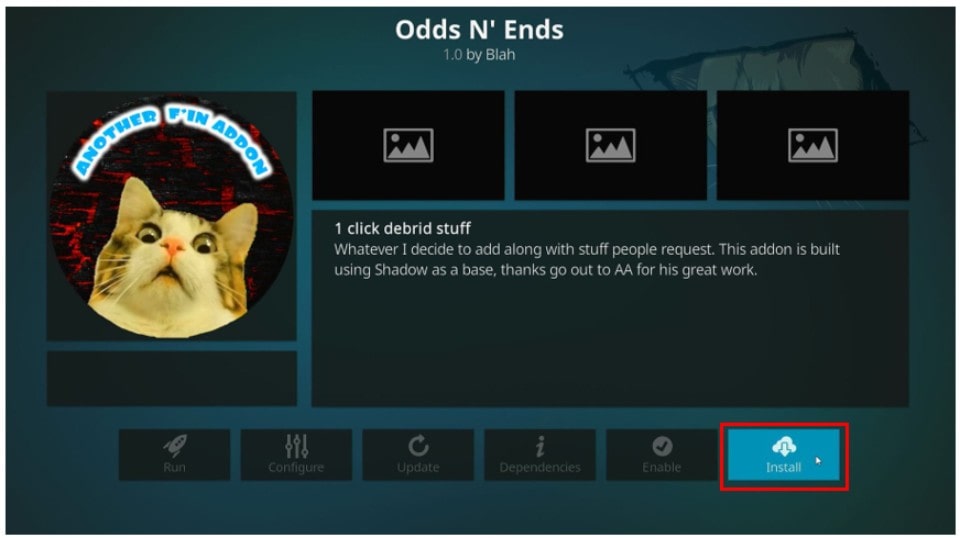 6. Wait for the notification confirming Odds N' Ends Add-on installed.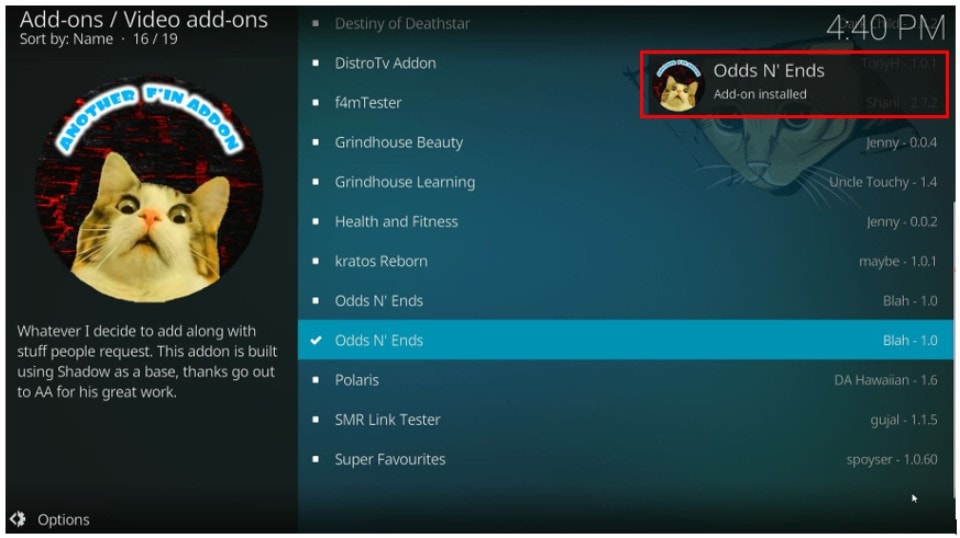 Congratulations, you installed the Odds N' Ends Kodi addon.
Before you start streaming with Kodi Addons or Builds, I would like to warn you that everything you stream on Kodi is visible to your ISP and Government. This means, streaming copyrighted content (free movies, TV shows, live TV, and Sports) might get you into legal trouble.
Thankfully, there is a foolproof way to keep all your streaming activities hidden from your ISP and the Government. All you need is a good VPN for Kodi. A VPN will mask your original IP which is and will help you bypass Online Surveillance, ISP throttling, and content geo-restrictions.
I personally use and recommend ExpressVPN, which is the fastest and most secure VPN. It is compatible with all kinds of streaming apps and devices.
NOTE: We do not encourage the violation of copyright laws. But, what if you end up streaming content from an illegitimate source unintentionally? It is not always easy to tell the difference between a legit and illegal source.
So, before you start streaming on Kodi, here's how to get VPN protection in 3 simple steps.
Step 1: Get the ExpressVPN subscription HERE. It comes with a 30-day money-back guarantee. Meaning, you can use it free for the first 30-days and if you are not satisfied with the performance (which is highly unlikely), you can ask for a full refund.
Step 2: Click HERE to download and install the ExpressVPN app on your streaming device. If you are using a FireStick, I have given the exact steps starting with Step 4 below. 
Step 3: Click the Power icon to connect to a VPN server. That's all. Your connection is now secure with the fastest and best VPN for Kodi.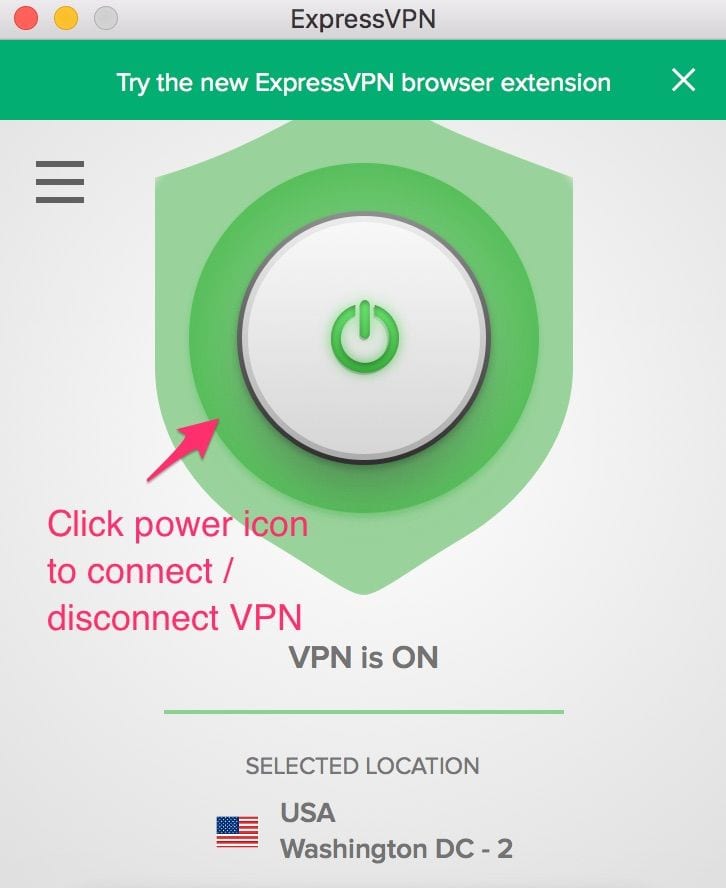 The following are the steps to install Kodi VPN on your Fire TV devices. If you have other streaming devices, follow Step 1-3 above.
Step 4: Subscribe to ExpressVPN HERE (if not subscribed already).
Step 5: Go to Fire TV Stick home screen. Click Find followed by Search option (see image below).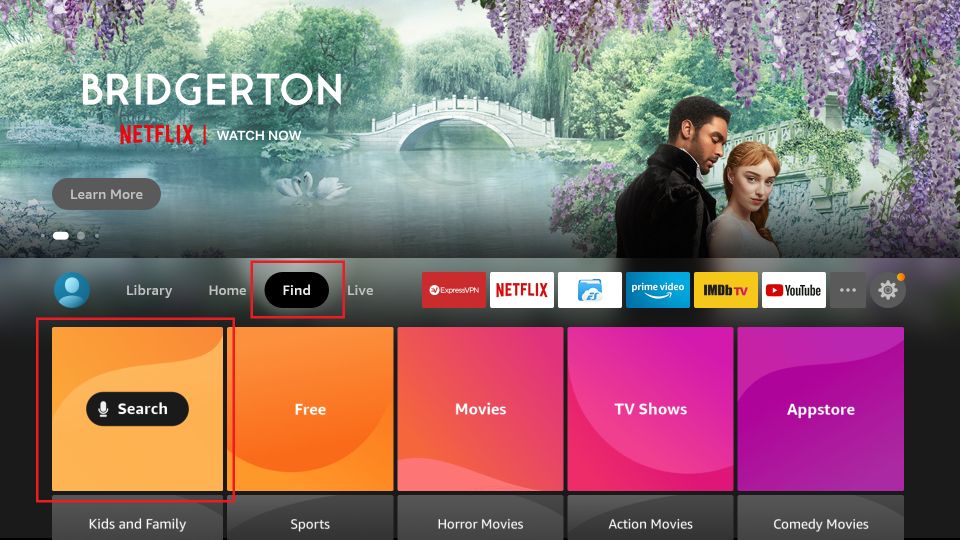 Step 6: Type Expressvpn in the search bar and select when it shows up.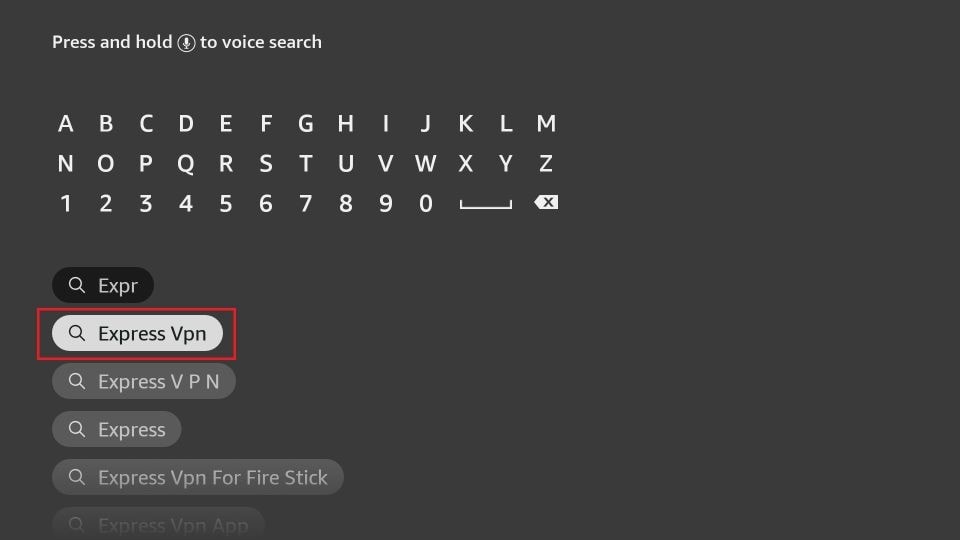 Step 7: Click Download.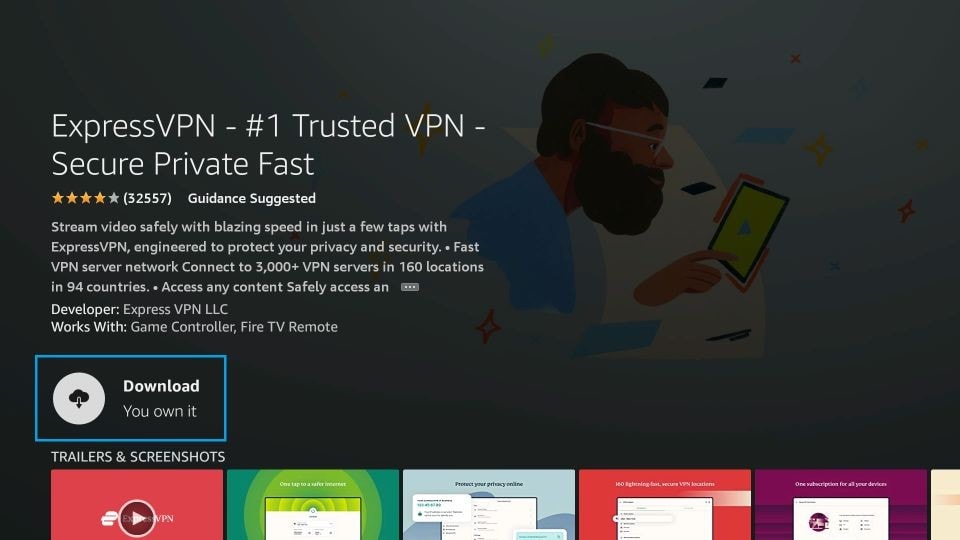 Step 8: Open the ExpressVPN app and Sign in using the email ID and password that you created while buying the ExpressVPN subscription.

Step 9: Click the Power icon to connect to a VPN server. That's all. Your FireStick is now secured with the fastest VPN.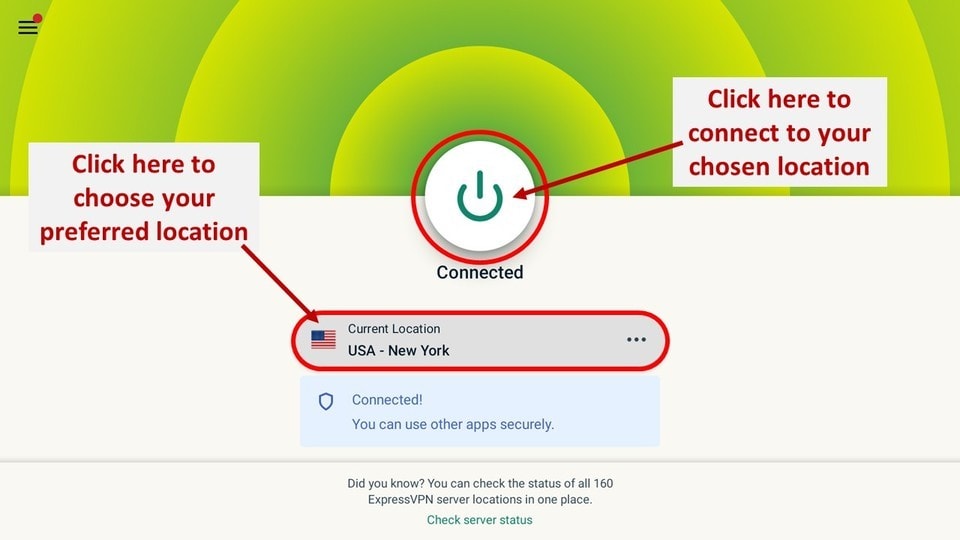 How To Set Up a Debrid Account in Odds N' Ends Kodi Addon
Before I tell you how you can integrate a debrid account with Odds N' Kodi Kodi addon, it's important to mention that debrid services are paid services that provide premium links, an ad-free experience, and other perks. Debrid services can often be integrated into third-party apps and addons, like Odds N' Ends, to improve their functionality.
Below, I'll show you how to subscribe to the most popular debrid service, Real-Debrid, as well as how to integrate it into Odds N Ends. Those who want to create a paid Real-Debrid account and integrate it with Odds N' Ends can follow the full instructions below. If you already have a debrid service, skip to part 2 to integrate your service with Odds N' Ends.
Part 1: Get a Real-Debrid Subscription
1. First, get on a convenient device like a laptop or smartphone, and go to the official Real-Debrid site at http://www.real-debrid.com. On the home page, click on the Sign Up button in the top-right corner.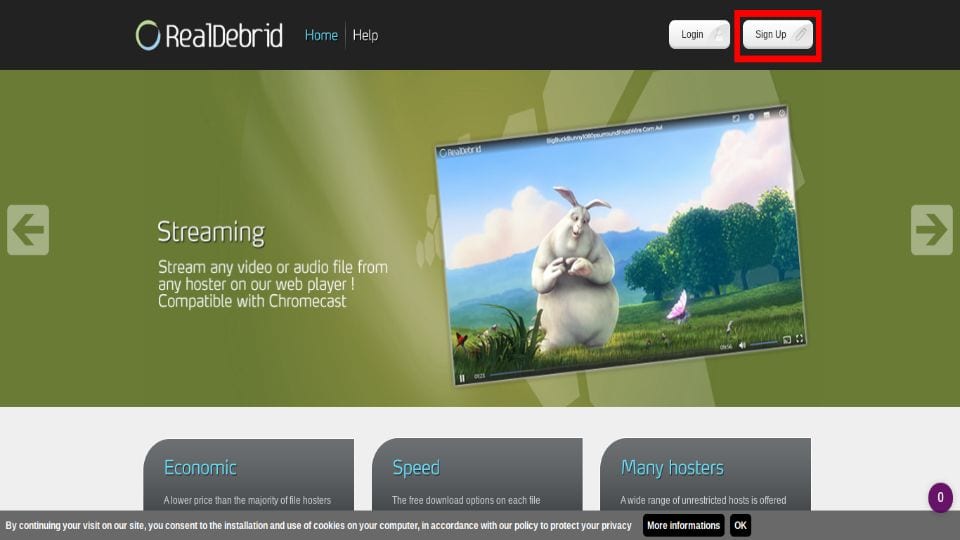 2. A panel will appear on the left side of your screen. Select your Language and fill in Username, Password, Repeat Password, and E-mail. Then choose Yes to accept the terms of service and privacy policy. Finally, click on the Sign Up button to complete the registration process.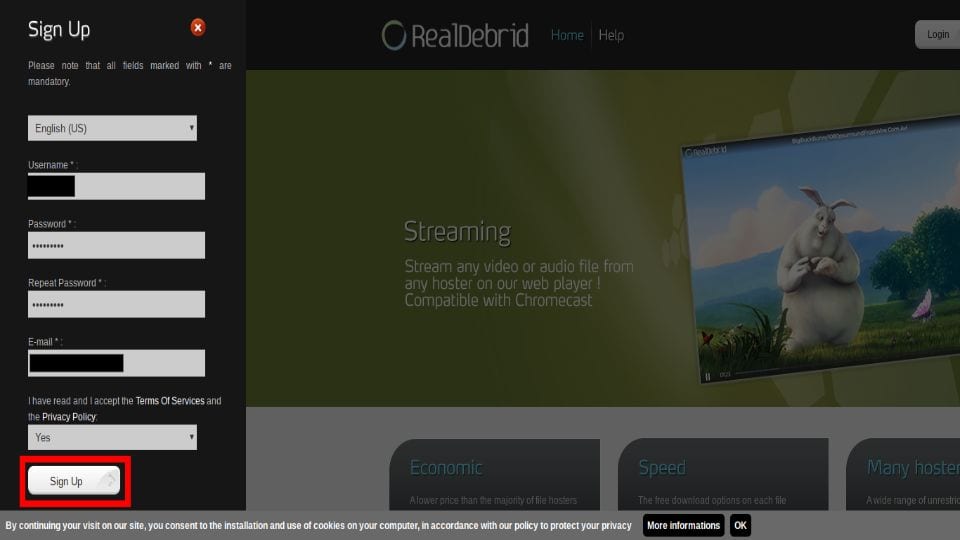 3. A green box will notify you that your registration is complete and that you should receive an email to activate your account.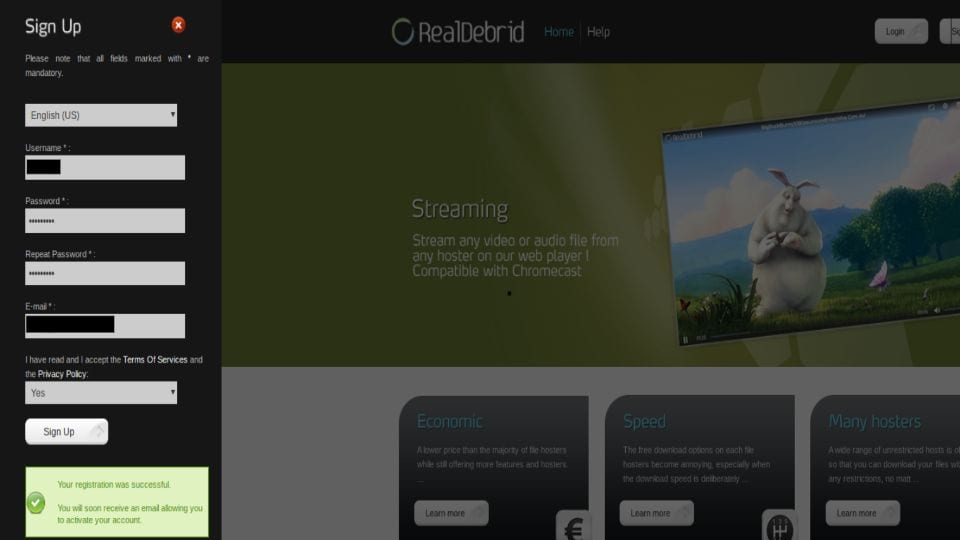 4. Go to the inbox for the email address you registered with, then find and open the account activation email from Real-Debrid. Click on the activation link, and you'll be redirected to the Real-Debrid website.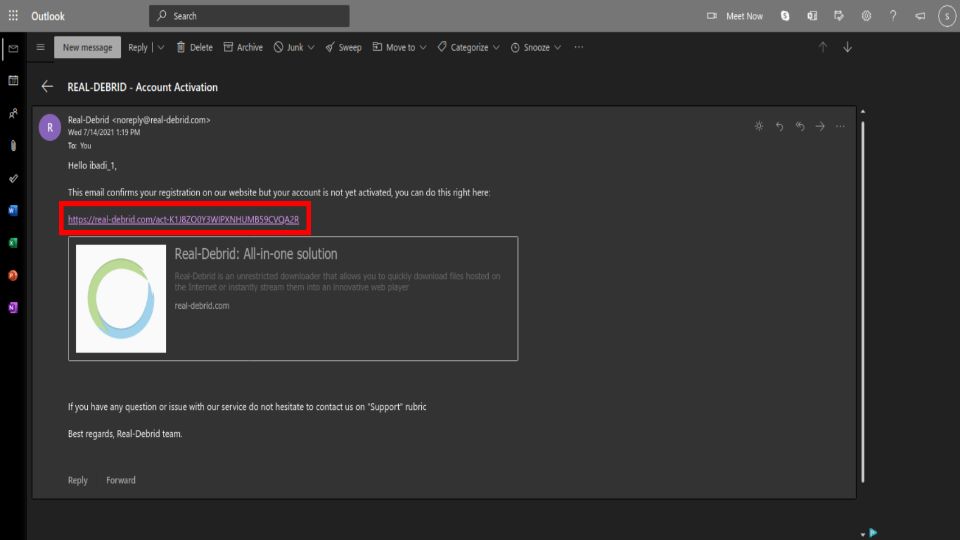 5. You'll be informed that your account has been activated (or, in my case, that it was already activated previously). Then, click on the Login button at the top of the page.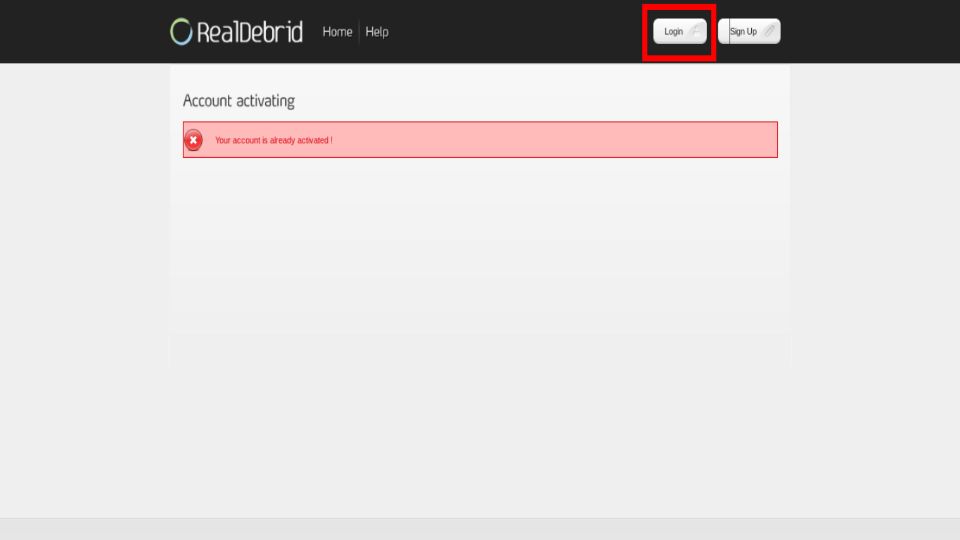 6. A panel will appear on the right side of the screen. Enter your Username and Password and click on the Login button.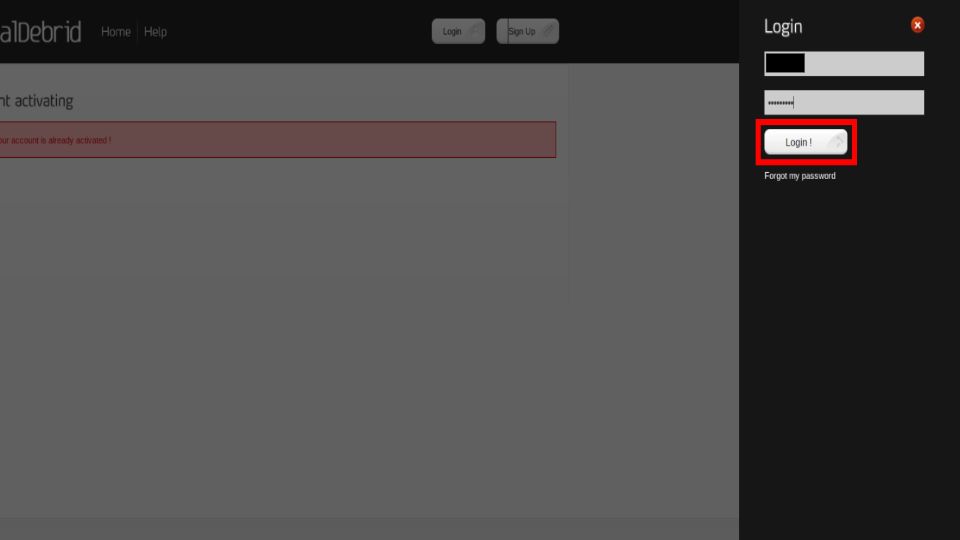 7. You'll be taken to the dashboard of your Real-Debrid account. Scroll down and select the membership you're interested in buying.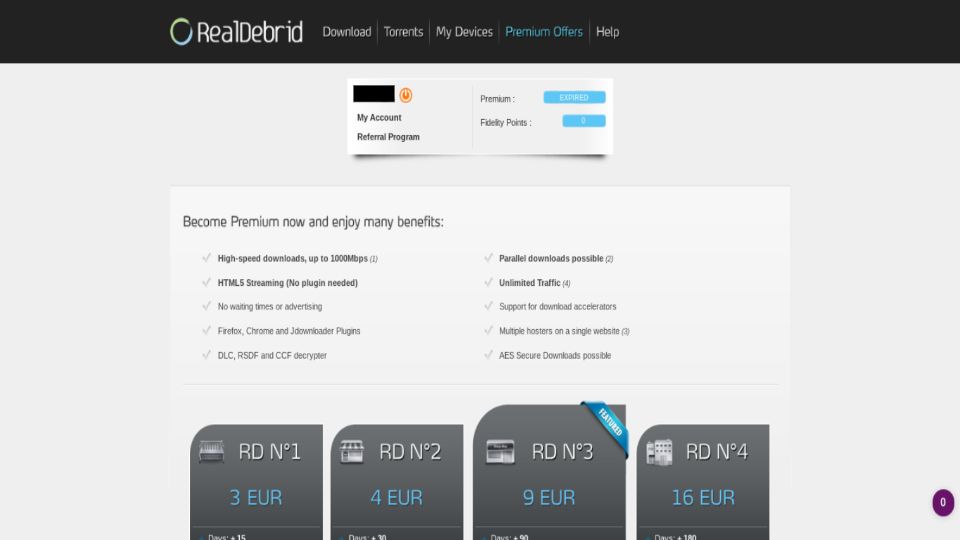 Once you have your Real-Debrid subscription, you can move on to integrating it with Odds N' Ends.
Part 2: Integrate Your Debrid Service with Odds N' Ends
We can integrate Real-Debrid (or another debrid service) using the settings within Odds N' Ends. So let's head back to our streaming device with Kodi for the next steps.
1. On your streaming device, start up Kodi.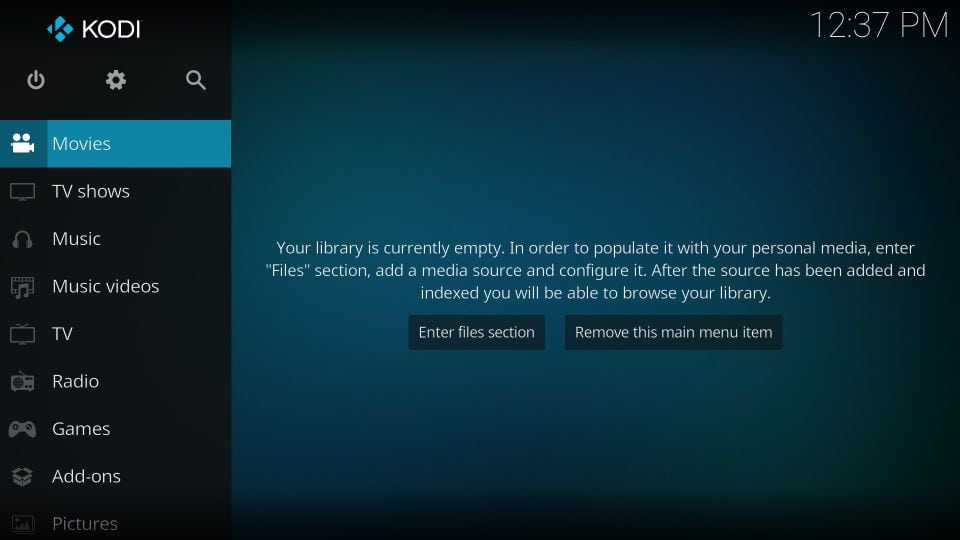 2. Scroll down to the Add-ons tab (but don't select it).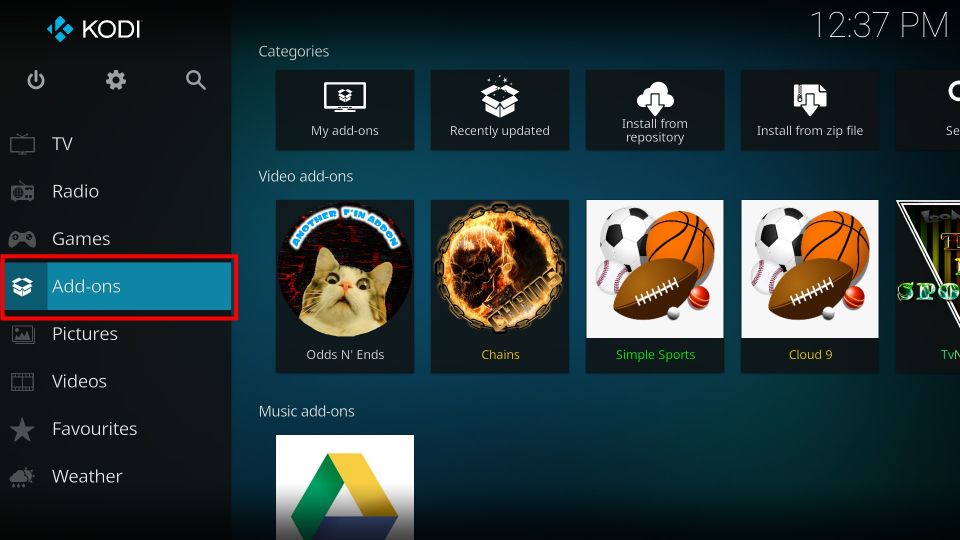 3. If you're on FireStick, scroll to Odds N' Ends (once again, don't select it), which you can find under Video add-ons. Then press the options button on your remote, which looks like three horizontal dashes.
Note: On a computer, you can right-click the addon to show its options.
4. Select Settings.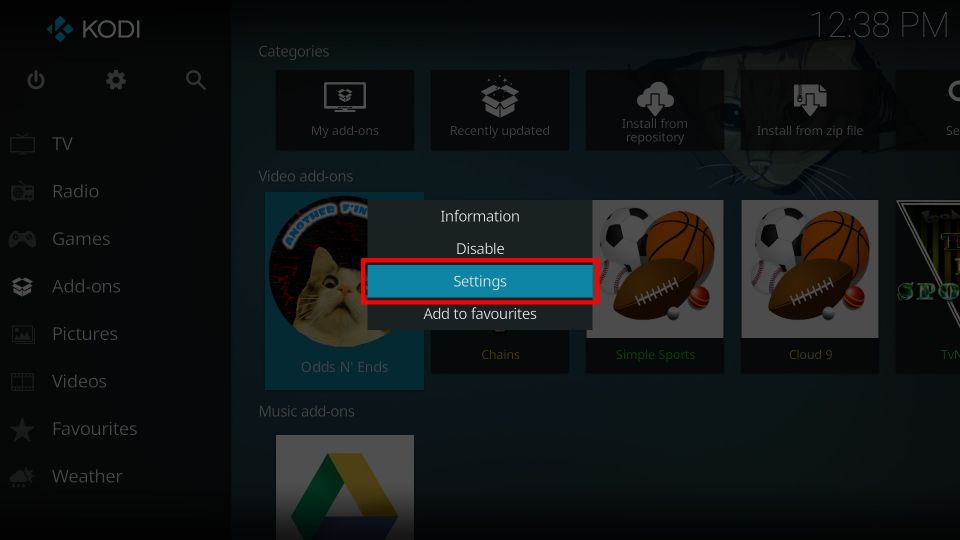 5. Scroll down and select the Debrid tab.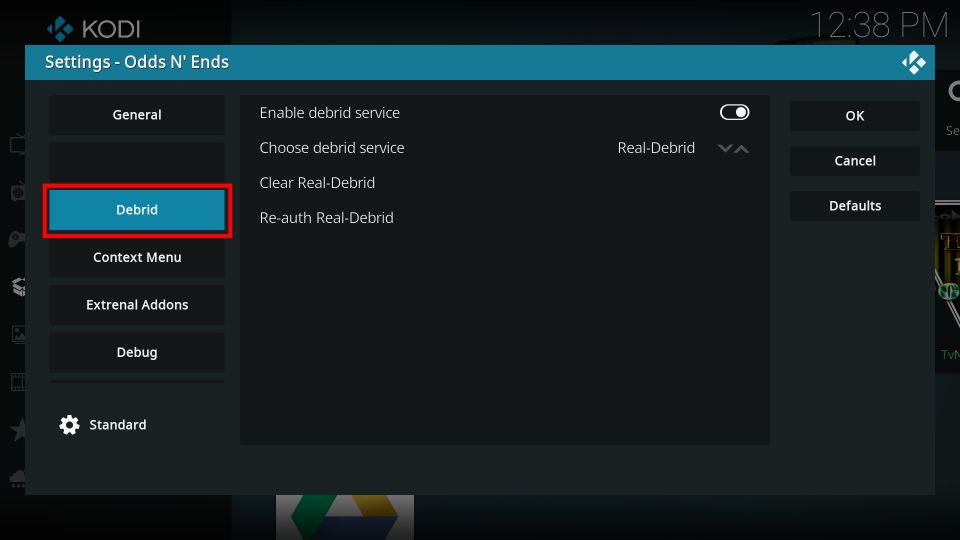 6. Click on Re-auth Real-Debrid.
Note: If you use a different debrid service, first click Choose debrid service and select your service from the drop-down list. Then click on the Re-auth option.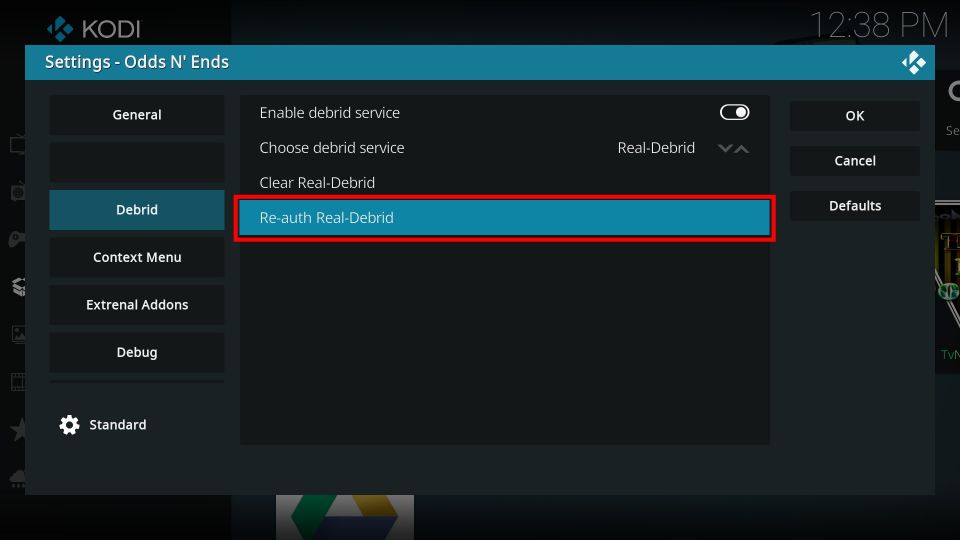 7. If you integrated Real-Debrid, you'll be asked to download an additional addon called Shadow. Click Yes.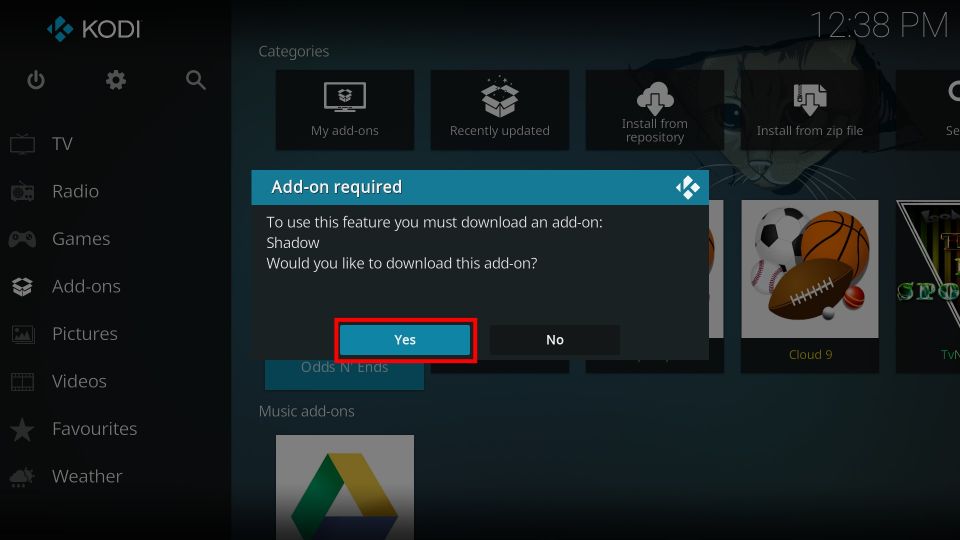 8. Wait for Shadow and its dependencies to download and install.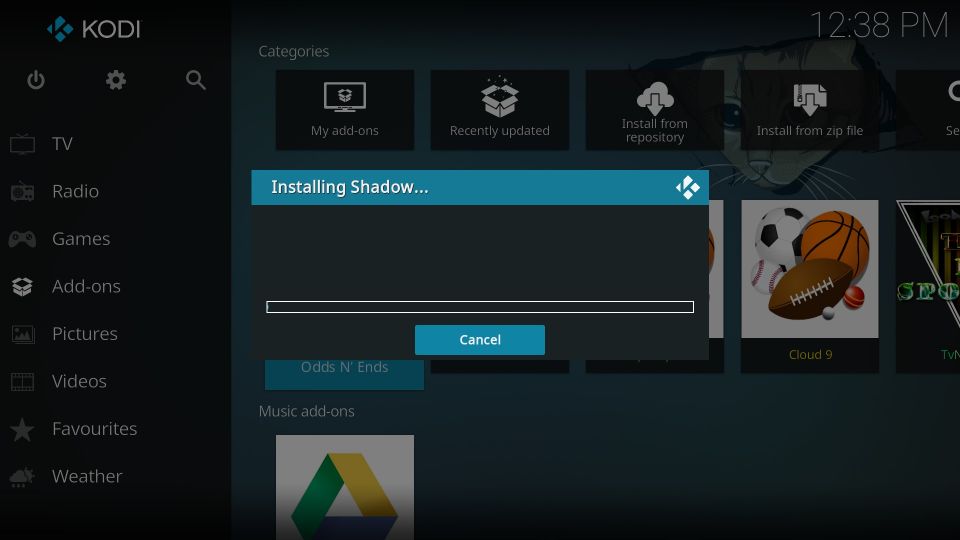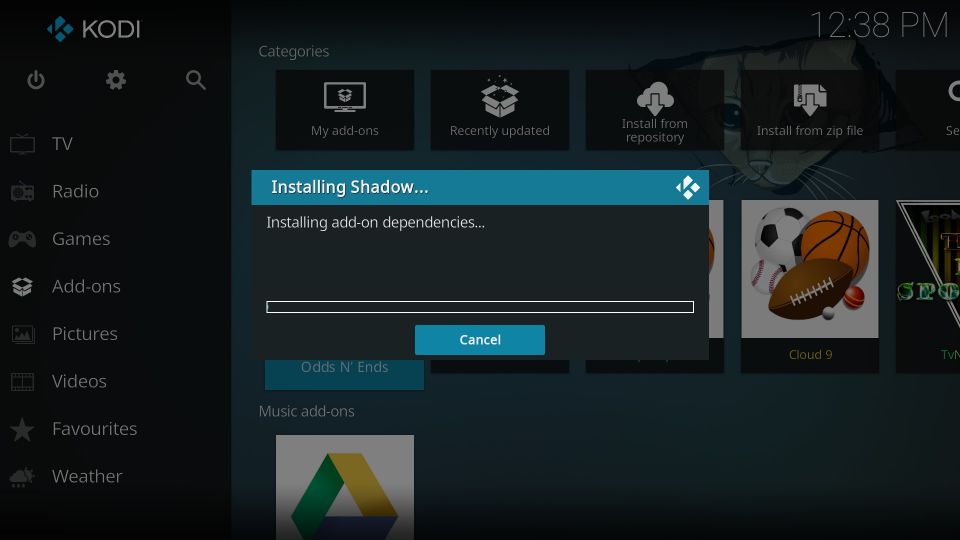 9. After a few seconds, a window will pop up, asking you to authorize your device. Leave this window open so that you can view your code.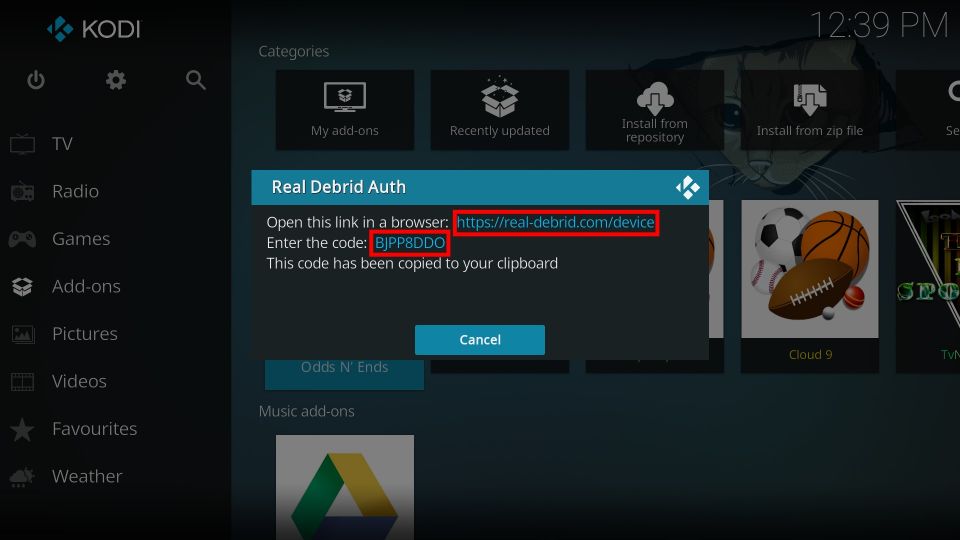 10. Go to a convenient device like your laptop or smartphone, and use your browser to navigate to the link provided. For Real-Debrid, that link is https://real-debrid.com/device.
11. On the debrid site, enter the code provided by Odds N' Ends and click on the Continue button.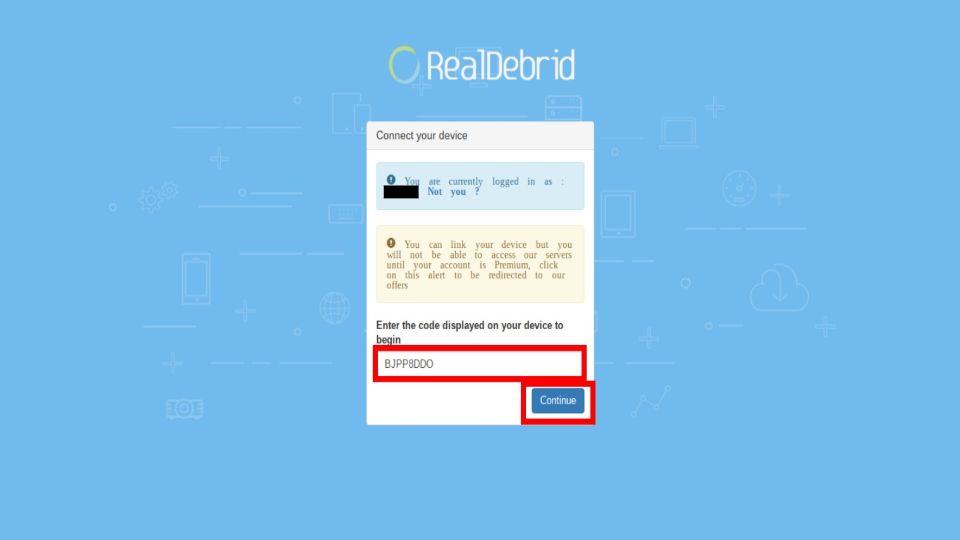 11. The page will load and ask you to select a name for your device. Enter and save any name you want.
That's all there is to it. Your debrid account is now integrated into your Odds N' Ends Kodi addon.
How to Use the Odds N' Ends Kodi Addon
It's quite easy to use the Odds N' Ends Kodi addon. A lot of content in the addon is available for streaming with just one click. You just need to browse to a folder, open a sub-folder if there are any, and click on any content to start streaming it for free.
Here's a quick guide on how to use the Odds N' Ends Kodi addon. Let's start by launching the addon.
First, go to the home screen of your Kodi app.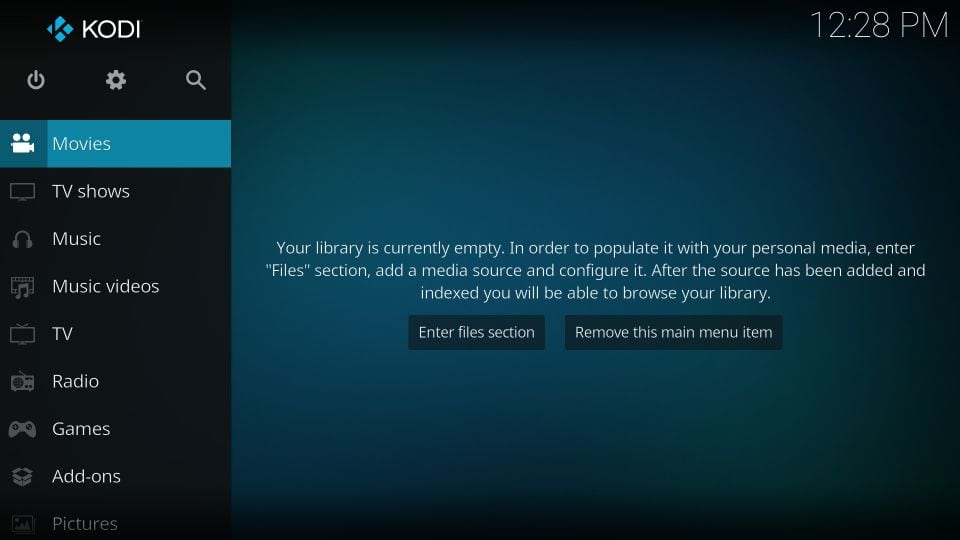 Scroll down to the Add-ons tab (but don't select it).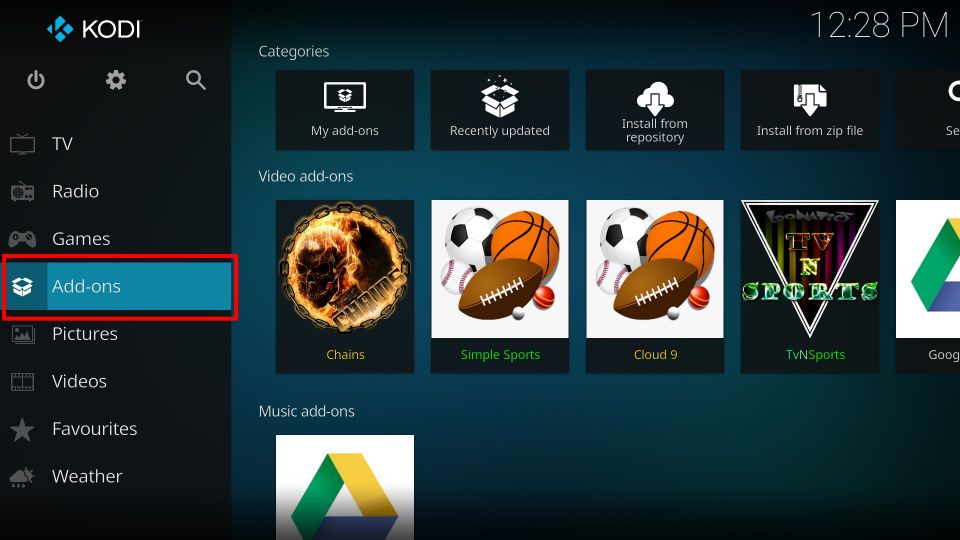 Scroll to the right and select Odds N' Ends to open it.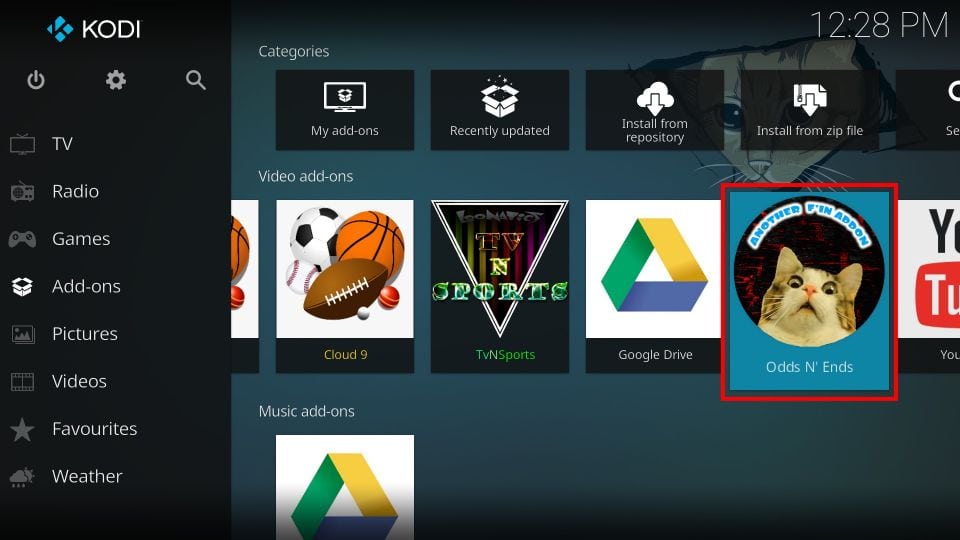 Open the Odds N Ends folder to view the home screen of the addon.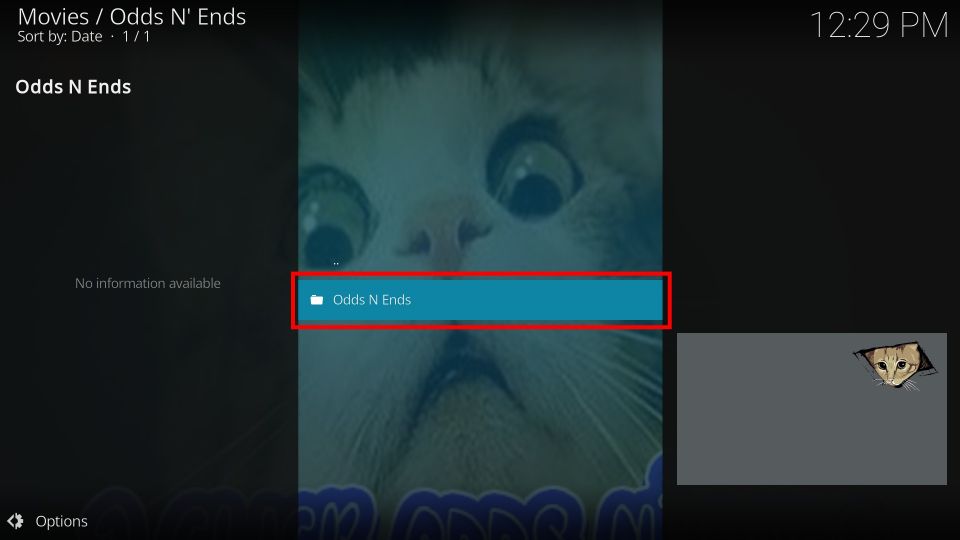 The home screen has folders like 1 click documentaries, 1 click movies, 1 click TV, 1 click music docs and concerts, 1 click standup comedy, 1 click New Shit, and more. Unfortunately, there is no search function in the Odds N' Ends Kodi addon.
Let's look through the 1 click documentaries folder.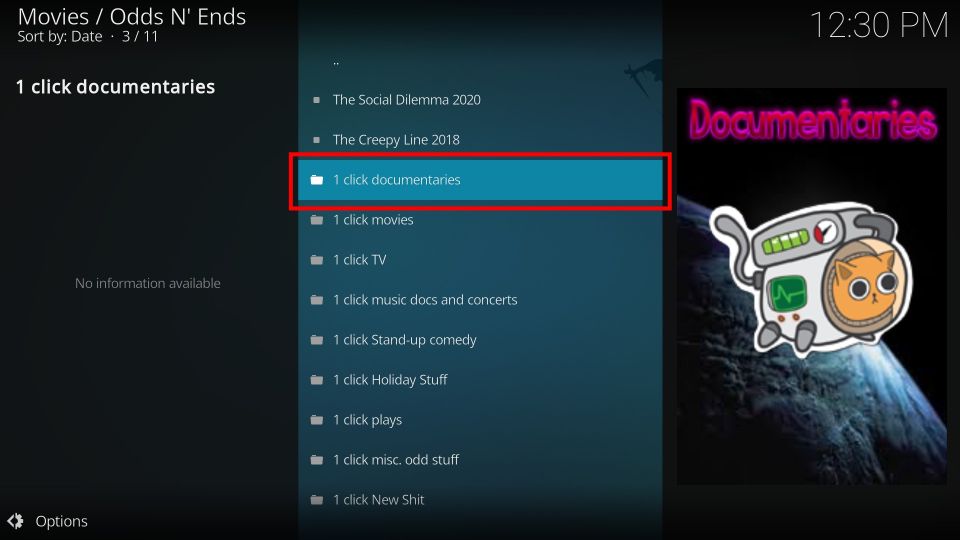 When you select the folder, you'll see a list of sub-folders. Each sub-folder represents a different category. I'll select the folder called History – War/Earth/Disasters/Planes/Cars.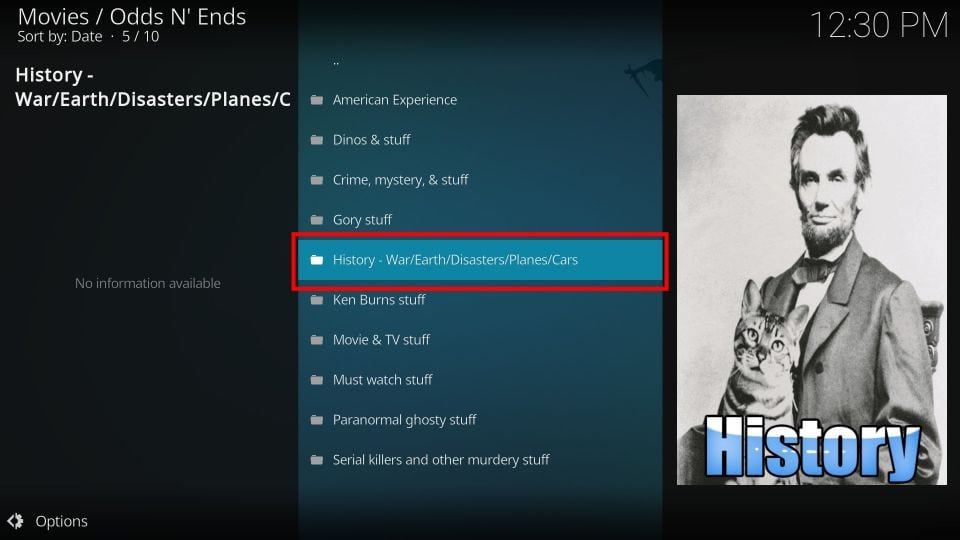 Now we can click on a title to start streaming that content.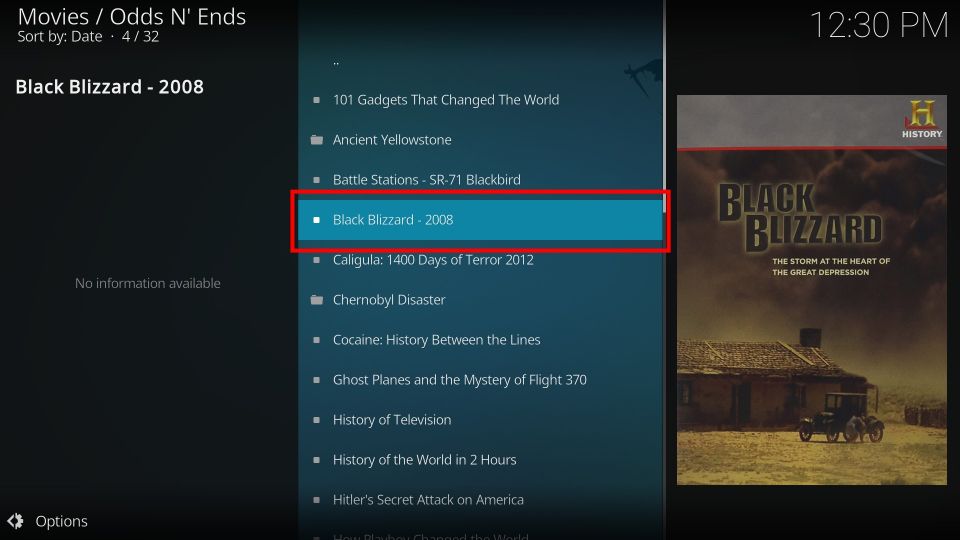 Now, if you are interested in watching movies, head back to the home screen of Odds N' Ends and click on the 1 click movies folder.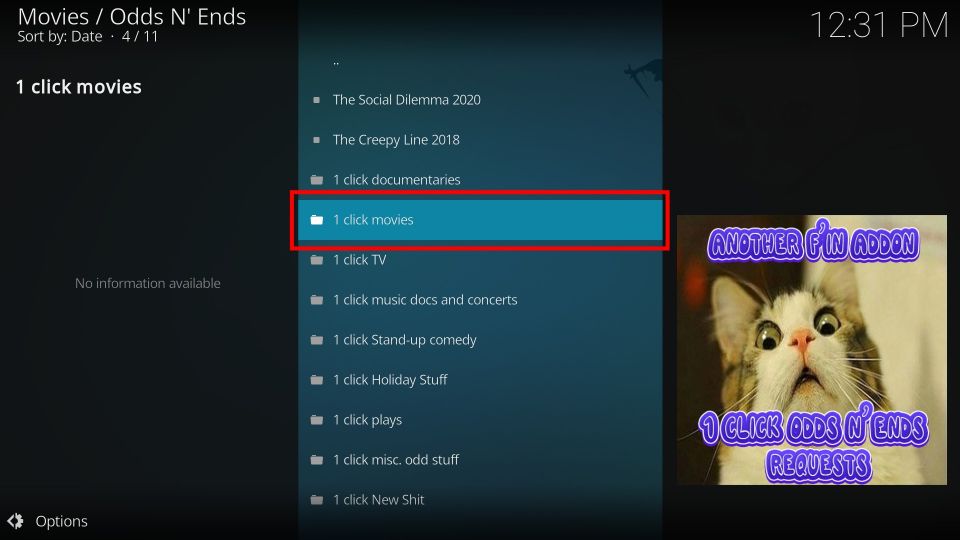 Inside, you'll find all the categories in the form of sub-folders. In those sub-folders is the respective content.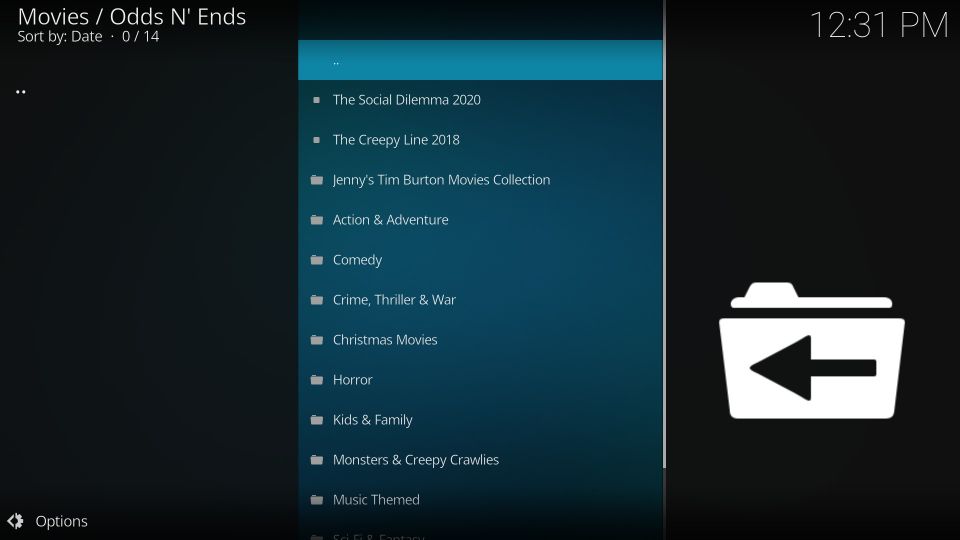 Not into movies? You can always browse the 1 click TV folder to stream the latest and greatest TV shows for free.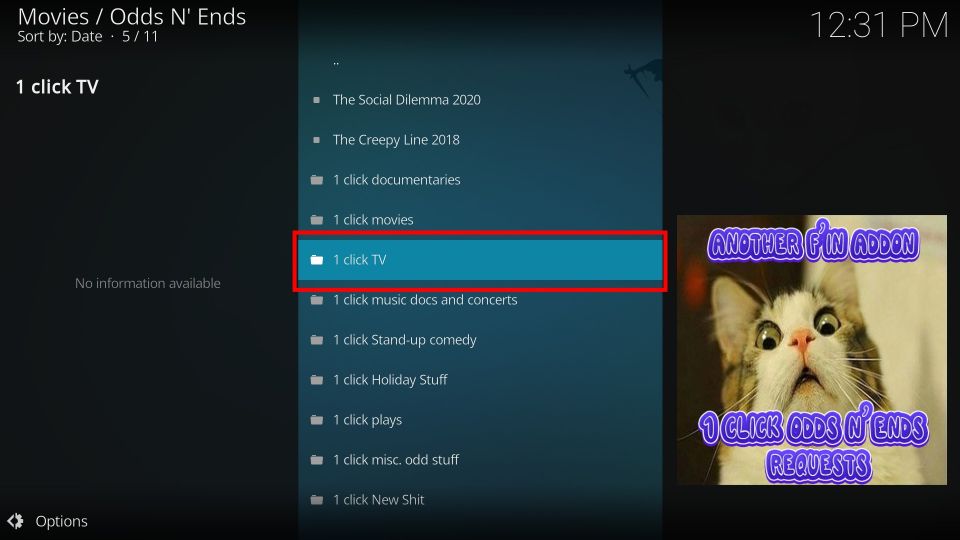 Just like in other folders, you'll find sub-folders inside 1 click TV. Pick a category to see the relevant TV shows.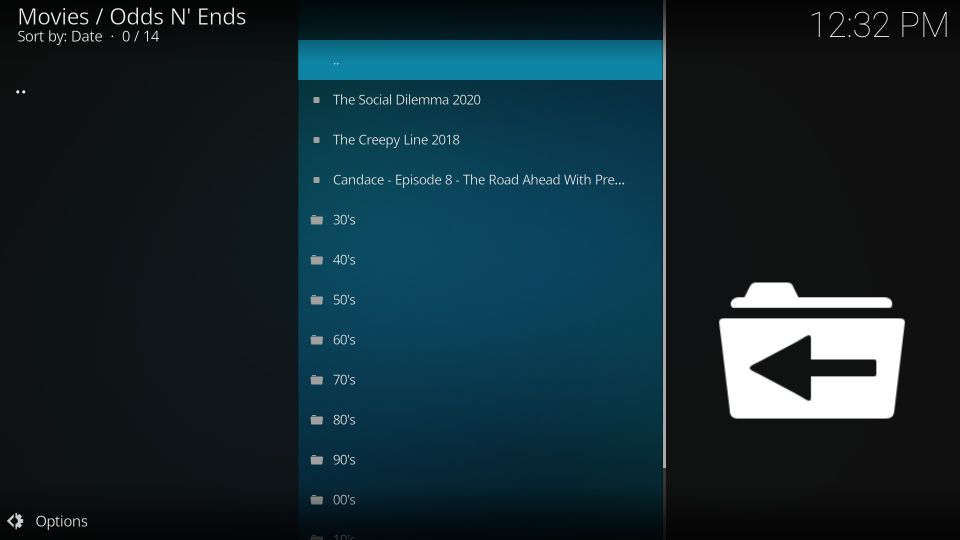 Are you bored? Want to burst into laughter? Odds N' Ends Kodi addon has your back. Browse the 1 click Stand-up comedy folder for top-notch stand-up comedy videos.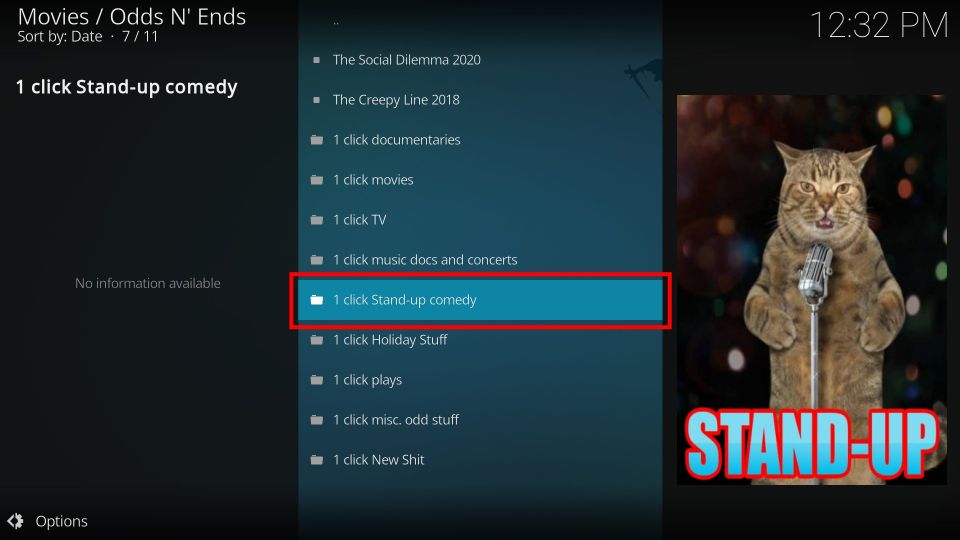 Note that you will not find sub-folders in the stand-up comedy section.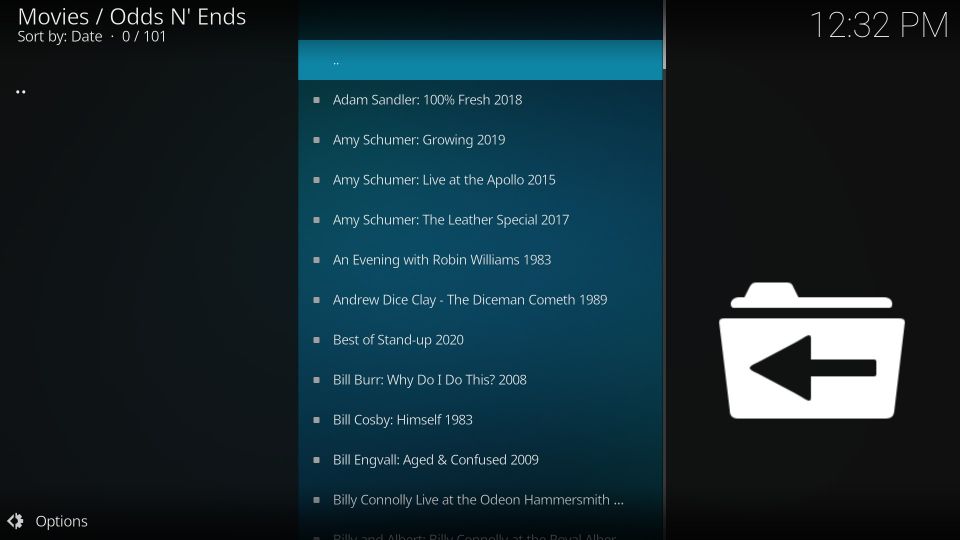 At the bottom of the Odds N' Ends home screen is a special folder called 1 click New Shit. Inside this folder, you'll find new TV shows, movies, anime, documentaries, and just about anything else.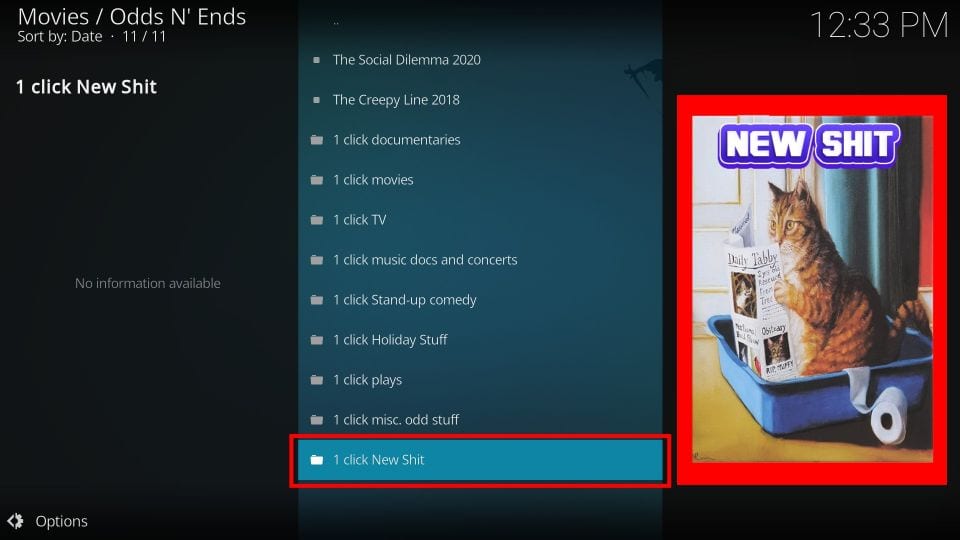 Although this folder doesn't have sub-folders either, you'll always find something special in it.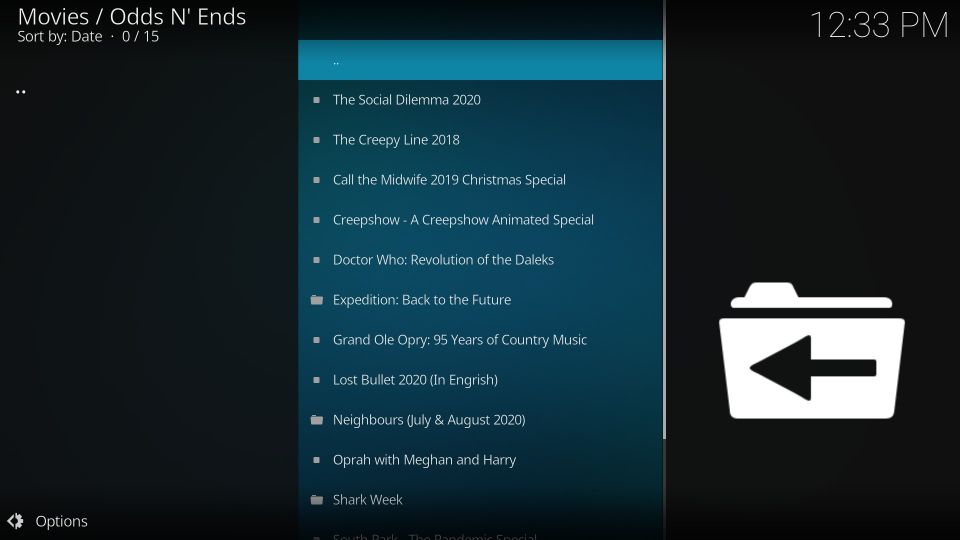 Other than the folders I just mentioned, you'll find a few other folders in Odds N' Ends Kodi addon, like 1 click Holiday Stuff, 1 click plays, and 1 click misc. odd stuff. Feel free to explore more of the addon on your own. You never know what you'll find!
Conclusion
In this guide, I showed you how to install Odds N' Ends Kodi addon. Odds N' Ends is an interesting all-in-one addon that you can use to stream video content on any Kodi-compatible device. If you have a debrid service, you can integrate it into the addon to upgrade your streaming experience. Even without a debrid service, there's plenty of fun content to browse in the addon. The quality of the addon isn't the best in some respects, but it's still a good addition to your streaming repertoire.
What did you think of the guide? Did you successfully install Odds N' Ends and try it out? Let us know about your experience in the comments!
Related:
Legal Disclaimer - FireStickTricks.com does not verify the legality or security of any add-ons, apps or services mentioned on this site. Also, we do not promote, host or link to copyright-protected streams. We highly discourage piracy and strictly advise our readers to avoid it at all costs. Any mention of free streaming on our site is purely meant for copyright-free content that is available in the Public domain. Read our full disclaimer.
Disclosure - FireStickTricks.com is reader-supported blog. When you buy a product through links on our site, we may earn commission. Learn More