In this guide, I will show you how to watch Hotstar in the USA or any other country. I will help you stream Indian entertainment content including Sports (Cricket) on Hotstar outside India. This article will cover Hotstar access on FireStick, Android, and iOS through the app, and computers using the official website.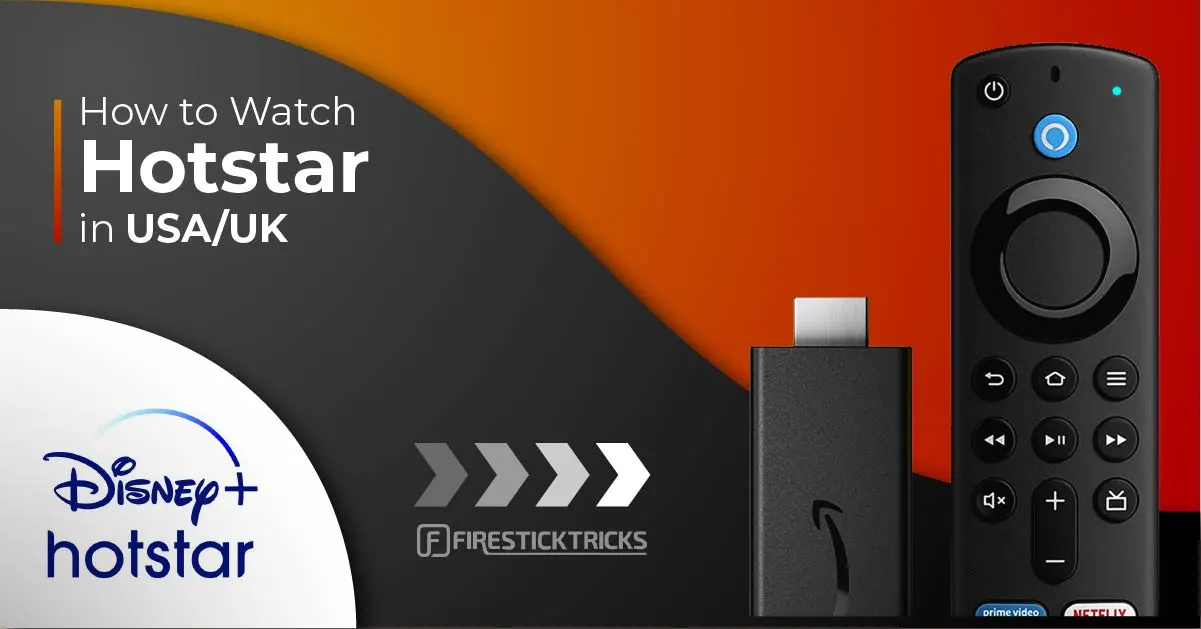 If you want to watch movies, shows, and sports content from India, I believe Hotstar is the best option for you. Hotstar is an online streaming service that brings to you live TV and on-demand content from India as well as select movies and shows from other countries including the USA and the UK. What Netflix is to the world, Hotstar is probably to India. This service has more than fifty thousand hours of streamable content.
Hotstar has now partnered with Disney and is streaming the entire range of Disney+ content in India.
Hotstar is also very popular in India for live streaming of cricket matches such as IPL a.k.a Indian Premier League and ICC World Cup. Though Hotstar is more popular for Cricket, it also streams other sports including Football, Tennis, Hockey, Boxing, and more. The service is owned by STAR India, one of the biggest media networks in the country. STAR India owns Star Sports, which is the sports portfolio of this company. Most of the sports coverage telecast on Star Sports is available for streaming on Hotstar.
Hotstar is officially available in the United States, United Kingdom, and some other countries. However, most of the Indian content is geo-restricted. Don't get disappointed yet. In this walkthrough, I will show you how to gain unrestricted access to the content available on Hotstar India from anywhere in the world no matter which country or continent you live in. 
Watch Hotstar in the USA or Anywhere in the World
Hotstar is an Indian entertainment app and most of its movies, shows, and sports streams are geo-restricted to India. Even though Hotstar is officially available in some countries outside India, such as the USA and UK, there is a restriction on the content. Also, Hotstar services cost a whole lot more outside India.
While you pay nearly $19 to subscribe to Hotstar's yearly service in India to gain unrestricted access to all the premium content, in the USA you must pay $99.99 annually; nearly 5 times more than what you would pay for an Indian Hotstar annual subscription). Moreover, you are not even getting access to the whole library of the content.
Fortunately, you can watch everything the Indians watch on Hotstar at the same price even if you live in the USA or any country other than India. All you need to do is use a VPN service.
A VPN will geo-locate you virtually to India by connecting you to one of the Indian servers. This will allow you to access the Indian version of Hotstar. VPN also makes sure that all your online activities are masked and that your internet connection is safe.
I have been using VPNs for a long time. After having tried and tested several VPN services, I finally settled for ExpressVPN, which I have been using for quite a while now. For a limited time, ExpressVPN is also offering a whopping 49% off + 3-months extra on its annual plan.
I use and recommend ExpressVPN because it is very stable, fast, and has nearly 3000 servers worldwide. ExpressVPN's design is optimized for all the popular platforms including FireStick, Windows, Mac, Android, iOS, etc.
Wondering how to watch Hotstar in the USA or other countries? This guide covers everything you need to know and get started with Hotstar. Keep reading! 
Connect to Indian Server to Start Using Hotstar Outside India
If you want to know how to watch Hotstar outside India, the first thing you will need to do is connect to an Indian location using ExpressVPN. Follow the steps below.
Step 1: Click HERE to get ExpressVPN. It comes with a 30-day money-back guarantee. In case, you don't like the services of ExpressVPN (which is highly unlikely), you can ask for a full refund in the first 30-days.
Step 2: Download and install the ExpressVPN app from this LINK.
Step 3: Launch the ExpressVPN app and connect to one of the available Indian servers. Click 'Choose Location' button on the ExpressVPN home-screen (or main window)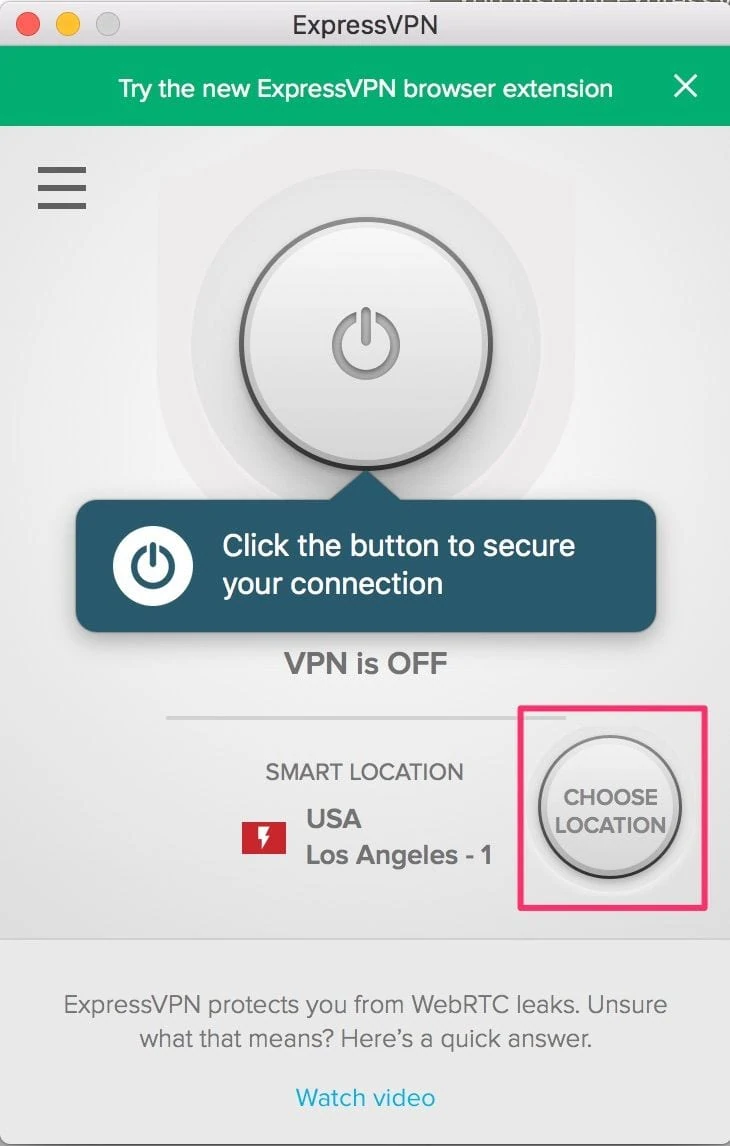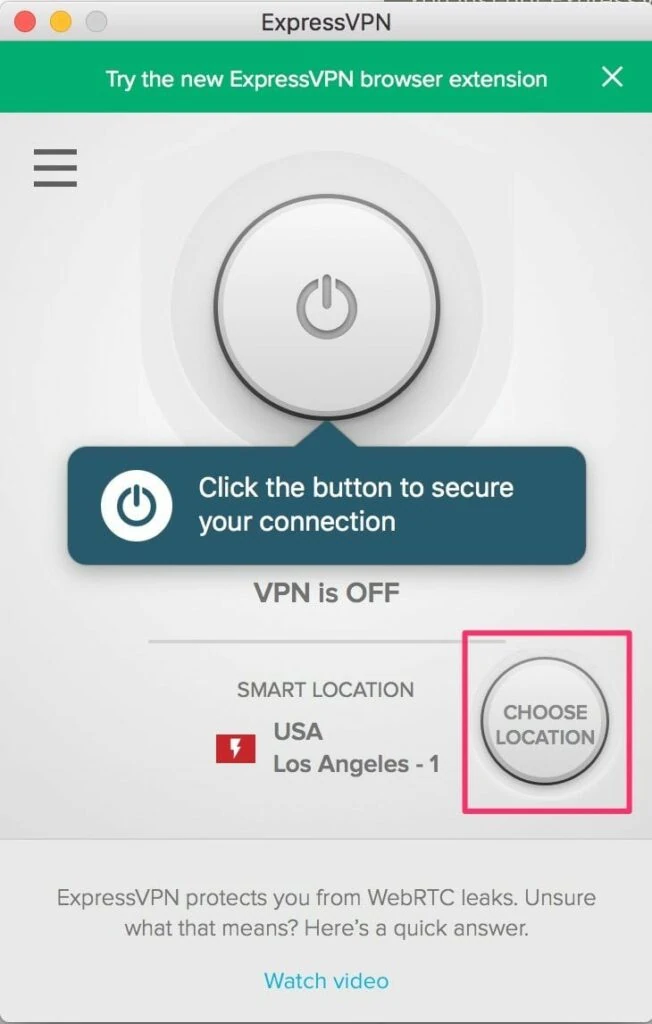 Step 4: Click 'ALL' tab when the window with the list of the server pops up (this window is titled 'ExpressVPN – VPN Locations')
–Expand 'Africa, Middle East & India'
–Expand 'India'
–Double Click one of the servers on the list to connect to the server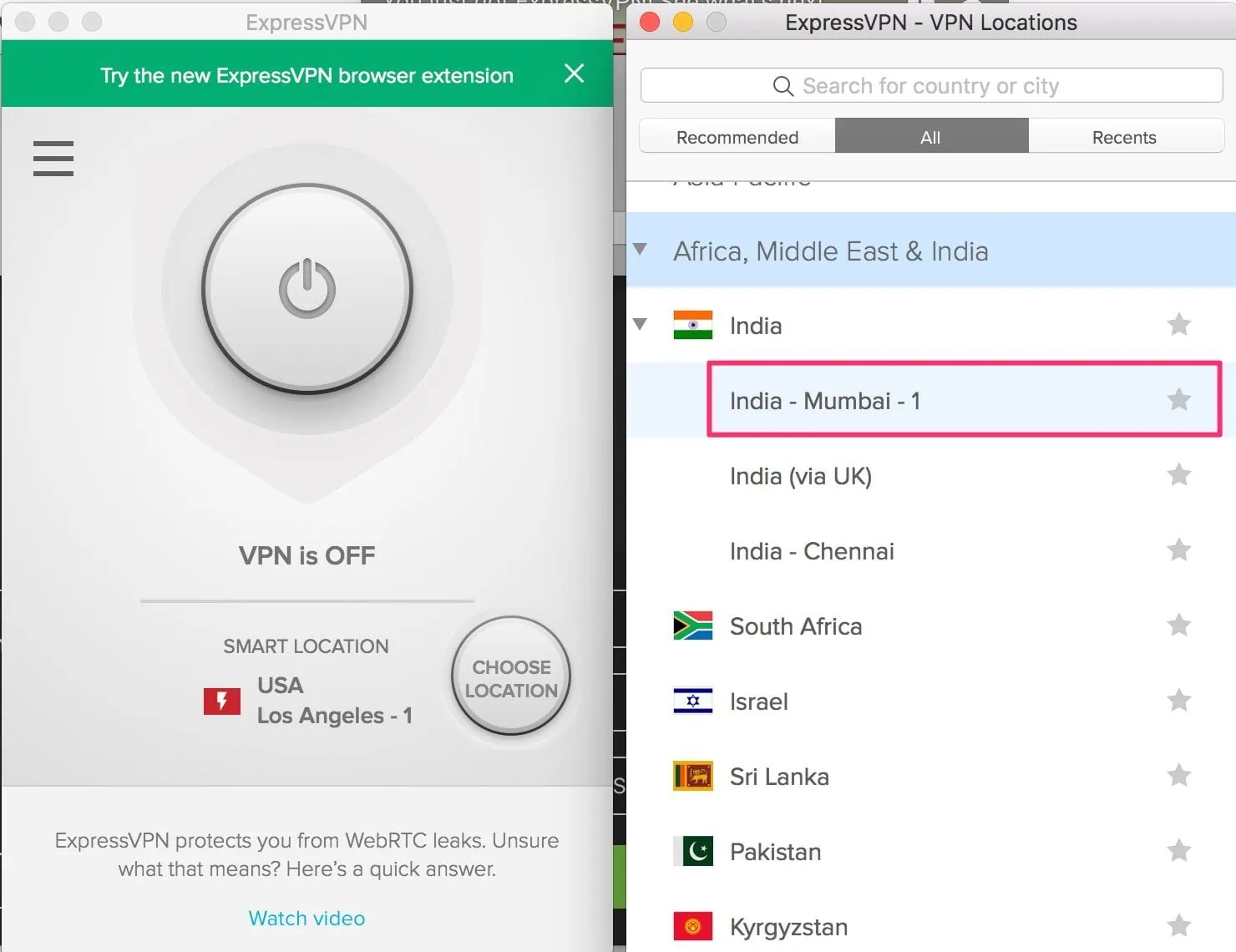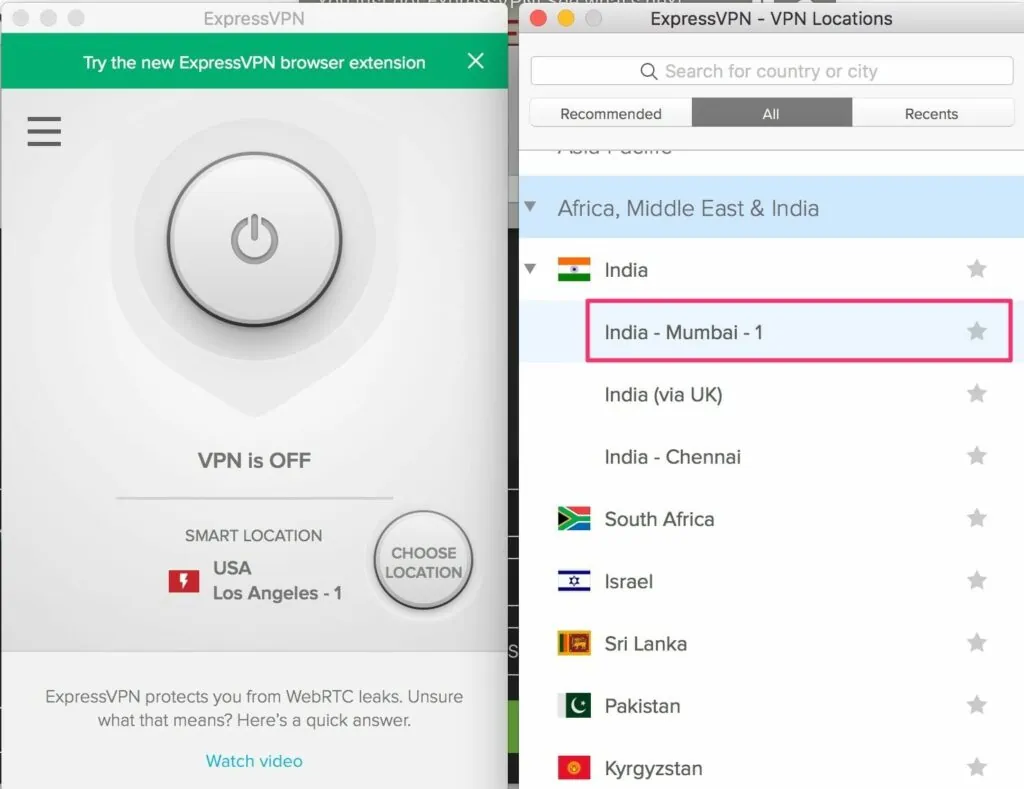 Now that you are connected to an Indian server, you can start watching tons of free content available on Hotstar in the USA using the Indian account.
Sign Up for Indian Hotstar in the USA or Any Other Country
Note: There is tons of free content available on Hotstar that you can watch for free without sign up and log in. So if you were looking for free-content from Hostar India, you are all good once connected to the Indian server via a VPN (as shown above). Just go to Hotstar.com and start watching your favorite movies / TV shows.
If you want to watch premium content such as Cricket tournaments, follow the steps below to register the account and subscribe to the services.
NOTE: The sign-up method outlined below will ONLY work if you have an Indian credit/debit card. Hotstar India doesn't accept cards issued outside India. If that is a problem, you might want to take help from someone who can make the payment from India on your behalf. I noticed some gigs on Fiverr where you can get help for making payments in Indian currency. Note that I am not affiliated with any of those services. 
Once you are done with the payment, all you have to do is, Turn ON your VPN and start streaming Hotstar India.
Step 1: Open any web browser and go here
Click 'CHOOSE YOUR PLAN'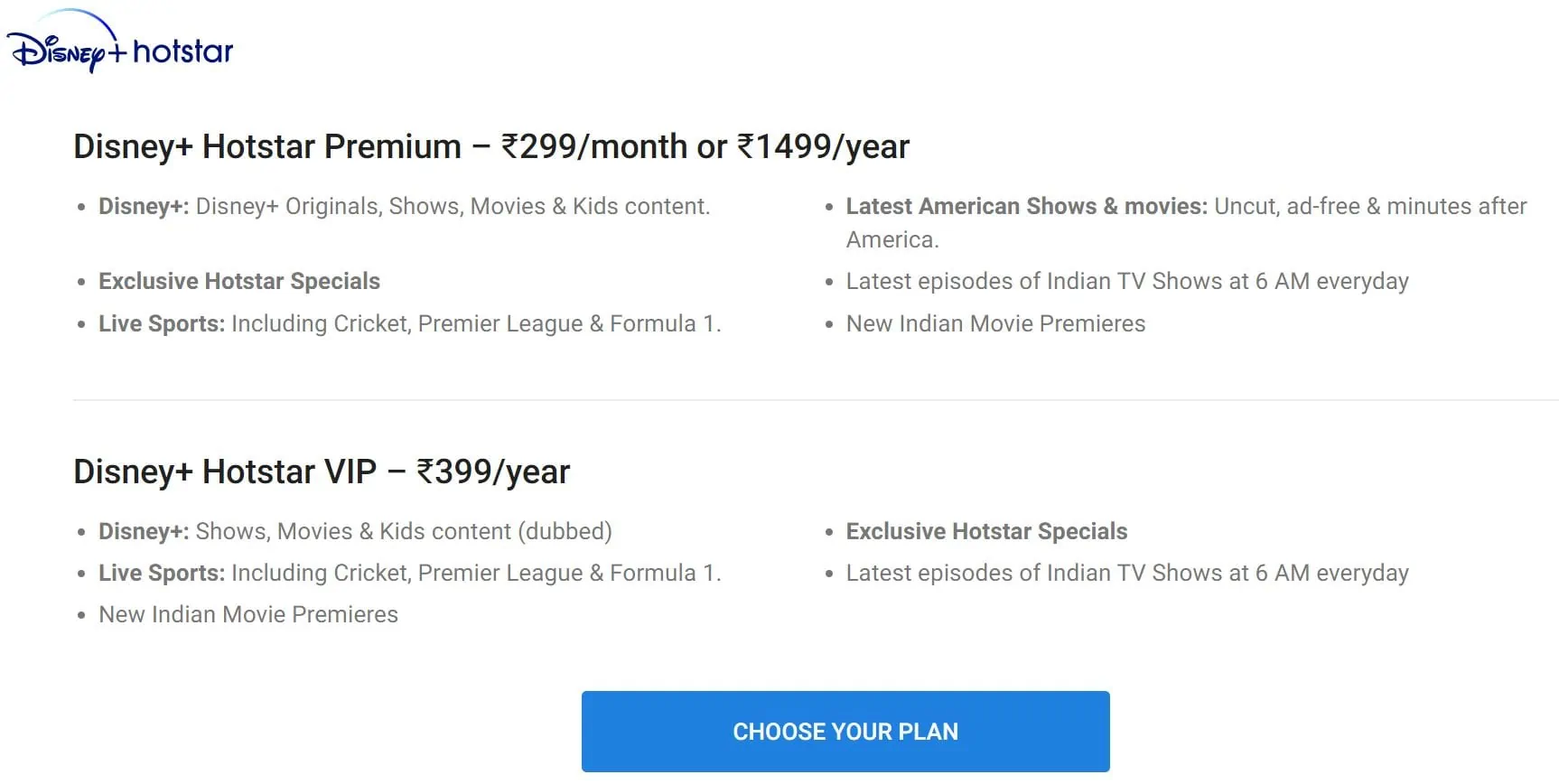 Step 2: Select one of the available plans (all currency Indian Rupees). The following three plans are available presently:
INR 1499 (roughly $19): This is the YEARLY plan that allows you access to all the premium content including Disney+, sports, and entertainment for one year. This is the most cost-effective plan
INR 299 (roughly $4): This is the MONTHLY plan that lets you watch premium entertainment and sports content for a month. The plan is automatically renewed every month unless you choose to cancel the subscription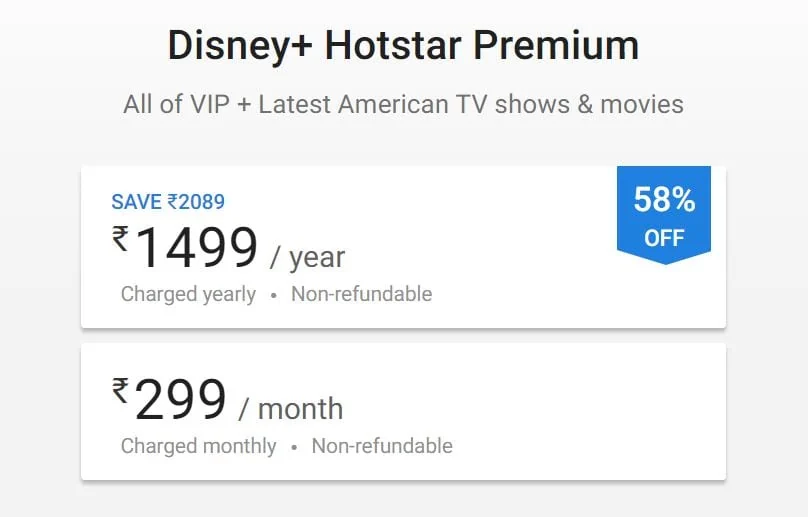 Step 3: Enter your name, email address, and password to sign up. You can also sign up with your Facebook account instead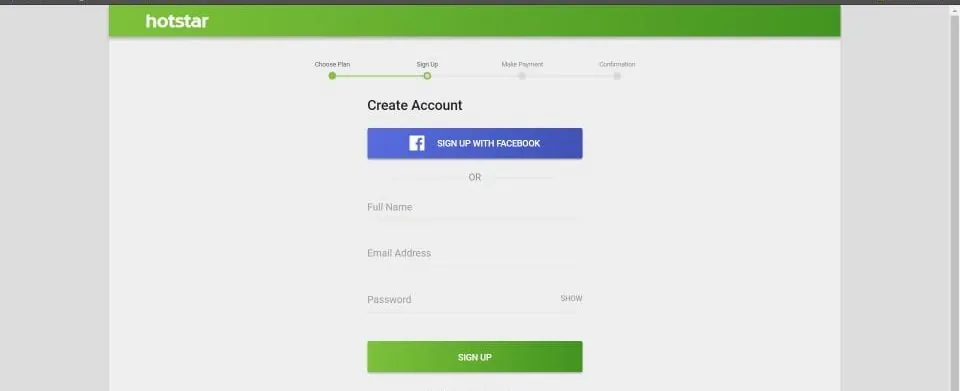 Step 4: Now, make the payment and follow the on-page instructions to complete the sign-up process.
Change Region to Download Hotstar App Outside India
Depending on your country of residence, you may or may not have to change the region to download the Hotstar app.
Access Hotstar through Website
If you want to access Hotstar in the USA or any other country, such as the UK, on a computer, through their website, you do NOT need to change the region in any of the app stores.
All you need to do is open the ExpressVPN app on your computer and connect to an Indian server. Next, open any browser and go to www.hotstar.com and sign in. You can start watching your favorite content straightaway.
For Hotstar in the USA
The USA is one of the Hotstar available countries. Here is a quick list of the platforms and app availability:
Android: Hotstar is officially available on Google Play Store in the USA. You DON'T need to change the region to download Hotstar if you use Android. You can download it on smartphones and tablets.
Amazon App Store: Hotstar is also available on Amazon App Store in the US. NO need to change the region. You can easily get it on Amazon FireStick or Fire TV devices.
iOS: Hotstar is again available on Apple App Store in the US. Change of region NOT required. It is available for iPhones, iPads, and iPod Touch devices.
For Hotstar in the UK
Hotstar is also officially available in the UK and offers the following two subscription plans:
£59.99 per year (with a saving of £84)
£11.99 per month
You can sign up for Hotstar UK services at https://uk.hotstar.com/subscribe/get-started
Hotstar UK lets you watch Indian TV Shows, Movies, Cricket, and more. Just like Hotstar USA, you can download the Hotstar UK app from Google Play Store, Amazon App Store, or iOS App Store. You DO NOT need to change the region to watch Hotstar in the UK.
That's great. But, a lot of content on Hotstar India is restricted in the UK. Therefore, instead of Hotstar UK, you may still want to watch Hotstar India.
Furthermore, Hotstar India is much cheaper as compared to its UK counterpart. Its yearly plan costs INR 1499, which is roughly £15 (nearly 6 times cheaper than Hotstar UK yearly subscription). At INR 299 (roughly £3), the monthly plan is also cheaper.
To watch Hotstar Indian in the UK, all you need to do is follow our instructions in this guide.
How to Change the Region in Various App Stores
To watch Hotstar in the countries where the service isn't available officially, here is a quick look at how you can change the region in different app stores.
Google Play Store
Go here and sign in with your Google ID
Click the 'Settings' option on the left sidebar
Here, you can edit and change the country to India. Also, change the address to an Indian address in the 'Name and address' section. You can easily generate random Indian addresses here.
Apple App Store
For detailed information on how to change the Country/region in the App Store, visit the official Apple Support page.
Here is the quick summary
Open 'Settings' on your iOS device
Tap Your Name
Tap 'iTunes& App Store'
Tap the option 'View Apple ID' on the popup
Authenticate the ID if you are asked
Tap the option 'Country/region'
Follow the onscreen instructions to change the settings.
Amazon Store
Go to Amazon following this link
Select the 'Settings' tab on the right
Click the 'Change' button under the 'Country Settings'.
How to Install Hotstar and Use it with a VPN
Now that you know how to change the region in Google Play, Apple App Store, and Amazon App Store, you can easily download and install Hotstar in the USA, the UK, or anywhere else in the world.
I am now going to show you how to install and use the Hotstar app on FireStick or Fire TV. This method works much the same on other platforms as well. The only difference is that instead of downloading the app from the Amazon App Store, you will download it from the app store for your respective platforms.
If you are using Android, download Hotstar USA from Play Store. If you own an iOS device, download it from the Apple App Store.
Let's get started with the FireStick method.
When you are on the FireStick home-screen, use the remote and select the search option (the lens icon) on the top-left corner of the screen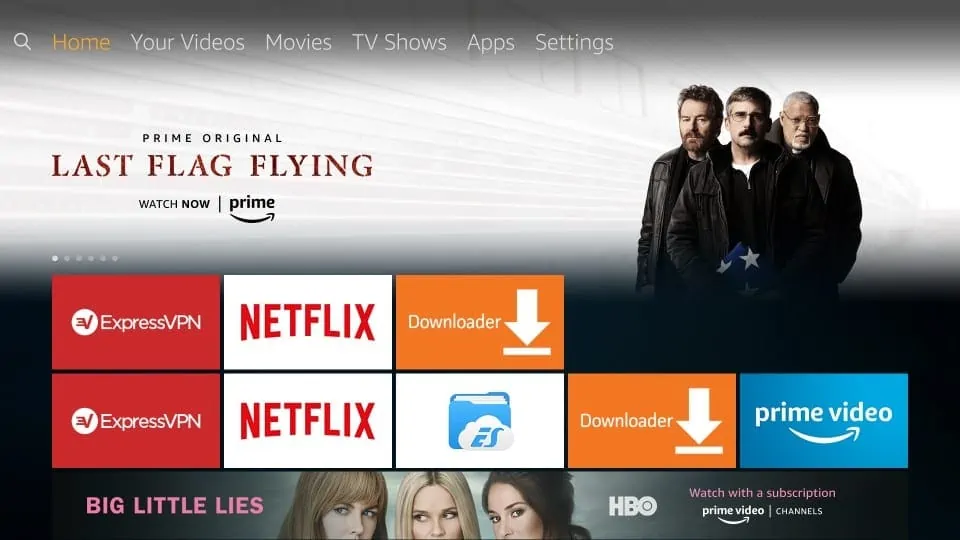 Type in the name of the app (i.e. Hotstar) using the remote or any other input device you might be using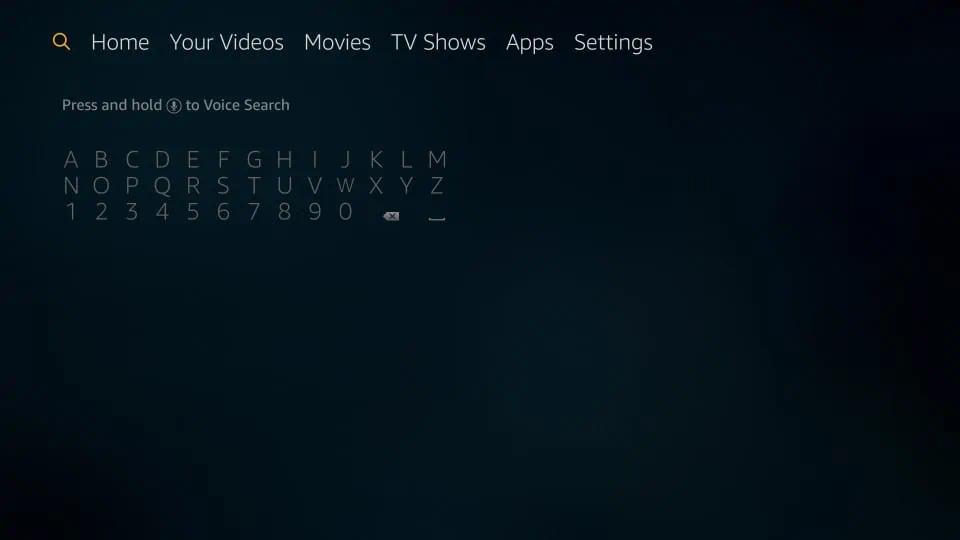 Select the Hotstar app from the search results underneath the onscreen keyboard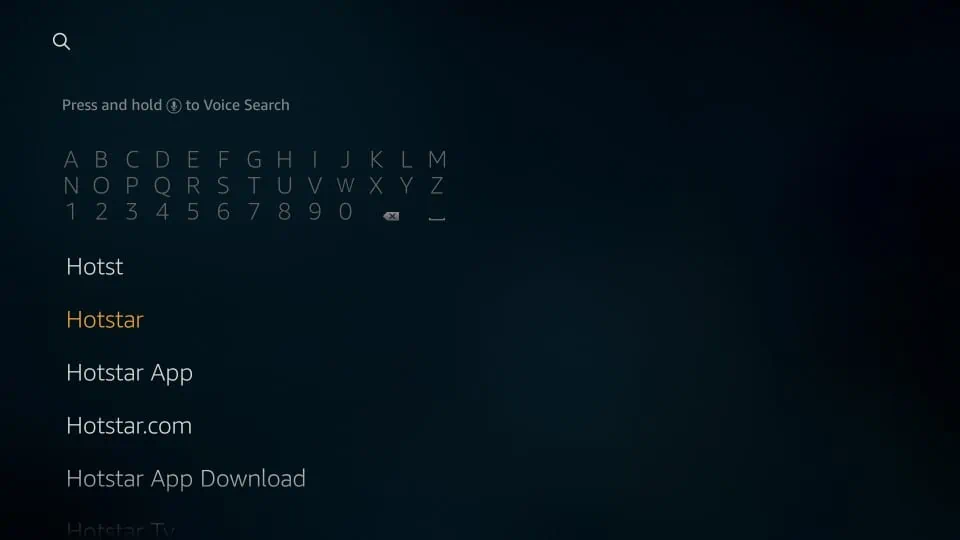 Now, click the Hotstar app icon on the next screen
Click the Download button. FireStick will start downloading the app. Once the app is downloaded, the installation will begin automatically.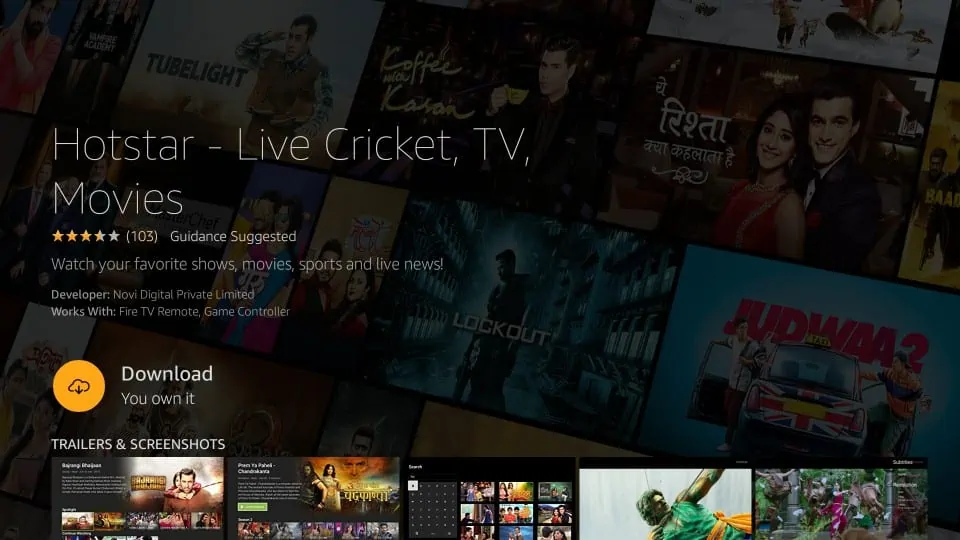 Once the app is installed, you will see the 'Open' button on the screen.
Note: Don't run the app yet. Before starting the app, make sure you run ExpressVPN and connect to an Indian server. This will make sure that Hotstar shows the Indian interface of the app.
Once you are connected to the Indian server through ExpressVPN, go to 'Your Apps & Channels' section and run the app from there.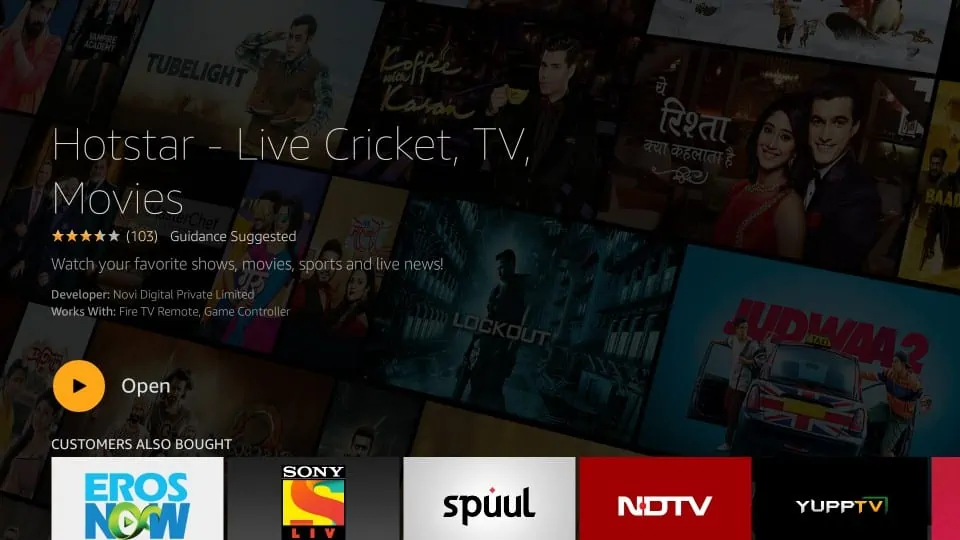 If you have turned on Express VPN and chosen an Indian server (as we just discussed), this is what the home-screen of Hotstar will look like. Keep reading to learn how to use Hotstar in the USA with the Indian app interface.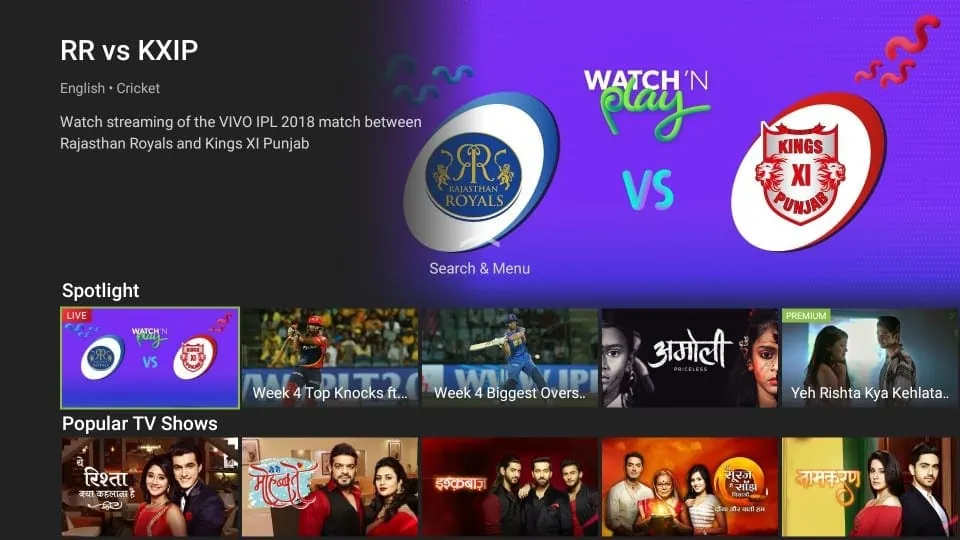 Live Cricket and the other programs labeled as 'Premium' can only be watched when you have purchased the Hotstar subscription. If you are wondering how to watch Hotstar outside India free, you can go ahead and stream the videos that are 'not' marked as Premium. The free videos, well, are free and you don't even need to register to watch them.
I tried to open a live cricket match in progress without signing up and this is the message I got. I need either the Sports plan or one of the other premium plans to watch this content.
If you have already created an account and bought a premium plan, click 'Sign In' button to log in to your account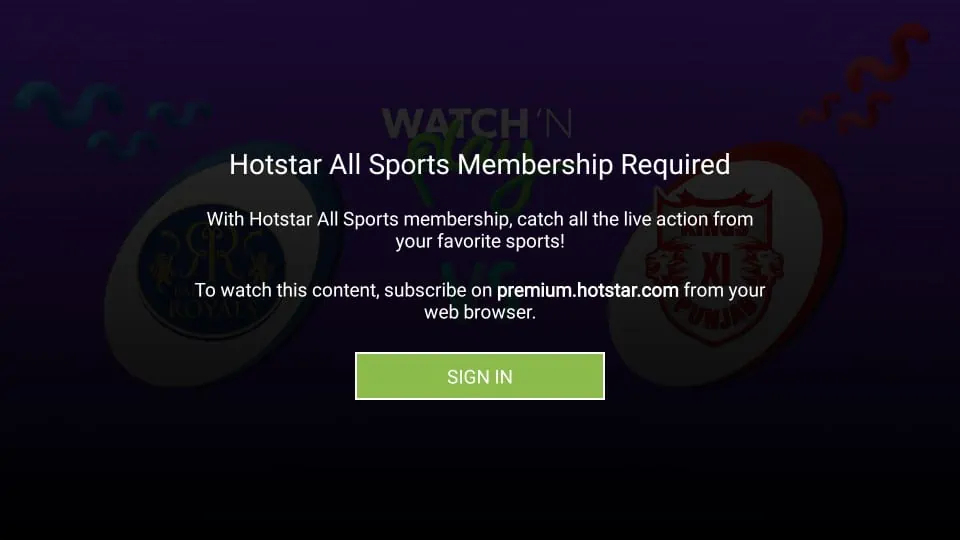 Here is the Sign In window. If you signed up using your Facebook account, log in with the same account. If you registered with an email address, go ahead and enter the email address and password and click 'Login' button.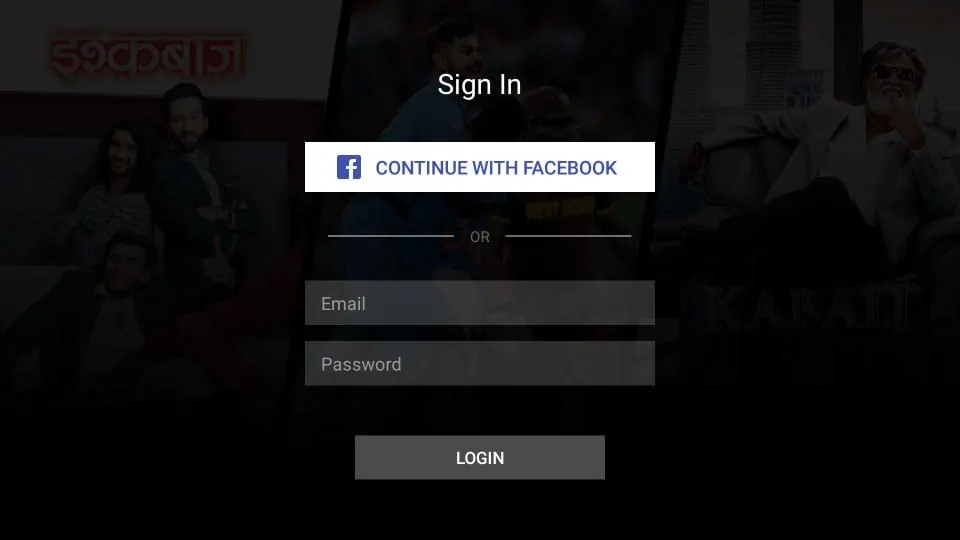 How to Watch Hotstar in the USA without VPN
As I already told you, Hotstar is officially available in the United States on the Play Store, App Store, and Amazon Store.
Simply download the Hotstar USA app and run it. You will be asked to either 'sign in' or 'sign up' at us.hotstar.com/activate and then enter the code displayed on the screen
We earlier signed up for the Hotstar India services, which you can use in the USA with VPN. However, since you want to use Hotstar in the USA without a VPN, you will need to sign up for a fresh account.
You need a different sign up in the USA because the pricing, policies, and terms of service vary from India. For instance, while in India the Hotstar barely costs you $19 yearly, in the United States it is $9.99 per month or $99.99 yearly.
To me, using a VPN makes more sense as it not only saves me money, it also lets me watch all the geo-restricted content.
However, if you still wish to go ahead with Hotstar USA service, go to us.hotstar.com/activate and click 'Sign up' link underneath the 'Sign in' button on this page

You can either sign up through your Facebook account or with an email address. Enter the required details and click 'Sign Up' button on the bottom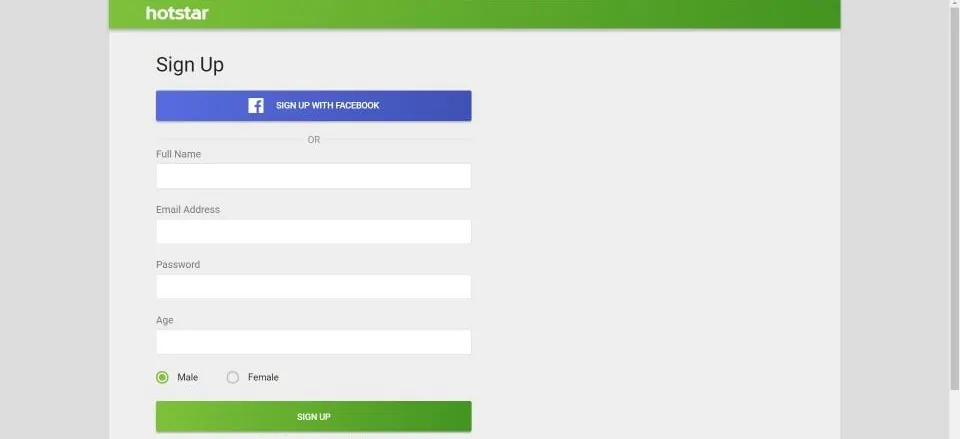 Now, enter your credit card information and follow the onscreen instructions to sign up. As I already said, the monthly plan is $9.99. But, you also get One Week free trial.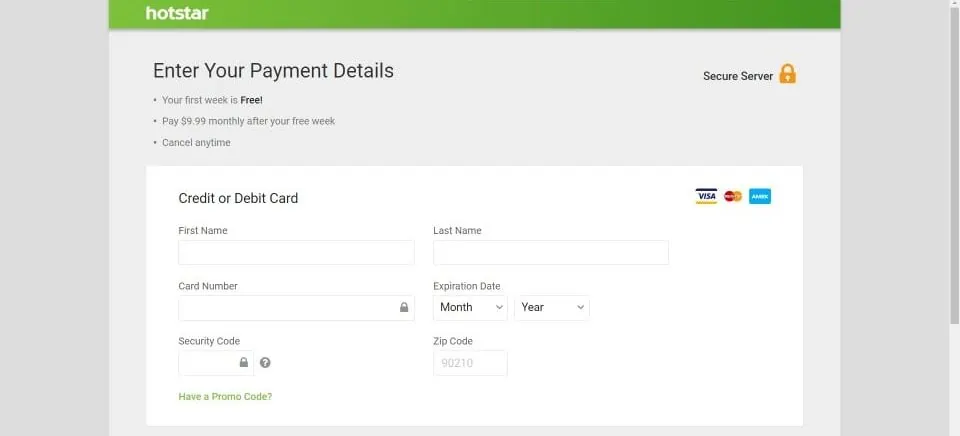 Once the sign-up is complete, you will automatically get signed in. You can also sign in later at us.hotstar.com/activate.
After signing in, enter the code that is displayed on the Hotstar app screen on your device.
This is how you can watch Hotstar in the United States without using any VPN service.
How to Watch Hotstar Outside India for Free
Hotstar is a subscription-based service, but it also hosts a lot of free content. You don't even need to register to watch the free content. Even though the free stuff is available only in India, you can still watch it outside India using a VPN.
Run ExpressVPN on your device and connect to the Indian server.
If you want to watch it on a computer, go to www.hotstar.com and open any free content (NOT labeled as 'Premium').
If you are using the Hotstar app, just open the app and start watching the free content.
Yes! It's that easy if you are connected to a VPN.
Hotstar Cricket Schedule
If you are a big fan of Cricket, Hotstar India is your best bet for live Cricket streams. Below is the schedule of ongoing and upcoming Cricket matches on Hotstar.
India vs Australia
Indian Premier League (IPL)
India vs South Africa
For more updates on Cricket tournaments, you can refer to this Hotstar page.
Wrapping Up
So, that is how we watch Hotstar in the USA, UK, or for that matter any country you live in. The most important element in all of this is a VPN. A good VPN service can virtually translocate your internet connection, allowing you to access geo-restricted apps, websites, movies, TV shows, and whatnot. I advocate ExpressVPN as I have been personally using it for a while. This guide will help you use Hotstar in the USA or any other country as if you were using it in India. The good news is that, unlike Netflix, Hotstar hasn't blocked any VPN servers. You could use just about any Indian server and enjoy your favorite content without any obstacles.
Legal Disclaimer - FireStickTricks.com does not verify the legality or security of any add-ons, apps or services mentioned on this site. Also, we do not promote, host or link to copyright-protected streams. We highly discourage piracy and strictly advise our readers to avoid it at all costs. Any mention of free streaming on our site is purely meant for copyright-free content that is available in the Public domain. Read our full disclaimer.
Disclosure - FireStickTricks.com is reader-supported blog. When you buy a product through links on our site, we may earn commission. Learn More