This step-by-step guide covers some of the best ways to fix a FireStick remote volume not working problem. These instructions work on all Fire TV devices, including Fire TV Lite, FireStick 4K, Fire TV Cube, and FireStick 4K Max.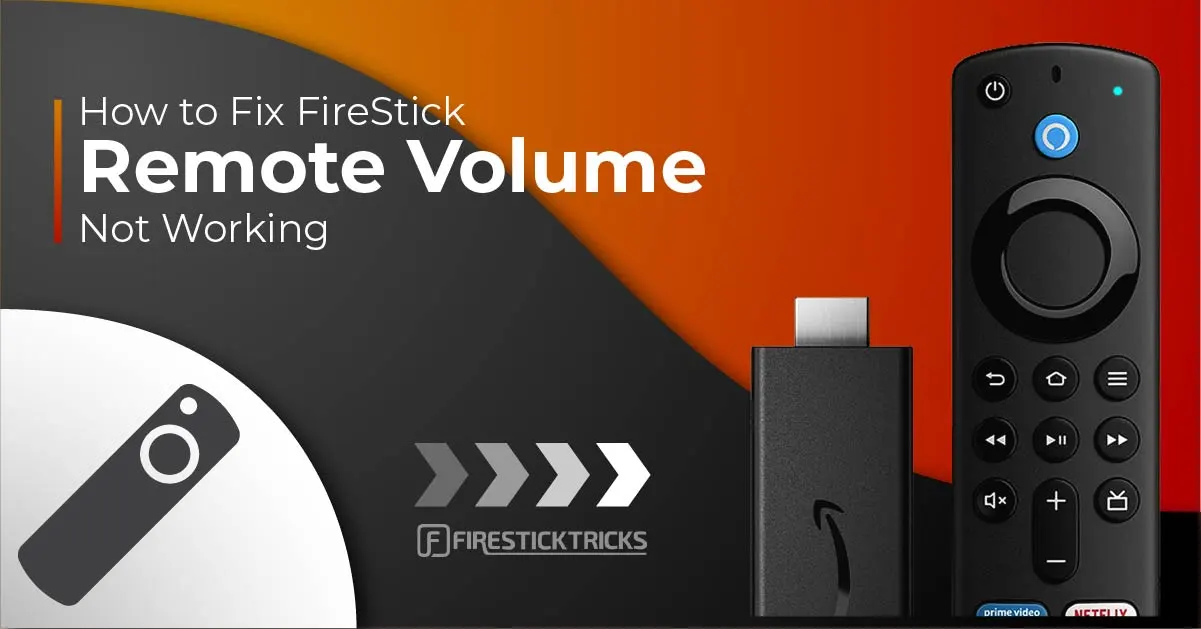 A remote is essential to navigating, launching and streaming apps installed on your FireStick. Unfortunately, the volume function doesn't always work as expected. Some issues that can lead to your FireStick remote volume not working include using incorrect audio settings, the wrong HDMI port, and dead or weak batteries. Next, we explore these and other typical FireStick remote volume not working causes and their solutions.
Read: How to Fix FireStick Remote Issues
Attention, FireStick Users!
Governments and ISPs constantly monitor your online activity, and accessing copyrighted content on your Fire TV Stick could lead to serious trouble. Currently, your IP is visible to everyone. I strongly recommend getting the best FireStick VPN to mask your IP address and securely stream your favorites.
I personally use ExpressVPN, the fastest and most secure VPN available. Not only is it easy to install on any device, it comes with a risk-free 30-day money-back guarantee. Plus, if you're not 100% satisfied, you can always get a refund. ExpressVPN is currently also offering a whopping 3 extra months free on their annual plan!
Read: How to Install and Use Best VPN for FireStick
Battery Issue
Weak or dead batteries frequently cause the FireStick remote volume to malfunction. If you've not changed batteries in a while, they are likely weak or dead. It's also possible the volume function isn't responding because the batteries are not inserted correctly.
To test if the batteries are well-inserted, remove the back cover to check if you've installed the FireStick remote batteries correctly. Next, check the + and – signs on the batteries and ensure the ends go to the corresponding remote side. Afterward, place the back cover and press the volume button to see if it works.
If the remote volume was working just a few seconds ago and suddenly stopped, it's likely because the batteries are weak. Interchanging the batteries or tapping the remote a few times can sometimes 'wake' the remote. Unfortunately, this won't work long-term. The best solution is to replace the batteries.
Finally, the batteries may be dead if attempting to 'wake' them doesn't work. Replace the batteries and pay attention to the markings in the FireStick remote to ensure you install them correctly.
Signal Interference
Sometimes, the FireStick volume functions fail to work because of interference between the remote and the TV. In this case, a simple solution like power cycling your TV can help. To power cycle your TV:
1. Turn off your TV.
2. Remove the FireStick from the TV.
3. Wait about 30 seconds, then reinsert the FireStick.
4. Switch on the TV so the FireStick and TV can reboot together.
5. Press the FireStick remote volume button to see if it's working.
Wrong HDMI Port
Connecting your FireStick to the wrong HDMI port can also cause the volume and other remote buttons to malfunction. Ensure you connect your FireStick to the correct HDMI-CEC port. This port allows your FireStick remote to reconfigure the TV's functions so you can control them with your remote.
Typically, the HDMI-CEC port is clearly labeled at the back of the TV. You can check your TV's operating manual to find it if it's not. If you had connected your FireStick to the wrong port, switch to the correct one, then try pressing the volume buttons to see if they are working.
Check if There's a Pairing Problem
Sometimes your TV will fail to respond to FireStick remote commands because there's a pairing issue. In this case, unpairing and then re-pairing can efficiently fix the problem. To unpair your FireStick remote from your TV:
1. Go to Settings.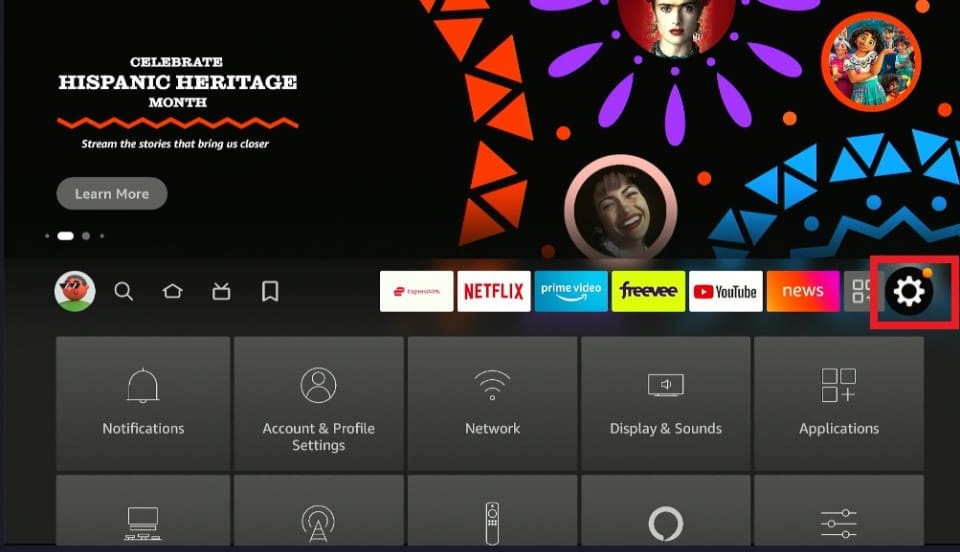 2. Click Controllers & Bluetooth Devices.
3. Click Amazon Fire TV Remotes.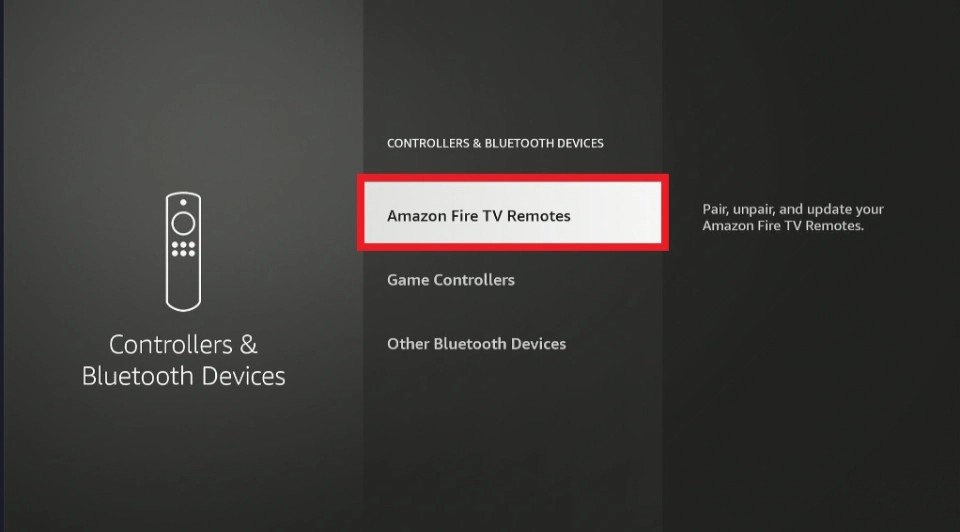 4. Select your FireStick remote from the list displayed.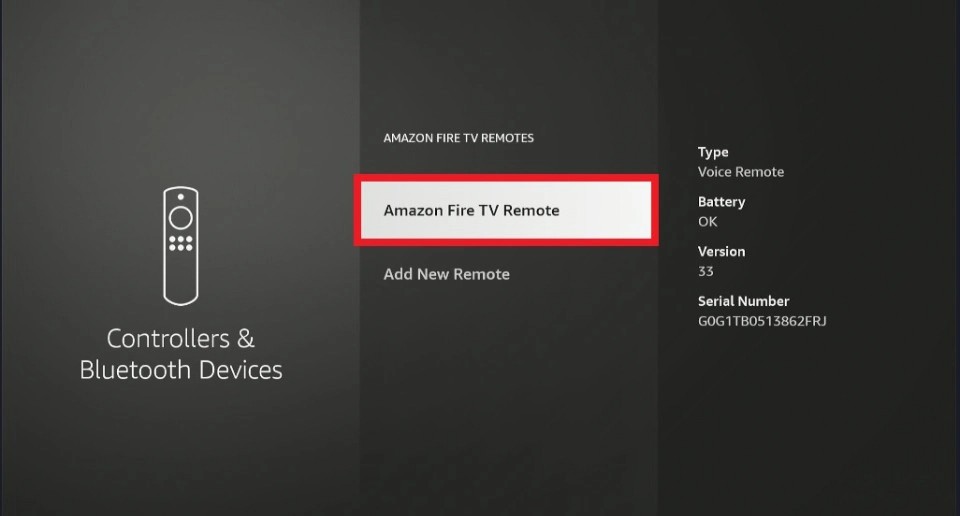 5. Press then hold the Menu and Back buttons on your FireStick remote for 10-15 seconds.
The unpairing is complete if you see your FireStick settings return to the main menu. The next step is to re-pair the FireStick remote with the TV.
To do this:
1. Plug in your FireStick and then switch it on.
2. Wait for FireStick to reboot.
3. Place the remote close to the FireStick device.
4. Press and hold the FireStick Home button for about ten seconds.
5. Release the button, then check if the remote is paired.
6. If it is paired, test the volume button to see if it's working.
You might have to try the pairing process a few times before it works.
Check Your TV's Audio Settings
Sometimes the FireStick remote volume won't work because you haven't enabled the correct audio control settings on your TV. To check the equipment control settings to ensure they allow audio control via FireStick remote, follow the instructions below:
1. Go to Settings.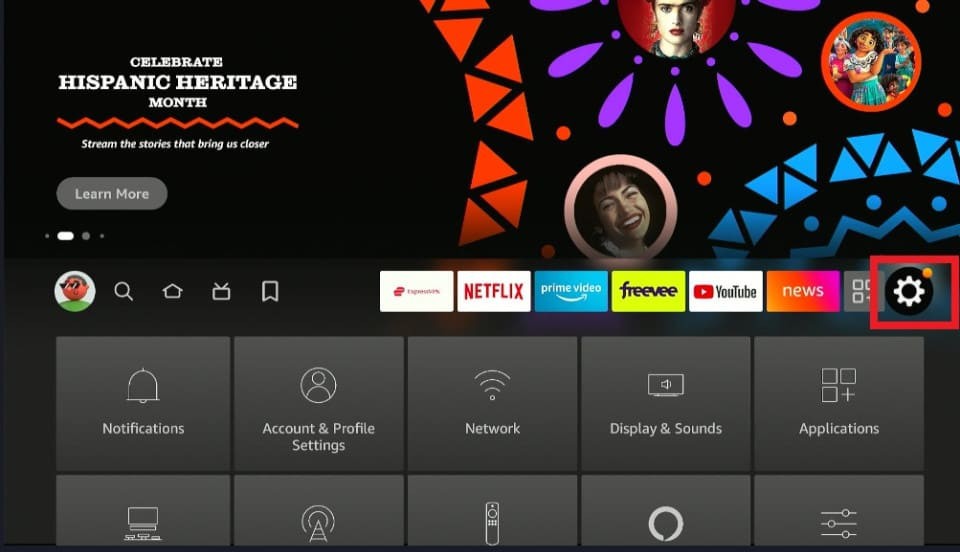 2. Click Equipment Control.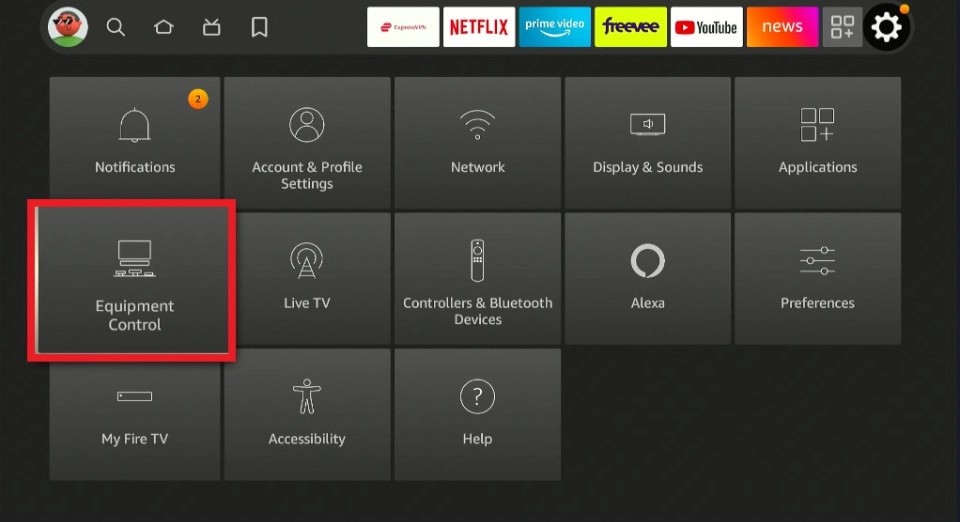 3. Click Manage Equipment.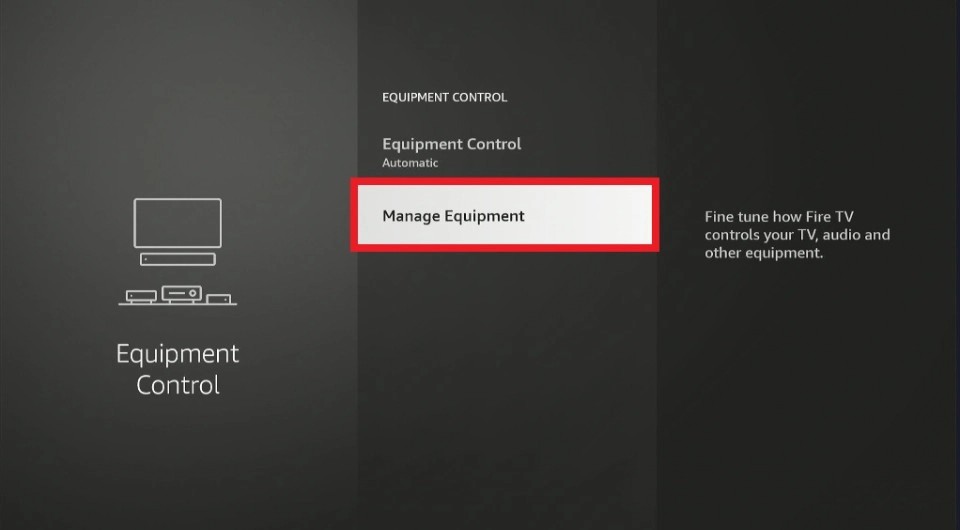 4. If you can't see your speaker among the listed devices, click Add Equipment.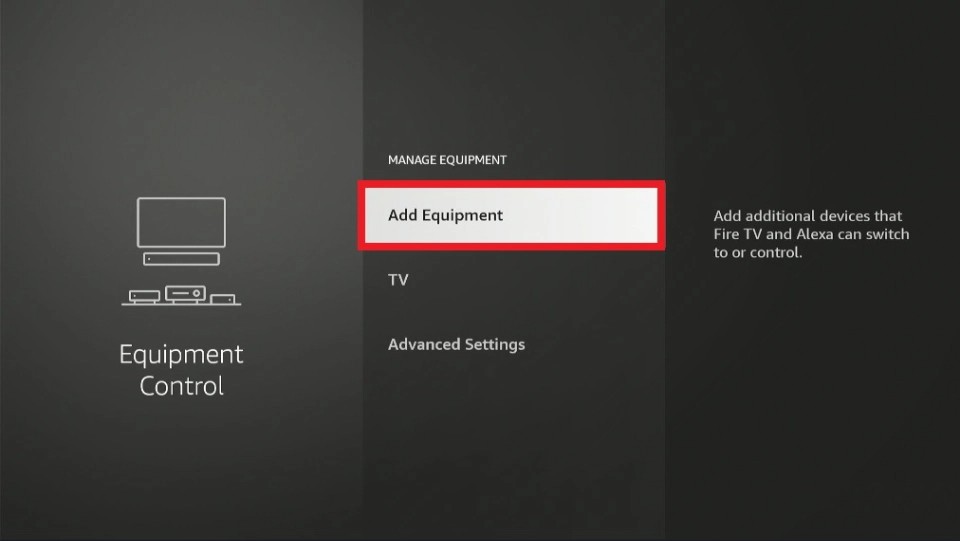 5. Select the correct audio equipment.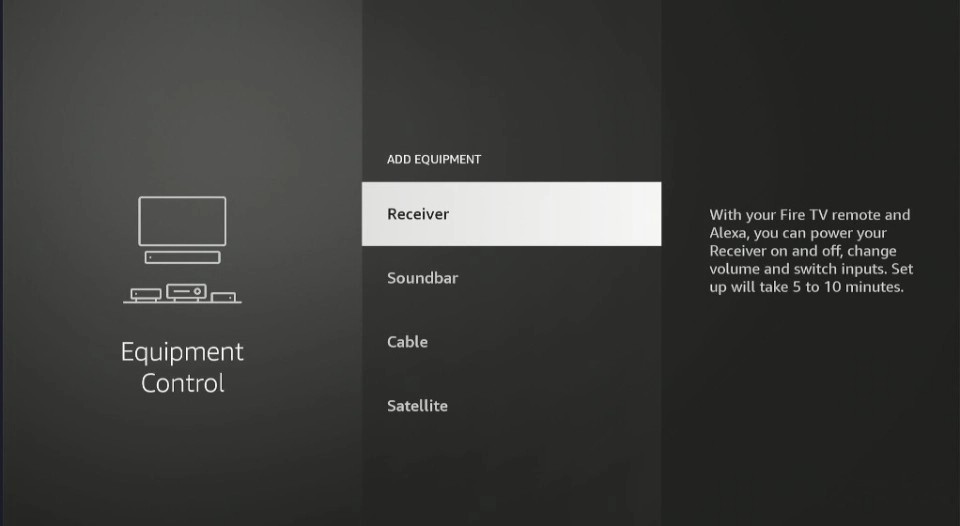 After, test the remote's volume buttons to see if they are working.
Check if the Remote Is Damaged
If the remote is in a poor physical state with missing buttons, it might have some internal faults that have caused the volume to stop working. The volume rubber buttons may also be damaged, making it hard to press in and out and respond to volume commands. In this case, the only solution is to find a replacement. Ensure you read the product details before purchasing a replacement to ensure it's compatible with your Firestick.
Use Alexa
If you've tried changing the batteries, audio settings, and other solutions without much success, you can try using the Alexa voice commands if your FireStick remote supports it. You'll just need to say 'Alexa increase volume' or 'Alexa decrease volume' to increase or lower the volume.
Use the Fire TV App
If your FireStick remote is damaged, you can use the Fire TV app to increase or decrease the volume on FireStick before replacing the remote. Follow the instructions below to install and use the Fire TV remote on your smartphone:
1. Go to your phone's app store and download the Fire TV app.
2. Press the TV Power button to switch it on.
3. Launch the Fire TV app on your phone and enter your Login credentials.
4. A Select a Device to Connect option will pop up after signing in.
5. Click on your FireStick or Fire TV device to connect.
6. Enter the Code displayed on your TV into the Fire TV app.
Wrapping Up
Some of the most common reasons your FireStick remote volume isn't working include a battery issue, a wrong HDMI Port or audio settings, or a pairing issue. If you suspect any of the above problems, try replacing the batteries, power cycling your TV, or unpairing and repairing your FireStick remote.
If you've successfully resolved the FireStick remote not working problem, we'd love to hear your go-to solutions in the comment section.
Related:
Legal Disclaimer - FireStickTricks.com does not verify the legality or security of any add-ons, apps or services mentioned on this site. Also, we do not promote, host or link to copyright-protected streams. We highly discourage piracy and strictly advise our readers to avoid it at all costs. Any mention of free streaming on our site is purely meant for copyright-free content that is available in the Public domain. Read our full disclaimer.
Disclosure - FireStickTricks.com is reader-supported blog. When you buy a product through links on our site, we may earn commission. Learn More