In this article, we will discuss the 5 best VPNs for IPTV and the advantages of using a VPN service, so you can easily choose the one that fits your needs the most. The VPN services in this tutorial are top-notch and provide online anonymity while streaming IPTV content without geographical restrictions.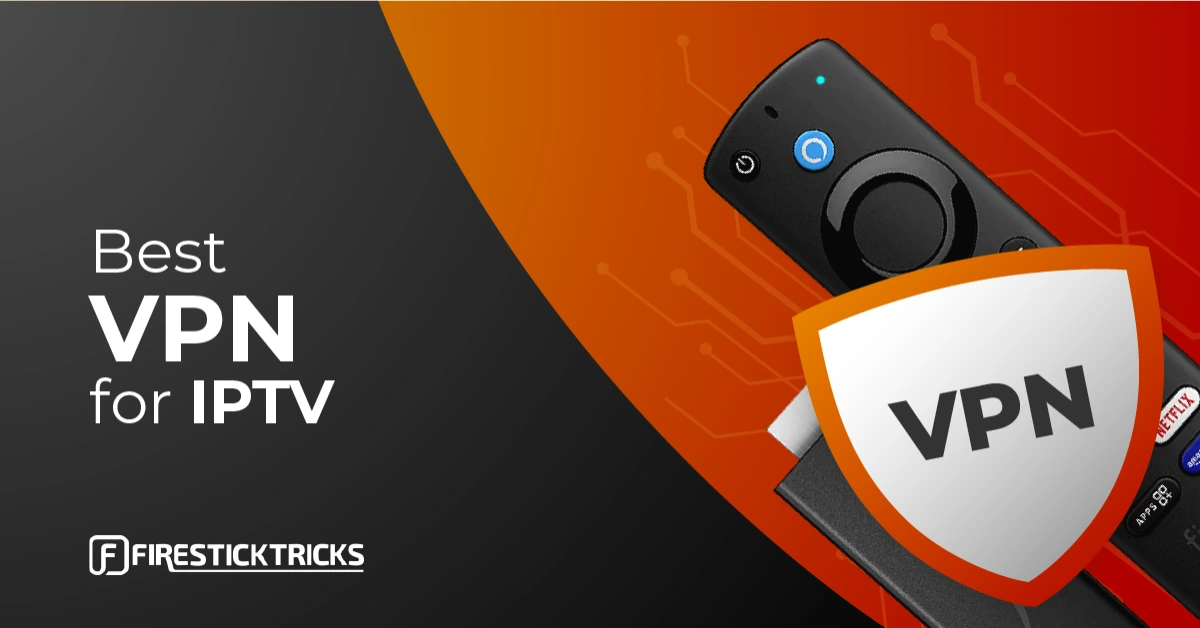 Gone are the days when you had to depend on Cable TV or satellite tv to access your favorite live TV channels. With the arrival of IPTV (Internet Protocol Television), you could now watch live shows through different online streaming services.
However, everything has pros and cons, and IPTV has a disadvantage – the signals are sent through an IP network. Unfortunately, that means IPTV service is region-locked, and if you travel abroad, you won't be able to stream IPTV. If you ever get stuck in that situation, a VPN server (Virtual Private Network) could be your savior.
Furthermore, many IPTV providers source videos from unlicensed distributors. Unfortunately, it is difficult to distinguish between legitimate and illegitimate providers by a layperson. We do not encourage piracy. If anything, we oppose it. However, we do endorse your right to privacy. A VPN will hide your online presence and protect you from prying eyes while streaming.
Hundreds of VPNs are available on the market today, and most are not worth your money or effort. Therefore, it may not be easy to choose the right one.
To save you time and effort, we tested dozens of VPN services. After a thorough process, we have handpicked the 5 best VPNs for IPTV.
What is IPTV?
The IPTV (Internet Protocol Television) is a digitalized version of live TV and streaming services delivered through your IP Address. There are many IPTV providers in the market. An IPTV service can be official or unofficial. The paid unofficial IPTV services are usually more pocket-friendly than traditional cable TV.
Furthermore, many unofficial services include on-demand videos (movies and shows), a feature unavailable with your cable connection.
Since all IPTV services are region locked, it is advisable to use a Virtual Private Network to watch IPTV securely and access content from anywhere in the world.
IPTV works best with a streaming device like the Amazon FireStick and a high-speed internet connection. The most popular official IPTV services include Sling TV, Pluto TV, Hulu, and YouTube TV.
There are two types of IPTV Providers:
With IPTV piracy on the rise, it becomes essential to know whether an IPTV service is legal or not. Let's learn more.
Legal (official) IPTV Providers
Any IPTV provider with a copyright license for streaming content is likely to be available on the major App Stores, such as Amazon App Store or Google Play Store.
Some examples of legal IPTV are Sling, YouTube TV, DirecTV, and more.
Unverified (unofficial) IPTV Providers
An unverified IPTV provider is the one whose legality status is unknown. Unfortunately, FireStickTricks does not have the resources to check the video sources of every provider and mark them as legal or illegal. The unofficial IPTV providers may not have acquired licenses for streaming TV channels.
It is not easy to tell an unofficial from a legal provider. However, there are some indicators. For instance, most unverified IPTV services are either free or extremely cheap.
Furthermore, the unofficial services aren't available on the app stores like Amazon Store, Google Play Store, or Apple Store.
What is an IPTV VPN?
VPN, or Virtual Private Network, is an internet security service that enables you to create a secure internet connection. The main motive of a VPN is to send all your data traffic through an encrypted virtual tunnel that results in online anonymity, security, and privacy.
Simply, a reliable VPN completely hides your online identity and lets you watch IPTV anonymously. It also ensures your location and viewing history are not revealed to anyone who is prying.
Furthermore, a VPN lets you unblock geo-restricted content (which most IPTVs are). As a result, you can watch your favorite IPTV channels from anywhere in the world.
While you can scroll down to view the list of the 5 best VPNs for IPTV, the one that truly shines and takes the cake is ExpressVPN. It is the fastest VPN with iron-clad security. Buy the annual plan to get 3 extra months and a 49% discount. It also comes with a 30-day, risk-free, money-back guarantee.
Here's how you can get ExpressVPN on FireStick:
Step 1: Subscribe to ExpressVPN HERE. It comes with a 30-day money-back guarantee. Meaning, you can use it free for the first 30-days and if you are not satisfied with the performance (which is highly unlikely), you can ask for a full refund.
Step 2: Power ON your Fire TV Stick and go to Find followed by Search option.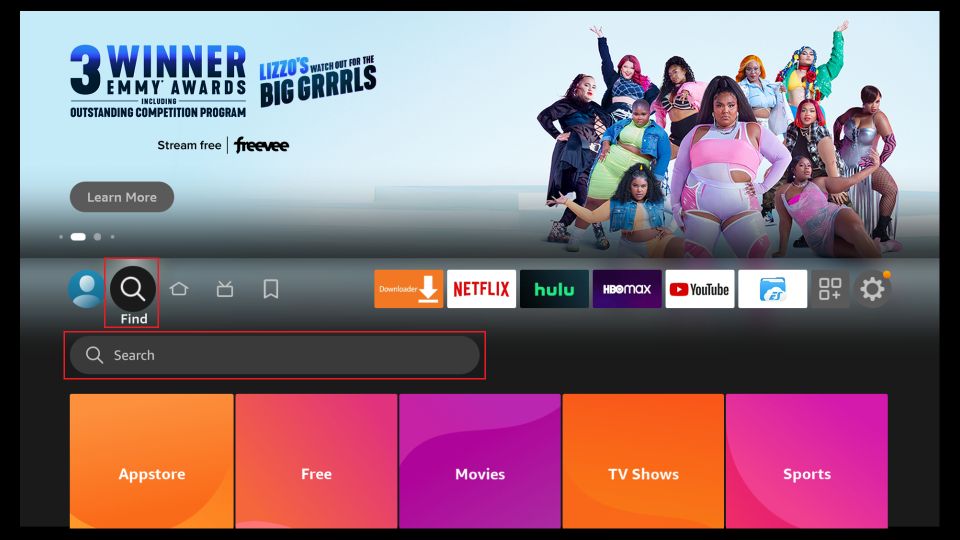 Step 3: Now type "Expressvpn" (without quotes) in the search bar and select ExpressVPN when it shows up in the search results.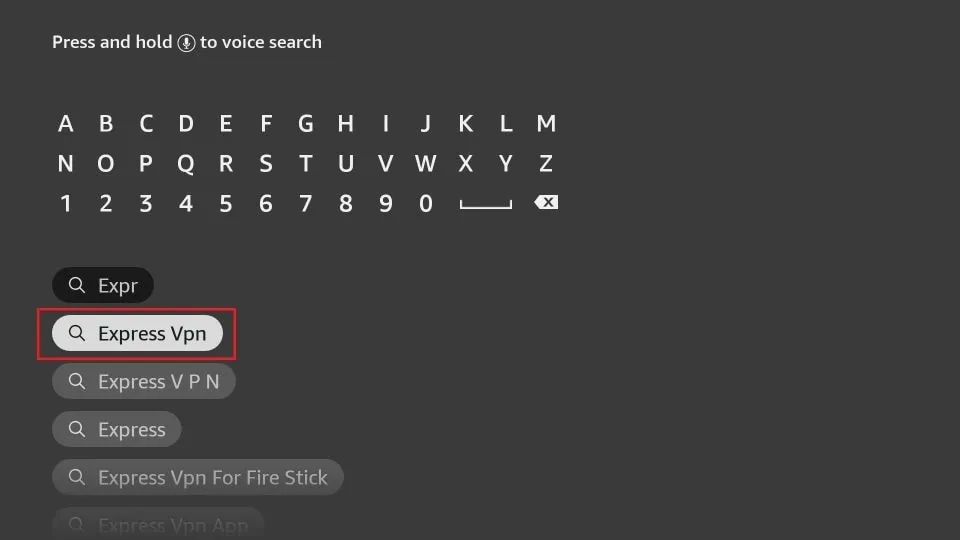 Step 4: Click Download to install the ExpressVPN app on Fire TV / Stick.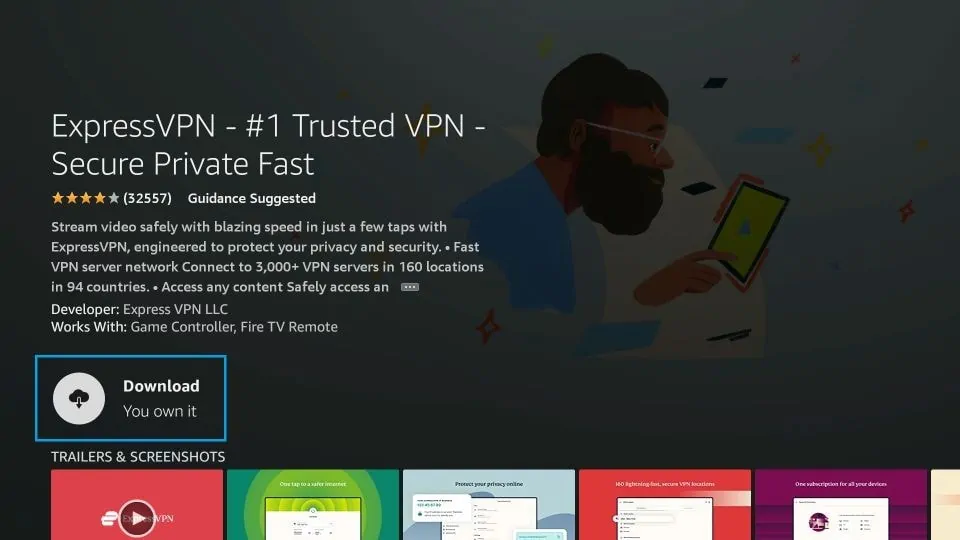 Step 5: Open the app and enter the login credentials that you created while buying the ExpressVPN subscription. Click Sign in.

Step 6: Click the Power icon to connect to a VPN server. That's all. Your connection is now secure with the fastest and best VPN for FireStick.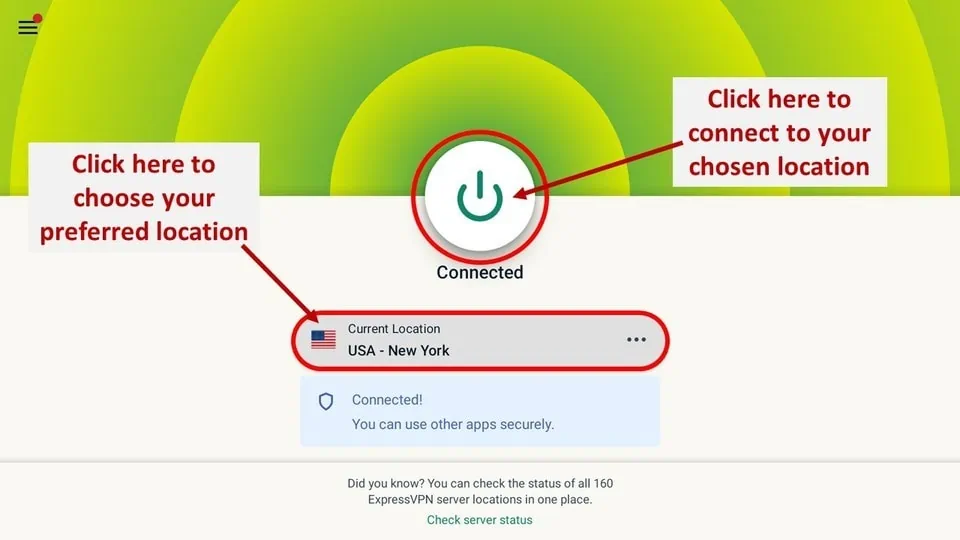 You can also read more detailed info on using ExpressVPN with Fire TV / Stick.
Why Do You Need a VPN for IPTV?
The most significant advantage of using a VPN service is that it allows you to stream content anonymously without geographical restrictions. No one likes to be watched over through a virtual window. The good news is you can easily hide your online identity through a VPN. Following are the top reasons why you should use a VPN Server :
1: Bypass Geographical Restrictions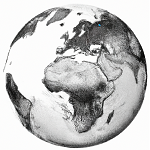 Everyone loves to Netflix and chill, but do you know a large part of the content on your favorite app is region locked? To access Netflix USA videos outside the country where the content is not offered, you would need a VPN. Not just Netflix, even Amazon Prime, and Hulu also have geographical restrictions. You can watch certain videos only from a specific location, meaning you are missing out on great entertainment.
The best VPN providers allow access to global content and exclusive TV shows/movies that are otherwise restricted at your current location.
2: Online Surveillance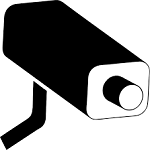 IPTV services are becoming a popular alternative to the costly cable tv. However, with popularity comes privacy threats. Your internet provider, third parties, and Government monitor your online activities through a virtual window, which might be highly uncomfortable for many.
A reliable VPN for IPTV would forbid your internet service provider from tracking your IP address and the content you are watching online.
3: Bypass ISP Throttling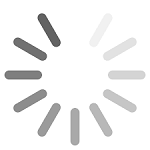 One of the most essential advantages of a secure VPN connection is bypassing ISP throttling. There is nothing better than watching your IPTV content with unlimited bandwidth. However, sometimes, your ISP may deliberately slow down your internet speed due to heavy traffic. Most throttling targets video streaming only, and that eventually results in constant buffering.
Are All VPNs Good?
A VPN service is the answer to most of your IPTV problems. So ensure you always opt for the best IPTV VPN for a hassle-free experience. But unfortunately, most IPTV VPN services fail to deliver what they promise. Hence it is crucial to find the best VPN providers.
I have picked the 5 best VPNs for IPTV 2022 to make things easy for you. Keep reading to know more.
Best VPN for IPTV
With hundreds of VPN providers available, choosing the best VPN for IPTV service becomes tough. So, I personally tested the top 5 VPNs on all essential factors like speed, online privacy, and unblocking geo-restricted content.
At the end of this article, you will have the answer to which VPN provider best suits you. So, let us discuss the most popular VPNs for watching IPTV.
According to my research and findings, the following is the list of the best VPNs for IPTV:
The VPN services I shared are inarguably the best for IPTV streaming. There were other options as well, but none came close to these. Furthermore, as I said, ExpressVPN emerged as the clear winner based on various factors.
Below is a detailed list of the best VPNs for IPTV:
1 – ExpressVPN: The Clear Winner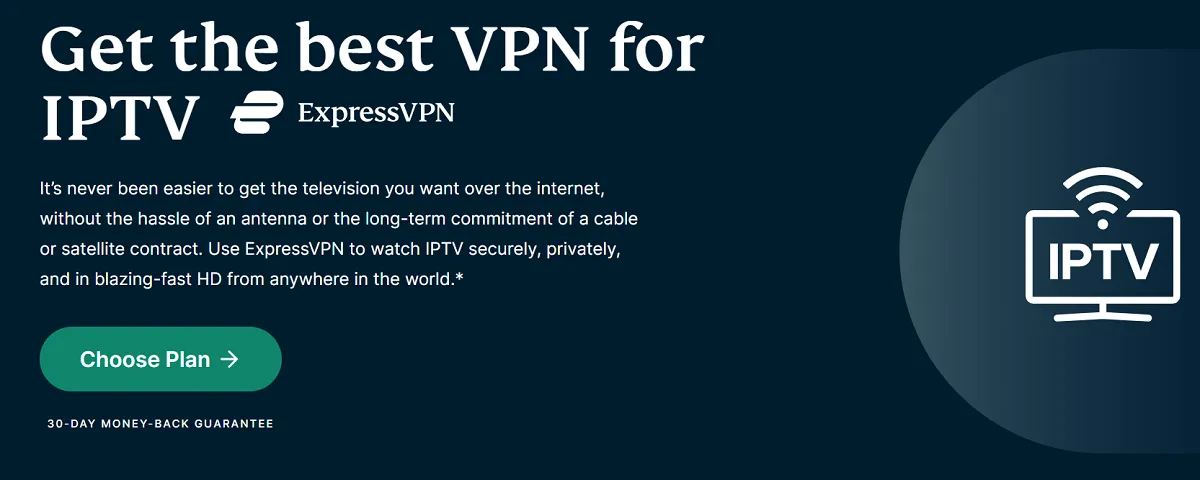 Based on my findings, ExpressVPN is the best VPN for IPTV. With its wings spread in over 94 countries, it won't be wrong to say ExpressVPN is a global leader in providing online anonymity and security. In addition, it is one of the most popular VPN servers available on the market because it can bypass geo-restrictions without sacrificing speed.
Trusted by over 3 million users worldwide, ExpressVPN boasts 3000 servers in 160 locations in 94 countries. It has many eye-catching features like 256-bit AES encryption, unlimited bandwidth, network lock, no-log policy, etc. On top of that, it is based in the British Virgin Islands, a country that supports online privacy and is not a member of any international surveillance alliances. This means your data and online identity are safe from prying eyes.
By changing your IP address and location, you can unblock many streaming services and access IPTV content through ExpressVPN. It also allows you to connect up to 8 devices simultaneously with one account. Another thing that attracts buyers to ExpressVPN is its router-level configuration and 30-day money-back guarantee.
This IPTV VPN will surely provide you with unlimited options for global entertainment. ExpressVPN is the best VPN for IPTV services worth your money.
FireStickTricks.com has a limited-time deal for ExpressVPN. You now get 3 extra months with the 1-year subscription and a 49% discount.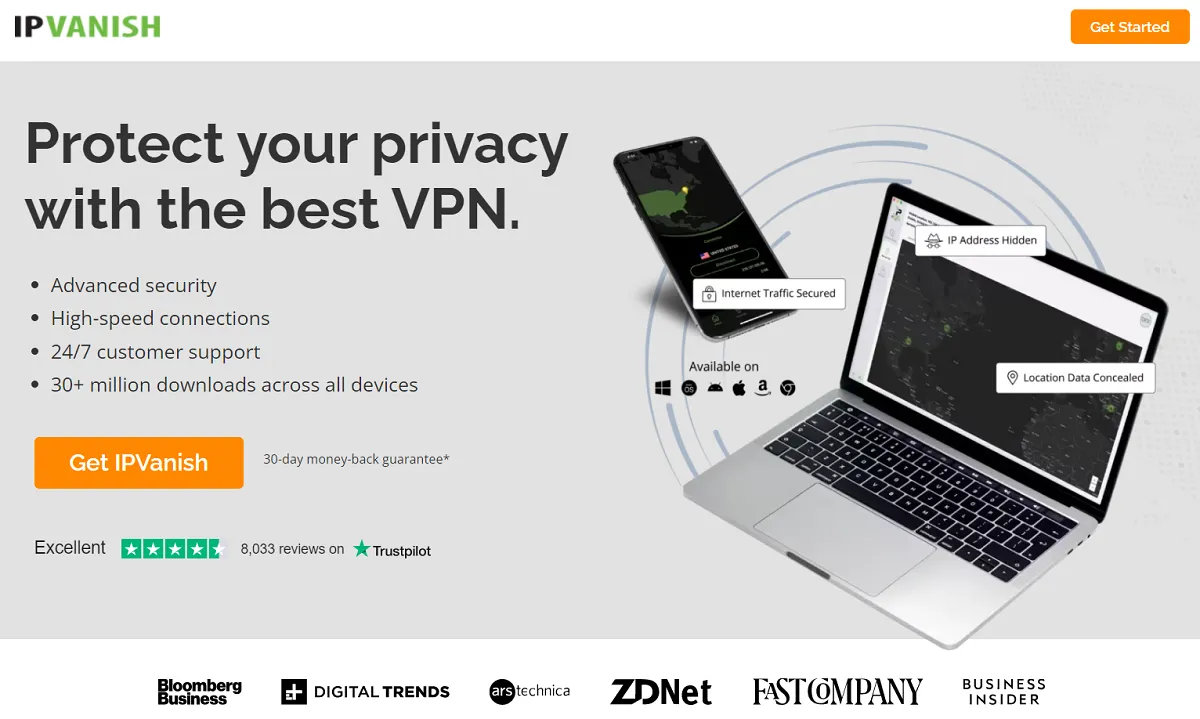 IPVanish is another decent IPTV VPN server you can buy for IPTV. It is available in over 75+ locations globally with 1900+ servers.
IPVanish offers a strict no-logs policy, OpenVPN, 256-Bit AES encryption, and IKEv2, making IPVanish a reliable VPN for IPTV. In addition, you can connect unlimited devices with one account.
IPVanish is user-friendly and can unblock popular streaming services like Netflix, Sling TV, HBO, etc. It also offers a 30-day money-back guarantee. These are some of the reasons it made it to my 5 best VPNs for IPTV.
Though it is not as fast as ExpressVPN, If you ask me, I would say IPVanish surprised me with its good performance. So you could go ahead with this VPN server to help you watch IPTV from anywhere in the world.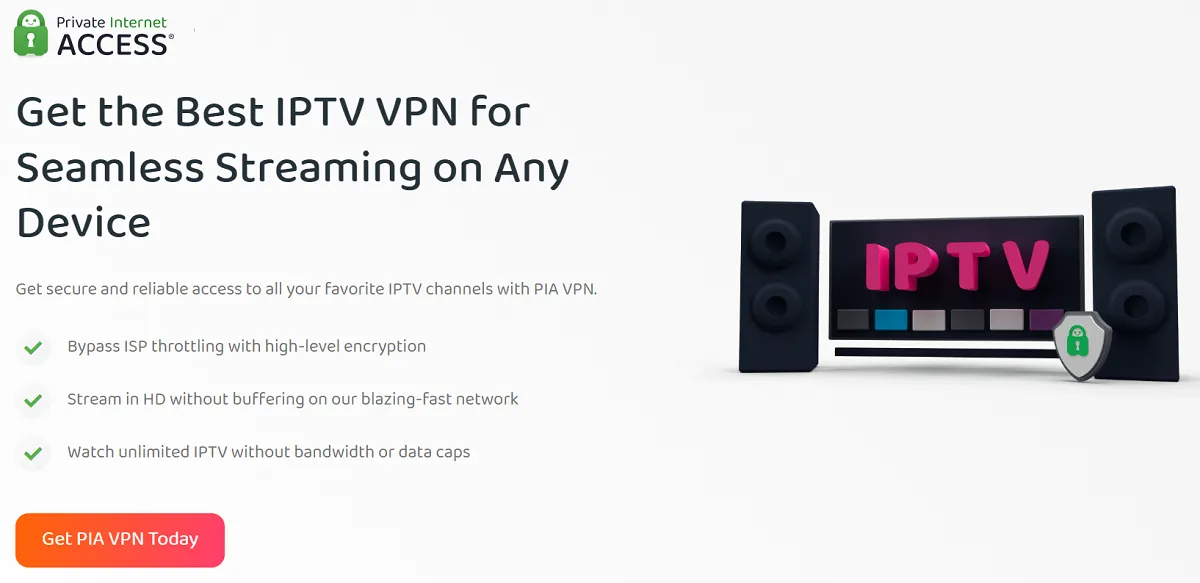 Private Internet Access (PIA) is an excellent addition to your list of best VPNs for IPTV. This VPN is relatively affordable, with a 30-day money-back guarantee. Some of the PIA highlights include incredible connection speeds and unlimited device protection.
PIA has an average speed of 10 Gbps, which is safe for anyone looking to avoid speed throttling and bandwidth limits by ISPs. PIA installation and setup are straightforward. Additionally, it's compatible with multiple devices and platforms, including Windows, Mac OS, Android, Linux, and others.
PIA has servers in over 80 countries and all 50 US states, meaning you can comfortably connect to a server from a country of your choice. Other highlights of PIA VPN include getting a dedicated IP Address. A dedicated IP address works well for people who want to browse anonymously or access geo-restricted content without the constant verification windows popping up in your browser. It also offers more stability for online activities, including gaming and banking.
I also like that PIA has antivirus software that scans and removes viruses and malware without logging your information or tracking your user activity. This means you can access any website and download files using this VPN without worrying about compromising your device.
You can connect PIA to multiple devices and access 24/7 customer support via chat or email. Their chat function is available in various languages, including French, English, and Mandarin.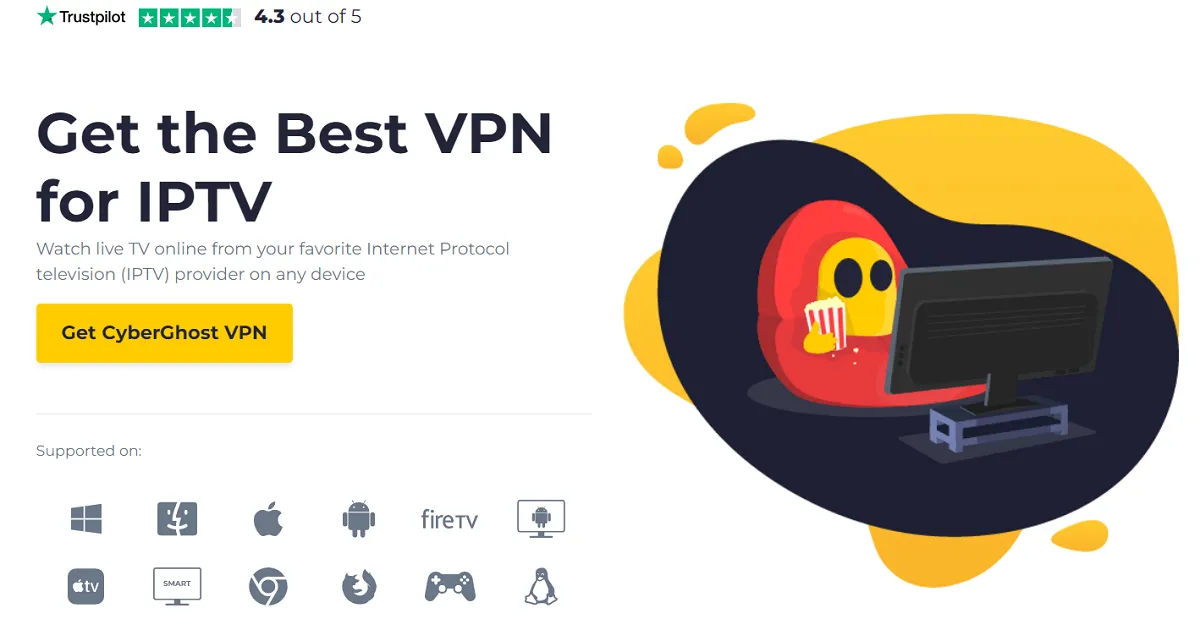 CyberGhost is another reliable IPTV VPN for streaming TV. It covers 90+ countries with 7100+ servers and provides a secure and fast connection.
Its AES 256-bit encryption, no logs policy, kill switch, IP leak protection, and other features attract buyers. CyberGhost also offers a 24-hour free trial without collecting payment info and a 45-day money-back guarantee, making it popular among people who want to try a service before investing. On top of that, it provides access to IPTV streams and secures your online activity.
You can use one Cyberghost account to connect up to seven devices simultaneously. It also protects your internet connection from the prying eyes of your Internet service provider and offers unlimited bandwidth.
Subscribing to CyberGhost is an excellent way to unblock IPTV services in region-locked areas and enjoy watching IPTV.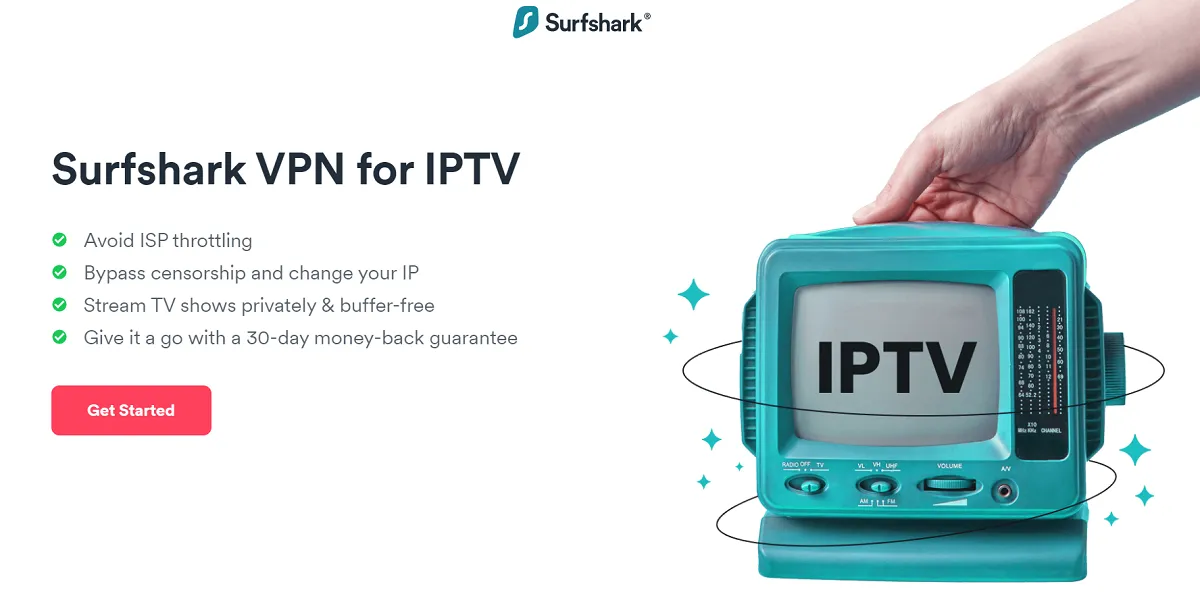 Surfshark is pocket-friendly and offers multiple features, making it one of the best IPTV VPNs. If you are looking for a VPN service that does not cost much yet provides a secure connection, you should go with Surfshark.
It has multiple features, including Kill Switch, strict no logs policy, Private DNS and leak protection, Camouflage mode, and AES 256 GCM encryption.
Surfshark has marked its existence in over 65 countries with over 3200+ servers, meaning you have plenty of connection options. It is also reasonably fast and provides access to all major streaming services that add to your uninterrupted entertainment. Like ExpressVPN, Surfshark offers its buyers a 30 days money-back guarantee.
The best thing about Surfshark is that it lets you connect unlimited devices to one account simultaneously. Considering its value for money and security, I won't hesitate to say it is a great IPTV VPN for unblocking IPTV services worldwide.
How to Choose the Best VPN for IPTV?
It depends on many factors, to be honest. However, I will share what I kept in mind before concluding the 5 best VPNs for IPTV.
Based on my tests, I found ExpressVPN, a clear winner on every front. Though the other four are not as bad, you can trust their service.
Let us look at some crucial factors to remember while choosing a VPN for IPTV.
1- Features
While buying a VPN, you should always check for its features.
First, check for security features like a kill switch, DNS leak protection, etc. ExpressVPN has all these security features that help provide a secure connection.
Another thing to remember is if the VPN service maintains a strict no-log policy. It is imperative when it comes to your online privacy. One should never trust a VPN provider that does not maintain a no-log policy.
2- Connection Speed
Connection speed is one of the most important things to notice when buying a VPN subscription. If the content you are watching keeps buffering, it could be frustrating. So make sure the one you choose offers very little speed loss. ExpressVPN is the fastest VPN service, beating all its competitors.
3- Customer Service
If you ever face any problem with your VPN, the first thing you would think of doing is contacting customer service. The sad part is not all VPN services offer customer support. It is always better to check whether your chosen one provides the same.
ExpressVPN, IPVanish, PIA, CyberGhost, and Surfshark all offer customer service to their users.
Conclusion
IPTV has paved the way for digital content at very low prices. You can now watch your favorite TV channels previously not provided to you. However, you will need the best IPTV VPN to watch IPTV abroad or unblock content unavailable in your area.
A VPN provides not only online anonymity but also offers uninterrupted entertainment by unblocking geo-restricted content. I would choose ExpressVPN because it is the best VPN for IPTV. What about you?
Related:
Legal Disclaimer - FireStickTricks.com does not verify the legality or security of any add-ons, apps or services mentioned on this site. Also, we do not promote, host or link to copyright-protected streams. We highly discourage piracy and strictly advise our readers to avoid it at all costs. Any mention of free streaming on our site is purely meant for copyright-free content that is available in the Public domain. Read our full disclaimer.
Disclosure - FireStickTricks.com is reader-supported blog. When you buy a product through links on our site, we may earn commission. Learn More