In this tutorial, I will guide you through the detailed and simple process to install Exodus Redux and Exodus v8 Kodi Addons. This addon works only on Kodi 18 and lower versions. It is not available on Kodi 19 and higher. The methods outlined here work on Amazon FireStick / Fire TV/ Fire TV Cube, Android & iOS Mobile Devices, Windows & Mac Computers, Android TV & Boxes, and all other hardware and software platforms on which Kodi is supported.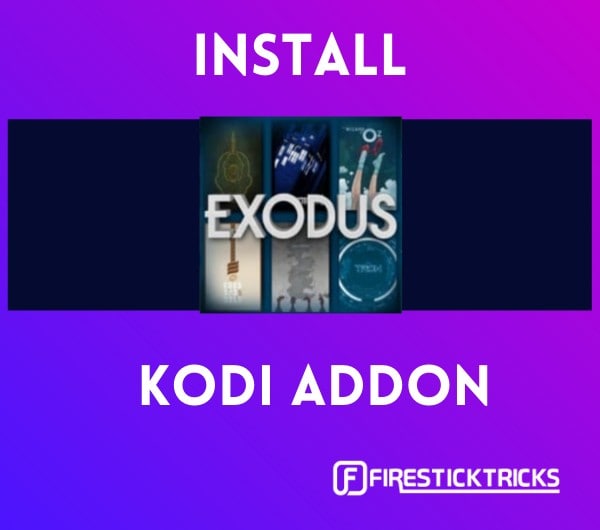 Exodus Redux and Exodus V8 are two separate but quite similar addons.
Update: Exodus V8 Addon is currently not working as the Kodi Bae repository is down. Please try the Exodus Redux addon mentioned in this guide or try other Kodi Addons.
Exodus Redux is a newer Kodi addon that gives you access to tons of movies and shows. It looks a lot like the very popular Exodus Kodi addon (also called V8) and even has the same logo. But, after having used both I have drawn some comparisons and believe Exodus Redux is better than the Exodus addon.
The original Kodi Exodus addon had been abandoned by its original developers.  However, it was revived by independent developers a few months ago and now it has started receiving regular updates. It also features a whole new set of scrapers and therefore it is pulling tons of quality streaming links.
In this guide, I will cover the installation process of both Redux and V8.
Here is what you will find in this guide:
The primary method to install Exodus Redux
An alternate method to install Exodus Redux using Git Browser
Steps to install Kodi

Exodus 8

addon

(does not work at this time)
Attention, Kodi Users!
Kodi Addons and builds offer unlimited streaming content, but could also get you into legal trouble if caught streaming free movies, TV shows, or sports. Currently, your IP is visible to everyone. Kodi users are strongly advised to always connect to a VPN while streaming online. A good Kodi VPN hides your identity, bypasses government surveillance, geo-blocked content, and ISP throttling (which also helps in buffer-free streaming).
I personally use ExpressVPN, which is the fastest and most secure VPN. It is very easy to install on any device including Amazon FireStick. You get 3 months free and save 49% on its annual plans. Also, it comes with a 30-day money-back guarantee. If you are not satisfied, you can always ask for a refund.
Read: How to Install and Use the Best Kodi VPN
How to Install Exodus Redux on Kodi
I will break down the installation process in three simple steps that will help you easily follow & install the Exodus Redux addon on Kodi.
Legal Disclaimer: This tutorial is purely educational. FireStickTricks.com doesn't own, host, operate, resell, or distribute any streaming apps, addons, websites, IPTV or services. The page contains some unverified services, and we are not certain whether they hold legal licenses to distribute the content. FireStickTricks.com does not verify the legality of each app/service in all regions. Do your due diligence if you use any of the unverified apps/services, and stream only content that is available in the public domain. The end-user shall be solely responsible for the media accessed.
Step 1: Allow Unknown Sources on Kodi
Exodus Redux Kodi addon is not part of the official Kodi Add-on Repository. That's why it is called a third-party addon. And, when you want to install such an add-on, you must have the Unknown Sources within Kodi switched on. This is how you do it:
1. Open the Settings option when you are on the Kodi home screen (top-left) and then go to System on the screen that follows.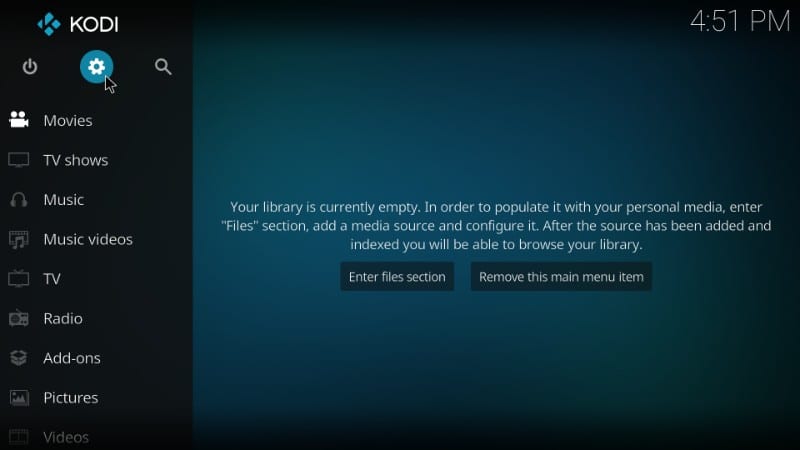 2. Select/highlight Add-ons on the list of the options on the left sidebar. Now navigate to the right of the same window and enable Unknown Sources.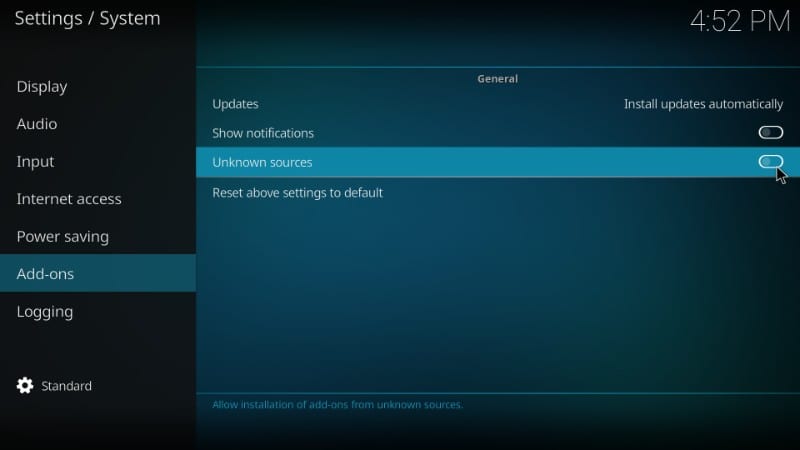 3. Click Yes on the following warning message. Don't worry about the warning.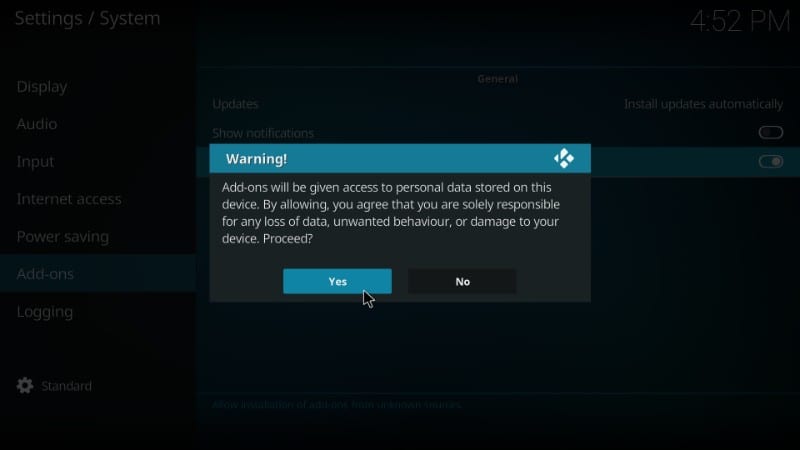 Step 2: Install Exodus Redux Repository
1. Head back to the Kodi home-screen and open Settings again.
2. Within the Settings, open File manager. In Kodi 18, you will find the File Manager folder in the top row.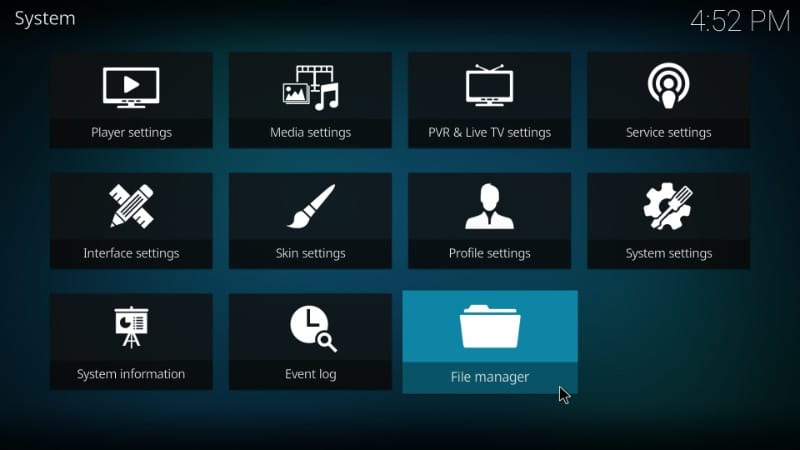 3. Open Add source.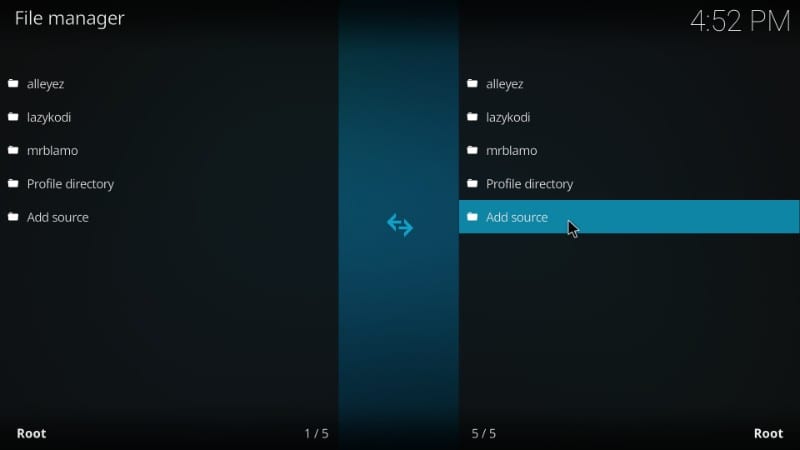 4. Now click where it says <None> on the next window.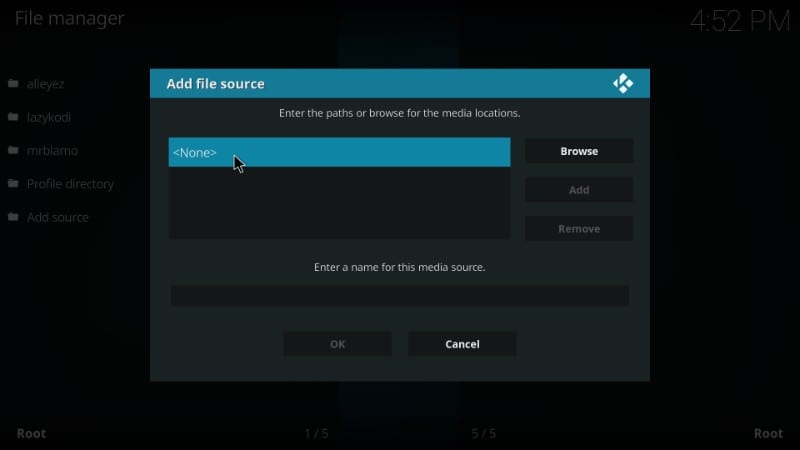 5. Type in the following URL exactly as I have provided here: https://i-a-c.github.io
Click OK.
Note: FireStickTricks.com is not affiliated with those who host this URL. This link points to an external source.
6. When you are back on this window, enter redux (or any other name you like) in the area Enter a name for this media source. Click OK.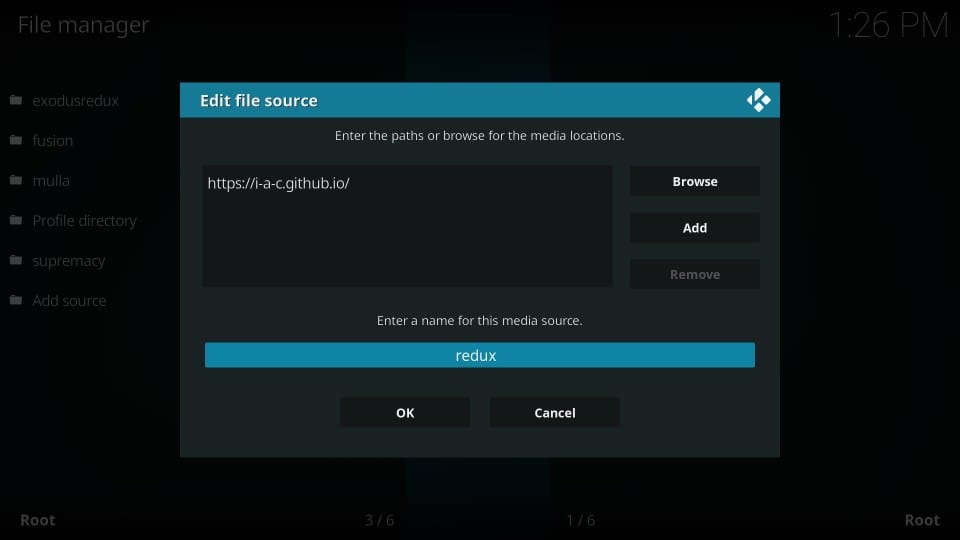 7. Navigate to the Kodi home-screen one more time and click Add-ons.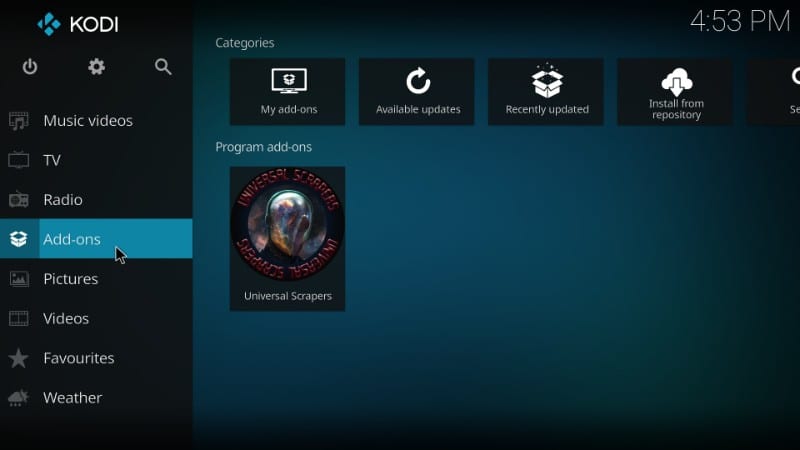 8. Open the Package Installer option by clicking the open-box icon on the far top-left of the following screen.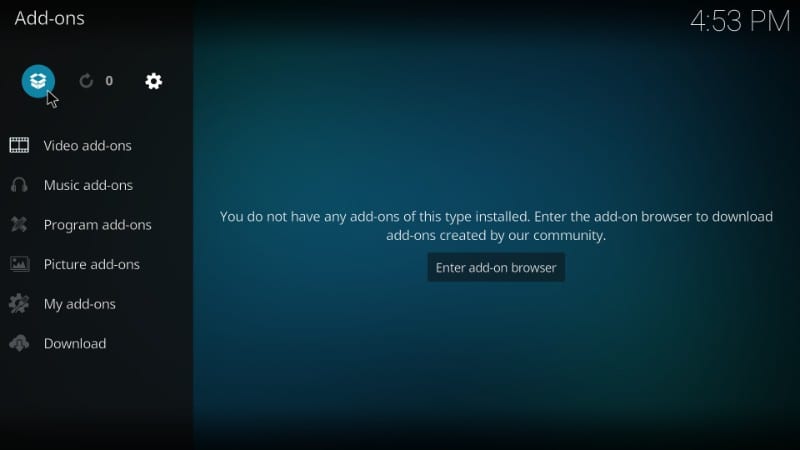 9. Choose Install from zip file.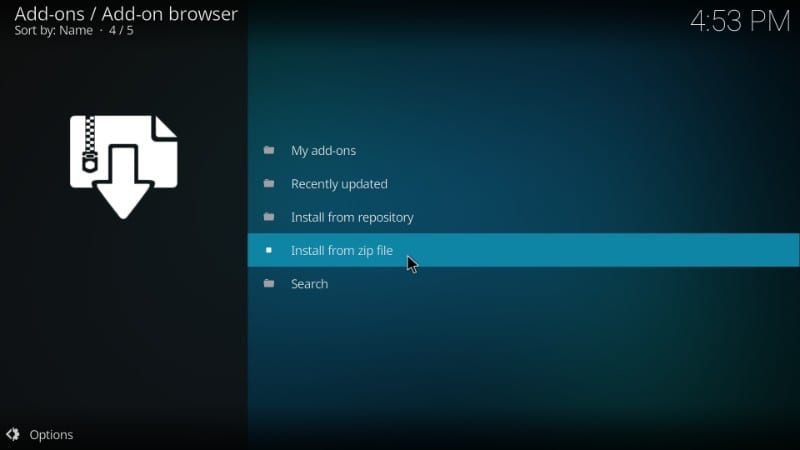 10. Click the name redux on the list (or any other name you added earlier).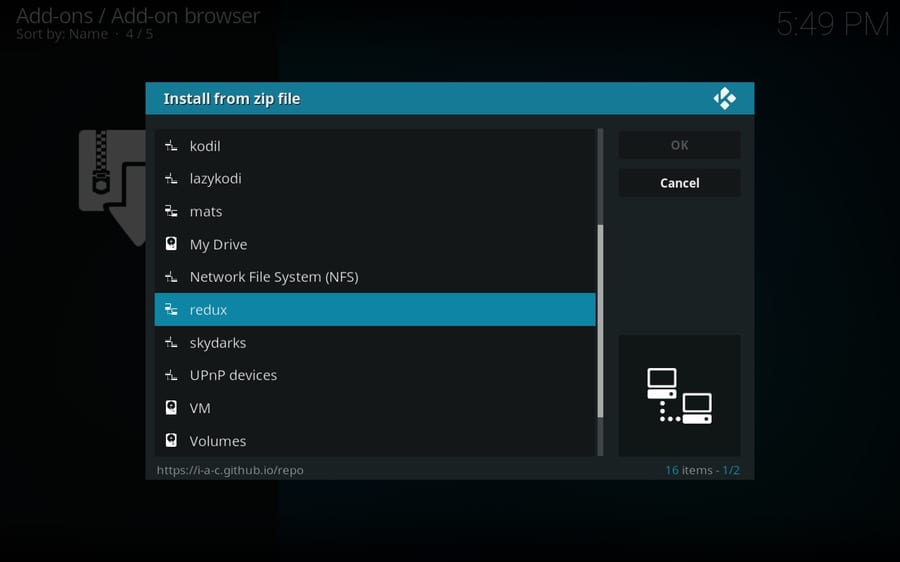 11. Click the zip file named repository.exodusredux-0.0.6.zip that you see on your screen.
Note: The version number of the file may be different than what you see in this guide. Open the zip file anyway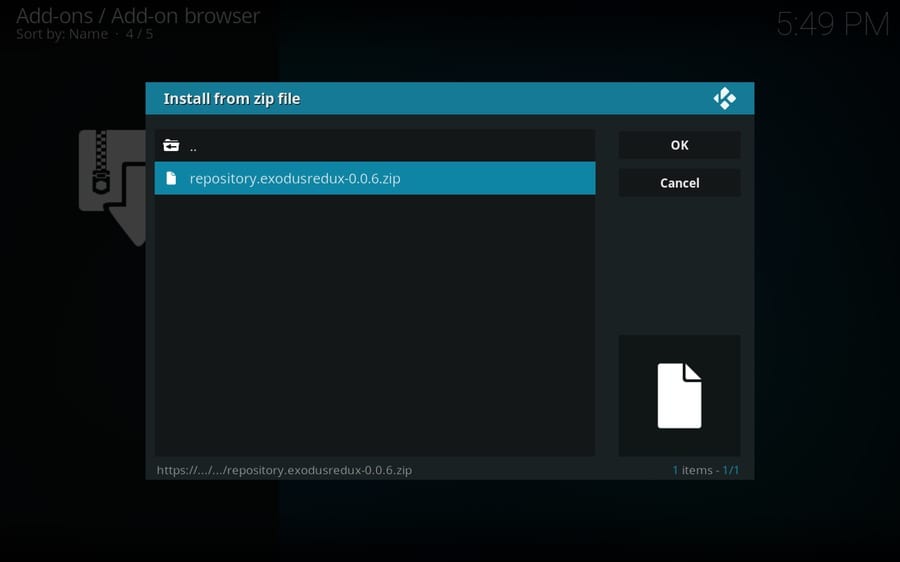 12. Wait for a few seconds for the Exodus Redux Repo installation confirmation (top-right corner).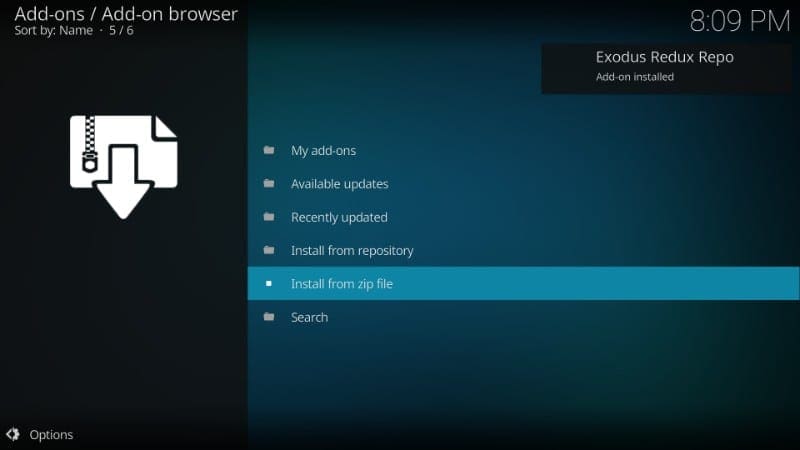 Now that you have successfully installed the Kodi Exodus Redux repository, you are almost done. Just stay with me for one more step and it is done.
Step 3: Install Exodus Redux Kodi Addon
1. While staying on the same window, click Install from repository.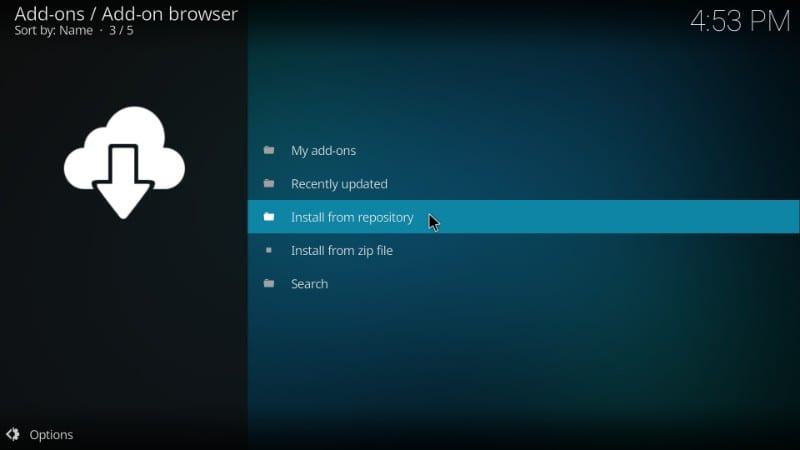 2. Open the Exodus Redux Repo.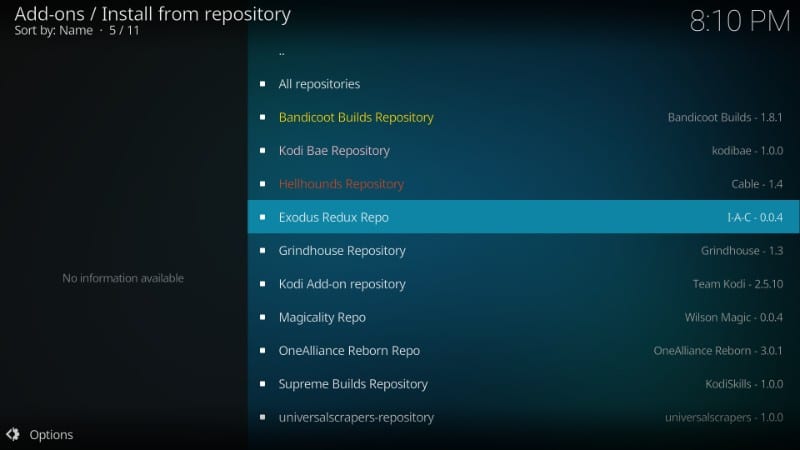 3. Open Video add-ons.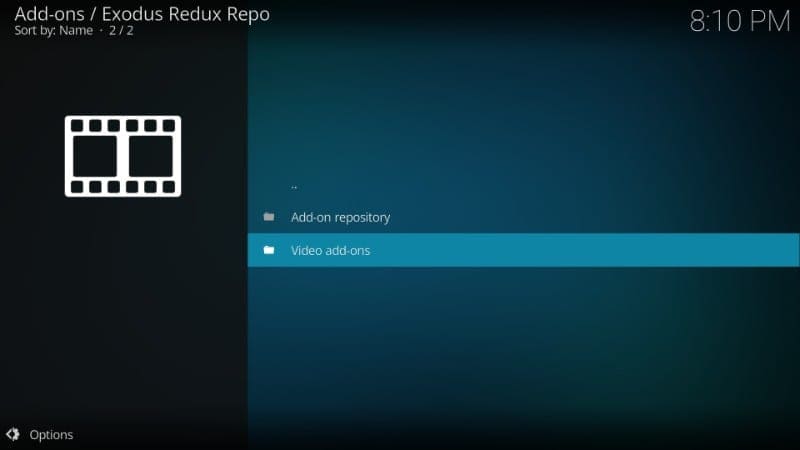 4. Choose Exodus Redux.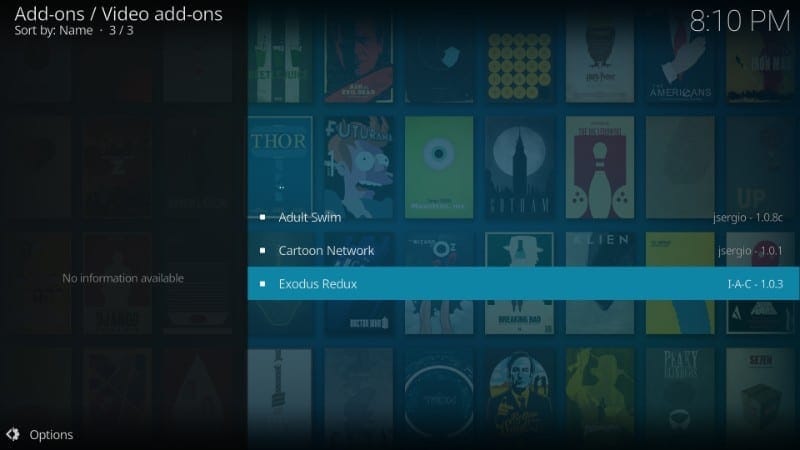 5. Click the Install button on the bottom.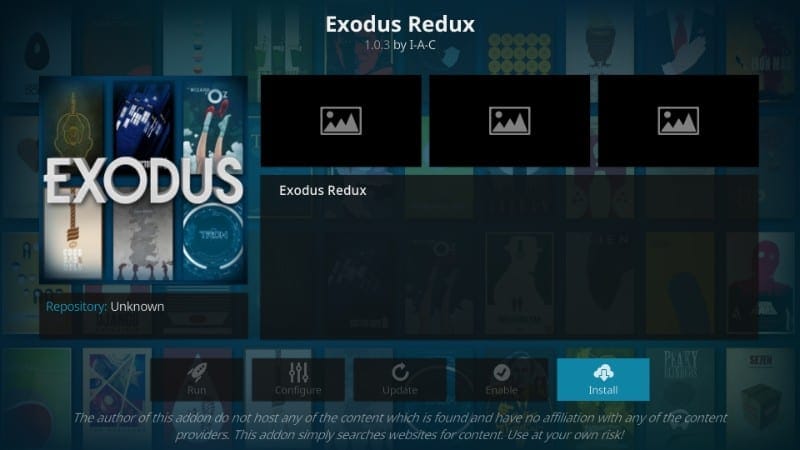 6. Kodi 18 users will also see a new window where the Kodi app will show what are all files that add-on is going to install on their system. Click OK.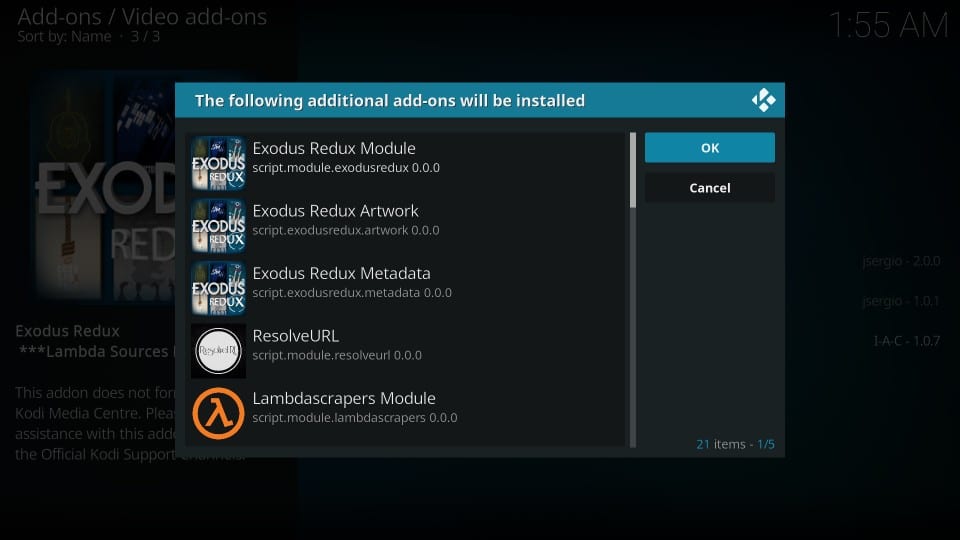 7. Now wait for about a minute for the addon installation confirmation or notification.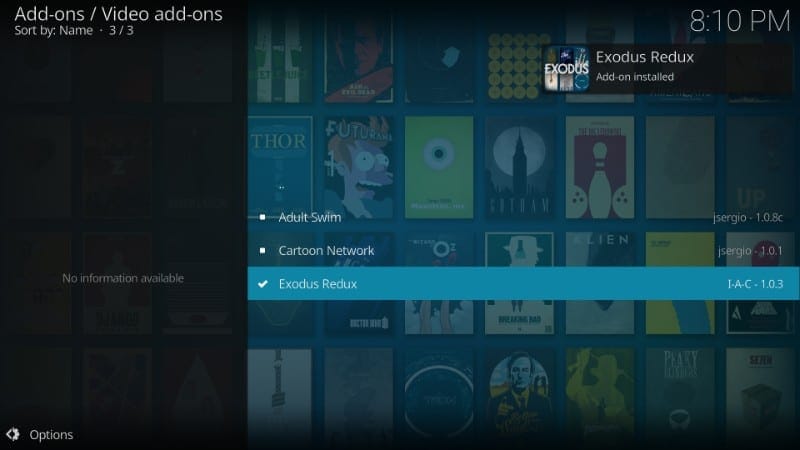 You have successfully installed Exodus Redux Kodi Addon.
Before you start streaming with Exodus Redux on Kodi, I would like to warn you that everything you stream with Kodi will be visible to your ISP and Government. This means, streaming copyrighted content (free movies, TV shows, Sports) might get you into legal troubles.
Kodi users are strongly advised to connect a VPN while streaming. I always connect ExpressVPN on all my streaming devices and I suggest you do the same. A VPN for Kodi will bypass ISP throttling, Government Surveillance, and geo-restriction on popular Add-ons.
So, before you start streaming, here's how to get VPN protection in 3 simple steps.
Step 1: Get the ExpressVPN subscription HERE.
Step 2: Click HERE to download and install the ExpressVPN app on your device.
Step 3: Click the Power icon to connect to a VPN server. That's all. Your connection is now secure with the fastest and best VPN for Kodi.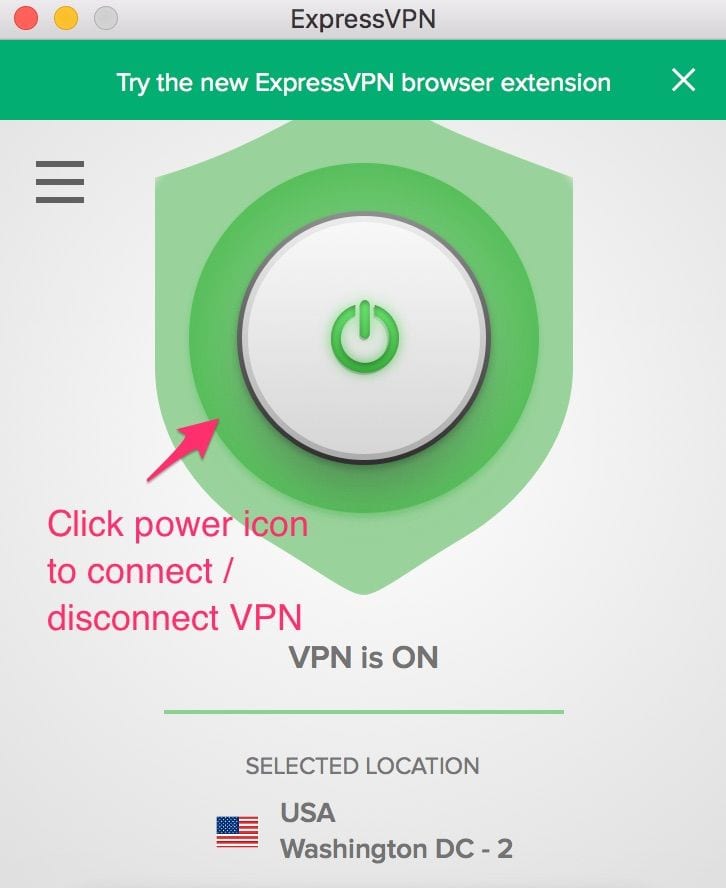 We never promote or encourage copyright infringements. But, we don't want you to end up in the legal hassles either. Furthermore, we believe in the right to privacy and are its strong proponent.
Install Exodus Redux Kodi Addon Using Git Browser (alternate method)
For this method, you must have Git Browser installed. Follow this link to install Git Browser on Kodi using the popular Indigo Kodi addon.
Once you have the Git Browser, follow the steps below:
1. Go to the Kodi home-screen.
2. Open Add-ons from the menu on the left.
3. Click Program add-ons and open Indigo Kodi addon.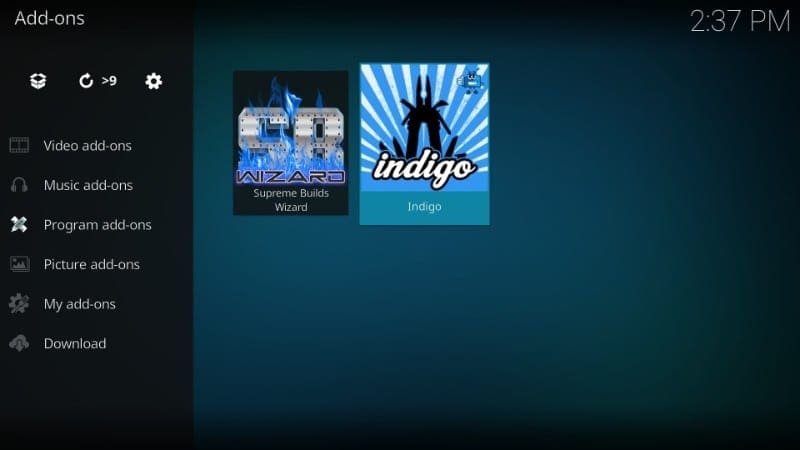 4. Now open Addon installer.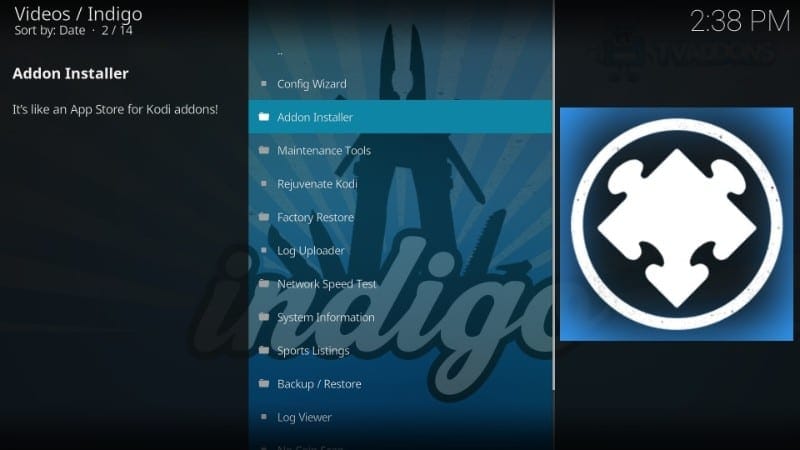 5. Click Git Browser.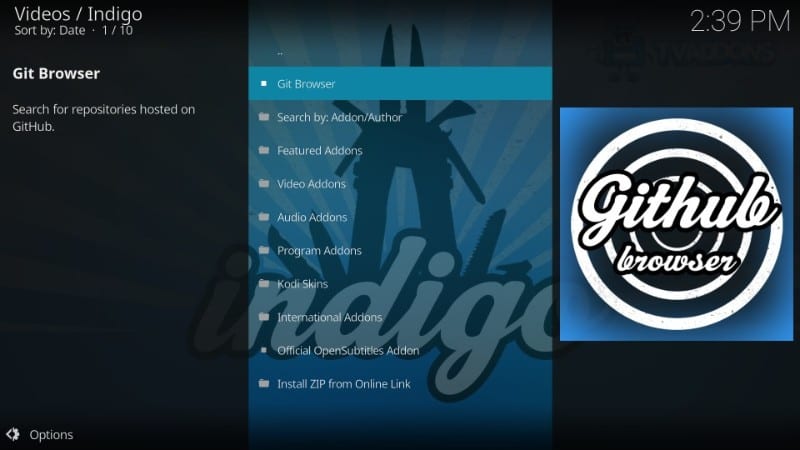 6. Get rid of the following prompt (if it appears) by hitting back key, esc key, or OK button depending upon the device you are using Kodi on.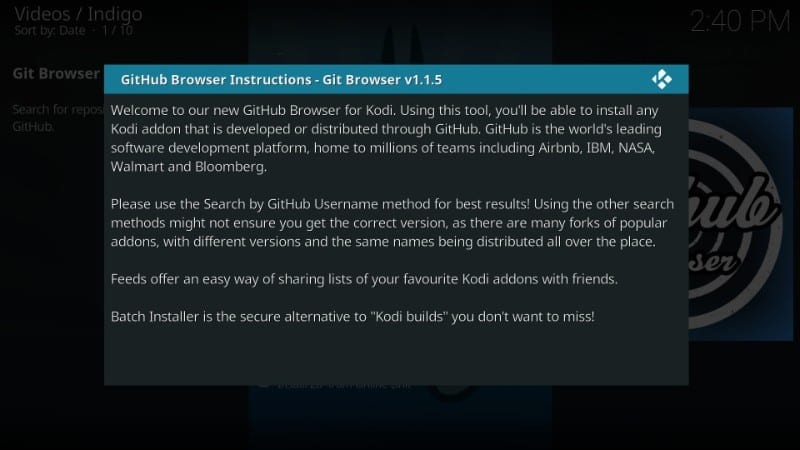 7. Now click Search by GitHub Username.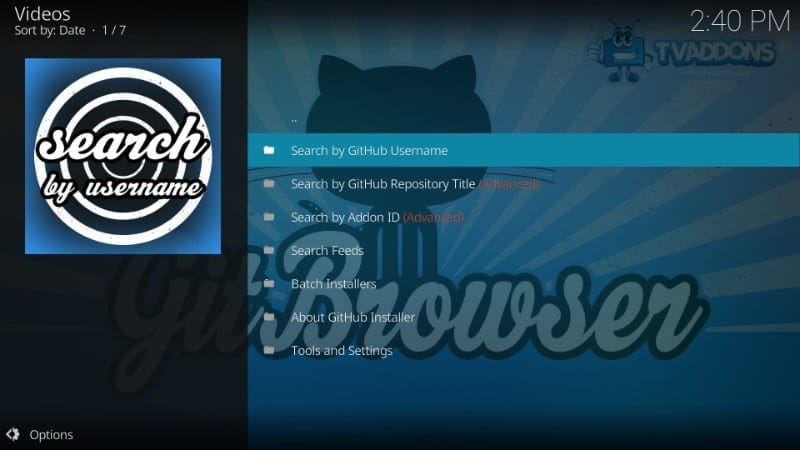 8. Click New Search.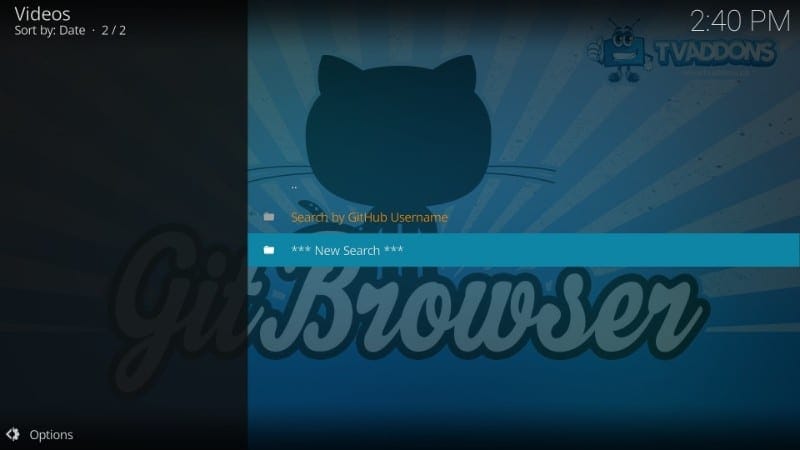 9. Enter the username I-A-C. Click OK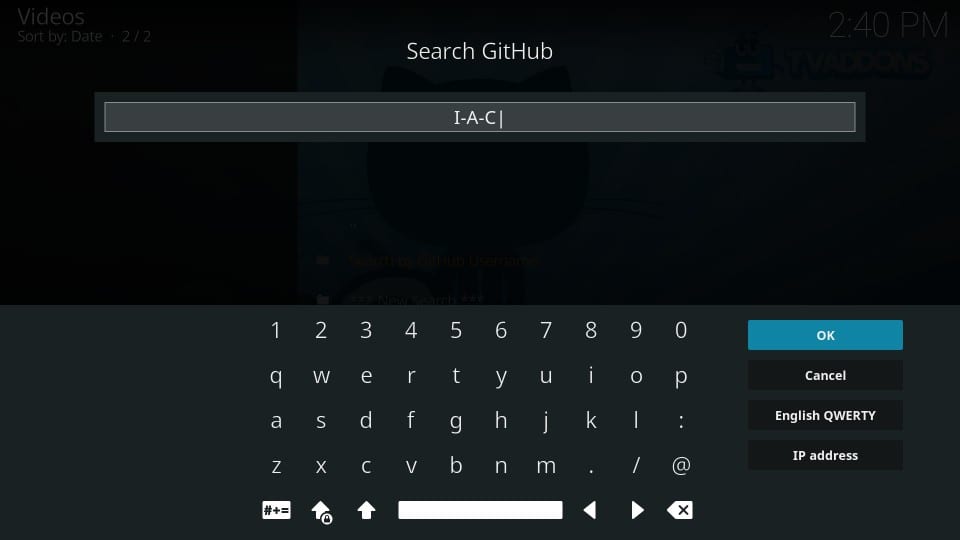 10. Click the zip file repository.exodusredux-0.0.1.zip.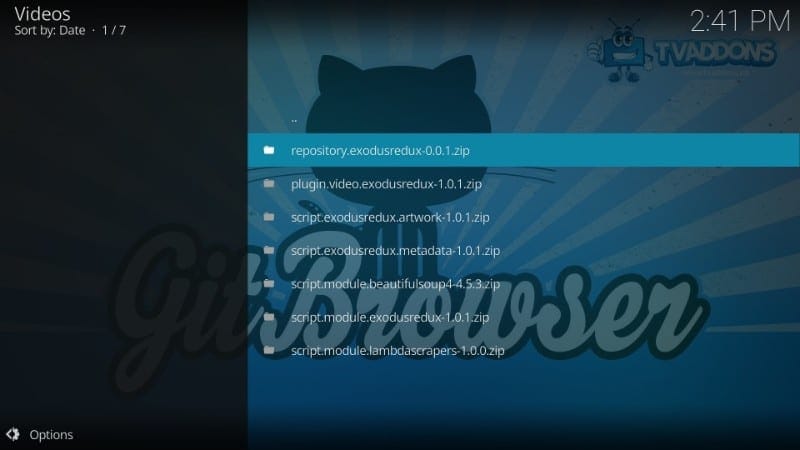 11. When prompted, confirm your intent by clicking Install.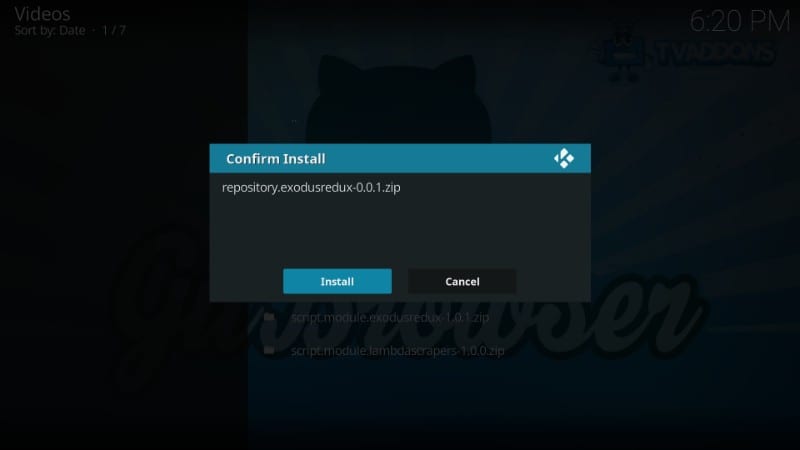 12. When the Exodus Redux repository is installed, click Continue.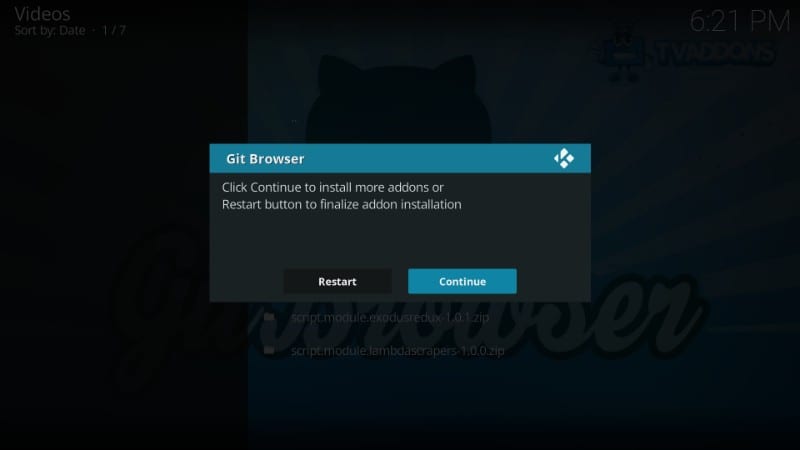 13. Return to the Kodi home-screen and click Add-ons on the left.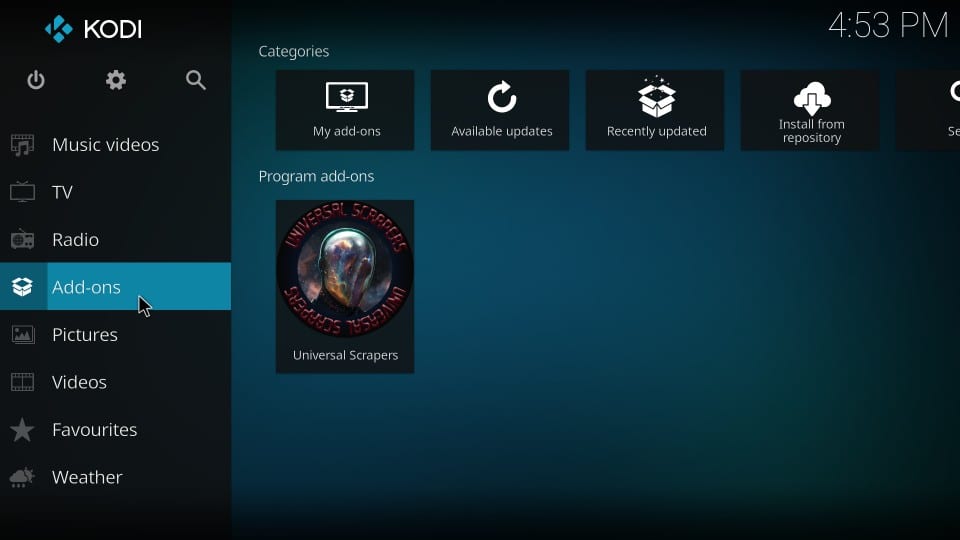 14. Click open-box icon or package installer icon on the top-left.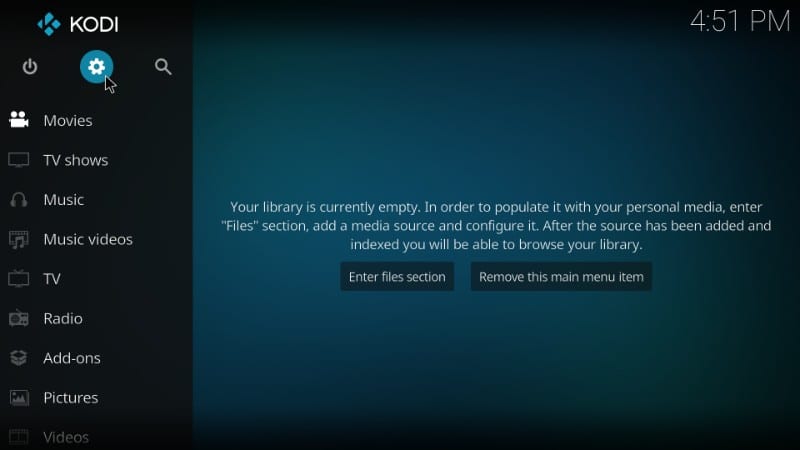 15. Click Install from repository.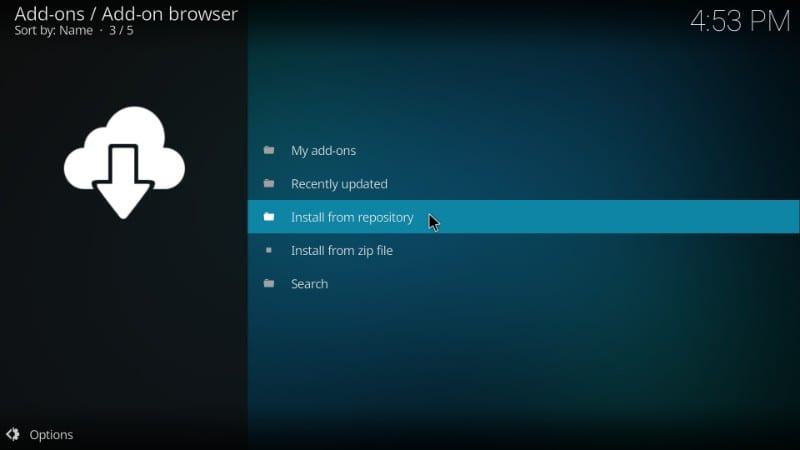 16. Click Exodus Redux Repo.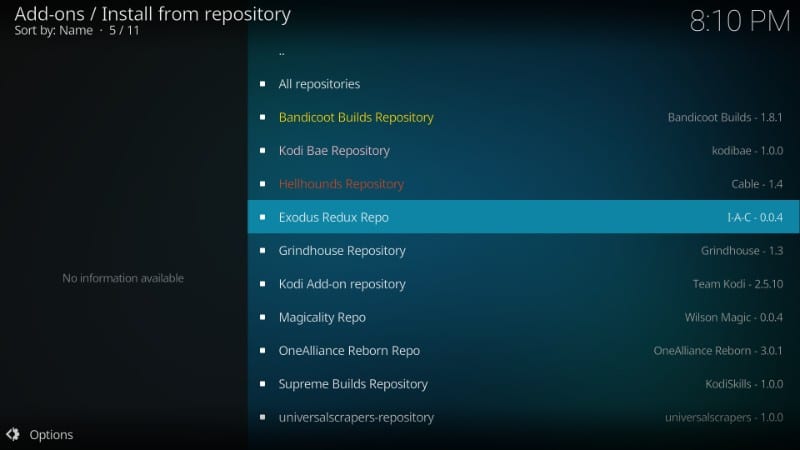 17. Open Video add-ons.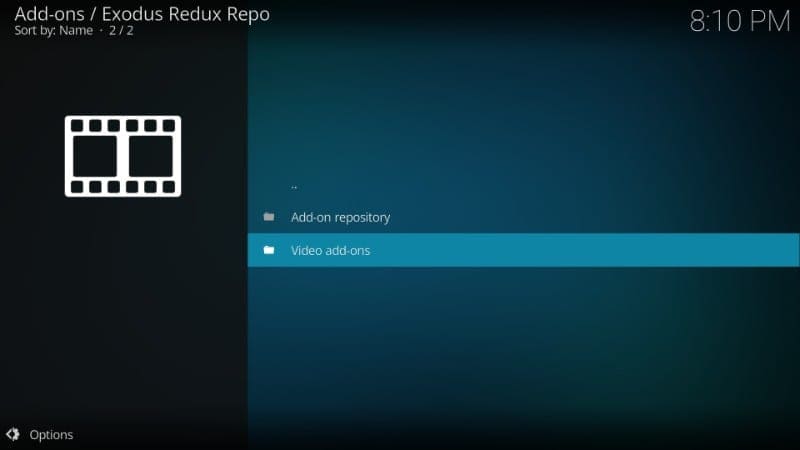 18. Click the Exodus Redux addon.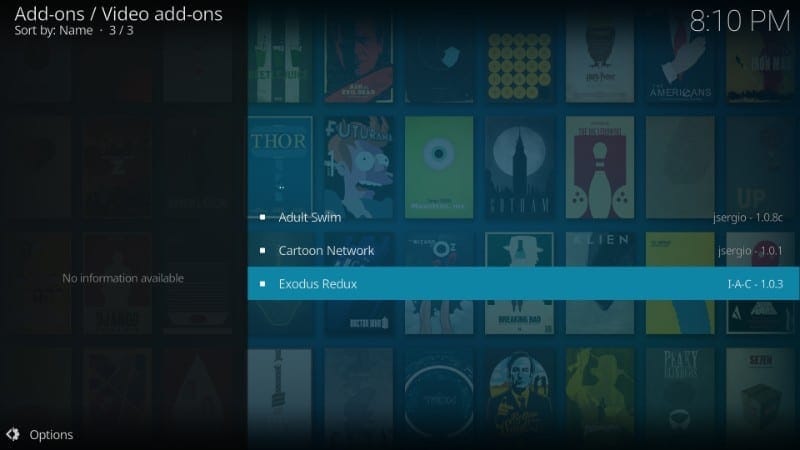 19. Click the button Install.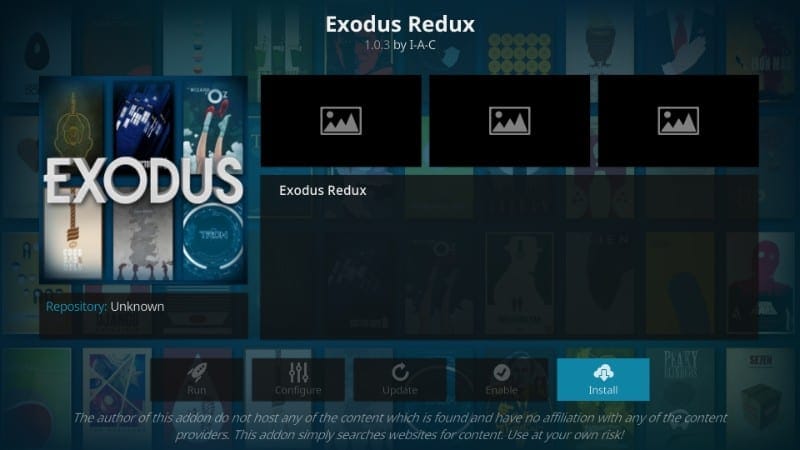 20. Wait for the Kodi Exodus Redux addon installation notification to appear on the top-right.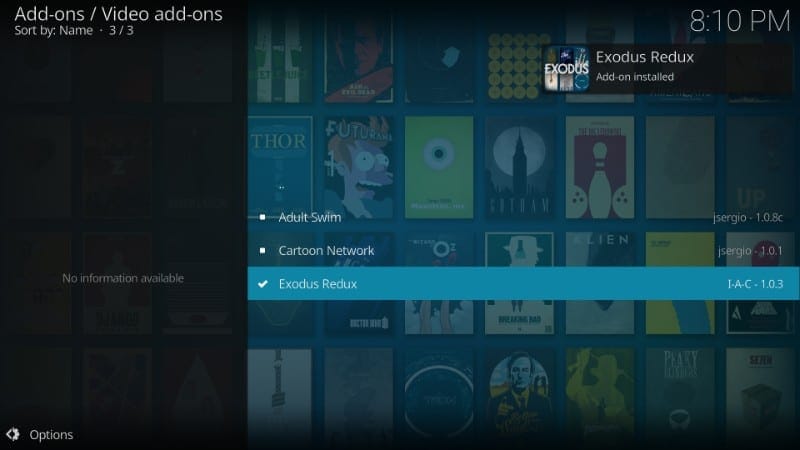 That's it! This is how you install Exodus Redux Kodi addon using the Git Browser.
Exploring Exodus Redux Addon on Kodi
Let's take a quick look at the addon. I am providing the screenshot of the main window of Exodus Redux. Go ahead and open the from the Add-ons > Video add-ons section (navigated from the Kodi home-screen). Following is the main window.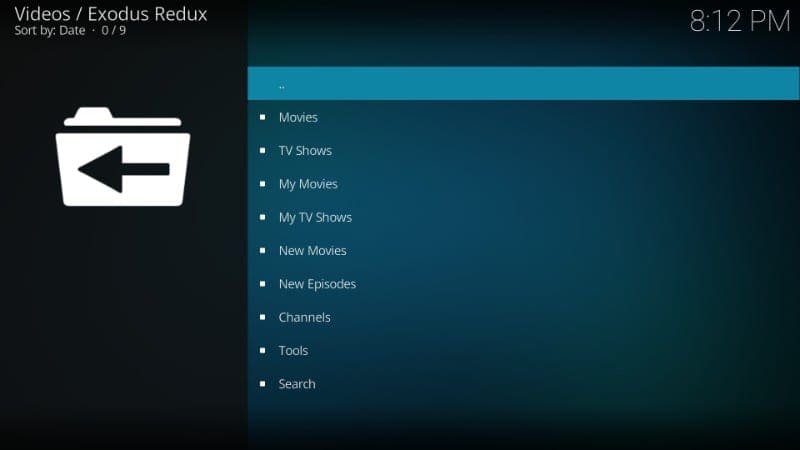 The regular categories like Movies and TV Shows are all there. All you need to do is pick one of the categories and find your favorite movies and shows to play.
Now, all you need to do is open the desired category and navigate to the content you want to watch.
Features of Exodus Redux Kodi Addon
Both Kodi Exodus addons have similar features. However, Redux is more reliable. Here are some of its features:
As I have already said, it employs the best scrapers collectively called Open Scrapers.
Its scrapers have consistently fetched high-quality streams for me.
It is fast. I haven't seen many addons scraping these many streams so quickly.
The content library is also huge. You will find every movie and TV show you could ask for.
The library is updated frequently. I have seen episodes getting added to it within hours of broadcast.
It is free.
How to Install Exodus V8 Kodi Addon
Update: Exodus V8 Addon is currently not working as the Kodi Bae repository is down. Please try the Exodus Redux addon mentioned above in this guide or try other Kodi Addons.
Now that you know how to install and use Redux, let's get on with the installation process of the original Kodi Exodus addon. These steps are for Kodi 18 Leia. If you are running a lower version, you can follow this guide to update Kodi to the latest version.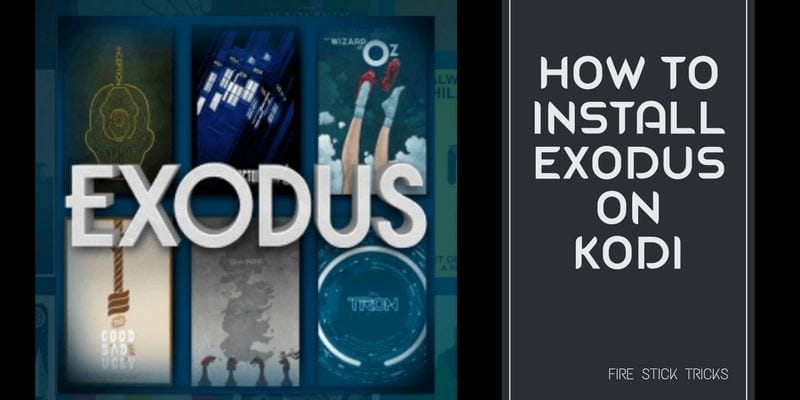 Note: If this is the first time you are installing a third-party Kodi Addon, I am sure the "Unknown Sources" option is disabled on your Kodi app. We must turn it ON in order to download and install Kodi Add-ons that are not coming from official Kodi developers. You can do so by:
Kodi Leia: Settings > System > Add-ons > Unknown Sources
Kodi Krypton: Settings > System settings > Add-ons > Unknown Sources
Now, follow the steps below.
Step 1: Launch Kodi App on your Fire TV Stick or PC. FireStick users can navigate to Kodi app by heading to Settings > Applications > Manage Installed Applications > Kodi.
Step 2: Click Settings gear icon on top-left of your screen.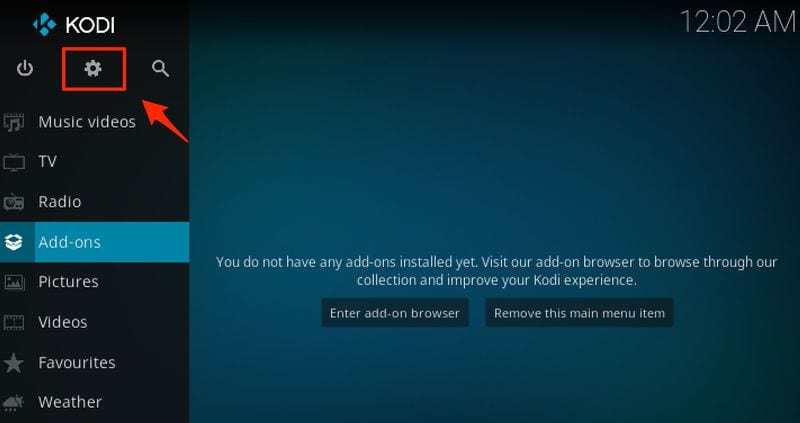 Step 3: Open "File Manager" and then click "Add Source"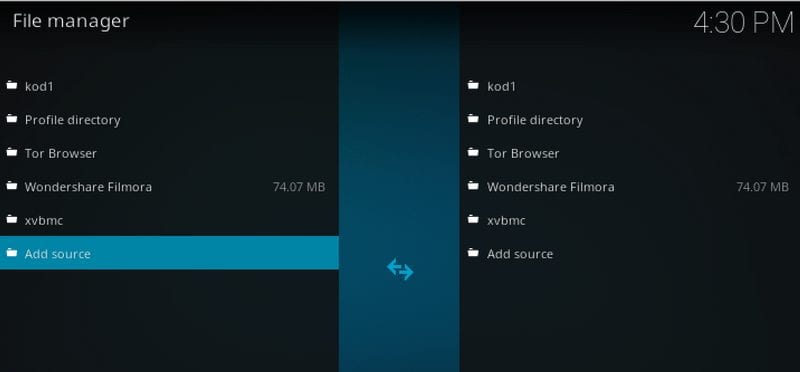 Step 4: Replace "None" with this URL – http://lazykodi.com
In the name field type lazy or any other name, you like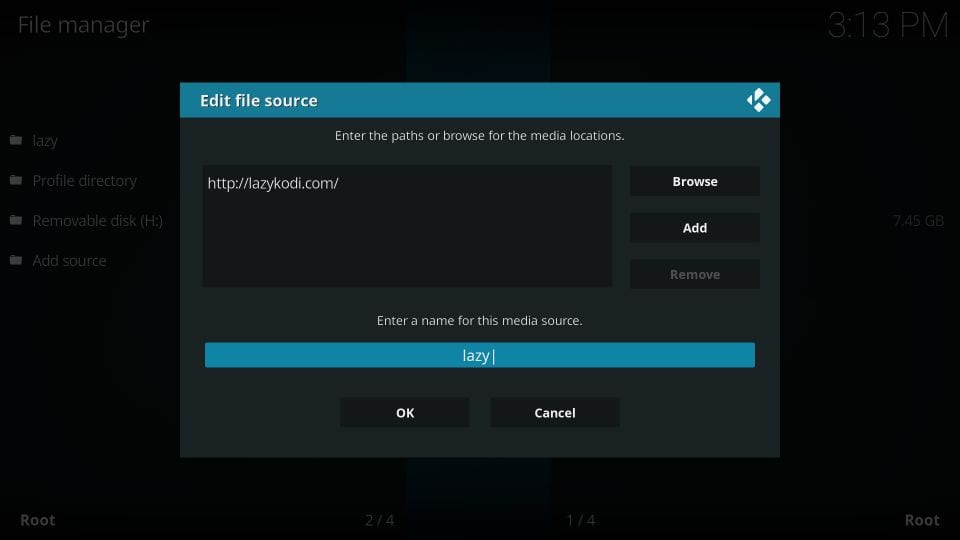 Step 5: Go back to the home screen of the Kodi app. Click "Add-ons" on the left sidebar and then open "Package Installer" on the top-left of your screen.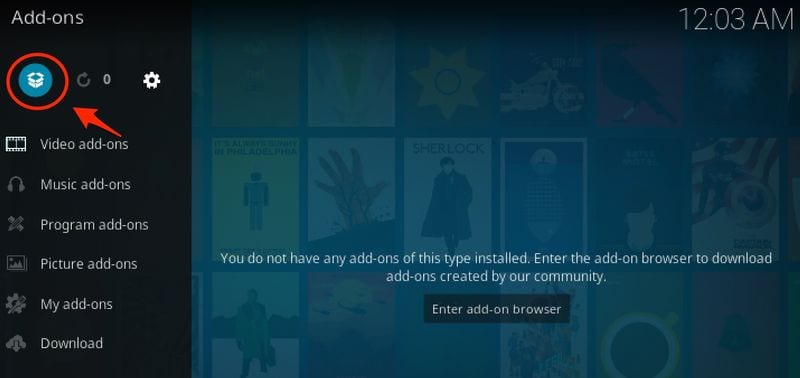 Step 6: Open "Install from Zip File" and click "lazy" or any other name you chose earlier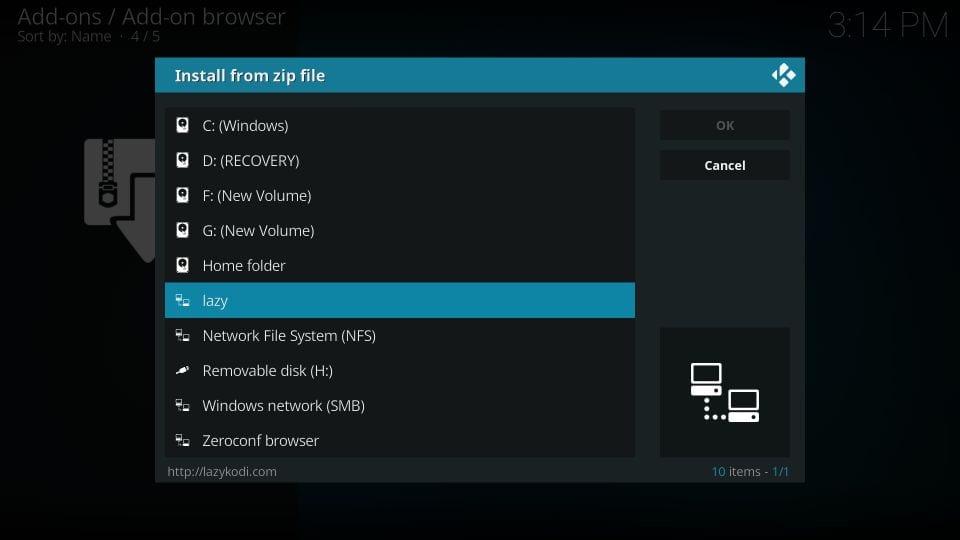 Step 7: Click "Zips" to install the Kodi Bae repository for Exodus.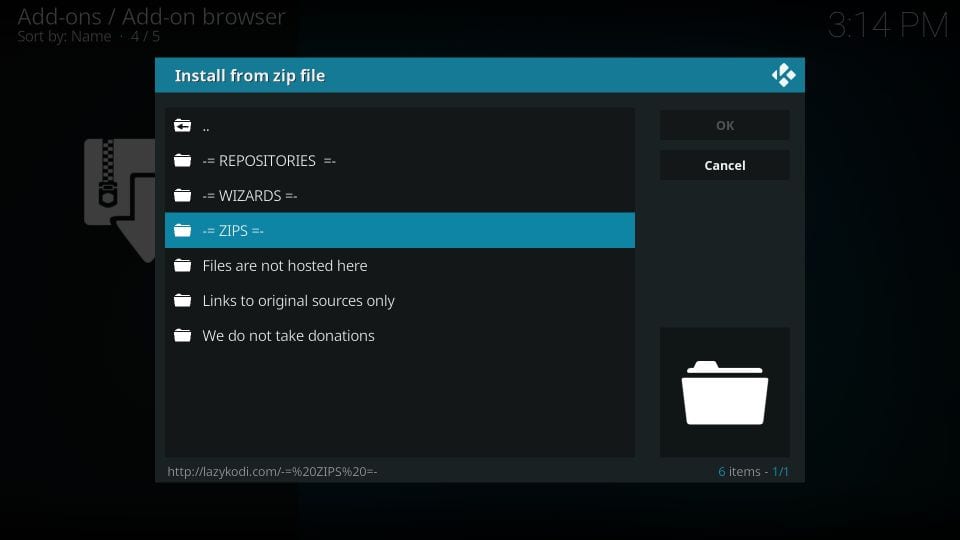 Step 8: Click "KodiBae.zip"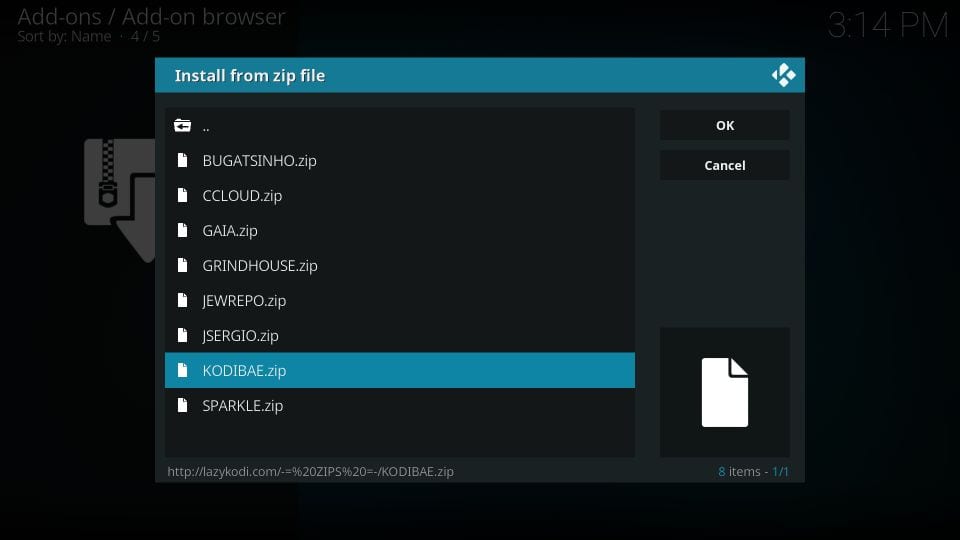 Step 9: Wait for the success notification on top-right of the display. Once you get the notification "Kodi Bae Repository Add-on installed," you are good to go with the next step.
Step 10: Click "Install from Repository" and select "Kodi Bae Repository"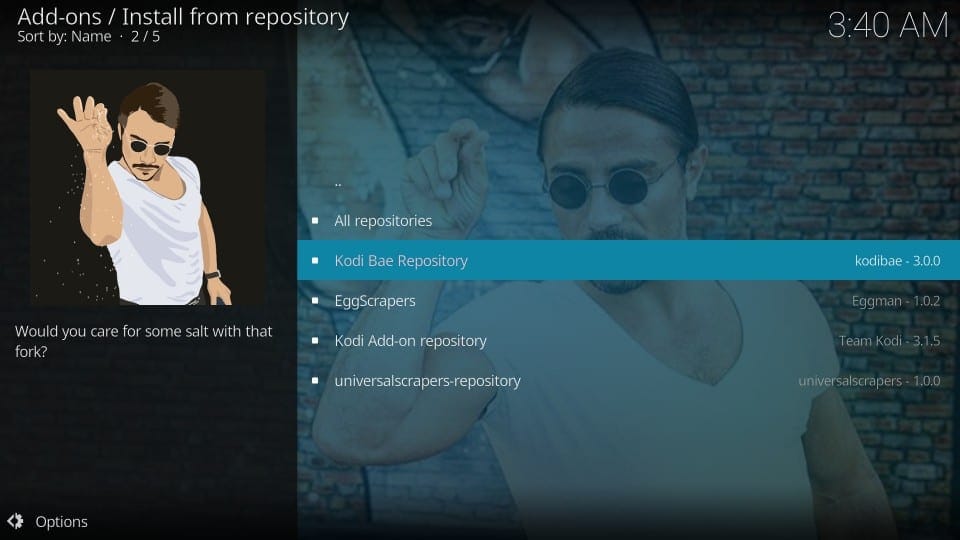 Note: Step 11 to 13 are additional because many users are encountering Indigo dependency error while installing Exodus Kodi 8.0. Hence, we are also installing TVAddons repository to make sure you don't face the Indigo dependency error.
Step 11: Open "Add-on repository"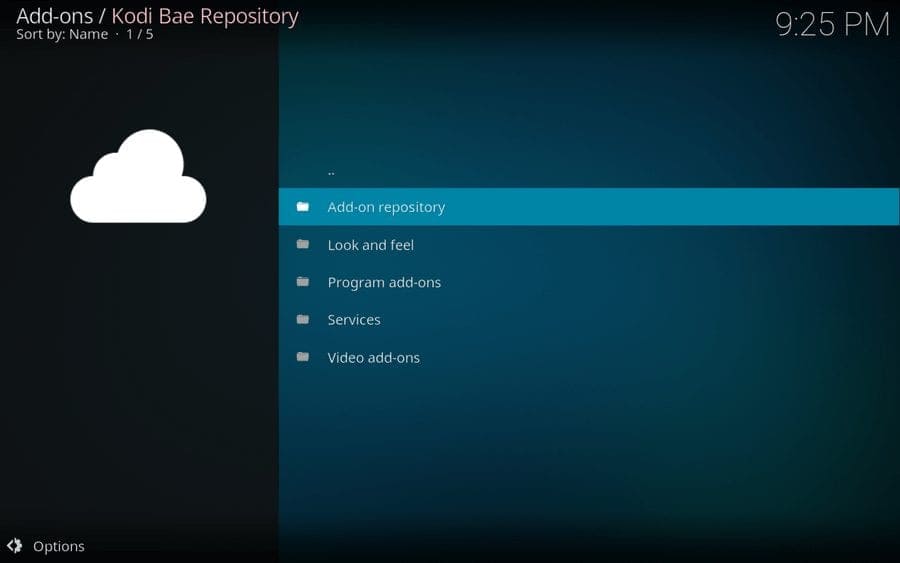 Step 12: Click "TVADDONS.CO Add-on Repository"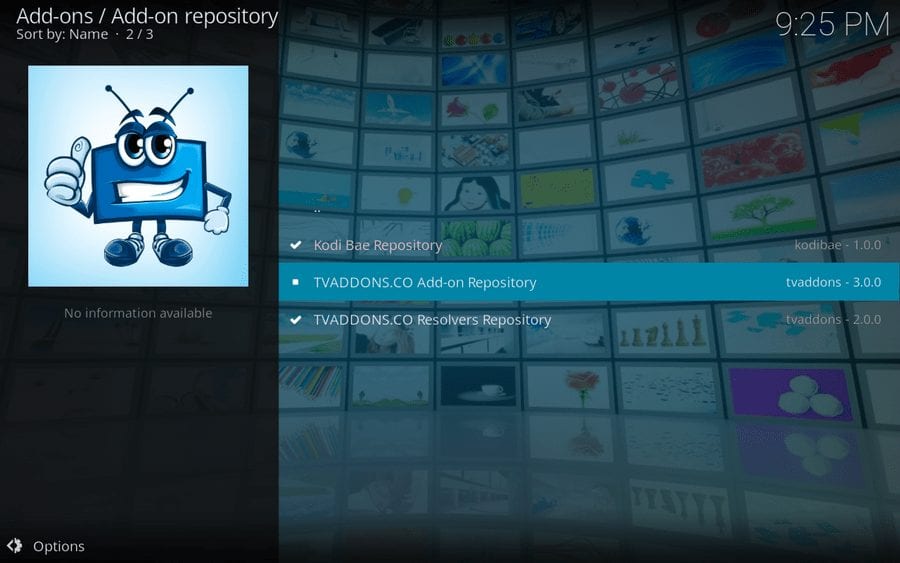 Step 13: Click "Install"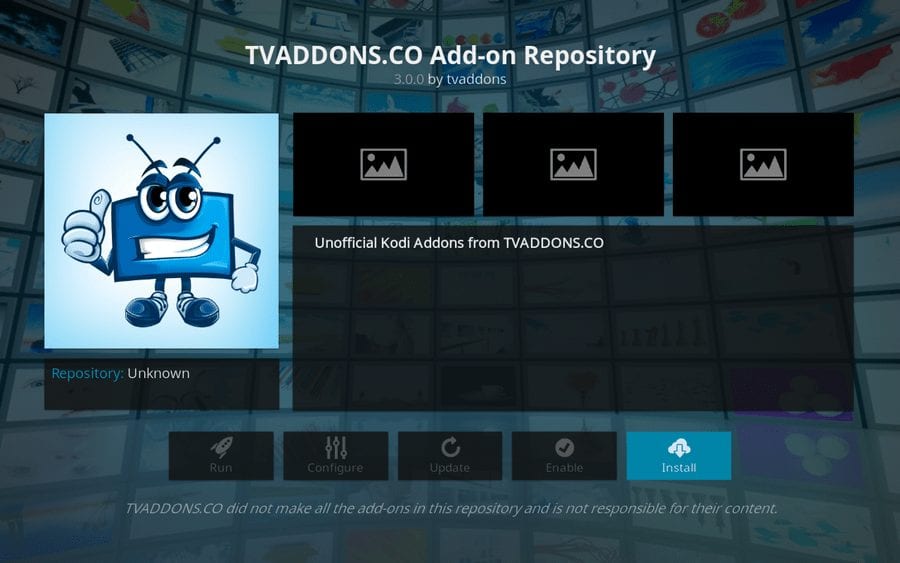 Step 14: Now go back to Kodi Bae Repository and Open "Video Add-ons" folder.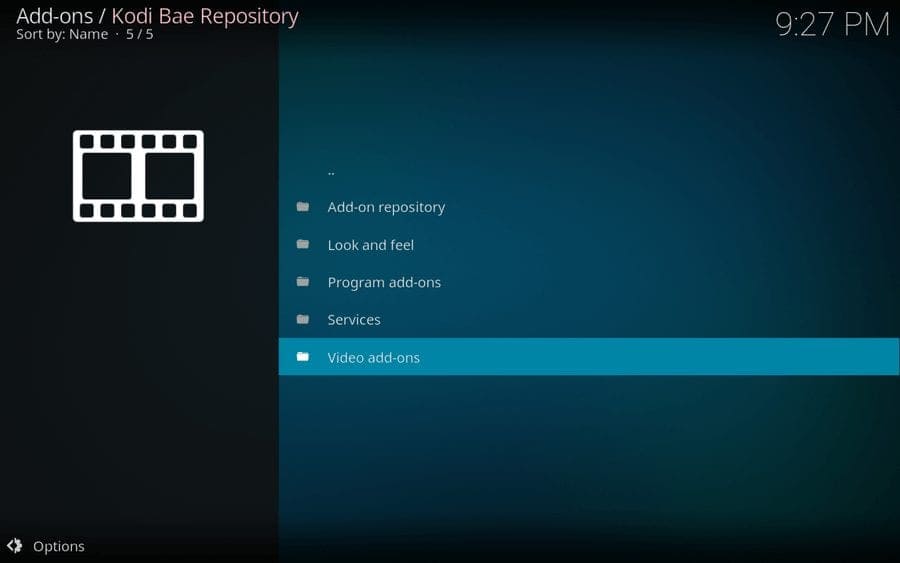 Step 15: You will see a list of Kodi Add-ons on your screen. Find and open "Exodus."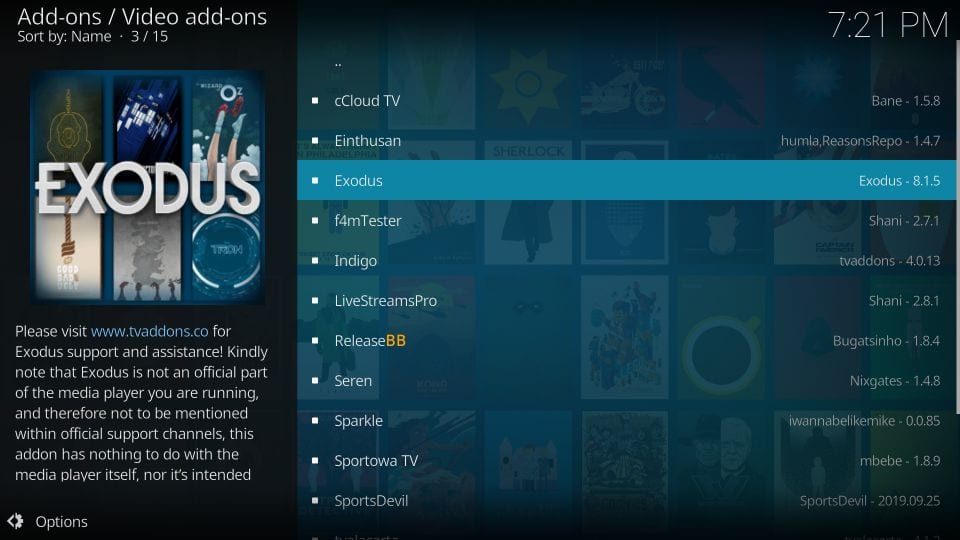 Step 16: Now click "Install" to finish the Exodus installation process.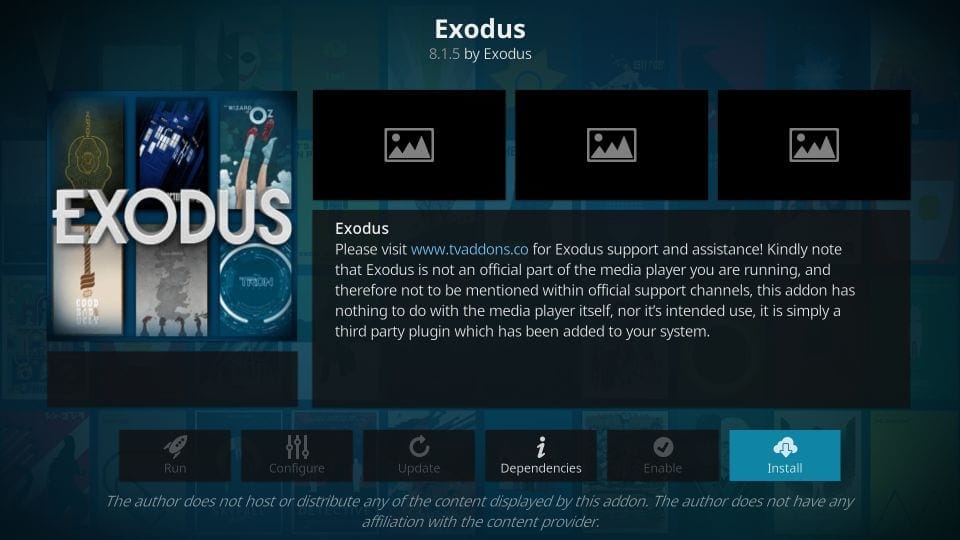 Note: If you are installing this addon on Kodi 18 Leia, you will see the following prompt after clicking Install above. This prompt lists all the additional add-ons that will be installed with Exodus addon. Click 'OK' to continue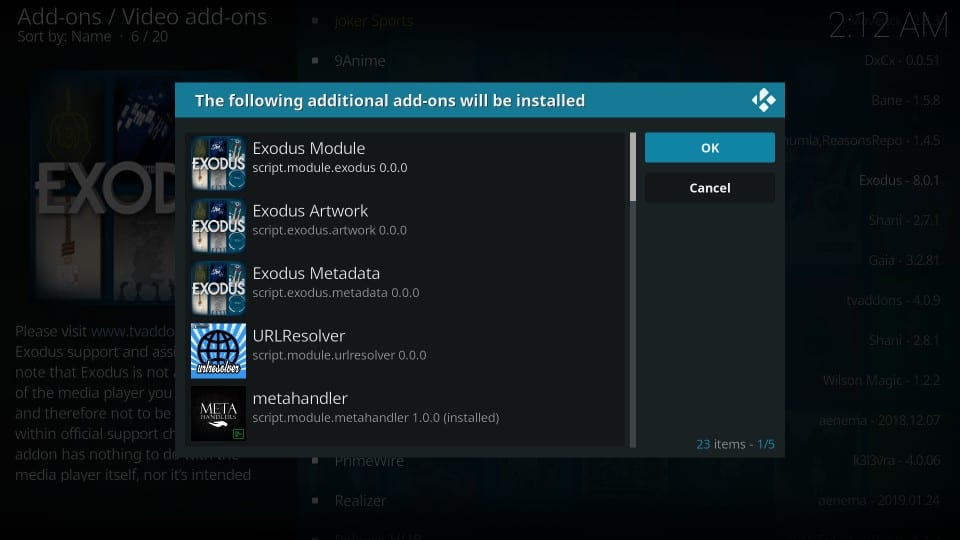 Step 17: Wait for Exodus Kodi Addon to download and install it from Kodi Bae Repository. Once you get a success notification on the top-right of your display, you are done with the installation process.
Kodi Exodus Addon Video Guide
https://youtu.be/pHtiqPTnKwE
How to Use Exodus Kodi Addon
Once you have installed Exodus on Kodi Krypton for your PC (Windows / Mac) or FireStick, go to the homepage of Kodi. Now click "Add-ons" on the left sidebar menu options and then hover over "Video Add-ons." You should see "Exodus" listed on the right side. Just click it once to open the Exodus Addon.
Now you can explore the different sections of the Addon. As you can see in the image below, there are several folders including Movies, TV Shows, New Movies, New Episodes, etc. You can explore and use it as per your preferences.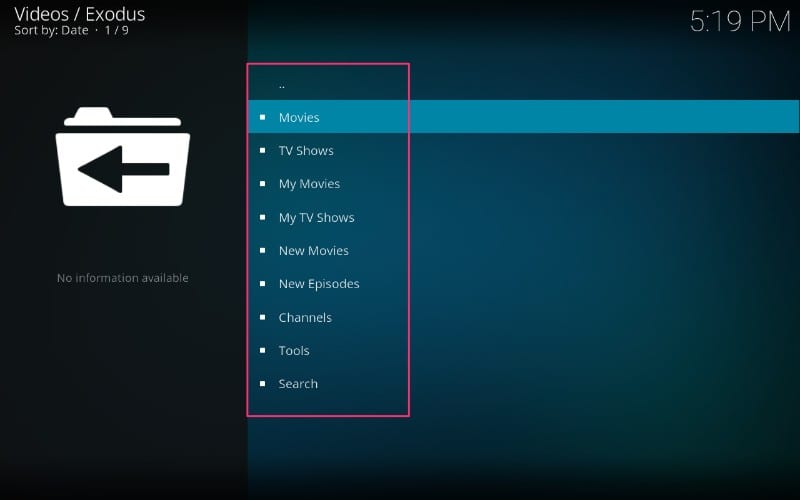 How to Update Exodus Kodi Addon
The same method works for updating any Kodi addon. I am sharing the steps to update the original Kodi Exodus, which applies to Redux as well.
1. Go to the Kodi homepage and click "Add-ons" on the left sidebar menu. Now go to "Video Add-ons" and then right-click "Exodus" (long-press Exodus on a touch device; on FireStick press the menu button on the remote). Click "Information"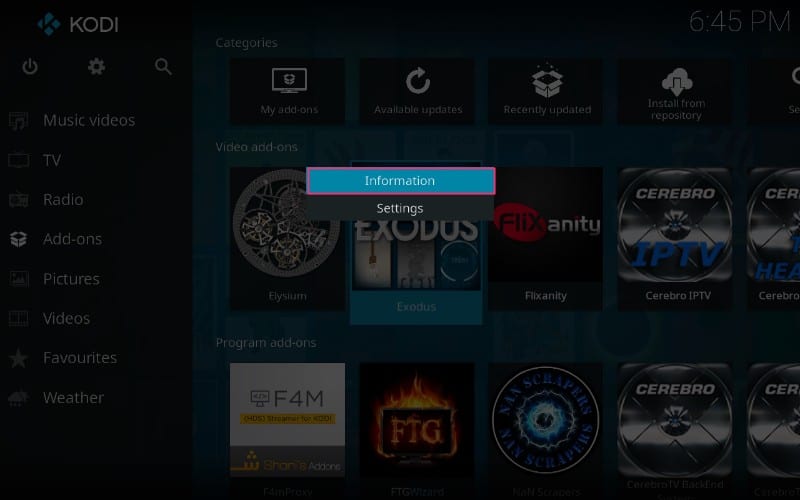 2. Click "Update" options on the Addon information page.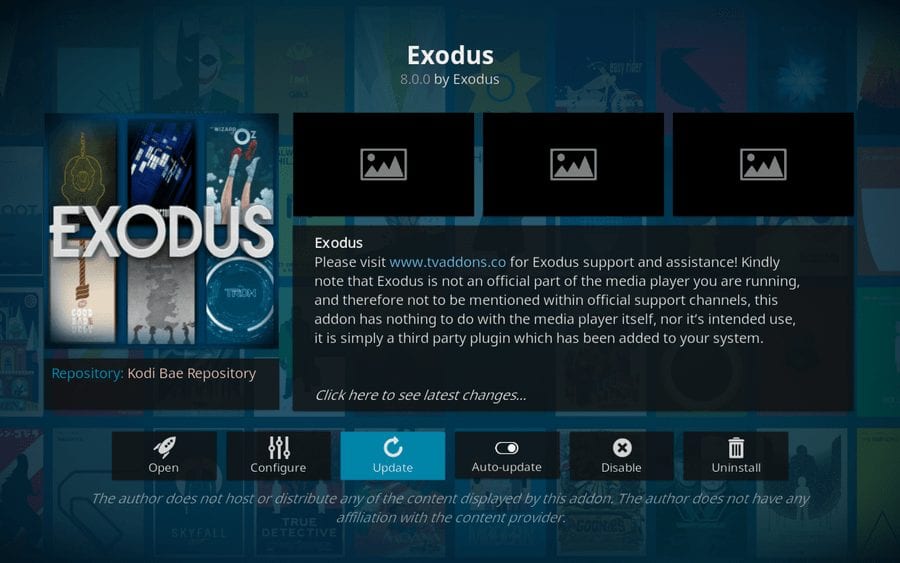 3. If there will be a new Exodus update, you can install it from there. As of this writing, Exodus 8.4.8 is the latest version.
Exodus Not Working/ Streaming
The new version Exodus v8.2.0 should fix the streaming issues. However, if you continue to experience issues, keep reading.
If you are here to fix the Exodus Kodi problems that are mainly related to no stream available for movies / TV shows. I suggest you reinstall the addon using the steps above. If you are using the older Exodus Addon that was available through TVAddons, it won't stream due to the shut down of TVAddons. The only way to get it working is that you install it fresh using Kodi Bae Repo as described above.
If you are still facing any errors after reinstalling the new Exodus Addon using the method I shared above, you can always share the issues in the comments below.
Exodus Kodi Addon: FAQs
We keep receiving several questions about Exodus since its shut down. I have answered a couple of frequently asked questions below.
Is Exodus Addon Legal?

Exodus or any other Kodi addon is legal for you as long as you are streaming content available in the public domain. However, streaming copyrighted or licensed content for free is illegal.
Are Exodus & Exodus Redux different addons?

Yes, both these addons are different. Exodus is an older addon that was once very popular. But, it was shut down and later revived. Redux is a fork of the original addon. However, these days it is much more popular than its predecessor.
What can you watch on Exodus Kodi addon?

Both Exodus and Exodus Redux addons are the on-demand Kodi addons for streaming Movies and TV Shows. They both have a big library of content. Whether you are looking for old or new titles, you are likely to find them in these add-ons. You may also find other types of on-demand content, such as documentaries and videos for kids.
How to update Exodus addon on FireStick?

If you already have the addon on your device, simply follow the installation instructions again as shown above (DO NOT uninstall the existing version). If there is a new version, it will be updated without you having to lose any existing addon data.
Winding Up
So, here are the methods to install Exodus Redux and the original Kodi Exodus addon. Both these add-ons are working fine these days. However, Redux has become more popular, and rightly so as it is faster and gets better streams. What are your thoughts? Let us know via the comments section below.
Related:
Legal Disclaimer - FireStickTricks.com does not verify the legality or security of any add-ons, apps or services mentioned on this site. Also, we do not promote, host or link to copyright-protected streams. We highly discourage piracy and strictly advise our readers to avoid it at all costs. Any mention of free streaming on our site is purely meant for copyright-free content that is available in the Public domain. Read our full disclaimer.
Disclosure - FireStickTricks.com is reader-supported blog. When you buy a product through links on our site, we may earn commission. Learn More