If you are not a UK resident and love BBC content, you are also going to love this article. I will show you which is the best BBC iPlayer VPN, and how you can use it to access the BBC from anywhere in the world.
These days, there are so many different streaming options for movies and shows that it can get confusing to choose just one. And since most streaming services have a subscription fee, they can also put a dent in your pocket. But even amidst all the paid streaming networks, there is one option that is free – or 'somewhat free' to be precise.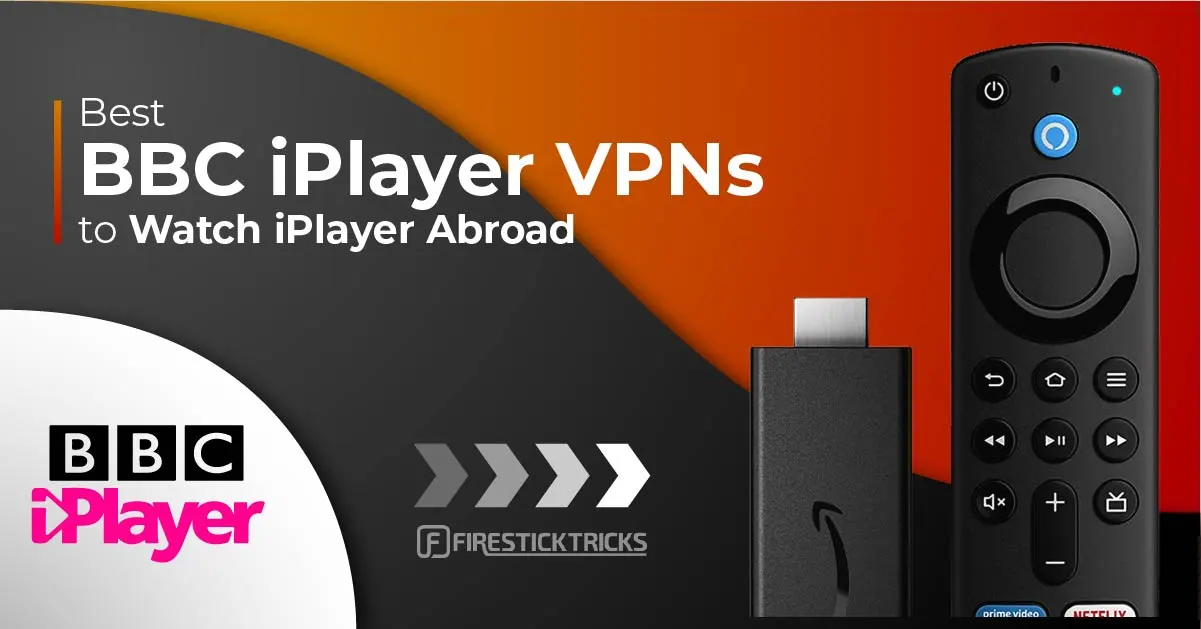 We're talking about the BBC iPlayer service, which does not require any subscription fees. However, only users in the UK and with a TV license can access their service. If you visit the iPlayer website while not in the UK, you will be welcomed with a message – BBC iPlayer only works in the UK. Sorry, it's due to rights issues OR this content is not available in your location.
But worry not, as you can easily access BBC iPlayer outside the UK as well, and this can be done using a VPN. It doesn't matter if you are living in the US, Canada, Australia, India, Russia, France or China. This small trick will get you access to the huge library of BBC. Read on below to find out which VPNs can let you watch BBC iPlayer from anywhere in the world.
What is a VPN? How does it unblock BBC iPlayer outside the UK?
A VPN is a tool that changes your IP address. An IP address is a unique number given to every internet connection that lets the internet service provider (ISP) and other servers know which location you are accessing the internet from. That is why when you try to sign up for BBC iPlayer from countries other than the UK, their servers can detect your location from the IP address. And they will block their service if you live abroad.
However, a VPN diverts your normal internet connection through servers in different countries. By doing so, it changes your IP address. So you could be in the US, and change your IP to a German address. Then, your ISP and other servers will think that your connection is coming from a German server.
This means that when you use a VPN and set it to a UK IP address, BBC iPlayer will work for you no matter where you are located. The BBC servers will see your IP and believe it to be coming from a location in the UK, allowing you to access all your favorite shows.
For those who are not aware, BBC iPlayer will allow you to watch several channels including –
BBC One
BBC Two
BBC Three
BBC Four
CBBC
CBeebies
BBC News Channel
BBC Parliament
BBC ALBA
The best BBC iPlayer VPNs in 2023
There are 100s of VPN providers and nearly all of them claim to work with BBC. But the truth is entirely different. There are only a few VPN services that actually unblock streaming services like BBC iPlayer and Netflix.
After spending several hours on testing, I found the following best VPNs for BBC iPlayer that still works in 2023:
Rated #1 BBC VPN out of 34 VPNs reviewed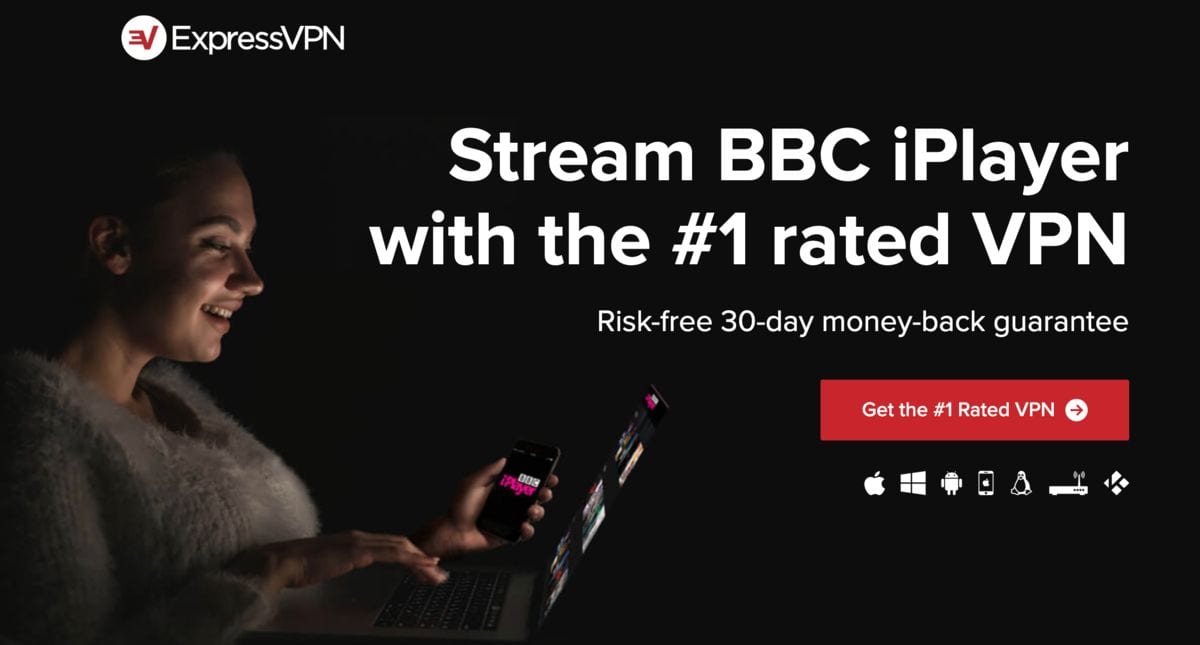 ExpressVPN is one of the best VPNs in general, which also makes it the best choice for streaming shows on BBC iPlayer.
Let's take a look at its features.
Servers
The best part about ExpressVPN is that it has six different UK servers, so you can easily get a UK IP address using this VPN. More servers also mean better speed, which will allow you to watch your favorite shows without any interruption, and without having to sacrifice the video quality. No matter where you are located in the world, with a single click you can change your IP address to a location in UK and access BBC iPlayer with ease.
Subscription Cost
This VPN service has different subscription plans based on their duration. Their basic subscription plan for a month costs $12.95 and you will be billed every month. The 6-month plan costs $9.99/month so you'll have to pay a total of $59.95 every 6 months. The annual plan costs $8.32/month, and you'll be paying $99.95 every year. Every plan offers a 30-day money-back guarantee.
However, ExpressVPN is also offering a special discount at the time of this writing. You can get 3-months of service free and save 49% on its annual plan.
But what if you are not satisfied? Does that mean your first-month subscription fee gets wasted? Short answer – No. If you are not happy with Express VPN, then you can claim for a refund in the first month, as they offer a 30-day money-back guarantee, no questions asked.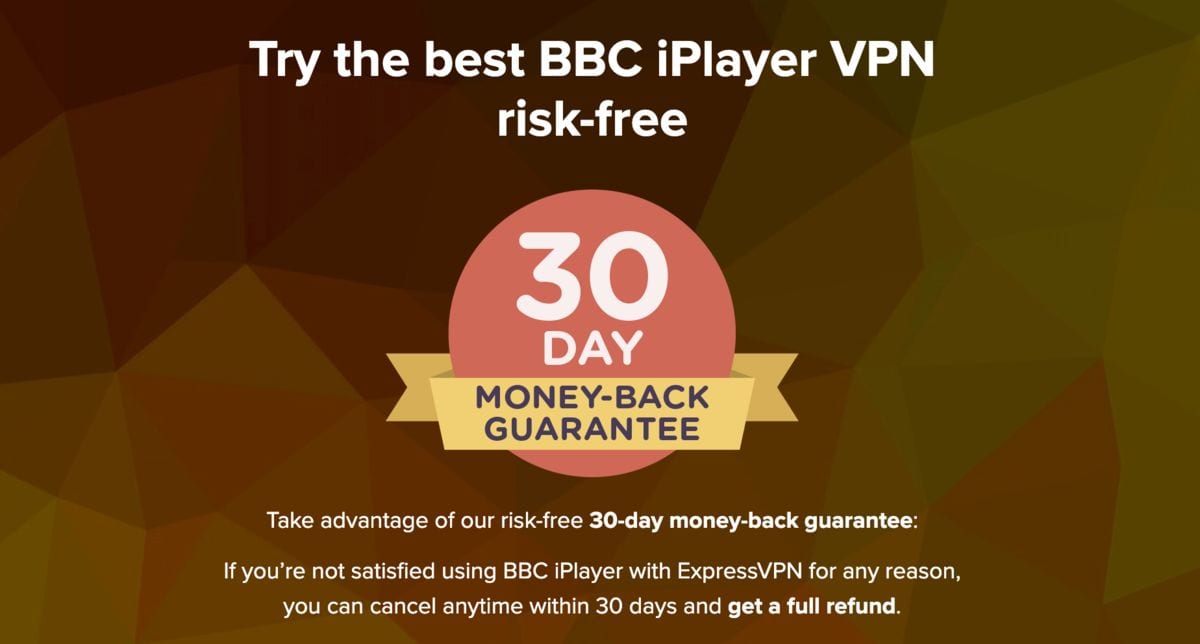 Speed and Security
When it comes to speed, ExpressVPN outruns all its competitors. According to the speed test conducted by our experts, running speed tests for various servers at different locations with ExpressVPN led to an average speed of 106 Mbps (Allotted speed of 120 Mbps). Those are impressive figures with speed retention of 88.33%, and you can easily stream videos at 4k Ultra-HD quality with such a fast connection. The average speed test for various regions are:
Speed in North America: 117 Mbps
Speed in Europe: 107 Mbps
Speed in Asia: 96 Mbps
In terms of security, they have military-grade encryption, and they don't record any identification logs. This means that while they keep track of your browsing history, they don't store your real IP address in their servers which keeps you completely anonymous.
Other features
A single subscription plan with ExpressVPN allows you to simultaneously connect 8 devices. They are regularly updating their servers and security measures to avoid getting blocked by BBC. In addition, ExpressVPN offers a free Password Manager tool branded as Keys with its subscription.
Furthermore, their customer support team is quite interactive and is available 24/7 through live chat.
Compatibility
ExpressVPN works on Android, iOS, Windows, Mac, Linux, and Routers. They even have extensions for Chrome and Firefox browsers. Apart from that, this VPN is also compatible with Firestick. They have a simple and easy-to-use interface across all platforms.
Jurisdiction
The Company comes under the BVI (British Virgin Islands) jurisdiction, which is not subject to any data retention laws or legal government surveillance.
Verdict
Despite being the most expensive services in this list, ExpressVPN is our first recommendation for BBC iPlayer VPN. They have earned the trust of their huge user base and are the most reliable network in the market. With all these amazing features, you're bound to be satisfied with this VPN. So without any doubt, ExpressVPN is clearly the best VPN for BBC iPlayer.
How to Access BBC iPlayer
This is the easiest part once you get your hands on a good VPN.
1. Install VPN on your Device
2. Open VPN app and connect to the UK server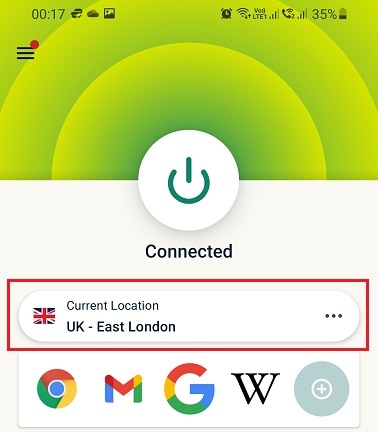 3. Visit https://www.bbc.co.uk/iplayer and sign in with your login details.
4. That's all. You can start watching your favorite shows.
Note: If you don't have a BBC iPlayer account, you can create a new account following the link above. You won't be asked a Credit card or other payment-related details.
Rated #2 out of 34 VPNs tested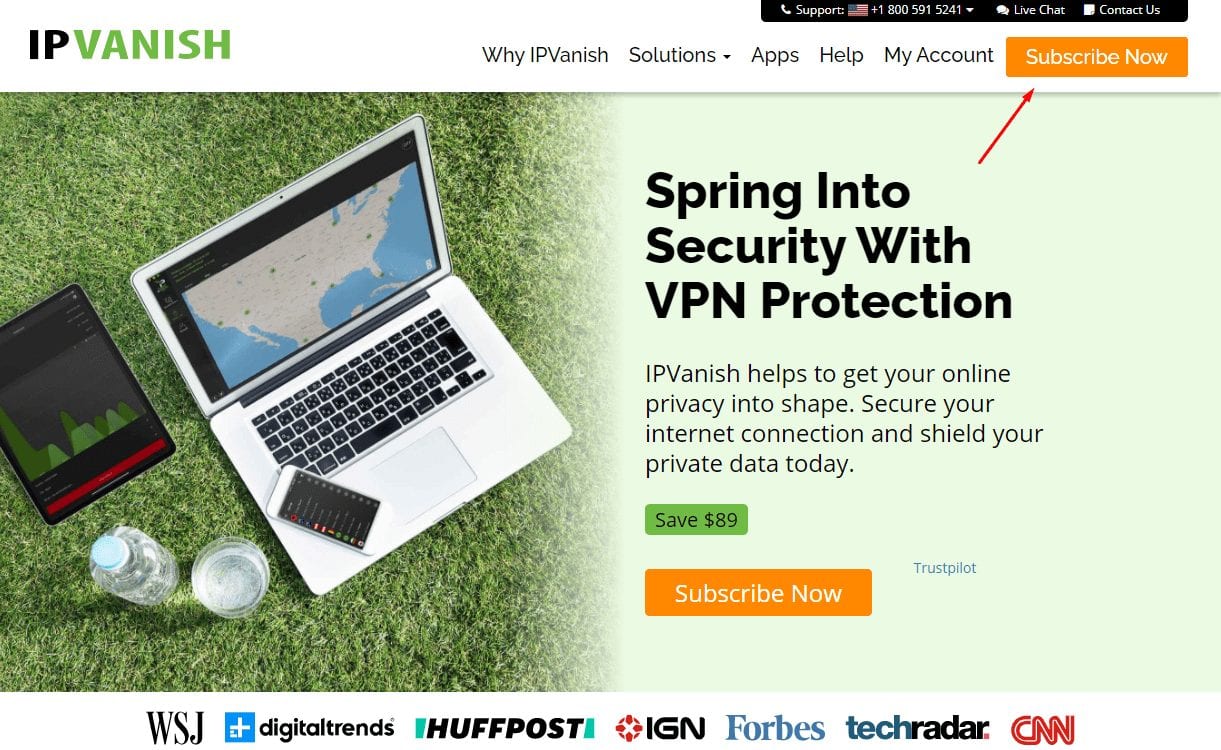 Are you looking forward to magically vanishing away from the prying eyes of the internet? Then, say hello to IPVanish.
Made for people who take their privacy and security on the internet seriously, IPVanish is a VPN service based in the US. With the service, you can hide your identity, lock your data and stay entirely anonymous on the world wide web without sacrificing anything.
Just like other VPNs we have reviewed in the piece, IPVanish is a reliable, fast, and secure VPN service to stream BBC iPlayer. No matter where you are, you can easily watch BBC iPlayer using IPVanish.
Servers
To watch BBC iPlayer, you'll need to access UK servers – and IPVanish lets you do that with ease. No matter where you are, by a single click of the button, you can connect to ultra-fast servers of IPVanish in the UK.
UK servers of IPVanish are based on bleeding-edge industry technologies. As a result, you won't experience any lag or latency when you are streaming your favorite content on BBC iPlayer.
IPVanish UK servers support all the high-definition resolutions like 4K, 2K, and 1080p. Also, you won't experience any picture-tearing due to packet loss – just a smooth and reliable BBC iPlayer streaming experience.
Unlike your ISPs, IPVanish is strictly against any type of throttling. This means, when you are connected to a UK server to watch your favorite show on BBC iPlayer, you won't notice speed and data degradation with time. Instead, everything would remain buttery smooth from the get-go till the end of your binge session.
Now, let's talk about the nitty-gritty numbers. Currently, IPVanish delivers across to over 100 VPN servers in the UK. Overall, they have a vast network of over 1,900 servers in 75+ different locations around the world.
Subscription Cost
Created by and for privacy enthusiasts, the IPVanish pricing plans have something for everyone. From monthly to quarterly and yearly, there is every type of plan targeted toward every kind of user – and all at an affordable cost!
Let's kick off with the plan that provides the best value – the two-yearly plan. This package lets you save 75 % as you are only paying $70.99 for two years. That's equal to $2.96 per month.
The yearly plan lets you save 72% as you pay $39.99 per year, which comes down to $3.33 per month.
The yearly and two-yearly plans also come with a 30-day money-back guarantee.
Last, we have the monthly plan. This package comes at $11.99 per month. It's ideal for people who just want to try out the service before making their final decision.
Speed & Security
Without proper speed, you can't stream BBC iPlayer in high-video quality. However, if you have access to IPVanish, you don't have to worry about it.
As IPVanish UK servers use high-tech hardware and software, they provide ultra-fast speeds. On average, you'll get 488 Mbps speed on a 500 Mbps internet connection – that's more than enough to stream 4K quality content and go even further and beyond.
Users of IPVanish haven't experienced slow speeds on the UK and their other servers across the globe. This service promises 24/7 consistent and reliable download and upload speeds regardless of your location.
Speaking of security, IPVanish uses state-of-the-art 256-bit AES encryption. This algorithm makes it impossible for absolutely any individual or company to decrypt your data. Around the world, this encryption method is used by governments, agencies, top-secret legal bodies, and more.
To diversify the speed and security of users, IPVanish provides five types of connection protocols – WireGuard, OpenVPN, IKEv2, L2TP, and IPSec. According to your device and requirements, you can select any one of them to safeguard you in the horrific playground of the world wide web.
Forget about switching on VPN on your device? Don't worry; IPVanish has got you covered. This service features automatic startup on all platforms (excluding iOS) to automatically activate VPN when internet traffic is detected.
All-in-all, IPVanish provides top-notch speed and reliable security to stream BBC iPlayer from anywhere.
Other Features
We can't do injustice to IPVanish by not mentioning the valuable features it provides to users. Well, here are some of them:
First, we have the VPN kill switch. This IPVanish feature automatically shuts down all the internet traffic, incoming or outgoing, to prevent any third-party party from exploiting your protection.
Next, IPVanish features the all-new SOCK5 proxy. This feature is ideal for people who don't prioritize encryption but just an overall secure connection without sacrificing speed. SOCK5 proxy provides just that, ensuring you get lightning-fast speeds with more excellent IP address protection.
Do you know leaking DNS protection is one of the crucial reasons behind traffic and location leaks? Unfortunately, many VPN services don't provide real-time DNS leak protection, but with IPVanish, you get the feature built-in for free.
Just like you, IPVanish is quite serious about privacy. That's why they never monitor or log your traffic. No matter which device you are using, your data, activity, and information remain only to you.
Unlike other VPN services, IPVanish doesn't cap your connections. With one account, you can sign in to an unlimited number of devices without experiencing any type of throttling. So, you can now use multiple devices to watch BBC iPlayer simultaneously.
Compatibility
Are you looking forward to watching BBC iPlayer from your computer? Or your smartphone? Or your Amazon Fire TV? Well, don't worry as IPVanish has dedicated programs for the majority of hardware.
IPVanish has designed user-friendly software for Windows, macOS, Android, iOS, Amazon Fire TV, Linux, and Google Chrome. You just need to install the app and log into your account to experience greatness.
Furthermore, IPVanish also offers firmware for selected routers like DD-WRT, Tomato, ASUSWRT, and ASUSWRT-Merlin.
Jurisdiction
IPVanish falls under the jurisdiction of the United States. And as the US is a member of the Five Eyes surveillance alliance, there's a threat to the privacy and security of user data.
In the past, there have been many cases where members of the Five Eyes alliance took the help of participating members to analyze and scrutinize data of their own citizens.
So, as IPVanish is under US jurisdiction, there's always an element of doubt in terms of true privacy & security.
Verdict
For all the entertainment junkies out there who want to stream BBC iPlayer content outside of the UK, IPVanish has got you covered.
Impressive speeds, reliable servers, premium security, valuable plans, and you name it, IPVanish has got everything to be your number one BBC iPlayer streaming partner.
Rated #3 out of 34 VPNs tested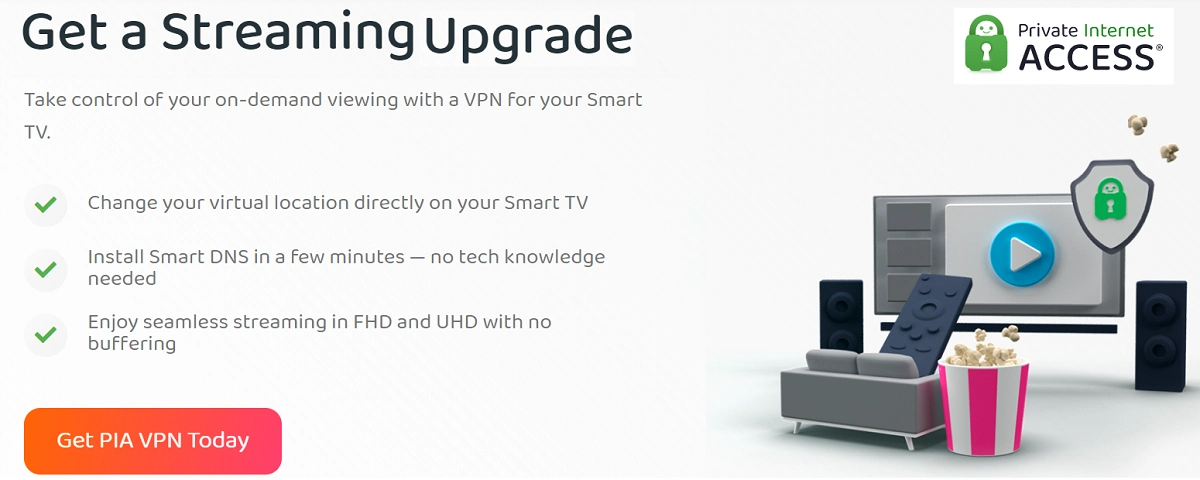 Founded in 2010, Private Internet Access is owned by Kape Technologies. This VPN service has over 10 years of experience in the VPN industry. PIA lets you defeat censorship, unblock any website and access the internet the way it was meant to be.
Developers of Private Internet Access believe that users' privacy and security should matter the most. That's why they provide a seamless VPN experience where you can hide your identity and maximize your anonymity on the internet.
No matter who you are, a student, a business owner, or a reporter, Private Internet Access gives you all the reasons to use it.
Servers
Without servers, a VPN service is nothing. And when it comes to the UK servers of Private Internet Access, they are supremely good!
UK PIA servers are blazing-fast, lag-free, and reliable – a perfect recipe for watching BBC iPlayer abroad. Connect to any UK server you like and experience a fast and superb-quality streaming experience.
With PIA, you can watch up to 4K content without buffering. Moreover, you'll experience crystal-clear video and audio quality no matter where you are in the world, thanks to the efficient UK servers of PIA.
PIA servers provide unlimited bandwidth, meaning you won't experience degrading in your streaming quality with passing time. In addition, PIA will never throttle your connection no matter which type of content you are watching on BBC iPlayer.
Speaking of numbers, PIA has a whopping network of 29,650+ servers in 84 countries worldwide. In the UK, there are over 554 PIA servers, so no matter where you are, PIA has got you covered.
Subscription Cost
Trusted by millions of satisfied customers across the globe, PIA has one of the most affordable plans in the game. So whether you are a student looking to safeguard your activity or a company owner who wants to keep employees safe on the internet, Private Internet Access has something for everyone.
The two-year plan with 2 free months is priced at $56.94 (billed every two years) and comes down to $2.19 per month.
Next up, we have the 6-month plan. You pay $39.95 for this plan, costing you approximately $7.50 per month.
Last, we have the 1-month plan that'll cost you $11.99 per month.
You can purchase premium add-ons for extra security from PIA like Antivirus and Dedicated IP Address.
Regardless of the plan you choose, you get a reliable 30-day money-back guarantee from PIA.
Speed & Security
According to Private Internet Access, all of their servers have been optimized for 10 Gbps connection speeds. Also, they use state-of-the-art VPN protocols – this means you won't notice any buffering, freezing, lagging, or stuttering when streaming BBC iPlayer from different parts of the world.
In terms of raw download speed, PIA only falls a bit shy of the mighty ExpresVPN. On average, PIA offers 140 Mbps of download speed compared to 165 Mbps of ExpressVPN. However, you won't notice a significant difference.
On the split side, PIA wins the round in terms of upload speed. The average upload speed on PIA is recorded at 137 Mbps, whereas ExpressVPN provides 110 Mbps. Although the difference isn't staggering, PIA wins the race.
Speaking of PIA's security, it's simply second to none. The VPN lets you choose between  128-bit or 256-bit AES encryption. These are two of the most renowned encryption algorithms used worldwide to keep the data out of harm's way.
Next up, PIA is one of the only top VPNs that offer 100% open-source VPN apps. Therefore, anyone can verify their publicly available code as they have nothing to hide.
PIA uses only the safest and most trusted open-source VPN protocols like OpenVPN and WireGuard to provide maximum performance and security. Also, they use IPSec on iOS to offer customers A+ reliability without compromising on safety and transparency.
Speed and security, nothing gets compromised when you use Private Internet Access. Start streaming BBC iPlayer from anywhere around the world with PIA to experience solid fluidity and privacy.
Other Features
There's no shortage of features with PIA; you get a ton of safety and privacy tools with it.
No-Logs policy is the first-in-line feature. PIA never records or back-up your activity, including IP address, browsing history, bandwidth consumption, and connection times & durations. This service takes your privacy seriously, and that's why they don't have access to any of your data.
Want extra VPN usability, exclusive IP ownership, and get past CAPTCHAs? PIA lets you get a dedicated IP address. This feature makes sure that you enjoy the perks of a private connection with a more consistent web browsing experience and fewer interruptions.
You might have noticed, some apps and services aren't quite VPN-friendly. As a result, you can't even access them if you use a VPN. But don't worry. With PIA's advanced and highly configurable split tunneling, you can easily pick apps/services with which you don't want to use the VPN. Then, you can set custom rules to direct traffic through & around the VPN tunnel simultaneously.
Due to your unstable internet connection, PIA's VPN protection can turn off – leaving your data at risk. But with the firewall-based kill switch feature of PIA, everything remains super-safe.
Lastly, there's a custom ad-blocking feature called MACE that helps you block ads, trackers, and malware online. Unlike other blockers, it's based on DNS – meaning full proof protection.
Compatibility
Private Internet Access is available pretty much on all the smart devices available worldwide. From windows to macOS, Linux, Android, Apple iOS, Chrome Firefox, Opera, Gaming Consoles, routers, and smart TVs, PIA is everywhere.
Regardless of the hardware, PIA apps feature a user-friendly UI, easy-to-use tools, and a simple set-up process. You just need to follow the on-screen instructions on PIA apps to get your VPN walls alive and kicking.
Simultaneously, you can use up to 10 devices per account on the PIA service. You won't experience any speed or data throttling while running multiple devices. And that means you can easily stream BBC iPlayer on more than one supported device simultaneously with ease.
Jurisdiction
Speaking of jurisdiction, Private Internet Access falls under the Five Eyes intelligence alliance.
Although everything is trustable about the alliance, all data collected can be subpoenaed at any time and shared between the US, the UK, New Zealand, Australia, and Canada. In simple terms, members of the alliance can't collect, analyze, and share their own citizens' data but ask another member to conduct surveillance on their behalf.
However, on the official site of Private Internet Access, they have mentioned that "There are no logs. There is no identifying information that can be collected, regardless of the amount of force applied. There are several companies who claim they don't log but have been proven to be the opposite. In contrast, we have stated in multiple court cases that we do not log."
Here's a detailed article on how Private Internet Access has no concern about being in a Five Eyes intelligence alliance country.
Verdict
With affordable plans, top-notch download & upload speeds, great features, and top-notch security, PIA has got all the brownie points. You can PIA to access 4K UHD quality BBC iPlayer content no matter where you are living. Just purchase the plan, download the app on your device and turn on the VPN to enjoy your favorite content on UK's most popular platform.
Visit PrivateInternetAccess.com
Rated #4 out of 34 VPNs tested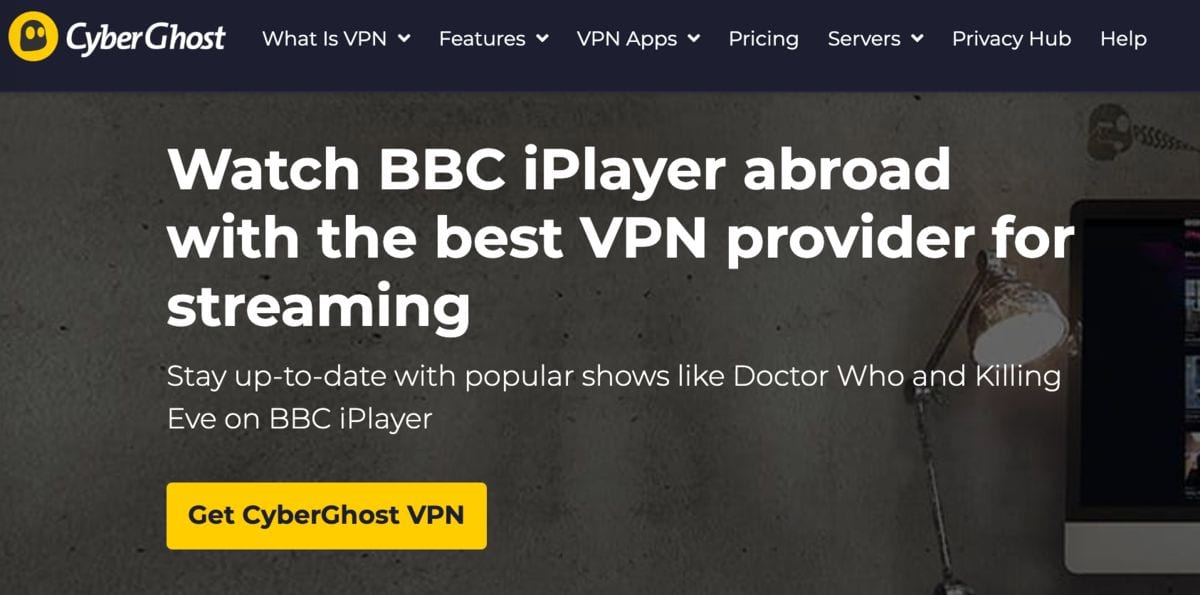 CyberGhost is also an amazing VPN service that you can use to unblock BBC iPlayer outside the UK. Its key features are listed below.
Servers
The network connection system of CyberGhost is different than other VPNs. For most VPNs, you have to choose a country to connect to their server. But in CyberGhost, you get a list of streaming services that you can choose from, and BBC iPlayer is also included in that list.
When you select the BBC iPlayer service, they automatically connect you to the best and fastest server in the UK allowing you to stream abroad.
Subscription Cost
The different subscription plans for CyberGhost are:
2-year + 2 months (26 months) plan: $2.19/month; billed $56.94 with a 45-day money-back guarantee.
6-month plan: $6.99/month; billed $41.94 with a 45-day money-back guarantee.
Monthly plan: $12.99 billed every month (14-day money-back guarantee).
They also offer a 45-day money-back guarantee.
Speed and Security
As per the speed test done by our experts, speed tests across different locations and times have given an average speed of 58 Mbps (allotted speed 100 Mbps). This means speed retention of 58% and You can stream videos in 4K ultra-HD quality with the speed offered by CyberGhost. They have a no-identification log system that keeps your real IP address private and inaccessible to third parties. They use a 256-bit AES encryption to keep all data safe and secure.
Other Features
With a single CyberGhost subscription account, you can connect up to 7 devices at once. Live chat support is available 24/7 to assist you with any queries or issues.
CyberGhost has apps for MAC, IOS, Android, Windows, Linux, Amazon Fire Stick, Smart TV, Apple TV, Android TV, Xbox One & Xbox 360, PlayStation 3 & PlayStation 4, Routers, and more.
Compatibility
CyberGhost is compatible with Windows, Mac, Android, iOS, and Linux devices, and also provides extensions for Chrome and Firefox browsers. They even have Firestick support, and the parent company is continuously upgrading and improving their services to avoid being blocked by BBC iPlayer.
Jurisdiction
The company comes under the jurisdiction of the laws of Romania, which is considered safe for VPN companies.
Verdict
With a super-cheap plan and a multitude of useful features, CyberGhost is another superb VPN for BBC iPlayer and comes second in our list.
Rated #5 out of 34 VPNs tested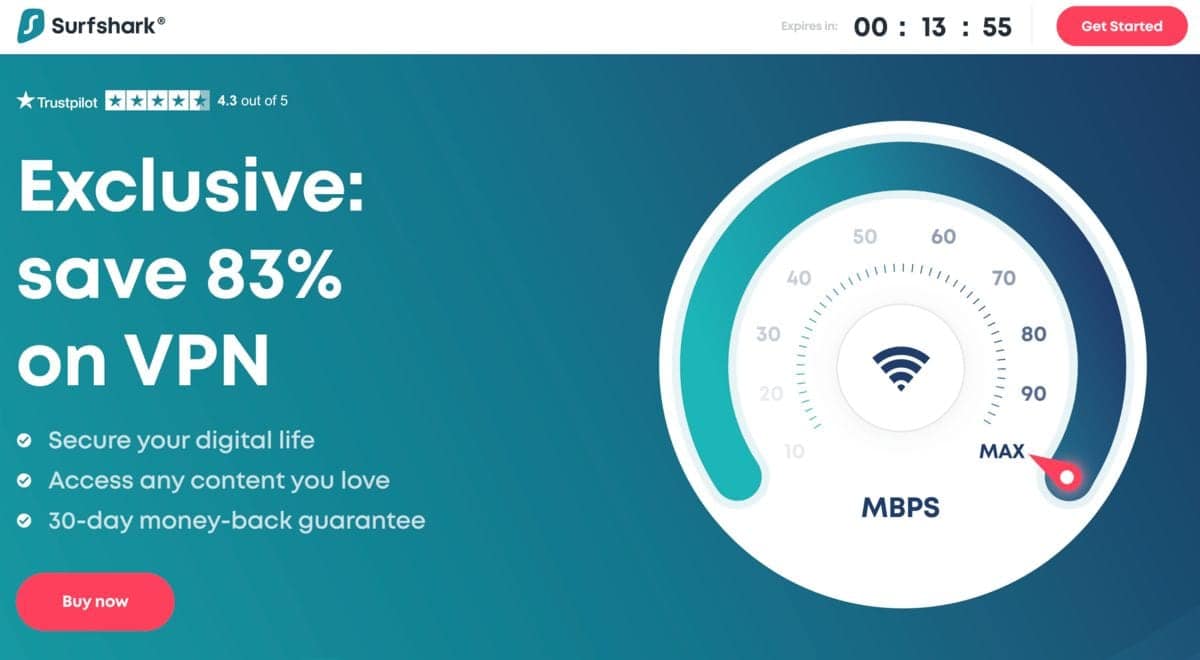 Surfshark is also a popular VPN service that makes it a great option for unblocking BBC iPlayer abroad. Here are its features.
Servers
Surfshark offers 3 main servers in the UK located in Glasgow, London, and Manchester. They have more than 1000 servers spread across 60+ countries around the globe.
Subscription Cost
Surfshark offers 3 types of plans: Standard, Premium, and Ultimate. You can choose between 24-month (+2 extra months), 12-month, and 1-month durations.
You can save up to 82% by buying a 24-month plan. The pricing starts at an average of $2.30 per month for the 24-month Standard plan billed at $59.76 for 2 years.
All plans have a 30-day money-back guarantee.
Speed and Security
Their average network speed is 60 Mbps (allotted speed 100 Mbps) which makes it suitable for online streaming of videos in HD quality. We also noticed that it doesn't slow down the speed of your basic internet connection. It means that the faster the internet connection you have, the faster the VPN connection will work.
With 256-bit encryption, your data is also protected, and Surfshark's zero-logs policy keeps no record of your internet activity and IP address. For added protection, Surfshark offers a Multi-hop feature that will divert your online traffic through two separate VPN servers providing you with an extra layer of privacy. But this will compromise your internet speed, so it's choice of security vs. speed.
Other Features
There's one area where Surfshark beats all the other VPNs in this list – there's no limit to the number of devices you can connect from a single subscription! They have an active live chat and are quite responsive over the email as well. Even the Help section on their website has detailed information about a lot of issues that you may face. One unique aspect of Surfshark is its CleanWeb feature that blocks ads, malware, and even tracking software.
Compatibility
Surfshark is compatible with Windows, Mac, iOS, Android, and Linux platforms, along with browser extensions for Chrome and Firefox.
Jurisdiction
Similar to ExpressVPN, the company comes under the BVI (British Virgin Islands) jurisdiction.
Verdict
With a budget-friendly plan, some unique features, and strong privacy and security, Surfshark rightfully takes the No. 5 spot in our list of best BBC iPlayer VPNs.
Why are these 5 options the best choice for BBC iPlayer VPNs?
You may wonder why you should go for these 5 VPN services that require a subscription cost when there are so many free VPNs available. But BBC iPlayer is such a reputed streaming service in the UK that not just streams TV shows but also streams sports that are popular in the UK such as premier league and FA cup football.
So it's only obvious that such a famous streaming service will have high-security features. They constantly upgrade their servers to detect and block VPN services. Most of the average VPNs are already blocked by BBC which renders them useless. If you download one of the free VPNs, you may be disappointed to find that it doesn't give you access to BBC iPlayer. Even if some VPNs do allow you to stream shows on iPlayer, there is no guarantee when they will be blocked by BBC.
The only way to enjoy iPlayer shows from outside the UK without the fear of being blocked is to select VPNs that are provided by the best companies. The 5 services we have listed in this article are all operated by highly advanced companies. They offer high reliability and guarantee continuous access to BBC iPlayer. And with all the amazing features that they provide, they are all worth the price you have to pay for the subscription. In addition, you can always cancel their services and get your money back thanks to their policies.
How did we choose the best BBC iPlayer VPN?
We have chosen ExpressVPN as the best BBC iPlayer VPN based on its fast speed and reliable connection. It can also bypass the Great Firewall of China and its user interface is very easy to understand. It provides 24/7 live chat customer support and provides advanced security for apps.
Therefore, it performs exceptionally well on all fronts like speed, security, unblocking censorship, compatible devices, and customer support.
Other VPNs that Partially Worked with iPlayer
While I tested the VPNs, the following VPN services also worked with BBC iPlayer, but it wasn't satisfactory. Most of the time BBC was detecting the VPN and blocking access. If you are already using any of these VPNs, you may want to try them first, and if it doesn't work, you may get any of the top 5 VPNs I reviewed above.
Free VPN for BBC iPlayer
BBC iPlayer is one of the most popular streaming services and just like Netflix, it spends substantially on detecting and blocking VPN servers.
Forget the free VPNs, many paid VPN providers cannot get ahead of their detection system. While there are some free VPN providers, they simply do not have enough money or resources to keep adding new and undetected servers.
You will have to be very lucky to find a free VPN with a server still undetected by BBC iPlayer. I haven't found any. And, even if you do find one, there is no guarantee of how long it will remain undetected.
Therefore, I personally recommend one of the premium VPNs for BBC iPlayer. You will find many servers that stream this service.
Final Verdict
Among all the options we have listed, we recommended ExpressVPN for the highest reliability and security, as well as the impressive streaming speed at all times. Even in terms of reputation, ExpressVPN beats all its other competitors and has already amassed a massive consumer base. However, if their subscription prices are a bit too much for you, then feel free to try out any of the other four options.
On a final note, we want to state that you will need to sign up for the BBC iPlayer service once you are connected to a UK IP address. For that, you will also need to enter a UK postal code. Once you are done with that, you are all set to stream different shows and movies on BBC iPlayer conveniently at all times.
Related:
Legal Disclaimer - FireStickTricks.com does not verify the legality or security of any add-ons, apps or services mentioned on this site. Also, we do not promote, host or link to copyright-protected streams. We highly discourage piracy and strictly advise our readers to avoid it at all costs. Any mention of free streaming on our site is purely meant for copyright-free content that is available in the Public domain. Read our full disclaimer.
Disclosure - FireStickTricks.com is reader-supported blog. When you buy a product through links on our site, we may earn commission. Learn More