Television has played a central role in many Americans' lives since home TV sets were popularized in the 50s. On the other side of video entertainment, the US film industry has grown and evolved into the largest in the world—by a factor of 10 in terms of revenue.
And now, as technologies continue to evolve and become even more integrated, we're able to watch just about any TV content or film on any device at any time.
One technology that helps us easily access the world of video entertainment is IPTV. But what is IPTV? Is IPTV legal and safe? How can I use it to watch TV and movies? We'll answer these questions and more in this article.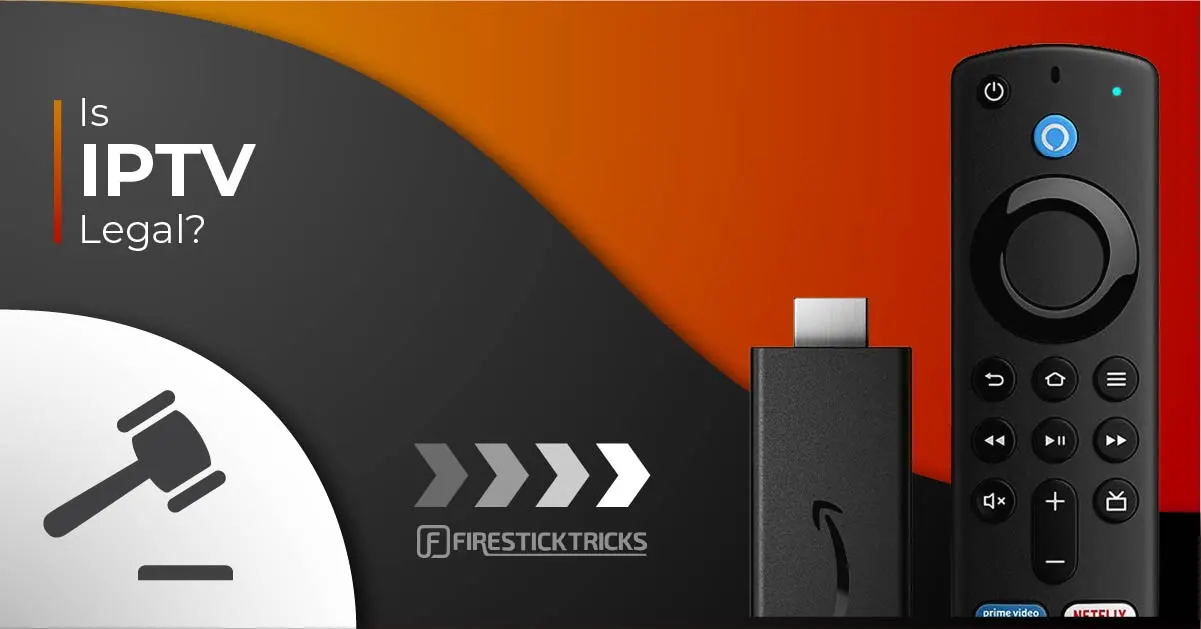 What Is IPTV?
IPTV stands for Internet Protocol Television, which might seem like an alien term but is actually fairly simple. IPTV is essentially any TV that you receive through the internet. Internet Protocol, or IP, is the communications protocol that allows the internet to function. So IPTV is a TV that utilizes IP for transmission rather than traditional methods like satellite or cable television.
More commonly, IPTV is referred to as video on demand or online streaming. IPTV services are popular because they offer television content on demand. They don't follow a set schedule like typical live TV. Rather than waiting to watch your favorite TV show at a certain time, you can choose what to watch whenever you want.
Attention: Read before you continue
Governments and ISPs across the world monitor your online activities. If found streaming copyrighted content on your device, you could get into serious trouble. Currently, your IP is visible to everyone. I strongly recommend you get a trustworthy VPN and hide your identity so that your movie-viewing experience doesn't take a bad turn.
I use ExpressVPN, the fastest and most secure VPN in the industry. It is very easy to install on any device, including Amazon Fire TV Stick, Smartphones, PC, macOS, iOS, and more. Also, it comes with a 30-day money-back guarantee. If you don't like their service, you can always ask for a refund. ExpressVPN also has a special deal where you can get 3 months free and save 49% on an annual plan.
Read: How to install and use the best VPN for FireStick
Read: How to install and use a VPN on other streaming devices
Is IPTV Legal?
The legality of IPTV depends on the service in question. IPTV is legal as long as the service provider holds the correct licenses for all the content it provides. In other words, an IPTV provider needs the copyright owner's permission to host streams of copyrighted TV programs, films, or other content.
Services like Netflix and Amazon Prime Video are completely legal. They hold the correct licenses for the content they provide for streaming. However, there are hundreds of other IPTV providers who obtain TV shows and films illegally and do not have the proper licensing from content owners. These IPTV providers are breaking the law. If you use their services, you're breaking the law too.
What Are the Laws Surrounding Illegal IPTV?
Different countries have their own laws surrounding IPTV, so the legal ramifications for hosting or using one of these illegitimate services will depend on where you live. 
The law on illegal IPTV in the United Kingdom
The UK introduced the Digital Economy Act in 2017, which created tougher punishments for anyone found guilty of copyright infringement. Illegal IPTV users and service providers can face prison sentences of up to 10 years as a result. 
While nobody has yet been prosecuted just for using illegal IPTVs (the legislation has mainly been used to target the people operating these services) police have issued mass warnings to suspected illegal IPTV users in some instances, threatening legal action if they continued using them.
The law on illegal IPTV in the United States
The major law covering copyright infringement in the US is the Digital Millennium Copyright Act, originally passed in 1998. The DMCA enforces penalties and fines against anyone who provides copyrighted content on the internet without the appropriate license. However, streaming was something of a loophole in the DMCA, as the terms of the law only applied to downloads.
This loophole was recently closed, however. An extensive COVID relief bill passed in December 2020 included measures that made illegal streaming a felony. This means that under US law, using illegal IPTV services can lead to jail sentences of up to 10 years.
However, it's since been clarified that the new law—the Protecting Lawful Streaming Act—is intended by its author to prosecute the people operating illegal streaming services rather than the individuals who use them. 
The law on illegal IPTV in Canada
Canada implemented a system in 2015 allowing copyright holders to distribute warning notices to suspected users of illegal IPTVs through their ISP (internet service provider). Until fairly recently, many of these warnings included demands for a cash settlement in order to avoid prosecution and larger fines.
However, in 2019, the law on these notices was changed due to widespread criticism stemming from the fact that recipients of these warnings were under no obligation to pay the settlements, leading to many Canadians paying fines they didn't have to. There were also a number of cases where people who were wrongly accused of illegal streaming were pressured into paying these fines.
The 2019 changes meant that copyright holders could no longer demand settlement fees in these warnings and could not ask for personal information. Although warnings from copyright holders may no longer demand cash, users of illegal IPTVs may leave themselves open to prosecution and even higher fines.
How to Tell If an IPTV Service Is Legal or Illegal
Most legal IPTV services are big, well-known brands like Netflix and Amazon Prime Video, meaning the biggest legal IPTV services are easily identifiable from their reputations alone. But if you come across an IPTV provider you haven't heard of, how can you tell whether it's legal?
There are a few telltale signs you can look for. First off, if the IPTV offers its services for free, chances are it's an illegal one. While some TV networks have their own specific IPTV that may offer free streaming services (Channel 4's All4 service in the UK is one example), the majority of legitimate IPTV services require a subscription to use.
It's a good idea to look up how much these subscriptions usually cost. Some illegal IPTV services do charge subscription fees, but these are significantly lower than fees of legal IPTV services, as the illegal ones avoid licensing and production costs and can afford to charge much less for a subscription.
There are also a few other ways you might be able to tell you're using an illegal IPTV service:
Asking for payment in Bitcoin or other cryptocurrencies: Cryptocurrencies are harder to track than ordinary money, making them ideal for illegal services.
International channels: Most legal streaming IPTV will only provide content and channels from within your country. If an IPTV service provides access to content that's normally region-locked, it could be an indication that the service isn't legitimate.
Low-quality streams: Legal IPTV services with the correct licenses source their content directly from the copyright holder in its highest quality. Illegal IPTV services have to obtain their content through other means, which can often result in significant drops in video or audio quality.
Popups and misleading buttons: If you're bombarded with popup ads when you load up an IPTV service, chances are it's not legitimate. Illegal IPTVs may also feature fake playback buttons that open external links rather than pausing, playing, or changing the volume.
Is It Advisable to Use Illegal IPTV Services?
Put simply, no. Legal issues surrounding illegitimate IPTV streams could leave you open to prosecution, fines, or even a jail sentence, you also expose yourself to a number of other safety issues when you use an illegal IPTV service.
If an IPTV service asks for your credit card details for payment, you have no control over who else it passes your financial details to. It may sell off your details to hackers or scammers, putting you at risk of serious financial trouble. It could also simply not provide the service you pay for—once you've paid, there's no guarantee you'll actually be given access to any IPTV content.
Illegal IPTV services may also harvest data from whichever device you use to access them. Again, you have no control over who this data is given to, and you could be left open to scams. 
Furthermore, illegal IPTV services can threaten the security of your devices. Illegitimate streaming sites are often packed with viruses and other malware, often disguised as download links for the content you want to watch. Fake playback buttons could also act as links to external sites that may try to install malware on your device.
Finally, using an illegal IPTV service may be a breach of your ISP's terms of service. Usually, if your ISP thinks you've been using illegal streaming services, it will issue you a warning before taking further action. But repeated warnings may eventually lead to your internet connection being cut off, leaving you without access to any online services, legal or not.
If you're in doubt about the safety of the IPTV services you use, it's a good idea to install a trusted VPN (virtual private network) such as ExpressVPN. Using a VPN has a number of benefits: It masks your online activity, stopping sites from gathering your data and stopping your ISP from tracking your activity, while providing an extra layer of security to your device against hackers, viruses, and malware. (Here's how to install antivirus on FireStick).
In addition, a VPN allows you to alter the location you connect to the internet from, which can help you access region-locked content on legal IPTV services without having to resort to anything illegal. 
Examples of Unverified IPTVs
Because of the sheer number of IPTV services, it's very difficult to keep track of all of them and to verify which ones hold the correct licenses for the content they offer. However, some examples of unverified IPTVs include:
247 Stream

Kemo IPTV

BingeTV

IconicStreams

YeahIPTV

FlicksTV
In addition to the sites I just listed, another big name in illegal streaming is Kodi. Kodi itself is perfectly legal. it's an open-source media player that allows various addons to be installed to personalize the user experience. However, some illegal streamers use Kodi as the foundation of Kodi boxes, which plug into your TV and give free access to IPTV subscription services like Netflix. These Kodi boxes are illegal and could lead to police seizing the devices and users of the devices being prosecuted.
Recommended Legal IPTV Services
The best way to enjoy IPTV is through the many well-established, legal options. Some of the best IPTV streaming services include:
Netflix:

probably the most well-known online streaming service and among the first big streaming services to take IPTV mainstream. Netflix has a huge amount of licensed content, as well as its own original TV shows, movies, and documentaries.

Amazon Prime Video:

Amazon's IPTV service offers a wide range of content to subscribers, and if you're willing to pay extra, you can also access addons like additional TV channels, including Starz TV and Shudder. You can also buy or rent additional TV box sets and movies to add to your digital library.

Disney+:

Disney has recently brought its own IPTV service onto the market, pooling together thousands of TV shows, movies, and documentaries from across its media empire. Alongside Disney classics, you'll find content from National Geographic, 21st Century Fox, Star Wars, Marvel, and much more.

HBO Max:

HBO's IPTV platform lets you stream HBO originals as well as a variety of other TV series and movies. Notably, Warner Bros. used HBO Max to release its full slate of movies during COVID restrictions that limited cinematic releases.

Apple TV+:

Apple is also breaking into the streaming market, and similarly to other IPTV services, Apple TV+ offers a whole host of different TV shows, movies, and documentaries, including Apple originals that aren't available elsewhere.
Conclusion: What's the Best Way to Use IPTV?
There are hundreds of IPTV services out there, and not all of them are reliable. Don't let promises of cheap or free content draw you in. Many of the sites making these promises are illegal and unlicensed. Using them opens you up to legal action and endangers your private information and the security of your devices.
If you do decide to use one of these unverified IPTV sites, it's at your own risk. For some peace of mind and extra safety, you should consider using a VPN if you go this route.
The best option, however, is to stick to legitimate, well-established IPTV services. Legitimate IPTV subscriptions may be more expensive than using illegal sites. But it's a fair price to pay to enjoy high-quality on-demand streaming without the risk of finding yourself in legal trouble, being hacked, or getting malware on your device.
Related:
Legal Disclaimer - FireStickTricks.com does not verify the legality or security of any add-ons, apps or services mentioned on this site. Also, we do not promote, host or link to copyright-protected streams. We highly discourage piracy and strictly advise our readers to avoid it at all costs. Any mention of free streaming on our site is purely meant for copyright-free content that is available in the Public domain. Read our full disclaimer.
Disclosure - FireStickTricks.com is reader-supported blog. When you buy a product through links on our site, we may earn commission. Learn More