In this post, I am rounding up the best games for FireStick. The games mentioned in this guide can be played on any Amazon Fire TV device in the market, including Fire TV Stick 4K, FireStick Lite, and Fire TV Cube. Some of these games may also work on older Amazon Fire TV devices.
While Fire TV Stick is best known as a streaming device, it also supports a wide range of video games. You can download these games directly from the Amazon Store.
Our list of best FireStick games includes both paid and free titles. Most games can be played with both FireStick remote and Bluetooth game controllers, some require a game controller and do not work with the remote.
This list only contains the official games available on the Amazon Store. However, if you have the APK, you can sideload third-party games onto Fire TV Stick just as you would sideload any other third-party app.
Attention FireStick Users
Governments and ISPs across the world monitor their users' online activities. If you use third-party streaming apps on your Fire TV Stick, you should always use a good FireStick VPN and hide your identity so that your movie viewing experience doesn't take a bad turn. Currently, your IP is visible to everyone.  
I use ExpressVPN which is the fastest and most secure VPN in the industry. It is very easy to install on any device including Amazon Fire TV Stick. Also, it comes with a 30-day money-back guarantee. If you don't like their service, you can always ask for a refund. ExpressVPN also has a special deal where you can get 3 months free and save 49% on annual plan.
Read: How to Install and Use Best VPN for FireStick
How to install a game on FireStick
There are two ways to install a game (or any other app) from Amazon Store on your Amazon Fire Stick:
Search for the game
Browse the games section
Search for a specific game
If you know exactly which game you are looking for, you can use the search option of your FireStick and lookup for the game in Amazon Store.
Here is how you do it:
1. Choose the Find > Search option on the home screen of your Fire TV Stick (lens icon in the upper-left corner)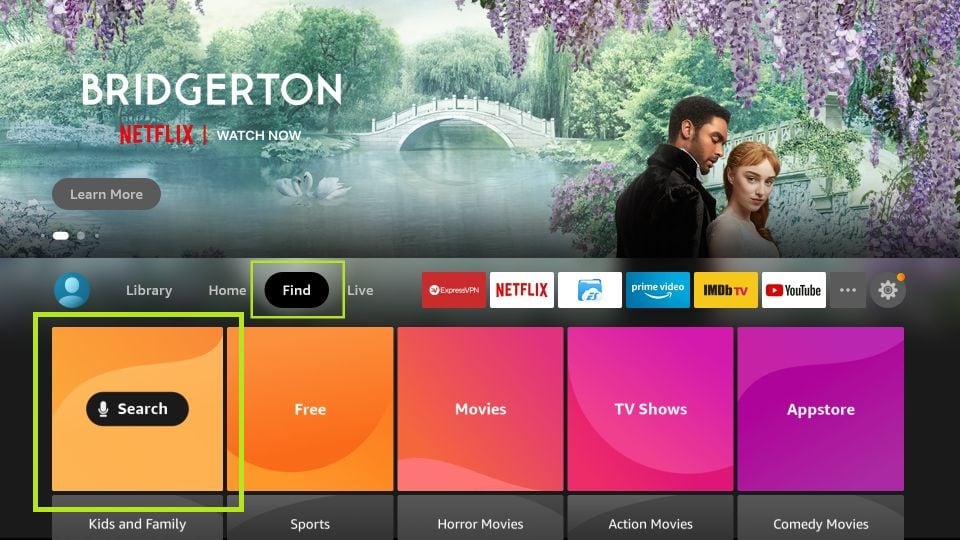 2. Type the name of the game and click it in the search results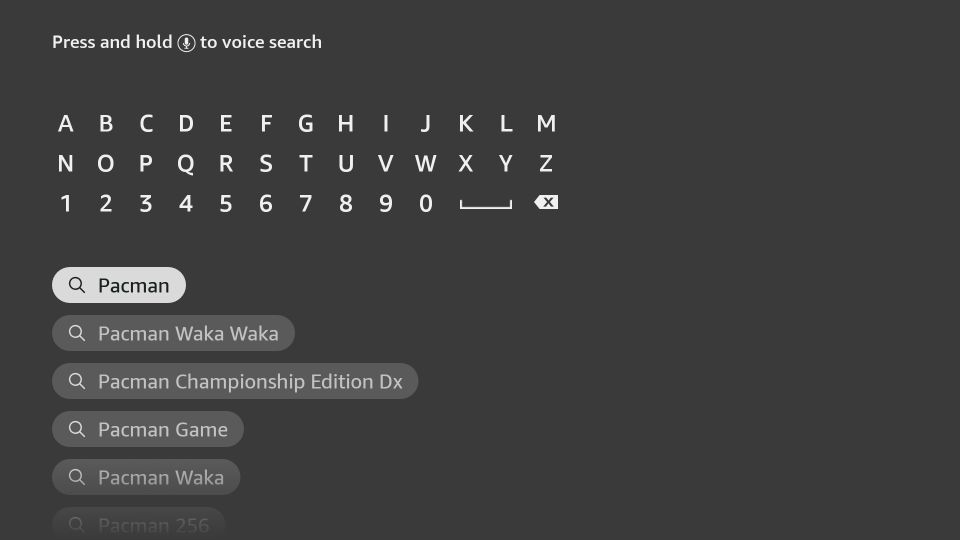 3. Click the game icon/tile on the next window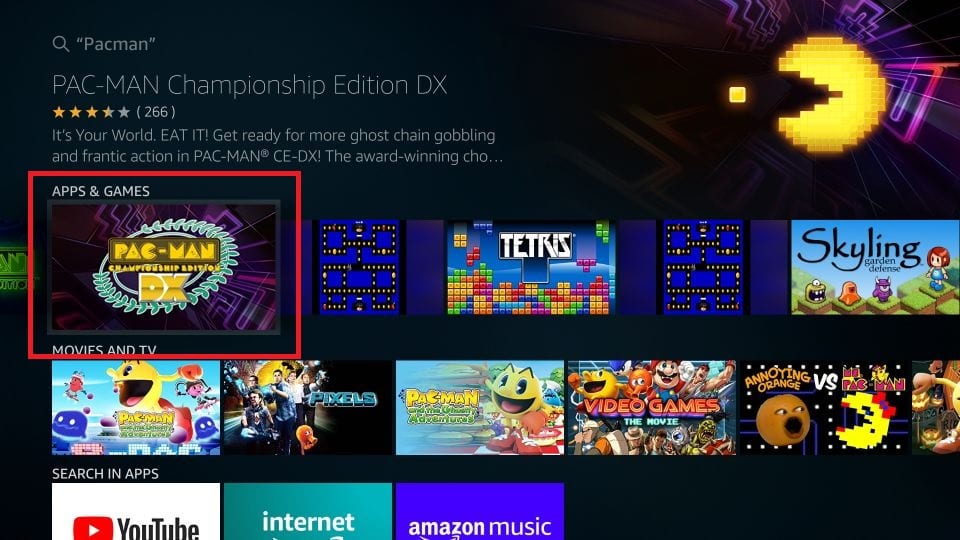 4. Click Download/Get if it is a free game. If it is a paid game, click the cart icon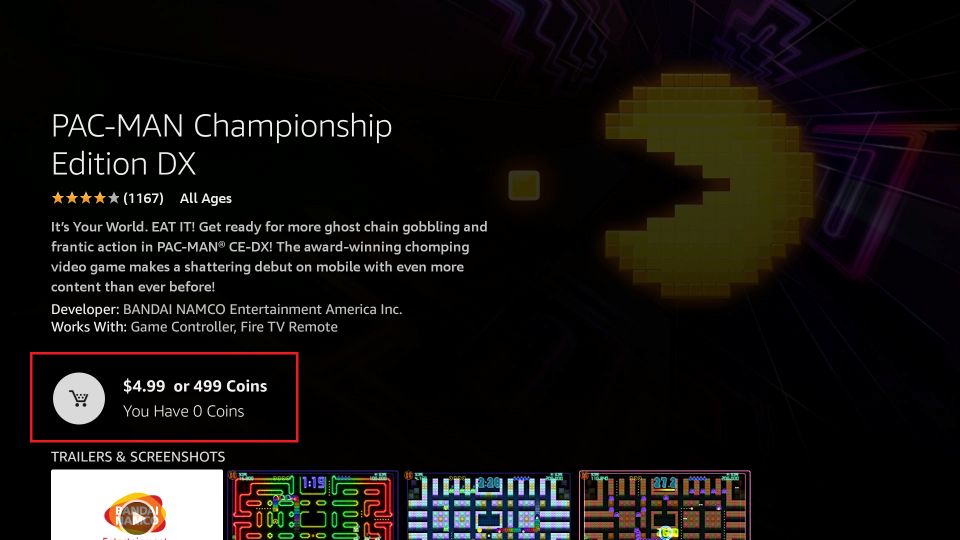 5. You will need at least one payment method on-file on your Amazon account which you are using with your Fire Stick (such as Credit/Debit card, PayPal, etc.)
If you haven't added a payment method, sign in to your Amazon account in a web browser and add one. Otherwise, you will get the following error message: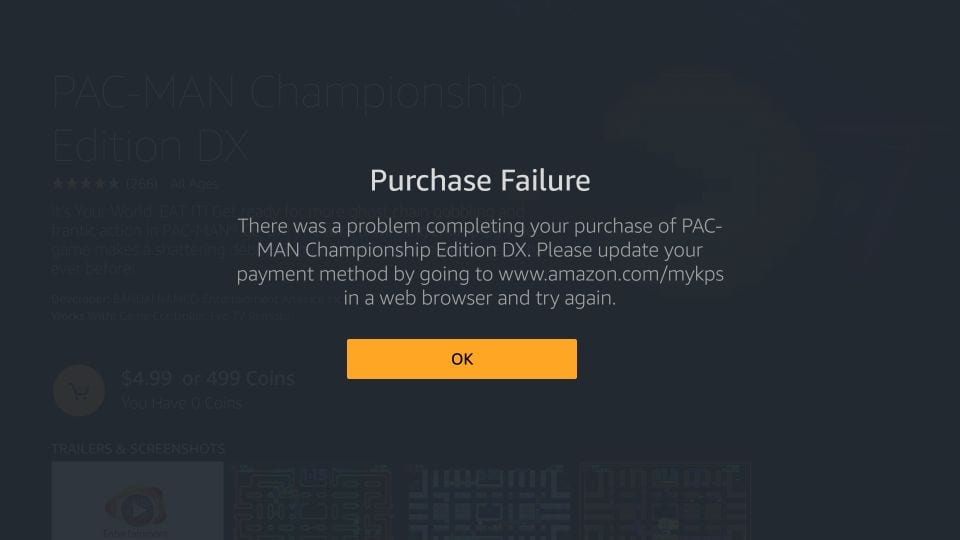 Browse the games
The other method is to explore the Amazon Store inventory of games for FireStick. Here is how you do it:
1. Highlight the menu option Find and click Appstore on the Fire Stick home screen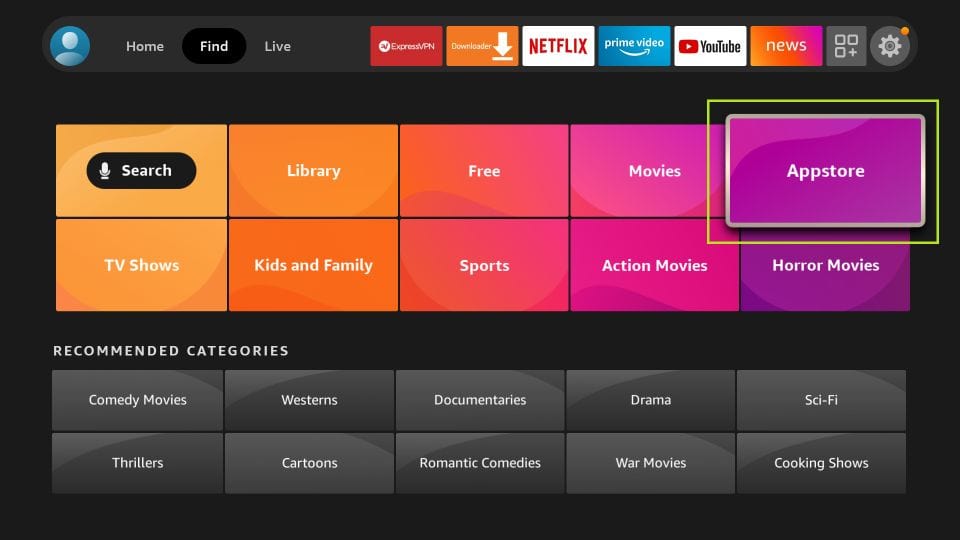 2. Select the submenu option Games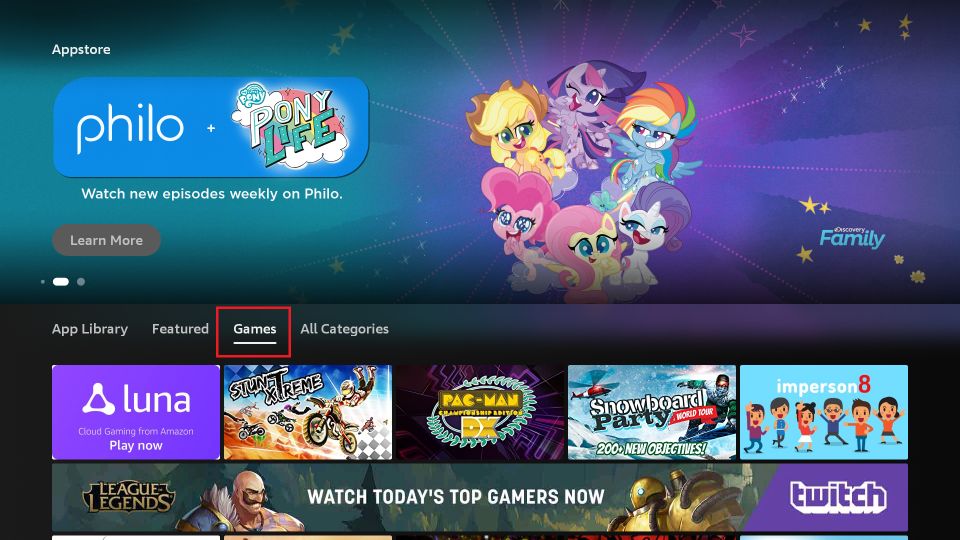 3. You can explore the games in various sections including Spotlight, Retro Zone, etc.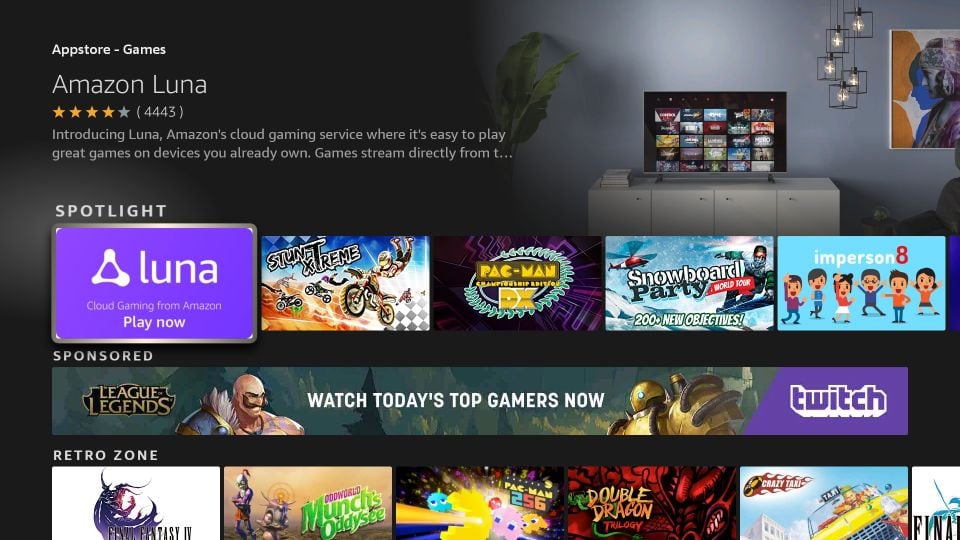 4. When you scroll down, you find the section Games Categories, which lets you browse the games by categories including Action, Adventure, Arcade, Board, Brain & Puzzle, Cards, Casino, Dice, Music & Rhythm, Racing, Seek & Find, Simulation, Sports Games, Trivia, and Words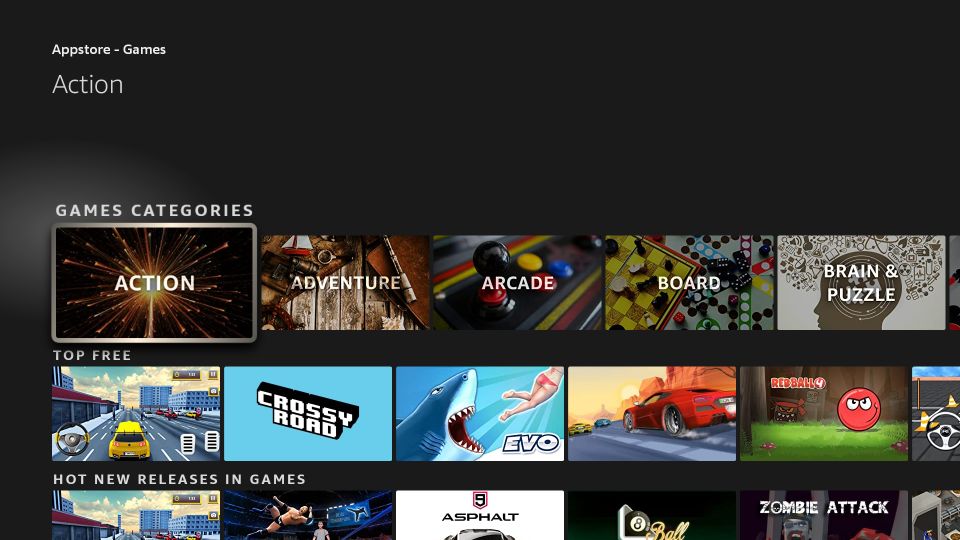 5. After you find the game you want to play, click to open it. Again, if it is a paid game, you will need a payment method associated with your Amazon account.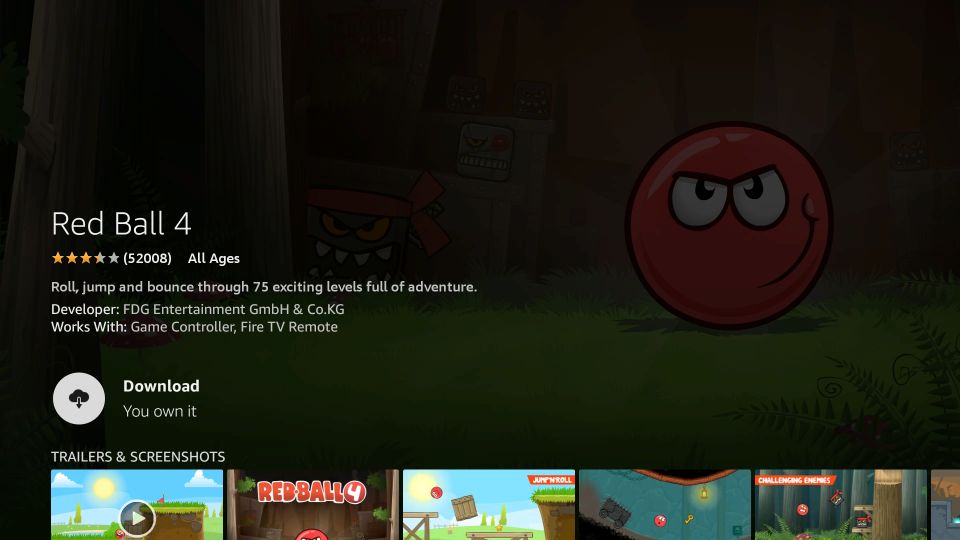 How to pair a game controller with your FireStick
Amazon Fire TV devices support game controllers. You can play certain games with your FireStick remote. However, the gaming experience is always better with a controller. In fact, some Fire TV Stick games do not support the remote; they can only be played with a controller.
Fire Stick supports a range of Bluetooth controllers you can play the games with. PlayStation, Xbox, and PC game controllers will work with your Fire TV. Or, you can buy any Bluetooth game controller separately.
Please note that only Bluetooth connectivity is allowed. Wired controllers will not work with your device.
Here is how you can connect a Bluetooth game controller with Fire TV Stick:
1. Select Settings on the FireStick home screen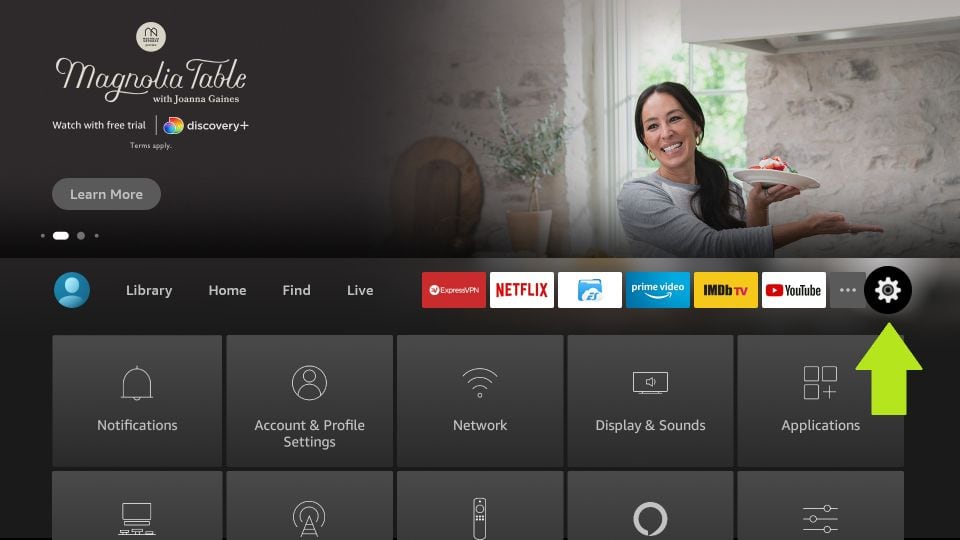 2. Click Controllers & Bluetooth Devices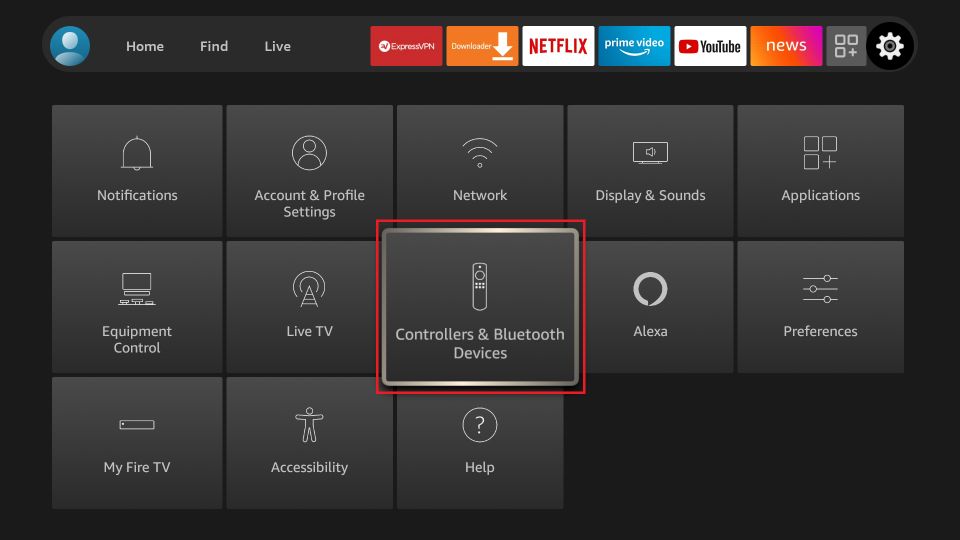 3. Click Game Controllers
4. Click Add New Game Controller on the next screen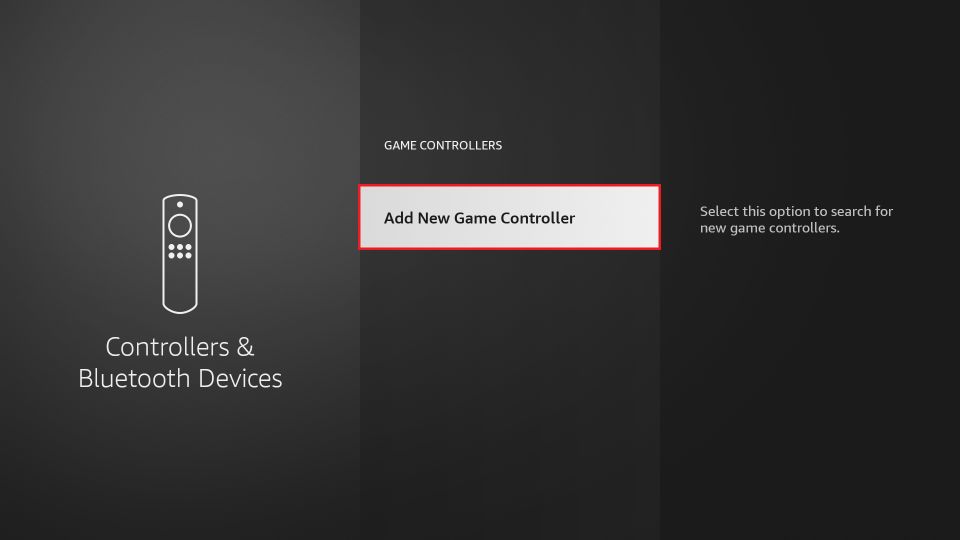 Depending upon the game controller you are using, press the appropriate button on the controller to make it discoverable and follow the onscreen instructions on your TV to pair it with your FireStick device
For instance, if you are using the Amazon Fire TV Game Controller, hold down the Home key on the controller for 10 seconds to make it discoverable.
Read also: How to jailbreak a Firestick
Best FireStick Games (Free & Paid)
Here is the list of the top FireStick games you can play:
1. Sega Classics
Price: $14.99 or 1,499 Coins
Works with: Fire TV Stick Remote and Game Controllers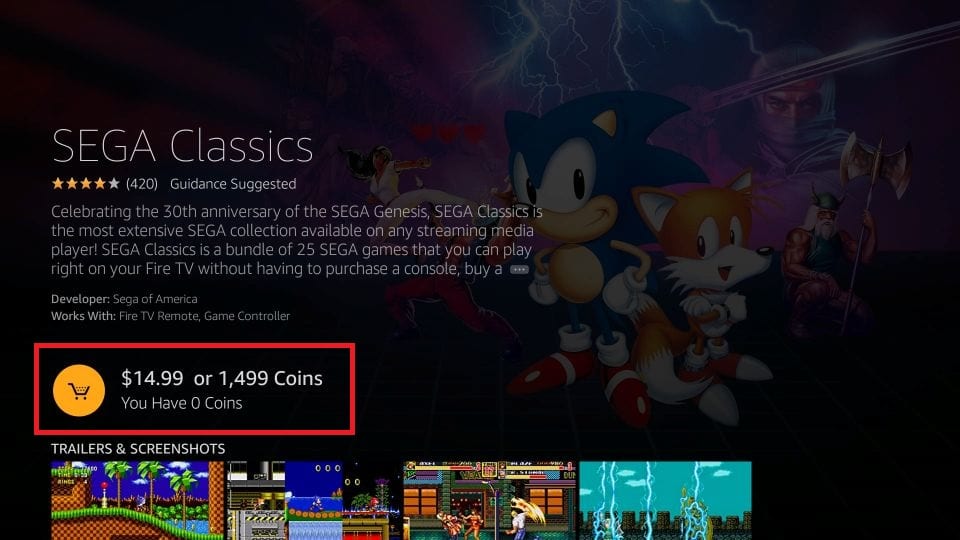 You can now play your favorite Sega games on your FireStick device. There is no need to buy a gaming console anymore. Sega Classics is a collection of 25 popular Sega games including Sonic CD, Sonic The Hedgehog, Streets of Rage, Golden Axe, and more.
You can now revisit all these retro Sega games for just $14.99. Many of its titles are also available for purchase separately (such as Sonic CD for $2.99).  But, this bundle brings all-in-one together at a much cheaper price relatively.
Sega Classics can be easily purchased and downloaded from the Amazon Store.
2. Sonic CD
Price: $2.99 or 299 Amazon Coins
Works with: Game Controllers Only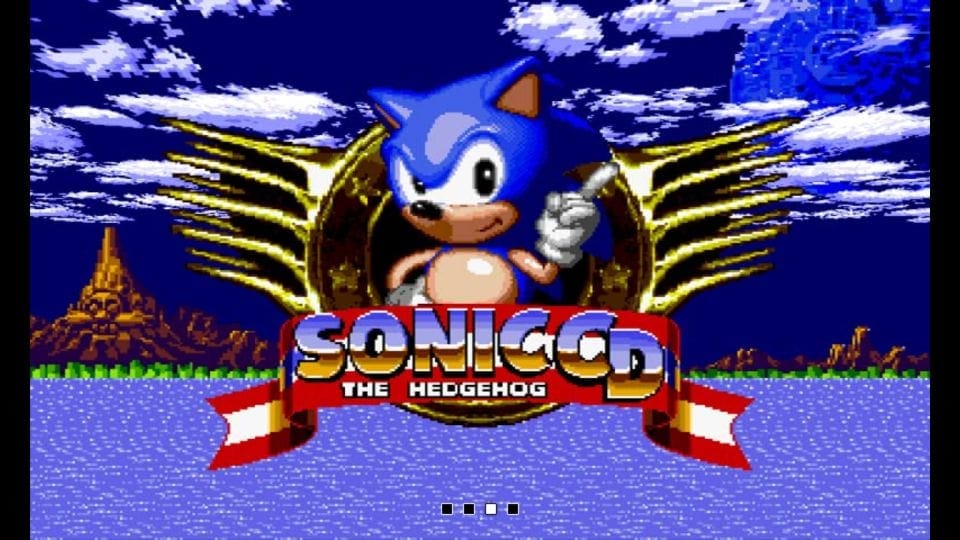 This 1993 retro game from the Sony the Hedgehog franchise by Sega was a huge success back in its time. Sonic CD is available as part of the Sega Classics bundle. However, you can buy it a-la-carte for $2.99 in case you are not looking to play any other Sega games.
Action-packed gameplay backed by a compelling storyline makes Sonic CD one of the most exciting games for FireStick. In its quest to save the Little Planet, Sonic takes on his nemesis Dr. Robotnik through a series of edge-of-the-seat adventures.
Sonic CD can only be played with a Bluetooth Game Controller. Unfortunately, it does not support the FireStick Remote.
3. Pac-Man Championship Edition DX
Price: $4.99 or 499 Amazon Coins
Works with: Game Controllers and Fire TV Remote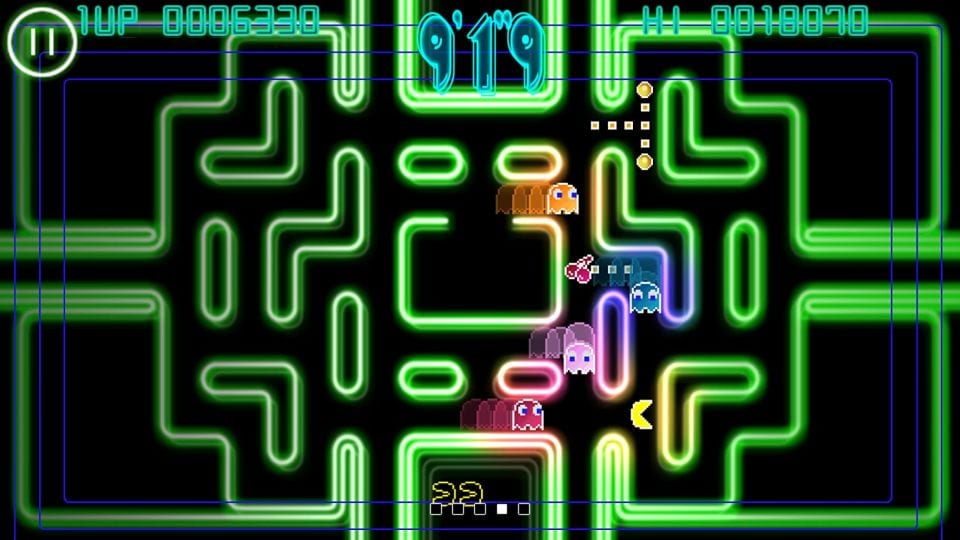 Pacman is one of the most popular and most played games of all time. Ever since its first release as an arcade game in 1980 by Namco, the game has seen numerous makeovers and facelifts. However, the core gameplay of Pacman remains the same – eat the dots; avoid the ghosts.
The Championship Edition DX version was originally released in 2010 for PS3 and Xbox 360. It was later made available on the Android mobile platforms, eventually making its way to Fire TV.
Edition DX adds many new gameplay elements, including a sleeping ghost that gets awakened when you move past it. In addition, the game introduces a 'bomb' that sends all the ghost packing back to the regeneration room once it goes off.
If you are a Pacman fan, you definitely want to try this one.
4. Pac-Man Championship Edition (Fire TV)
Price: $4.99 or 499 Amazon Coins
Works with: Game Controllers and Fire TV Remote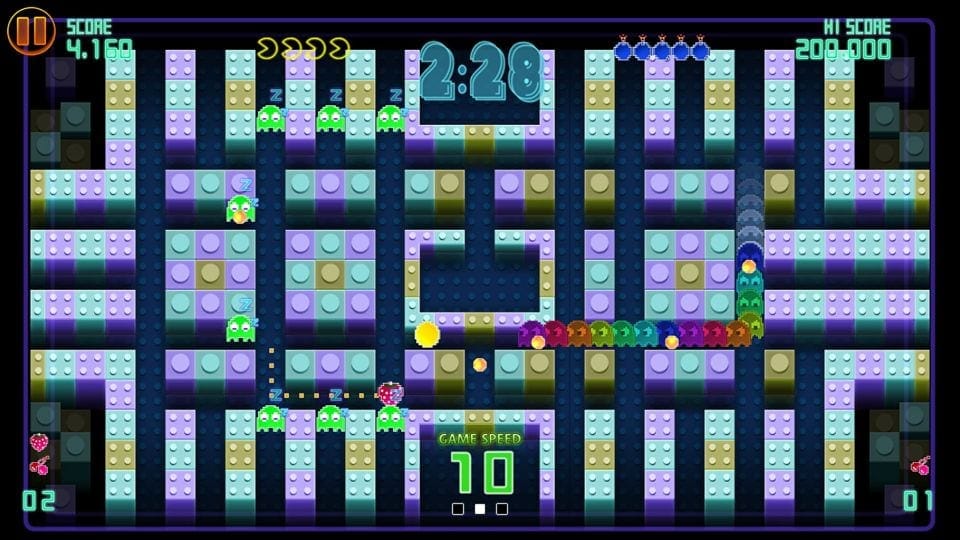 It seems this game is specially customized for Fire TV devices. However, just like any other Pacman game, the fundamentals remain the same – eat all the dots while the ghosts are in your pursuit.
However, this Pacman edition is a bit different from the others. It features bigger mazes and could get much faster. You will also find plenty of new dot patterns for novel gameplay experience.
The more you score, the faster the game gets. So, if you are looking for a bit of adrenaline rush, this Pacman FireStick game is the one you would want to give a try.
5. Sonic The Hedgehog
Price: $2.99 or 299 Amazon Coins
Works with: Game Controllers Only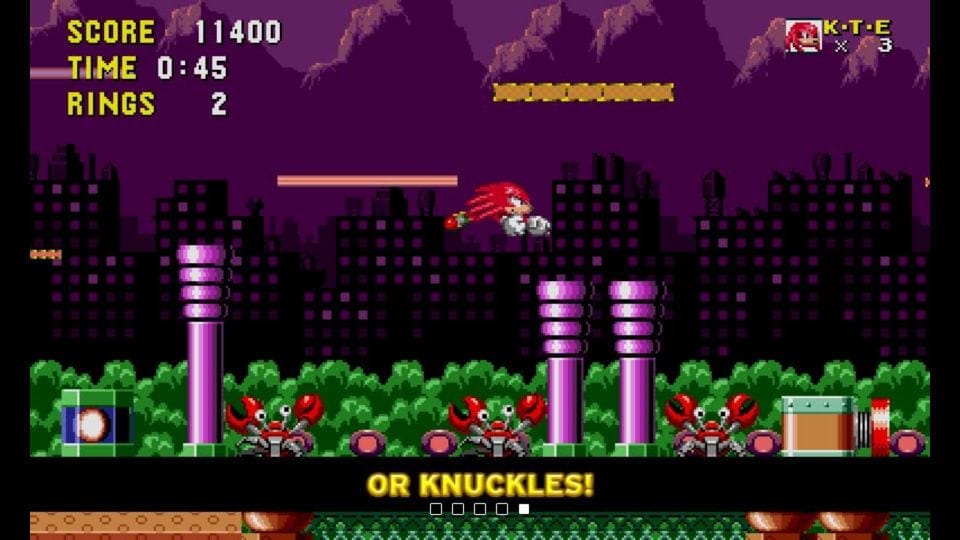 If you want to start from where it all started, here is the original Sonic game, the very first in the Sonic the Hedgehog series.
This Sega console Fire TV Stick game has been optimized for Fire TV and mobile devices and takes you on the first quest to defeat the evil Dr. Robotnik.
Sonic the Hedgehog is included in the Sega Classics bundle for Fire TV and FireStick for $14.99. It is also sold separately for $2.99.
Just like Sonic CD, this game also requires a Bluetooth game controller and cannot be played with your Fire TV remote.
6. Tetris
Price: Free Trial (10 Rows)/$4.99 or 499 Amazon Coins
Works with: Game Controllers and Fire TV Remote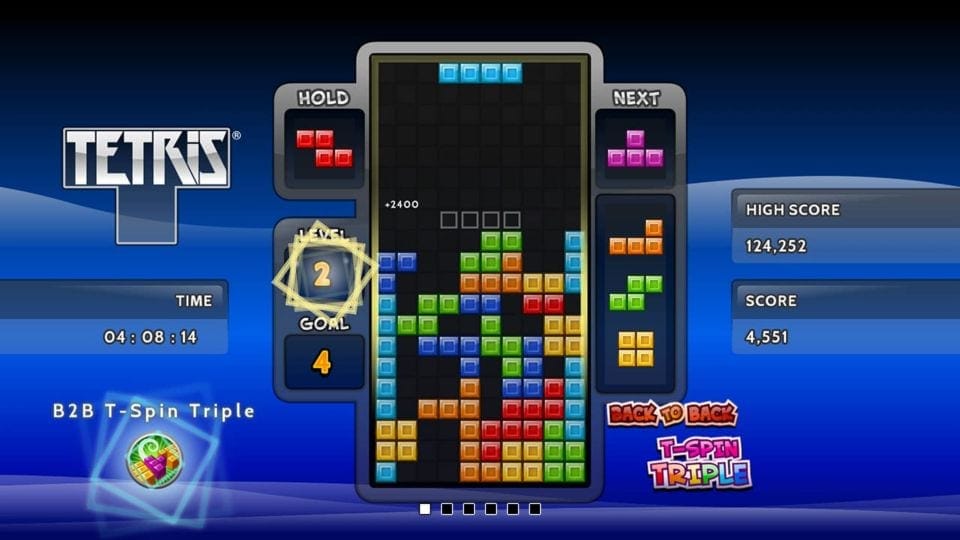 Even though it's been more than 3 decades since the original release, Tetris has never gone out of fashion.  This tile-matching game can keep you glued for hours. And, now you can play it on your FireStick and Fire TV devices.
You can download the free trial of the game from the Amazon store, which lets you match the tiles to up to 10 rows. To play more and to unlock all 3 modes (Sprint, Marathon, Ultra), you must upgrade it to the premium version.
Tetris has a high rating of 4 in over 3,000 reviews, and it is one of the most popular FireStick games these days.
How to Install & Play Tetris on FireStick
7. Red Ball 4
Price: Free with in-app purchases
Works with: Game Controllers and Fire TV Remote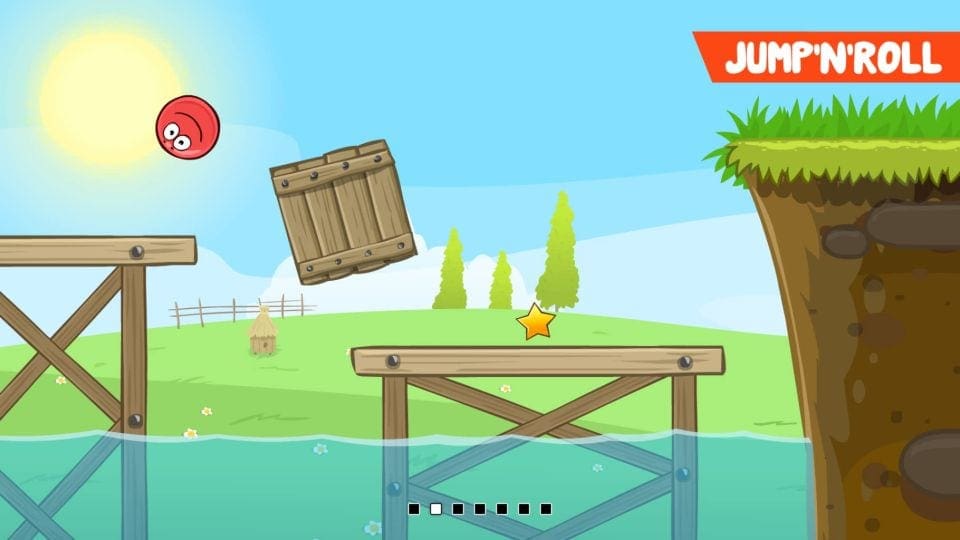 The popular bounce video game is now available on Amazon FireStick, Fire TV, and other Amazon devices. It has neat and visually appealing graphics and offers easy gameplay. However, the game gets more challenging as you progress.
There are 75 levels spanned across 5 arenas. To unlock a level, you must first clear the previous level. If you want to unlock all the levels at once, you can buy the premium version of the game for $1.99. The paid edition also gives you unlimited lives.
If you are looking for a fun game that's easy to play, can be played for free, and does not require a game controller, you could try this FireStick game.
How to Install and Play Red Ball Game on FireStick
8. Hungry Shark Evolution
Price: Free with in-app purchases
Works with: Game Controllers and Fire TV Remote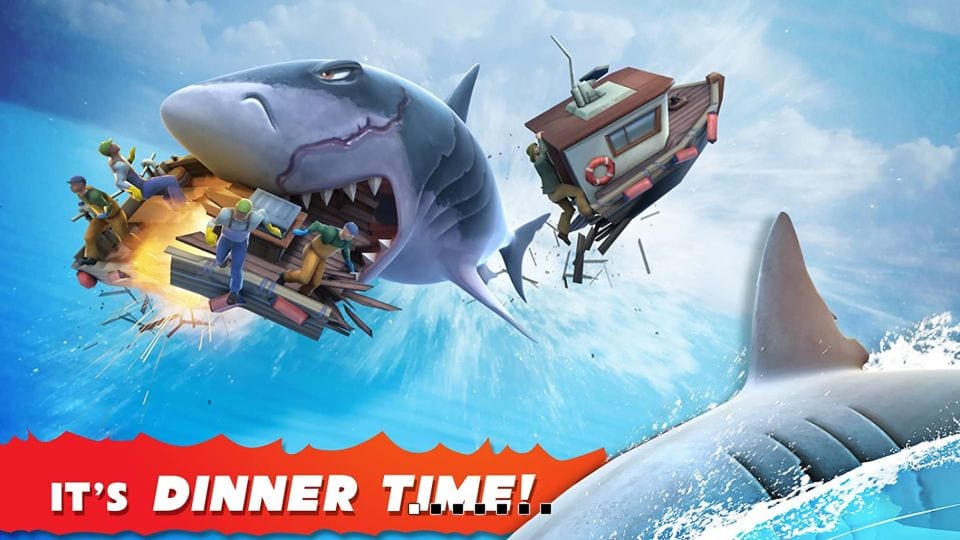 Hungry Shark Evolution is an RPG adventure game that lets you control and evolve the various species of the predator by feeding them whatever comes their way (including humans).
Designed by Ubisoft, a very popular name in the gaming industry (known for the likes of Assassin's Creed, Tom Clancy, Far Cry, etc.), Hungry Shark Evolution is one of the most popular on Amazon FireStick and Fire TV.
The game could get a little violent with depictions of blood and gore. Therefore, it is advised to keep it away from young kids.
Hungry Shark Evolution is mostly free. However, if you want to buy enhancements, there are plenty of in-game purchases.
How to Install & Play Hungry Shark Evolution on FireStick
9. TV Chess
Price: Free
Works with: Game Controllers and Fire TV Remote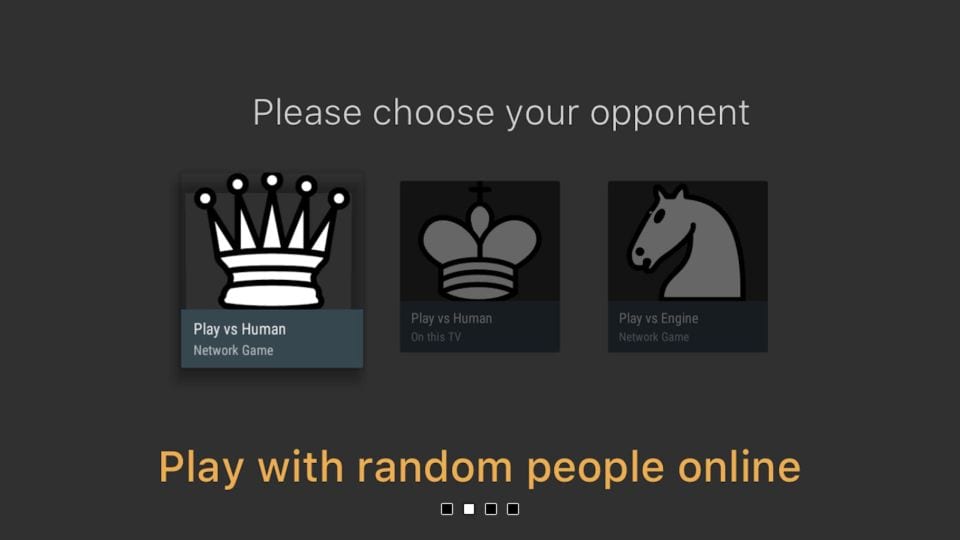 Want to whet your wits? You can now play one of the oldest board games right on your FireStick and Fire TV.
TV Chess offers three game modes – Play vs Human (Online), Play vs Human (on your TV), Play vs Engine (online against AI).
You can choose the difficulty level ranging from 1 to 10 (easiest to hardest) depending upon your skills.
If you like playing chess, this is the FireStick game you would want to download.
How to Install & Play TV Chess on FireStick
10. PBA Bowling Challenge
Price: Free
Works with: Game Controllers and Fire TV Remote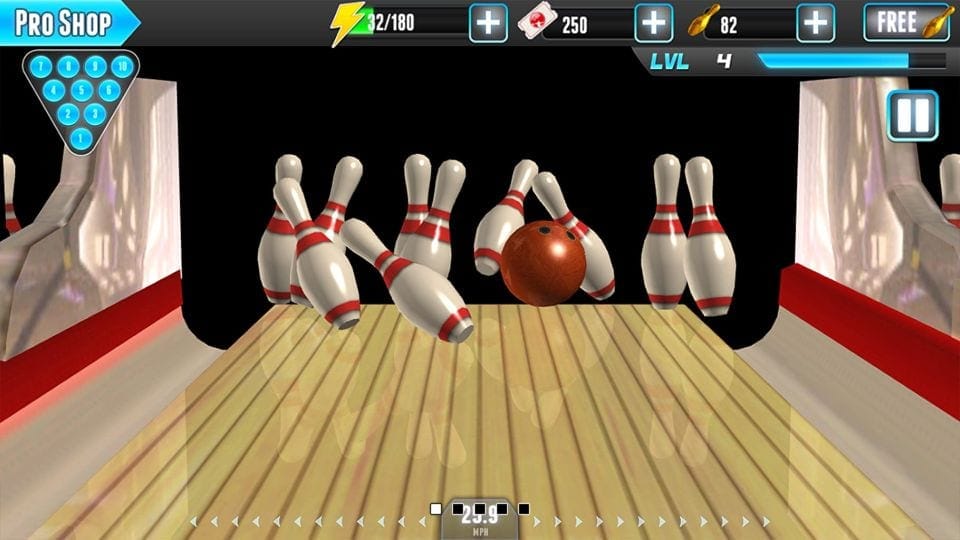 PBA Bowling Challenge is easily one of the best sports games for FireStick and Fire TV.
With excellent graphics and easy to get used to the gameplay, Bowling Challenge keeps you engaged for hours.
You can progress through the levels and unlock new balls, pins, and other game enhancements. You will also find several in-game purchases that let you unlock just about anything you want with money without having to clear levels.
How to Install & Play PBA Bowling Challenge on FireStick
11. Asphalt 8
Price: Free with in-game purchases
Works with: Game Controllers and Fire TV Remote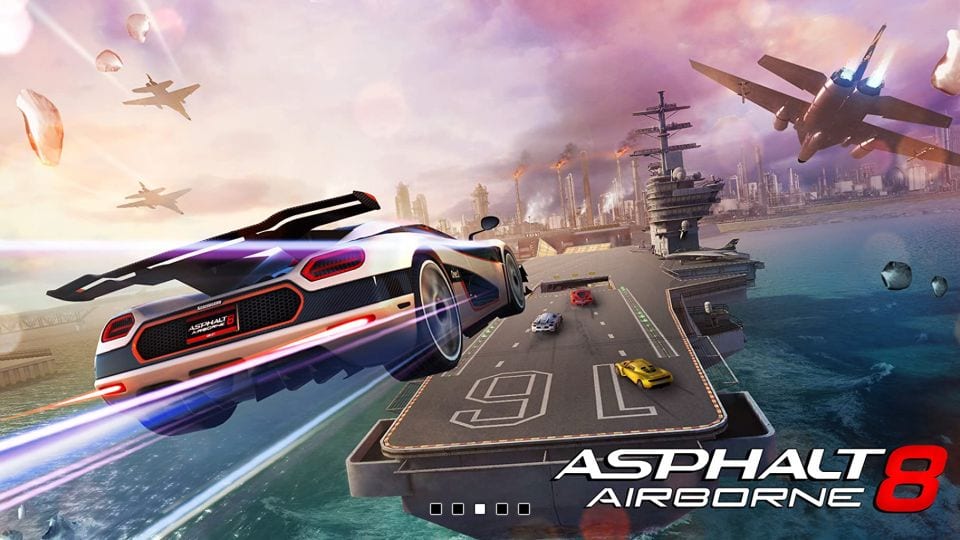 This list of Fire Stick games wouldn't nearly be complete without a racing game. Asphalt 8 is probably the best racing game you could get on a low-spec device like FireStick.
This fast-paced, action-packed game will get your adrenalin rushing with some top of the line cars including Ferrari, Lamborghini, and many more.
Asphalt 8 lets you perform some exhilarating car aerial stunts like barrel rolls, ramp jumps, and many 360-degree jumps. There are more than 9 settings to choose from, such as Nevada Desert, Venice, and more.
You can play the game for free, but with in-game purchases, you can make your experience even more exciting.
While Asphalt 8 works with the Fire Stick remote, controls are dramatically better with a game controller.
How to Install Asphalt 8 on FireStick
12. Crossy Road
Price: Free
Works with: Game Controllers and Fire TV Remote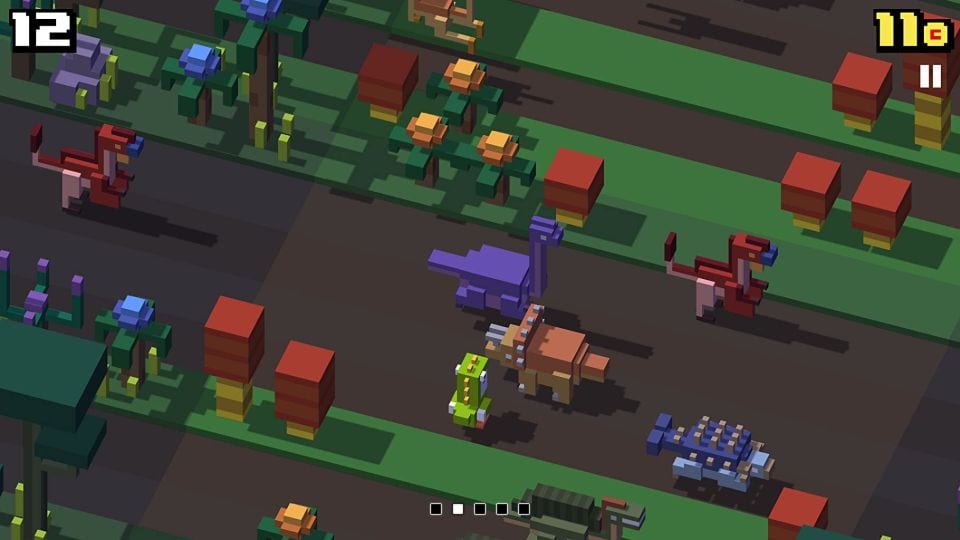 Crossy Road is one of my favorite frogger games and one of the most fun FireStick games I have played on my TV.
The game is based on the old and popular saying "Why did the chicken cross the road?". In this endless hopper game, your player must cross the busy road while trying to avoid being run over by vehicles or running into obstacles. I could play this game for hours on end. It's that much fun.
Crossy Roads is free but there are in-game purchases if you are looking for a more enhanced gaming experience.
How to Install & Play Crossy Road on FireStick
Wrapping Up
This is our list of best FireStick games. While the list is not exhaustive, it does include some of the most popular titles. However, if you feel there is a great game out there that should have been here, let us know through the comments section below.
Related:
Legal Disclaimer - FireStickTricks.com does not verify the legality or security of any add-ons, apps or services mentioned on this site. Also, we do not promote, host or link to copyright-protected streams. We highly discourage piracy and strictly advise our readers to avoid it at all costs. Any mention of free streaming on our site is purely meant for copyright-free content that is available in the Public domain. Read our full disclaimer.
Disclosure - FireStickTricks.com is reader-supported blog. When you buy a product through links on our site, we may earn commission. Learn More