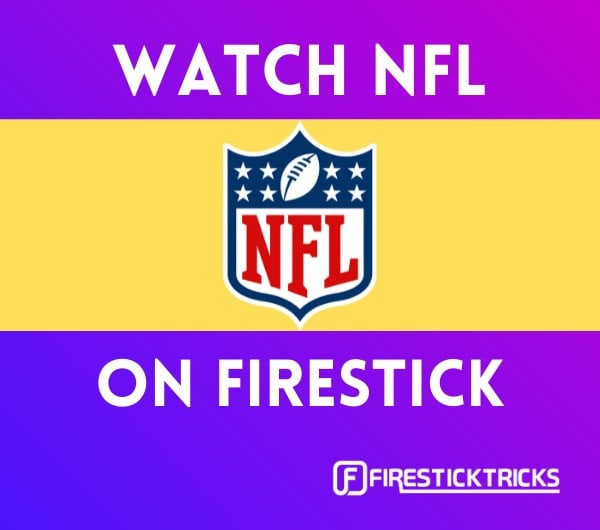 NFL fans! The popular American football league is back for 2021. The National Football League is easily the number one sports event among TV viewers in the US. Starting September 9, 2021, you will see 32 teams battling it out to win the Vince Lombardi Trophy in the Super Bowl Championship game. The good news is you can watch the nail-biting action from anywhere using an Amazon Fire TV device, including a FireStick 4K, FireStick Lite, or Fire TV Cube. Read along to learn how.
Before we talk about the options to watch NFL games on FireStick, let's first understand a bit about the long-running tournament and the 2021 event format.
What Is the NFL?
The National Football League (NFL) is a professional football league consisting of 32 teams in the US. It's one of the largest North American professional sports leagues. The NFL's 18-week season typically starts in early September and goes until early January.
The NFL finale, known as the Super Bowl, is so popular that companies spend millions of dollars to book a few seconds of ads during it. Some viewers watch the NFL championship just for the Super Bowl ads. The ads have a cult following of their own.
In NFL 2020, the Tampa Bay Buccaneers team beat out season favorites Kansas City Chiefs in Super Bowl LV at Raymond James Stadium in Tampa, Florida.
This time around, the Chiefs, Buccaneers, and Bills are the top three favorites to make it to the playoffs.
Attention, FireStick Users!
Governments and ISPs constantly monitor your online activity, and accessing copyrighted content on your Fire TV Stick could lead to serious trouble. Currently, your IP is visible to everyone. I strongly recommend getting the best FireStick VPN to mask your IP address and securely stream your favorites.
I personally use ExpressVPN, the fastest and most secure VPN available. Not only is it easy to install on any device, it comes with a risk-free 30-day money-back guarantee. Plus, if you're not 100% satisfied, you can always get a refund. ExpressVPN is currently also offering a whopping 3 extra months free on their annual plan!
Read: How to install and use a VPN on FireStick
NFL 2021 Schedule
Due to the COVID-19 pandemic, organizers had to cancel all NFL preseason football games in 2020. Thankfully, that's not the case this time around. You can enjoy all the preseason games starting August 12, 2021. The Hall of Fame Game is a week before, on August 6.
The real action starts on September 9 when the Cowboys will take on the defending champions, the Buccaneers. The 18-week event will see its championship on January 9, 2022.
Can't wait to catch the live action? Here are the official ways to stream NFL games on FireStick.
How to Watch NFL Games on FireStick with Official Apps
There are numerous ways to watch NFL games on FireStick without cable. The good news is most of these services come with a free trial.
In the US, the NFL has struck a deal with ESPN, NBC Sports, Fox Sports, and CBS to stream football games to viewers. Any streaming services carrying these channels can play football games on FireStick.
Another advantage is that these apps and services are officially available from the Amazon App Store. You don't need to go through sideloading methods to install apps on the streaming device.
However, most of the services listed below are only available in a handful of regions around the world.
You need to invest in a quality VPN service like ExpressVPN to unlock the NFL experience anywhere in the world. ExpressVPN removes location restrictions and allows you to stream the NFL from any region.
Let's start the list with the NFL's official app on FireStick.
1. Official NFL App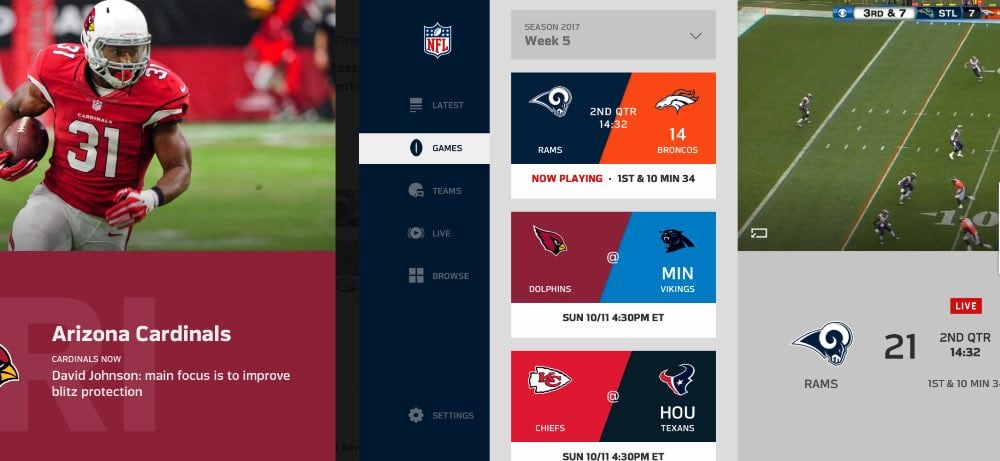 Die-hard NFL fans, this one is for you! The NFL Network has an official app for FireStick. You can catch live action and stream behind-the-scenes moments as well. The app also features downloadable highlights and replays.
The NFL game pass subscription plans start at $17.99 per year. It's available in many regions, such as the US, the EU, Asia, and the Middle East.
It's an ideal option for those who don't want to get a whole package with dozens of other channels just to watch the NFL. Install the app, press the home button, and start watching NFL action from the app.
2. Hulu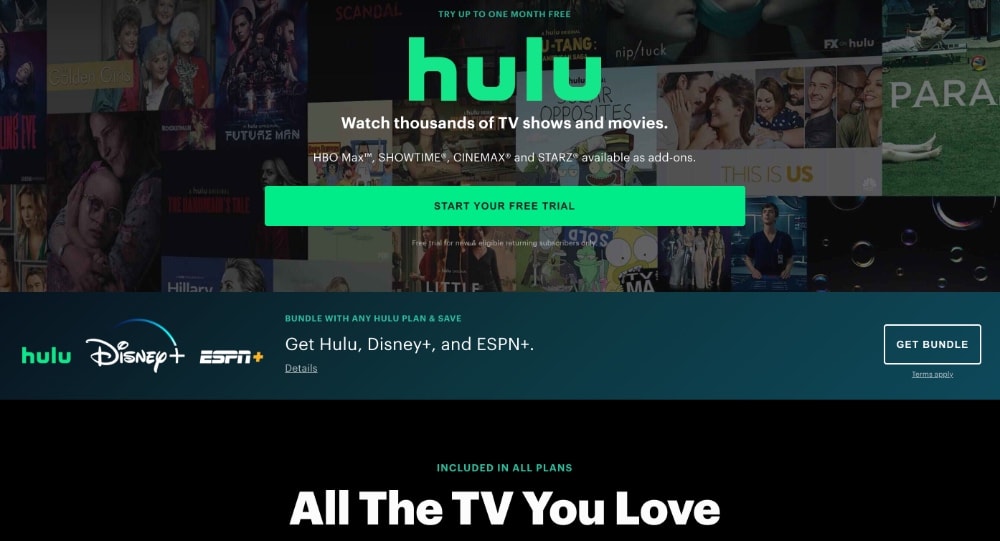 If you don't have any budget issues, I recommend going with the ultimate Hulu bundle. It comes with Hulu channels as well as ESPN+ and Disney+ for $64.99 per month.
ESPN+ includes all the major leagues, including NFL, NBA, UFC, and F1. Disney+, a new kid in the streaming service game, is already making waves with critically acclaimed movies and TV shows.
Besides the sports channels with NFL games, Hulu has 75+ channels, up to 50 hours of cloud DVR support, shows from HBO Max and SHOWTIME, and more.
How to Watch NFL for Free with Hulu
The Hulu bundle comes with a 7-day free trial. You can get started with the free trial and cancel the service before the first week ends.
How to Watch Hulu on FireStick
3. Sling TV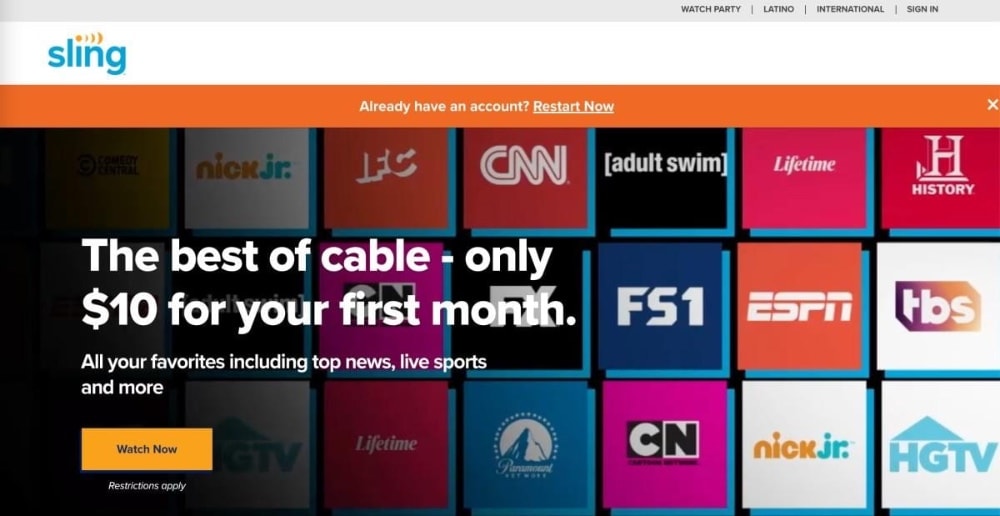 Sling TV is one of the cheaper options to stream NFL games on FireStick. The service comes with 50+ channels in full-HD quality. The good news is you are not limited to FireStick only.
Sling TV is available on a number of devices, including iOS, Android, Android TV, NVIDIA Shield, and Apple TV. No matter which device you own, Sling TV has you covered.
How to Watch NFL for Free with Sling TV
Sling TV offers a 14-day free trial to new subscribers. After that, you can upgrade to the paid plan at $10 per month. Those interested in ESPN channels should get the Orange bundle.
How to Install Sling TV on FireStick
4. fuboTV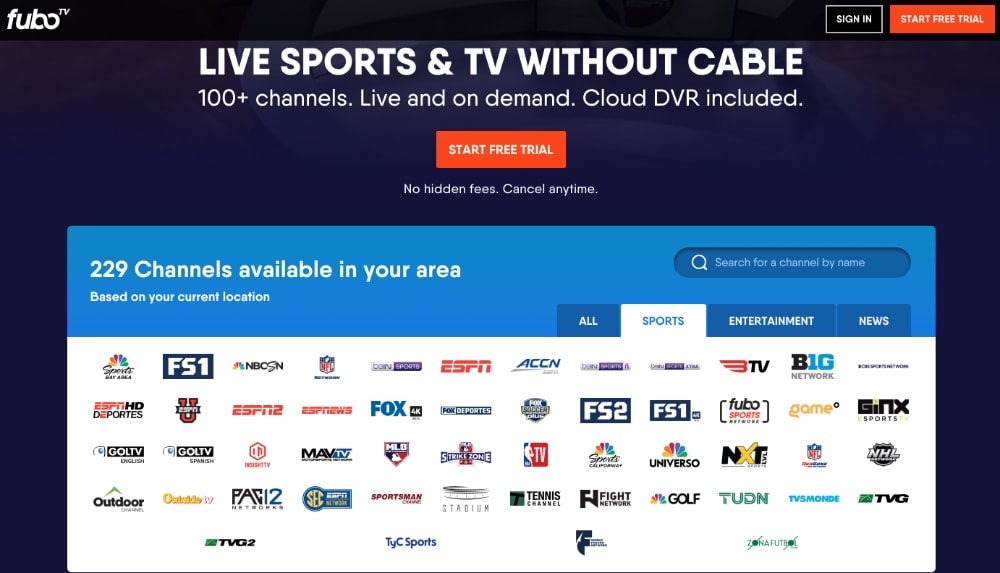 fuboTV carries a fat price tag of $64.99 per month. But hear me out. It's one of the few streaming services with over 200 TV channels. It's more than enough to replace your cable TV subscription.
When you think of fuboTV as a cable replacement, $64.99 per month sounds like a bargain.
How to Watch NFL for Free with fuboTV
You get a 14-day free trial to enjoy two weeks of NFL games. The fun doesn't end at NFL games though. fuboTV comes with on-demand channels and DVR support.
Website: https://www.fubo.tv/welcome
5. YouTube TV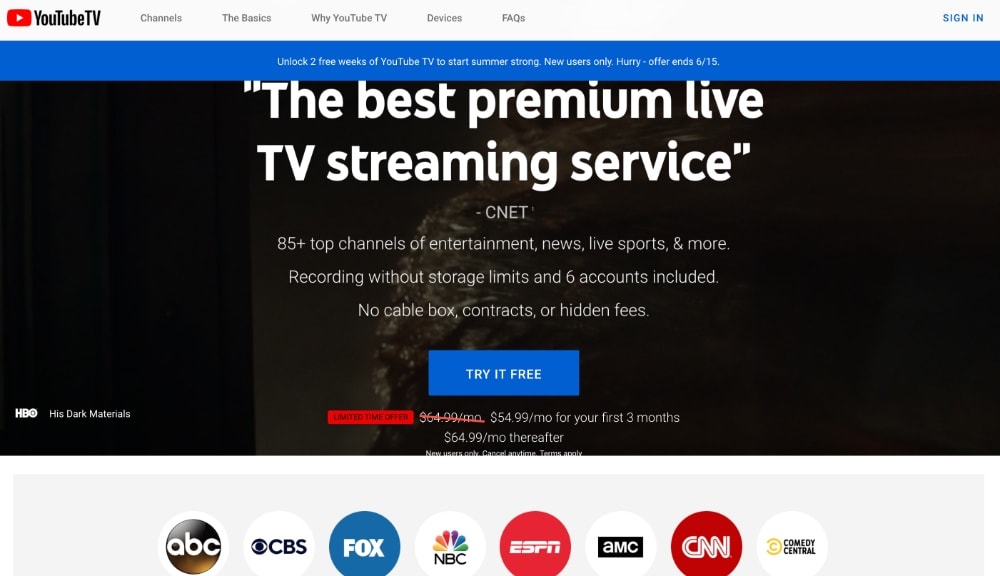 YouTube is a relatively new service on offer from Google. Being a newbie, the service has a somewhat slim collection of live TV channels at 85. It includes all the sports channels though. You can comfortably stream the NFL network on your Fire TV.
With backing from Google, you can expect a robust streaming experience and reliable buffering-free streams on FireStick. Users can also take advantage of unlimited cloud DVR support and the ability to pause, fast forward/backward, and use other functions.
How to Watch NFL for Free with YouTube TV
Before opting for a paid plan, you can enjoy a 14-day free trial with YouTube TV. After that, you need to pay $54.99 per month for the first three months and $64.99 per month after that.
How to Install YouTube TV on FireStick
6. AT&T TV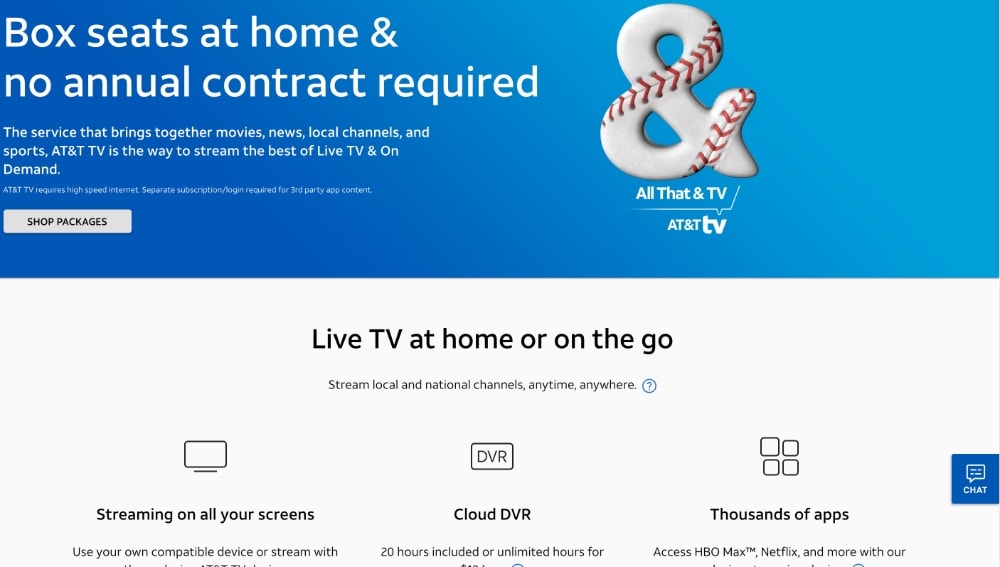 AT&T, the second-largest US carrier, has grand plans to dominate the streaming market with its AT&T TV service.
AT&T is the most expensive service of the bunch, and it doesn't offer a free trial either. You need to pay $69.99 per month to get started.
You can expect to see all the major channels, such as AMC, ESPN, FOX Sports, ABC, Comedy Central, CBS Sports Network, and NBC Sports, plus plenty more. The list hovers at around 65 live TV channels.
If you opt for the Choice plan at $84.99 per month, you can get an HBO Max subscription for a year as well. All AT&T TV paid plans come with 20 hours of cloud DVR.
Website: https://www.atttv.com/
7. ESPN+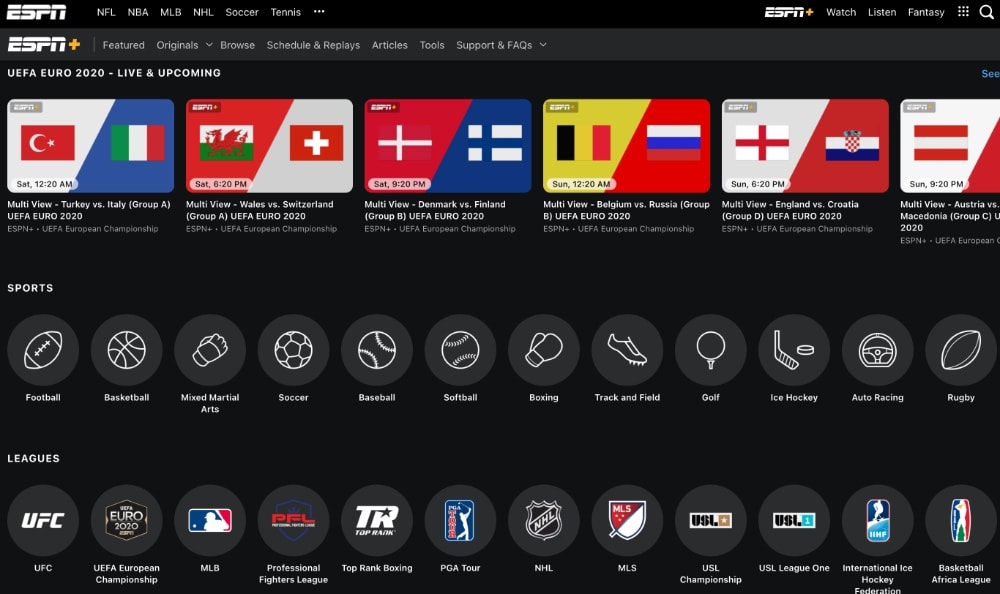 How could we forget about everyone's favorite ESPN subscription to stream NFL and hundreds of other games on the FireStick? ESPN channels are already included in most of the above services, but if you don't need any of the live TV channels and only want to watch sports, then ESPN+ makes perfect sense for you.
Being a sports-only package, ESPN+ is the cheapest option of the bunch. It only costs $5.99 per month. It covers all the major device platforms, including Android, iOS, Apple TV, Roku TV, Fire TV, and Android TV.
ESPN+ doesn't offer a free trial. You can sign up for the service using the link below.
Website: https://www.espn.com/watch/espnplus
How to Watch NFL on FireStick for Free (Legal Apps)
The NFL has a long season. It goes on for 18 weeks—more than four months. Since most of the services above offer a free trial for new subscribers, you can take advantage of free trials to get maximum NFL coverage for free. Even if you have used a service before, you can sign up again using a different email address. With your new account, you will be eligible again for a free trial.
1. Subscribe for fuboTV and begin your 14-day free trial for the first two weeks of the NFL games. Set a reminder in a task management app of your choice (such as Google Calendar) and cancel the subscription before the fourteenth day.
2. Move to the Sling TV service that also offers a 14-day free trial. Start the free trial and cancel it before the credit card charge. You've already enjoyed NFL games for one month for free on FireStick.
3. YouTube TV is also generous with a 14-day free trial for new subscribers. You can get started with Google's streaming service, enjoy the NFL action for two weeks, and cancel it before the free trial ends.
4. Hulu TV offers a 7-day free trial that comes with all ESPN channels. Subscribe to Hulu and cancel it before the seventh day.
With all four tree trials combined, you can easily enjoy the NFL for seven weeks without paying a dime.
But that's only seven weeks of NFL coverage. What about the remaining eleven weeks? Well, you could go through the hassle of signing up for more free trials with a different email address, watching the NFL while you can, and then canceling the trials before you're charged.
Or you could use an IPTV service, a third-party streaming service, a Kodi addon, or a free streaming sites. None of those options risk your credit card being charged if you forget to cancel subscriptions. Let's talk about them in detail.
Free Apps / Services to Watch Live NFL on FireStick for Free (Unverified Sources)
Legal Disclaimer: This tutorial is purely educational. FireStickTricks.com doesn't own, host, operate, resell, or distribute any streaming apps, addons, IPTV or services. The page contains some unverified services, and we are not certain whether they hold legal licenses to distribute the content. FireStickTricks.com does not verify the legality of each app/service in all regions. Do your due diligence if you use any of the unverified apps/services, and stream only content that is available in the public domain. The end-user shall be solely responsible for the media accessed.
The FireStick fun doesn't end with official apps. With a jailbroken Amazon Fire Stick, you can install third-party streaming services, IPTV apps, and Kodi addons to take your sports streaming experience to the next level.
As a responsible tech giant, Amazon can't host unverified third-party apps and IPTV services in its app store. You need to sideload APK files to the device.
The good news is it's easy to install third-party apps and streaming services and watch NFL on FireStick for free. The bad news is the fun does actually end there. FireStickTricks.com can't confirm the legal status of these services. They may not carry licenses to stream NFL games in your region.
If you access NFL games using third-party apps and IPTV services that don't have proper licenses, it may put you in legal jeopardy in the future.
You must be wondering, how? Your ISP (internet service provider) and government can see the type of content you watch on FireStick. They also know your approximate location via your IP address. Accessing unlicensed content could get you in trouble.
FireStickTricks.com explicitly discourages all kinds of illegal streaming. That said, third-party apps and services provide content from various often-unknown sources. Since it's hard to tell if the apps and services carry the proper licenses, let alone their sources, I highly recommend using a capable VPN app like ExpressVPN. A VPN encrypts your internet connection and makes it impossible for others to find out what you are doing online.
As I mentioned earlier, with ExpressVPN, you can also overcome location-based restrictions on services like YouTube TV, Hulu TV, and Sling TV and watch NFL on FireStick from anywhere.
Don't forget to safeguard yourself with a VPN app before installing and using any third-party apps, IPTV services, or Kodi addons on FireStick.
How to Install and Use ExpressVPN on FireStick
IPTV Services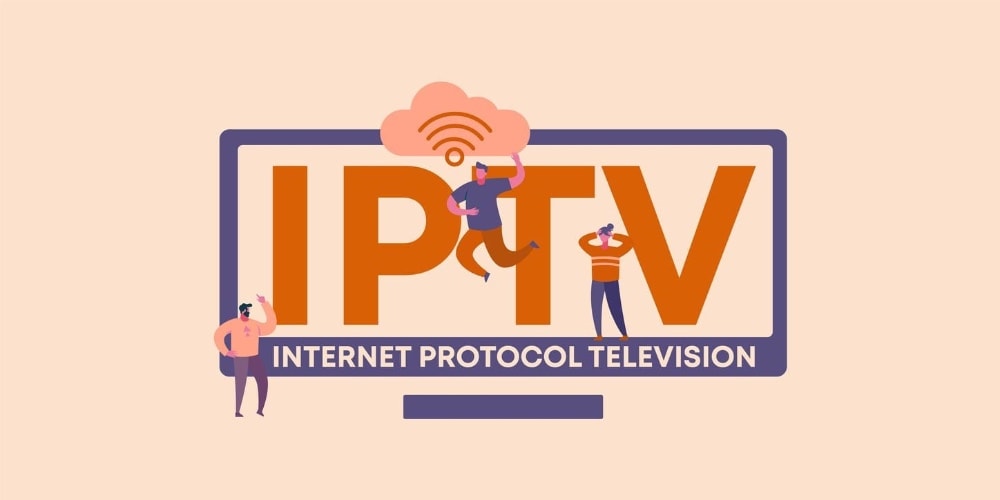 IPTV services have taken the internet by storm. They are surely getting traction among enthusiasts due to their large libraries of content and affordable price tags.
With a solid IPTV service, you get to enjoy thousands of TV channels, movies, and TV shows for a small monthly fee. These IPTV providers offer VOD (video on demand), PPV (pay-per-view), M3U links, EPG TV guides, and compatibility with third-party IPTV players and media players to view content.
Most IPTV services for FireStick carry a sports addon to view popular events such as the NFL, NBA, and UFC.
There are dozens of IPTV services for FireStick. Among them, we have cherry-picked the top IPTV services to stream NFL games on FireStick. Read the article, take the necessary precautions with a VPN service, and start streaming the NFL without leaving the couch.
Free Sports Streaming Apps
This is one of the main reasons the majority opt to jailbreak their FireStick. Doing so lets you download third-party streaming apps on FireStick.
You need to go through the sideloading process because Amazon won't allow such third-party apps in the App Store. These apps may offer unlicensed content that goes against Amazon App Store policies.
FireStickTricks.com can't verify all content available in every region. Users are on their own while using third-party apps to stream NFL games on FireStick. You may accidentally consume unverified content on FireStick, as it's difficult to differentiate between legal and unlicensed content in third-party apps.
One popular app that got kicked out of the Amazon App Store is Kodi. Using the Kodi app, you can stream NFL games like a boss. But the Kodi app alone won't make a difference. You need to get capable sports addons designed to stream sports events like the NFL on FireStick.
There are many Kodi addons developed specifically for sports fans around the world. You can install them in the Kodi app and start streaming NFL games on FireStick. Go through our dedicated list of best Kodi addons and try a couple of them on your FireStick 4K, FireStick Lite, or Fire TV Cube.
How to Watch NFL on FireStick Using a Browser (Unverified)
Amazon has developed the Silk browser for FireStick that allows you to browse the web using your Fire Stick remote.
Using the Silk browser on Fire TV devices, you can watch NFL games for free on third-party free sports streaming websites. There are many websites out there that offer free streaming to their viewers.
Using streaming websites to watch NFL for free sounds too good to be true, right? You're correct to be suspicious. These websites tend to have tons of pop-up ads and third-party trackers that can steal information from your FireStick.
Normally, we won't advise going this route to stream NFL on FireStick. But if you are hell-bent on using a free streaming site to stream NFL games, use a VPN app like ExpressVPN to protect yourself from malicious trackers.
Once again, these streaming websites rely on third-party sources and services to let you stream NFL games on FireStick. We can't verify the legality of such services. I strongly suggest you stick with the official options I listed first. With legal and verified options, you can enjoy a flawless live NFL streaming experience, something that's rarely possible with free streaming websites.
Highly recommended if streaming with free or low-cost services 👇
How to Stream on FireStick Anonymously
As soon as you install the right apps, your FireStick is all ready to stream your favorite content. However, before you start, I would like to warn you that everything you stream online is visible to your ISP and Government. This means, streaming free movies, TV shows, Sports might get you into legal trouble. 
Thankfully, there is a foolproof way to keep all your streaming activities hidden from your ISP and the Government. All you need is a good VPN for Fire Stick. A VPN will mask your original IP which is and will help you bypass Online Surveillance, ISP throttling, and content geo-restrictions.
I personally use and recommend ExpressVPN, which is the fastest and most secure VPN. It is compatible with all kinds of streaming apps and is very easy to install on Fire TV / Stick.
We do not encourage the violation of copyright laws. But, what if you end up streaming content from an illegitimate source unintentionally? It is not always easy to tell the difference between a legit and illegal source.
So, before you start streaming on your Fire Stick / Fire TV, let's see how to use ExpressVPN to keep your streaming activities hidden from prying eyes.
Step 1: Subscribe to ExpressVPN HERE. It comes with a 30-day money-back guarantee. Meaning, you can use it free for the first 30-days and if you are not satisfied with the performance (which is highly unlikely), you can ask for a full refund.
Step 2: Power ON your Fire TV Stick and go to Find followed by Search option.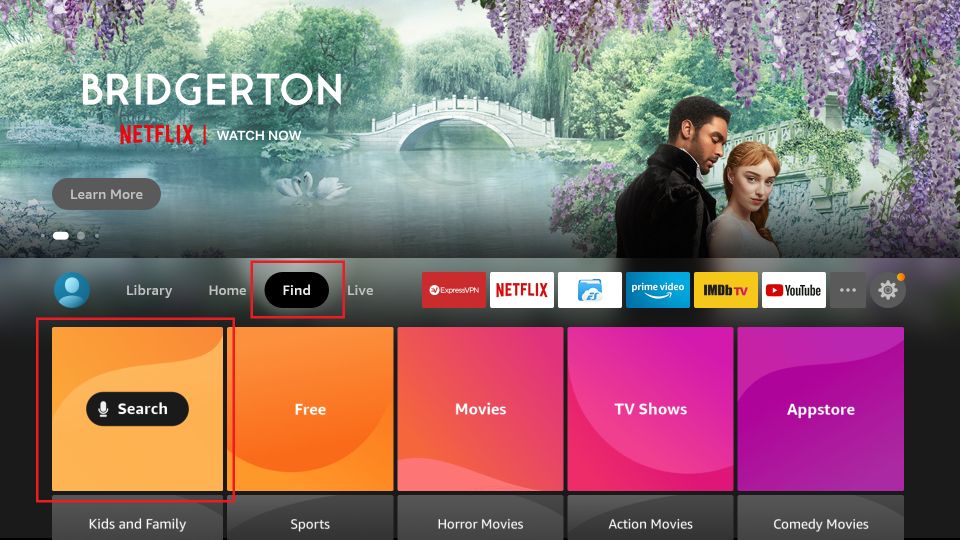 Step 3: Now type "Expressvpn" (without quotes) in the search bar and select ExpressVPN when it shows up in the search results.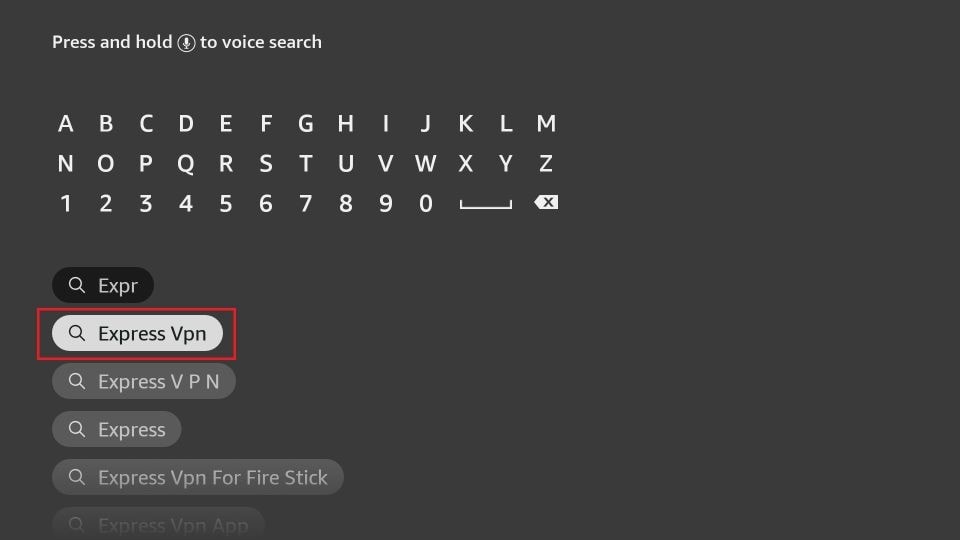 Step 4: Click Download to install the ExpressVPN app on Fire TV / Stick.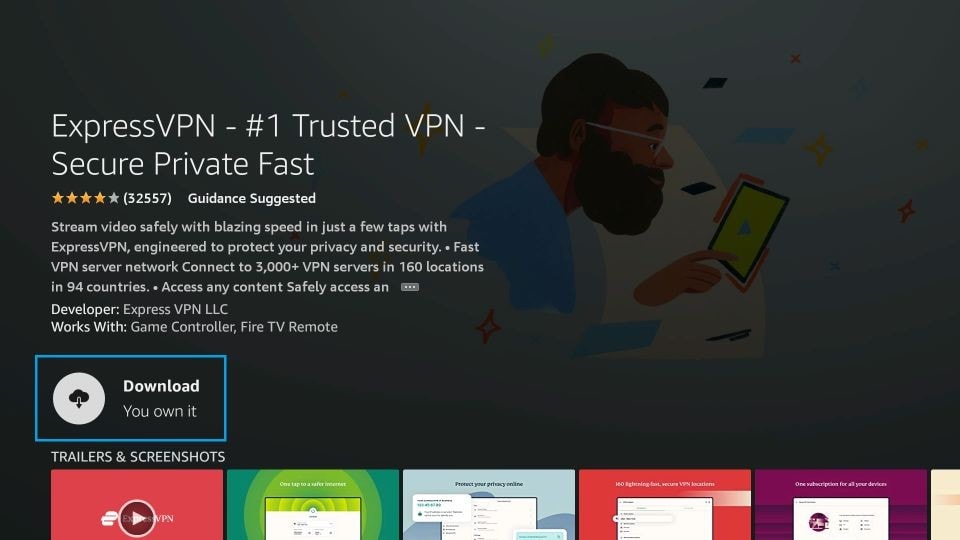 Step 5: Open the app and enter the login credentials that you created while buying the ExpressVPN subscription. Click Sign in.


Step 6: Click the Power icon to connect to a VPN server. That's all. Your connection is now secure with the fastest and best VPN for FireStick.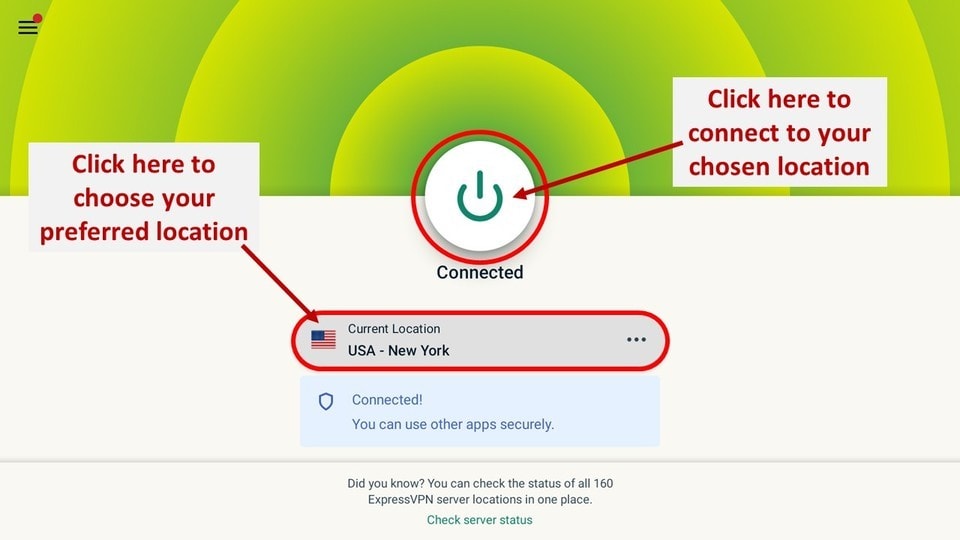 You can also read more detailed info on using ExpressVPN with Fire TV / Stick.
FAQs
How can I watch NFL games on FireStick for free?
You can opt for a free trial from verified services and enjoy live NFL actions for a few weeks.
Alternatively, you can try installing third-party apps, IPTV services, Kodi add-ons, or use the Amazon Silk browser to watch NFL games for free on FireStick. However, this method may carry illegal streams and you may get in trouble. I suggest you stick to the official and legal options to watch NFL on Amazon Fire TV or other streaming devices.
Can I watch all NFL games on FireStick?
Yes, you can. Since the NFL has contracts with major US channels out there, any streaming service with support for any of these channels is eligible to showcase all NFL games to FireStick users.
Is the NFL app available on FireStick?
The National Football League has an official app available on iOS, Android, FireStick, and Android TV. To stream NFL games on it, you need to purchase an NFL game pass from the official NFL website.
Wrapping Up
You don't need to buy a ticket to watch NFL games in a crowded stadium. The NFL network is huge. They have made sure that the popular football league is available on major internet services out there. Using verified apps on FireStick, you can easily watch a few football matches free for up to seven weeks.
Users can also experiment with IPTV services, third-party sports streaming apps, or Kodi addons to watch the football season. Just don't forget to take a helping hand from a VPN to hide your IP address and stay as anonymous as possible.
Related:
Legal Disclaimer - FireStickTricks.com does not verify the legality or security of any add-ons, apps or services mentioned on this site. Also, we do not promote, host or link to copyright-protected streams. We highly discourage piracy and strictly advise our readers to avoid it at all costs. Any mention of free streaming on our site is purely meant for copyright-free content that is available in the Public domain. Read our full disclaimer.
Disclosure - FireStickTricks.com is reader-supported blog. When you buy a product through links on our site, we may earn commission. Learn More