Today, I will explain how to fix the FireStick Black Screen problem. It is relatively common and may happen due to several reasons, including but not limited to hardware issues in your TV or FireStick.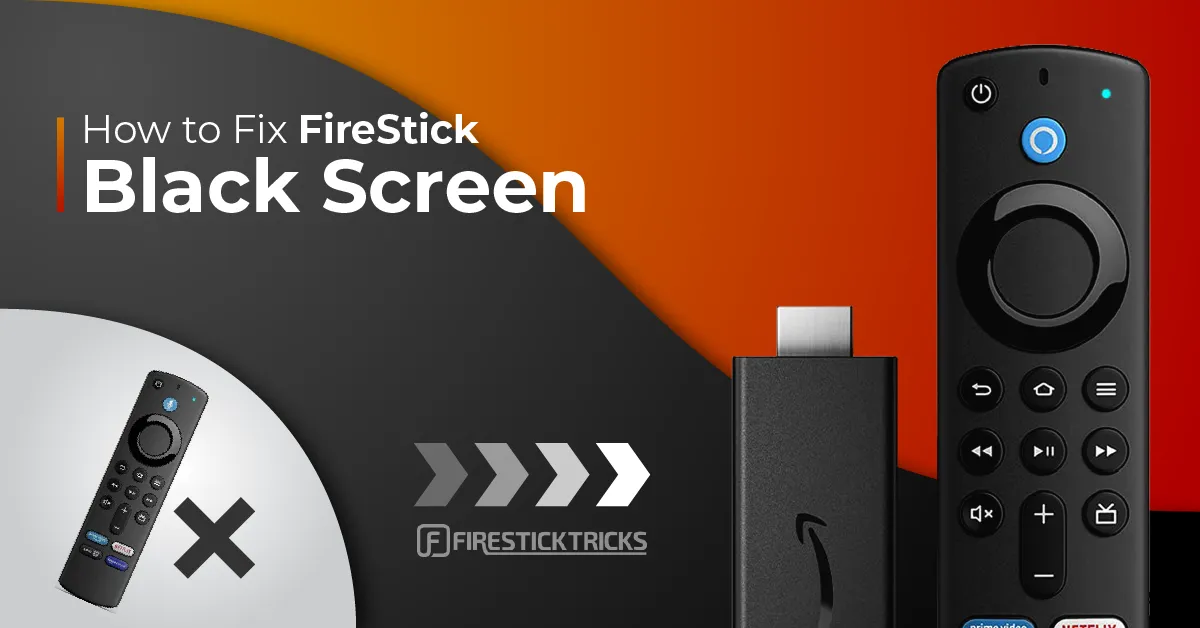 Amazon's FireStick dominates the current market as a prevalent tool for its capability to turn a regular TV into a Smart TV. However, FireStick users may run into issues with the device from time to time. These issues include sound errors, black screens, or random restarts.
Black Screen or No Display error on FireStick refers to a situation when there is no visual output on your TV's screen other than an empty black screen. Your FireStick might also be unresponsive to remote commands. While it may seem like a big problem, it has some easy fixes.
I will explain the possible reasons behind a Black Screen on your FireStick and how to fix them yourself.
Attention, FireStick Users!
Governments and ISPs constantly monitor your online activity, and accessing copyrighted content on your Fire TV Stick could lead to serious trouble. Currently, your IP is visible to everyone. I strongly recommend getting the best FireStick VPN to mask your IP address and securely stream your favorites.
I personally use ExpressVPN, the fastest and most secure VPN available. Not only is it easy to install on any device, it comes with a risk-free 30-day money-back guarantee. Plus, if you're not 100% satisfied, you can always get a refund. ExpressVPN is currently also offering a whopping 3 extra months free on their annual plan!
Read: How to Install and Use Best VPN for FireStick
How to Use a FireStick with a Black Screen?
Before we start the fixes, you may want to know how to use a FireStick with a black screen and apply these fixes.
Now, there are two kinds of Black Screens in a FireStick. These are,
Continuous Black Screen – Black screen won't go away.

Periodic Black Screen – Black screen appears intermittently. 
I am covering both scenarios one by one.

1) Continuous Black Screens on FireStick
A continuous black screen problem is when your FireStick does not give a visual output or displays only a black screen with no response from the remote. Most of the time, a continuous black screen accompanied by unresponsiveness indicates a hardware issue.
You may have to resort to hardware-related fixes like replugging or changing the HDMI port to fix this. The details are given below.
Change HDMI Connection
If the FireStick is plugged in and still shows a black screen, the next most likely cause is a problem with the HDMI connection. A faulty HDMI cable may cause this issue.
Unplug the HDMI cable from the Fire Stick and the TV, then plug it back in. If that doesn't work, try using a different HDMI cable or plug the FireStick directly into the TV's HDMI port.
You may want to try another HDMI port if it's a problem with the port.
Check TV's Compatibility
You might have some compatibility issues if you are using an old TV or a monitor. 
In that case, there's a high chance that it is not HDCP compliant and, therefore, not compatible with FireStick. High-bandwidth Digital Content Protection (HDCP) is protection against copying or duplicating digital media content.
FireStick requires HDCP connection support to function correctly on a TV or a monitor. If this feature is missing, you may be unable to use or view FireStick's interface.
Unfortunately, there are no fixes for this problem. You will have to use another TV to use the FireStick.
Most TVs are HDCP compliant. Therefore, unless you are using a very old TV, it is unlikely HDCP compliance is causing the black screen.
Check for Overheating
Electronic devices produce more heat in hot and humid environments and flare up their temperatures. Since most of these pieces of equipment have a lower working temperature, there might be performance issues when they are overheating.
If you use a FireStick in similar environments, ensure the device is not overheating by manually checking it. An overheated FireStick is one of the significant reasons why the Black Screen problem surfaces, accompanied by UI lags and other issues.
To avoid overheating, you must ensure the FireStick has enough exposure to the room's air circulation. Sometimes, the TV's heat may also increase the FireStick's temperature. You may need an HDMI extension cable to move the device further from your TV.
Additionally, if the FireStick is overheated, you may need to store it in a cool, dry place and give it some time to cool down before using it again.
Check Internet Connectivity
When setting up the FireStick for the first time, the screen will go black when the device cannot connect to an Amazon Server. This may happen because of connectivity issues. Therefore, ensuring your internet is up and running when using a FireStick device is essential.
Furthermore, some apps require robust internet connectivity to display content. Netflix, for example, needs the internet to view content. When opened without an internet connection, it may display a black screen.
You may need to ensure your Wi-Fi modem is turned on and connected to the ISP to fix this. A green PON light indicates your Wi-Fi device is connected to the internet. However, your router is having difficulty connecting to the ISP if it is blinking or red.
2) Periodic Black Screens on FireStick
You will have a periodic black screen error when a black screen only appears using a certain function or app. This is most likely a software problem and can be fixed using one of the software-based fixes given in the article's next section.
Now, the FireStick is usually responsive on these black screens. Still, if you feel like the device is not responding, you can manually restart it by plugging it out and then replugging it.
If you are facing a Periodic Black Screen Issue on your FireStick, try the solutions below.
Troubleshoot App Compatibility
If you are facing the no-display problem only with a specific app, you may have to check for app compatibility. 
The app may have worked fine on your FireStick before receiving an update. This is often due to conflicting cache files in the app's database.
Most of the time, the "clear cache" method works best for these issues. Here's how you can clear these cache files on your FireStick.
 1. Open the Settings menu.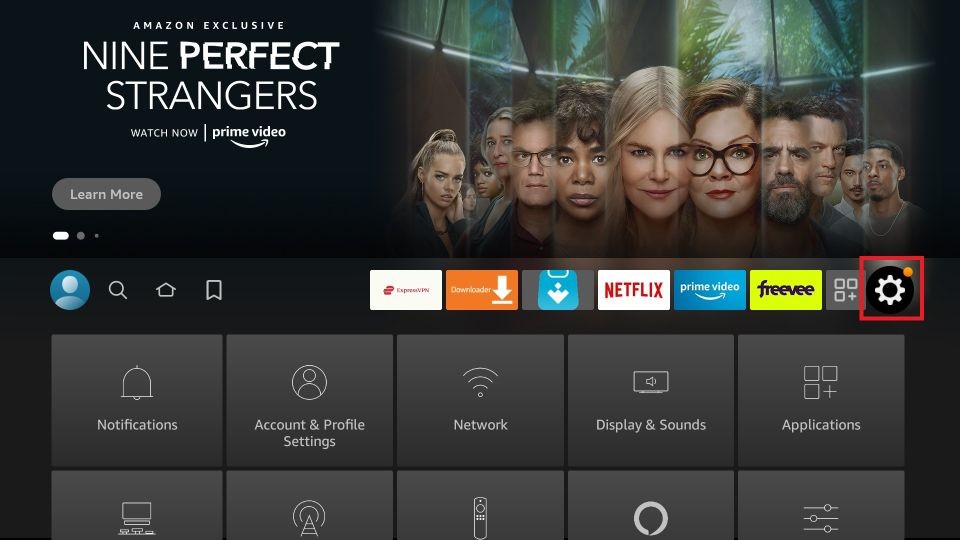 2. Click on Applications.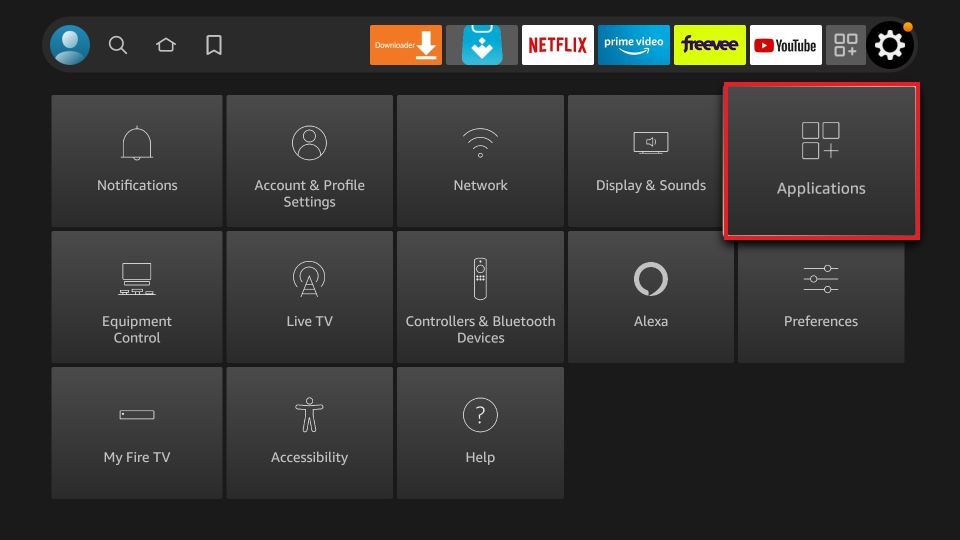 3. Select Manage Installed Apps.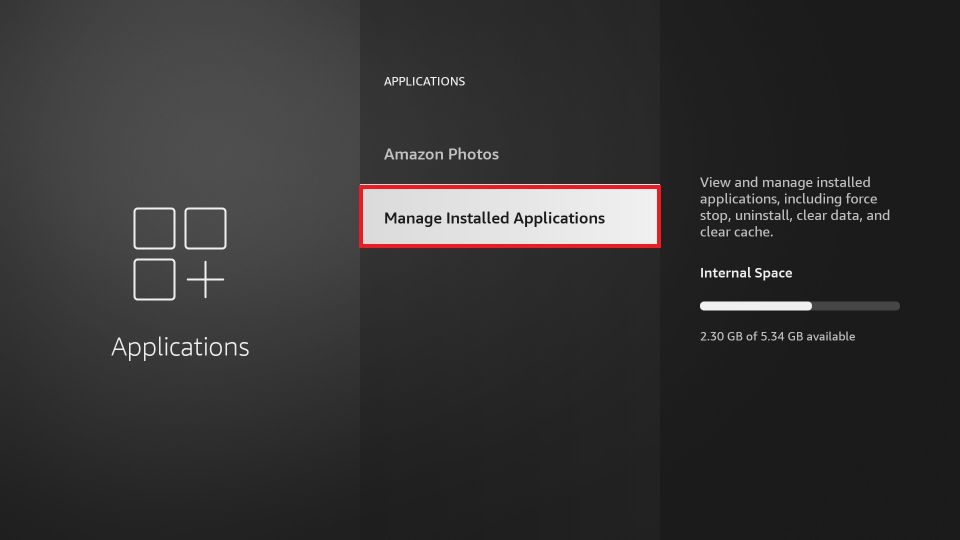 4. Choose the app you are having trouble with. I am picking Downloader.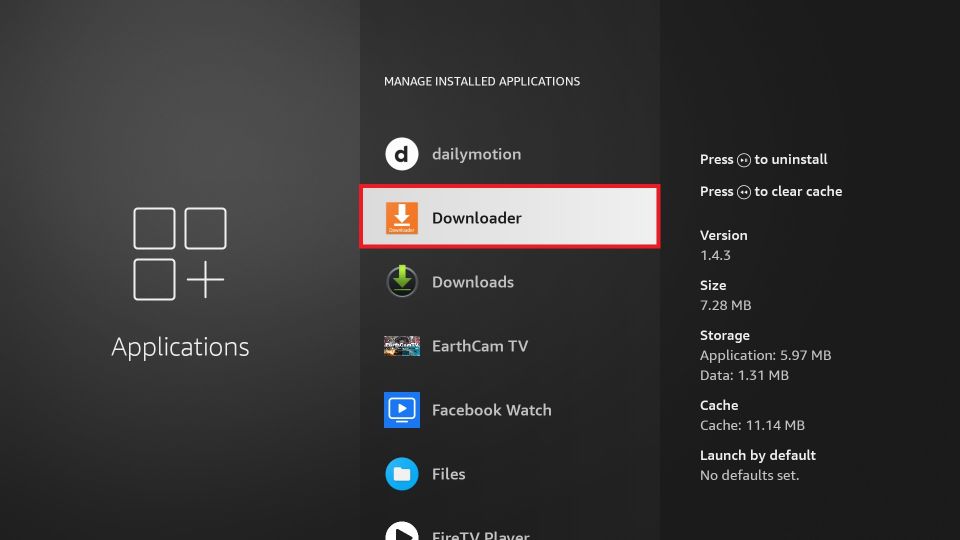 5. Click Clear Cache.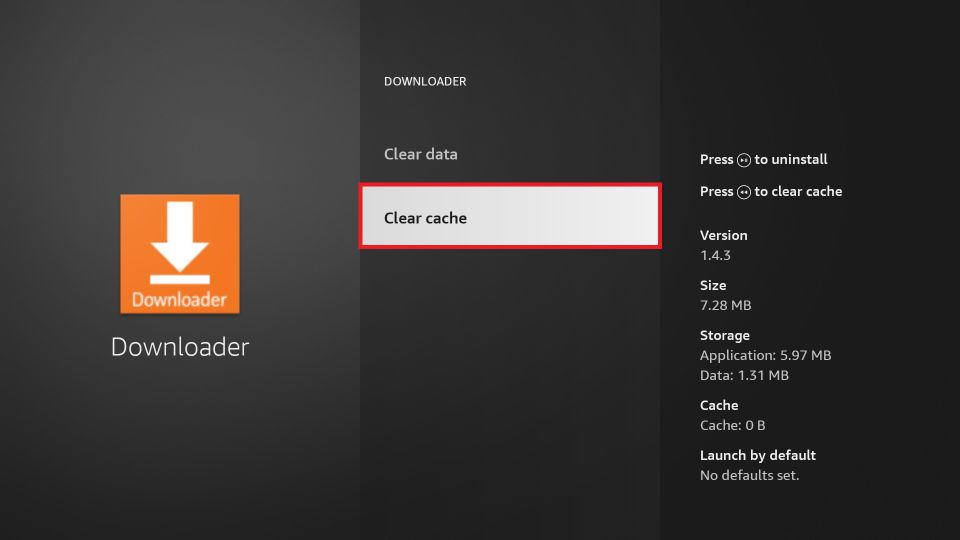 Plose the app before clearing its cache and then relaunch it to see if the issue is fixed. You may have to reinstall the app from Amazon App Store if the problem persists.
Update FireStick OS
Sometimes, older firmware may keep your device from working correctly with newer apps. This may result in lags, performance issues, display problems, and audio distortions.
Overall, the system stability is compromised when you have missed critical updates for your Amazon FireStick. This may be the right time if you have not yet updated your FireStick OS. 
Here are the steps you need to follow to update your FireStick OS to the latest version.
1. Open Settings.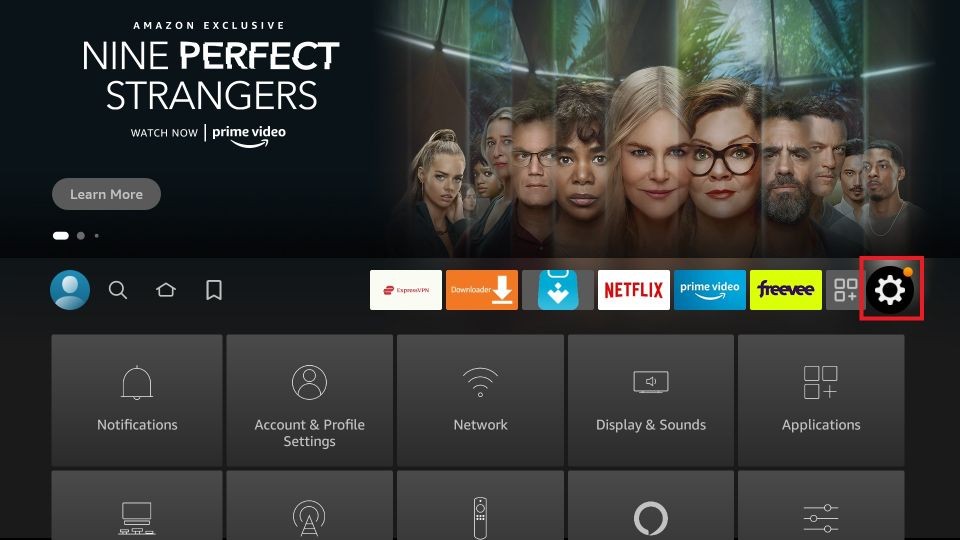 2. Select My Fire TV.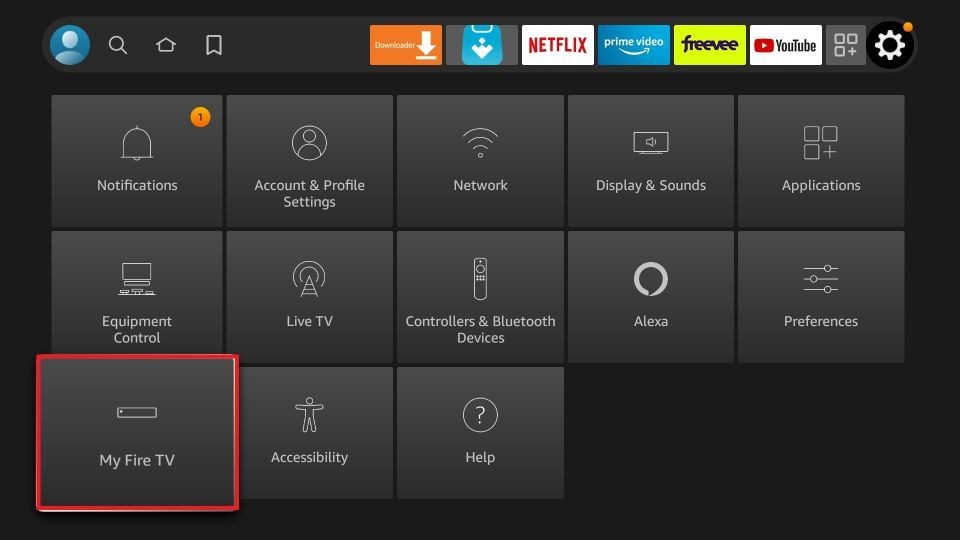 3. Open About.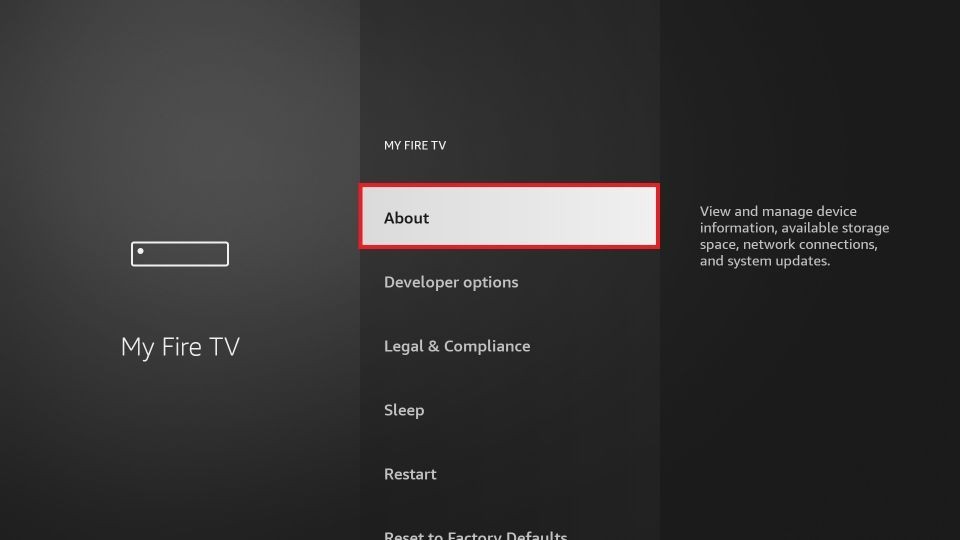 4. Click Check for Updates. If an update is available, follow the onscreen instructions to install it.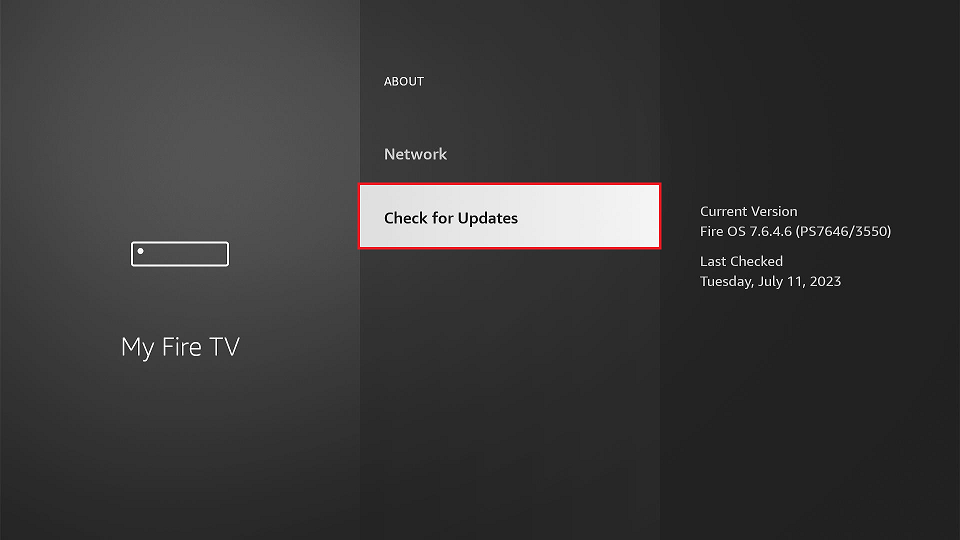 Restart FireStick
Restarting fixes countless issues on any device and has a similar effect on Amazon FireSticks. Suppose you faced a black screen when your FireStick was working, ideally before the error. In that case, it may be a temporary issue.
A quick restart will most probably fix it. Follow these steps to restart your FireStick.
 1. Open Settings.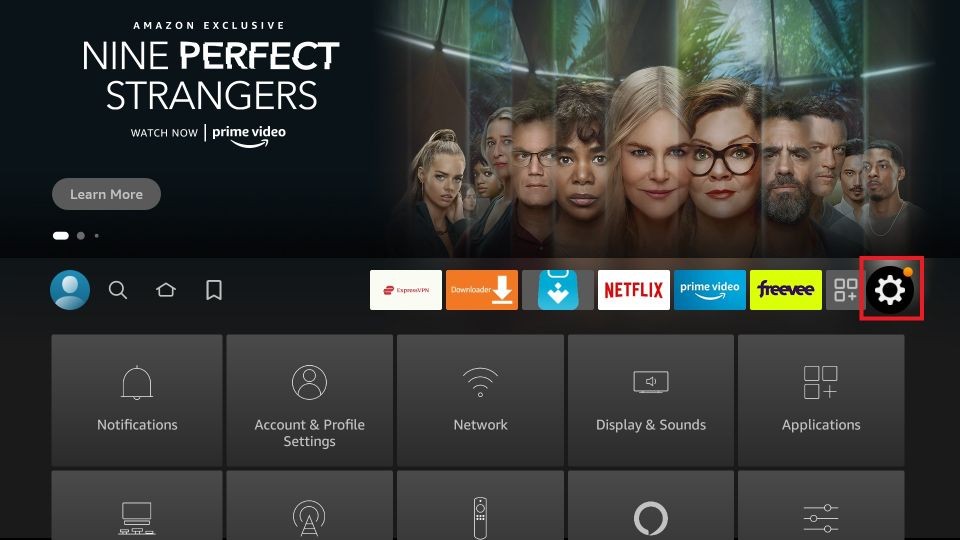 2. Click on MyFireTV.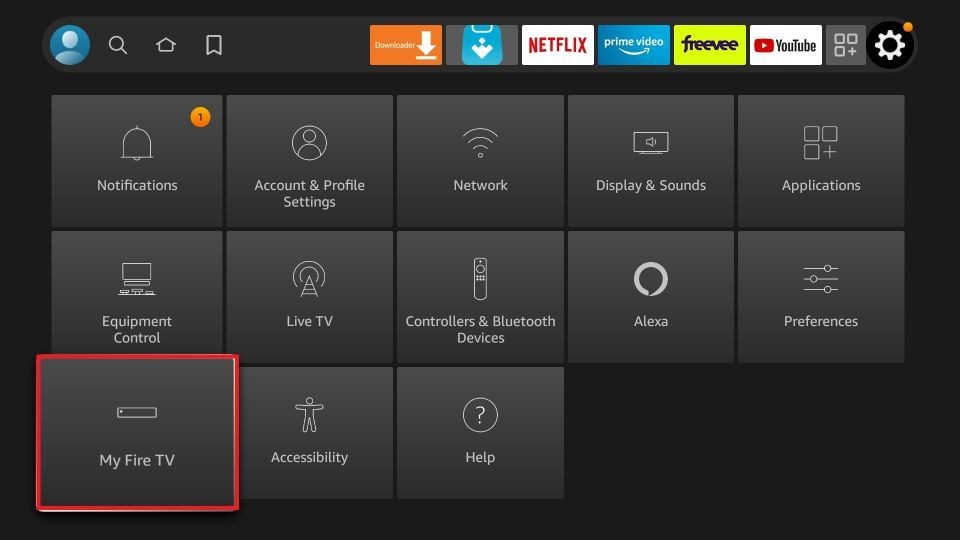 3. Click on Restart.
Alternatively, you can unplug your FireStick and then plug it back in to restart the device. It is also good practice to wait 5-10 seconds before turning your FireStick back on.

Using FireStick Remote To Force Restart
If your FireStick is not responding to the inputs from your remote, you may have to force restart it. To do this, you must simultaneously press and hold the Play/Pause and Select buttons on your remote for 5-6 seconds.

Reset FireStick
If you're still seeing a black screen, the following solution is to try resetting the FireStick. Restoring the FireStick settings to default will clear all data from your device and reset it to factory condition. 
Resets constitute a significant fix for many issues on FireStick, including Black Screens. Here's how you can reset your FireStick.
 1. Select the Settings option.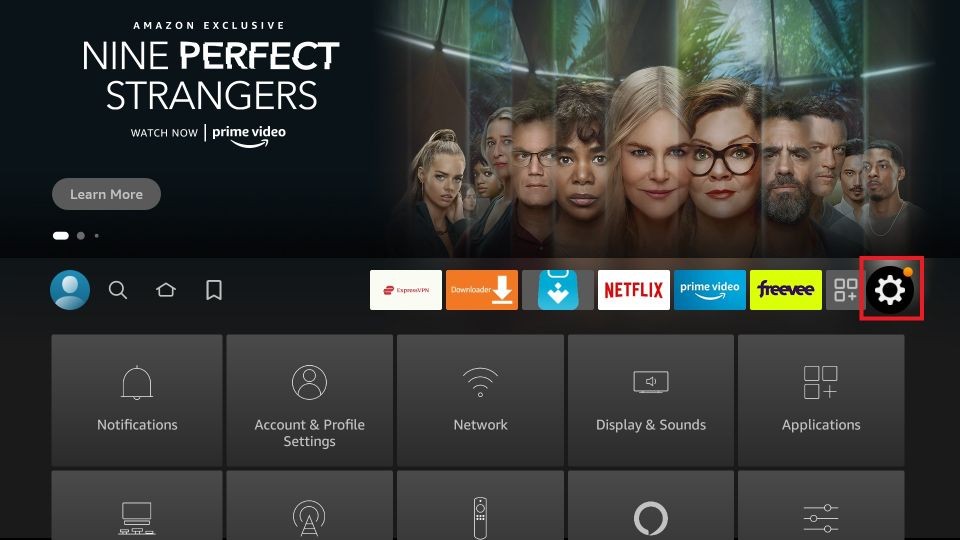 2. Choose the My Fire TV.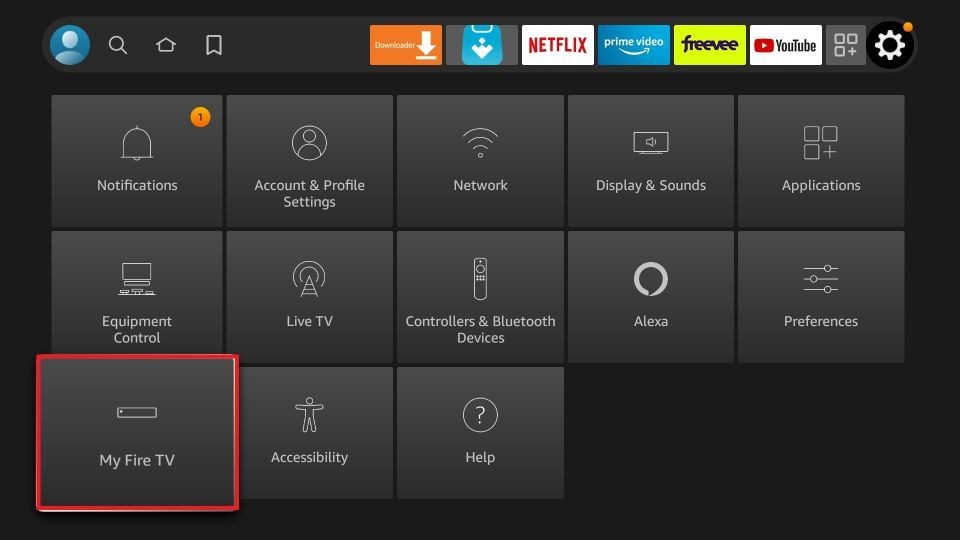 3. Scroll down and select Restore to Factory Defaults. Confirm that you want to reset the device, and the FireStick should reboot.
Note: Resetting the FireStick will delete all personal data from the device and sign you out of all accounts. Therefore, maintain a backup to ensure you can set up your FireStick after the reset.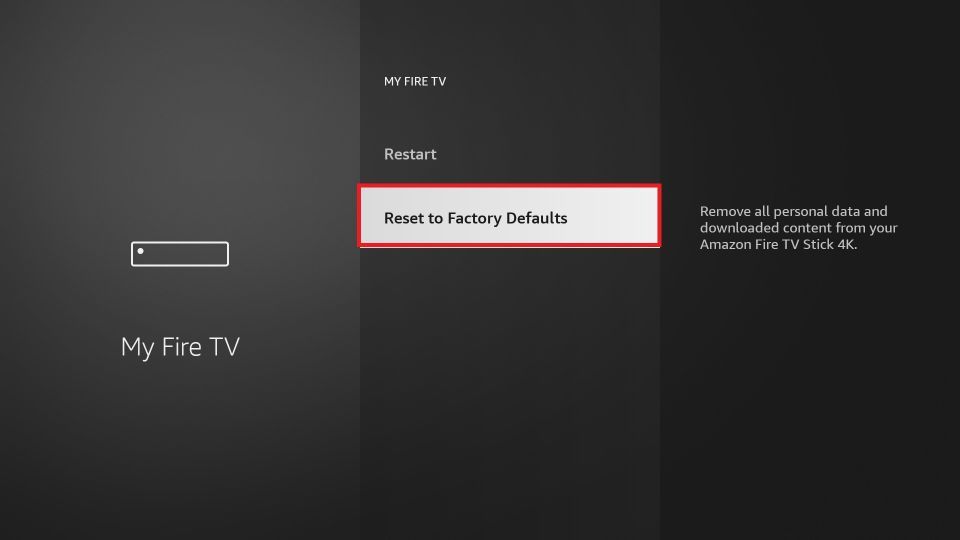 Conclusion
If there are no hardware problems, the above methods should fix your FireStick's Black Screen issue. However, if the problem persists, we recommend contacting Amazon Customer Support.
Related:
Legal Disclaimer - FireStickTricks.com does not verify the legality or security of any add-ons, apps or services mentioned on this site. Also, we do not promote, host or link to copyright-protected streams. We highly discourage piracy and strictly advise our readers to avoid it at all costs. Any mention of free streaming on our site is purely meant for copyright-free content that is available in the Public domain. Read our full disclaimer.
Disclosure - FireStickTricks.com is reader-supported blog. When you buy a product through links on our site, we may earn commission. Learn More