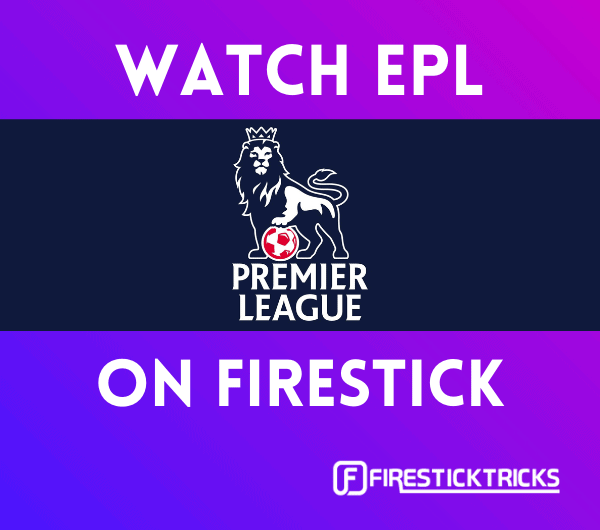 This step-by-step guide will show you how to watch Premier League on FireStick. The same apps work on Amazon's all Fire TV devices including FireStick 4K, Fire TV Cube, and FireStick Lite.
The English Premier League, often known as the EPL, is one of the most-watched sports events in the world. The popular league is broadcasted in hundreds of countries across several continents. As is the case with other major sports leagues in 2020, the EPL was delayed due to COVID-19, and now it's back in action. Read along to learn how to watch Premier League on FireStick from anywhere.
Unfortunately, fans don't have an option to catch the live action in the stadium. Don't worry though. With various streaming options on the Amazon Fire Stick, you can easily watch the entire tournament without paying for a local cable subscription.
Let's first learn a bit about what EPL is and talk about its 2021 schedule.
What is EPL?
The English Premier League a.k.a. EPL is one of the most prestigious soccer leagues in the world. Established in 1992, this will be the 30th season for the popular league.
You will see twenty teams battling it out for the honor of being crowned the champions. The league usually takes place between August and May. It goes on for 380 matches, with the finale that decides the champions of the Premier League occurring in late May.
EPL 2021 Schedule
Due to the pandemic, last year's EPL started a month late, in September. That's not the case this time around.
The 2021 EPL will start on Saturday, August 14, 2021. That means players will have roughly a month after the conclusion of Euro 2020. This is a very short break before going back into pre-season. This year's Premier League will conclude on Sunday, May 22, 2022.
As for bets, Manchester City is the clear favorite, having won three English Premier League titles in the last four years.
You still have a good amount of time to get ready to catch all the EPL action at home on your FireStick. Let's explore our options. I have covered both paid and free options. Let's start with the official apps first.
Attention, FireStick Users!
Governments and ISPs constantly monitor your online activity, and accessing copyrighted content on your Fire TV Stick could lead to serious trouble. Currently, your IP is visible to everyone. I strongly recommend getting the best FireStick VPN to mask your IP address and securely stream your favorites.
I personally use ExpressVPN, the fastest and most secure VPN available. Not only is it easy to install on any device, it comes with a risk-free 30-day money-back guarantee. Plus, if you're not 100% satisfied, you can always get a refund. ExpressVPN is currently also offering a whopping 3 extra months free on their annual plan!
Read: How to Install and Use Best VPN for FireStick
How to Watch EPL Games on FireStick with Official Apps
NBCUniversal has the official rights to stream EPL games in the US. Soccer fans in the US can watch the whole EPL season on NBC's family of channels. That means you can watch the entire Premier League on any streaming service that has NBC Sports.
Another plus of using an official app is that it will be natively available in the Amazon App Store, meaning you don't need to go through any sideloading process just to install it on FireStick.
You also don't have to worry about any legal hurdles, as these apps carry legit licenses to stream the Premier League in your country.
The only issue is that apps like Sling TV and fuboTV are only available in selected countries. If you live outside of those supported countries, you will need to invest in a VPN service like ExpressVPN to bypass location restrictions.
How to Watch Premier League on FireStick in the US
We will mention the official options available in the US first. Without wasting any more time, let's start the list with NBCUniversal's flagship streaming app, Peacock.
1. Peacock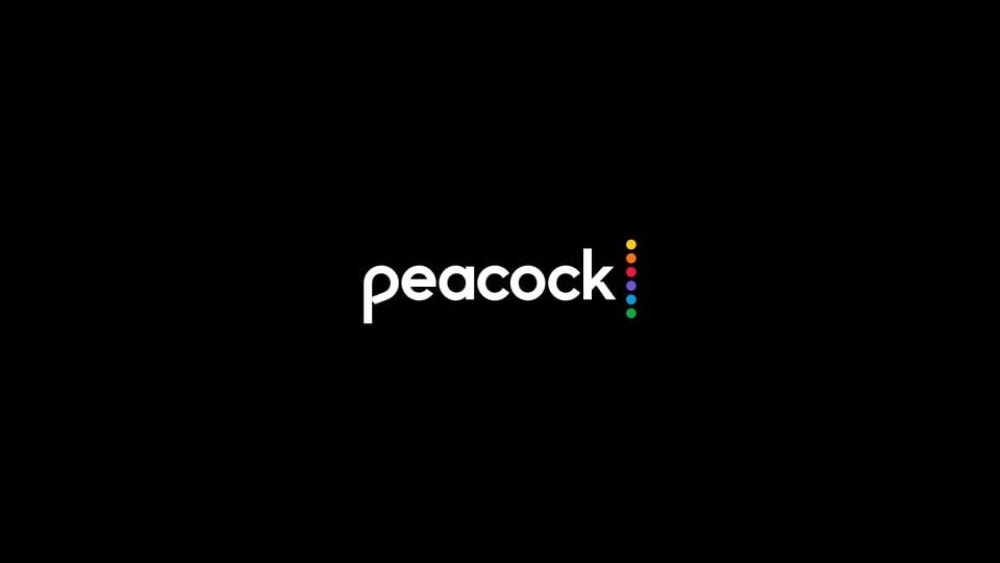 NBCUniversal is taking another swing at the streaming market with the Peacock service. It's your one-stop solution to watch NBC originals, sports events like the Olympics and the Premier League, movies, and everyone's favorite: The Office.
Launched in April 2020, Peacock is already gathering healthy momentum among users, with 33 million subscribers as of January 2021.
Peacock offers two premium plans at $4.99 and $9.99 per month. You need one of the premium plans to start streaming EPL games on FireStick.
How to Watch Premier League for Free on FireStick with Peacock TV
Peacock offers seven days of free trial to test out the service. It's not enough to cover even a month of Premier League action. You can check the service reliability and streaming quality and if you are satisfied with the performance and content offering, consider opting for a paid plan.
How to Install Peacock TV on FireStick
2. Sling TV
Sling TV is another streaming service that carries the NBC family of channels. The company's $35-per-month Blue plan includes NBC, NBCSN, and USA Network. You can integrate CNBC and Golf Channel at an additional cost as well.
Overall, Sling TV has 50+ channels with cross-platform availability on Android, iOS, Android TV, FireStick, and Apple TV. The resolution is capped at full-HD quality. Sling TV paid plans start at $10 per month for new subscribers.
Check out the service and all the channels on offer. If you like the offering, move to the paid plan.
How to Install Sling TV on FireStick
3. fuboTV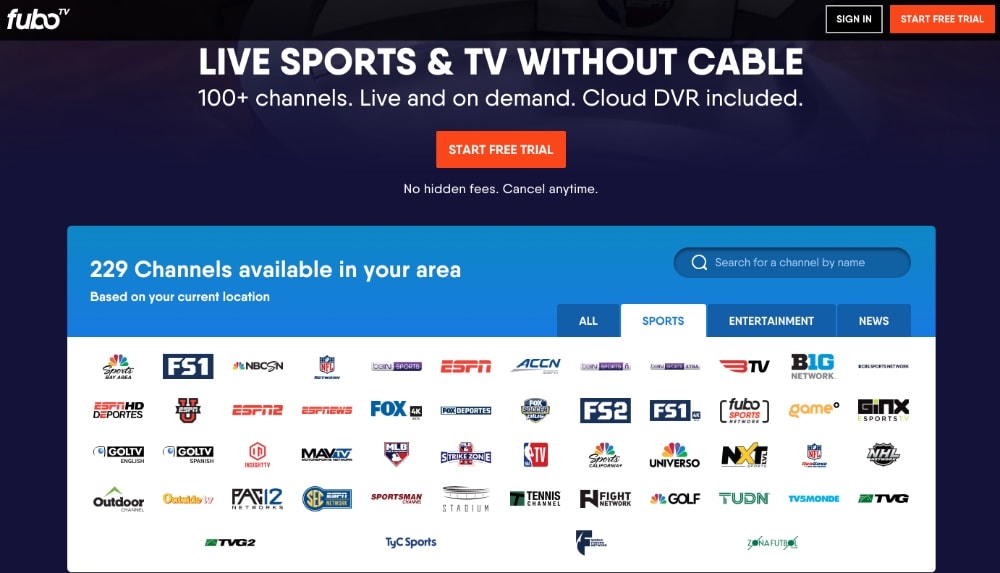 fuboTV aims to replace your entire cable TV with one subscription. The service comes with a mouth-watering 200+ live TV channels. Yes, you read that right. The channel categories include Kids, News, Sports, Movies, and more.
It's more than enough content to ditch your current cable operator and go with fuboTV on FireStick. fuboTV carries a fat price tag at $64.99 per month.
How to Watch Premier League for Free on FireStick with fuboTV
You can check out fubo TV with a 7-day free trial and enjoy unlimited Premier League action for free during the first week. During the free trial, you can also observe if the fubo TV is capable enough to replace the cable TV subscription for you.
As for its other features, fuboTV comes with on-demand channels and DVR support.
Website: https://www.fubo.tv/welcome
4. Hulu Live TV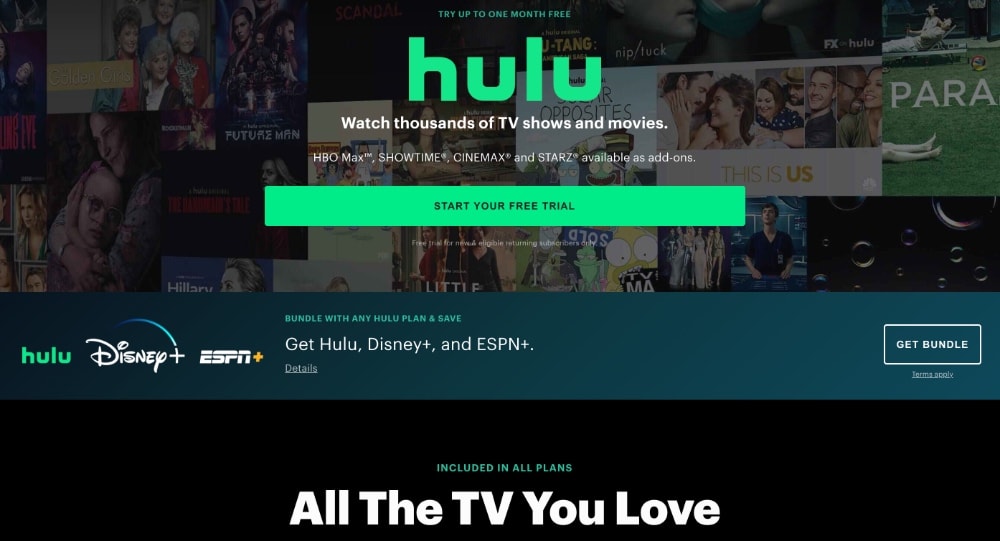 If you have a budget to spend $64.99 per month, I recommend going with Hulu Live TV instead of fuboTV. The reason? With Hulu's ultimate Live TV bundle, you get ESPN+ and Disney+ subscriptions as well.
You're probably familiar with these two streaming services. With ESPN, you can enjoy all the sports events such as F1, NBA, NFL, Olympics, and more. Disney+ has all the goodies from the Disney world and Marvel universe.
Don't forget Hulu or Hulu's Live TV either. It comes with 75+ channels, up to 50 hours of cloud DVR support, and shows from SHOWTIME and HBO.
How to Watch Premier League for Free on FireStick with Hulu
Hulu lets you test out the service with a 7-day free trial. I know it's not enough but if you like the content on offer, go ahead with the paid plan to enjoy all the Premier League matches.
How to Watch Hulu on FireStick
5. YouTube TV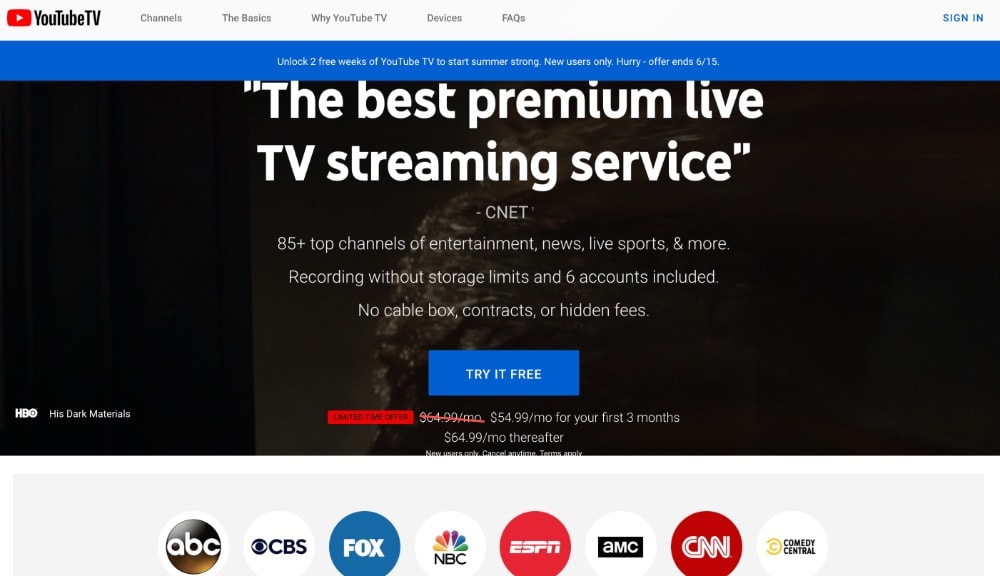 YouTube TV is a relatively new player in the streaming market. Google's video service comes with 85 live TV channels in various categories.
With YouTube TV, you can expect a buffering-free streaming experience and unlimited cloud DVR support. After all, YouTube TV has the backing of Google, which has decades of experience in streaming tech. YouTube TV costs $54.99 per month for the first three months. After that, the price jumps to $64.99 per month.
How to Watch Premier League for Free on FireStick with YouTube TV
You can enjoy 14-days of Premier League action for free with YouTube TV. It's not sufficient enough to cover even a month of EPL, let alone the entire season. If you like Google's latest streaming service, visit the official website and subscribe to a paid plan.
How to Install YouTube TV on FireStick
6. AT&T TV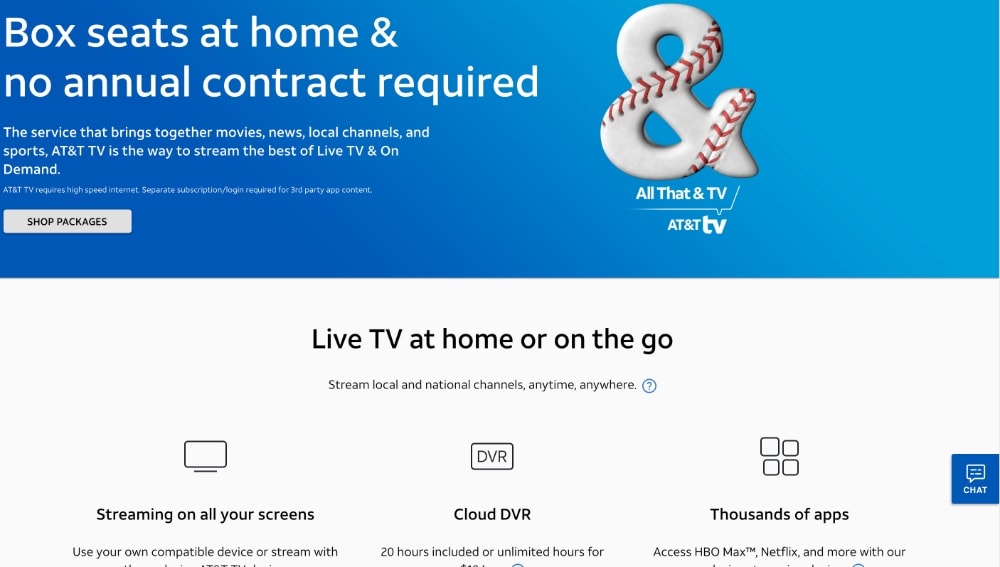 AT&T has entered the streaming market with its AT&T TV streaming service. AT&T TV is the most expensive service on the list. There is no free trial either. You can pay $69.99 per month to enjoy all the Premier League action.
What else do you get with the $69.99 price tag? AT&T's subscription comes with 65+ TV channels, including all the popular names, such as AMC, ESPN, FOX Sports, ABC, and Comedy Central. The higher Choice plan, at $84.99 per month, comes with a 1-year HBO Max subscription.
All AT&T TV plans support 20 hours of cloud DVR.
Website: https://www.atttv.com/
7. ESPN+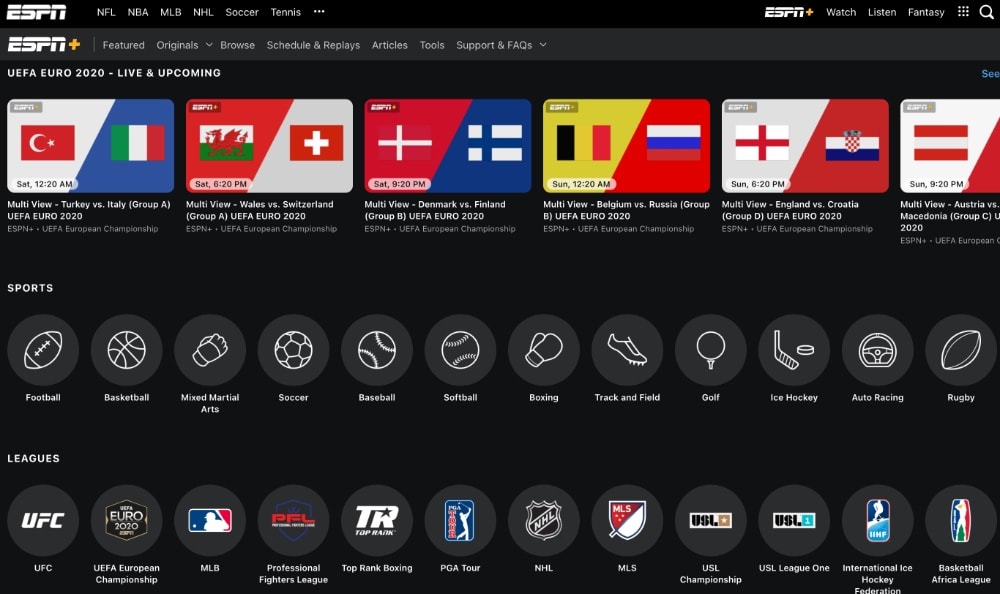 This one's for die-hard sports fans. The well-known media giant ESPN has a dedicated streaming service just for your sports needs. ESPN covers all the popular sports leagues, such as Premier League, F1, Wimbledon, NFL, UFC, and Euro league. Just don't expect to watch movies and TV shows with it.
The pricing is also on the cheaper side compared to rivals. You can start watching ESPN sports at $5.99 per month. Cross-platform availability isn't an issue either. ESPN+ is accessible on iOS, Android, Windows, Mac, FireStick, Apple TV, and Roku TV.
Unfortunately, it doesn't come with a free trial. But hey, $6 a month won't break the bank.
How to watch ESPN Plus on FireStick
How to Watch Premier League on FireStick in Canada
Services like fubo TV and AT&T TV are available in Canada. But unlike the US, they can't stream Premier League matches in Canada. The reason? DAZN, the popular sports streaming service has acquired the broadcast rights to stream all 380 EPL matches in Canada.
DAZN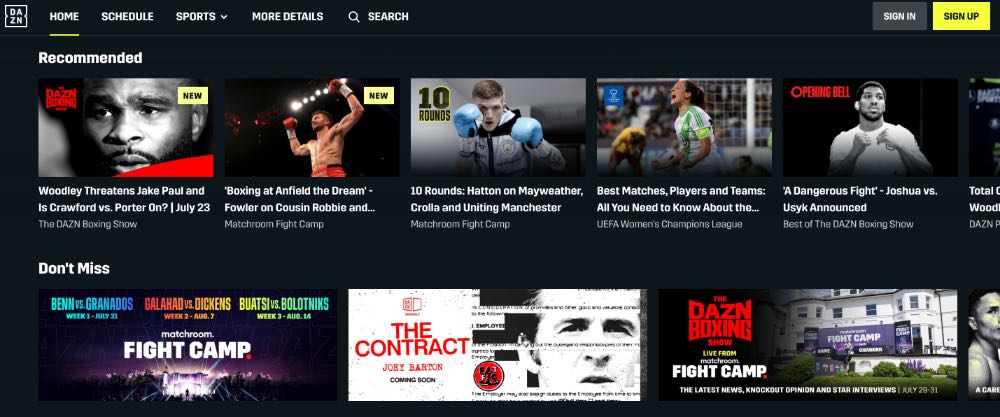 Back in 2019, DAZN, one of the largest sports streaming services signed a three-year deal to acquire exclusive rights to air EPL matches in Canada.
DAZN experience isn't limited to EPL matches only. They stream EFL, AFC, UEFA league matches, Serie A, and UFC as well. DANZ also has past EPL matches on-demand. DAZN has an official app available from the Amazon App Store. The subscription plan starts at $20 CAD per month.
Besides Canada, DAZN has official rights to stream EPL matches in Japan, Spain, and Brazil as well.
How to Install and Watch DAZN on FireStick
How to Watch Premier League on FireStick in the UK
For years, Sky Sports had a strong grip over the rights of EPL matches in the home country. Amazon broke off the monopoly by offering 20 high-profile matches till 2022. Yes, Amazon's offering is limited to 20 matches only. For a full Premier League experience, Sky Go by Sky Sports is still the best bet for you.
Sky Go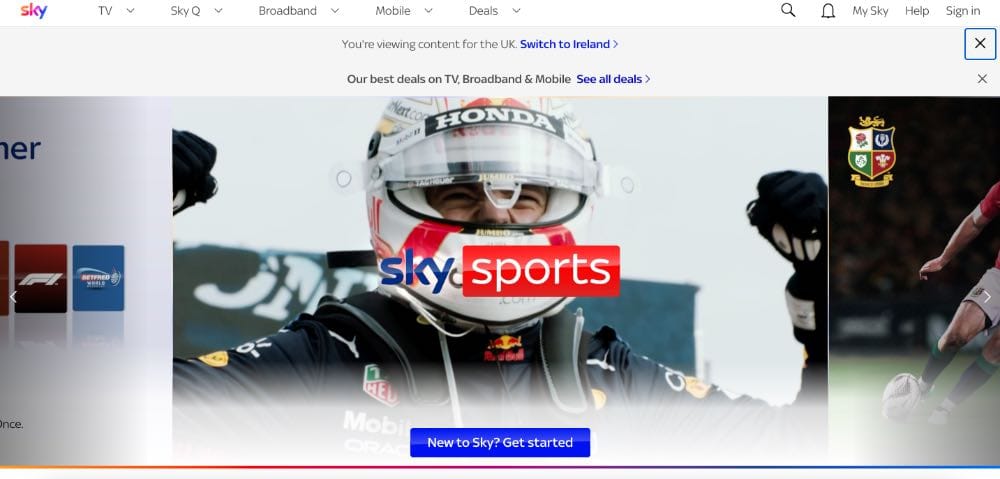 The Sky Go Sports channel is available on FireStick through the Sky Go app. The subscription is slightly confusing though. First, you need to have a Sky TV plan with a Sky Sports subscription. On top of that, you will have to add £5/month for the Sky Go Extra subscription to access the Sky Sports channel feed in the Sky Go app in FireStick.
It's worth paying if you are a sports fan. A Sky Sports subscription will cover all your sports needs. The subscription has support for all the NFL, Olympics, Cricket, Football, F1, Racing, Tennis, NBA, and other popular sports in the United Kingdom.
Also, the Sky Go app is officially available on Android, iOS, Windows, Mac, FireStick, and Android TV. The Sky TV package with the Sky Sports add-on plan starts at £41 per month.
Website: https://www.sky.com/tv/sports
How to Watch Premier League on FireStick for Free (Legal Apps)
As you can see from the list above, most of the streaming services come with a free trial that will let you catch some of the Premier League action. You can take advantage of free trials across various streaming services and watch the first few weeks of Premier League for free on FireStick.
If you have already signed up for a service before, you won't be eligible for a free trial with the same account details. In that situation, you need to create a new account with a different email address. The free trial will be available to you on your new account.
I advise using a reminder app such as Todoist or Google Tasks to remind yourself to cancel services before the end of their trials.
Here's what you can do.
1. You can start the Premier League extravaganza with YouTube TV. The service offers a 14-day free trial. Cancel the subscription before the 14th day and you won't be charged.
2. After the first two weeks with YouTube TV, you can start a 7-day Fubo TV free trial and watch another week of Premier League for free.
3. Peacock has a 7-day free trial. That's another week of Premier League streaming for free on FireStick.
4. The last service to offer a free trial is Hulu Live TV. The ultimate bundle with Disney and ESPN+ has a 7-day free trial.
Combine all the free trials above and you can watch Premier League on FireStick for free for five weeks. Over one month of Premier League matches for free is pretty nice.
Then again, the Premier League goes for nine months. What about the remaining matches? For that, you could create new accounts for more free trials, but that's a hassle, and what if you forget to cancel any of the services?
Instead, you could rely on IPTV services, Kodi addons, or third-party apps on FireStick. But they are not easy to come by and often come with hurdles. Let's discuss them in detail.
Free Apps to Watch Premier League Live on FireStick for Free (Unverified)
Legal Disclaimer: This tutorial is purely educational. FireStickTricks.com doesn't own, host, operate, resell, or distribute any streaming apps, addons, IPTV or services. The page contains some unverified services, and we are not certain whether they hold legal licenses to distribute the content. FireStickTricks.com does not verify the legality of each app/service in all regions. Do your due diligence if you use any of the unverified apps/services, and stream only content that is available in the public domain. The end-user shall be solely responsible for the media accessed.
The FireStick experience isn't limited to official apps. With a jailbroken FireStick, you can unlock unlimited entertainment for free with thousands of live channels, movies, and TV shows.
You need a capable IPTV service, Kodi addon, or a third-party app to stream Premier League on FireStick. But there's a catch here.
These services might not carry legal licenses to stream Premier League games to viewers. Some media companies in your region may have acquired the rights to stream Premier League. In that scenario, streaming the league through an unverified app may expose you to legal troubles in the future.
How? you may be wondering! Your government and local ISP (internet service provider) are aware of the type of content you are consuming on your FireStick, and with a known IP address, they have your approximate location as well.
You need to safeguard yourself with a solid VPN service like ExpressVPN on FireStick, which will help you stay as anonymous as possible on FireStick.
How to Install and Use ExpressVPN on FireStick
ExpressVPN reroutes your connection to a different IP address. In that way, you can overcome the location-based restrictions frequently applied by official apps and enjoy services like YouTube TV and Hulu Live TV from anywhere in the world.
Here are the options you can use to stream EPL for free or for a nominal fee.
IPTV Services
IPTV services have become the go-to source for the new generation that wants to enjoy all their favorite content for a small monthly price. These services are trending due to their huge libraries of entertainment and cheap price tags.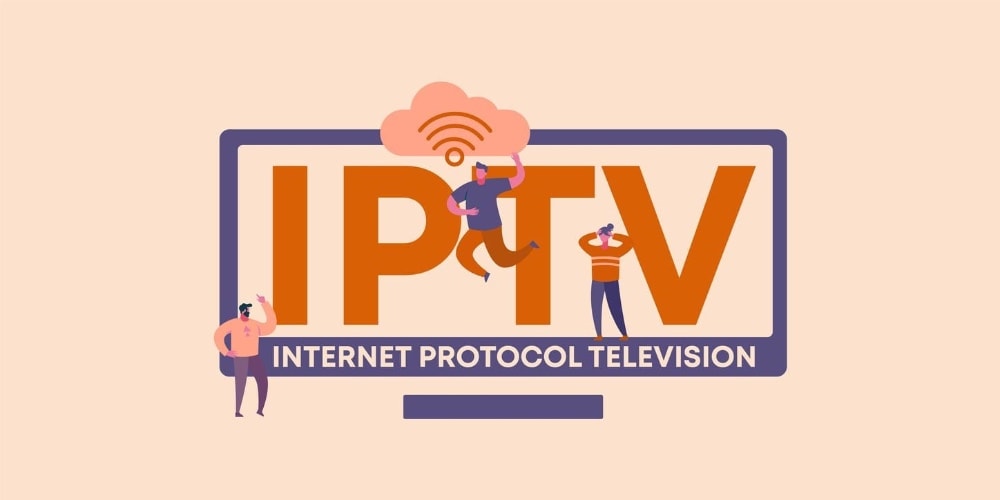 There are hundreds of IPTV services out there. Among them, we have hand-picked the best IPTV providers to watch sports content like the Premier League on FireStick.
Besides sports, you can enjoy movies, TV shows, and thousands of TV channels across various countries. A solid IPTV service also provides an M3U link, an EPG guide, and VPN compatibility.
Yes, VPN compatibility is necessary here, as we can't verify whether the content is licensed. It's not easy to differentiate between legal and illegal content on IPTV services.
Check out the list of best IPTV services for FireStick.
Free Sports Streaming Apps
Being able to access third-party sports streaming apps is one of the main motivators to jailbreak a FireStick in the first place. A third-party video streaming app opens the doors for lots of entertainment in various categories.
The web is full of such third-party apps for FireStick. We have created a list of the best apps among them. Installing them isn't as easy as installing official apps though. You need to go through the sideloading process to install third-party apps on FireStick.
Some of these apps may carry unverified content, and as a responsible tech company, Amazon shouldn't and doesn't host them in the Amazon App Store. One such app is Kodi.
Kodi installation is only half the battle though. You need to have relevant Kodi addons to spice up your streaming experience. With a dedicated sports Kodi addon, you can start streaming Premier League without paying anything.
How to Install Kodi on FireStick
Best Kodi Addons for sports streaming
Best Free IPTV Apps for sports streaming
How to Watch Premier League on FireStick Using a Browser (Unverified)
Amazon allows you to browse the web on FireStick using the Silk browser. You can also install Google Chrome, but it is not optimized for the FireStick remote, so you won't have an ideal experience.
With the Silk browser, you can go to dedicated sports streaming websites and start streaming for Premier League for free. However, the whole experience isn't without a catch.
First, these streaming websites use not-so-reliable servers to air Premier League content. Sometimes they'll work flawlessly, and other times you'll face hurdles. Even if you don't pay with money, using these sites will cost you a convenient, high-quality experience.
Additionally, these streaming sites come loaded with ads and harmful third-party trackers that can steal your information. Someone has to pay for the servers that let you stream content, right?
That's why I highly suggest sticking with the official solutions I listed above. They do come with a price tag, but you get to enjoy all the live action without worrying about legal trouble or a poor-quality streaming experience.
Here are some of the popular free sports streaming sites in case you want to go this route.
Highly recommended if streaming with free or low-cost services 👇
How to Stream on FireStick Anonymously
As soon as you install the right apps, your FireStick is all ready to stream your favorite content. However, before you start, I would like to warn you that everything you stream online is visible to your ISP and Government. This means, streaming free movies, TV shows, Sports might get you into legal trouble. 
Thankfully, there is a foolproof way to keep all your streaming activities hidden from your ISP and the Government. All you need is a good VPN for Fire Stick. A VPN will mask your original IP which is and will help you bypass Online Surveillance, ISP throttling, and content geo-restrictions.
I personally use and recommend ExpressVPN, which is the fastest and most secure VPN. It is compatible with all kinds of streaming apps and is very easy to install on Fire TV / Stick.
We do not encourage the violation of copyright laws. But, what if you end up streaming content from an illegitimate source unintentionally? It is not always easy to tell the difference between a legit and illegal source.
So, before you start streaming on your Fire Stick / Fire TV, let's see how to use ExpressVPN to keep your streaming activities hidden from prying eyes.
Step 1: Subscribe to ExpressVPN HERE. It comes with a 30-day money-back guarantee. Meaning, you can use it free for the first 30-days and if you are not satisfied with the performance (which is highly unlikely), you can ask for a full refund.
Step 2: Power ON your Fire TV Stick and go to Find followed by Search option.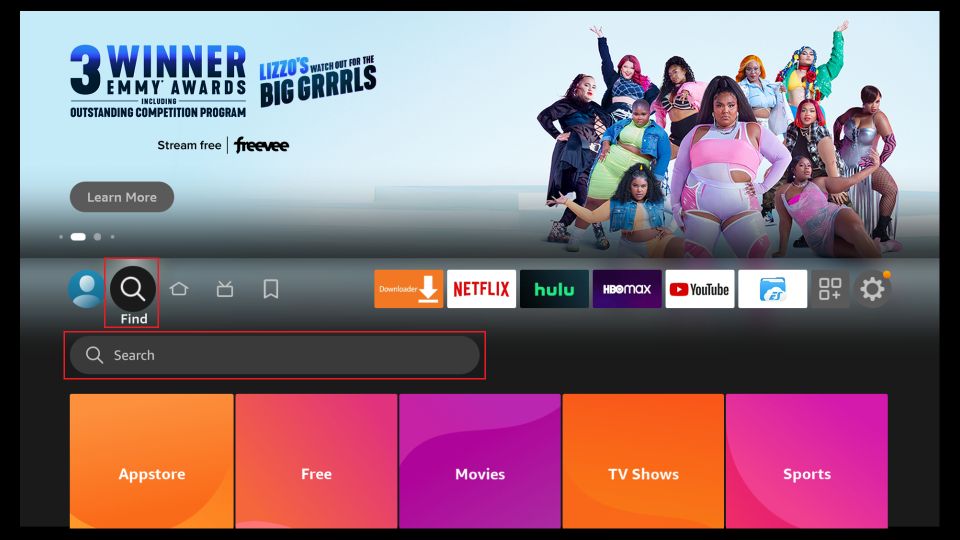 Step 3: Now type "Expressvpn" (without quotes) in the search bar and select ExpressVPN when it shows up in the search results.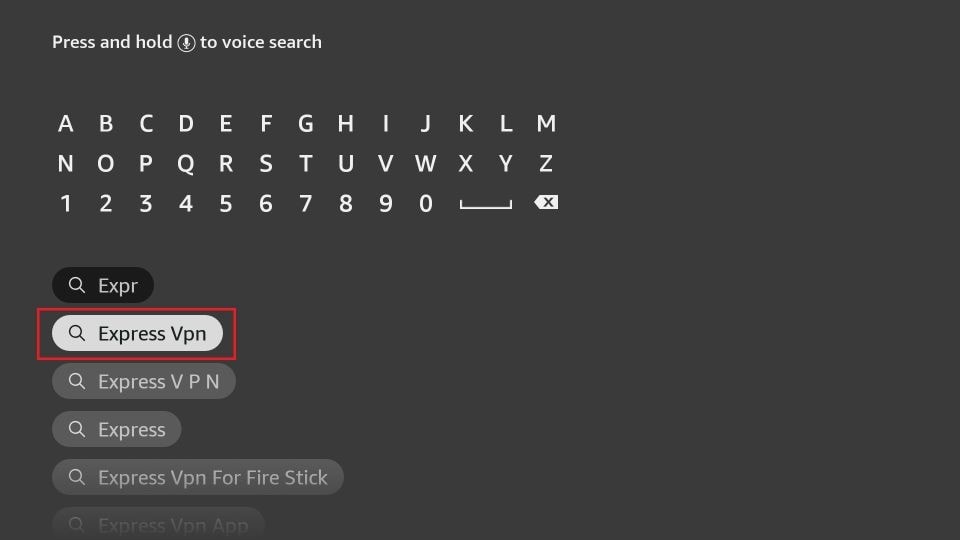 Step 4: Click Download to install the ExpressVPN app on Fire TV / Stick.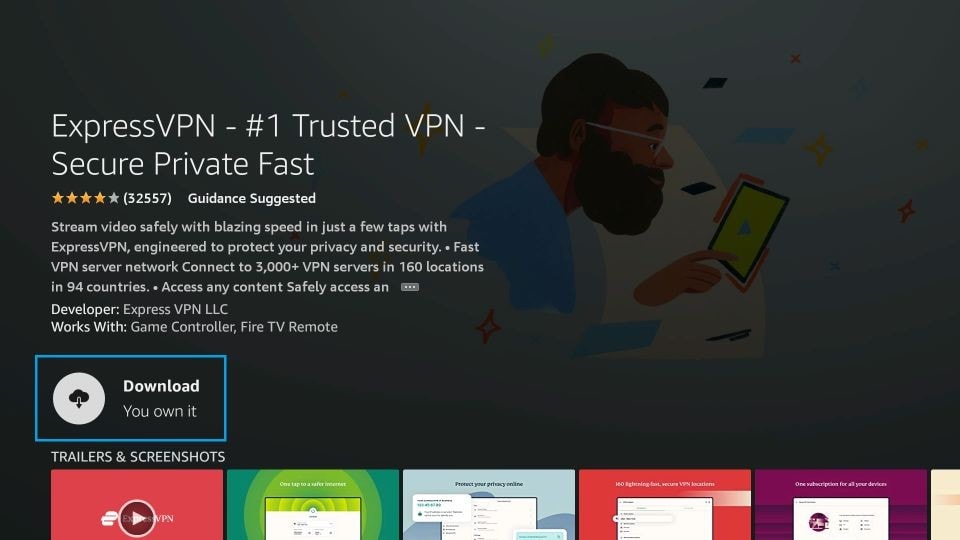 Step 5: Open the app and enter the login credentials that you created while buying the ExpressVPN subscription. Click Sign in.

Step 6: Click the Power icon to connect to a VPN server. That's all. Your connection is now secure with the fastest and best VPN for FireStick.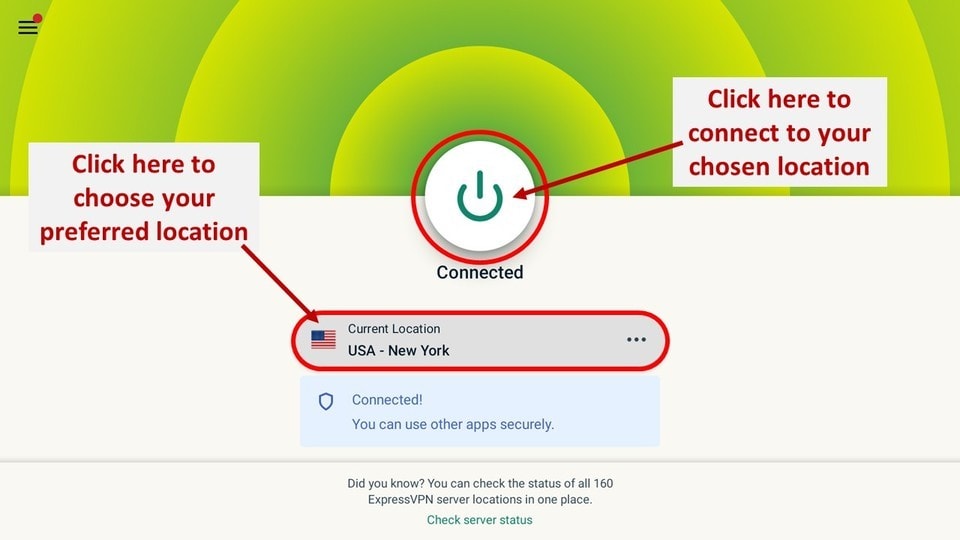 You can also read more detailed info on using ExpressVPN with Fire TV / Stick.
FAQs
How can I watch English Premier League games on FireStick for Free?
Using free trials of official apps, you can stream Premier League on FireStick for free for just a few weeks at a time.
If you want to enjoy the whole EPL for free on FireStick, try a relevant IPTV service or Kodi addon.
We don't recommend using free sports streaming websites.
Can I watch all Premier League games on FireStick?
Yes, you can. Most major US streaming services are eligible to stream live soccer matches to their subscribers, including the entire EPL.
Wrapping Up
The English Premier League is about to start in a few weeks. Prepare by grabbing a streaming service that will show EPL, and get ready to cheer on your favorite team. Planning to use an IPTV service or Kodi addon? Remember to protect your browsing activity with a VPN service!
Comment below if you have any questions or having trouble watching premier league on FireStick.
Related:
Legal Disclaimer - FireStickTricks.com does not verify the legality or security of any add-ons, apps or services mentioned on this site. Also, we do not promote, host or link to copyright-protected streams. We highly discourage piracy and strictly advise our readers to avoid it at all costs. Any mention of free streaming on our site is purely meant for copyright-free content that is available in the Public domain. Read our full disclaimer.
Disclosure - FireStickTricks.com is reader-supported blog. When you buy a product through links on our site, we may earn commission. Learn More