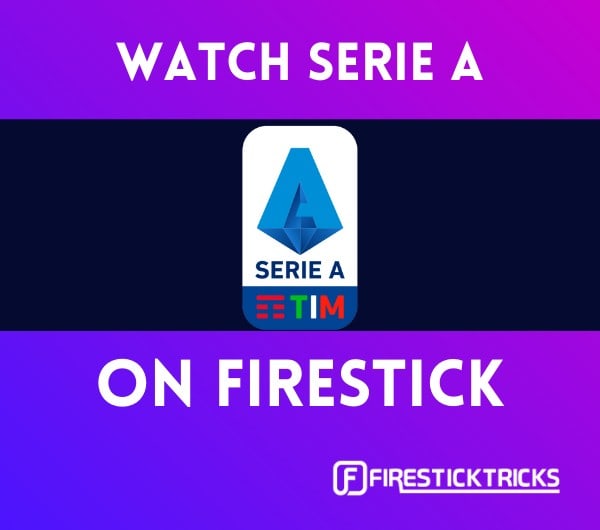 Serie A is Italy's professional football league, and it's one of the most well-known sports events in Europe. The league is more popular than Germany's Bundesliga, coming in the third position after Spanish La Liga and English Premier League. After playing in empty stadiums in 2020–21, the latest Serie A is all set to welcome spectators around the world.
However, you don't have to be at the stadium to catch the live action. You can easily watch Serie A on FireStick from anywhere without cable. I'll show you exactly how in this article. I will cover both paid as well as free methods.
First, let's take a quick look at Serie A and its 2021–22 schedule.
Attention, FireStick Users!
Governments and ISPs constantly monitor your online activity, and accessing copyrighted content on your Fire TV Stick could lead to serious trouble. Currently, your IP is visible to everyone. I strongly recommend getting the best FireStick VPN to mask your IP address and securely stream your favorites.
I personally use ExpressVPN, the fastest and most secure VPN available. Not only is it easy to install on any device, it comes with a risk-free 30-day money-back guarantee. Plus, if you're not 100% satisfied, you can always get a refund. ExpressVPN is currently also offering a whopping 3 extra months free on their annual plan!
Read: How to Install and Use Best VPN for FireStick
What Is Serie A?
Serie A is a football competition at the top of the Italian football league system. Serie A is one of the oldest European leagues out there. The roots go way back to 1898, 123 years ago.
Juventus had been dominating the Serie A league, reaching nine wins in a row. The dominance finally ended last season when Inter Milan snatched the Serie A title for the first time in 11 years.
Serie A 2021–22 Schedule
Italy was one of the European regions worst affected by COVID-19. As a result, last year's Serie A was played behind the doors in empty stadiums. That's not the case this time around.
The league will start on August 21st, 2021, and will conclude on May 22nd, 2022. A total of twenty teams compete in Serie A, the top seventeen from the last season and the top three teams promoted from Serie B.
It will be interesting to see whether Juventus can jump back from a disappointing last season. A major focus will be on the defending champions, Inter Milan, as well. Overall, we are all in for another wild season of football in Italy.
You still have enough time to prepare to watch Serie A at home. Without further ado, let's explore our options.
How to Watch Serie A Games on FireStick with Official Apps
ESPN used to be the sole provider of Serie A matches in the US via the ESPN+ subscription. The contract expired in June last year, so starting this season, the Serie A action is moving from ESPN to the CBS network.
It's estimated that CBS paid $75 million per season for rights to the three seasons, offering more than a 30% premium over what ESPN was paying for Serie A rights.
All the major streaming services carrying support for CBS Sports channels will air all Serie A matches in the US.
Another advantage of using official apps is availability. They are readily available to download from the Amazon App Store. There's no need to go through any jailbreaking process on FireStick just to install the apps on it.
Besides, they all carry legal licenses to stream all 380 Serie A matches. You don't have to worry about any future legal troubles resulting from streaming football matches on FireStick without cable.
The only hurdle is these services are mostly restricted to the US and a handful of other countries. So if you're outside the US, be prepared to pay for a reliable VPN service like ExpressVPN to enjoy all the Serie A action on official apps.
How to Watch Serie A on FireStick in the US
CBS has three years of rights to air and stream Serie A in the US. The company used to offer the CBS All Access app to subscribers, which got a much-needed makeover when it was rebranded to Paramount+ in March 2021. So now, Paramount+ will let you stream all Serie A matches.
But CBS's family of channels is also available via other streaming services. Let's talk about all of them in detail so you can choose the best option for you. All of the options below let you watch Serie A on FireStick from anywhere without cable.
1. Paramount+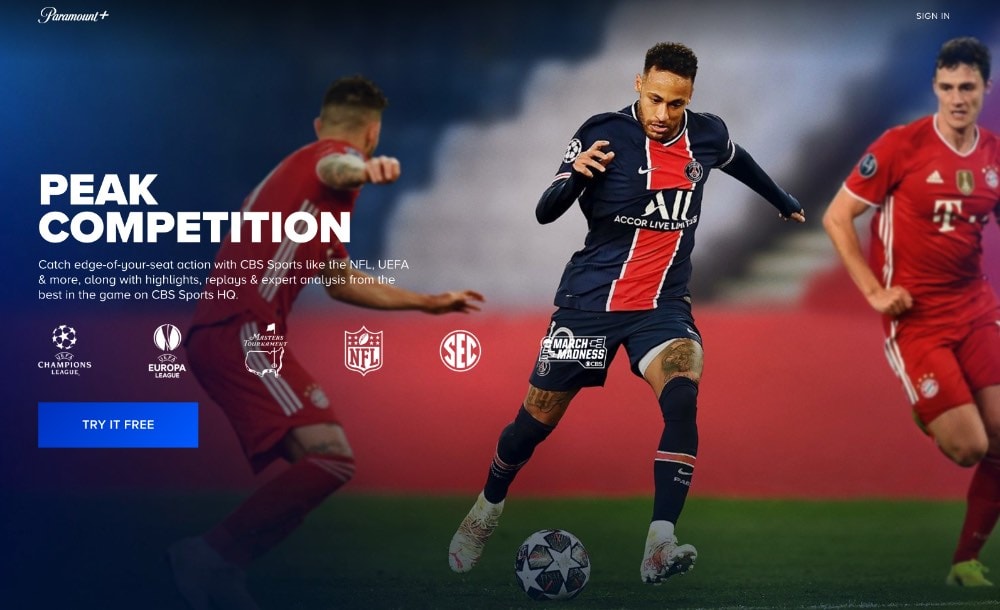 As is the case with most media giants in the US, CBS wants a large piece of the lucrative on-demand video streaming market in its home country. The company recently launched the Paramount+ streaming service, which is more than just a rebranding of CBS All Access.
Paramount+ has a good number of TV shows, movies, and live TV channels. In the Sports department, not only does it cover Serie A, but it also streams NFL games and UEFA games in the US. The Paramount+ app looks modern and is available on FireStick, Windows, Mac, and mobile devices.
How to Watch Serie A for Free on FireStick with Paramount+
The company is offering a 7-day free trial to new subscribers. If you like the service, you can upgrade to paid plans that start at $4.99 per month. If you are a student, you can get a 25% discount as well. For further savings, you can opt for the $49.99-per-year plan.
How to install and watch Paramount Plus on FireStick
2. fuboTV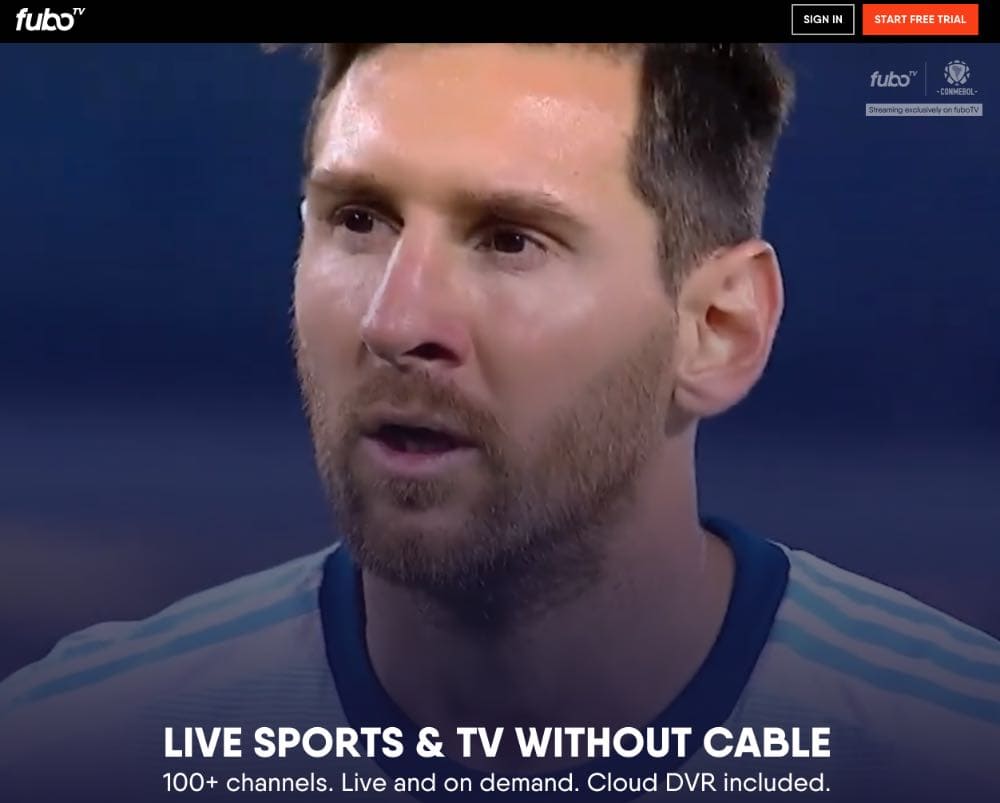 Paramount+ is good for watching a movie or TV show over the weekend, in addition to catching Serie A of course. But if you want a service that has the potential to replace your cable TV network, go with fuboTV.
fuboTV has 100+ live TV channels on its platform. It includes categories like Sports, News, Entertainment, and Kids.
As you may have guessed, the pricing is on the higher side at $64.99 per month, but you do get cloud DVR support with the subscription.
How to Watch Serie A for Free on FireStick with fuboTV
fuboTV offers a 7-day free trial, so you can enjoy a week of Serie A matches for free.
Website: https://www.fubo.tv/welcome
3. Hulu Live TV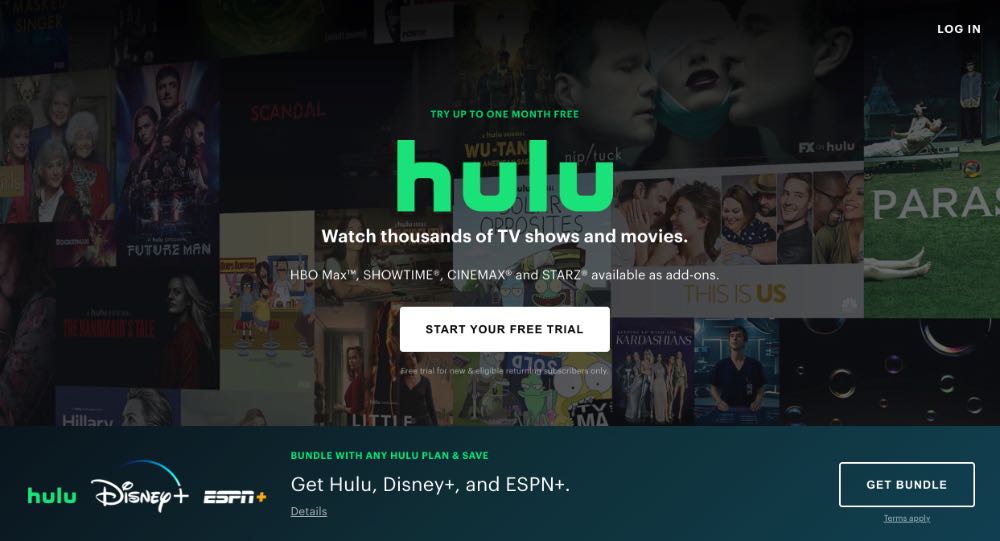 If you have a budget of $64.99 per month, you may want to go with Hulu Live TV instead of fuboTV. The reason? The bundle comes with Disney+ and ESPN+ subscriptions as well.
Yes, the partnership is a huge win for Hulu, and it's one of the reasons for the streaming service's popularity these days. With Disney+, you can watch Marvel movies, Disney animations, Disney's original TV shows, and more. ESPN+ covers all your sports needs, including NFL, F1, UFC, La Liga, Premier League, and more.
Don't forget you get Hulu originals too. It's the ultimate entertainment bundle for Hulu users out there.
How to Watch Serie A for Free on FireStick with Hulu TV
Like other services on the list, Hulu offers a 7-day free trial, letting you watch a week of Serie A before you have to pay.
How to Watch Hulu on FireStick
4. Peacock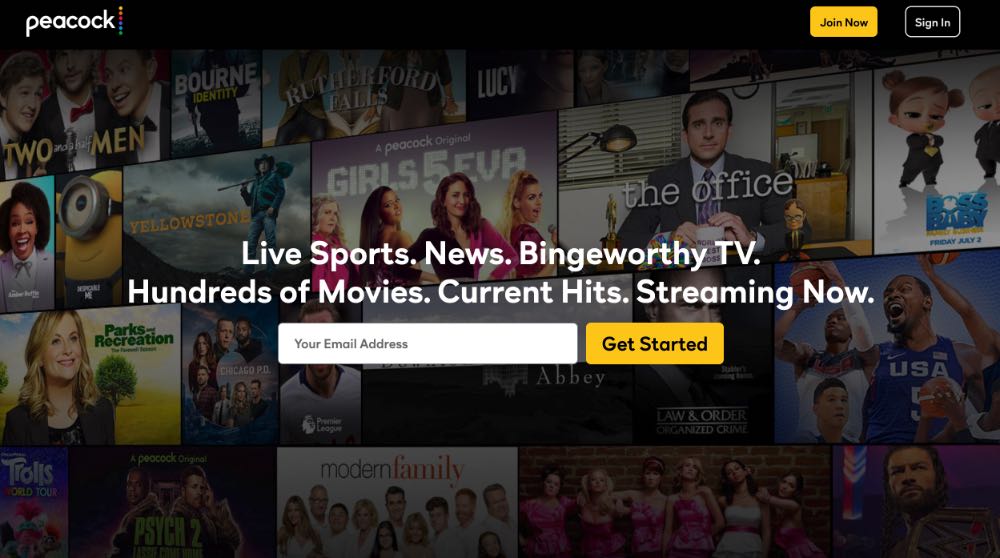 NBCUniversal's Peacock has created a huge buzz in the video streaming market. The service is home to all the CBS channels, including CBS Sports. You can watch the entire Serie A league on FireStick without cable using Peacock.
Peacock is also home to the famous rom-com The Office and other NBC shows. The service is off to a flying start with 33 million subscribers as of January 2021.
Compared to the competition, Peacock is relatively affordable. The pricing starts at $4.99 per month, and the plan that removes most ads costs $9.99 per month.
How to Watch Serie A for Free on FireStick with Peacock
Peacock offers a 7-day free trial to new users. You can watch Serie A matches free for one week before moving to the paid plan.
How to Install Peacock TV on FireStick
5. YouTube TV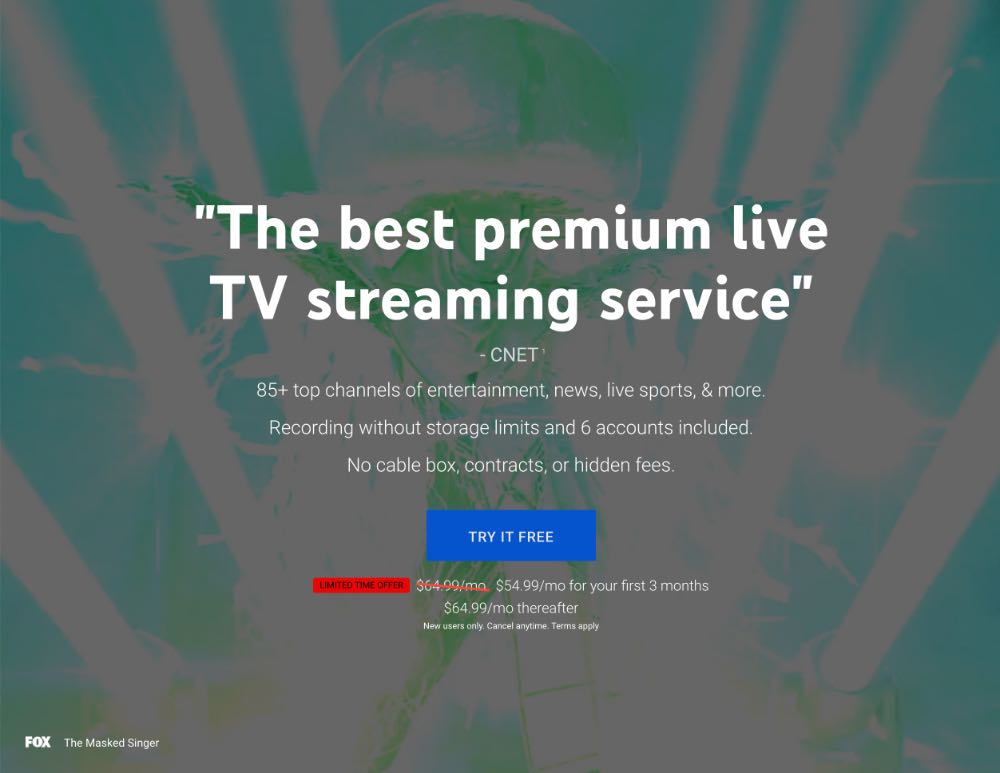 Google has entered the streaming space on the back of YouTube's popularity. The service offers 75+ live TV channels, and it's enough to cover your sports needs, as it carries both CBS Sports and ESPN channels.
Being a product from Google, you can expect a superior streaming experience and top-notch video quality on FireStick.
YouTube TV costs $54.99 per month for the first three months and $64.99 per month afterward. It includes unlimited cloud DVR.
How to Watch Serie A for Free on FireStick with YouTube TV
YouTube TV offers a 14-day free trial, so you can enjoy two free weeks of Serie A.
How to Install YouTube TV on FireStick
6. AT&T TV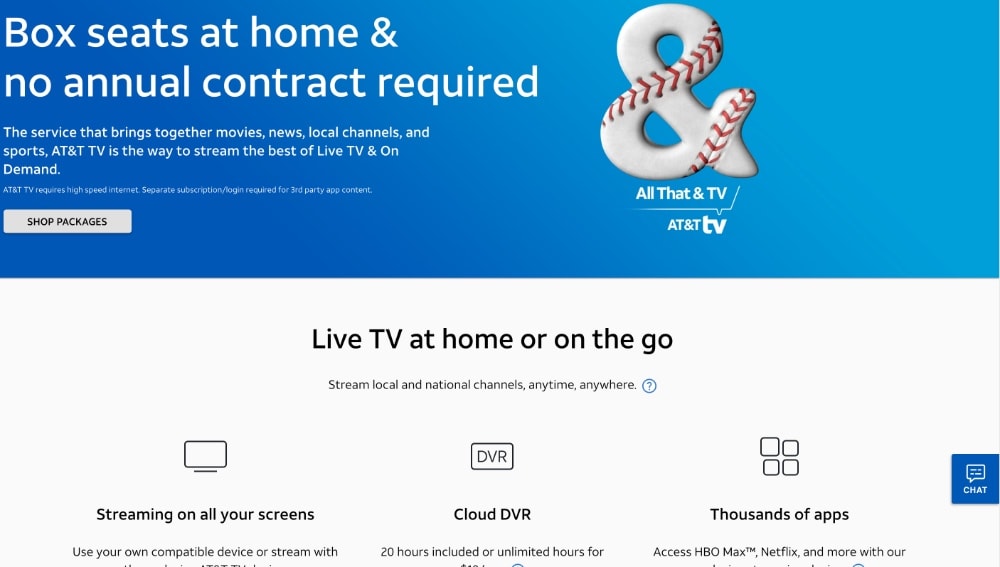 AT&T, the United States' second-largest carrier, has debuted in the video streaming market with its AT&T TV service. It's the most expensive of the bunch and doesn't offer a free trial to test the service.
The subscription starts at $69.99 per month for access to 65+ live TV channels, including ESPN, AMC, CBS, NBC, and Comedy Central. If you opt for the higher plan at $84.99 per month, you get one year of HBO Max as well.
All the paid plans come with 20 hours of cloud DVR storage.
Website: https://www.atttv.com/
How to Watch Serie A on FireStick in Canada
Although you can access CBS Sports via fuboTV and AT&T TV in Canada, CBS can't stream Serie A matches in the country. Thanks to the complex licensing structure, CBS can only air Serie A matches in the US. So, what if you're in Canada?
Canadians will have to rely on the DAZN streaming service, which has the official license to stream Serie A matches in the region. Let's talk about it.
DAZN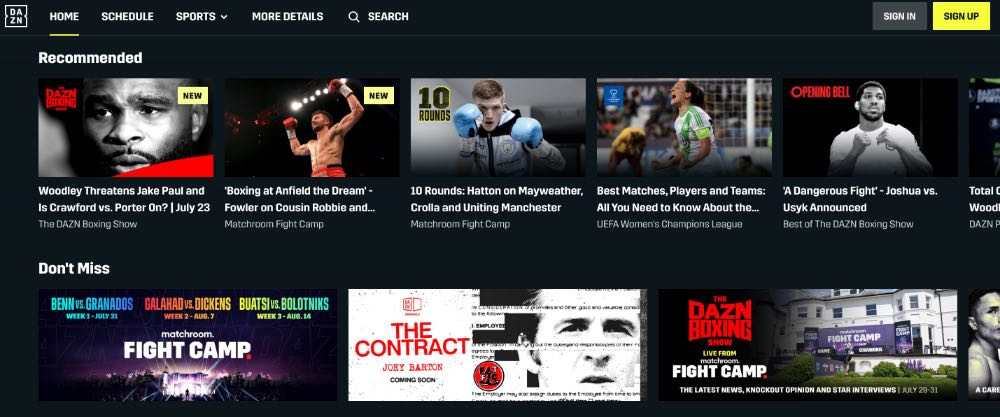 Similar to ESPN+ in the US, DAZN is the home of major sports events in Canada and most European countries. The service was launched in 2016, and since then, it has become one of the obvious choices for cord-cutters who enjoy sports.
With a paid DAZN subscription, you can enjoy all the major football leagues, including La Liga, English Premier League, and, of course, Serie A. You can also watch NFL, F1, Wimbledon, UFC, and other sports events on FireStick without cable.
The pricing starts at CA$2 (a bit under US$2) per month, which is a steal considering what you get in return.
How to install and watch DAZN service on FireStick
How to Watch Serie A on FireStick in the UK
There are several ways to watch Serie A on FireStick in the UK. I found BT TV to provide a robust streaming experience.
BT TV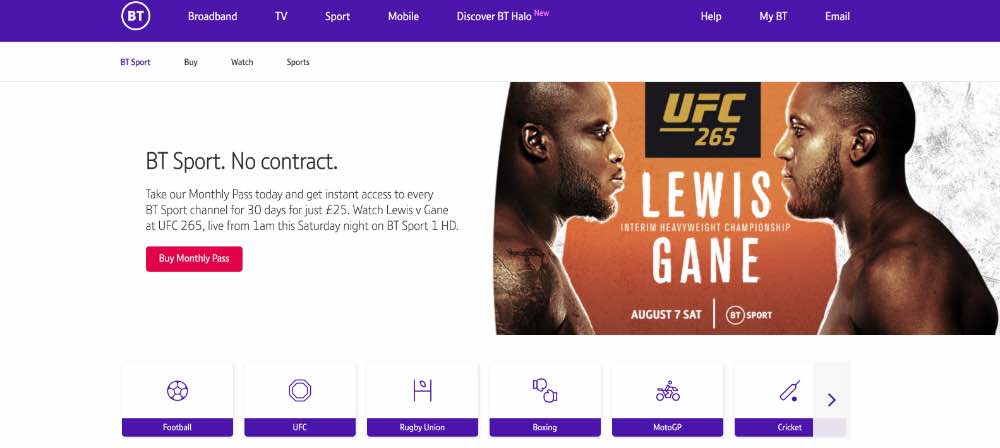 The subscription is £25 per month for the Monthly Pass that will let you watch Serie A matches on FireStick.
BT TV has an official app on FireStick. In addition to football action in Bundesliga, La Liga, and Serie A, you get every BT Sport channel to watch a variety of other sports.
The BT TV app is available on all major platforms, including iOS, Android, Android TV, Apple TV, and FireStick.
Website: https://www.bt.com/sport
How to Watch Serie A on FireStick for Free (Legal Apps)
As you can see from the list above, most streaming services offer a free trial to test them out. You can take all these streaming apps for a spin and enjoy Serie A on FireStick for free for several weeks.
Do remember that a free trial is only available to new users signing up for a service. If you have used a service before, you won't be able to get a free trial. In that case, if you still want to use the service, you can get that service's paid plan or create a new email address to become eligible for another free trial.
If you decide to use free trials, I highly recommend using a task management app to remind yourself to cancel the services before you have to pay. Just set a reminder before each trial's billing date, cancel it when the time comes, and move on to another trial from a different service.
The Apple App Store and Google Play Store are filled with excellent task management apps. Among them are Todoist, TickTick, Microsoft To-Do, and Google Tasks.
1. Let's start the free trial journey with CBS's Paramount+ service. Start the 7-day free trial and watch the first week of Serie A matches.
2. Move to fuboTV now. It also has a 7-day free trial. fuboTV has the potential to replace your existing cable subscription in addition to offering Serie A matches. You can check whether fuboTV can meet all your entertainment needs.
3. Hulu Live TV provides a 7-day free trial to new subscribers so you can take Hulu, Disney+, and ESPN+ for a spin. Don't forget to cancel the free trial though. Otherwise, you are looking at $64.99 on your next credit card bill.
4. Our next and last free trial is from YouTube TV. This trial will get you 14 days of free Serie A matches. This one is also expensive, so remember to cancel the trial before you're billed.
Combine free trials from the list above and you are comfortably looking at more than a month of Serie A action on FireStick for free and without cable. But the Serie A tournament goes for nine months. What about all the rest of the matches?
You can always create new email addresses for free trial eligibility. But even then, what if you forget to cancel any trials before the billing date? It's also time-consuming and hardly a feasible long-term option.
Instead of that, when you're done using free trials to test the services, you can start paying for your favorite service. After all, after testing each one for at least a week, you should have a good idea which one best suits your needs.
However, with some of these official services, you're looking at thousands of dollars in spending over the years. If you're on a tight budget, let me direct your attention to IPTV apps, third-party streaming services, and Kodi add-ons on FireStick. They're cheaper, but they come with their own drawbacks when it comes to streaming Serie A matches on FireStick. Let's talk about these options.
Free Apps to Watch Serie A on FireStick (Unverified)
Legal Disclaimer: This tutorial is purely educational. FireStickTricks.com doesn't own, host, operate, resell, or distribute any streaming apps, addons, websites, IPTV or services. The page contains some unverified services, and we are not certain whether they hold legal licenses to distribute the content. FireStickTricks.com does not verify the legality of each app/service in all regions. Do your due diligence if you use any of the unverified apps/services, and stream only content that is available in the public domain. The end-user shall be solely responsible for the media accessed.
One of the reasons for Amazon FireStick's overwhelming popularity is the open nature of the device. The FireStick isn't limited to official apps from the Amazon App Store. With a jailbroken FireStick, you can install third-party streaming apps from the web as well.
Jailbreaking a FireStick is 100% legal. The problem arises when you try to stream unlicensed content from third-party apps. After all, there's a reason Amazon won't host such apps in the Amazon App Store in the first place.
Let's use Serie A as an example here. Like CBS in the US and DAZN in Canada, a media company may have purchased the official rights to stream Serie A matches in your region. In that case, streaming Serie A matches through a third-party app or IPTV service is illegal.
Since it depends on your location, licensing agreements and partnerships, and other legal factors, FireStickTricks.com can't verify every content stream on every third-party source out there.
The thing is, your government and ISP provider can see the type of content you watch on your FireStick. That data coupled with your IP address could get you in legal trouble if you use illegal IPTV services or third-party apps on FireStick.
What can you do then? Enter VPNs. With a capable VPN app such as ExpressVPN on FireStick, you can conceal your personal data and activity while you're online. FireStickTricks.com does not endorse or encourage content piracy or illegal streaming. But a typical user may not know the difference between legal and illegal streams. What if you break the law by accident? A VPN puts your anxieties to rest.
Another advantage of using a VPN is the ability to select any country as your current location. Simply select a server in the US and you're all set to enjoy free trials from the services I mentioned above. You may then prefer to continue using official apps that aren't otherwise available in your region.
After setting up ExpressVPN on FireStick, move on to the next sections where we'll talk about the unverified options in more detail.
IPTV Services
IPTV services are a hot new trend these days. And why not? With a capable IPTV provider, you can enjoy thousands of TV channels, TV shows, and movies for a small monthly price. The channels offered by IPTV services are neatly organized, commonly into categories like sports, news, entertainment, kids, and adult.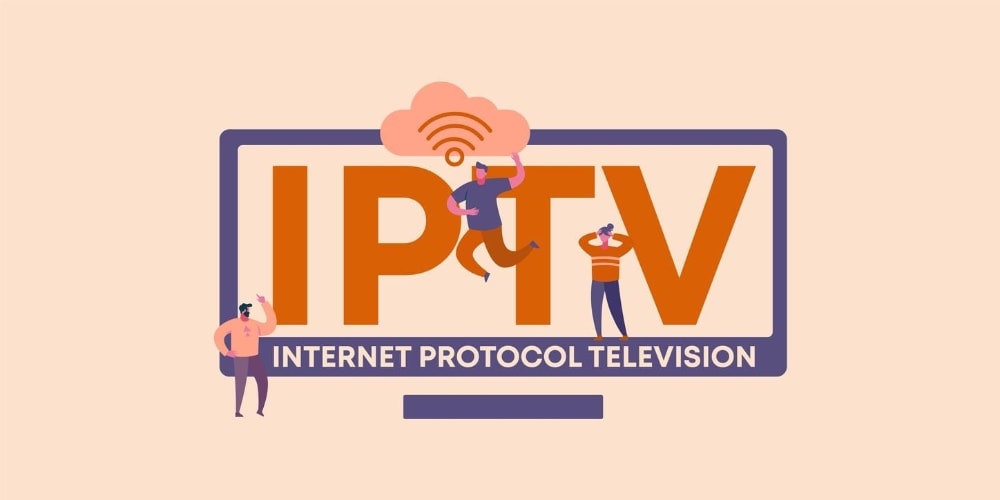 Sounds like a done deal, right? The confusion starts when you are offered hundreds of IPTV services to choose from.
It's a good thing you're here because now you don't need to worry. We've compiled a list of the best IPTV services for FireStick. Pick any service from the list and you are all set to watch Serie A games on FireStick without cable.
Remember that FireStickTricks.com isn't capable of verifying every piece of content available on every service. Users are on their own while consuming media on IPTV apps. I do advise connecting to a VPN app to protect yourself online.
Besides the content that you get with IPTV apps, many offer EPGs (electronic program guides), M3U links for service integration, IPTV player support, VOD, and more features.
Free Sports Streaming Apps
Do you know why jailbreaking became popular on FireStick? Back in 2014, Amazon started removing unverified third-party apps from the App Store. Users got miffed by the company's actions and starting using jailbreaking to install those same apps on FireStick.
Well, with those third-party streaming apps on FireStick, you can easily watch the Serie A league for free. Check out our list of the best free IPTV apps that will let you watch Serie A on FireStick.
One popular free app is Kodi, which itself is a legal app. The web is filled with dozens of sports addons for Kodi. But, of course, we wouldn't have you sorting through them on your own—we've compiled a list of the best Kodi addons for watching sports. Pick one, install it in Kodi, and start streaming Serie A without paying anything. If you don't have Kodi yet, read our guide to installing Kodi on Fire TV Stick.
However, keep in mind that you enter a legal gray area when you start using addons to streaming content within Kodi. Don't forget to invest in a VPN here. If you're not experienced with streaming on third-party sources on your FireStick, there's a high chance you'll end up consuming unlicensed content unintentionally.
How to Watch Serie A on FireStick Using a Browser
This is not my preferred way to watch Series A matches on FireStick, but it's worth considering in certain conditions.
There are many free sports streaming websites out there. In theory, these sites are additional options, but the experience these sites provide leaves a lot to be desired.
First, you need to use a browser on FireStick to navigate these websites, which is more challenging than using a sports app available in the Amazon App Store.
Second, these sports streaming websites tend to show tons of ads and may have third-party trackers that can take your personal information or even harm your device.
And like I said, the streaming experience isn't desirable as well. You could face low resolutions and constant buffering while watching Serie A games on FireStick.
I advise sticking with the official apps. They do have price tags, but you'll get a convenient, high-quality experience in return. Remember, with a trusted VPN service like ExpressVPN, you can access location-restricted services from anywhere in the world.
Your FireStick / Fire TV is now all ready to stream your favorite content. However, before you start, I would like to warn you that everything you stream online is visible to your ISP and Government. This means, streaming free movies, TV shows, Sports might get you into legal trouble. 
Thankfully, there is a foolproof way to keep all your streaming activities hidden from your ISP and the Government. All you need is a good VPN for Fire Stick. A VPN will mask your original IP which is and will help you bypass Online Surveillance, ISP throttling, and content geo-restrictions.
I personally use and recommend ExpressVPN, which is the fastest and most secure VPN. It is compatible with all kinds of streaming apps and is very easy to install on Fire TV / Stick.
We do not encourage the violation of copyright laws. But, what if you end up streaming content from an illegitimate source unintentionally? It is not always easy to tell the difference between a legit and illegal source.
So, before you start streaming on your Fire Stick / Fire TV, let's see how to use ExpressVPN to keep your streaming activities hidden from prying eyes.
Step 1: Subscribe to ExpressVPN HERE. It comes with a 30-day money-back guarantee. Meaning, you can use it free for the first 30-days and if you are not satisfied with the performance (which is highly unlikely), you can ask for a full refund.
Step 2: Power ON your Fire TV Stick and go to Find followed by Search option.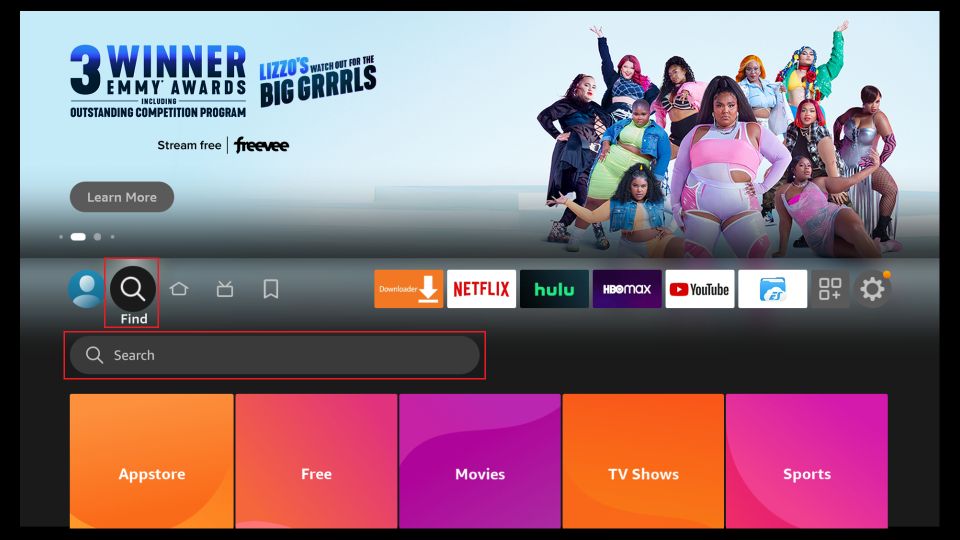 Step 3: Now type "Expressvpn" (without quotes) in the search bar and select ExpressVPN when it shows up in the search results.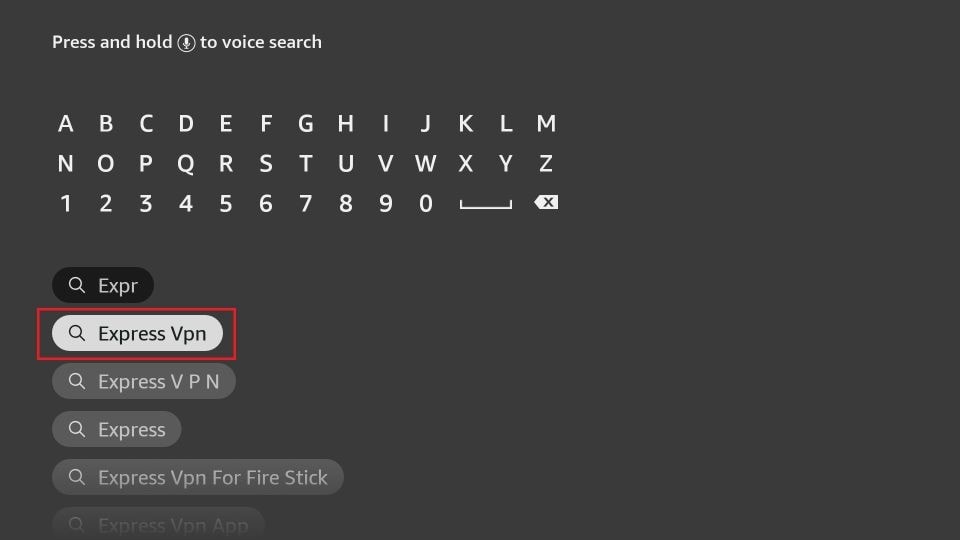 Step 4: Click Download to install the ExpressVPN app on Fire TV / Stick.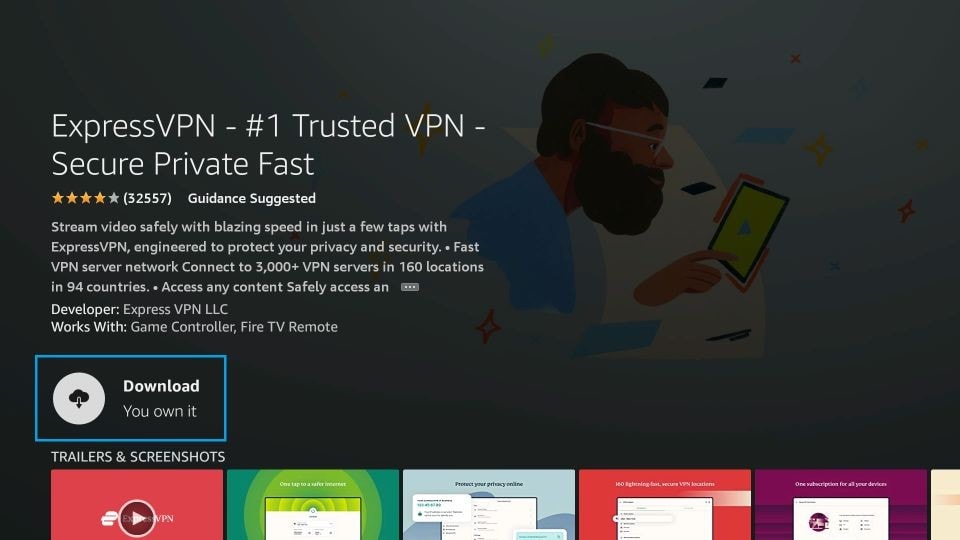 Step 5: Open the app and enter the login credentials that you created while buying the ExpressVPN subscription. Click Sign in.

Step 6: Click the Power icon to connect to a VPN server. That's all. Your connection is now secure with the fastest and best VPN for FireStick.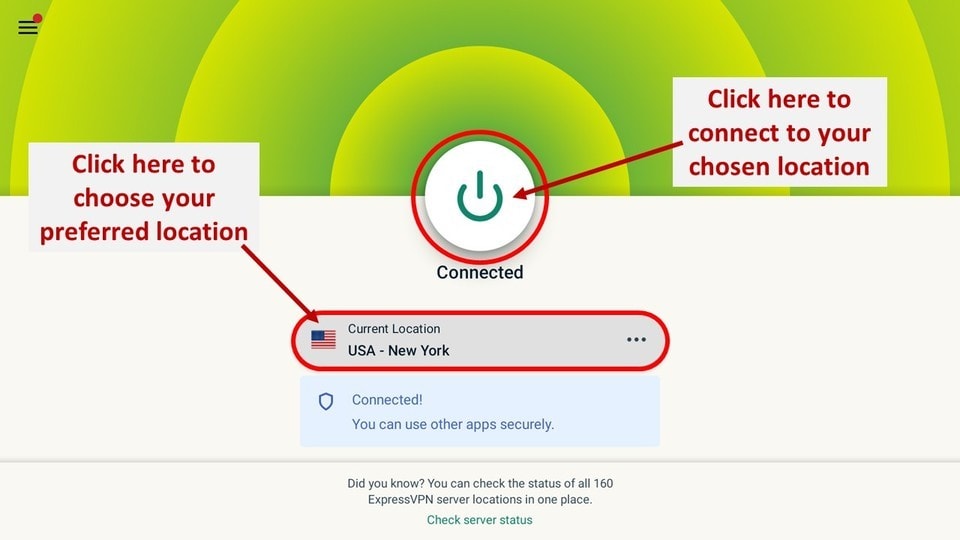 You can also read more detailed info on using ExpressVPN with Fire TV / Stick.
FAQs
How much does it cost to watch Serie A with a verified service?
Depending on your country of residence (or the location of the VPN server you connect to), an official, verified service can give you access to Serie A for as little as a few dollars per month or as much as $84.99 per month. The service that makes the most sense for you depends on the kind of content you'd like to see in addition to Serie A.
Can I watch all Serie A games on FireStick?
Yes. FireStick is filled with official apps to stream Serie A matches. You can easily watch all 380 Serie A games no FireStick without cable using any app with the rights to stream Serie A.
How can I watch Serie A games on FireStick for free?
Using third-party streaming apps and IPTV services, you can watch Serie A games on FireStick for free or for a small monthly free. Don't forget to use a VPN app like ExpressVPN to protect yourself from any legal trouble in the future.
Wrapping Up
Serie A is all set to start in a couple of weeks. Go through our list of official apps above, enroll in a free trial or four, grab some popcorn, and start cheering for your favorite team in the league. Make sure to set up a VPN on FireStick if you plan to go with an unverified IPTV provider or Kodi addon to watch Serie A games.
Related:
Legal Disclaimer - FireStickTricks.com does not verify the legality or security of any add-ons, apps or services mentioned on this site. Also, we do not promote, host or link to copyright-protected streams. We highly discourage piracy and strictly advise our readers to avoid it at all costs. Any mention of free streaming on our site is purely meant for copyright-free content that is available in the Public domain. Read our full disclaimer.
Disclosure - FireStickTricks.com is reader-supported blog. When you buy a product through links on our site, we may earn commission. Learn More