In this article, I'll show you two ways you can watch live TV on your FireStick for Free. I'll cover the official and unofficial apps along with how you can install them on your Fire Stick. This piece is for all the latest & supported Fire TV devices like FireStick, Fire TV Cube, and more.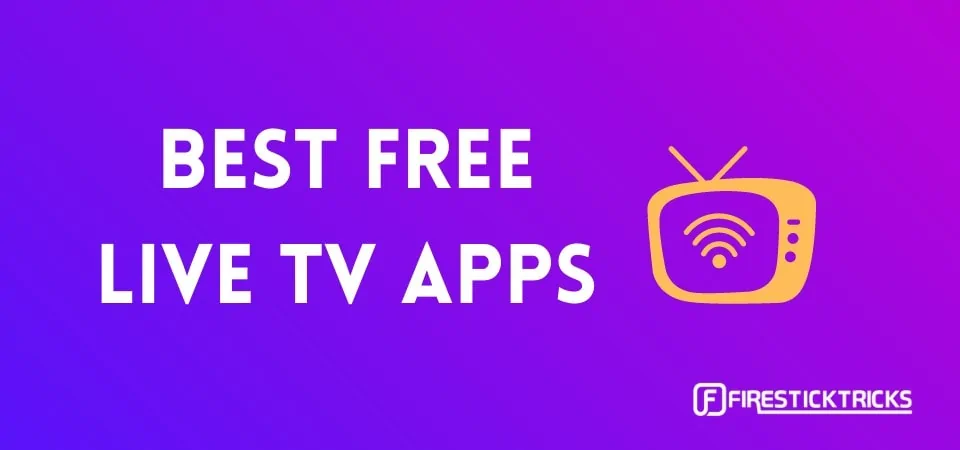 Today, you can easily watch live TV channels on the internet. However, most of the reliable options are paid, like Hulu, YouTube TV, and more. Furthermore, similar services are also locked in various regions.
But as they say, when there's a will, there's a way. On Amazon Fire TV, there are numerous free apps you can use to stream TV channels. You don't have to subscribe, fill out a survey or do any other thing like that.
And today, I'll show you just that. For all the people new to the Fire TV ecosystem, I'll help you guys experience cable TV-like service for free on your devices. So without further ado, let's jump right in.    
Attention, FireStick Users!
Governments and ISPs constantly monitor your online activity, and accessing copyrighted content on your Fire TV Stick could lead to serious trouble. Currently, your IP is visible to everyone. I strongly recommend getting the best FireStick VPN to mask your IP address and securely stream your favorites.
I personally use ExpressVPN, the fastest and most secure VPN available. Not only is it easy to install on any device, it comes with a risk-free 30-day money-back guarantee. Plus, if you're not 100% satisfied, you can always get a refund. ExpressVPN is currently also offering a whopping 3 extra months free on their annual plan!

Read: How to install and use the best VPN for FireStick
How to Watch Live TV on FireStick for Free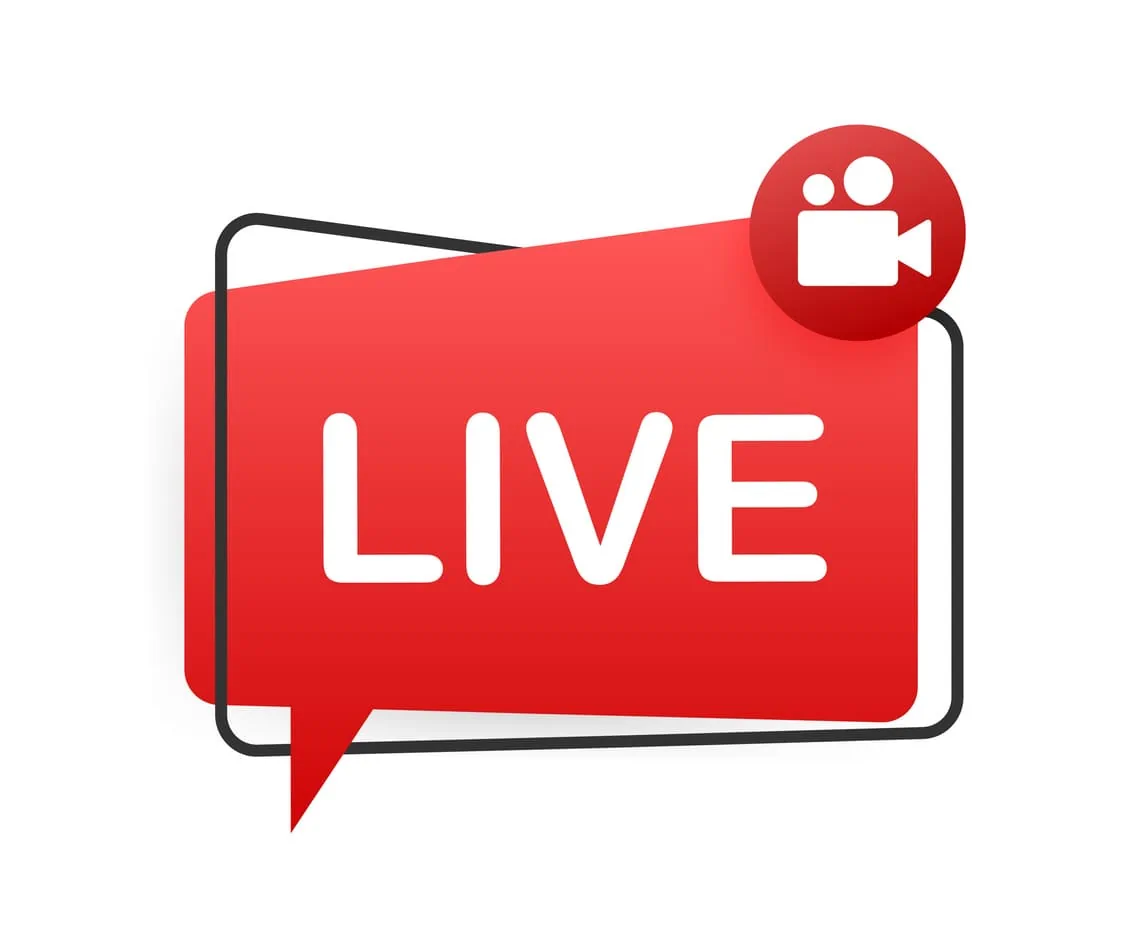 There are two ways to watch live TV on Amazon Fire TV – via official or unofficial apps. 
Both of the ways are great for people new to the cord-cutting scene. In this piece, I'll cover each method in detail, including their brief introduction, installation process, and list of best apps.
So, let's get started.
1. Using Best Free Live TV Apps For FireStick (Official)
Are you looking forward to catching up with local news, on-demand movies, sports channels, and TV shows in a legal and free way? Then, there's no better option than using official free streaming app services on Fire TV Stick.
This section is all about watching live TV via free streaming apps found on the Amazon App Store.
What Are Official Fire TV Stick Live Channels Apps
An official live TV streaming service app on Fire TV lets you watch TV channels legally. Although you might not get a variety of networks, you are accessing the available channels without any legal concern.
Official Fire TV Stick live channels apps are mostly ad-based. Similarly, they only consist of a few of your favorite satellite channels. However, you don't have to pay for anything, and you can use the app as much as you want.
There are almost no region or copyright limitations set to official free streaming service apps. Also, you receive regular updates of apps with added features, improved UI & performance, and more.
Also, there are no buffering and quality issues with official live TV app services on FireStick. The servers of most services use cutting-edge technology that results in super-fast streaming with no latency and HD+ video quality.
All-in-all, free & official IPTV app services on Amazon App Store are a reliable way to watch live TV channels.
How to Install An Official Fire TV Live App
Before I introduce you to the list of best free & official live TV apps, I'll show you how you can install one on your Fire Stick.
Note: I'm installing the Pluto TV app on my Fire Stick Lite using the official Amazon App Store.
1. On your Fire TV home page, click on the Find button located on the middle-left side of your screen – adjacent to the Home button.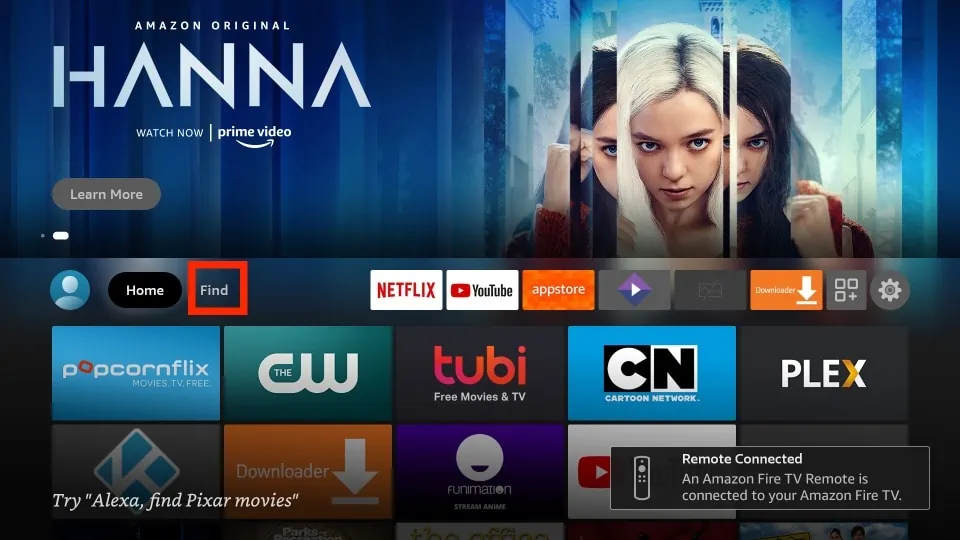 2. Next, scroll down and click on the yellow Search tile.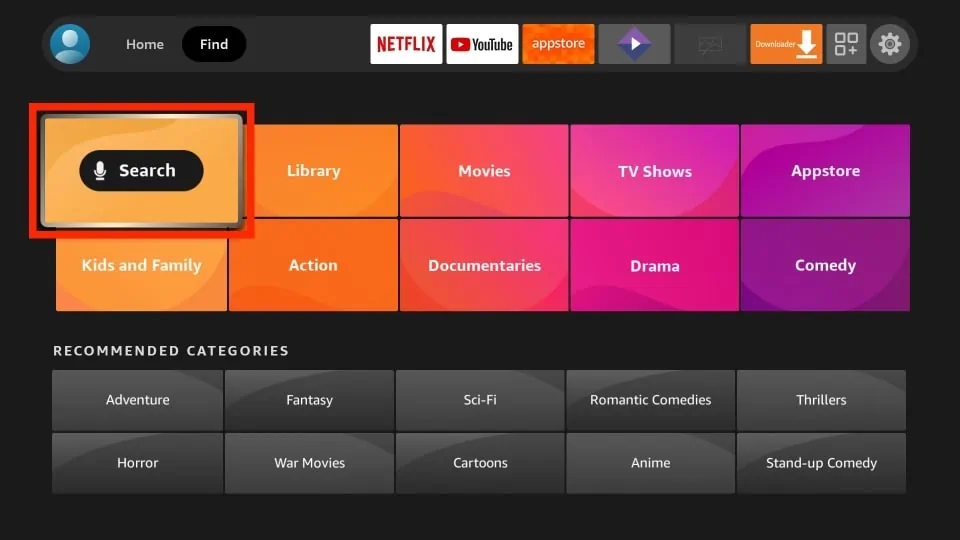 3. Search bar would appear with a keyboard layout. Enter Pluto and select the Pluto suggestion from the list below the keyboard.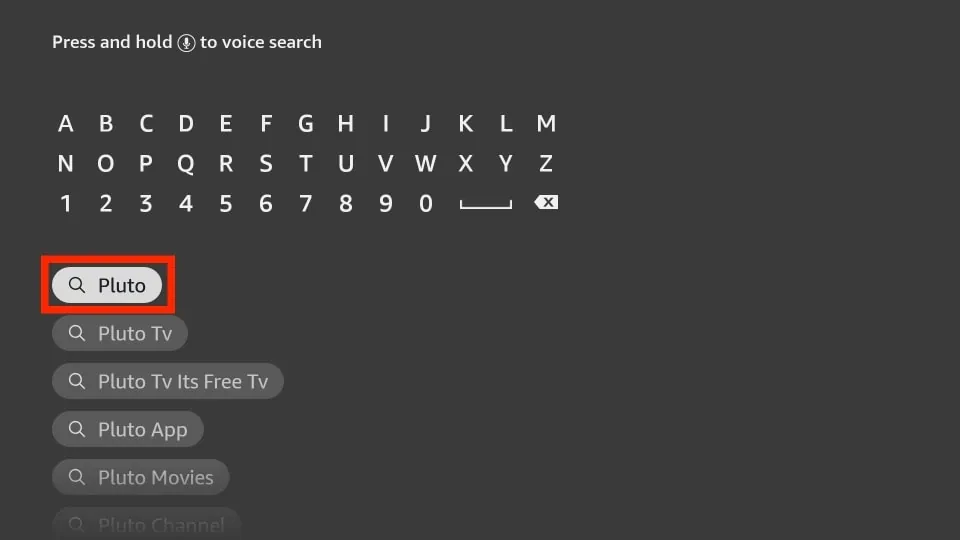 4. Wait for a few seconds to let Fire TV load the results. Then, select Pluto TV tile from the search results.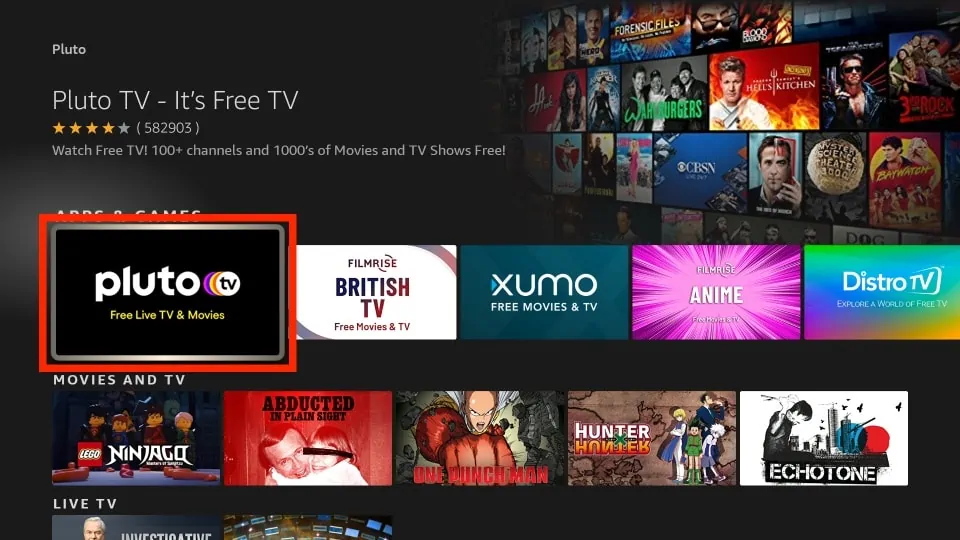 5. Next, the Pluto TV dashboard will appear. Then, click on the white Get button to start the download.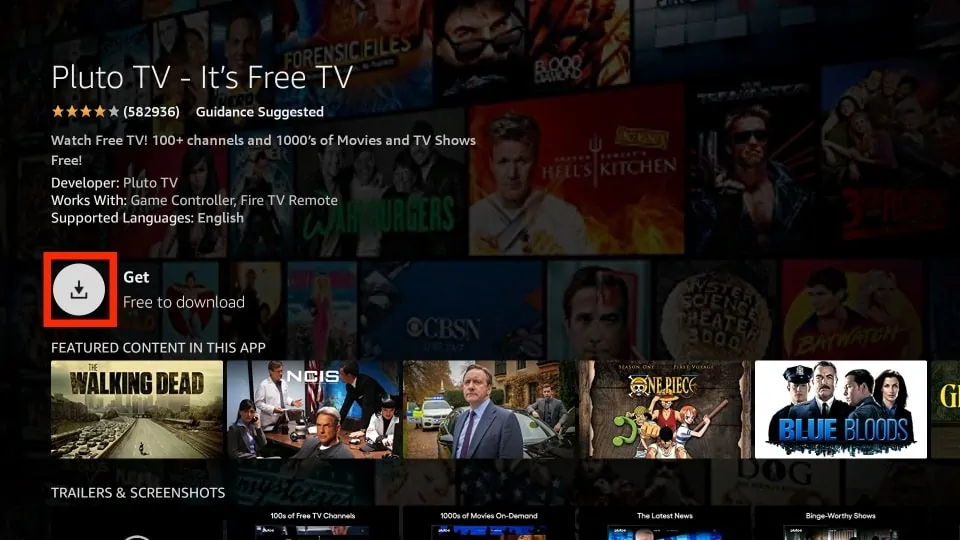 6. Wait for the downloading and installing process to complete.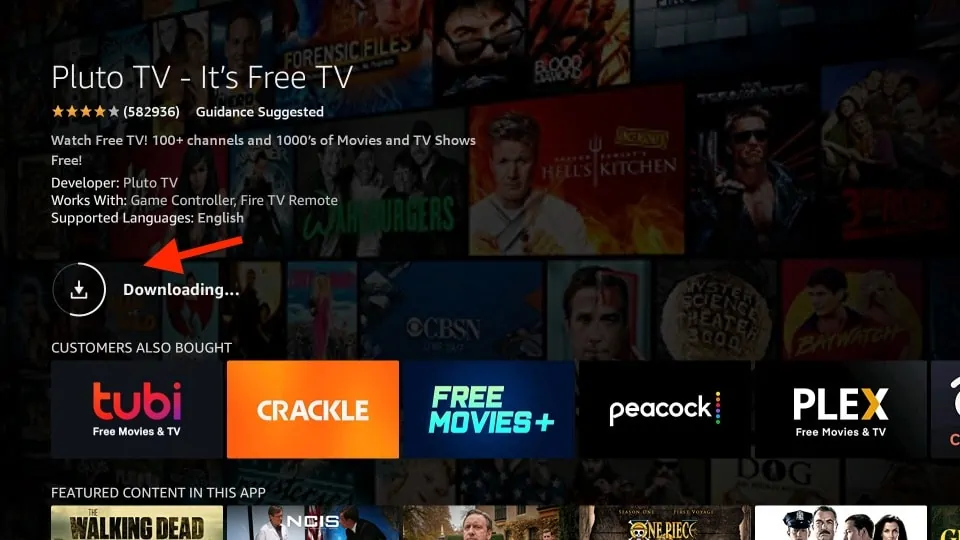 7. Once it's done, you'll receive a notification on the bottom right side of your screen – Pluto TV Ready to launch.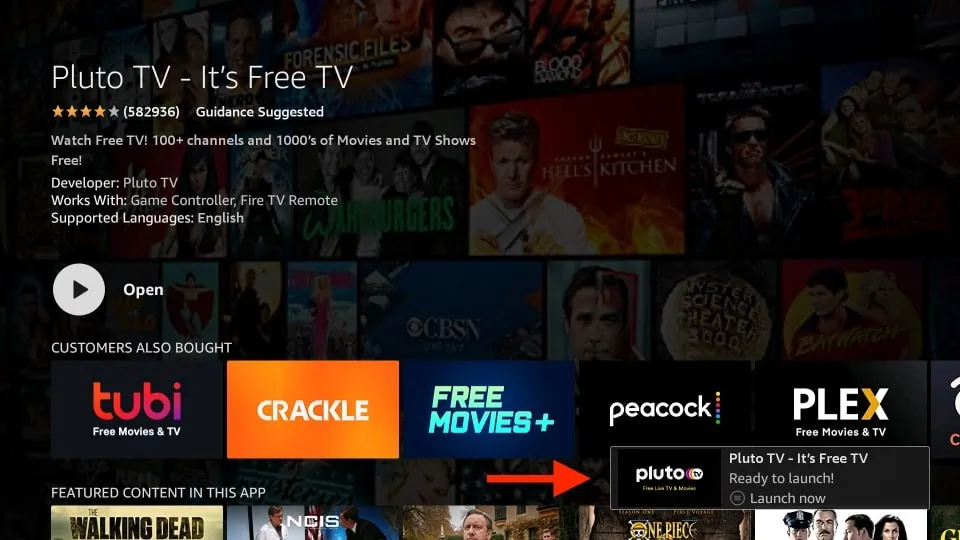 That's how you install any official & free popular streaming app on your Amazon Fire TV Stick.  
Top 10 Free & Official Apps to Watch Live TV Channels
1. Pluto TV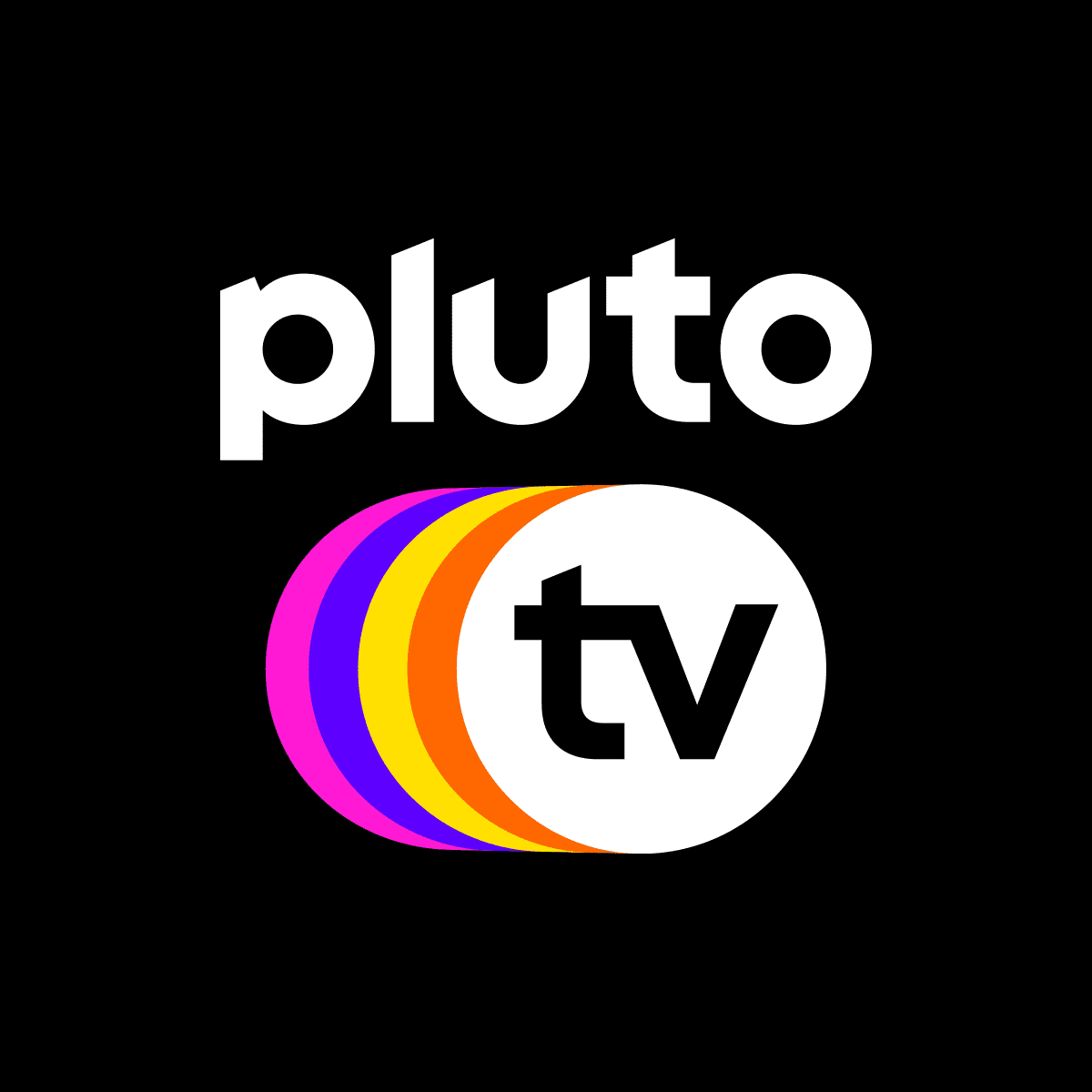 Founded on August 1, 2013, by Tom Ryan, Ilya Pozin, and Nick Grouf, Pluto TV is owned and operated by Paramount Streaming. With Pluto TV, you can watch up to 250+ live TV channels and 1,000's of on-demand movies & TV shows.
Pluto TV is revolutionizing the TV streaming experience. Thanks to Pluto TV, you no longer have to stick with the traditional TV. All the fantastic stuff is now just a few clicks away from you.
News, sports, movies, TV shows, and you name it; you'll find all types of TV channels on Pluto TV. Moreover, you can watch the channels on your Fire TV by simply downloading the free app of Pluto TV – no sign-up, no subscription, no fees, and no commitments.
Sky News, Bloomberg, Crime Network, Funny AF, IGN, Pro Wrestling, and the list goes on; there are many channels available for every genre. Not only that, there are over 1,000 movies & TV shows you can access for free!
Pluto TV lets you stream channels, movies, & TV shows at HD+ quality with no buffering. Also, it gives you a detailed program overview of all the channels. It works 24/7 and 365 days round the year. All-in-all, it's one of the best free apps on Amazon to watch live TV.
How to Install Pluto TV on FireStick
2. Amazon News App
Next up, we have the official Amazon News App. This app is available by default on all the recent models of Fire TV. So you don't have to download it via the Amazon App Store separately.
Amazon News App lets you watch the popular news networks around you for free. This app has various local channels available in up to 80+ cities of the US. You can stream them all depending on your location in stellar video quality without any lag or time latency.
All the available channels come with electronic programming guides (EPGs). Similarly, you can set up two cities to tune into their local channels. Moreover, there are five available channel categories – business, politics, sports, tech, and entertainment.
There's a separate tab for trending where you can watch hot & trending stories happening worldwide. Some of the popular channels available on the Amazon News App are ABC News, FOX Weather, People, CBS Sports HQ, Fox Sports, USA Today, Bloomberg TV+, and more.
With Amazon News App, you can not only tune into the best news channels, both local and international. But watch your favorite networks from business, politics, sports, tech, and entertainment.
All-in-all, Amazon News App is one of the best official & free live TV apps you can get on Fire TV.  
3. Tubi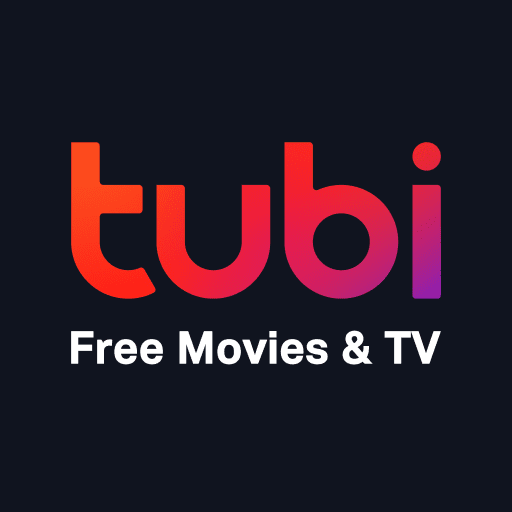 Sports, national news, business, global news, weather, culture, entertainment, and you name it, Tubi has over 55+ live channels. Tubi is your free and legal one-stop shop to stream whatever means you the most. Whether it's a sports game or local breaking news, the platform won't let you down.
On Amazon TV devices like Fire Stick, Tubi lets you continue as a guest or sign in with your Amazon profile. After that, you get to land on the land of ultimate freedom. You can stream channels like Fox Sports, NFL Channel, ABC News Live, NBC News, CBC, FOX Soul, People TV, and more.
However, note that Tubi live TV channels aren't available across the globe. The service is only available in some states of the US. There's one thing you can do to access them, simply use a virtual private network and connect it to a US server and viola. Around 55+ channels would be now available at your disposal.
Apart from live TV channels, Tubi lets you watch up to 20,000 movies and TV shows for free. They have one of the largest legal and free libraries of high quality content, including classics like Fist of Fury.
Tubi is an all-in-one app to kill your boredom, legally and free.
How to Install Tubi on FireStick
4. XUMO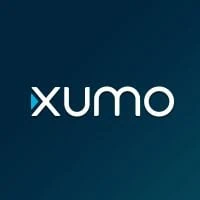 XUMO is here to entertain, engage, and inform people from every walk of life with free live TV channels, movies & TV shows.
The XUMO app on Amazon Fire TV is only accessible in the US. There are up to 190 free live TV channels on the platform from categories like news, entertainment, sports, business, tech, politics, comedy, movies, and more.
With so many choices, XUMO doesn't let you get bored. Also, there's EPG available for every channel, so you can check what's up next. Similarly, all the channels are streamable in HD quality even with average-speed internet connections.
XUMO app is blazing fast even on the older models of Fire TV. This means, you don't have to scratch your head waiting for the app to load content or get unstuck from an ad – everything is buttery-smooth. Also, the UI is quite remarkable. Developers have made it keeping in mind an average joe.
With the XUMO app, you can stream channels like PGA TOUR, Stadium Sports, Eleven SportsCBSN, NBC News, TYT. Also, there's a gigantic library of Hollywood movies, TV shows, lifestyle programs, kid shows, family movies, and more.
So, what are you waiting for? Download and install XUMO on your Fire TV device and experience the hype.
How to Install XUMO on FireStick
5. Plex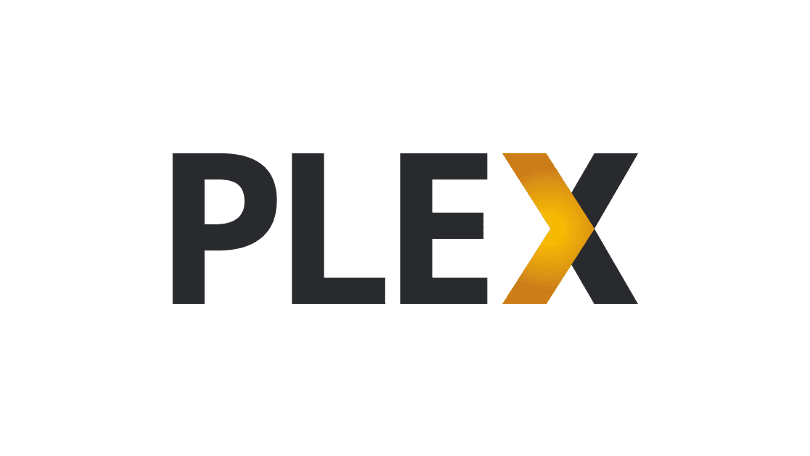 Say goodbye to your good-old cable TV that isn't relevant anymore, and say hello to Plex!
Plex is a global streaming media service and a client-server media platform. This app lets you watch over 250 channels on your Amazon TV without extra hardware, payment, or similar shenanigans.
Streaming 24 hours a day and 7 days a week, the Plex TV streaming service has something for everyone. From action to sports, kids stuff, cooking, drama, and news, you'll find all types of channels on Plex TV.
Plex has partnered with trusted video news from over 190 global publishing partners like CBS, Financial Times, Euronews to provide you with personalized and trusted video news.
Inside Plex TV channels list, you'll find networks like Euronews English, Galxy TV, Reuters, Cooking Panda, FTF Sports, MMA TV, GoTraveler, and Fail Army, to name a few.
Apart from channels, Plex lets you access its massive library of over 50,000 titles on-demand. You can easily play, pause, save and resume your favorite content in a snap.
Enter the world of Plex and see how fruitful they have made it. From live channels to movies and shows, the Plex app is loaded with high-quality content you just can't miss.  
How to Install Plex on FireStick
6. Very Local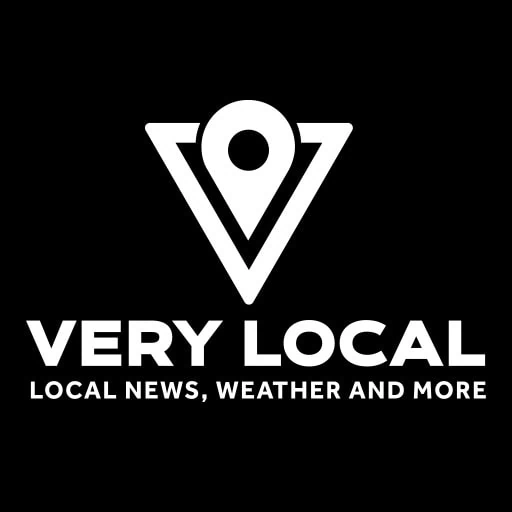 Do you want to watch local news, weather, and more? Then, Very Local is one of the best free & legal apps out there on the Amazon App Store you can choose.
With Very Local, you can watch TV channels related to local news, weather, politics, and live programming. The app is available for free; you don't have to enter a credit card or purchase anything in-app. Just download it and tune into the available channels.
The Very Local app features automatic video playback, news on-demand, the latest weather forecast, consumer news, and timely investigative stories. However, the app is only available in the following states of the US:
Albuquerque (KOAT), Baltimore (WBAL-TV), Birmingham (WVTM), Boston (WCVB), Burlington/Plattsburgh (WPTZ), Cincinnati (WLWT), Des Moines (KCCI), Fort Smith / Fayetteville (KHBS/KHOG), Greenville (WYFF), Jackson (WAPT), Kansas City (KMBC), Lancaster (WGAL), Louisville (WLKY), Manchester (WMUR), Milwaukee (WISN), Monterey (KSBW), New Orleans (WDSU), Oklahoma City (KOCO), Omaha (KETV), Orlando (WESH), Pittsburgh (WTAE), Portland (WMTW), Sacramento (KCRA), Savannah (WJCL), West Palm Beach (WPBF), Winston-Salem (WXII).
Although Very Local is a free app, the audio and video quality of channels are premium. As a result, you won't notice any buffering even on an average-speed internet connection. Similarly, the service is available 24/7 and 365 days a year.
Download Very Local today on your Fire TV cube or FireStick to catch all the latest local weather and news. 
7. AnthymTV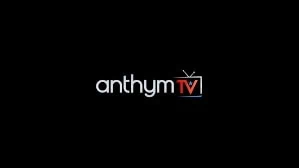 Weekend ahead? Planning to make it worthwhile? Then, AnthymTV has got your back.
AnthymTV is another great app to sit back, relax and watch free TV stations categorized by genres. Inside the app, you'll be able to access channels from categories like True crime, food, home, sports, outdoors, news, animal, travel, and more.
Want to know something interesting? Each TV station on the AnthymTV app is designed to show you personalized content. So now, you don't have to spend countless hours searching for the right entertainment feed.
AnthymTV app features channels like A&E, History, Discovery, TLC, Fox News, etc. Similarly, it provides access to original TV series, cable TV hit shows, X.PD + Live PD + Cops, and more.
The app of AnthymTV is amazingly good. You won't experience crashing or lagging issues. The video streaming quality is also good, and you can access it anytime & anywhere. 
Anthym TV is reinventing the cable TV experience. Now, you no longer have to pay a cable TV operator to enjoy channels, movies, TV series, and more. Simply download the AnthymTV app on your Fire TV cube or Fire Stick, and you are all set to get entertained and informed.
8. The Roku Channel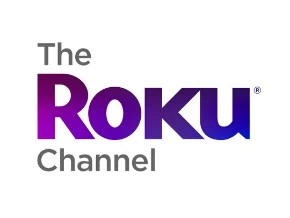 Next, we have the famous The Roku Channel app. This is your free & premium destination to watch live television channels.
The Roku Channel app lets you watch channels like NBC News Now, ABC News Live, Real America's Voice, Hallmark Movies & More, Crime 360, OAN Plus, WeatherNation, CBC News, Nosey, and Comedy Central, to name a few.
The Roku Channel lets you stream numerous TV stations from different categories like news, comedy, entertainment, lifestyle, crime, and more. It wouldn't be wrong to say that there's something for everyone on The Roku Channel app.
Perks of The Roku Channel don't end here. This app lets you enjoy an always-evolving collection of free movies, shows, kids' content, and more. Also, the more you watch, the better-personalized content you get.
There's Spanish language content also available on The Roku Channel, including shows, films, and six live channels.
The Roku Channel app includes features like a safe viewing experience, parental controls, Continue Watching row, and more. You can also purchase the premium packs of Showtime, Starz, AMC+, EPIX, BET+, and Cinemax to unlock the full potential of the service.
With big companies like Roku stepping in the game, it's only going to get better for people who don't want to pay for watching live channels.   
9. Airy TV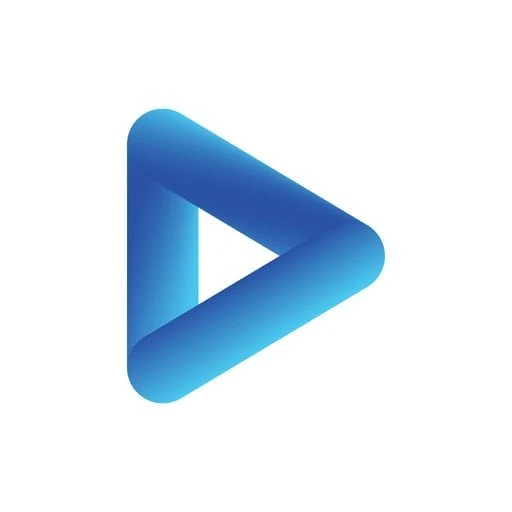 Made to build the experience around customers, Airy TV is one of the best free apps you can get on Amazon Fire TV. This app has no contract, no subscription fee, and no non-sense like that – just free TV channels, films, and TV series.
The Airy TV app consists of hundreds of live TV stations, depending on your location. From sports to crime, documentaries, and news, there are a handful of channels available for every genre. Also, all the channels run 24/7 at high-definition video & sound quality.
On Airy TV, you'll find channels like Warzone, Giddy Up, Movie Max, World Poker Tour, TV Nuts, iSCIFI TV, ThailandTV, Sidewalks TV, Spartan TV, Racing America, Allied ESports, OPS TV, Ski TV, and more. All of the channels come with EPG, so you can see what's up next in line.
The serving doesn't end with just television channels; there's more to Airy TV. You can watch on-demand documentaries, kids' movies, Hollywood movies, TV series, cartoons, anime, and more.
The catalog of Airy TV is always expanding as they want to be the end-game of the world of free entertainment. So, why settle for a paid TV provider when you can watch many channels for free? Download the app today!   
How to Install Airy TV on FireStick
10. DistroTV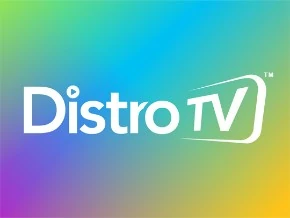 Last and certainly not least, we have DistroTV. This app puts the world of premium free content like live channels, live movies, live TV series, and more at your fingertips.
On DistroTV, you can stream up to 150 free channels from categories like news, entertainment, sports, documentaries, lifestyle, and more. Some of the popular channels are Law and Crime, Kaloopy, CineLife, KweliTV, Movie Kingdom, FrightFlix, Horror Machine, Movimex, Stadium, Unbeaten, 8 MMA channels, and more.
DistroTV also includes channels from Indian and south-Asian regions like Republic World, WION, Mirror Now, Mastiii TV, BritAsia, Zoom, Arre, Swar Shree, Channel S, Akaal Channel, and Garv Punjab, to name a few.
Not many free & legal channel streaming services let you watch music, fun, and games channels. But with DistroTV, things are different. Some of the popular channels of the genres on the app are Circle, Qello Concerts, LoopTV, Chive TV, VENN TV, Dot Esports, & Arcade Cloud.
Entertainment, movies, sports, news, business celebrity, lifestyle, music, classical shows, desi, and you name it; tons of free live channels are available on DistroTV.
2. Stream with Free Live TV Apps for FireStick (Third-Party)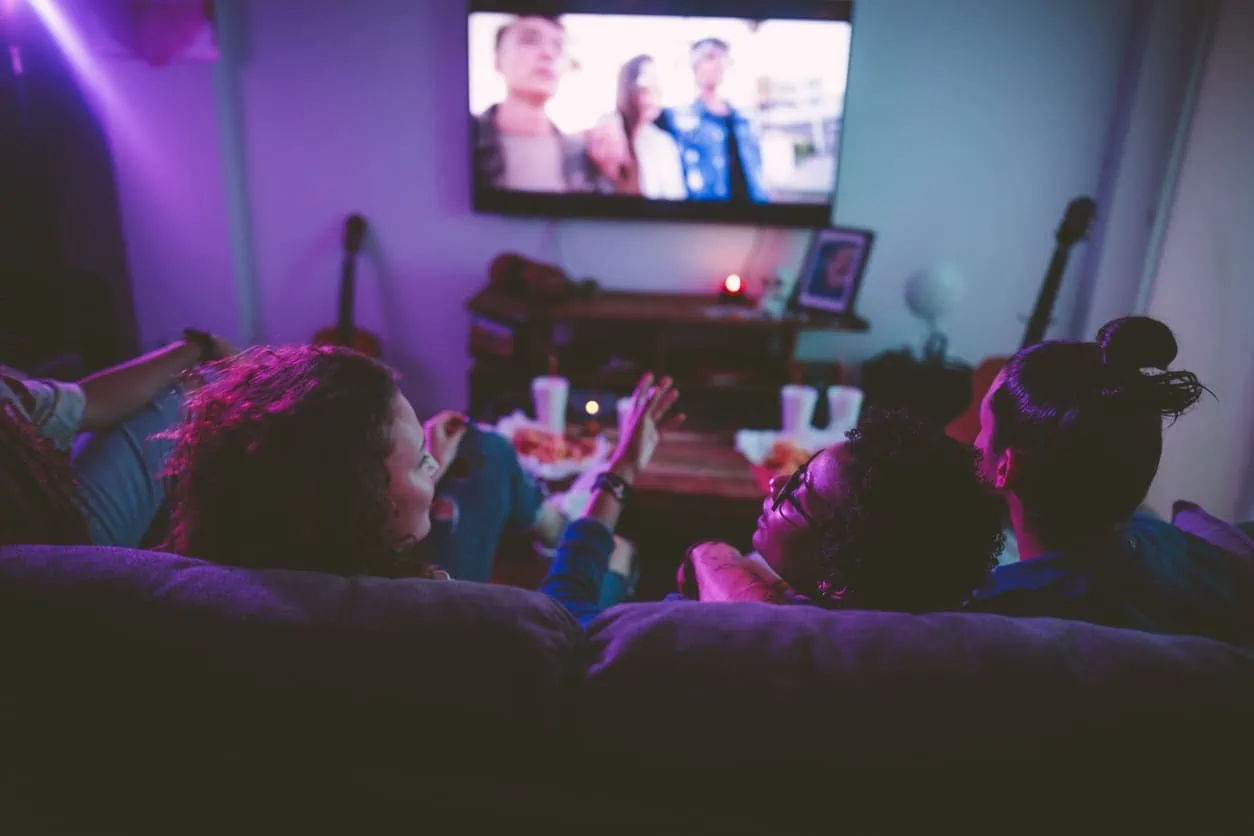 Want to experience the true and limitless power of live TV streaming services apps? Then, you'll need to use third-party apps.
Although third-party apps have a suspicious stance on legality, they let you access thousands of channels worldwide.
From sports to comedy, movies, documentaries, and news, free third-party streaming services apps let you tune into any popular TV network you like.
So, in this section, I'll tell you about the third-party apps, how you can install them on your Fire TV, and the list of popular ones.
Are you ready? Let's dive in without wasting any more time. 
What Are Free Third-Party Live TV Apps
Unlike free official live TV apps, third-party IPTV services aren't available on the Amazon App Store. Simply because they scrap the links of popular TV channels from unknown sources.
With third-party live TV apps, you can watch all your favorite channels of sports, entertainment, movies, news, and more for free. You aren't limited to a specific set of local channels like the official apps. There are hundreds of live TV channels you can stream via third-party apps.
Such apps are also available on all android devices. Similarly, they let you use external video players like MX Player, VLC, etc., to stream TV stations. Also, they receive updates just like official apps.
As there's always a risk in using free third-party live TV apps, I'll recommend using a VPN like ExpressVPN alongside. With it, you'll stay safe from any legal concerns if you happen to step on illegal content.
Furthermore, a VPN like ExpressVPN would help you stream in HD+ quality as ISPs tend to throttle internet speed on third-party live TV apps. Not to mention, some also block the whole services – more on it in the following section.
Should You Use a VPN With Free Live TV Streaming Apps?
Want to know the short answer? Yes! Now, here's the explanation:
As third-party live-streaming apps have a questionable legality status, internet service providers often block them. Unfortunately, this means they'll work too slow, not to mention if they'll do in the first place.
Using a VPN will get past the firewall set up by your ISP. Then, you'll easily be able to use such apps without any sacrifices like unlimited loading times, buffering, content unavailability, etc.
In most parts of the world like the UK, US, Canada, etc. ISPs block third-party apps that are somewhat fishy in terms of legal status. So, without a reliable VPN like ExpressVPN, you won't be able to access them and enjoy a seamless free TV watching experience.    
Are Third-Party Free Live TV Apps Legal & Safe?
We at FireStickTricks are strictly against piracy; that's why I want to acknowledge two concerns – legality and safety.
Are Third-Party Free Live TV Apps Legal?
Third-party channel streaming apps provides access to hundreds of premium networks for free – it feels like a dream too good to be true. That's why people are always reluctant to use them.
The apps only scrap the links of channels that are already available on the internet for free. However, the act itself isn't harmful, but it isn't also totally legal. 
And as we at FireStickTricks don't check the legality of the links, we can't coin a decision for you.
I'll recommend using a VPN service like ExpressVPN to make sure you don't fall into any legal trap accidentally.
Are Third-Party Free Live TV Apps Safe?
Such apps are created by unknown developers – that's why they aren't officially available on the Google Play Store.
So, there's always something fishy with free live streaming apps. Although we can't be 100% sure, these apps can access and distribute your data.
To keep yourself safe, use a VPN service whenever you use such apps. It'll help to keep your data and identity 100% secure.
How to Install a VPN on FireStick
Before I show you how to install free live TV apps on FireStick, I will start with the installation steps for ExpressVPN.
Step 1: Subscribe to ExpressVPN HERE. It comes with a 30-day money-back guarantee. Meaning, you can use it free for the first 30-days and if you are not satisfied with the performance (which is highly unlikely), you can ask for a full refund.
Step 2: Power ON your Fire TV Stick and go to Find followed by Search option.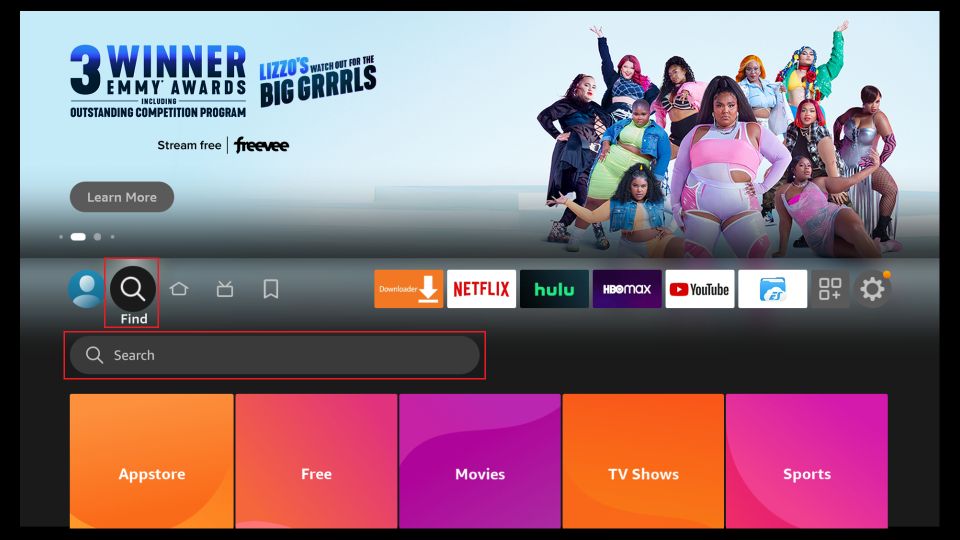 Step 3: Now type "Expressvpn" (without quotes) in the search bar and select ExpressVPN when it shows up in the search results.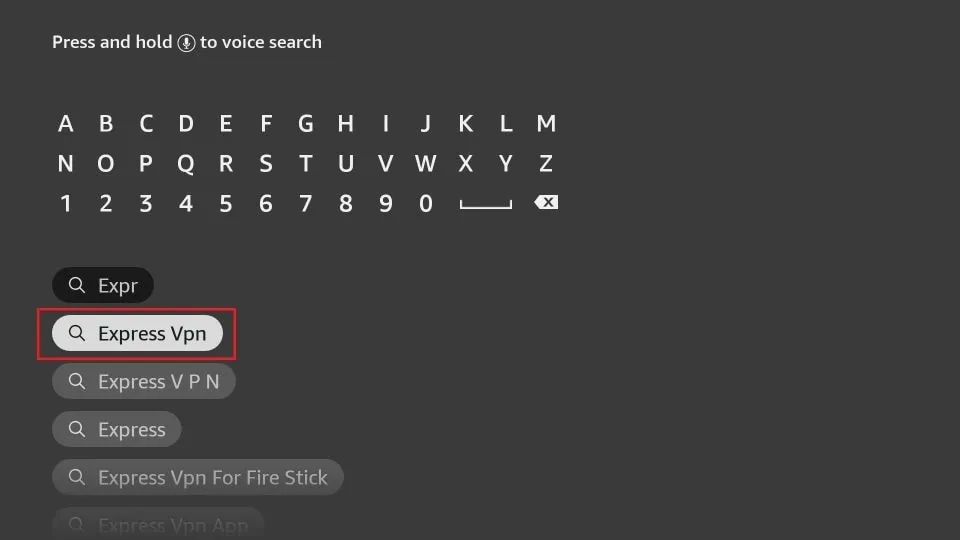 Step 4: Click Download to install the ExpressVPN app on Fire TV / Stick.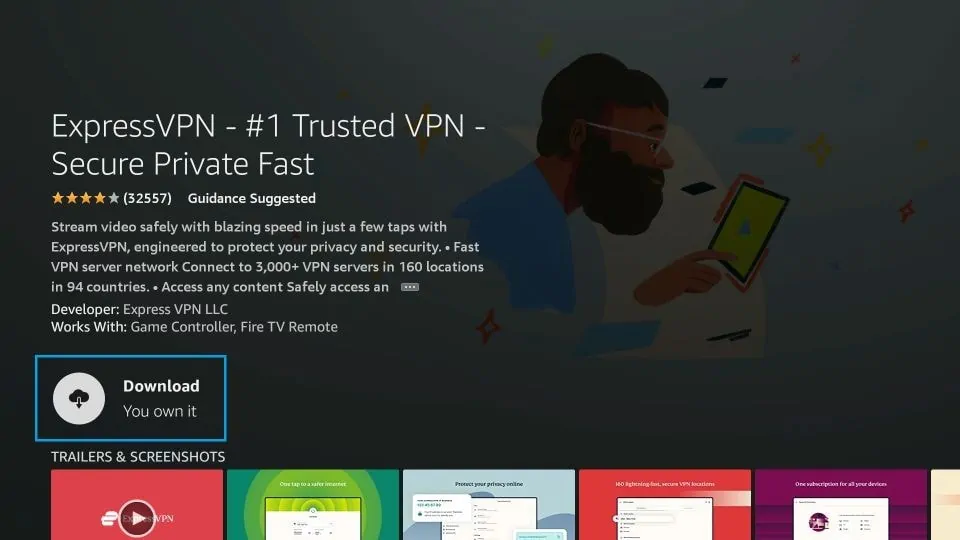 Step 5: Open the app and enter the login credentials that you created while buying the ExpressVPN subscription. Click Sign in.

Step 6: Click the Power icon to connect to a VPN server. That's all. Your connection is now secure with the fastest and best VPN for FireStick.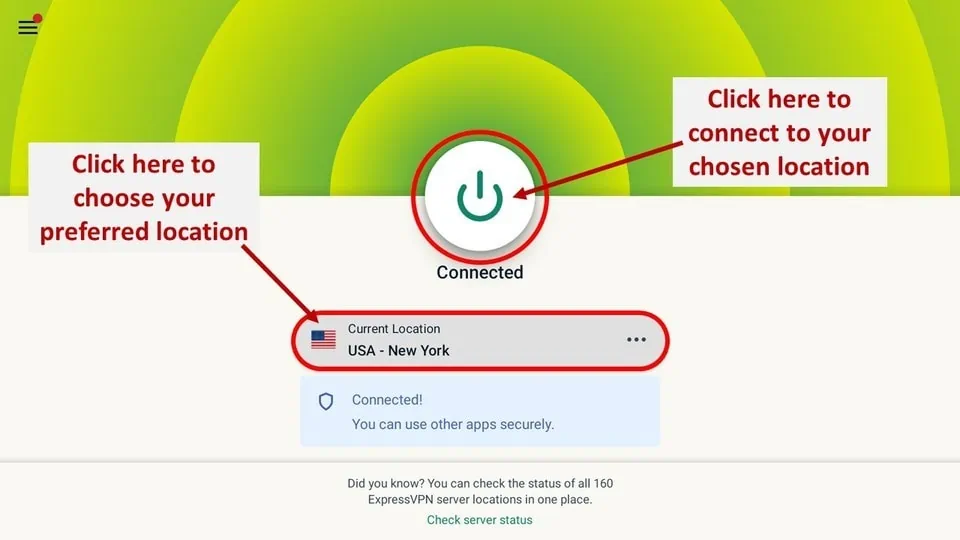 You can also read more detailed info on using ExpressVPN with Fire TV / Stick.
How to Install Third-Party Live TV App on FireStick
A third-party live TV app isn't available on Amazon App Store. You have to side-load it using the Downloader app and download the respective APK file. As the process is long, I have divided the section into two parts – so, let's dive in.
Part 1: Prepare Your FireStick to Download A Third-Party App
You'll have to prepare your FireStick to download and install a third-party app.
Firstly, download and install the Downloader app on your device. Here's a detailed walkthrough of how you can install it – How to Sideload Apps on FireStick with Downloader App.
Once the Downloader app is installed on your Fire TV, it's time to enable it for downloading and installing third-party apps.
By default, all Fire TV devices like Fire TV cube, Fire TV recast, Fire Stick, and more have a type of firewall turned on. You can disable it by going to Settings > My Fire TV > Developer Options > Install unknown apps > Downloader. Make sure it's turned on.
Now, you are all set – let's move forward and see how you can install a third-party app on your FireStick using the Downloader app. 
Part 2: Install A Third-Party App on Your FireStick
1. Long-press the home button on your Fire remote until the menu appears. Then, select Apps.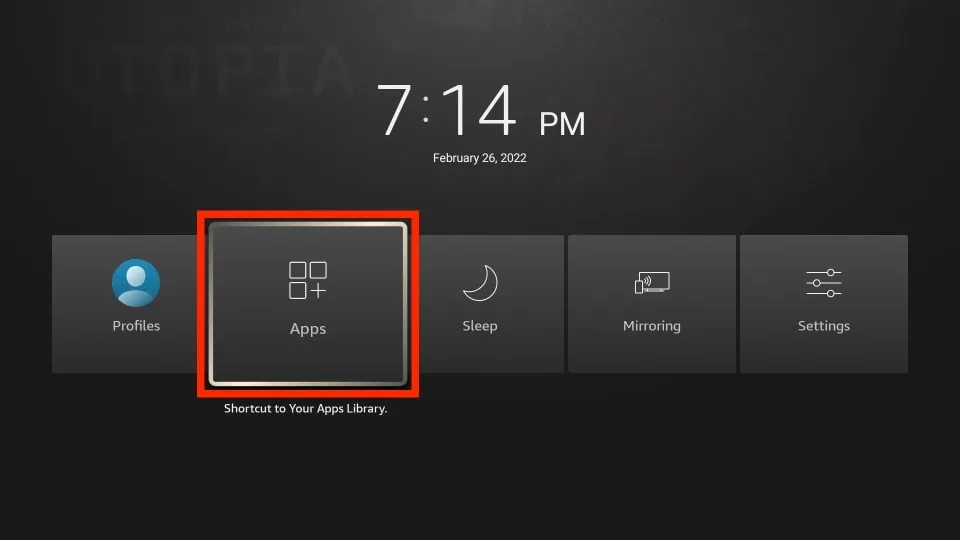 2. Next, select the Downloader app. If you don't see it, select the App Library tile – it would be available there.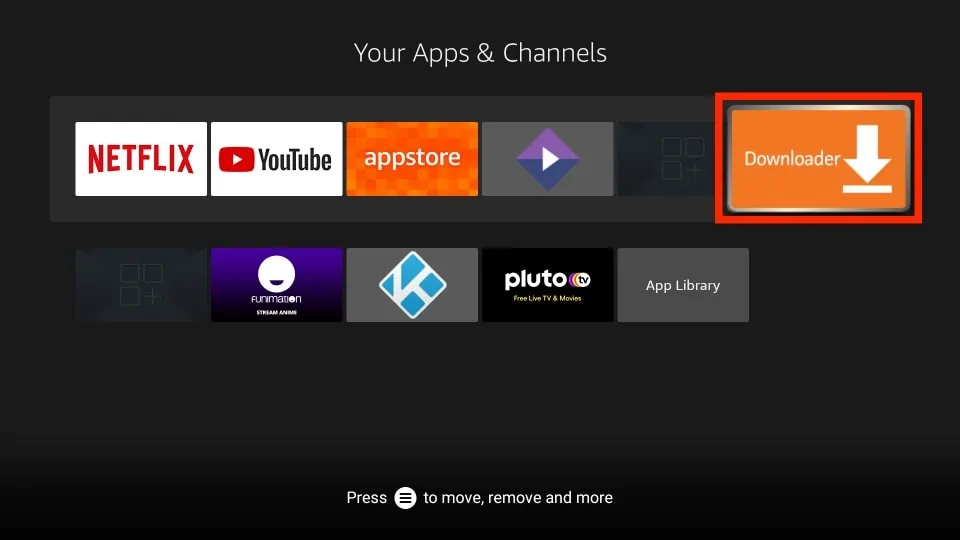 3. If you are launching Downloader for the first time, you'll come across two pop-ups. Allow the first one to access your files and folders and click Okay on the next one.
Then, you'll land on the home page of Downloader.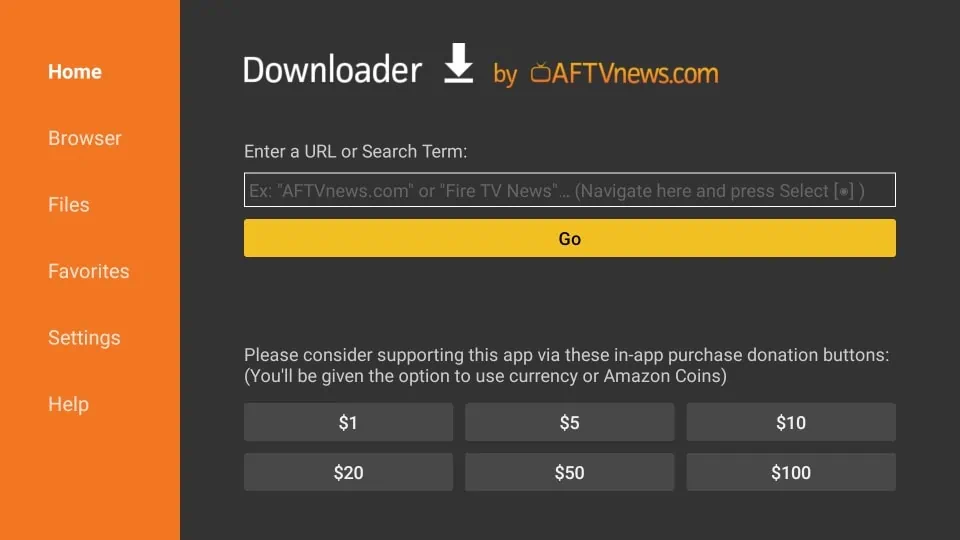 4. Next, select the input box on the Home tab under the Enter a URL or Search Term.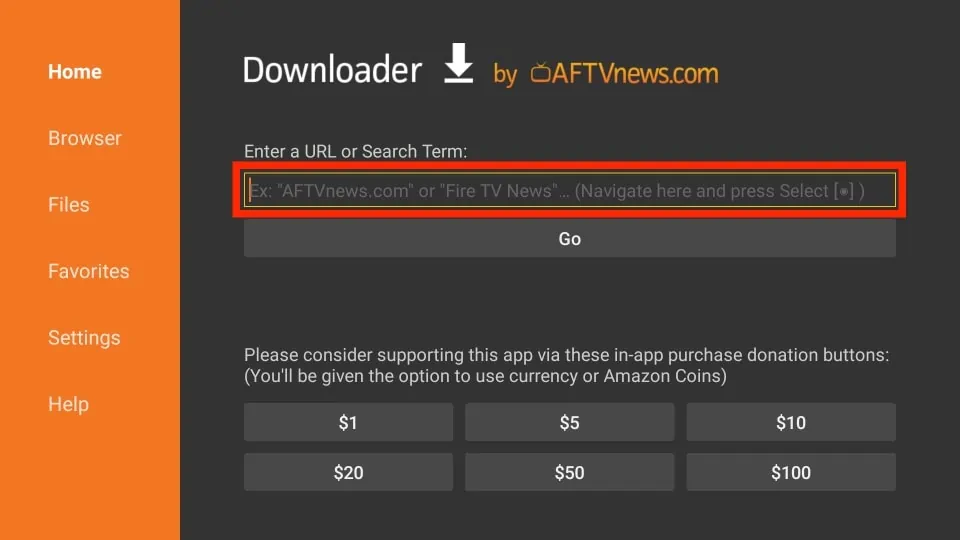 5. After that, an input menu with a keyboard will appear. Enter the URL of the third-party app you want to download.
I'm entering the URL of the Live Net TV app for demonstration purposes – http://livenettv.bz. Once done, click on the OK button.
Note: We at FireStickTricks don't host or own the app; we have just provided the official URL of the Live Net TV app.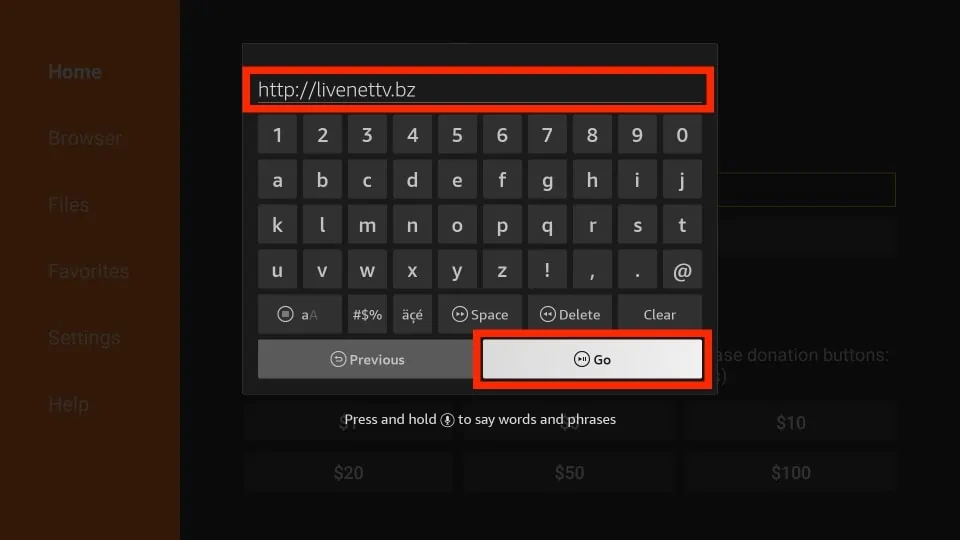 6. Wait for the Live Net TV website to load and after that, scroll down.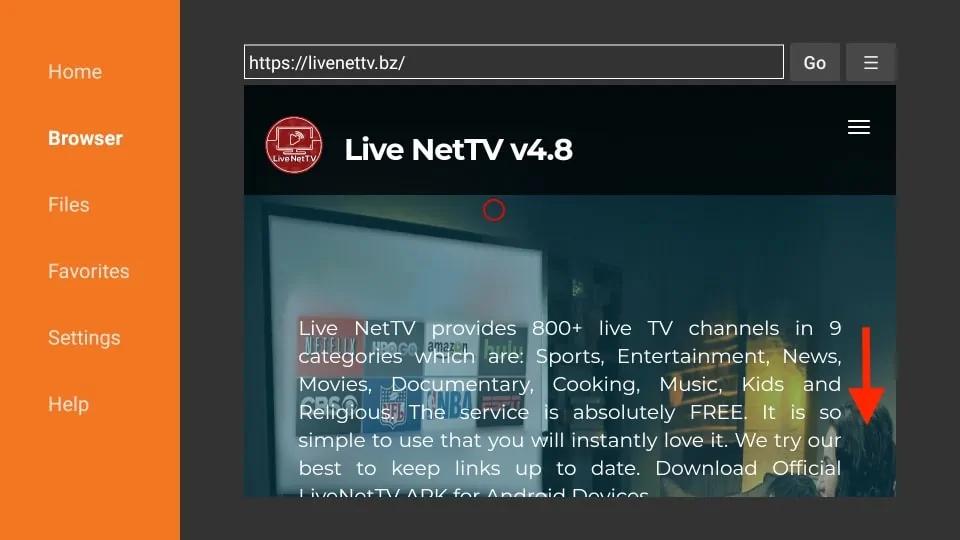 7. Then, click on the icon that says Download for Amazon Fire TV.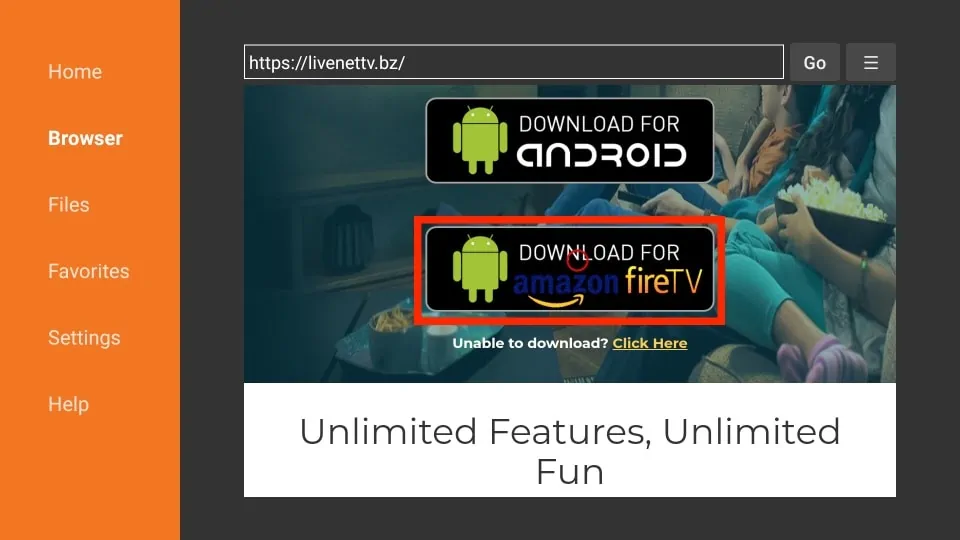 8. After that, the APK file of Live NetTV would start downloading.
9. Wait for it to complete. After that, your device would automatically stage the app for you. Then, click on the Install button located on the bottom right side of your screen.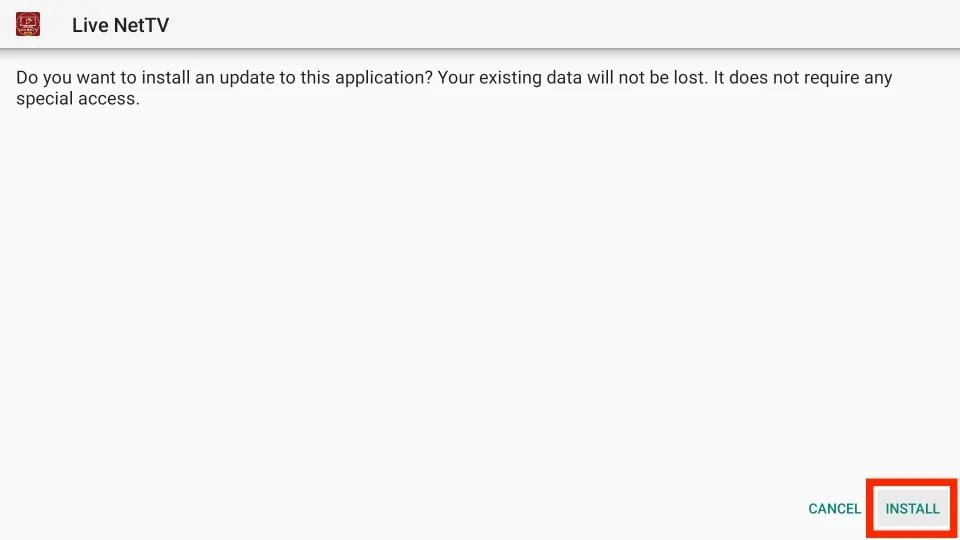 10. Wait for the installation process to complete.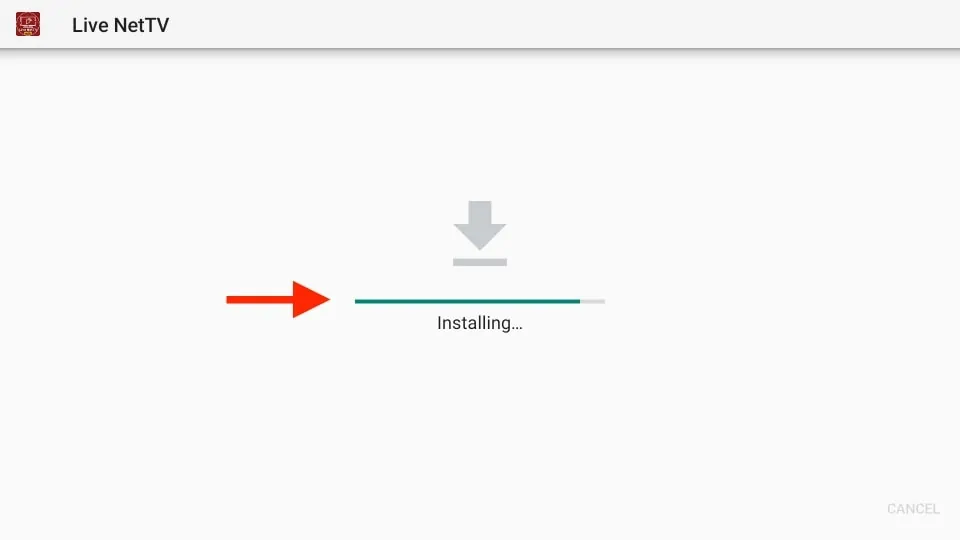 11. Lastly, click on the DONE button to close the installation screen – or you can click on OPEN to launch the app.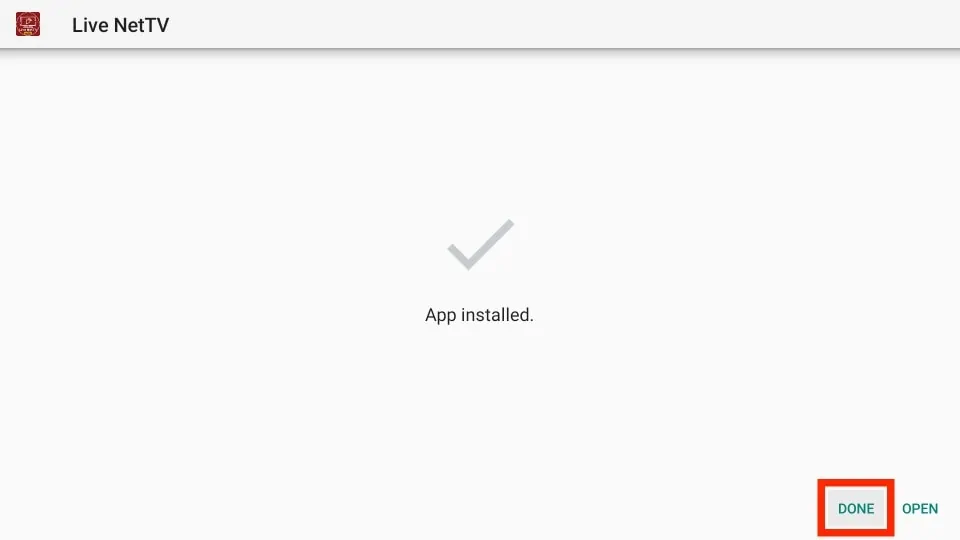 Congratulations! You have side-loaded a third-party live TV app on your Fire device.       
Top 6 Free & Third-Party Apps to Watch Live TV Channels
There aren't many third-party live TV applications that let you stream free channels. So, I have hand-picked the four best ones currently working and consist of the best library of channels. So, let's jump in and check them out one by one.
1. RedBox TV
RedBox TV is one of the best third-party apps to watch live TV on your Amazon device. There are hundreds of channels you can watch on RedBox TV in both SD and HD quality. Moreover, this app includes networks from various regions like the US, UK, India, Pakistan, Thailand, Bangladesh, etc. Similarly, the app also has genre sections like comedy, crime, news, sports, action, religion, etc.
RedBox TV is jam-packed with your favorite TV channels. Whether you are looking forward to catching up on a live game of football or watching a network-exclusive show, 
the app has got you covered. There are multiple links for all channels so that if one doesn't work, you can easily tune into the action via other available ones.
If a channel stream isn't working on RedBox TV, you can easily report it using the built-in reporting feature. Developers and maintainers of the app quickly take notice and ensure the streams are back online.
Thanks to the RedBox TV app's super-light size, it's super responsive even on the previous generations of Amazon TV devices. Also, the app has support for famous media players so you can fully customize your streaming experience.
All-in-all, RedBox TV is hands-down one of the most reliable third-party live TV apps you can get for Amazon Fire TV.  
How to Install Red Box TV on FireStick
2. Live NetTV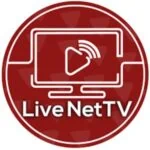 Live NetTV is another strong option to consider in the third-party live TV apps segment. This is an absolutely free service that provides over 800 channels in 9 categories like sports, entertainment, news, movies, documentary, cooking, music, kids, and religion.
Live NetTV gets updated daily with fresh links so that your live TV streaming experience doesn't get compromised. Similarly, it provides a no sign-up and no subscription gateway to greatness – just install the app, and you are good to go.
Want to watch a TV station that isn't available on Live NetTV? Don't worry! You can use the built-in request channel feature to list the name of networks you dearly want in the app. Also, there's a report channel function that allows you to report channels that aren't currently working.
There's a Live Events section in the Live NetTV app that lets you access the full list of upcoming and currently happening events. You can pick any event, and the app will automatically play it for you.
Live NetTV also includes a VOD section. Here, you can watch movies and TV series from Hollywood, Bollywood, Lollywood, and more. Also, there are custom channels that play different types of content 24/7.
In the settings tab, you can change the external media player to match the one you prefer. Similarly, there are some other settings you can tweak too to get the best performance out of the Live NetTV app.
From live channels to VOD and live events, Live Net TV has all the ingredients to be a one-stop-shop solution for people who eat, breathe, and sleep entertainment.    
How to Install Live NetTV on FireStick 
3. Swift Streamz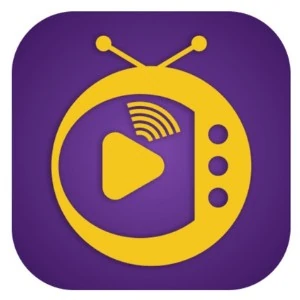 The world is changing, and the way of watching TV should, too – that's what the developers of Swift Streamz think. Swift Streamz is an amazing application where you can watch TV channels from around the world for free. 
Swift Stream, aka Swift Streamz, is one of the most searched applications on the internet. This app lets you watch over 700 live channels from regions like the US, UK, Bangladesh, Pakistan, India, Thailand, Canada, and more. 
Along with the list of countries, Swift Streamz lets you filter channels according to their genres. On the app, you'll find TV networks from categories like news, movies, lifestyle, sports, music, documentaries, religion, and more.
Swift Streamz comes with an advanced video player that supports all the hot video formats like MP4, HDRip, H264, and more. Also, the app lets you share the content using popular sharing features like DLNA and miracast.
Thanks to the amazing links of Swift Streamz, you won't face any buffering or stuttering issues when streaming your favorite channels. Also, the app has both SD and HD versions of the majority of available TV networks.
All-in-all, Swift Streamz is one of the best apps to watch TV channels for free.  
4. HD Streamz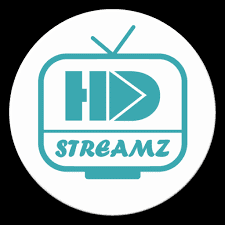 Are you looking forward to streaming 1,000+ live TV channels on your Amazon Fire Stick? Then, look no further than the HD Streamz app.
With HD Streamz, you can watch music, sports, movies, lifestyle, news, and various other types of channels. In addition, there are multiple links available for the majority of available channels, so you can go to another when one isn't working.
In HD Streamz,  you can choose from a large number of channels from the United Kingdom, the United States, the United States of America, India, Pakistan, Middle Eastern countries, Turkey, and several other countries.
By using the search function on HD Streamz, you can find any channel you like. However, if it isn't available, you can request the channel using the built-in feature. Developers of HD Streamz would try their best to make it available for you.
All the channels on HD Streamz are available at maximum video quality with peak sharpness. Also, they are interference-free as developers have made the app to catch just the right frequencies for every channel.
With HD Streamz, you can discover the world's top radio stations, thanks to the separate radio section. Also, the app features a versatile catalog of TV shows and movies – so you can stay fully entertained.
Live channels, movies, radios, news, videos, and you name it, HD Streamz is the app of dreams.     
How to Install HD Streamz on FireStick
5. TvMob (Tv Tap Pro)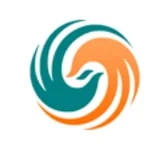 TvMob or Tv Tap Pro is another great third-party live streaming app you can install on your Fire TV to watch free channels.
TvMob features nine sections, home, entertainment, movies, music, news, sports, documentary, kids, and food. Inside each section, you'll find many free channels available in both SD and HD quality.
Unlike other similar apps, TvMob doesn't have multiple links. However, all the channels work just fine on single links. TvMob offers good video quality for most channels. But there are some TV networks that are only available in standard definition.
On TvMob, you'll find channels from regions like Arab, Canada, France, Germany, Italy, Netherlands, Portugal, Spain, United Kingdom, United States, and others. By default, all regions are selected, but you can uncheck the ones that you don't want to see on your feed.
Although TvMob features a built-in video player, you can change the player to the one you like. Also, you can add channels to your favorite list and play them whenever you want. Similarly, there's a search function that lets you find any of your favorite channels.
With hundreds of channels, reliable links, a user-friendly interface, and external video player support, TvMob is one of the best free TV streaming apps.
How to Install TV Tap on FireStick
6. AOS TV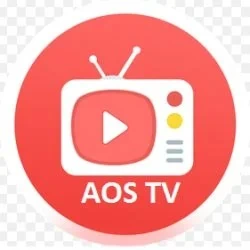 Today, everything is just a tap away, thanks to cutting-edge advancements in technologies. Still, apps that provide a free live channel streaming experience are missing. And that's where AOS TV comes in.
AOS TV APK lets you watch hundreds of TV channels from different parts of the world. USA, UK, Saudi Arabia, India, Pakistan, Bangladesh, France, Italy, Canada, Portugal, and you name it; the app contains channels from every region.
On AOS TV, you'll find TV channels categorized in proper genres like Sports, Religion, News, Movies, Entertainment, and more. Inside each genre, you'll find multiple of your favorite channels.
Recently, developers of AOS terminated the services of the APK. However, the app is back online. You can download it on your FireStick, install an advanced file manager, and viola! You are all set to stream hundreds of free TV networks from around the world.
Want to know what's trending in the world? Well, guess what? There's a separate section for all the trendy stuff happening worldwide, including sports events, entertainment topics, and more.
AOS TV app also comes with the built-in Chromecast feature so you can share whatever you are watching on a compatible device.
All-in-all, AOS TV is one of the best free TV streaming apps. And after its revival, it has just got better and bigger.   
How to Install AOS TV on FireStick 
Final Words
And that's a wrap! I presented you with the complete guide on how to watch live TV on FireStick, which includes everything. 
From installation to app descriptions and legal issues, the article contains everything you need to know about watching live TV free on Fire TV.
So, which app are you currently using on your Fire TV? Tell me in the comment section below. Also, if you have any questions regarding the piece, feel free to ping us.
And as always, happy cord-cutting!  
Related:
Legal Disclaimer - FireStickTricks.com does not verify the legality or security of any add-ons, apps or services mentioned on this site. Also, we do not promote, host or link to copyright-protected streams. We highly discourage piracy and strictly advise our readers to avoid it at all costs. Any mention of free streaming on our site is purely meant for copyright-free content that is available in the Public domain. Read our full disclaimer.
Disclosure - FireStickTricks.com is reader-supported blog. When you buy a product through links on our site, we may earn commission. Learn More