In this article, we'll look at the best Downloader codes for streaming movies, TV shows, live TV, and more. These codes will work with all Amazon Fire TV Stick devices, including FireStick Lite, FireStick 4K, New FireStick 4K, New FireStick 4K Max, Fire TV Cube, and Android TV boxes. All the apps listed in this article are free to download and stream.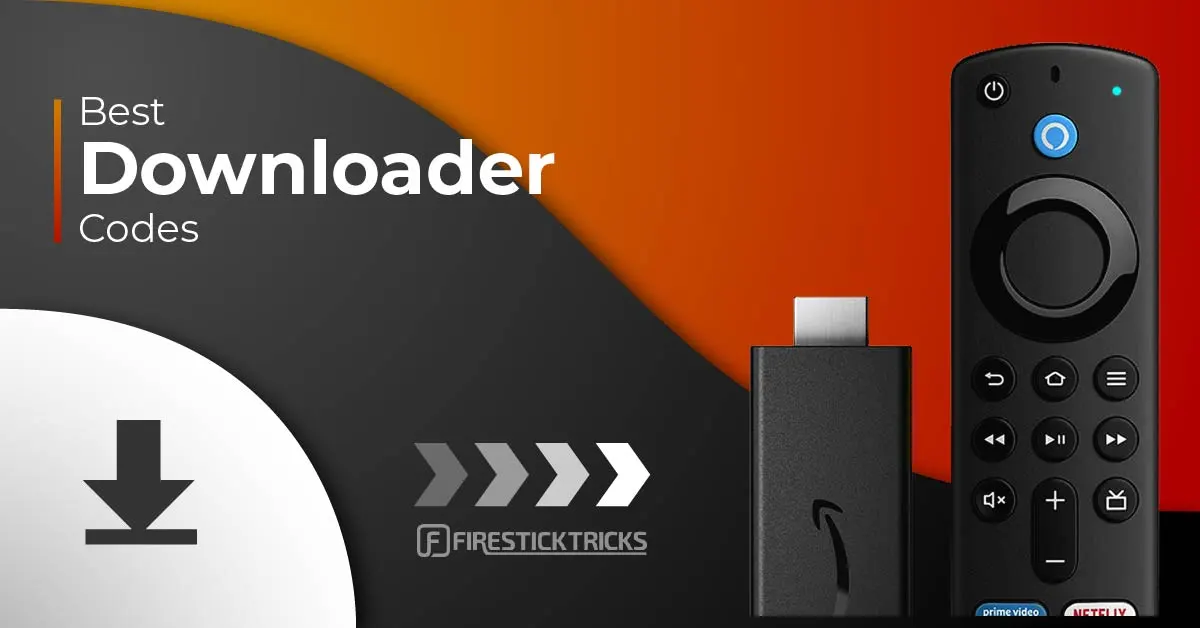 Let's admit it: URLs can be unwieldy at times. Most of the time, URLs are long and involve several special characters. Typing them out on a keyboard or smartphone usually isn't too challenging, but what about with a remote?
Typing a long URL with a mix of special characters is a cumbersome process on FireStick and Smart TVs. Fortunately, there is a solution that helps you avoid this trouble.
If you are a FireStick user, you've likely heard of the Downloader app, which lets you sideload apps. Sideloading typically requires typing out an entire URL with your FireStick remote. But that's changing now!
From now on, you don't need to enter the full URL. You can punch the Downloader codes. These codes are 5 to 6-digit numbers that serve as a shortcut to a URL.
For instance, the Downloader code 59745 is the shortcut to the long URL https://www.firesticktricks.com/cinema. Instead of typing the entire URL, you type the shortcode. This shortcode redirects you to the main URL.
Note: FireStickTricks.com does not host any APKs. This URL points to an external source. 
Attention, FireStick Users!
Governments and ISPs constantly monitor your online activity, and accessing copyrighted content on your Fire TV Stick could lead to serious trouble. Currently, your IP is visible to everyone. I strongly recommend getting the best FireStick VPN to mask your IP address and securely stream your favorites.
I personally use ExpressVPN, the fastest and most secure VPN available. Not only is it easy to install on any device, it comes with a risk-free 30-day money-back guarantee. Plus, if you're not 100% satisfied, you can always get a refund. ExpressVPN is currently also offering a whopping 3 extra months free on their annual plan!
Read: How to Install and Use Best VPN for FireStick
What Is Downloader?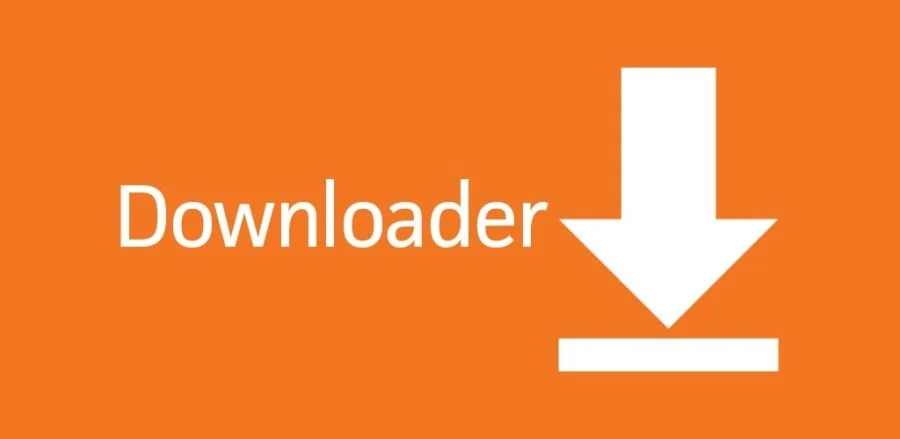 Downloader is a crucial tool created to make it as easy as possible to download apps on FireStick devices. In 2016, Elias Saba from AFTVNews developed the app known as Downloader to help him install Kodi on his Amazon Fire TV. The rest is history.
You only need to enter a URL directly pointing to a file. The app downloads APK files from the internet and installs them on your device. The Downloader app is a lifeline for the FireStick streaming community.
The app is free, easy to use, and doesn't show any ads. Per the official claims, the app continues to operate via donations submitted through the app's home screen.
AFTVnews URL Shortener
The Downloader app made sideloading apps more effortless, but the tedious part is typing out the entire URL using a virtual keyboard.
Many people use URL shorteners, but you still have to deal with a few special characters like "." and "/" that require entering and exiting the special-character portion of the on-screen keyboard.
Understanding the need for an alternative, Elias Saba rolled out the AFTVnews URL Shortener in 2020. 
How Does Downloader URL Shortner Work?
As explained earlier, a Downloader code is a 5-6 digit numeric code that points to the original URL. 
You can create the Downloader code for any URL by going to https://go.aftvnews.com. However, you don't need to create any codes as we have already done that for you.
Once you have the code, type it in the text box of the Downloader app. The code will redirect to and open the main URL.
How to Use Downloader Code
I tried installing the Ocean Streamz APK with a Downloader code, and as expected, it worked flawlessly. If you need some practice, follow the steps below to install Ocean Streamz using the Downloader code. Or follow the same steps with a different Downloader code if you want to install a different app.
Our list of recommended apps and their respective Downloader codes are just below these brief instructions on how to use Downloader codes.
1. Open Downloader on your FireStick.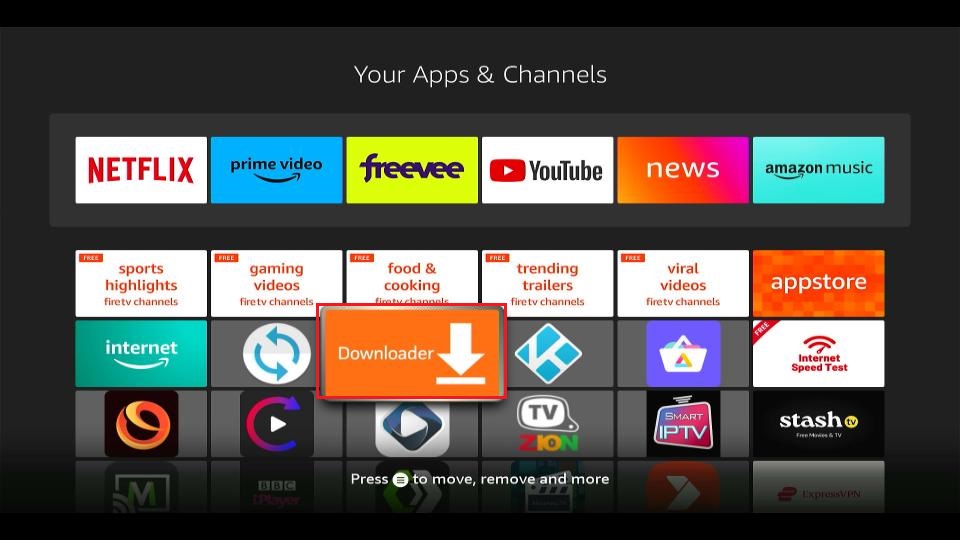 2. Click the input box that says Enter a URL or Search Term.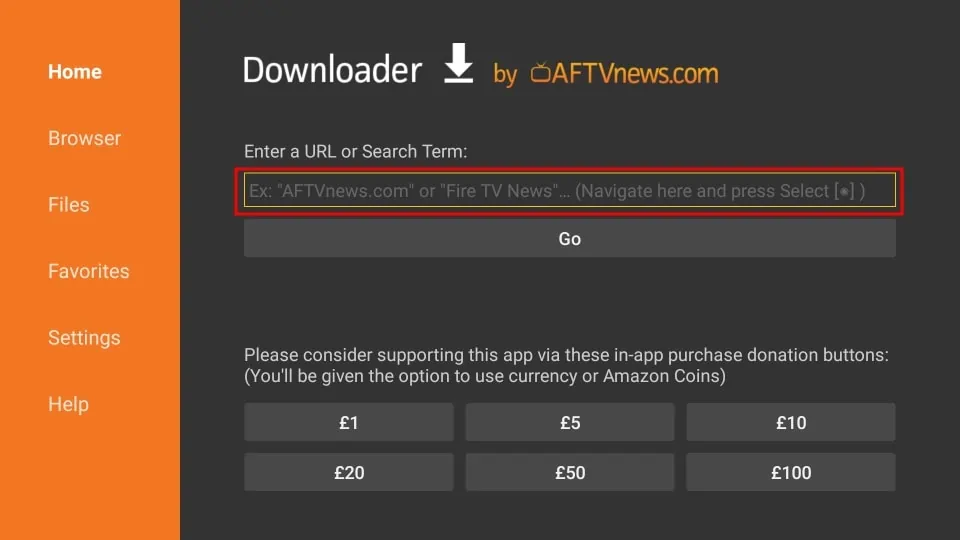 3. Using the virtual keyboard, type 64254 and click Go.
Note: The code 64254 will download Ocean Streamz. If you want to install a different app, use the respective code for that app. Please scroll down to our list for some ideas. Furthermore, FireStickTricks.com does not host any URLs. This code redirects to an external URL.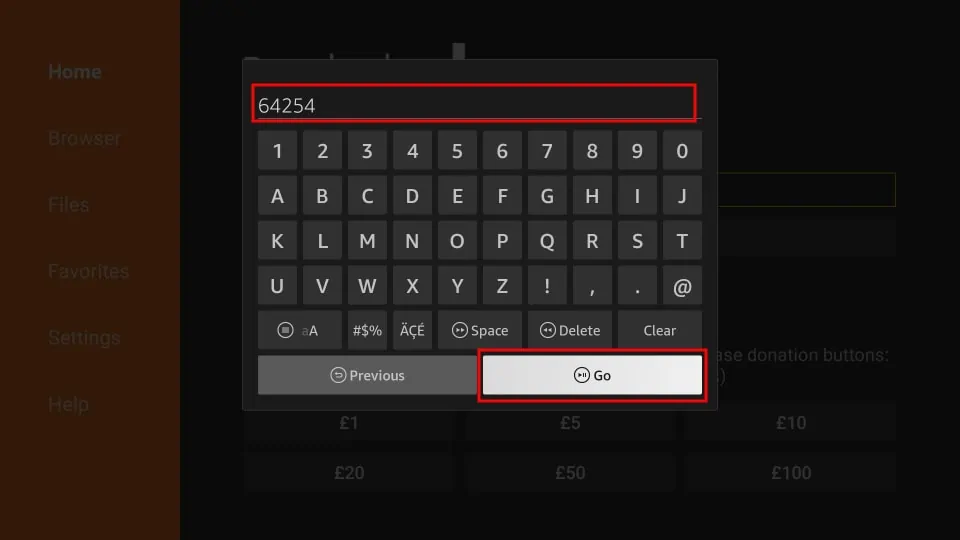 4. The download will begin in 5 seconds.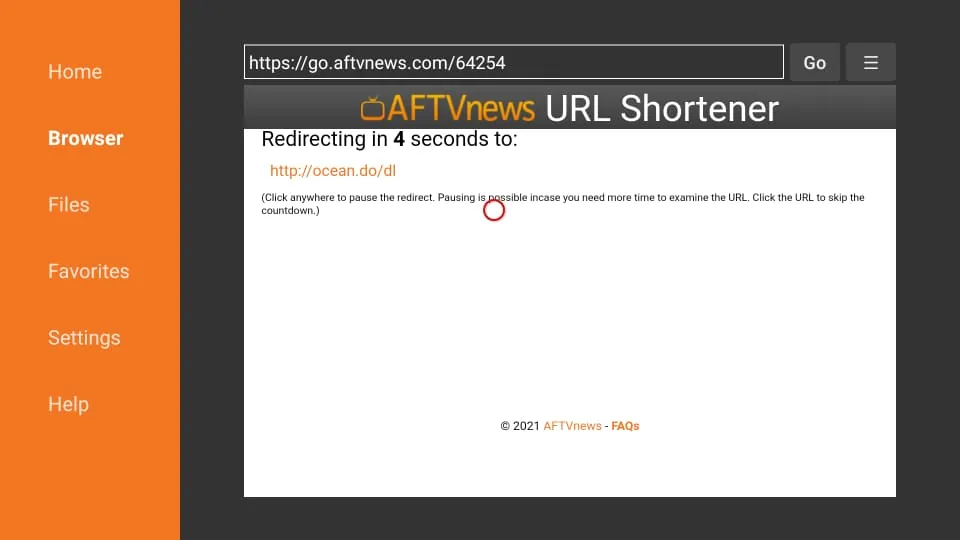 5. Wait for the download to finish.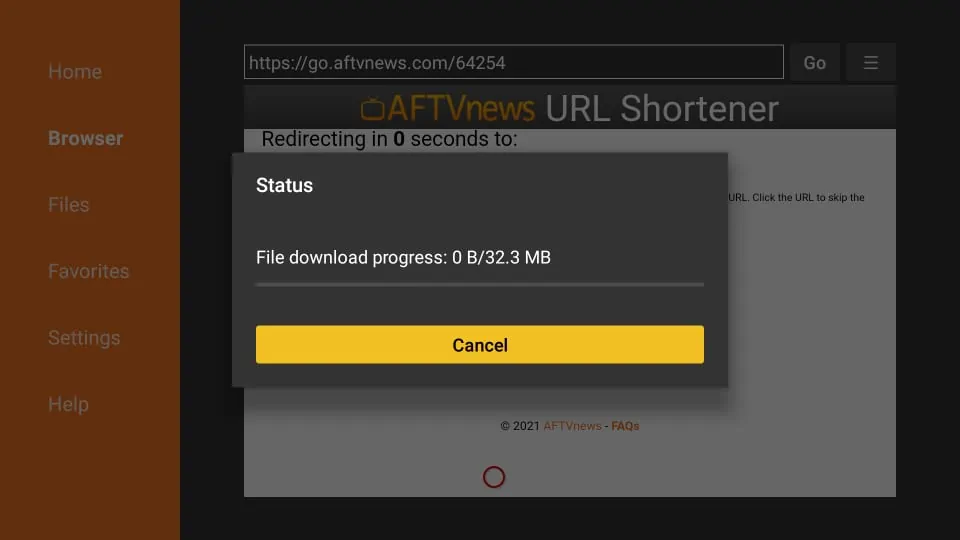 6. Select Install.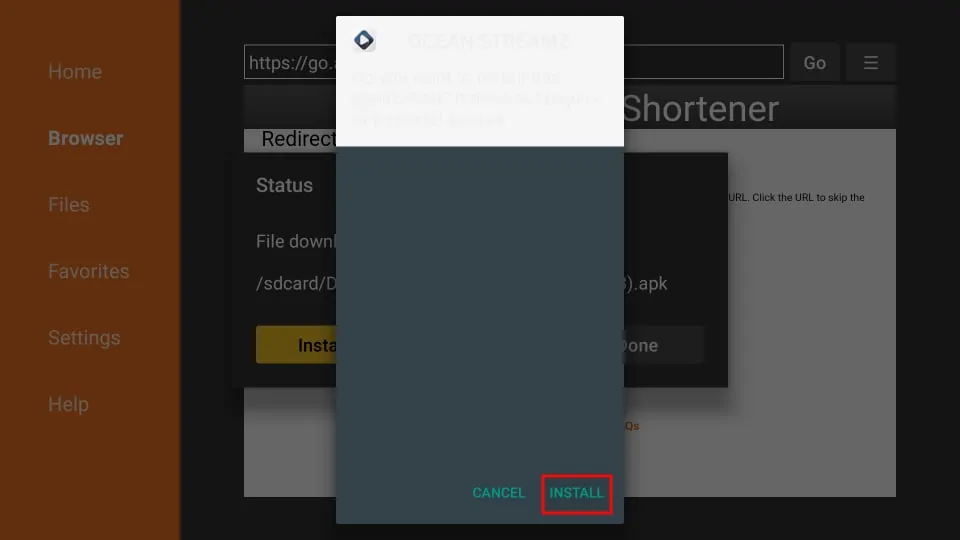 7. Click Done.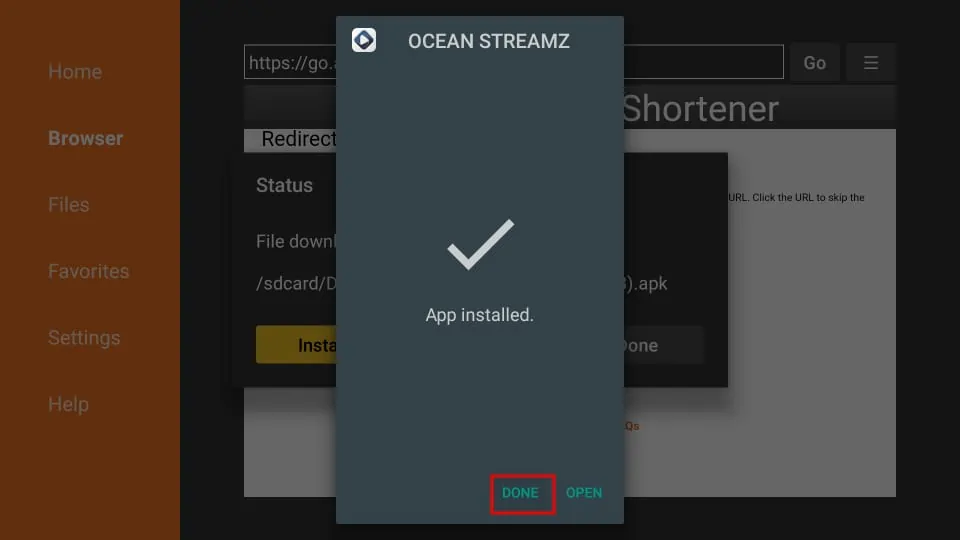 I hope you know how to use Downloader codes now! Below is a list of the best Downloader codes for some popular apps to stream movies, TV shows, Live TV, and sports. I have added a couple of utility apps as well.
Best Downloader Codes for Movie and TV Show Apps
In this section, I've listed Downloader app codes for the best free movie and TV show streaming apps for FireStick. Each app offers an extensive range of free content right away.
Legal Disclaimer: This tutorial is purely educational. FireStickTricks.com doesn't own, host, operate, resell, or distribute any streaming apps, addons, websites, IPTV or services. The page contains some unverified services, and we are not certain whether they hold legal licenses to distribute the content. FireStickTricks.com does not verify the legality of each app/service in all regions. Do your due diligence if you use any of the unverified apps/services, and stream only content that is available in the public domain. The end-user shall be solely responsible for the media accessed.
1. Cinema HD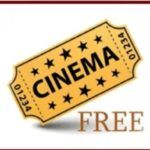 Previously known as HDMovies, the app lets you catch up on the latest Hollywood flicks and TV shows in a few clicks. The app is updated with new content regularly.
The content is available in 720p and 1080p.
Cinema HD APK is lightweight and won't burden low-memory devices like FireStick or Chromecast.
Downloader Code: 59745
How to Install Cinema HD APK on FireStick
2. Cuco TV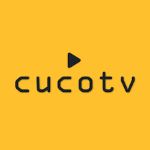 Cuco TV is yet another FireStick app for streaming movies and TV shows. It has various content, including documentaries, kids' content, family content, and blockbuster videos. All these videos are free. You don't have to sign up or register to access content.
The app is user-friendly, with content categorized neatly for easy access. It is also one of the few FireStick apps with an in-built media player. Streaming content on Cuco TV is easy, and picking your favorite content is easier.
The app pulls movie and TV show descriptions from IMDB, showing the synopsis, cast, and genre. It also offers subtitles if you prefer to watch your videos with captions.
What makes the app stand out is the fluidity. You can browse content by keyword, title, or genre. When you select a video, the app shows you other recommendations with similar titles or ratings.
Downloader App Code: 512325
How to Install Cuco TV on FireStick
3.

CyberFlix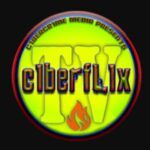 CyberFlix is a one-stop solution for all your movie streaming needs.
The app offers an extensive HD collection of movies and TV shows. Plus, there are no annoying ads.
The team behind CyberFlix provides frequent updates to both the software and the content. On top of that, the app supports Real-Debrid service and subtitles for more than 220 languages.

Downloader App Code: 59601
How to Install CyberFlix on FireStick
4. TeaTV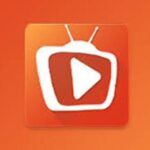 TeaTV is one of the most popular streaming applications that lets you stream TV shows, movies, and other video content in HD.
The app has a solid library, a straightforward interface, and takes up very little storage space.
If you are a TV show enthusiast, then the TeaTV app is all you need. 
Downloader Code: 49074
How to Install Tea TV on FireStick
5. UK Turks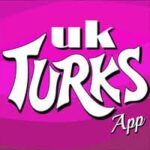 UK Turks offer movies, TV shows, live TV, and more without any advertisements.
The all-in-one app provides everything you could ask for in a streaming service.
Besides movies and TV shows, you can catch up on the radio, cartoons, and CCTV.
Downloader App Code: 212486
How to Install UK Turks on FireStick
6. MediaBox HD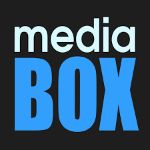 MediaBox HD is one of the most widely used apps for streaming movies and TV shows. The app fetches high-quality links across premium sites for the best streaming experience.
MediaBox HD has various features, including Trakt integration, Real-Debrid integration, offline watching, a customizable theme, and movie/show requests.
The content library is constantly updated with the latest releases and recently aired episodes. 
Downloader Code: 48797
How to Install Mediabox HD on FireStick
7. MegaBox HD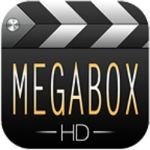 MegaBox HD is a great option to watch your favorite movies and TV shows.
You may want to use this app if you stream offline often because it lets you download movies and TV shows.
The app lets you choose between 360p, 720p, and 1080p resolution. In terms of its content, Mediabox HD is updated regularly. 
Downloader App Code: 70334
How to Install Megabox HD on FireStick
8. FilmPlus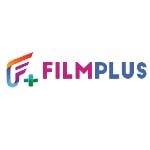 This app offers Real-Debrid integration and multiple links for every piece of content for a smooth user experience. FilmPlus lets you download content to watch it on the go.
The app also hosts movies in 15 languages, including Spanish, Hindi, and English.
The movies and TV shows in the library are available in a range of high resolutions, from 720p to 4K.
Downloader App Code: 375556
How to Install FilmPlus on FireStick
9. BeeTV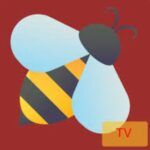 BeeTV is yet another modular search tool at your disposal for searching content.
The app categorizes the content for easy navigation and ease of understanding.
BeeTV supports Real-Debrid service and Trakt integration for enhanced user experience. Bee TV is the one if you are looking for an app with an extensive video content library. 
Downloader Code: 68034
How to Install BeeTV on FireStick 
10. Kodi
Kodi is a free, open-source media player developed by XBMC Foundation.
The app lets you play every type of media, like movies, TV shows, music, photos, and games, from local and network storage and the internet.
According to official claims, there are nearly 1000 addons available at present.
The app gets updated regularly, thanks to developers around the world. 
Downloader Code for Kodi 19: 85541
Downloader Code for Kodi 18: 20736
How to Install Kodi on FireStick
Best Downloader Codes for Live TV and Sports Apps
Now, let's focus on some free live TV and Sports apps. These apps allow cord-cutters to watch thousands of live TV channels and sports from any country for free. Check them out!
11. Peacock TV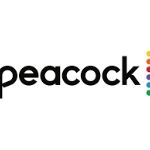 After nearly a year, NBC has finally launched Peacock TV on the Amazon App Store.
The app is available in two plans: a free plan and a paid plan. With the free version, you can watch thousands of movies, TV shows, and other sports, news, and pop culture content.
However, the free plan offers limited content, of course. Peacock Premium unlocks everything on Peacock, from original series to new episodes of current NBC and Telemundo hits just a day after they air. 
Downloader App Code: 70430
How to Install Peacock TV on FireStick
12. Stremium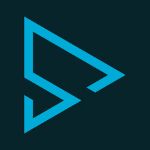 Stremium (formerly FitzyTV) is a live TV streaming app that turns your device into a DVR for streaming TV channels. The app lets you watch and record all your favorite TV channels.
The app offers both free and subscription plans. You can access Cloud DVR Storage only in premium plans, but you get it initially for 7 days as a free trial. Best of all, the app gets updated regularly.
Stremium is available on the Amazon App Store for direct download. At the same time, you can sideload the app using an app like Downloader or ES File Explorer.
Downloader App Code: 16735
How to Install Stremium on FireStick
13. OLA TV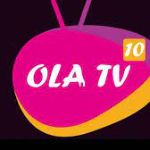 OLA TV is the best TV replacement if you are a cord-cutter. The app offers around 5,000 channels from many countries around the world.
The app is light, so the performance will be smooth on low-storage devices. OLA TV streams channels from multiple servers.
All you need to do is pick a category, network, and stream. This app is one of the best options if you are interested in content beyond your region. 
Downloader App Code: 43822
How to Install OLA TV on FireStick
14. TVTap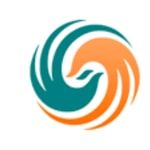 TVTap is yet another live TV app with a solid set of cable TV channels from all around the world.
The app offers recommendations based on what you're watching. You can watch channels across various categories, including entertainment, movies, music, kids, sports, food, and documentaries.
The app lets you filter channels by country or region as well. It has support for external video players. 
Downloader App Code: 685100
How to Install TVTap on FireStick
15. HD Streamz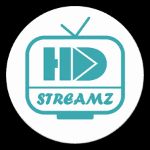 If you are looking for a reliable app to stream TV channels globally, HD Streamz is a decent option.
The app lets you stream over 1,000 channels from various places, like the UK, the US, India, Turkey, and the Middle East.
You can catch up on live TV, radio stations, and sports events. HD Streamz lets you filter content based on quality, genre, and country.
Downloader App Code: 90248
How to Install HD Streamz on FireStick
16. Dofu Sports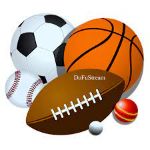 As the name suggests, Dofu Sports is a sports-focused FireStick app. It offers quality sports content, including live games, replays, and live scores.
If you are a sports enthusiast, this app has much to offer in American football, soccer, basketball, and other popular sports.
It is free. You don't need to register to access your favorite sports. However, it is ad-supported, which is a fair price to pay for free exclusive sports.
Downloader App Code: 342254
How to install Dofu Sports on FireStick
17. TiviMate
TiviMate is an IPTV player designed to work with IPTV services that provide M3U links, Xtream Codes, and Stalker Portal. The app does not provide any live TV channels by itself.
TiviMate offers both free and premium services, but in both cases, you can only watch live TV channels with TiviMate if you have an active subscription to an IPTV provider. 
Downloader App Code: 72816
How to Install and Use TiviMate on FireStick
18. BPlayer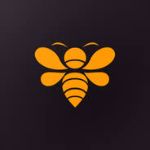 BPlayer is a third-party media player. It supports various audio and video files, including MKV, MOV, AVI, OGG, ACC, FLAC, and WV.
It's a handy FireStick app because some streaming apps don't have an inbuilt media player. They rely on third-party players like BPlayer.
BPlayer has an intuitive user interface that organizes your files into neat folders. These folders include videos, audio, and history. It supports high-quality streams and other excellent features like subtitles.
Downloader App Code: 860400
How to install BPlayer on FireStick
19. HDTV Ultimate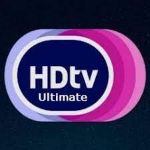 HDTV Ultimate is yet another live TV streaming application that offers hundreds of channels worldwide.
Besides live TV, you can also stream sports content and a limited collection of on-demand movies.
The app supports external video players like MX Player, VLC, and ExoPlayer. If you are not into customization, HDTV Ultimate is a decent choice. 
Downloader App Code: 56389
How to Install HDTV Ultimate on FireStick
Best Downloader Codes for Utility Apps
Finally, but importantly, here are some free utility apps! Even though I have listed just two, these utility apps will help you do more with your FireStick. Give them a try!
20. MX Player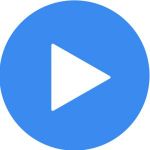 You have probably heard of MX Player if you are a regular streamer.
For the uninitiated, MX Player is a media player that lets you play any video/audio content regardless of the format.
Similar to VLC Player, MX Player is reliable and lightweight.
MX Player is supported by Cinema HD, TVTap, Syncler, HDTV Ultimate, and plenty more popular streaming apps. 
Downloader App Code: 76252
How to Install MX Player on FireStick
21. Mouse Toggle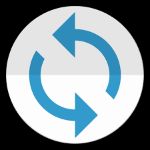 Sometimes, you'll install third-party apps on your FireStick, then realize they are incompatible with the FireStick remote.
This is because some apps were initially meant for hand-held Android devices. Also, the FireStick remote lacks a mount pointer.
The Mouse Toggle is a third-party utility app with a virtual mouse cursor. It streamlines navigation on apps that are incompatible with the FireStick remote.
Downloader App Code: 73078
How to install Mouse Toggle on FireStick
22. ES File Explorer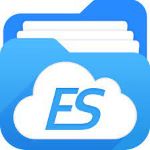 ES File Explorer is a multi-utility tool that lets you manage your apps. You can use it for storage management, file transfer, connecting to cloud drives, and sideloading apps.
Most features here are free, but sideloading apps require a monthly subscription at $9.99.
The app is available on the Amazon App Store. However, it also has an unofficial version which unlocks all the features for no price.
You can sideload the unofficial version of the app on FireStick.
Downloader App Code: 989768
How to install and use ES File Explorer on FireStick
23. Aptoide TV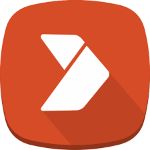 Aptoide TV is a Google Play Store alternative. It houses thousands of Android apps, including those unavailable in official stores.
If you are looking for a one-stop shop for most of your FireStick apps, Aptoide TV offers precisely that.
It offers a simple way to install apps on your FireStick. Whether you are looking for movies and TV shows, sports, utility, gaming, or music apps, this repository has it all.
The user interface is easy to use, with a search function that lets you find apps quickly.
Downloader App Code: 76518
How to Google Play Store (Aptoide TV) on FireStick
24. Task Killer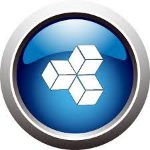 Task Killer is a utility app that helps you manage your FireStick apps. It speeds up your FireStick's performance by closing unnecessary background apps.
When you open several apps on your FireStick simultaneously, they can slow down the performance.
These apps take up a lot of space and random access memory (RAM), which consequently causes buffering, hanging, and other performance issues.
The Task Killer app monitors your browsing activity to determine apps you're not using, yet they are running in the background.
It force-closes these apps to clear memory and space, which optimizes the device's performance.
Downloader App Code: 875080
How to install Task Killer on FireStick
25. TPlayer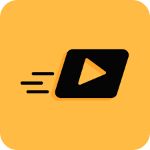 TPlayer is another third-party media player that's a great addition to your FireStick apps.
It supports most file formats and is compatible with most streaming apps. In fact, the media player is required for the Tea TV app to stream content.
It is the chosen companion for the movies and TV show app,  and you can't stream content on Tea TV without it.
The user interface is excellent, with playback features like subtitles support.
Downloader App Code: 311395
How to install TPlayer on FireStick
Your FireStick / Fire TV is now all ready to stream your favorite content. However, before you start, I would like to warn you that everything you stream online is visible to your ISP and Government. This means, streaming free movies, TV shows, Sports might get you into legal trouble. 
Thankfully, there is a foolproof way to keep all your streaming activities hidden from your ISP and the Government. All you need is a good VPN for Fire Stick. A VPN will mask your original IP which is and will help you bypass Online Surveillance, ISP throttling, and content geo-restrictions.
I personally use and recommend ExpressVPN, which is the fastest and most secure VPN. It is compatible with all kinds of streaming apps and is very easy to install on Fire TV / Stick.
We do not encourage the violation of copyright laws. But, what if you end up streaming content from an illegitimate source unintentionally? It is not always easy to tell the difference between a legit and illegal source.
So, before you start streaming on your Fire Stick / Fire TV, let's see how to use ExpressVPN to keep your streaming activities hidden from prying eyes.
Step 1: Subscribe to ExpressVPN HERE. It comes with a 30-day money-back guarantee. Meaning, you can use it free for the first 30-days and if you are not satisfied with the performance (which is highly unlikely), you can ask for a full refund.
Step 2: Power ON your Fire TV Stick and go to Find followed by Search option.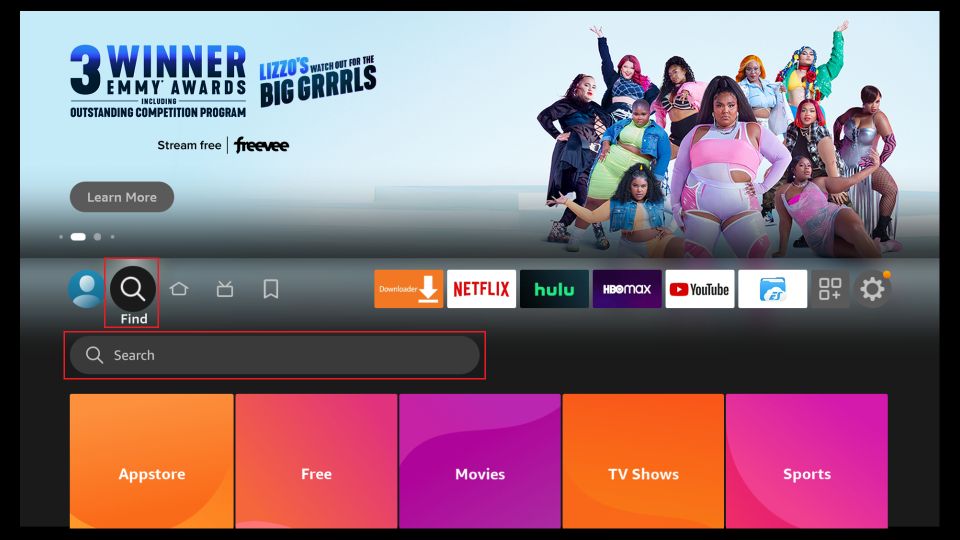 Step 3: Now type "Expressvpn" (without quotes) in the search bar and select ExpressVPN when it shows up in the search results.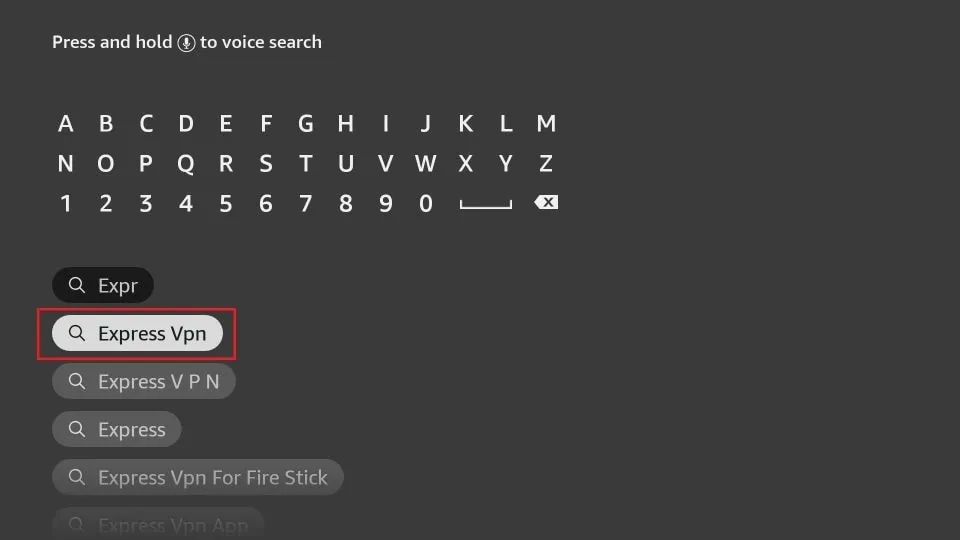 Step 4: Click Download to install the ExpressVPN app on Fire TV / Stick.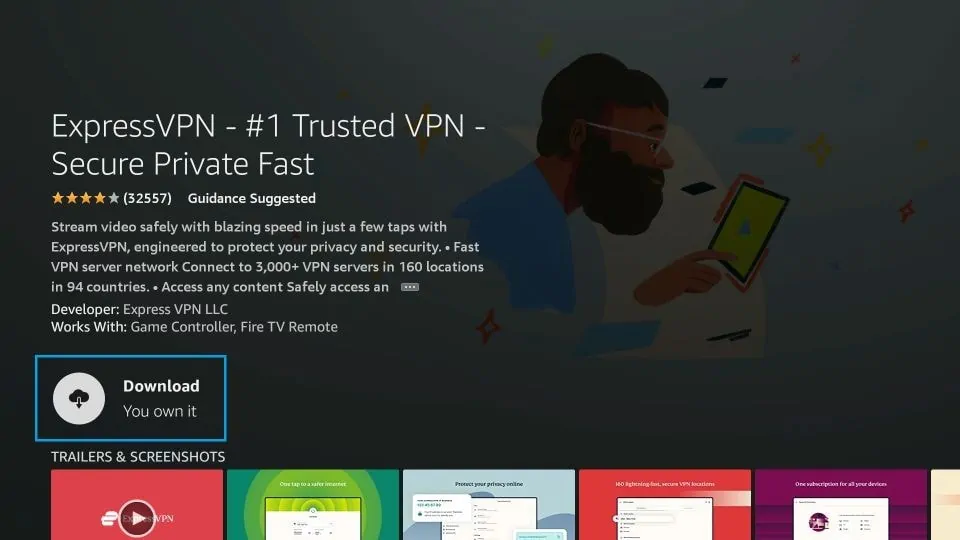 Step 5: Open the app and enter the login credentials that you created while buying the ExpressVPN subscription. Click Sign in.

Step 6: Click the Power icon to connect to a VPN server. That's all. Your connection is now secure with the fastest and best VPN for FireStick.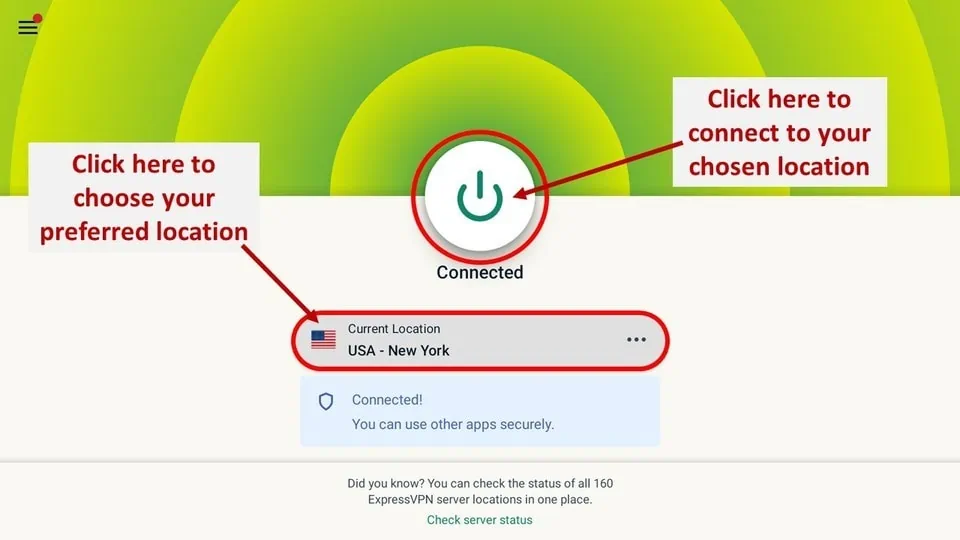 You can also read more detailed info on using ExpressVPN with Fire TV / Stick.
General FAQs
Is it safe to download the apps mentioned above?
FireStickTricks.com does not have the resources to verify the legality or security of the applications/services listed in this article. Therefore, using a trusted VPN service like ExpressVPN is advisable to protect your identity while streaming movies or TV shows.
Are AFTVnews short URLs and Downloader codes permanent?
Yes! You can use these apps' short URLs or codes at any point. They should work indefinitely. But please do let us know if you experience any issues so we can update the article accordingly.
Why Does the Downloader app say forbidden when I use a code?
It means your device's firewall or security software blocked the file. This is common with third-party APK URLs, some containing corrupted files.
Wrapping Up
So, here is our list of best Downloader codes. These codes work on FireStick, Android TV, and other Android-based devices, such as Mobiles, Tablets, and more. You can enter the 5 to 6-digit numeric code in Downloader to download your favorite apps.
Related:
Legal Disclaimer - FireStickTricks.com does not verify the legality or security of any add-ons, apps or services mentioned on this site. Also, we do not promote, host or link to copyright-protected streams. We highly discourage piracy and strictly advise our readers to avoid it at all costs. Any mention of free streaming on our site is purely meant for copyright-free content that is available in the Public domain. Read our full disclaimer.
Disclosure - FireStickTricks.com is reader-supported blog. When you buy a product through links on our site, we may earn commission. Learn More